---
The Best Motorcycle Ground Anchor : W Anchor
By BeMoto
Motorcycle Security - What a WAnchor!
It's not often that BeMoto get a world exclusive, but today is one of those days! We are the very first people to take a look at the world's first double diamond rated self-install motorbike ground anchor. So if you are looking for the best motorcycle ground anchor, you can relax, you've now found it!
You can also get a discount on this awesome device by quoting @BeMoto (link to buy at the bottom).
---
Motorcycle security is a topic that is close to our heart as bikers ourselves. We hate the thought of anyone having a tea leaf separate them from their pride and joy. For that reason alone, we are keen to have a look at anything that can reduce that possibility. Some might even say we are the ultimate advocates for motorcycle security. That is why we are super excited to get our hands on…. The W Anchor.
The W Anchor is a product of years of research, months of destructive testing, genius engineering abilities, and of course... A final rigorous test by an independent body - Sold Secure. The motivation behind this incredible bit of kit is an all round dislike of bike thieves and a determination to provide the best and most innovative security products available to the enthusiasts market. The W Anchor is a sister brand to Image4 Security (now called "Engineered by Zicam") who introduced us to the Guardsman Barrier a while back. The latest brand to the family is a little bit bolder and actually very amusing too!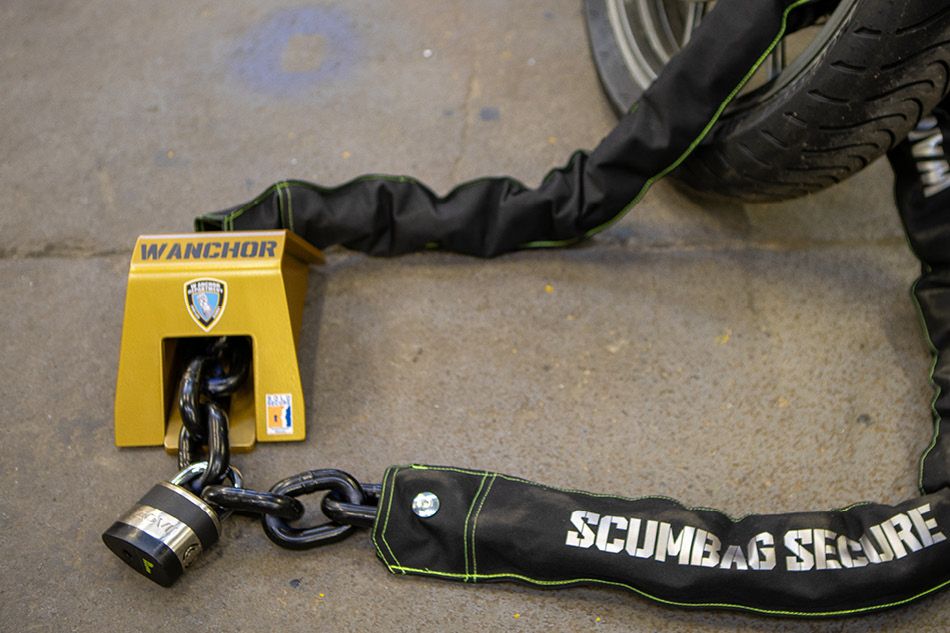 ---
Why such a W Anchor?

Although there are many types and styles of ground anchors available, the main difference is that some are designed to be bolted to the floor or wall and others are designed to be concreted into the floor. The type you choose will dictate whether you need to spend a day breaking concrete and faffing a ground anchor into place, or, whether you are happy to accept a lesser standard of security to save digging a big hole. The only way you could achieve the coveted diamond level of security for a ground anchor was to choose an "in-ground" anchor. The W Anchor has now corrected that situation as it is an above ground anchor, and is Diamond Rated by Sold Secure, not only for the Motorcycle Security category, but also for the Ground Anchor category which requires it to pass the toughest and most rigorous test Sold Secure carry out. Impressive!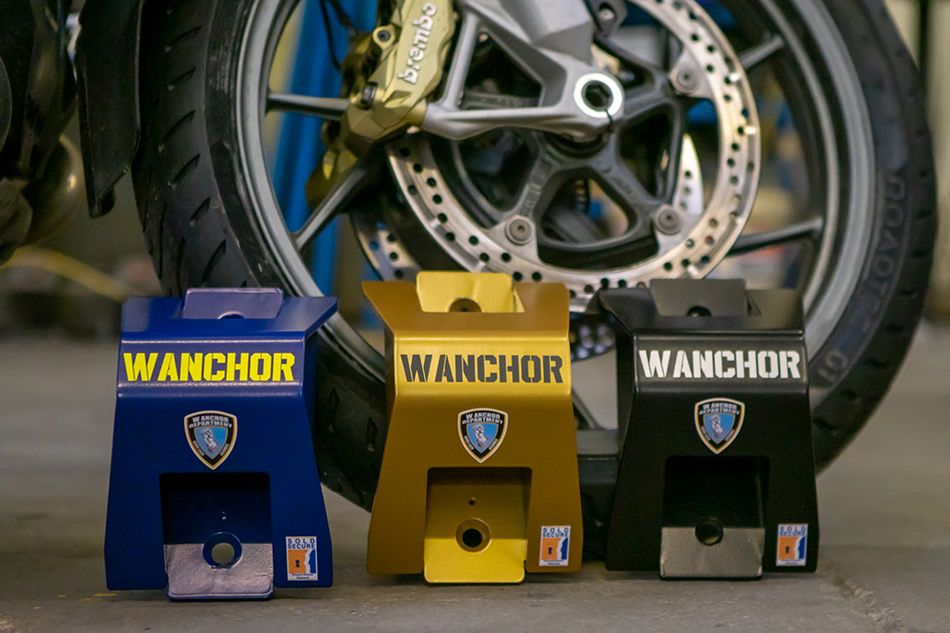 ---
The name started innocently enough
The name W Anchor came about completely innocently, to begin with… The first W Anchor was named because of the internal W shaped design that made it particularly awkward to attack. The design team would regularly refer to it with such innocence, until that fateful day where its name was written on a piece of paper and pronounced "Wanchor". Since then, it's abbreviated name (W Anchor with a silent space as they describe it), has not only become the name, but it has also influenced the attitude of the brand. Unapologetic and unsympathetic to criminals. This stance further influenced the brand with its W Anchor chains (called Big Girther) that come complete with pre-printed insults. You can choose a stock insult, or even customise your own!! Now that's the kind of modification we like!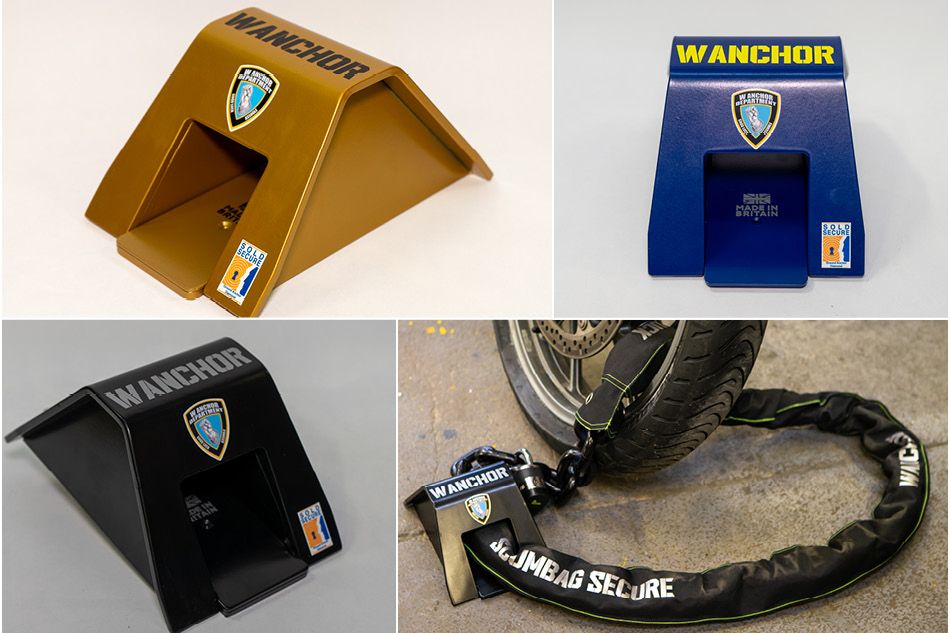 ---
The devil is in the detail
The W Anchor has had ALL of the tools and all of the tests that Sold Secure could throw at it, and survived. Not only for the somewhat attainable Diamond Motorbike Rating but also the much rarer Diamond Ground Anchor Rating. Here's the main headlines as to why we think the W Anchor is OUTSTANDING:
Grinder attack resistant in excess of 5 minutes.
Wrecking bar attack resistant in excess of 5 minutes.
Fully hardened steel, heavy duty construction
British design and manufacture
Fits chains up to 25mm
Gold, Blue or Black powder coated finish
Lifetime guarantee
With all of that in mind, we have a solid case to say that this is the best self-install motorcycle ground anchor on the market, and if you don't want to take our word for it, that's cool, but there's not denying the double diamond rating!!
---
Will having this reduce my motorbike insurance premium?
Motorbike Insurance premiums are influenced by the kind of security you have. Here at BeMoto we offer a discount for W Anchor customers, and we also look favourably on the amount of steps somebody takes to keep their bike(s) secure. We encourage people not to consider security solely in terms of what discount you can achieve, but, instead place the importance on keeping your pride and joy safe. The harder your bike(s) are to steal, the less likely it is to happen. Even the best motorcycle insurance is limited by the amount of discount that can be given for security alone, and no amount of discount will help you sleep better at night, only security can do that.
---