---
2020 BMW F900 XR Review
By Alan Dowds
Pros
Well priced
Great equipment levels
Loads of options (adds to the price of course)
Cons
Bit heavy for the power
Slightly messy styling
2020 BMW F900 XR...Garage Queen?

As I write this piece, BMW has just unveiled its M1000RR WSBK homologation race bike. Carbon wheels, aerodynamic wings, 212bhp titanium-rodded motor, Nissin race brakes, adjustable frame, it's got the lot, and is a snip at around £30k. Amazing stuff, and wouldn't we all love to open the garage to see one of those?
But of course, the Munich firm has to have something to offer at the more sensible end of the market. Practical, well-priced everyday wheels, that the woman in the Ace Café car park can use for commuting, brisk Sunday brunch runs, shopping trips into town, even a continental Euro-tour every now and again.
---
Tracer-bility?
And here it is – the 2020 F900 XR. Handsome, half-faired, sort-of-adventure-lite styling, solid if unspectacular performance figures and the build quality, technology and gadgetry that no-one does better than BMW. It's a bit like a Germanic Yamaha Tracer 900 – or, if you're as old as me, a Germanic Yamaha TDM900 for the 21st century.

It's based on the latest F850 range of parallel twins, which replaced the old F800 twin motor with an all-new lump. The cool nodding beam balancer on the 800 design was swapped for a duller conventional balance shaft system, and BMW applied a general overhaul to the top end to comply with emissions and add a bit of oomph.
And now, for this F900 XR, the Munich massive has given the 850 an extra 42cc capacity, thanks to a 2mm overbore. The pistons are swapped from cast items on the 850 to tougher forged units, you get a bit more compression ratio, and there's a heap of other 2020 updates too – revised ride-by-wire fuel injection and the like. The result? An extra 10bhp, up to 105bhp, with the same torque levels.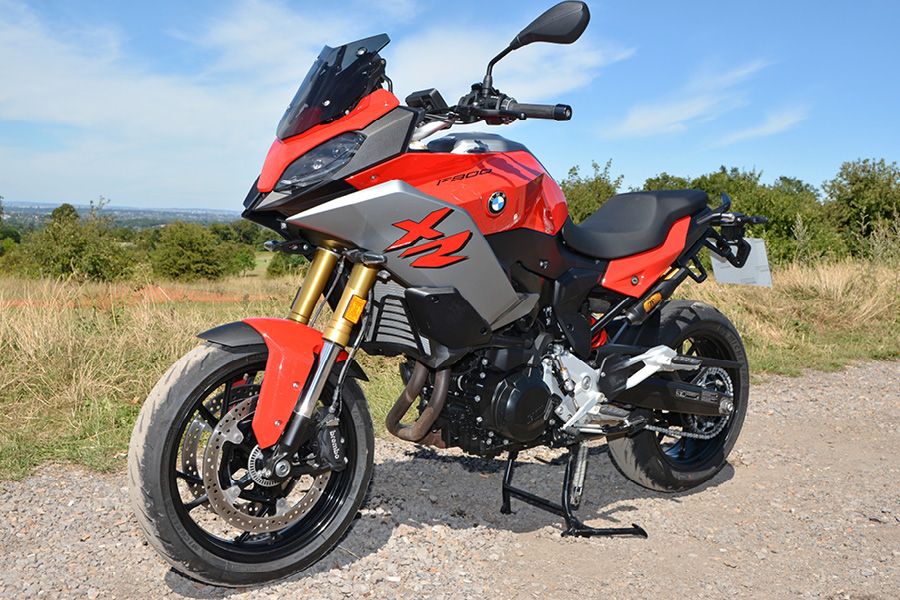 ---
How's the ride?
I've picked this bike up from BMW HQ in Farnborough, and I've got a couple of weeks to see how it goes. And pretty well is the immediate impression. The riding position is relaxed and easy, with a commendably sensible seat height (you can have it as low as 775mm with different factory seat and suspension options), wide bars and a sweet high-tech dash layout. BMW has clearly got a bulk deal on these 6.5" colour LCD displays, and is bolting them onto everything that moves. That is a good thing though, because it is a very lovely piece of work – clear, bright and easy to read even in bright sunshine.
It comes with the tricksy handlebar controller wheel on the left bar, and that, plus the extensive switchgear, makes it a breeze to whizz through all the display options. Checking out the trip computer functions, tyre pressures, power modes and all the other gizmos is simple, and with the Bluetooth functions, you can add your phone and helmet headset in there, and control it all from the bars – slick stuff indeed. This test bike also has the ESA electronic suspension setup, plus cruise control and heated grips – making an excellent package for everyday riding.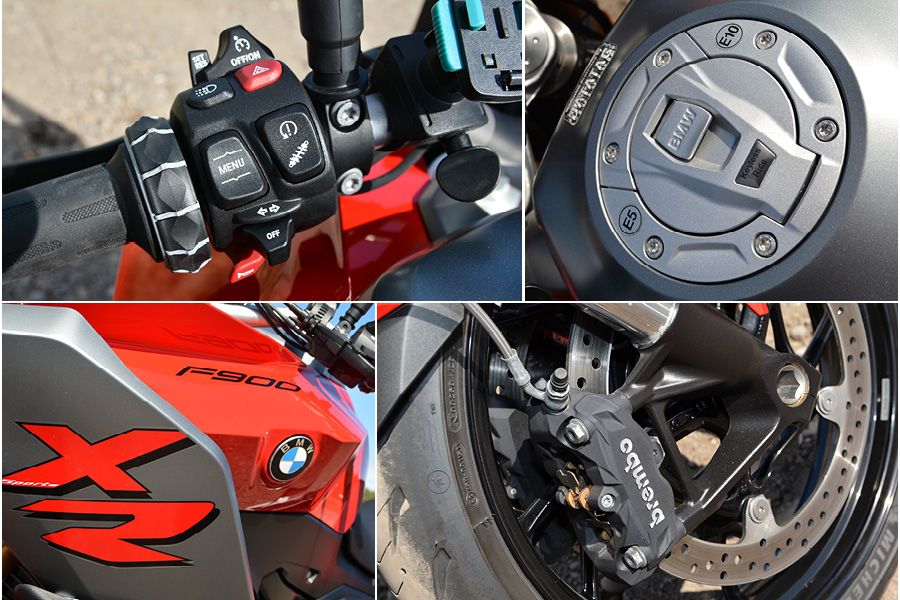 ---
The basics...
Back to the more mundane stuff, like engine, chassis, brakes, suspension – and it's good news here too. The motor has clean fuelling, but while 105bhp is a reasonable output, it never feels super powerful. You can make good progress of course, but if you're expecting something like the bonkers S1000RR four, you'll be disappointed. Part of that is probably down to the mass it's hauling around: the kerb weight is 219kg, which is quite a chunky number. The chassis does a good job of hiding the weight most of the time, with easy handling and good road-biased suspension. The Pilot Road 5 GT touring tyres are a great option and worked well during our (warm, dry) testing time. I'd probably swap them out for something a bit sportier if I owned one of these, but as an all-season, all-rounder option, they're an excellent choice.
The brakes are also from BMW's 'fancy road kit' drawer, with branded Brembo cast monobloc calipers and 320mm discs up front, backed up with your choice of ABS. You get the usual setup as standard or if you add the Riding Modes Pro you get the fancier ABS Pro. That includes cornering functions and dynamic braking control, where if you've slammed the brakes on but accidentally hold the throttle open, automatically shuts the throttle for you… They're good stoppers, with plenty of feel and power, but like the engine, they've got extra work to do thanks to that higher all-up mass.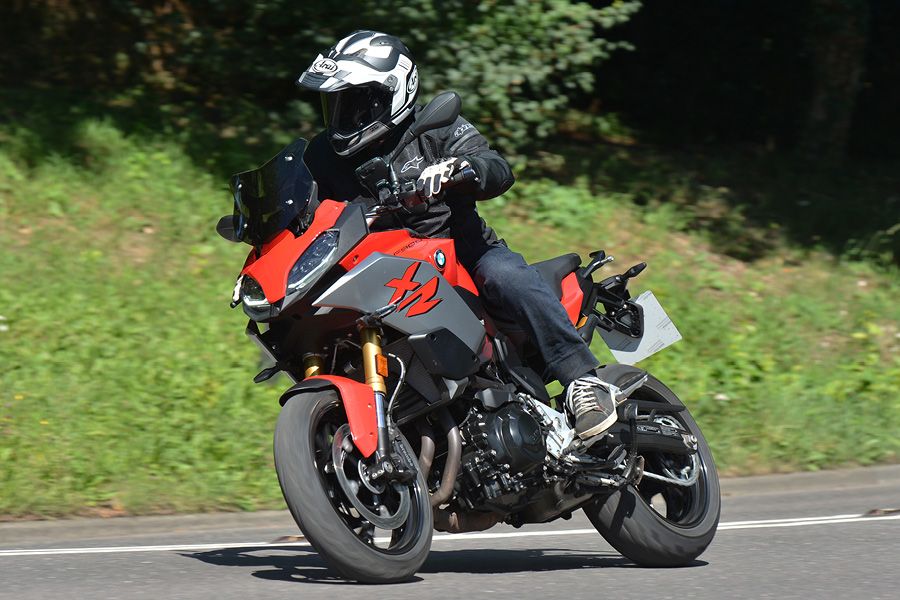 Final thoughts
So, at the end of my couple of weeks with the F900 XR, was I yearning to see one inside my garage each morning? Probably not – I think the little devil on my shoulder would always have me hankering after the superbike-spec power and sporty chassis of its 160bhp sibling, the S1000 XR. But if I had a more conventional set of riding needs, definitely, yes. As a well-priced, everyday set of wheels to put to work, chomping miles in an efficient, practical fashion, it's a corker. There are niggles – the sporty windscreen is too short, the 15.5 litre fuel tank isn't massive, the quickshifter is a bit vague, and the motor is definitely down on competition like Yamaha's Tracer 900. But the class-leading optional accessories and high-tech options really does make up for all that – and more.
---
TECH HIGHLIGHTS
Engine
New motor, based on the F850 GS parallel twin lump, with a 2mm big-bore kit that takes capacity up to 895cc from 853cc. The Munich engineers also beefed up the internals, with tougher forged pistons replacing the 850's cast parts. That, plus a higher compression ratio, gives you a solid 105bhp peak power.
Frame
Fabricated pressed and welded steel 'diamond' type frame.
Suspension
Fairly vanilla forks and rear monoshock from Sachs, but there is a semi-active ESA option available at extra cost. This adds ECU-controlled preload and damping adjustment, but for the rear shock only.
Brakes
Brembo cast monobloc four-piston radial calipers, with 320mm discs up front, and a single-piston caliper with 265mm disc at the back. Comes as standard with basic ABS setup, but you can spec optional cornering ABS Pro.
Tyres
Michelin Pilot Road 5 GT fitment, in sporty 120/70 17 and 180/55 17 sizes.
Electronics
You get a neat colour dash as standard, with handlebar wheel controller, Bluetooth integration with phone, trip computer and loads of other options. You can also spec your F900 XR right up with loads of handy gadgets such as cruise control, ESA semi-active suspension, heated grips, luggage, integrated Garmin satnav, quickshifter and Riding Modes Pro, which includes cornering ABS Pro, engine brake control and dynamic traction control.
There are also boxes to tick for keyless ignition, SOS emergency call setup, centre stand and cornering headlight, plus a load of lowering and raising options. You can have an XR as low as 775mm or as high as 870mm via a range of different seats and suspension lowering kits.
---
SPECS
Price: from £9,825
Engine: 8v parallel twin, DOHC, liquid cooled, 895cc
Bore x stroke: 86x77mm
Compression ratio: 13.1:1
Max power (claimed) 105bhp@8,500rpm
Max Torque (claimed) 68ft lb@6,500rpm
Transmission: six speed gearbox, wet clutch, chain drive
Frame: fabricated steel diamond type
Front suspension: 43mm USD fork
Rear suspension: aluminium box-section swingarm, preload and rebound-adjustable monoshock, optional ESA semi-active suspension
Brakes: dual 320mm discs, four-piston radial mount calipers (front), 265mm disc, single-piston caliper (rear), switchable ABS, optional ABS Pro
Wheels/tyres: cast aluminium/Michelin Pilot Road 5, 120/70 17 front, 180/55 17 rear
Rake/trail: 29.5°/105.2 mm
Wheelbase: 1,521mm
Kerb weight: 219kg
Fuel capacity: 15.5 litres
---