---
BMW S1000R 2017 Review
By Alan Dowds
Pros
Smashing chassis
Bundesliga engine
Lots of optional toys
Cons
You'll be jailed within a fortnight
Remember the 'streetfighter' craze of the late 1980s?
I'd just passed my test, so was easily beguiled by that kinda thing – a Suzuki GSX-R1100K, with no fairing, wide bars and a Loony Light cable-tied onto gently weeping forks. It took me a few years to realise that the 'streetfighter' trend was just a load of guys crashing big sportsbikes, some of which had 125bhp motors pushing 100bhp chassis and tyres. No cash for new plastic? No problem! Just turn it into a streetfighter!
Nevertheless, the idea of a full-bore sportsbike, with no fairing and a more upright riding position wasn't without its attractions. You had a bike that was more comfy, easier to navigate through traffic, with a higher viewpoint. They were also far easier to wheelie, yet the drop in practical top speed meant you generally did less wild speeding on them.
Fast forward 30 years, and the 'streetfighter' is an established factory class, the supernaked. They've been one of the big success stories in recent years, and all the big firms make one, with greater or lesser degrees of lunacy. BMW's version, the S1000R, is firmly in the crackers category, being a virtually unchanged S1000RR superbike in some psychotic bodywork. Okay, the motor's had 30+bhp chopped off, but since it makes 200-odd bhp to start with, there's plenty to spare. The chassis is detuned a little bit, but you still have superbike-level running gear, and all the electronics you can eat.
BMW's had to update the R for this year, thanks to those pesky Euro 4 emissions rules. But the cheeky Teutons have managed to sneak more power, not less, into the cleaned-up lump, adding 5bhp to the top end, while also dropping 2kg mass. Wild stuff! The 2017 bike also offers a new up- and down-quickshifter plus an IMU-based leaning ABS-Pro setup.
We're in Spain for a run out on the new bike, together with the new for 2017 BMW RnineT Racer and Pure. The roads around Mojacar in Andalusia are a decent challenge for this sort of bike, but the forecast is apocalyptic, so we better get rolling.
I ride the S1000R first, and I'm giggling in my lid within about a hundred yards. Having so much power, with all that control, is an incredible thing, and we're truly blessed to be riding such bikes in these times. The ride-by-wire throttle unleashes gigantic torrents of torque whenever you want it, sending the scenery into reverse, quick-fast. In any gear, at any revs, you can catapult yourself forward, with clean, smooth power, all backed up by sophisticated electronic aids – power modes, traction, ABS, quickshifter. That shifter is a revelation, particularly the new auto-blipping downchange, that lets you bounce your way into a bend, slamming down the gearshift, pissing yourself at the way the revs scream up at you through the fuel tank.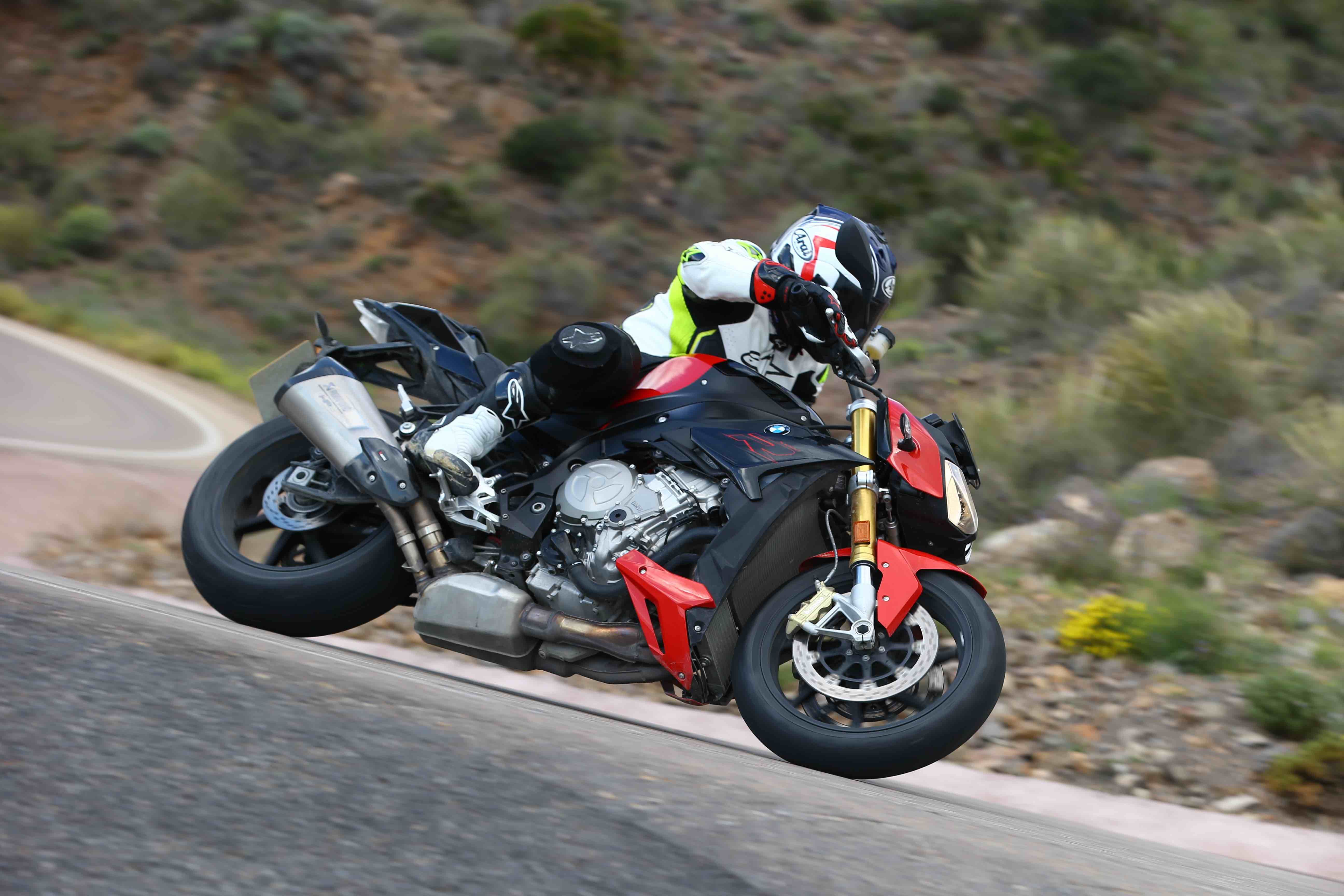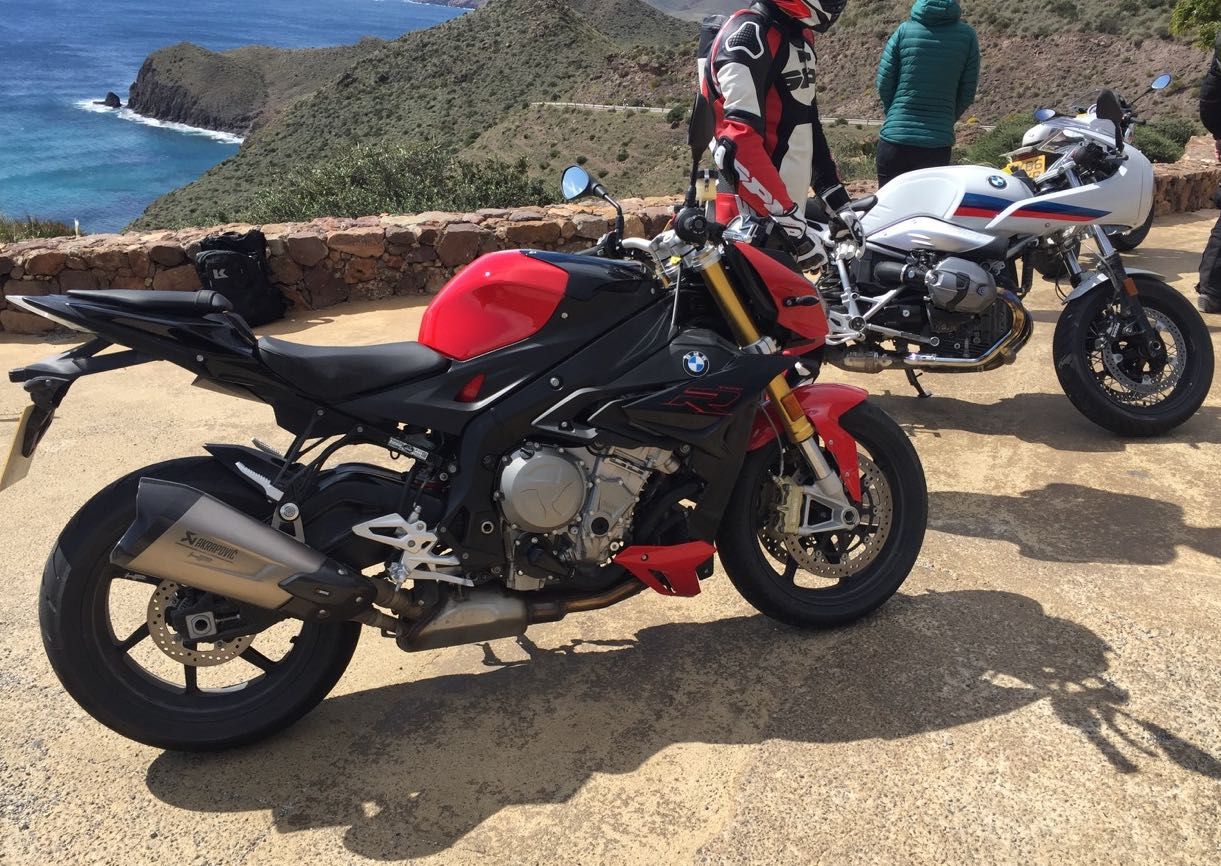 Of course, the chassis has been waiting for this, and sorts it all out with the aplomb of Batman's butler. The brakes are brain-meltingly strong, yet offer the finesse of a concert pianist, all backed up by the unflinching physics-tech of the leaning ABS system. The suspension on our Sport models is the DDC (Dynamic Damping Control) electronic kit, which tweaks the damping on the fly according to what the engine ECU and lean-sensing IMU think you're up to. Engine and road speeds, gear position, throttle opening, plus lean angle, pitch and yaw are all factored into the suspension settings as you ride along, giving a sophisticated, plush ride that remains rock-solid in terms of stability.
---
Pure, distilled, moto-craziness...

The result of all this high-tech and brute force firepower is pure, distilled, moto-craziness. Get this bike on the right sort of backroads, and nothing will touch you as you fire out of tight bends, hammer down short straights then slam on the anchors and bang down the box into the next corner. Repeat till (brain) fade, or the police helicopter finally catches up with you…
But this isn't just some daft 'streetfighter', shorn of all civility or practicality. Quite the reverse in fact – heated grips, cruise control, neat luggage and useful sat-navs are all provided as options by the Bavarian firm, and you could very easily have the commute of a high-class city slicker on one of these. Set the riding modes for comfort and style, and you can waft through the urban jungle without a care, still protected by all that high-tech, and with near-superbike level performance just a flick of the wrist away.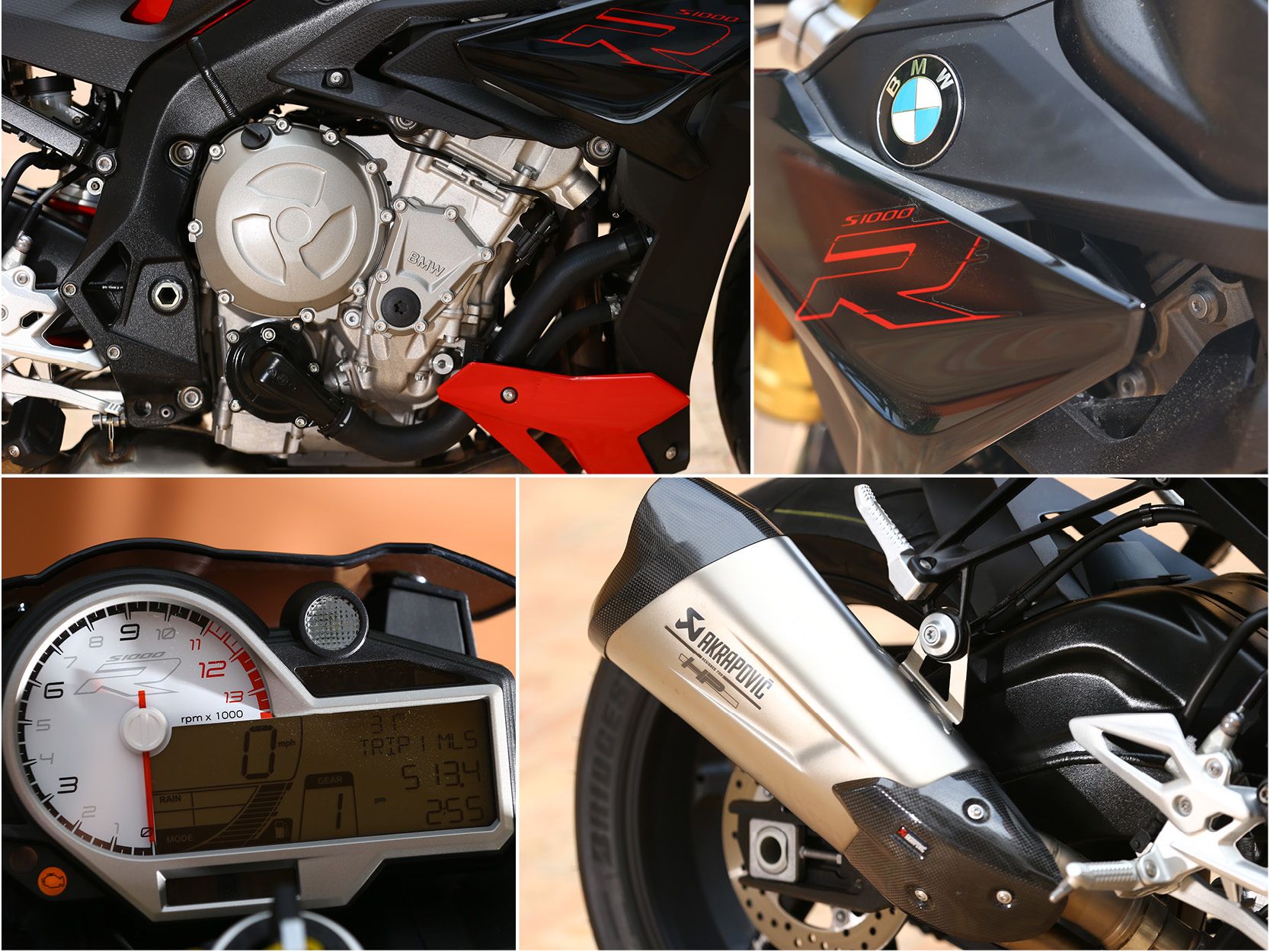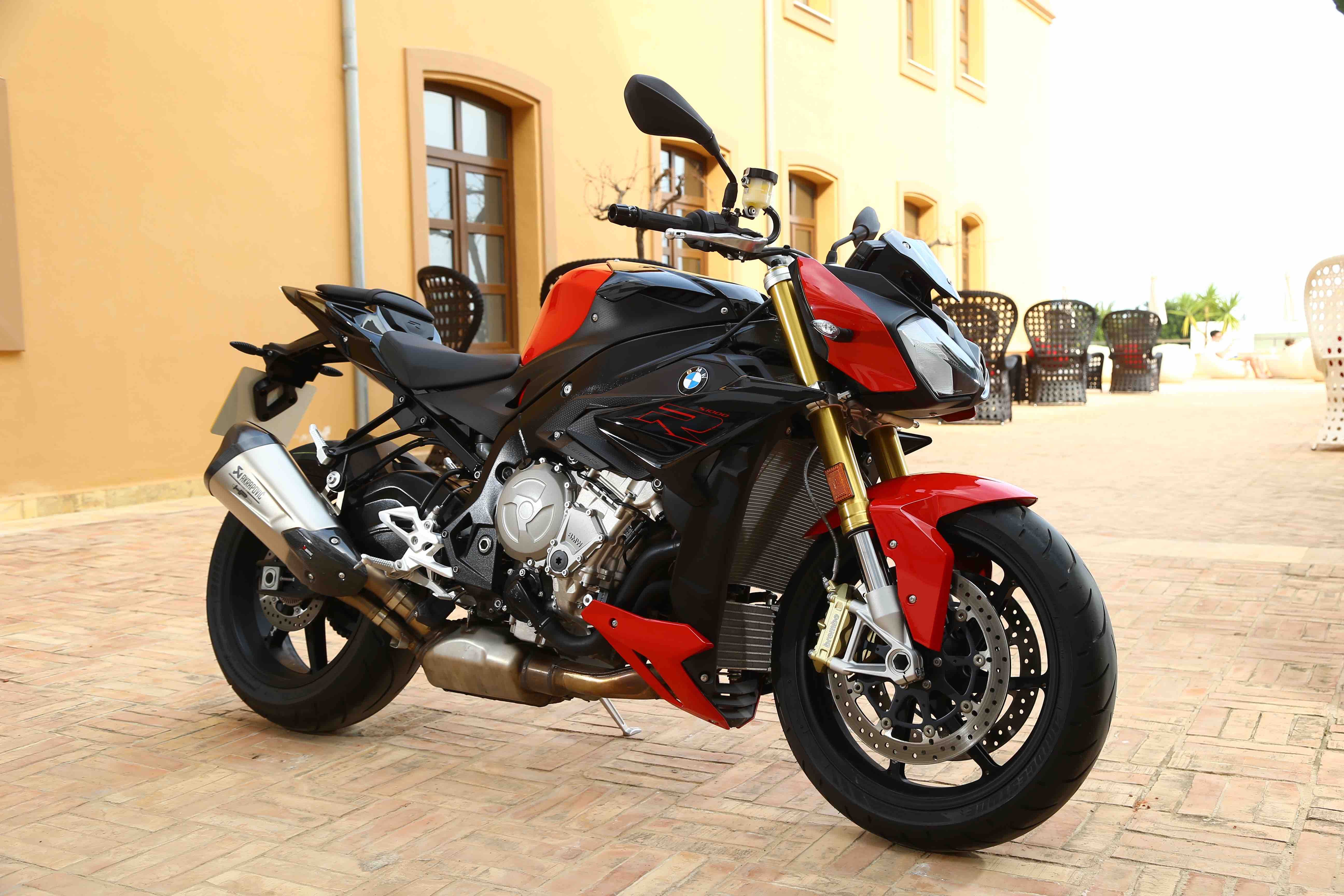 The best bit? BMW's keeping the price tag respectable on the S1000R for this year. Just over £10.5k for the base model seems solid value in this chastened market, although you'll kick yourself if you don't tick at least some of the options boxes: the £12,365 Sport model we rode had a great list of extras for the cash.
---
Specifications
Price: £10,705 OTR (base model), £12,365 OTR (Sport model, comes with DDC damping, Pro riding modes, Pro blipping quick shifter, cruise control, hot grips and belly pan).
*There are plenty of options including 2.4kg lighter forged wheels (£1,250), and an alarm (£210), carbon panels, satnavs, and much more. All the stuff on the Sport is also available as an option on the base bike.
Get on the BMW Motorrad configurator page for all the details: www.bmw-motorrad.co.uk
Engine: 16v inline-four, DOHC, liquid cooled, 999cc
Bore x Stroke: 80x49.7mm
Compression Ratio: 13:1
Max Power (claimed): 165bhp@11,000rpm
Max Torque (claimed): 84ft lb@9,250rpm
Transmission: six speed, slipper clutch, chain drive
Frame: aluminium twin spar
Front Suspension: 46mm USD forks
Rear Suspension: Monoshock
Brakes: Dual 320mm discs, Brembo radial four-piston calipers (front), 220mm disc, single-piston caliper (rear), ABS
Wheels / Tyres: Cast aluminium (optional forged alloy) 120/70 17 front, 190/55 17 rear
Rake / Trail: 24.8°/98.5mm
Wheelbase: 1,439mm
Kerb Weight (claimed, full fuel tank): 205kg
Fuel Capacity: 17.5 litres
---