---
Future Classic: Ducati 749 Series
By Alan Dowds
Pros
Superb chassis
Proper race homologation Ducati
Rare (there are only about 100 registered in the UK)
Cons
You can get a sweet modern litre superbike with 80bhp more for less cash
It's not a conventional beauty
Unique, powerful and now, very rare!
Of all the hard acts to follow, Ducati designer Pierre Terblanche had a cracker back at the turn of the century. Not only was he filling some very big shoes in the shape of his former boss, Ducati design guru Massimo Tamburini, he had to come up with a replacement for one of the most beautiful motorcycle designs ever – the 916/748 Superbike range. Those bikes – the 916 in particular – had put Ducati back on track in the exotica stakes, while also piling up race wins and championship titles like nobody's business. The Monster roadster had provided the sales volume and cash flow to revive Ducati's fortunes as a company, but it was the 916 and 748 which had made the firm sexy again.
That 1993 design was getting on a bit though, struggling against the might of Japan both in racing and on the showroom floor. Meanwhile, Tamburini was helping MV Agusta muscle in on the exotica market with the stunning F4. Ducati needed a fresh design, and Terblanche certainly provided that in late 2002, when his 999 first appeared. A totally new design, it eschewed the single-sided swingarm, twin horizontal headlight layout and swooping lines for a much more angular look. Flat side panels, a vertical stacked headlight and resolutely dual-sided swingarm couldn't have been more different from the 916. It was a better bike, with more power and slicker handling – but the styling won few friends.
---
R Ha!

The 749 appeared a year later, with the R version at the top of the range, and aimed at supersport racing. The 748 had never enjoyed much success against the 599cc inline-fours from Japan, even in exotic 'R' trim. But the 749R was a serious attempt: it came with carbon-fibre bodywork to save weight, fully-adjustable Ohlins forks and rear shock, forged aluminium Marchesini wheels and radial Brembo brakes (the base bikes had conventional parts). And that beefy dual-sided swingarm was borrowed directly from the 2003 999F factory racer that had dominated WSBK that year.
The 749R engine was also radically different from the standard 749 and 749S, with a wider 94mm bore and shorter 54mm stroke, raised compression ratio and a slipper clutch. Tough, light titanium con rods had featured before but the 749R also had titanium valves for the first time on a Ducati, allowing a higher rev ceiling. This all resulted in a hefty output of 118bhp at 10,250rpm (increasing to 121bhp for 2005).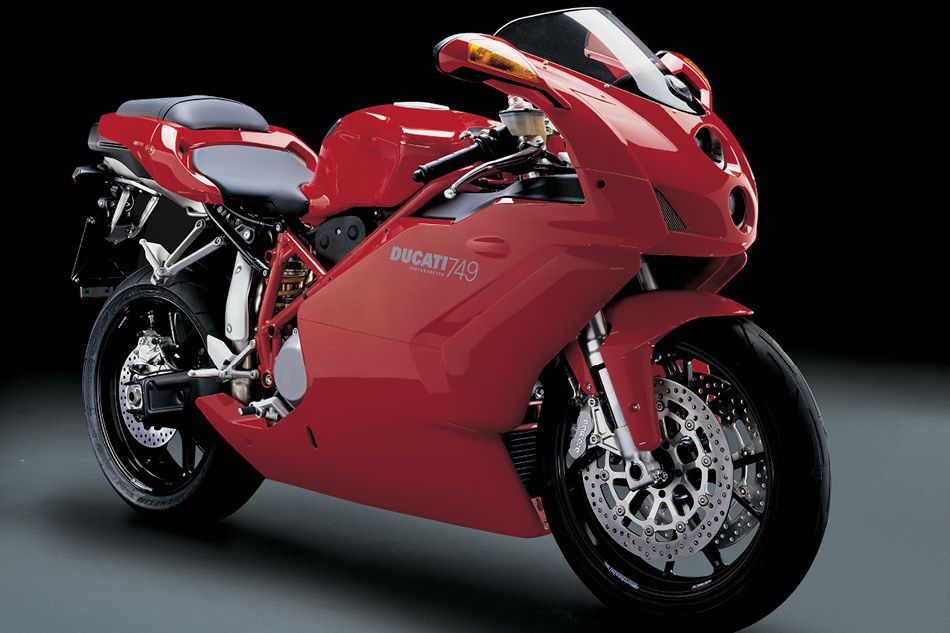 ---
Power and refinement but not the style?
Like the 999/916 update, the 749 range was a better bike than the 748. The engine was a big leap forward in power and refinement, while the chassis was easier to get on with, and ultimately more effective. The styling, however, again drew some criticism, and the 749 was unquestionably less of a design icon than the 748. That was confirmed when the 848 appeared in 2007 alongside the 1098, bringing the 916 aesthetic back to the firm's Superbike range.

The 749/999 wasn't a massive success then – but more than a decade on, they provide an intriguing option for the discerning future classic fan. Sure, you can get a nearly-new bike with much more power and tech, for less cash. But as a crucial milestone in the story of Ducati, the 999/749 range has a strong appeal. And the 749R is one of the real jewels of that range.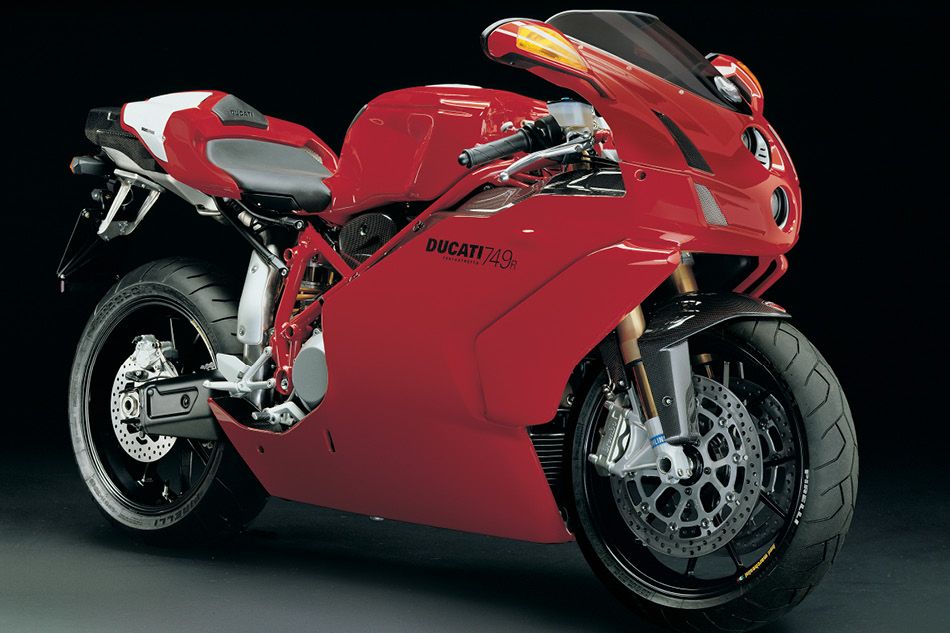 ---
SPECS (749R)
Engine: 90° V-twin, 8v DOHC, desmo valves, 749cc, fuel injection
Chassis: steel tube trellis, 43mm Öhlins USD forks, Öhlins rear shock, Brembo radial-mount front brake calipers.
BHP: 121bhp@10,500rpm (claimed)
Weight: 183.5kg (dry)
Price new: £13,595 (2003) - £13,995 (2007)
Production run: 2003 – 2007
---
Ducati 749 VARIANTS
There were two generations with a few differences from 2005-on. The original bike had a full carbon fairing, while later bikes used more plastic, and the original bikes made 118bhp, while later bikes have 121bhp. 2005-7 bikes also have minor slipper clutch mods which improved feel.
They're all single seaters, so if it has a pillion seat, something funny has gone on.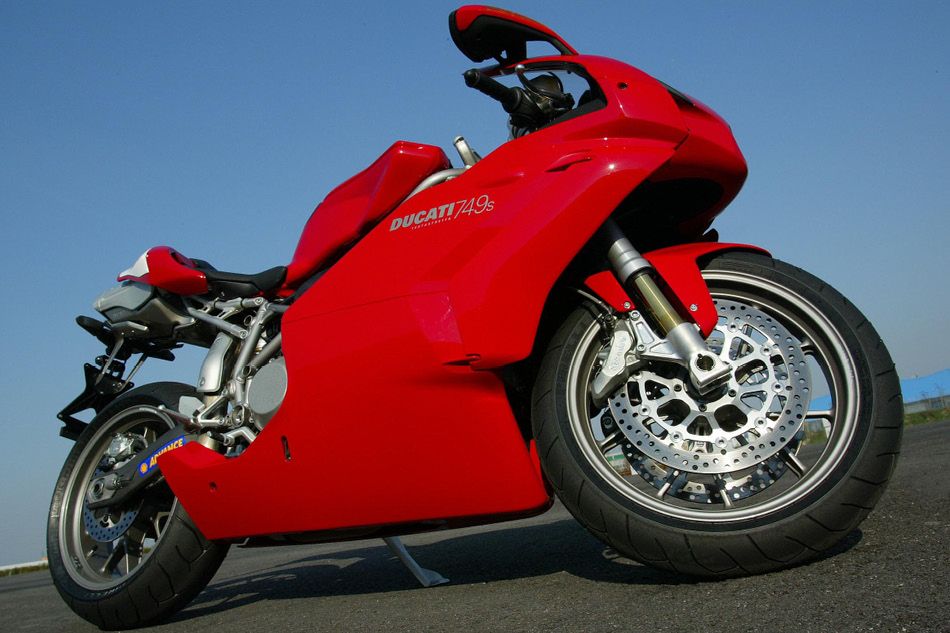 ---
WHICH ONE?
Got to be the original model if you have the choice. They're all numbered as well so get as low a number as ye can! Having said that, there are less than 110 currently registered in the UK, so you're probably not going to have a massive choice.
So – if you see a really nice late 749S for a decent price, you'll be almost as happy when you open the garage door on a Sunday morning. Base 749 or 749 Dark models have similar engine performance to the S, but much less fancy chassis setup. The base bikes have far less 'future classic' potential than the R, unless they have almost no miles and are in as-new condition.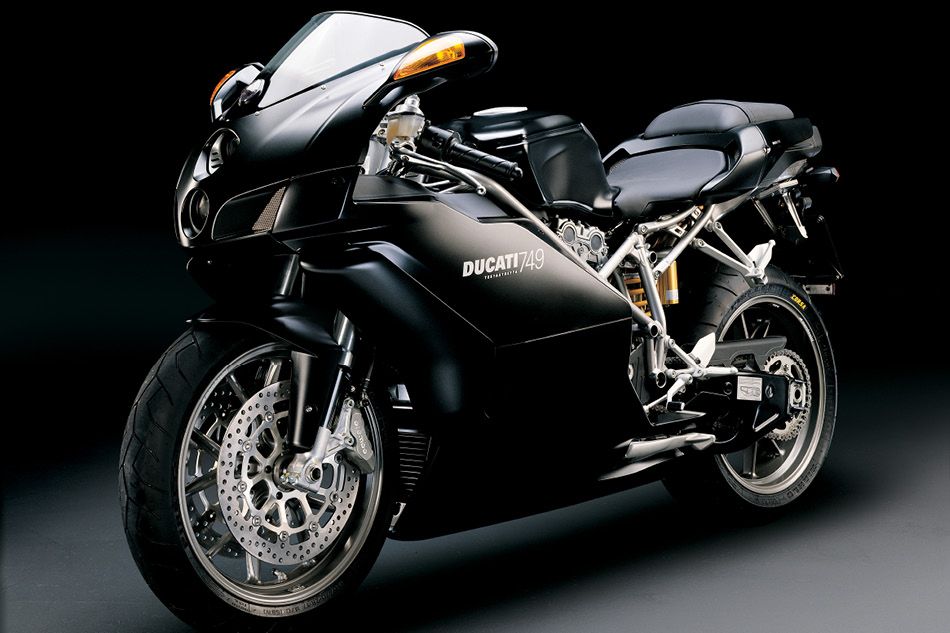 ---
FUTURE CLASSIC RATING
If we had a time machine, this would be a corker, because the prices were lower a few years back. Now, though, enough time has passed for questions about the styling to pass, and folk really do like a 749R. Park one of these up at Box Hill or the Ponderosa and folk will nod in appreciation. But you need to pay nearly the same as the original 2003 asking price – £13,595 – for the pleasure. Current eBay listings start at £12k and continue upwards.
---
Things to look out for if buying one
It's a Ducati, and you're paying a fair chunk of cash for a bike that's between 14 and 18 years old. So you're well within your rights to expect some paperwork alongside it, to include regular servicing at a proper Ducati shop. Without this, you must pay less cash and be prepared to spend a bit on some 'Factory' TLC.
When it comes to mechanical checks, stuff like a worn chain, tyres and brake pads are less important than cam belt changes, valve clearance checks and original exhausts, for example. These bikes often do very few miles (you can check this stuff via the government MOT check website), so tyres that might look unworn could be a decade old. Check the four-digit date code (week and year) on the sidewall and get 'em changed if so!
Obviously, any bad noises, smoke, oil leaks or evidence of enthusiastic track use should be treated with extreme prejudice…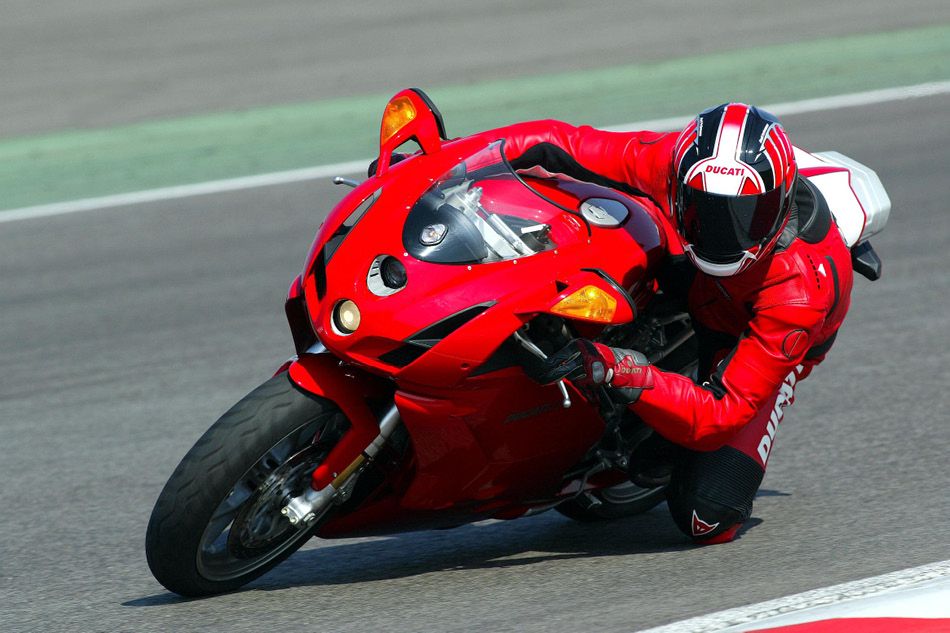 ---
Check out our other modern and future classic motorbike features.
Call BeMoto on 01733 907000 to get motorbike insurance for your Ducati 749 of any age or specification. We love unique machines, we love modifications, and there's nothing more we love, than a mixed multi-bike collection of stunning machines past and present!

---