---
Future Classic: Kawasaki ZX-7R
By Andy Bolas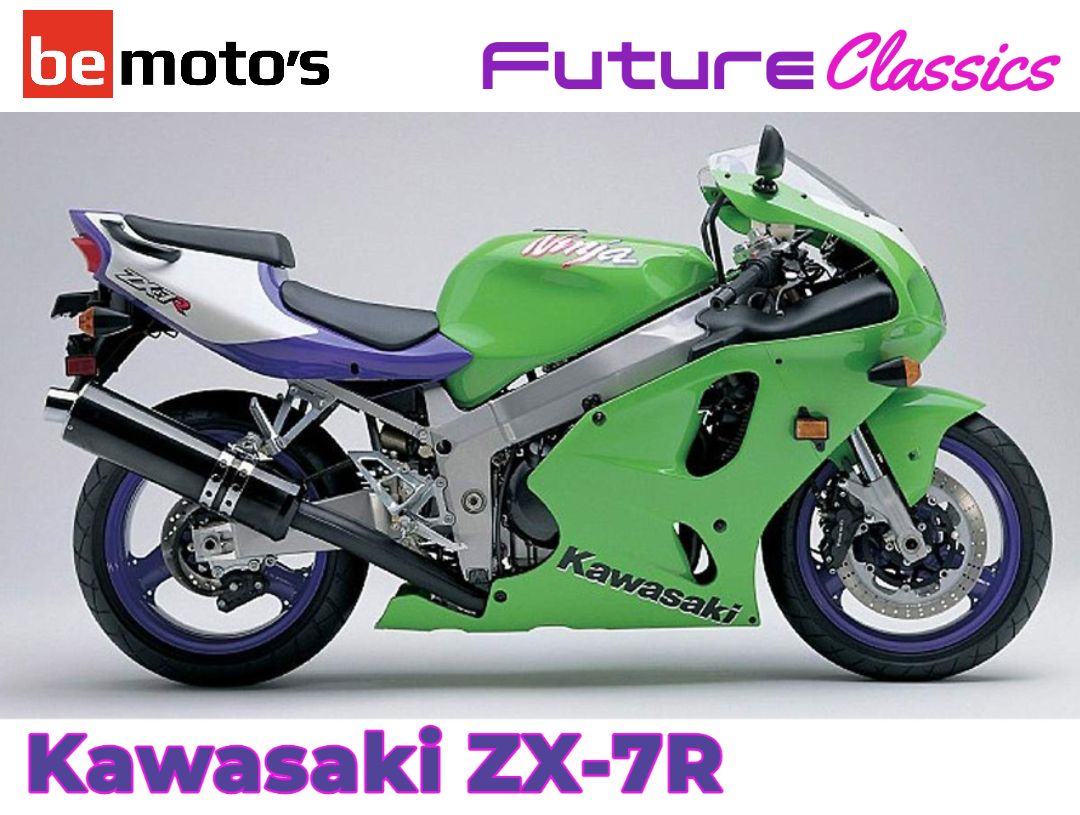 Kawasaki's final 750cc four-cylinder sportsbike quickly became iconic: winning races and hearts along with it during the mid-nineties and early noughties. Unchanged in an eight-year production run, this is why you need to think about nabbing this Ninja now…
The Kawasaki ZX-7R has been around for over 25 years and it still looks fast even standing still.
Andy Bolas from the VJMC knows a thing or two about finding the classics of the future – he owns plenty! He knows what you need to tuck away for the future – and this is a good bet, the Kawasaki ZX-7R.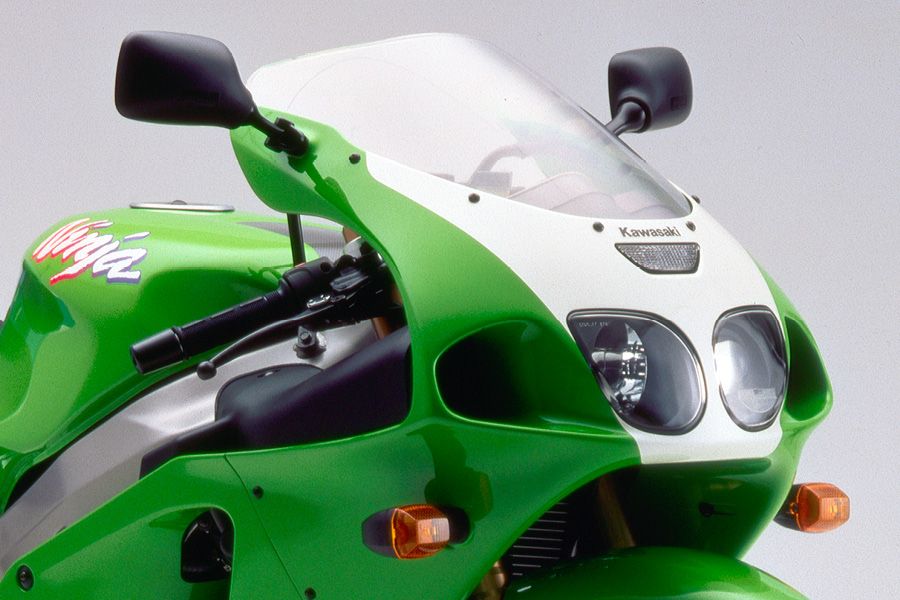 Kawasaki ZX-7R: The competition
The nineties were all about sportsbikes and World Superbike racing was in its pomp: 750cc four-cylinder machines did battle with 1000cc V-twins.
In terms of the manufacturers, while Suzuki were trimming down with the SRAD 750 (179 kilos) in 1996, Kawasaki entered the market the same year with the 7R weighing in at nearly 25 kg more, kicking out around the same sort of horsepower. Elsewhere in the 750 class, Honda had their own take on the market with the sports-touring VFR750FS (well, there was also the RC45 but out of reach for most) and Yamaha's YZF750 was a bit long in the tooth.
Ducati's 916 was the gorgeous anomaly: gorgeous, Italian, red, expensive and that addictive mix of desirability mixed with unreliability. Why is it always the beautiful bad ones that appeal?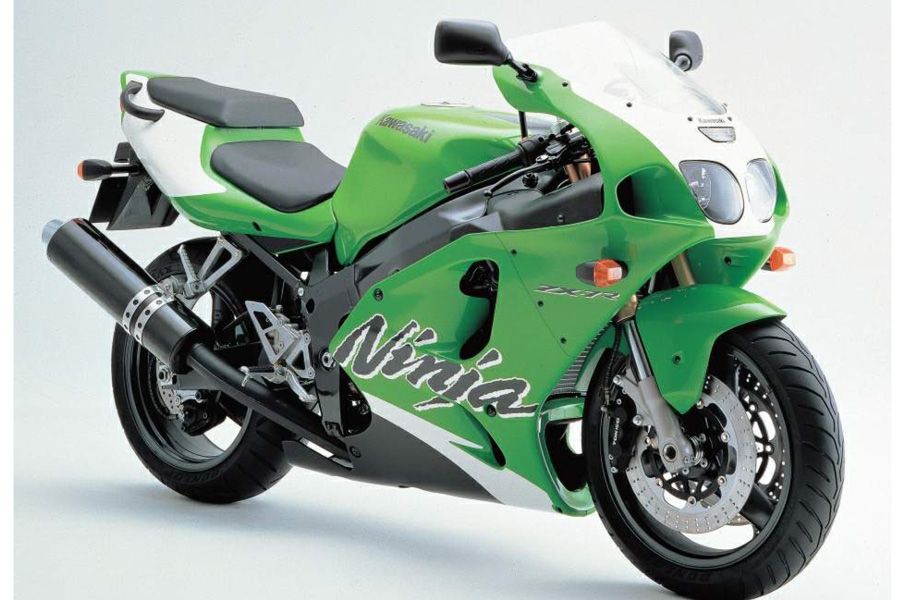 Kawasaki ZX-7R: On the road
On paper the Kawasaki shouldn't have been in the hunt with the SRAD, but both sold well. For the ZX-7R, its extra bulk and top notch front-end evened things up out in the real-world and while the SRAD then and now is a little manic and demanding (which is ok if you're in the mood) the Kawasaki is somewhat more composed in the way it goes about things.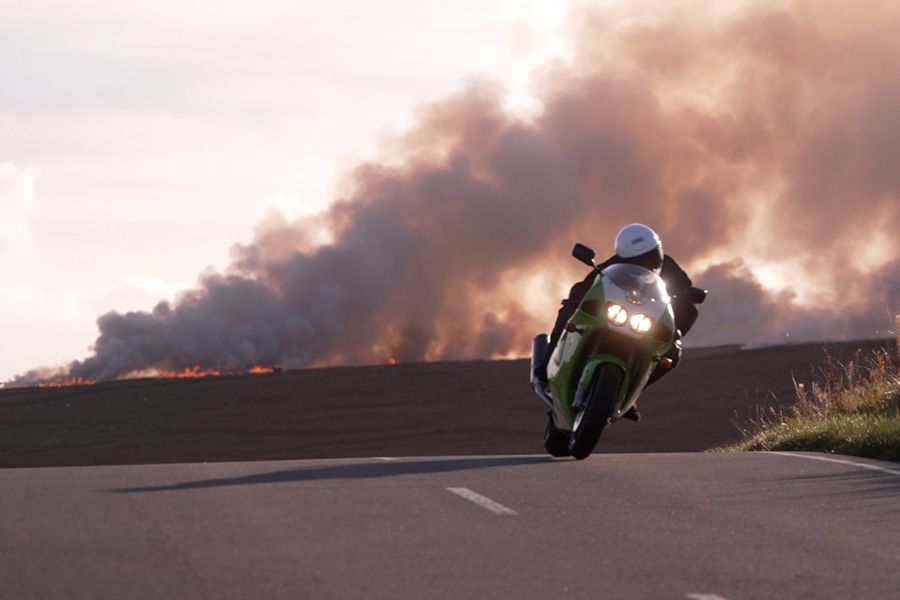 Where the SRAD flaps and slaps, the ZX just ploughs through unaffected. Not that the Kawasaki isn't sharp and precise: it is just, it's just not as sharp as the more focused Suzuki which for many people will make it a better prospect all round. This is shown as it also seems to have attracted more sensible owners who don't go for quite the amount of bolt-on tat as Suzuki owners.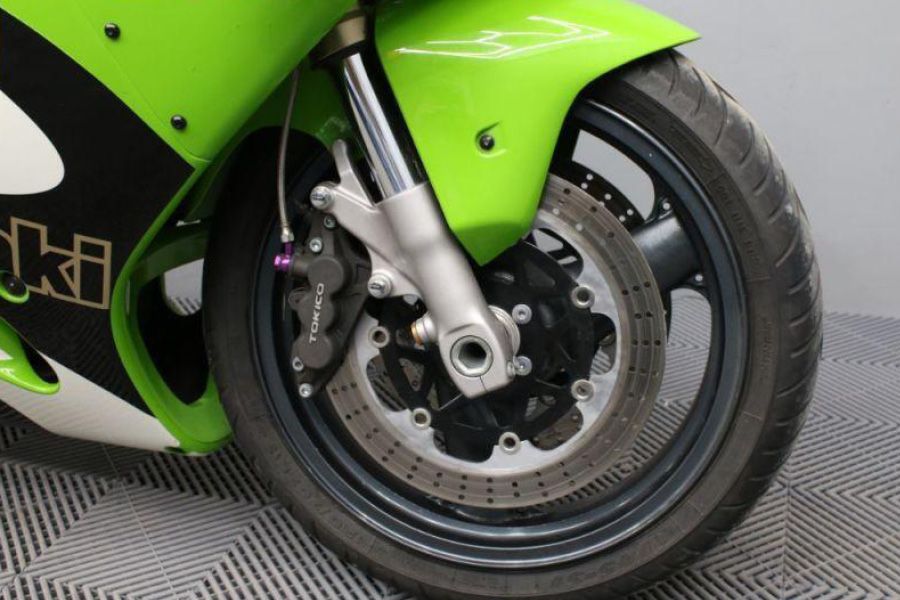 Kawasaki ZX-7R: What do look for
Remember when you buy: some bits, such as quality exhausts like Akrapovic are worthy additions, after all, the original is heavy and restrictive – if desirable for the collector. So check to see if there's a stock item lying about.
Of the two ZX-7R's I've ridden both sounded rather harsh motor wise but apparently this isn't a sign of any impending mechanical mischief, some were just a bit noisier than others, so I've heard. The motor is a bigger bore and shorter stroke than the ZXR it replaced and is very reliable by all accounts.
A few common problems were carb icing in winter this can be helped by using a fuel additive like Silkolene Pro FST or similar, head bearings which were only threatened with grease at the factory, early models also warped their discs and the six-pot Tokico callipers can go off quickly if not well maintained. A friend of mine recently rebuilt the front brakes on his and is still in shock over the price of the genuine seals and pistons he had to purchase…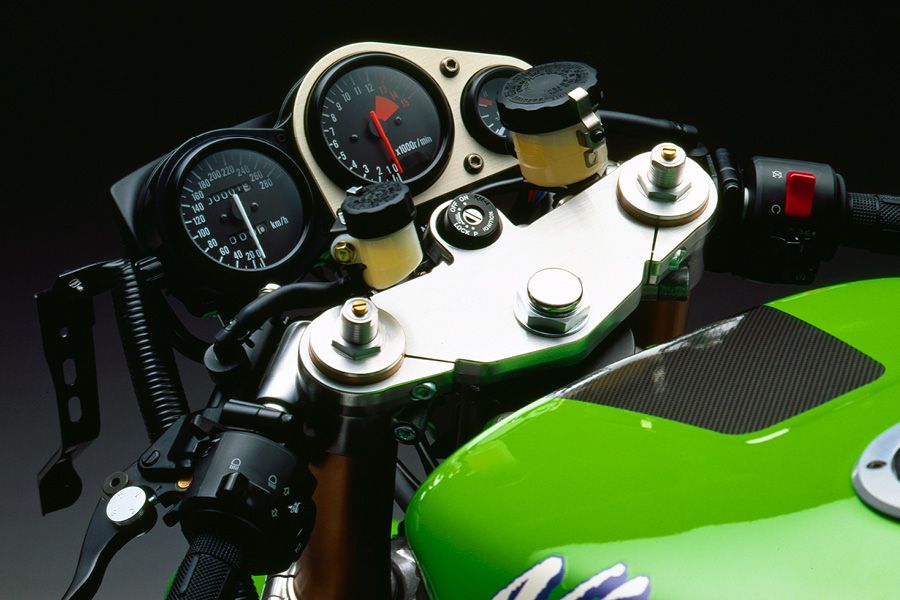 ---
You need to look out for the usual stuff rotting, so that means down pipes, warped discs, badly repaired bodywork: do be aware on these modern classic sportsbikes that consumables can cost a huge amount. So, a bike needing new tyres, chain and sprockets can easily cost you another £400 or more on top of your purchase.
Recently there have been a few very low-mileage bikes for sale at 3k plus, I think if you are looking for an investment, you shouldn't lose out if you need to move the bike on. On the other hand if you just want a decent user £2000 should get you a reasonable bike.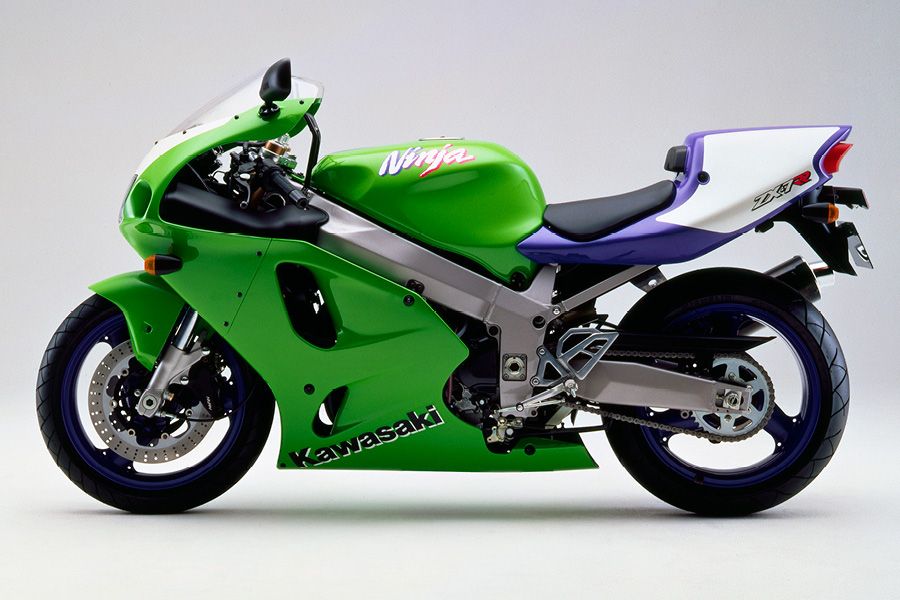 ---
Kawasaki ZX-7RR: Limited Edition homologation model
At the launch in 1996, Kawasaki also released an RR version limited to just 500 examples in order to homologate this for World Superbike racing. This 'Double R' model - the N1 - boasted an adjustable head stock and swingarm pivot, flat-slide carbs, close-ratio gearbox and a single seat to name a few. These are really climbing in price now, although not in the same league price wise as Yamaha's OW-01 and OW-02 R7, Honda RC30 and RC45 and the like they do represent good value if you want to go down the WSB homologated route. Have a closer look at the Kawasaki ZX-7RR here.
Kawasaki ZX-7R: Which model year to buy?
The eight year production run with only colour changes puts it all down to personal preference and the condition of the machine. Die hard fans would argue that the original 1996 green version with the purple tail and wheels is the one to have.
Personally, I would probably go for an early bike in red and purple rather than the normal Kawasaki green or one of the last bikes in green and black. Either way these machines are solid, reliable and beautiful. Go for it!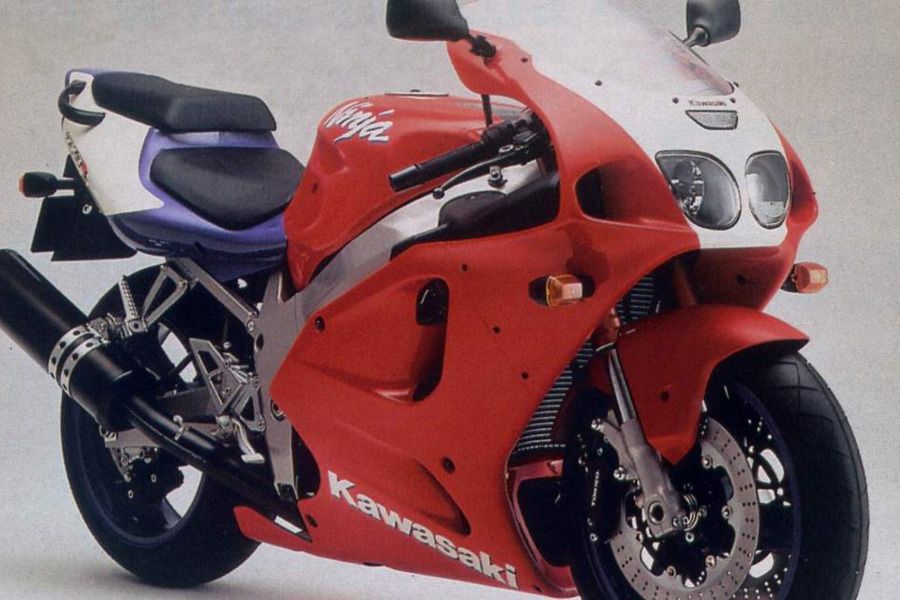 Kawasaki ZX-7R: Verdict
A great piece of superbike history and pretty good value too!
+ For – gorgeous looks and plenty around
- Against – some tacky ones around, rotting exhausts.
Kawasaki ZX-7R Specification
| | |
| --- | --- |
| Make | Kawasaki |
| Model | ZX-7R |
| Years available | 1996-2003 |
| Major changes | only colour changes |
| Price new | £9120 at launch (1996) |
| Values now | £1995-£6000 |
| Engine size | 748cc |
| Engine type | 16v in-line four, 6 gears |
| Frame type | Aluminium twin spar, aluminium subframe |
| Fuel capacity | 18 litres |
| Seat height | 790mm |
| Bike weight | 203kg |
| Front suspension | Adjustable for preload, compression, rebound |
| Rear suspension | Adjustable for preload, compression, rebound, ride height |
| Front brake / Rear brake | Twin 320mm discs / 230mm disc |
| Tyre size - Front / Rear | 120/70 x 17 / 190/50 x 17 |
| Average fuel consumption | 42 mpg |
| Max power | 123 bhp |
| Max torque | 58 ft-lb |
| Top speed | 165mph |
| 1/4 mile acceleration | 11.2 secs |
| Tank range | 165 miles |
---