---
Kawasaki Ninja H2R (H2F Concept)
By Kar Lee
Exclusive rendering for BeMoto by Kardesign

If we're getting a supercharged Kawasaki supersports bike, let's imagine what a street version could look like too. Originally created for Rapid Bikes magazine, this virtual supercharged H2 CGI gets a BeMoto update.
So Kawasaki have finally unleashed their halo technological marvel, the H2R – a bonkers supercharged 998cc inline four Superbike wrapped up in a trellis frame, single-sided swingarm and Brembo brakes, and dressed in carbon fibre. It comes in two flavours but both feature a premium price tag. We'd like to think this is just the start of a sub-range and there are more versions on the way using the same badass technology. Something a bit more naked perhaps…
Kawasaki are claiming up to an astonishing 295bhp for their H2R but our necks would be happy with anything over 200bhp on our H2F. Designed in-house, the motorcycle-specific supercharger is neatly tucked away behind the engine and is fed air through a tract on the left-hand side. Unlike the race exhaust system seen on the H2R our bike bike will use a road design based on the Z800.
Breaking from the normal alloy beam frame, our H2F shares a steel trellis and cast alloy design. Combined with a single-sided swingarm, Ohlins suspension and Brembo brakes, the H2F will take the fight to the 1290 Superduke in the corners and show an Aprilia V4 Tuono it a clean rear tyre on the straights.
Rather than use the expensive Carbon from the H2R, we've opted for a more affordable, minimalist option. Shown at the 2013 Tokyo show was an electric 3-wheeler from Kawasaki called the J-Concept. We loved the styling so much on that we've adapted it to fit our front cowl. With compact but powerful LED headlights at the front, the space it occupies can be kept to a minimum.
---
New 2017 Renders with Akrapovic Exhausts...
Since creating this feature we've updated the design following feedback about the butt ugly exhaust on the images below...
See the new 2017 Kawasaki H2F Naked with Akrapovic Exhaust here.
---
In a parallel world, this bikes exists...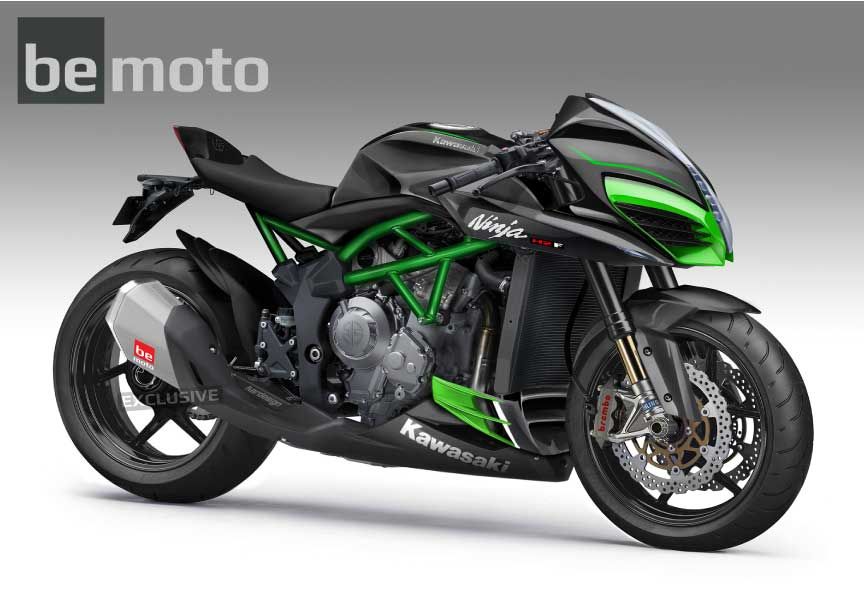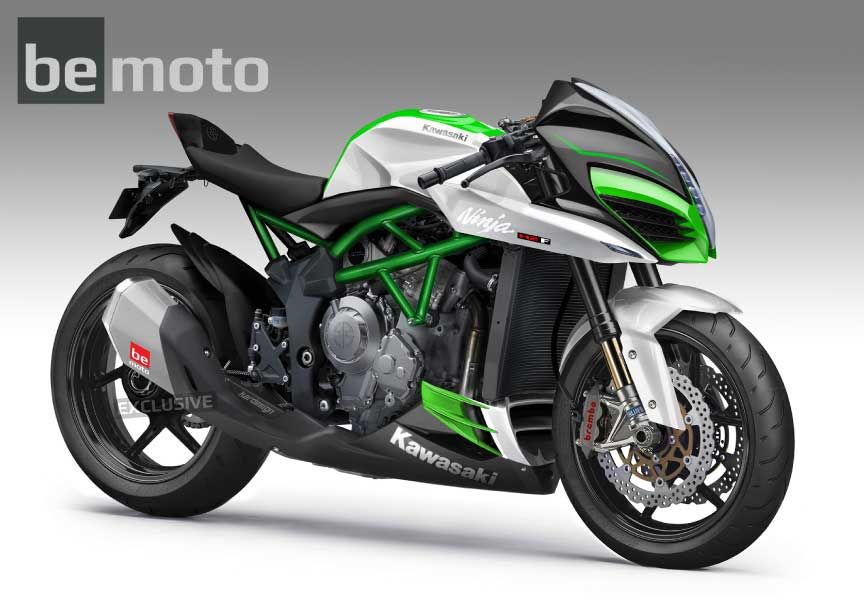 ---
H2R being revved by Chris 'The Stalker' Walker
---