---
Project Honda CB500 Part 3
By Luke Brackenbury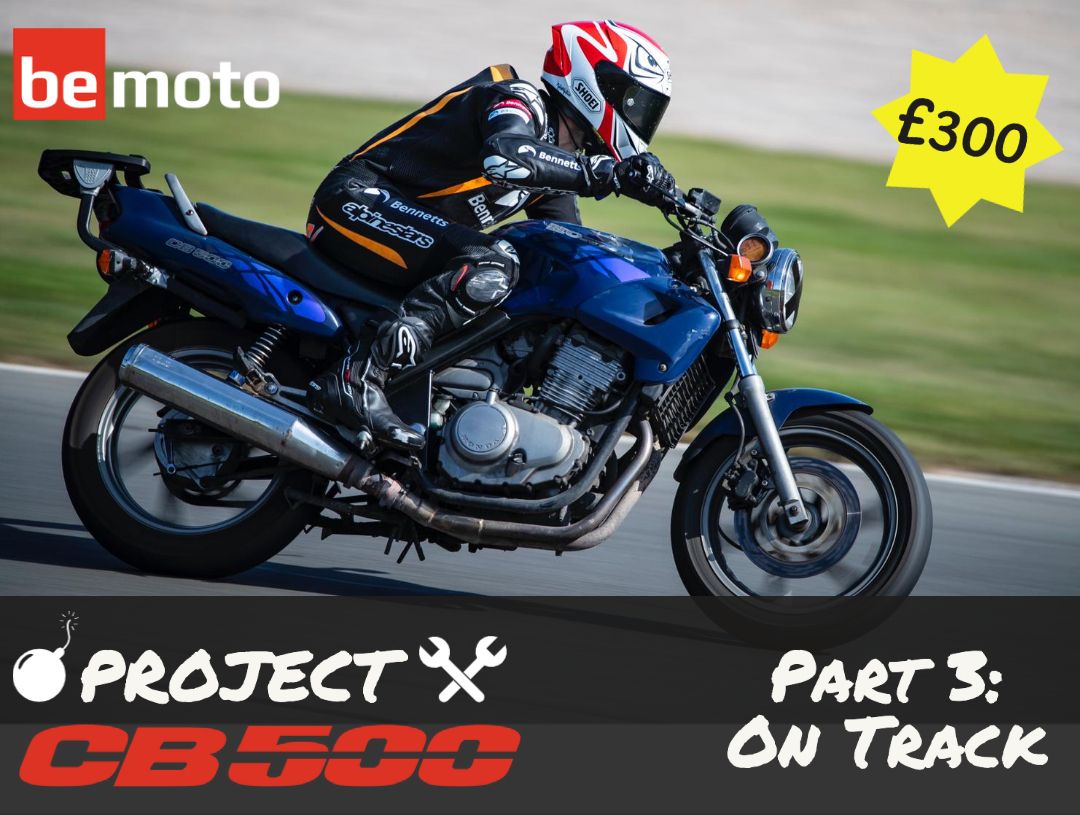 ---
Words Luke Brackenbury | Images TIm Keeton/Impact Images & Luke Brackenbury
Superstock doesn't come with less 'super' but not with more 'stock' than #RiTA - the £300 Honda CB500 project bike. Now sporting shocks that don't leak, it was time to take it on track just because we could but not because we should
The purpose for this £300 'special' is now clear - it will be an everyday commuter (what the CB500 is a class act at doing) that remains in such a condition it's perfectly acceptable for it to be ridden in all conditions and left outside. Such practicalities as a centrestand, top box and heated grips must remain. Well, also headlights, indicators and a comfy seat. We might lose the pillion footrests, though…
In the last instalment we blew the standard shocks on an enthusiastic first ride and replaced them with some rusty relics for the keen price of £20 (delivered). The droopy indicators now stand proudly erect, having been replaced with less sh1t examples that have drastically reduced the amount of tape holding various components together on the bike. This is progress.
---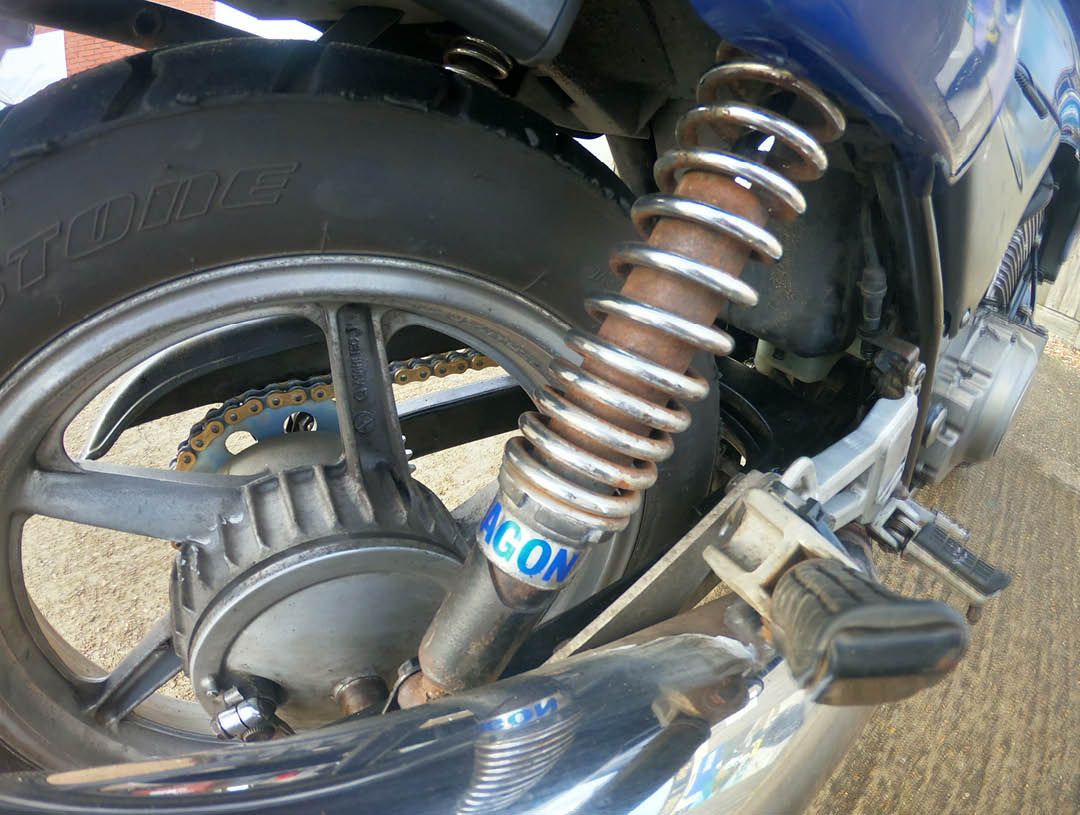 ---
With an oil tight bike and one eye on future track performance, it made sense to test the bike on track with the expected outcome to be more skidmarking (track and pants) than benchmarking. Some guy called Gordon Bennett or similar runs the occasional track day, so Donington Park's GP circuit - arguably the finest circuit in the UK, tied with Cadwell Park - was the setting.
---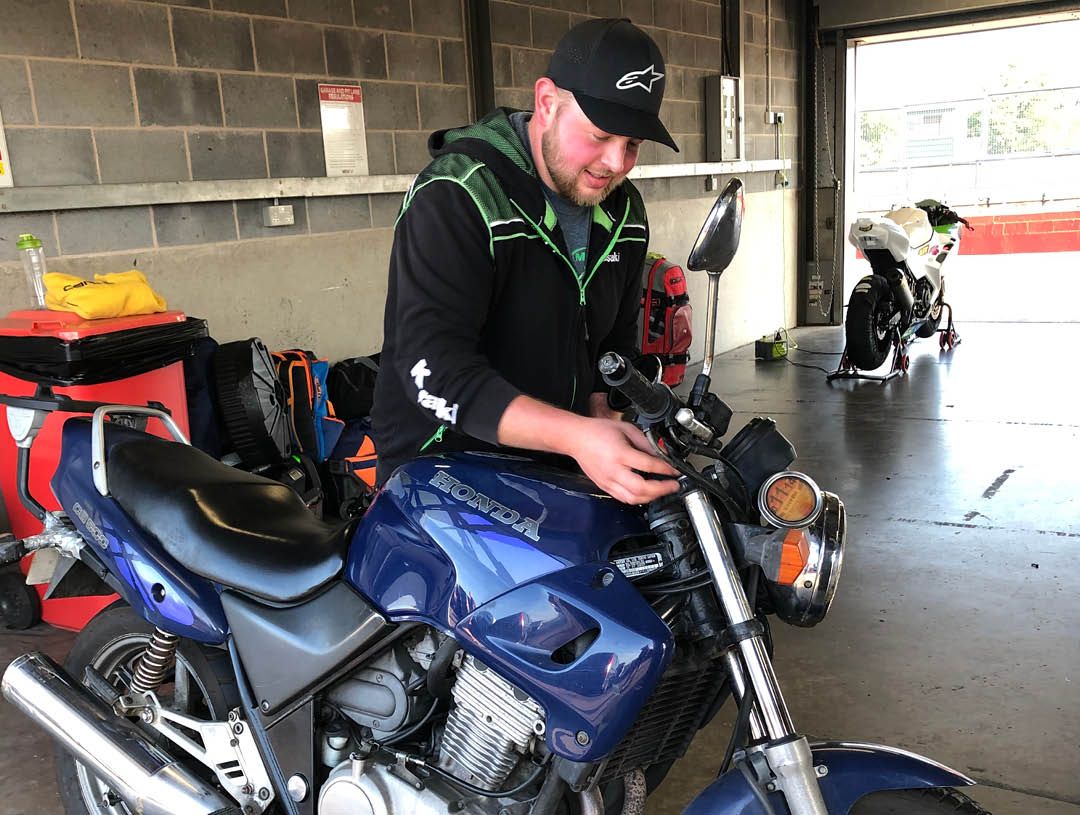 ---
Fortunately for us, Dale Extance was on hand. He's a very handy spanner man, having twirled tools as a mechanic for supersport and Superbikes in the UK and on the World stage. The look on his face when I asked him to check over RiTA for safety purposes and to make her 'track ready' was a picture. World Supersport rider, Tom Booth-Amos couldn't resist a sit on RiTA either, remarking "that's a right piece of sh1t". I think he was just jealous he wasn't allowed a go on it. But I rode his Ninja 400 race bike that day - what a machine and further proof that 'little bikes' are huge fun…
---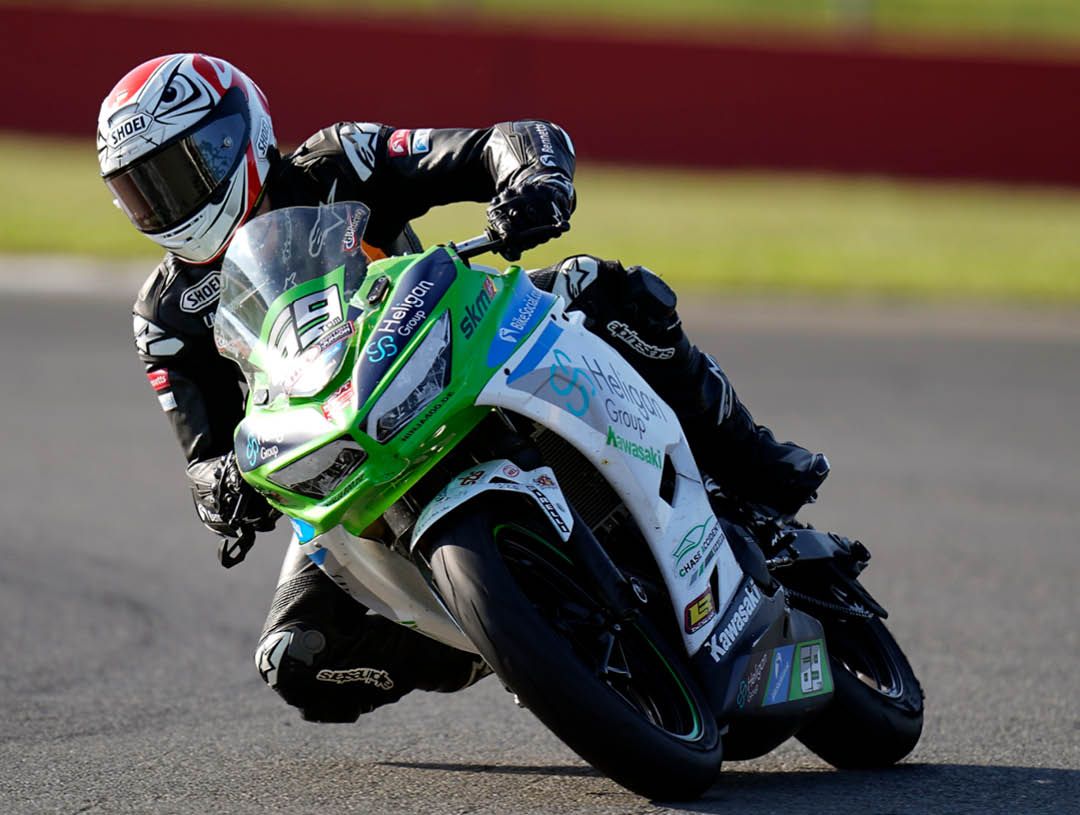 ---
All of a sudden we were back up to high levels of duct tape, covering up lights and lenses. Zip ties took care of flapping pillion pegs, a front brake lever guard (mandatory) was added, tyre pressures and bolts checked and much sucking in through teeth and rubbing of chins was done. I left the tax disc holder on in order not upset the bike's balance. Away we go, at least as soon as the fuel tap was turned to 'on'.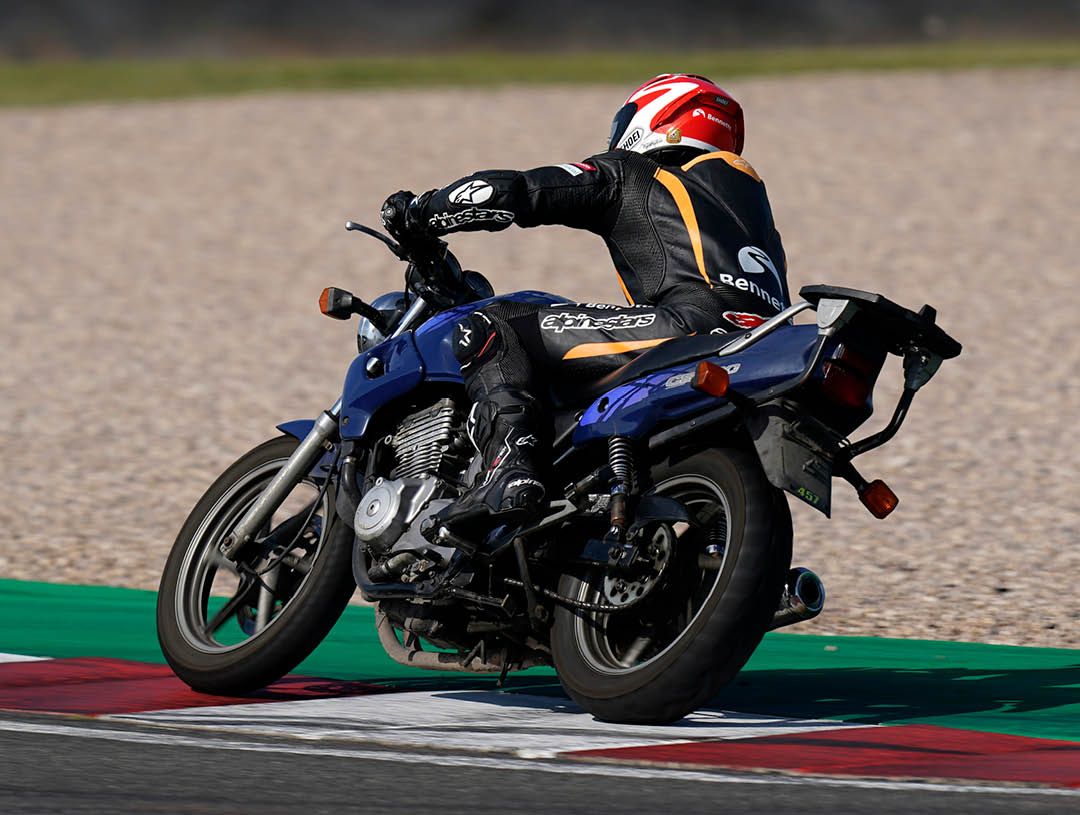 It's a funny feeling lining up to go on track on a bike that costs as much as the tyres on everyone else's bikes. I've ridden on track a lot (and a lot on bikes that shouldn't really be on track, Harleys, maxi scooters, tourers, R1200 GS…) and raced before (I used to race, y'know? 2006 Earlystocks champion on 'The Runt'…) so I'm reasonably experienced when it comes to knowing where my limit is. Or the bike's. And that took about three laps to be at full potential of RiTA in her current guise. Not to say I didn't have fun.
There's more than enough power to pass people, and more surprising was the grip on the square profile Bridgestone Battle Wing BW502 to ride round the outside in corners to make up for the straight line speed deficit. The big issues were not being able to trail brake, ground clearance and stopping power. But the spongy brakes already had the biro springs in the front forks at the bottom of their stroke, pushing the front. So more stopping power wouldn't help here. The drum brake rear was plentiful for a bit of sliding into the Melbourne Loop. Apologies to the fella on the ZX-6R who tried to out-brake us when we weren't actually trying to make the apex…
One 20 minute session was enough to not total the bike or upset anyone else. I've also never felt tyres as hot as these as track use wasn't on their design brief. But the potential is there, it didn't boil over and nothing fell off. What a bike.
Project CB500 Budget so far:
Bike: £300
Road tax: £6.03 (per month)
OE Indicators and seat release £33
Hagon Shocks (very used and rusty) £20
NEXT EPISODE - PART 4: Swingarmageddon and The Test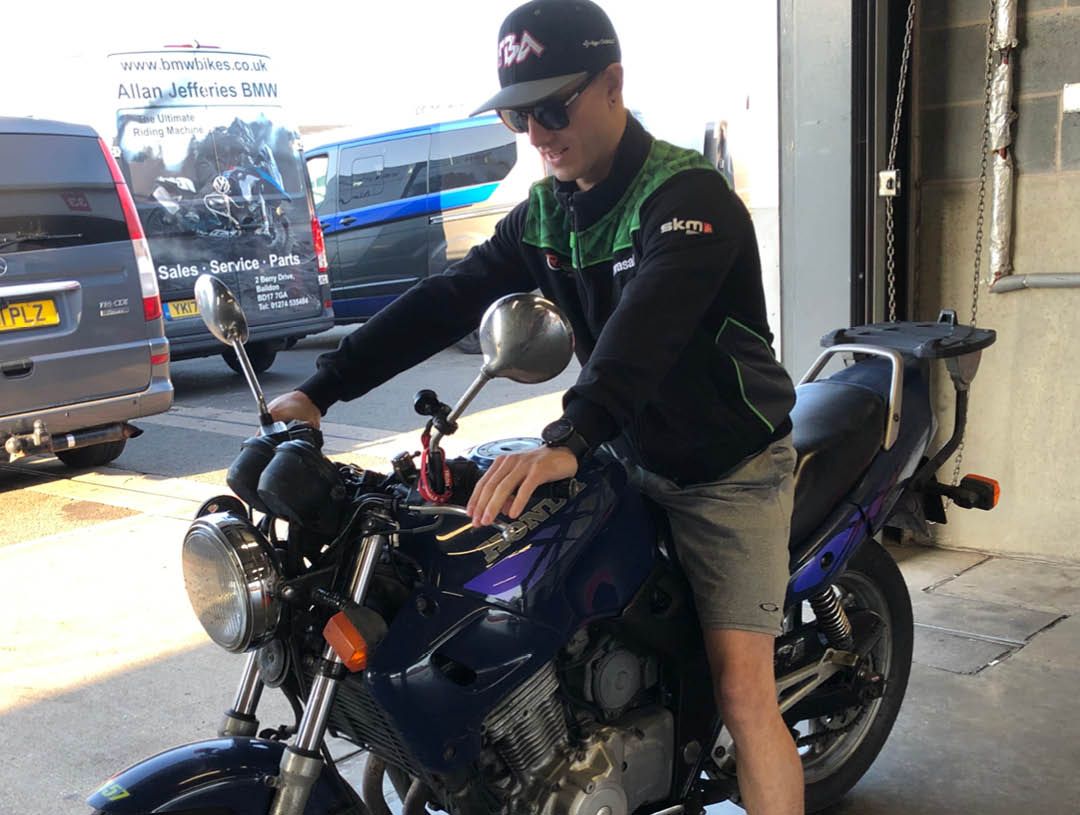 ---