---
Project Honda CB500 Part 5 - Dyno Might
By Luke Brackenbury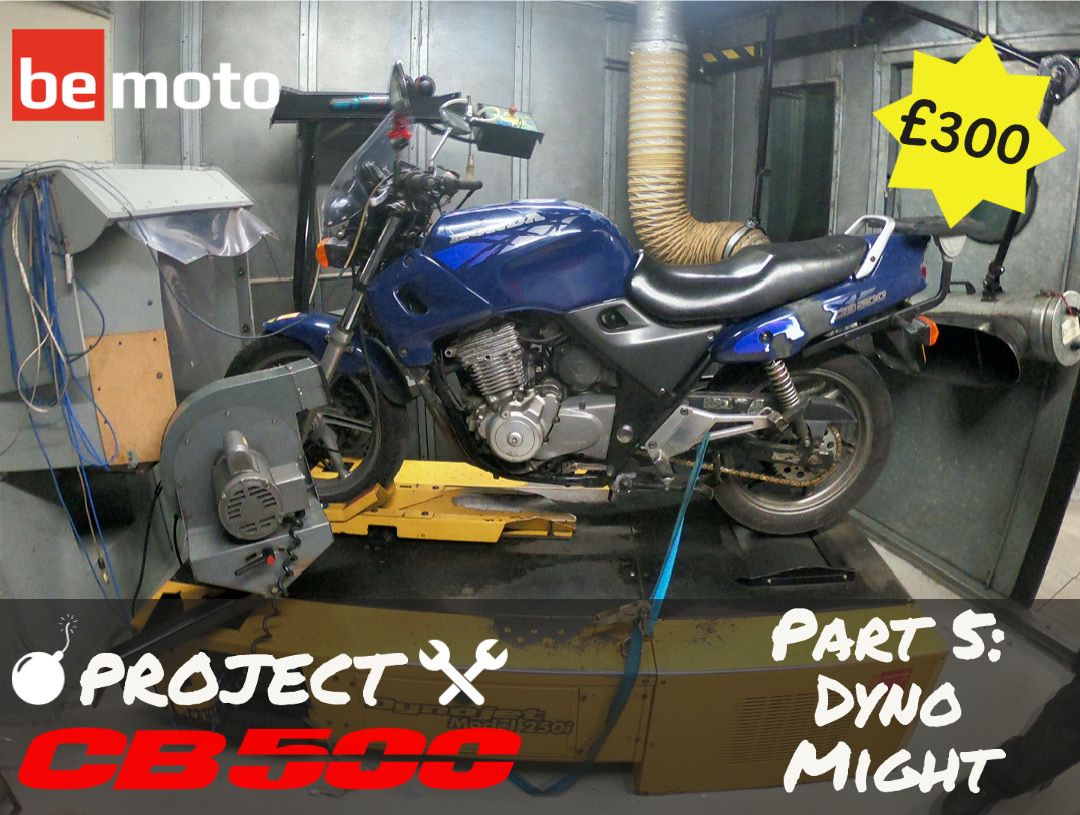 Now you might think that we are asking for trouble by putting our £300 1996 CB500 on a rolling road, but this is all in the name of knowing how much power and torque it makes, but seeing how it makes it. Besides, these things are indestructible…

Just a recap from previous blogs, the bike has had some fresh (cheap) oil and the air filter cleaned since we bought it. Everything else has been checked, lubed and greased as part of a safety check after purchase as part of a 'light' service.


---
Dyno Run 1
The bike as we've been riding it so far, which has been running super unleaded (with a minimum 97 RON) since we got it. The bandaged Motad is blowing a little. With the sort of horsepower we are potentially dealing with, there's no need for Andy at our local performance centre, BSD, to break out the extra heavy duty straps to keep RiTA from breaking loose from the Dyno.
Andy shows me some Dyno graphs of some healthy CB500 race bikes that have previously graced this famed rolling road, making 52bhp with full systems. Most likely had engines that have been stripped and valve clearances checked. We've got a 1000 mile-a-year London commuter that most likely it's only maintenance was putting fuel in it.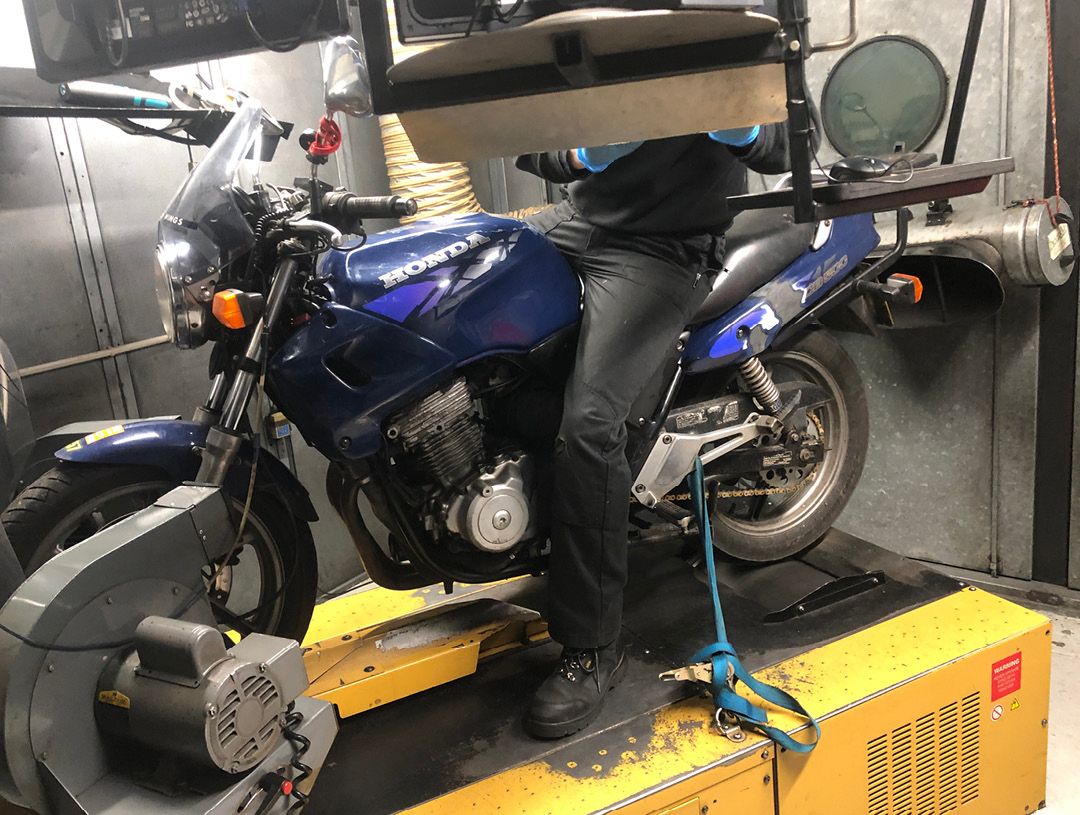 ---
But things aren't so bad when it comes to peak power - 51.69hp. Which is tasty. But the power and torque curves aren't so yummy. If we were at high revs all the time on track, it wouldn't be so bad. But we aren't. RiTA is an everyday commuter with plans for only occasional track use. The torque curve has its lumps and bumps in all the wrong places and peaks at 33.25 ft-lbs.
Service and exhaust change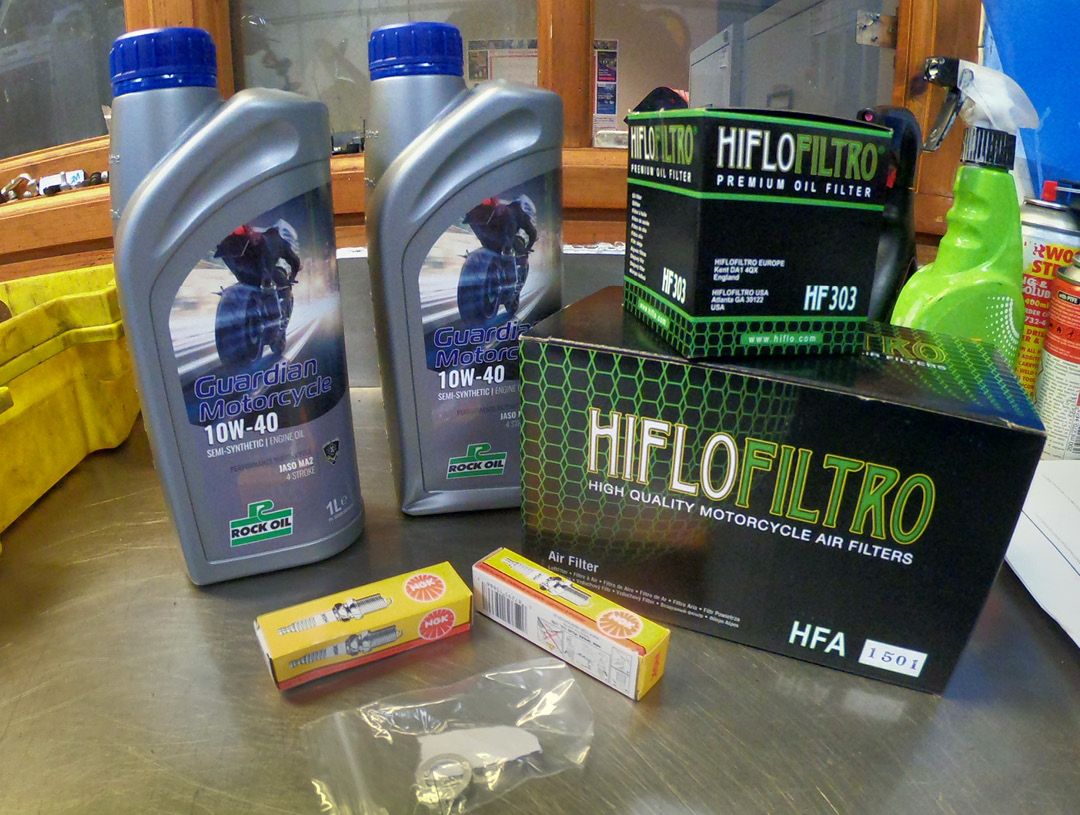 With the bike off the Dyno and cooled a little, BSD kindly loaned us some workshop space to give it a little service and swap the Motad silencer for a Pipe Werx Carbon Edge (oval, titanium) that was once on a KTM 690 DUKE R I used to own. In the spirit of hoarding stuff and making do and mend, I kept it and only needed a link pipe (with side stand provision) to fit it, costing just £49.50 delivered.
Typically, Pipe Werx sell silencers with 380mm sleeve lengths for CB500s (£277.50 delivered with a lifetime guarantee against manufacturing defects), so this custom 'stubby' 320mm item might knock a bit of top end power off but boost the midrange at the same time as shaving off 2.8kg and sounding better. And also not having an exhaust bandage hanging off.
The old Motax came off fairly easily and closer inspection revealed a few rust holes not aiding back pressure. The Pipe Werx link pipe fitted perfectly with spring eyelets lining up exactly. With it in place, the bike looked instantly better and lighter. And that's half the battle.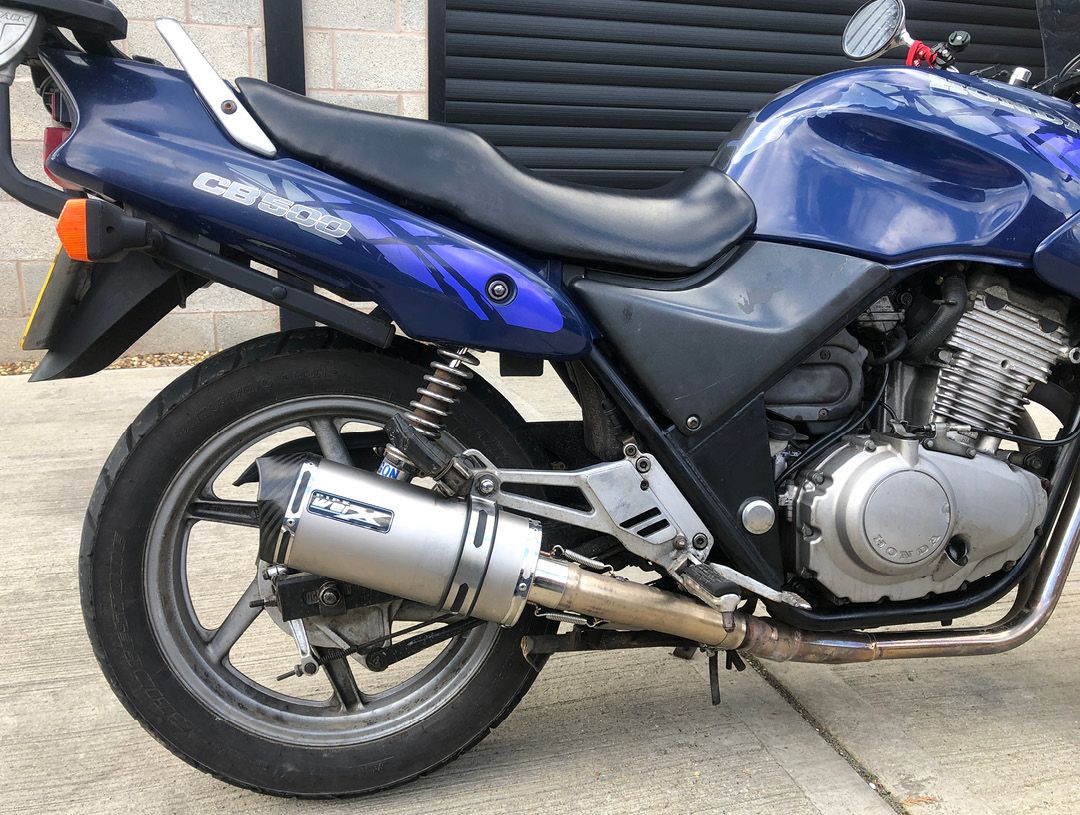 Next up was the kind of service that is well in the reach of most people and with everything easily and quickly available from www.wemoto.com with a dedicated servicing kit to group up the essential items. There isn't much that they can't offer in terms of spares and maintenance products for the home mechanic.
The oil was dropped and the oil filter removed. While that (recently replaced but with cheap stuff) oil drained, out came the air filter (washed at purchase) and replaced with a fresh item. A couple of new NGK spark plugs required the side panels and tank to be taken off to reach the cylinder heads. Word of advice - don't brim the tank before you need to remove it…
---
With that out the way, it was easy to get the old items out. Although showing age, they looked healthy enough and went into the spares pot while the new ones had their gap set and torqued in correctly (you really don't want to strip the threads in the cylinder head with an over-enthusiastic elbow…).
With the oil having time to drain it was time to fit a new Hiflo oil filter and a new washer on the sump bolt before filling up with Rock Oil's Guardian semi-synthetic 10W-40. I'd already given the coolant a flush recently as I was paranoid about how old the existing stuff was.
Whatever the Dyno said, the bike sounded 1000% better warming up with its new exhaust on.
---
---
Dyno Run 2
---
As Andy warmed the bike up through the gears I was really hoping I'd torqued up the sump bolt correctly (I did). First run and the bike sounded great - even through ear defenders - and now spat flames and popped on the overrun.
A couple more runs and we reached a figure of 50.46hp and 33.58 ft-lbs. For those paying attention earlier, that's a 1.23hp (2.38%) power loss. But that's not the full story as the torque curve is A LOT more healthy. The outright figure is only marginally better, but the difference from 3,500rpm to 7,000rpm - real world rev use - is a lot more pronounced. Which on the road, should see the bike being more responsive at low rpm and roll-ons in higher gears. I'm also hoping for better fuel economy, to try and offset some of these new costs!
---
Post Dyno Road Test
Well. What a difference the exhaust makes. Obviously the servicing kit is good for the general health and performance of the bike, but the difference in how the engine performs was a lot bigger than expected.
I don't need to rev RiTA as hard and consequently aren't changing gear as much - roll around in high gears and the bike just picks up with vastly improved throttle response. And the noise is amazing, but I did put the removable baffle back in as it was a little too fruity when warming up the bike in my back garden.
The transformation is honestly so much different and I don't believe it would have been the same result with a longer silencer. But then again, the fact the Pipe Werx unit isn't blowing will be aiding this difference. Either way, I'm happy. It just needs the suspension sorting. And the brakes improving…
---
NEXT EPISODE: Part 6 - Brake Out!
RiTA Spend so far:
Bike: £300
Road tax: £6.03 (per month)
OE Indicators and seat release £33
Hagon Shocks (very used and rusty) £20
Secondhand swingarm: £35
Puig Screen: £32
MoT: £27.50
Tsubaki Chain & JT Sprockets: £128.32
Dyno runs x 2 £
Servicing kit from Wemoto (air filter, oil filter, oil, spark plugs, sump plug washer, 3 litres of oil, pair of latex gloves) £62.86
PIpe Werx link pipe £49.50
Total £688.18 (not counting road tax)
---