---
Review: Yamaha MT-10
By BeMoto
Pros
All-round greatness
Fookin fast
Fun & nimble like a 600 sportsbike
Cons
Uncomfortable 'butt plug' seat
Fuel gauge design
Overly sensitive cruise control
Yamaha has been setting a new standard with the MT series over recent years and now they have a new flagship model... The shit-hot (many say butt-ugly) hyper-naked MT-10.
One of the BeMoto team borrowed one for a test ride, here's what they had to say about it.
Oh and we just happened to bump into Baron von Grumble and his Jizz Machine HP4 with Joanna Benz on a tricked-up S1000RR at a bike dealership in Aylesbury. Not to mention a gratuitous shot of the bike next to a Lambo in the local pub car park...
---
Hyper-formance
This thing kicks ass. Full stop. Unless you prefer sportsbikes, then buy an R1...
The MT-10 Deltabox frame and engine have been developed directly from the latest YZF-R1. The 998cc in line "CP4" 4-cylinder crossplane engine delivers 160bhp and aggressive levels of torque.
Yamaha have monkied with the Mode settings - A and B no longer means Wet Mode and Sport Mode, now it's just "Standard", "A" (for Aggressive) and "B" (for Bonkers). Stick it in A for a good mix of power and smoothness - not that you'll notice too much difference between them.
Beauty is in the eye of the beholder...
There's no doubt the biggest area of contention is the way it looks... Whichever side of the aisle you happen to be preaching from, you can't deny it's a good thing for designers and manufacturers to mix it up now and again. Anyone remember the Suzuki Katana?!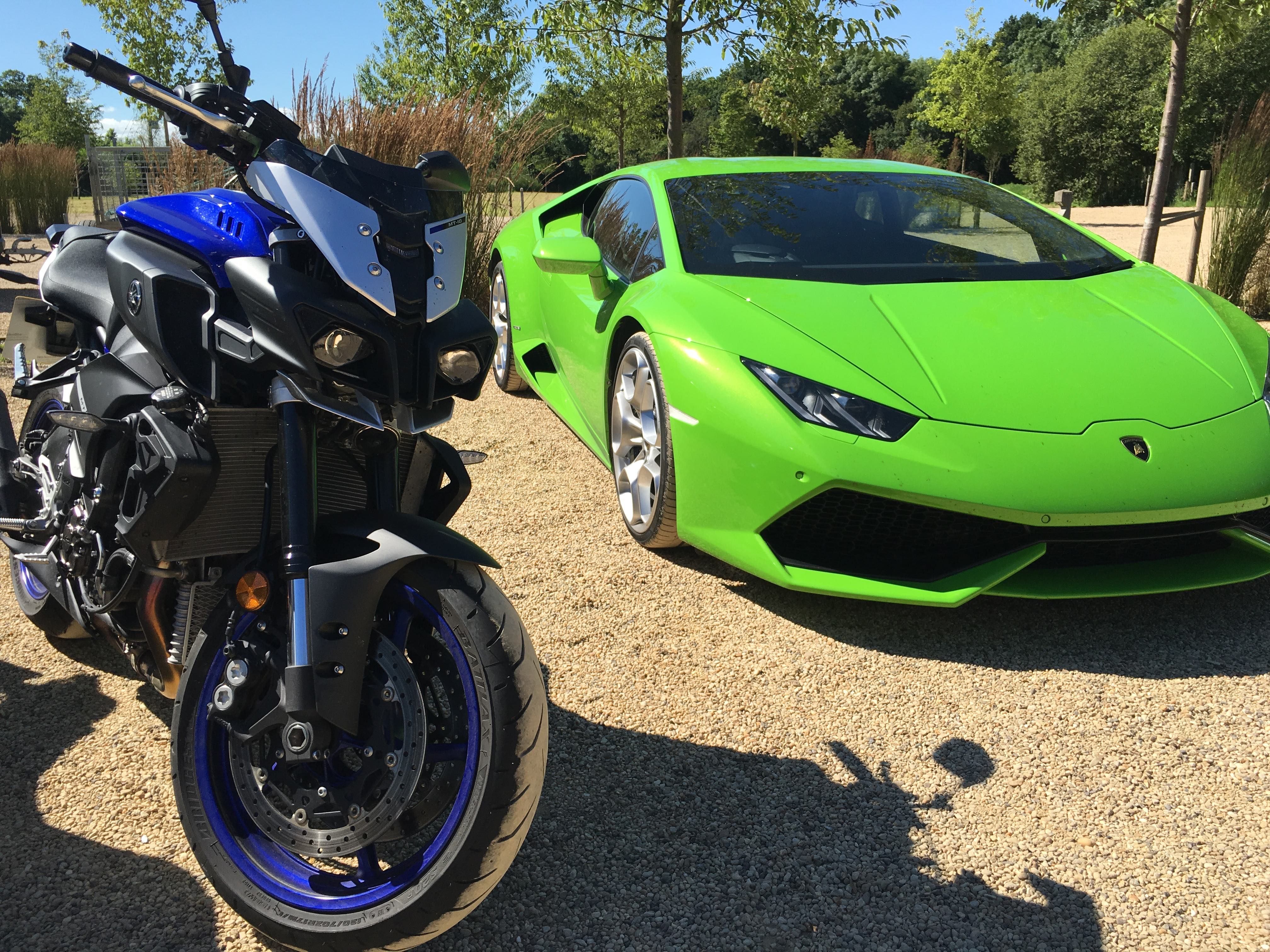 Starting at £9,999 you get a lot of bike for your money, and I personally like the muscular Transformer look with the LED lit eyes, but there are some upgrades needed to finish it off - a quick shifter, Akrapovic exhaust, tail tidy and some carbon covers at the very least - maybe even a posh radiator cap to satisfy some underlying OCD compulsion given it's fully on display.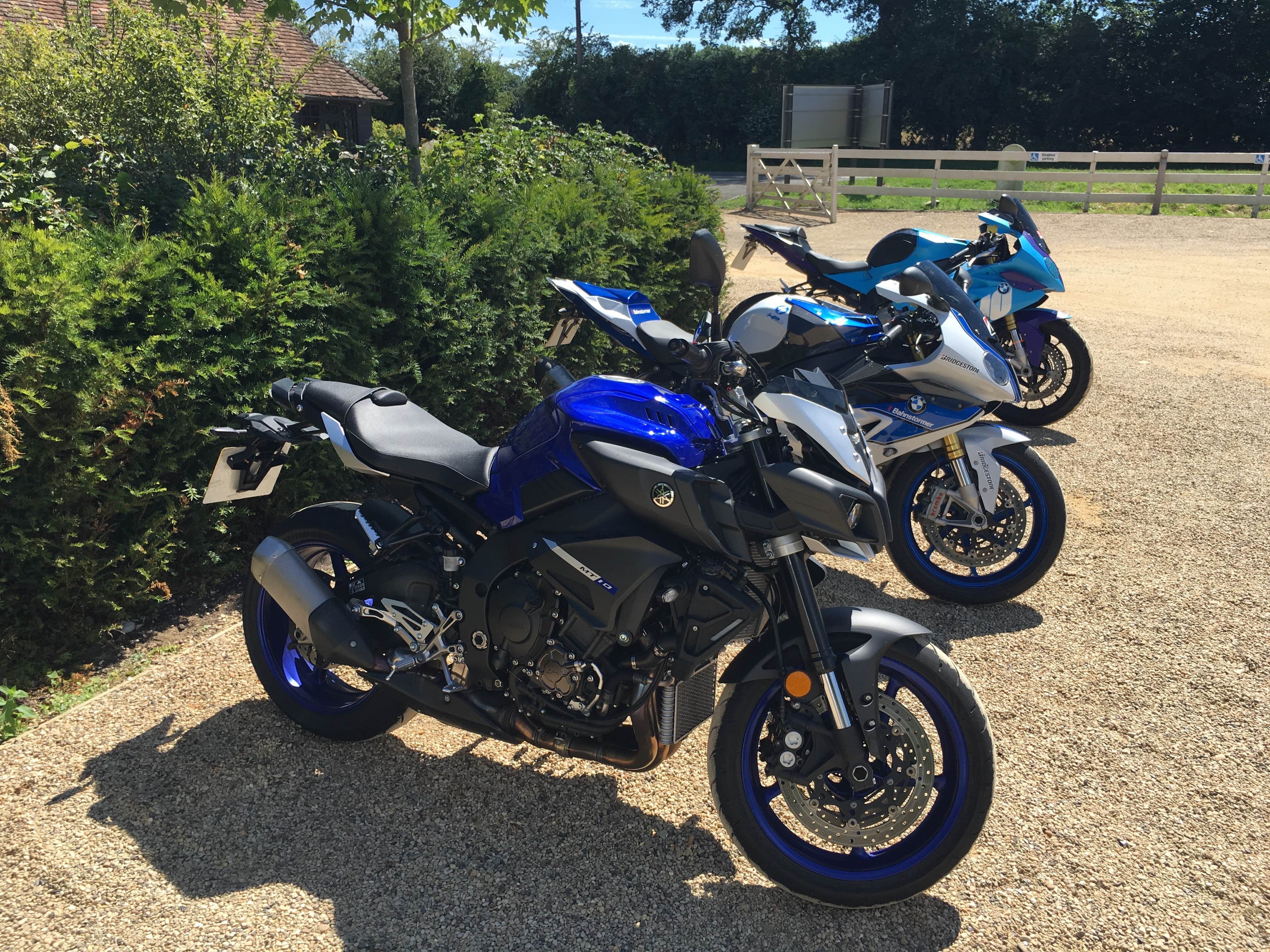 MT-10 colour chart: Night Fluo (goes nicely with a Polite Notice vest), Race Blu and Tech Black.


---
Handling

For a 1000cc beast it's incredibly nimble around town and perfectly balanced in corners. The seating position makes it feel a little forced to hang-off the bike and the brakes are good but would benefit from some Brembo or similar upgrades. The R1 suspension has been toned-down for road use but the MT-10 is still firm and sporty.
Getting back on the trusty 1995 Suzuki Bandit (the knackered work horse) certainly drove home how far these naked bikes have come on in 20 years - power aside, the MT handled like a 600 sportsbike in comparison - and the ride back was filled with creative ways to convince my wife how much I need the MT-10 in my life!!
Comfort
For those who prefer the comfort of a naked bike to the doggy-style sportsbike position, the MT-10 delivers R1 performance with the benefit of upright seating - the wide tapered handlebars, overall physical size, height and layout of the bike with the slightly wider tank felt custom made (as a 'big lad').
However... Yamaha have disappointed by using a bloody uncomfortable seat unit with integrated butt-plug (unless you like that kind of thing) - to stop you sliding backwards I assume. You can buy a comfort seat upgrade for around £200 which seems a little like DFS selling you a sofa without the cushions...
Display & Functions
The dash is simple and easy to use with the key functions controlled via buttons on the switch gear. The LCD multi-function instrument panel includes a digital speedometer, bar display tachometer, fuel gauge (which jumps annoyingly from full to 50% in the blink of an eye), odometer, gear position indicator and other stuff I didn't bother with.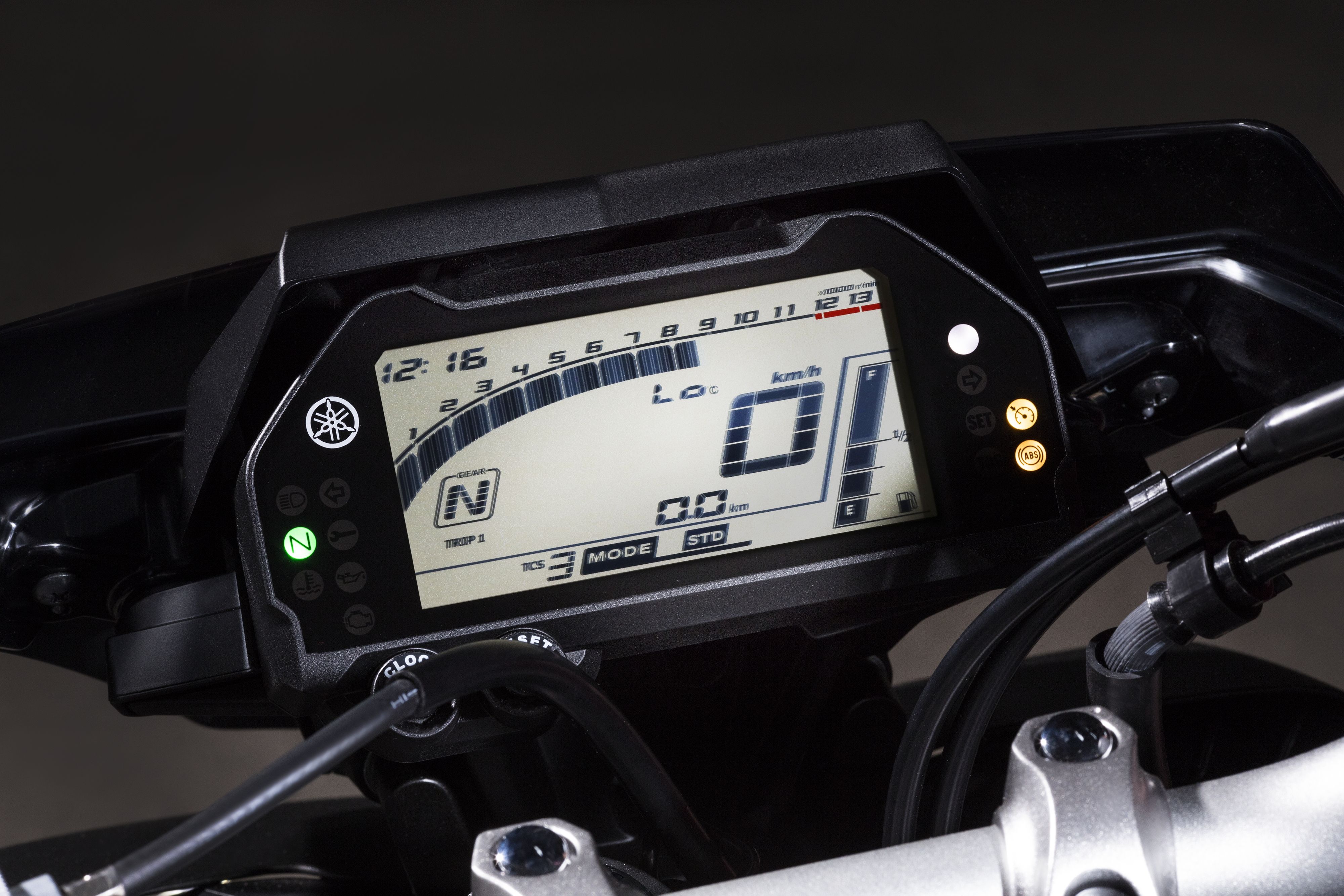 The bike comes as standard with ABS, switchable 3-mode Traction Control System (TCS) and cruise control - which to be honest works fine but is a bit on the sensitive side. Once engaged you can turn it off by dabbing the front brake or rolling the throttle forward slightly. I found this could be tricky on bumpy roads when your hand naturally rolls forward very slightly and suddenly decelerates by cutting out the cruise control. However it's bloody handy on motorways, especially if you can't control your throttle around average speed cameras or need to free up your throttle hand for a while (hand cramp or itchy balls etc).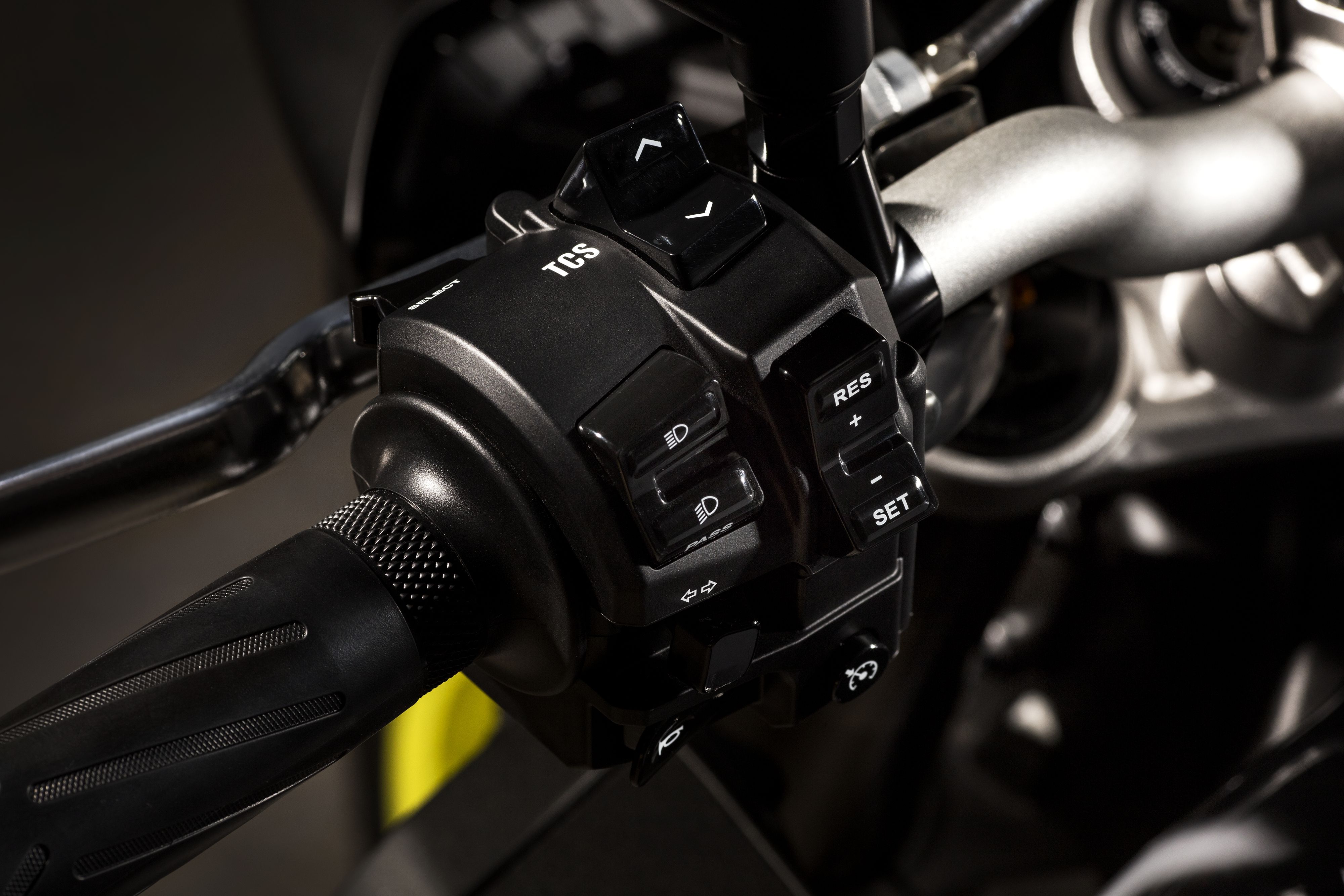 ---
Overall
Great all-round everyday bike that can also handle beautifully on the twisty lanes and could probably show up a few track bikes on the circuit too. The marmite looks aren't for everyone but fans of the MT will be lusting after this for a while as Yamaha have predictably been slow to fill showrooms with anything more than a safe pre-order volume. Having owned sportsbikes continuously for 15 years I would seriously consider buying one, and a comfort seat without the butt plug...
---
Yamaha Bike Insurance from BeMoto
At BeMoto we specialise in motorcycle insurance. Speak to a real biker about your Yamaha - whether you have a Scooter, off-road dirt bike, an R1M for the track or an MT-10.
At BeMoto we understand modifications and will ensure your modifications are properly covered (unlike most we replace declared mods like-for-like).
All our road insurance policies also come with FREE Legal Expenses Insurance and NO fees to make changes during the policy term.
With Titanium Cover you also benefit from Personal Accident cover, Helmet & Leathers cover and full UK and European RAC breakdown as standard.
Call a BeMoto bike expert on 01733 907000* today for a quote

---