---
Solo camping on a motorcycle: You can do it!
By R1Lz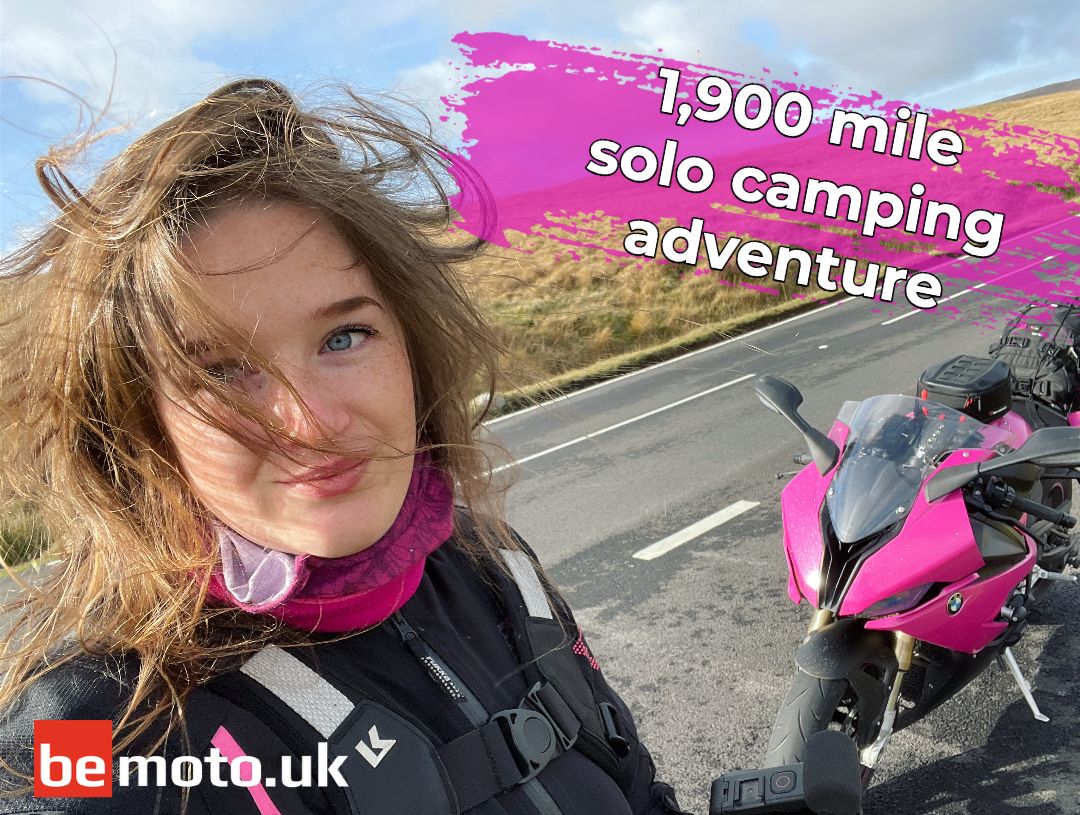 ---
Why not check out BeMoto Touring Insurance
If you're planning a motorbike tour overseas then one of the first things you should do (once you know your travel plans) is to buy touring travel insurance as early as possible because it includes some support for things like cancellation cover - if you had to call off your trip for a range of specific reasons - losing money in the process. Be warned that many 'normal' travel insurance policies don't actually cover you for riding a motorcycle greater than 125cc, which could potentially leave you seriously out of pocket if you get injured in a touring accident on your bike and incur emergency medical costs. Whilst your EHIC/GHIC card might cover some of this in some countries, the benefits of proper touring travel insurance means you'll also have up to £100k towards emergency repatriation costs if you cannot get home safely.
Also check out BeMoto Titanium Cover which includes up to 90-day per trip cover extension (many limit this to 90-days per year), but it also includes European breakdown cover for all your bikes insurance with BeMoto, provided by the RAC.
---
A 1,900 mile adventure from Portsmouth to Durness and back solo may not sound a lot to some riders, but for R1Liz it was all about pushing her own limits and not missing out on adventures when others aren't able to join. In summer 2022, she decided to face her fears and take on a solo camping trip on a Suzuki GSXS-1000GT.
Who is R1Liz?
She's best known for wrapping her litre sports bikes in sparkly pink (was an R1, hence the name, and now BMW S1000RR), riding big adventures (even in winter), making incredible cartoons and capturing her two-wheeled life on Instagram, Facebook, TikTok and YouTube. She's also a BeMoto customer.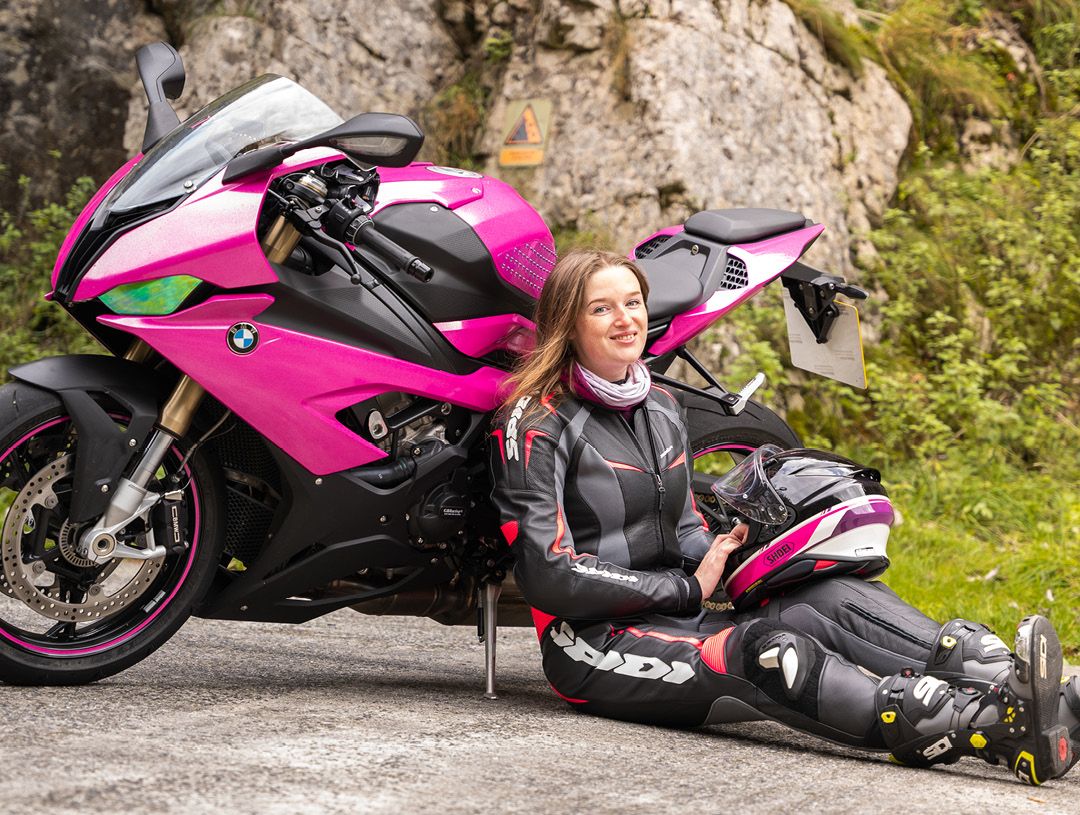 ---
What's the background?
This summer I went solo camping, something I've always envied other people for being able to do, while being a bit too nervous to have a go at myself. Little things like not being able to get my tent pole into the tent pole hole without help, buying the wrong gas for my camping stove and the possibility of it all going Horribly Wrong have put me off going anywhere in a tent without bringing a grown up with me.
Well, I finally figured the gas thing out, and a friend showed me how to put my tent up without risk of taking my eye out, so I decided there was no excuse not to go and conquer the best that Scotland has to offer with just my bike's imaginary personality for company. Thankfully, I didn't have to put up with Pinky's (my BMW S1000RR) magnetism for drama for my seven-day journey from the bottom of England to the top of Scotland; I'd planned my dates to coincide with my turn on Suzuki's new GSXS-1000GT, the firm's latest in touring comfort and technology. This is a bike that vacuums up long days on everything from the M6 to tiny twisty roads (that I got lost on, but more of that later).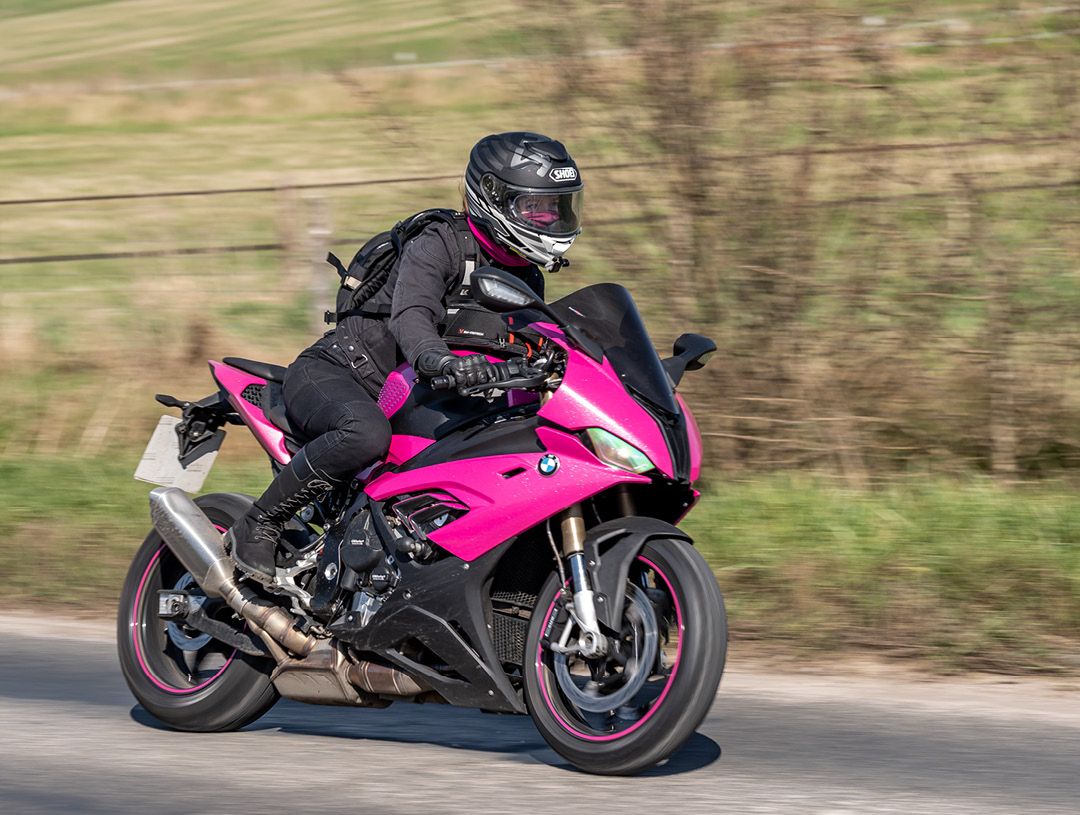 ---
What I packed...
For my luggage I had a US-50 Combo kit from Kriega, a completely waterproof set up that I'd chosen for its versatility and durability which I can use on my own bike as well as anything else. This had enough room for the majority of my kit. I took my new one person tent (an OEX Phoxx 1v2) that packed up small enough to fit into the 30 Litre dry bag along with my sleeping bag and roll up mattress. My cooking kit and gas canisters, and a bundle of clothes went into two 10Litre bags. I also attached a spare blanket and tarp to the back of the bike - two absolute essentials that I always take regardless of the weather forecast.


---
Where I rode to
My journey started in the deadly British Heatwave of July 2022, otherwise known as 'Summer'. But because I knew things would change rapidly once I reached Scotland, I dressed for miserable weather and spent all of my first day sweating into my riding kit and probably making the people in service stations feel sorry for me.
My first campsite was on a small farm near Penrith, some 350 from my original starting point. I successfully built my new tent and had a very difficult night's sleep because as - it turns out - sheep will shriek into the night. Who knew?
The following day I crossed into Scotland. I thought it'd be an emotional experience for me, it being a big achievement and all, but when I reached the big 'Scotland' rock there was nothing there except a man walking round the hedge to have a wee before going back to sell 'I <3 Scotland' magnets out the boot of his car, so I decided it probably wasn't the appropriate time to have a celebratory cry.
We (the bike and I) continued into Scotland. Thankfully it had cooled down to a reasonable temperature, and we cheerfully made it through the next few days. The roads I found were quiet and scenic with all the right kinds of bends and hills. I cooked my favourite meals on my camping stove which I'd bought the correct gas for. I didn't break my tent.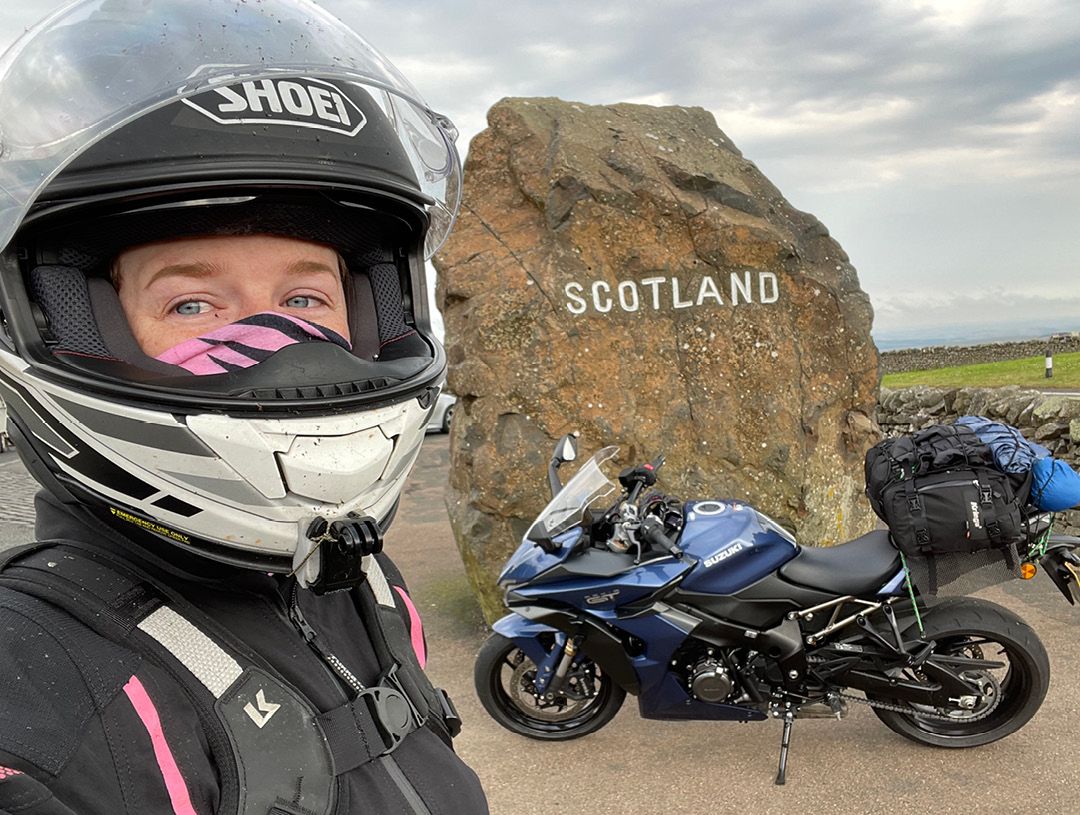 ---
First impressions of the Suzuki GSXS-1000GT
The GT was comfortable and easy to ride, it had good brakes which is important for Scotland because the roads will tell you there's some wiggles coming up and then throw hairpins at you with no further notice. It had all the new features you could want (and maybe expect) on a modern bike, and it was nice to be riding something that was built for the riding I was doing, and unlike with some bikes, I didn't have to worry about the state of its wellbeing and whether it was going to start again in the morning - it just got on with it.
POP goes the tyre…
Unfortunately, no bike is immune to stray screws sticking out of the road and so on Day 4 we had a breakdown, about 10 miles into my journey, but mercifully close enough to a petrol station that it could be nursed to the safety of a building with a coffee machine.
At this point it did occur to me that I was 600 miles away from home with absolutely no mechanical know-how let alone puncture-repairing capabilities, and only curious strangers for help. I am proud of how well I held it together while I considered how long I could survive on petrol station food for (indefinitely I think but it'd be terrible for my skin) and I did not lose my cool in front of the locals.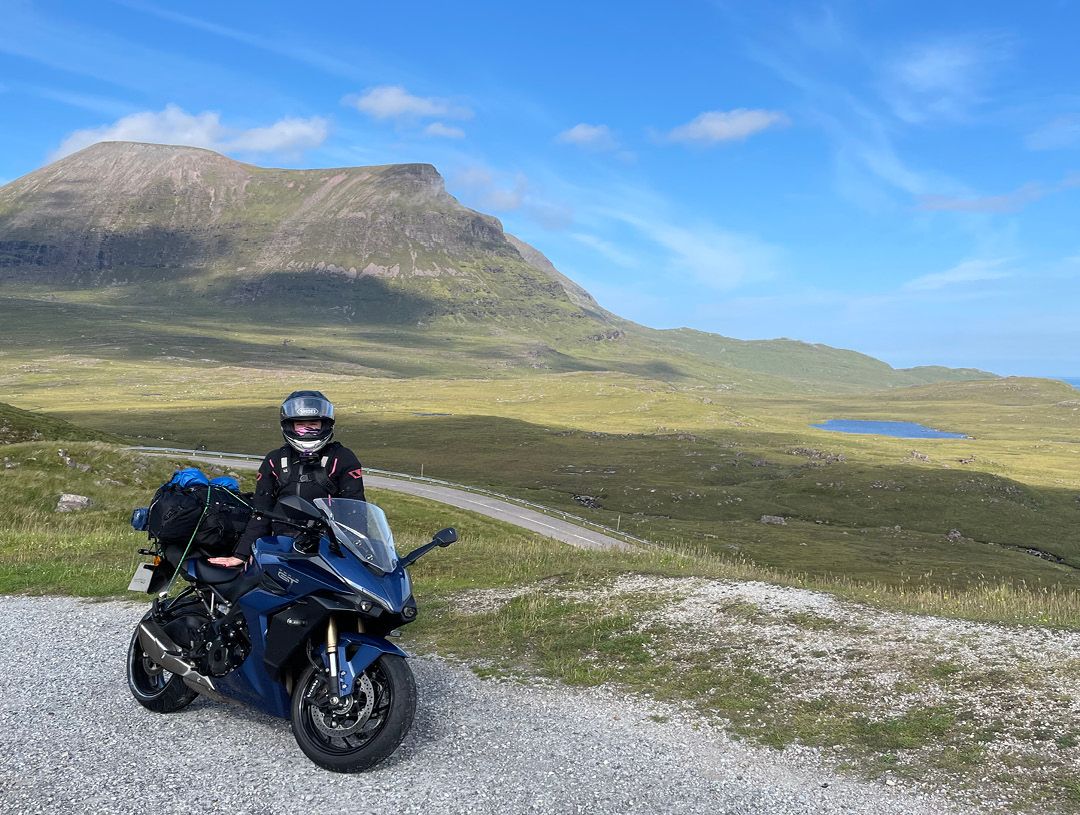 ---
Breakdown but not broken
As it turned out, the GT had comprehensive breakdown cover with Suzuki (you can get the same with BeMoto Titanium). A lovely AA man came to my rescue within 45 minutes, and a friend (big up Eric) who knew a local motorcycle garage contacted them for me to see if they had a tyre and space on their schedule for an emergency fix. Three hours and £170 later I was back on the road with a shiny new rear tyre and a refreshed fear of tiny unknown objects on the tarmac. Despite the delay, and after lots of photo stops as I passed mountains, lochs and miles of undisturbed scenery, I made my next campsite, at the tippy top of Scotland on a beach called Sango Sands.
The stress of the day melted away as I wandered around the empty beaches looking for pretty rocks, but I did start to feel a bit lonely. I had expectations that I'd meet other motorcyclists on my journeys or at campsites and have people to talk to, but aside from groups of bikers going in the opposite direction and three Vespas on the campsite, there hadn't been anyone. So, I sat alone staring into the ocean trying to think deeply about the direction my life was going in and then it got cold so I went back to my tent to watch TikToks…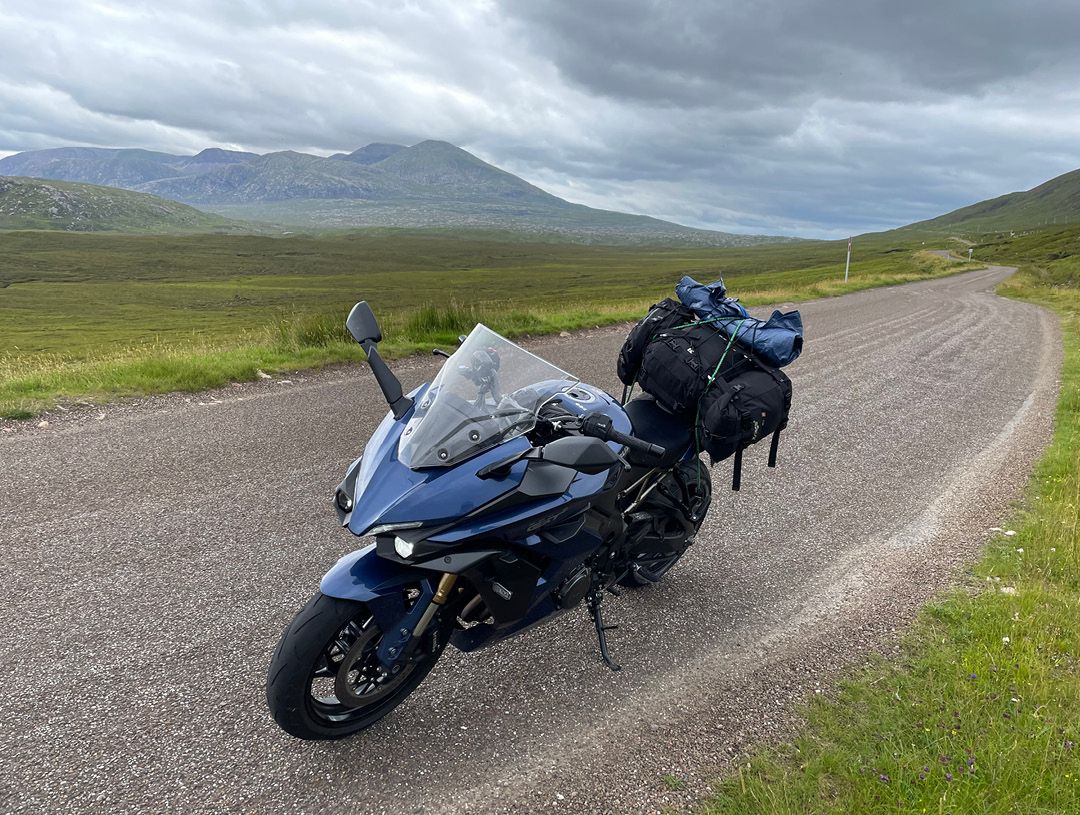 ---
Things went south when I went south. It's typical of Scotland to welcome you with the open arms of beautiful weather and then kick you out again with relentless rain. I thought at the time that I was prepared for rain, but I absolutely was not and I can't believe I was so smug about it. The rain was beautiful, low hanging clouds covering the tops of mountains and turning everything dark and grey. The conditions enforced wet-weather riding confidence so although it wasn't ideal, I'm thankful for it. I reached my next campsite happy, but completely drenched, and set up camp for the night. I was then met with a challenge I'd so far avoided - going to a restaurant - alone.
The barely-a-village I was staying in had no shop, I'd not stopped to buy food, and there were no take-aways. I was not in the mood to gear up and ride, so the only source of food was one of the two hotels within walking distance that had restaurants. There's something about going into a restaurant and asking for a table for one that's unbelievably daunting for me, but the reality was, it wasn't so bad. Even though it was a bit sad, I overcame a personal milestone and went to bed full of carbs and slept through the rain.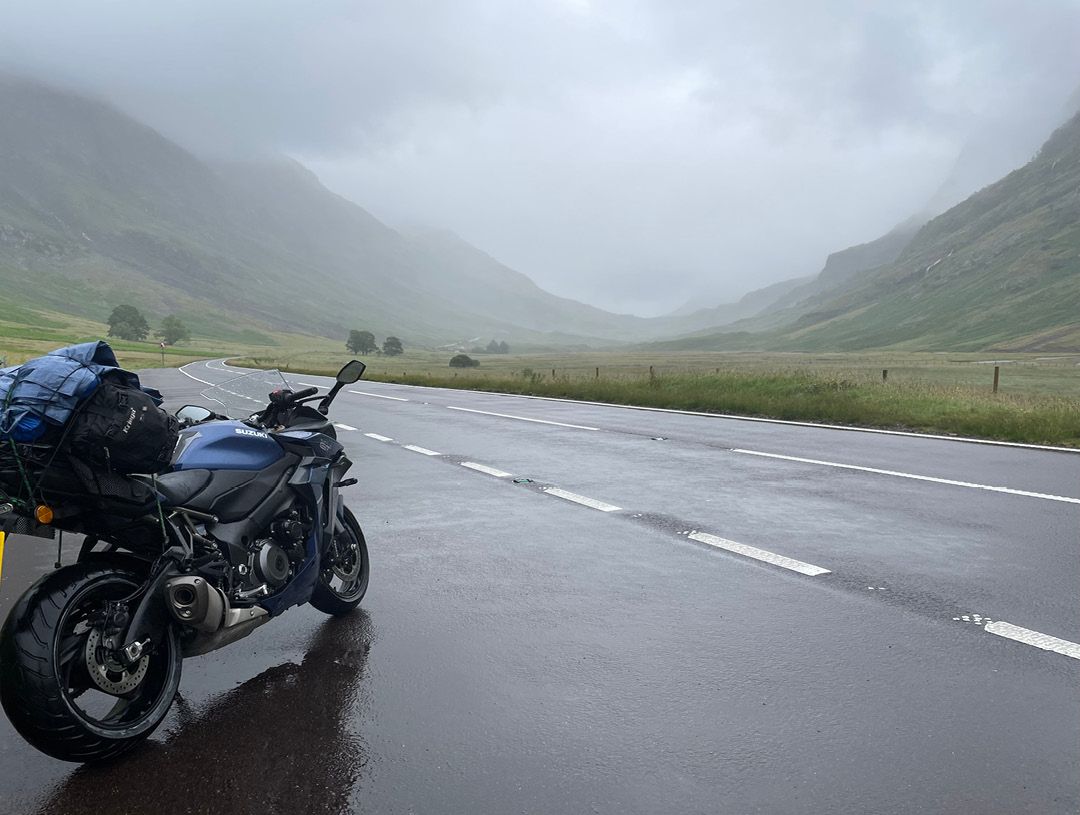 ---
I should have had one more night of camping - and I'm not proud to admit this - but I hard style bailed. I woke up to rain, and a small river had formed outside my tent to which fellow campers made comments as if I should have foreseen that development and pitched up somewhere else. My sleeping bag was wet for no reason, and once packed up there was no way I'd get it all back up again in a way that was liveable. I mean maybe I could have, but it would not be in the spirit of a fun and pleasant holiday.
I loaded the bike up for the final time and rode through the rain all the way to my lovely friend Kate's house, conveniently located between where I was and where I was going, with a comfy dry couch, an evening of gossip and an extremely good local Indian takeaway.


---
Almost 2000 miles on a Suzuki GSXS-1000GT: Verdict
The next day it was time to return the GT to Suzuki, say goodbye to my two wheeled friend, and pretend that I hadn't noticed how filthy it had ended up when I handed it over to the poor man in the garage who'd have to clean it (I'm so sorry).
The Suzuki GT had been the perfect touring machine. I could easily see myself doing more miles each day than I did, and knowing what I know now, I'm a little disappointed that I didn't push myself further with it. Something about the riding position and the layout of the front made sitting on the motorway and using cruise control for hours on end feel almost therapeutic. Despite sharing an engine with the meaner GSX-S1000 it was smooth and gentle to ride through winding narrow roads and the dreaded hairpins, while of course cheerfully overtaking everything you pointed it at. The Sat-nav and phone connectivity remained unused but it was a comfort to know it was there should my internal compass give up. There is a Suzuki app connecting my phone to the bike, and navigation through the bike's dash is simple to use. It's easy to see why the GT has been so popular.
What I've learned from a solo riding and camping mission
A week later and my kit has been dried and packed away and I'm daydreaming about the next trip. Going alone was eye opening in a few ways, I learned a lot about myself, my capabilities and habits when left unchecked. It's given me a better idea for how to plan future adventures and given me a new sense of confidence and freedom when thinking about places I'd like to go. I'm no longer concerned with finding someone who wants to go with me, or hoping I'll be invited to join someone else. My trip wasn't quite the spiritual journey that I thought it'd be, maybe I'm just not that deep, but I got out of it what I wanted, which is confidence, independence and a few 'I Love Scotland' magnets.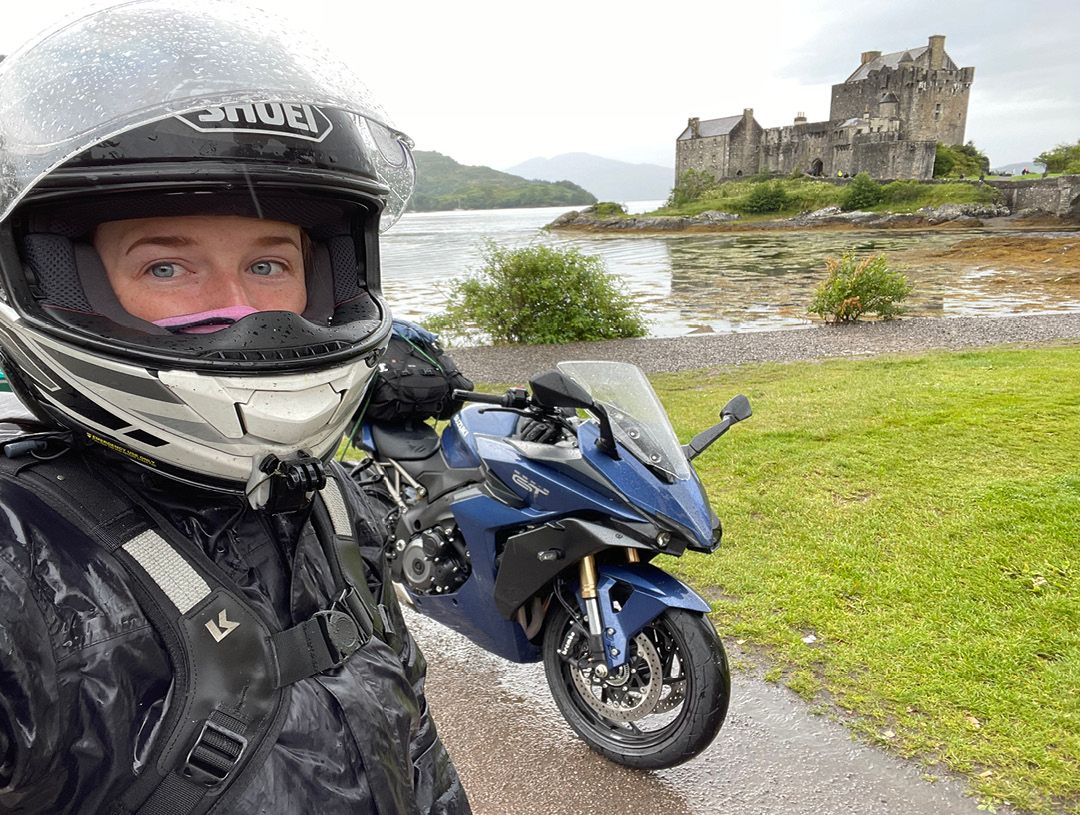 ---
Watch R1Liz's Solo Camping video here
---