---
RIDDEN: 2019 Triumph Moto2 Development Bike
By Alan Dowds
LIFE'S full of surprises. But one of the biggest ones came to me about 18 months ago, when I phoned a Triumph PR man to ask about a rumour – obviously nonsense – that the Hinckley firm was about to sign a deal to supply the engines for Moto2 from 2019. His frantic pleas not to publish anything for the moment – the deal with Dorna hasn't been signed yet, publicity would threaten it, yada yada yada – confirmed the story as true, and here we are, heading towards the end of the 2018 season, and Triumph is all set for one of the most exciting stories in its history.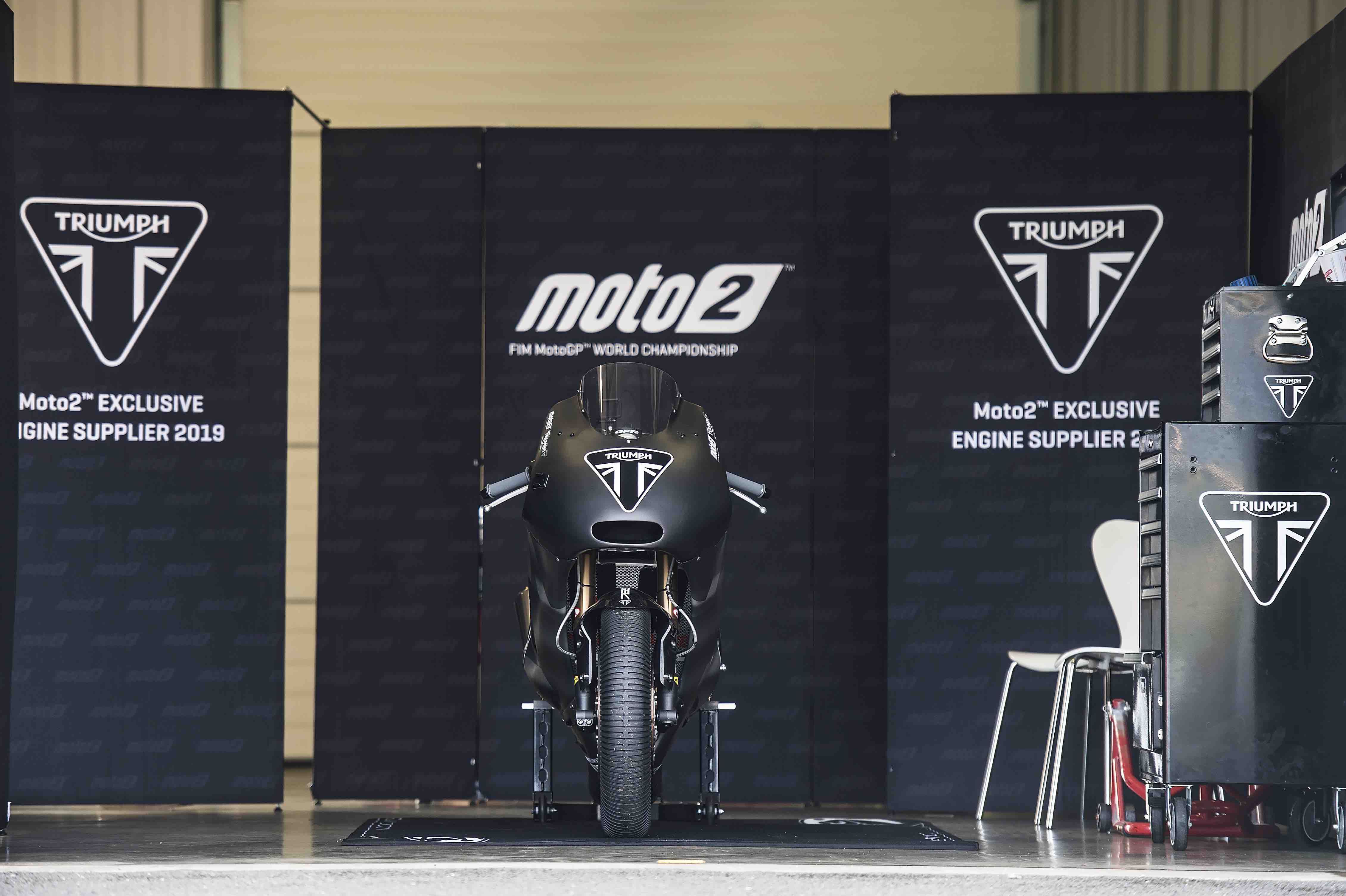 ---
Riding Triumph's Moto2 765 development mule

And here we are too, at a windswept Silverstone, after I had another surprise from a Triumph PR man – this time asking if I fancied a ride on the Moto2 development bike. Stupid question, of course, I nearly took his metaphorical hand off, and was up sharp and early to get to Stowe Circuit, inside Silverstone's main track.
There's a slight air of depression about the place – less than 18 hours ago, the British MotoGP round was cancelled due to heavy rain and standing water on track. Luckily for us though, it's dried out nicely, and it all looks pretty promising for a ride on the smart black and white machine parked up in pit lane.
I grab a look round at lunchtime. Dorna and BT Sport had the bike this morning, to film some footage of the bike in action with Simon Crafar, Alex de Angelis, James Toseland and Neil Hodgson thrapping it around the short 1.08 mile circuit. Now, it's sat on paddock stands, tyre warmers cooking the Dunlop slicks, while various international journos grab happy snaps and video clips of the thing.
This bike has a simple enough job – provide a reliable test bed in which the firm could develop the 765cc three-cylinder engine out of the Street Triple into a race motor. So it's a fairly conservative chassis – a Daytona 675 frame, swingarm, tank, with K-Tech modified suspension, OZ racing wheels, tweaked Nissin roadbike brakes, plus those sticky Dunlops. The bodywork's been modded, with a large front-facing air intake, but if this bike had headlights and red paint, it'd pass for a 675 trackday bike with ease. It looks good – but not quite as exotic as you might have expected.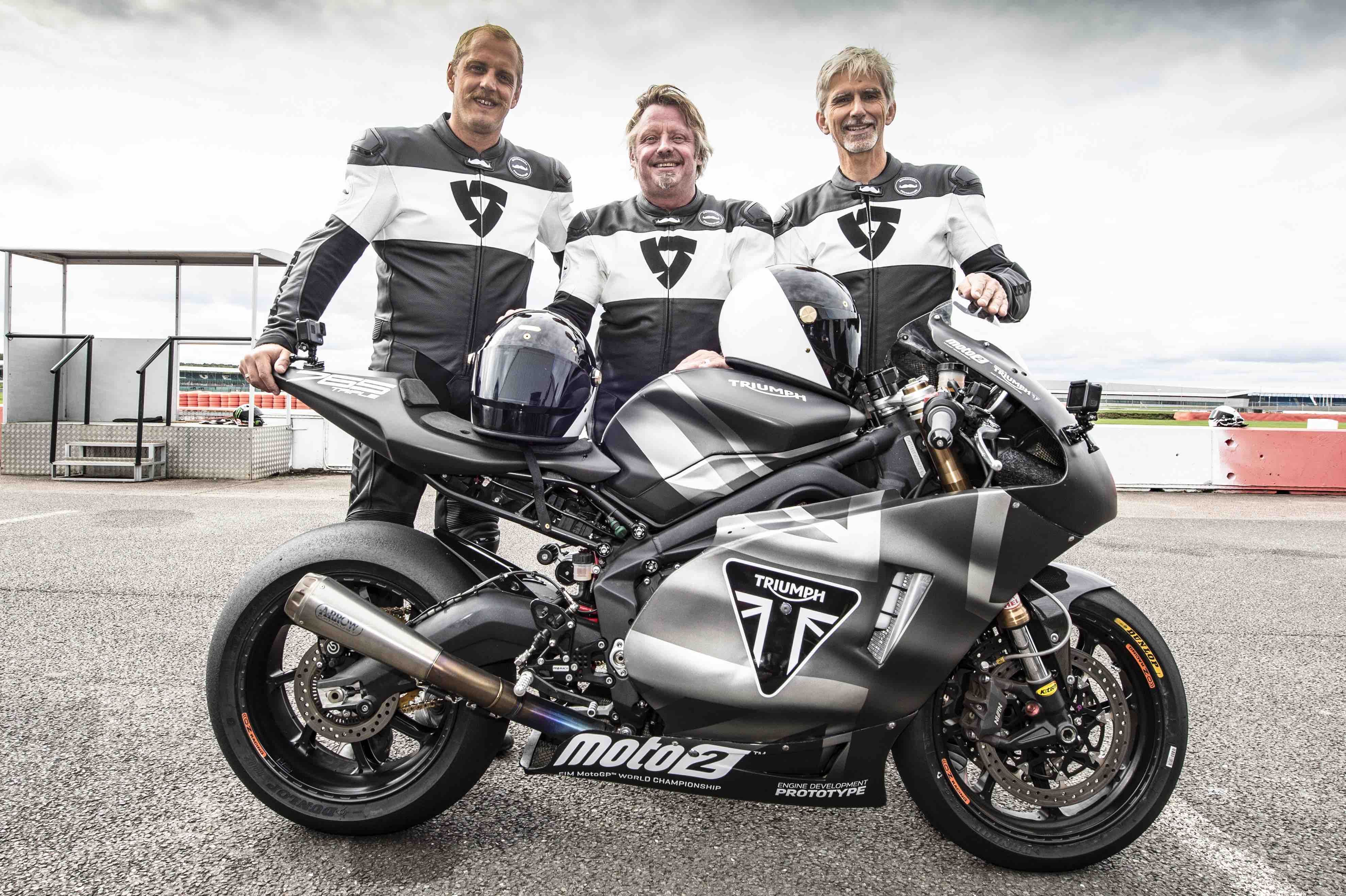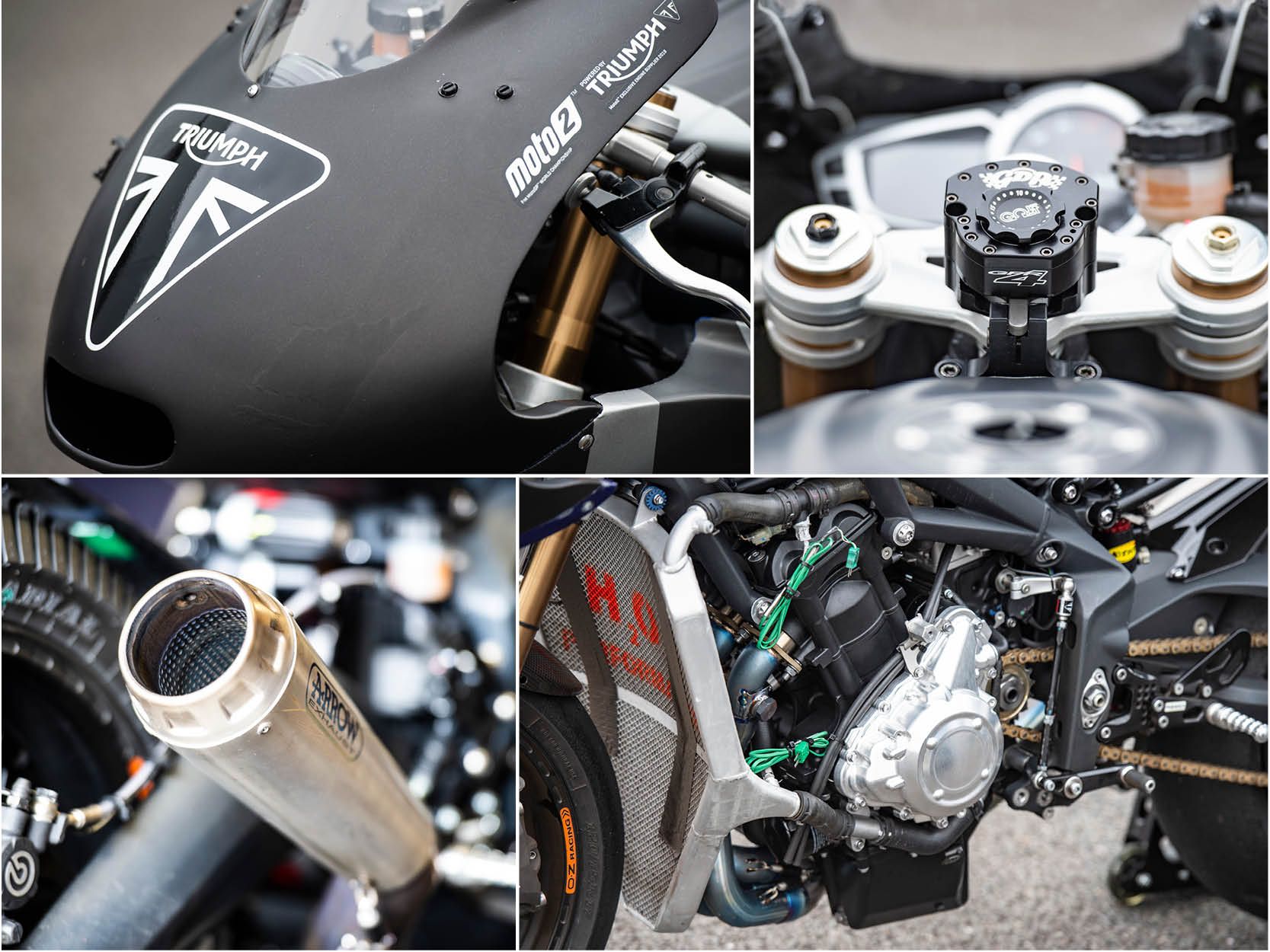 This development mule helped Triumph convert the Street Triple motor into something which will bring on the next generation of Rossis and Marquezes and Lorenzos. That's some trick, especially since the Hinckley folk insist they never had any plans to make it into anything other than a naked roadster, until late on in development. The mods aren't massive (although we're relying on Triumph telling us what's inside the cases, so can't be sure they're not keeping any secrets). It's a supersport-ish tune, with a ported head (probably skimmed for more compression), titanium valves, new springs, and (we imagine) lumpier cams. The bottom end gets a smaller race alternator and adjustable slipper clutch, while the rest of the mods are practical: different side cases for more lean, and a different sump to allow a sportier exhaust header arrangement.
And that's yer wack. It's controlled by a Dorna-approved ECU from Magneti Marelli, which will let the teams fiddle with ignition, fuelling, throttle maps, engine braking etc – a first in Moto2. From there, it's up to the team to make their own chassis to suit this sealed contract engine, and then see how well they can do in the MotoGP feeder class.
I've got all this whizzing round my head as I climb into my Alpinestars, and get ready for my turn. We've got ten minutes each – not a lot of time, but more than I've had on racebikes in the past. Back in 2005, I got a ride on Nicky Hayden's RCV211V V5 Honda, plus a spin on Dani Pedrosa's RS250 FW 250GP bike. All the way to Malaysia for five laps on the V5 and *three* laps on the little 250. This is luxury in comparison.
The Moto2 bike roars in (that Arrow pipe sounds sublime), and the previous journo leaps off. I jump on, with the words of the tech ringing in my ears ('No ABS, no Traction Control!'). I get a reminder of that right away on the stock Daytona dashboard – the little orange ABS warning light is shining away there… Up into first on the race gear change, and I pull away onto the track.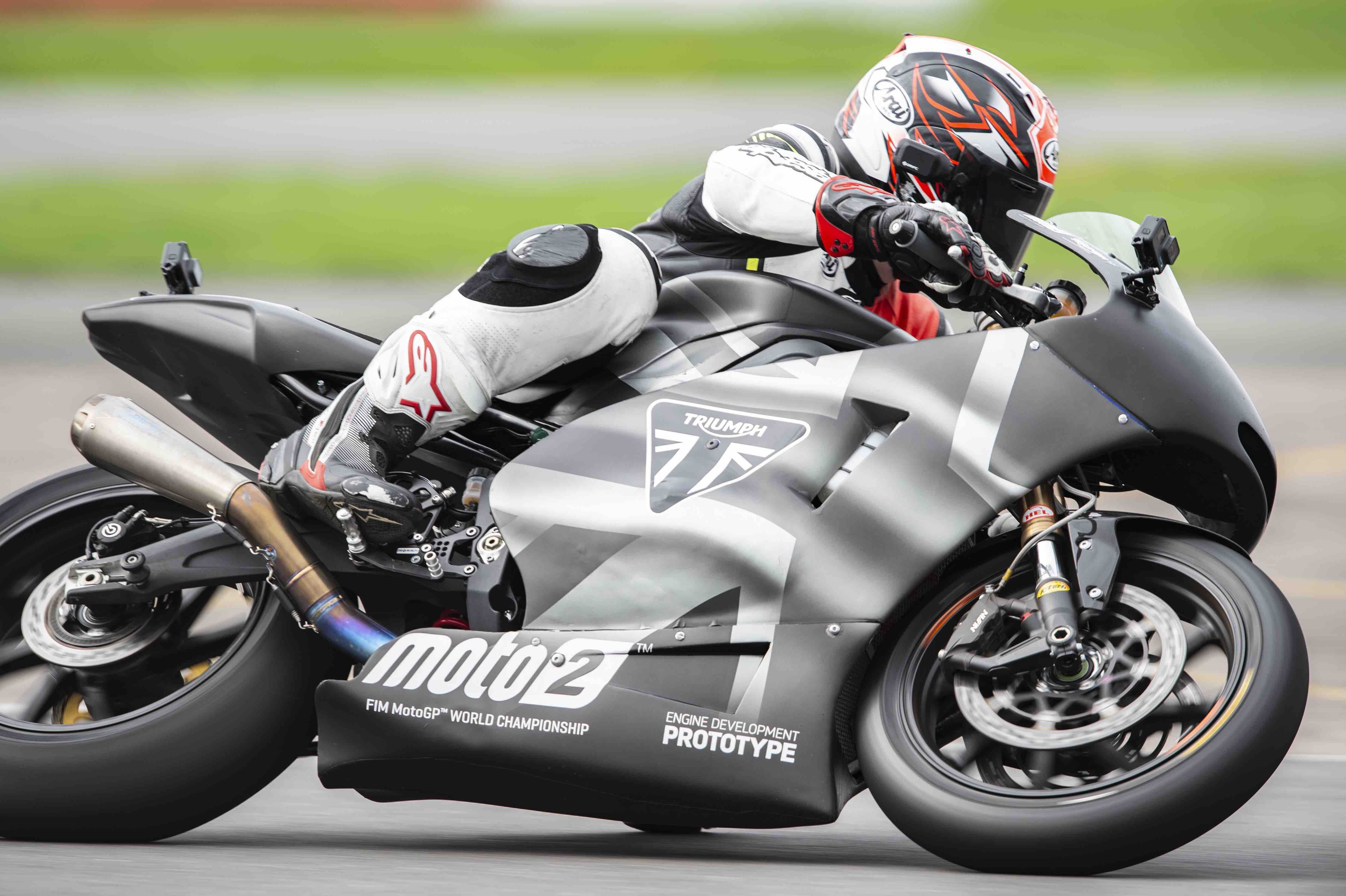 We had a warmup session on some Street and Speed Triples earlier, so I've sort of got my eye in. The last time I rode round Stowe properly was about 15 years ago, so the refresher was very welcome – but it's a fairly simple layout for all that. A wiggly triangle, with some esses and chicanes, it's a decent little test track, and a good workout for the 765. First impressions are of a super-quick steering beast, no doubt thanks to the Dunlop slicks and light OZ wheels. You just need to think about a shove on the bars, and it's on its ear before you know it. The brakes are humongous too – proper brick-wall stopping, thanks no doubt to some primo race pads fitted to those Nissin calipers. The GPR steering damper has plenty of work to do over the bumps round Stowe, and it does a good job.
But it's the motor we're here to take a look at, and it's a corker. The Honda CBR600RR which provides the current Moto2 engine is a revvy beast, with minimal low-down or midrange grunt. But this engine is, obviously, much stronger. The larger capacity and triple layout means there's plenty of shove down low, and all the way through the midrange too. It's strong, but controlled, with none of the aggression of a big twin. Like the roadbike it's based on, and the 675 Daytona before it, it falls between a twin and a four in terms of its delivery – lots of midrange, together with decent top-end urge as well. The capacity increase plays a part as well – and in some ways, it's like the updated Suzuki GSX-R750 we've wanted for the past eight or nine years.
Barking out of the slower corners, the Moto2 bike can hold a higher gear than the Street Triple I rode earlier could manage, and punches out of the bend with no hesitation at all. There's an up-only quickshifter that snicks each new ratio into place as fast as the revs pick up, and while it's clearly a breach of my human rights to have to use a clutch for downshifts nowadays, it all works very nicely round here.
It's hard work though – the combination of boat-anchor stoppers and super-strong motor round this compact circuit soon has me puffing away inside my Arai. I don't want it to stop though – the way this sweet little monochrome Daytona on steroids fires out of bends, and the way the back end starts to lift when you get hard on the brakes is addictive, massive fun. I've adjusted to the fast steering and ace brakes too, and am no longer stopping and turning in ten metres too soon. If you had one of these, I reckon you'd be selling your house and moving into a caravan in the Brands Hatch car park, just so you could spend more time wazzing it round a track.
Back in pit lane, grateful for the ride, and for surviving unscathed, the matter of getting one comes to mind. Of course, you could make your own right now, buying a crashed Street Triple 765 RS and bolting the motor into an old Daytona chassis. Someone like Tony Scott at T3 Racing could no doubt help out here too.
But what about Triumph making one for sale? A proper factory-fresh 765 Daytona, capitalising on the Moto2 link and providing a superb new supersports option? Well, the factory guys seem very open to the idea, and suggest that if the market is interested enough, they'll build one. It might not be a massive surprise if one does turn up – but it would be a very nice one indeed…
Read our Triumph 765 Street Triple RS Review here.
---
TRIUMPH 2019 765cc MOTO2 ENGINE PARTNERSHIP
The new engine is a significant development of the race-winning Daytona 675R powerplant that has powered Supersports wins at the Isle of Man TT, Daytona 200 and British Supersports Championships in 2014 and 2015.
Based on the highest specification 765cc powerplant from the Street Triple RS, the Triumph Moto2 Triple race engine has been developed and tuned for a major step up in power and torque with the following modifications:
Modified cylinder head with revised inlet and exhaust ports for optimised gas flow Titanium valves and stiffer valve springs for increased rpm
Low output race kit alternator for reduced inertia
Taller 1st gear ratio
Race developed slipper clutch which will be tuneable
Specific race ECU; which will be developed with Magneti Marelli
Revised engine covers for reduced width
Different sump to allow for improved header run.
It has more than 80 new parts compared to the previous generation engine, including an increase to the bore and stroke. All-new engine components include:

New crank, pistons, con-rods and balancer shaft
Nikasil plated aluminium barrels
Revised gearbox
Other changes have been made specifically to adapt the engine for race use.
---
Biog: Alan Dowds

---