---
Triumph Motocross Leaked Video and New Test Riders Announced
By BeMoto

As Triumph prepare for their much anticipated off-road debut in 2024, Triumph Racing confirms it's signed Clément Desalle as test rider for the MXGP/MX2 team and Ivan Tedesco as test rider for the US SuperMotocross (SMX) World Championship team.
Adding two top class riders to lead its race development testing shows they are serious about being proper contenders, however what we really want to see is the bike itself...
Spoiler Alert: There's a low res unofficial leaked video circulating online - reporting to be the 250cc MX bike in action - being ridden / jumped by Clément Desalle - scroll down to watch the video!
---
Triumph's off-road plans for 2024 and 2025

SMX:
Triumph Racing team will field three of Triumph's all-new 250cc 4-stroke MX bikes in the Monster Energy AMA SuperMotocross World Championship at the start of the 2024 season, with a fully supported factory race program established in the United States. Set-up and operated in partnership with Bobby Hewitt, this new 2024 SuperMotocross World Championship West and East Coast series before entering the 450cc premier class in 2025.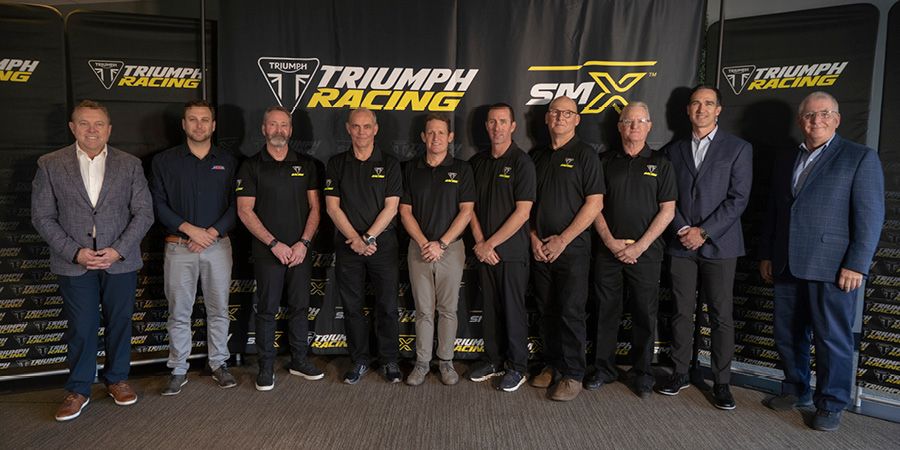 SMX Test Rider: Ivan Tedesco ('Hot Sauce')
Ivan began racing when he was 8 years old, with a career that spanned 14 years from turning Pro in 1999 - winning the AMA 125cc West Coast Supercross series twice (2004 & 2005), the AMA 125cc National Motocross series (2005) and the Motocross of Nations 3 times with Team USA (2005, 2006 and 2009).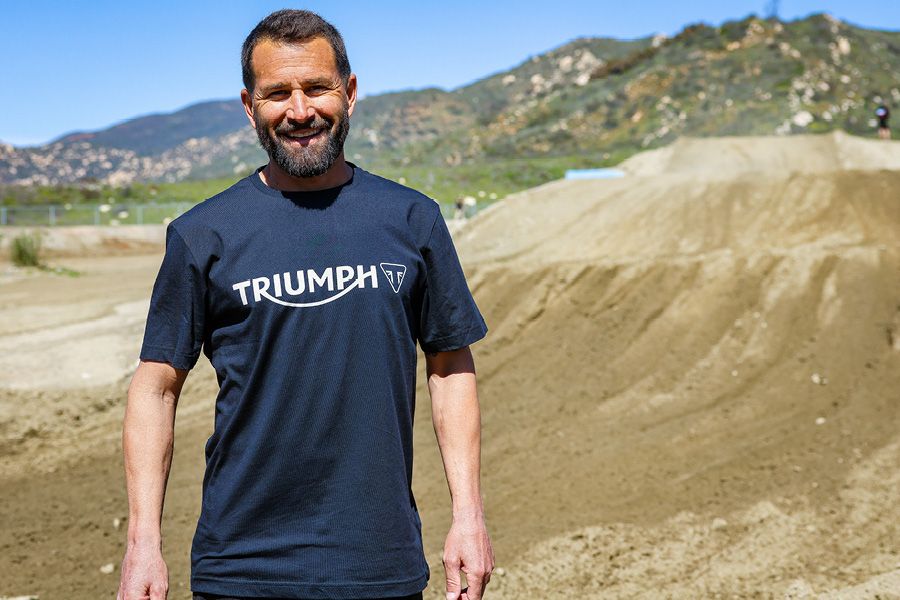 MXGP:
Triumph Racing will also debut two of Triumph's all-new 250cc 4-stroke MX bikes in the 2024 MX2 class, in the prestigious FIM Motocross World Championship with a factory supported race programme set-up in partnership with Thierry Chizat-Suzzoni. Again, they plan to enter the 450cc MXGP class in 2025. He retired from racing in 2014 to coach promising racers, test ride and develope race bikes.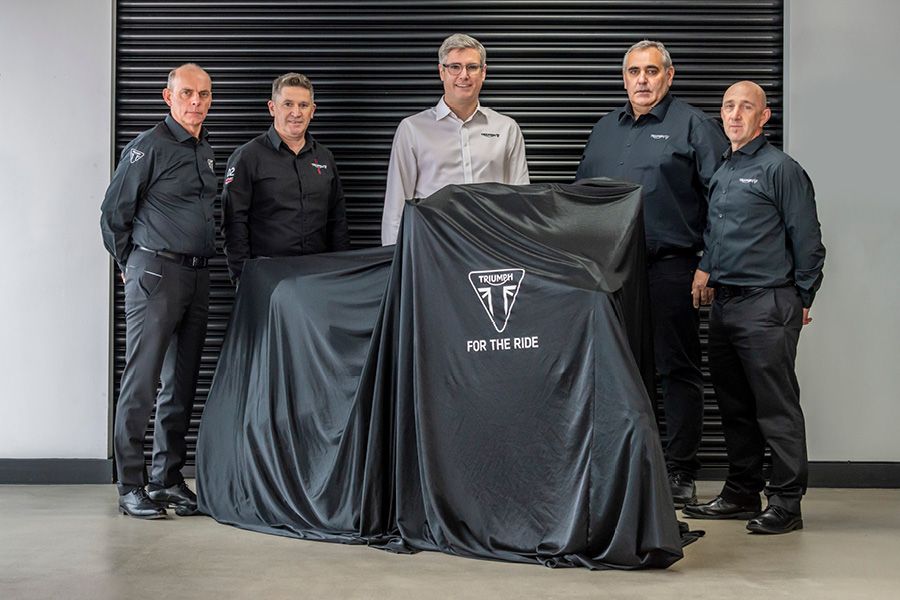 MXGP Test Rider: Clément Desalle ('MX Panda')
Clément competed at the highest level in the MXGP World Championship for 15 years. One of the most consistent racers in the series, with 3x Vice Champion finishes, a 3rd in the World Championship three times and Pro open Belgian champion in 2009. He retired from racing in 2020 to test ride and develope race bikes.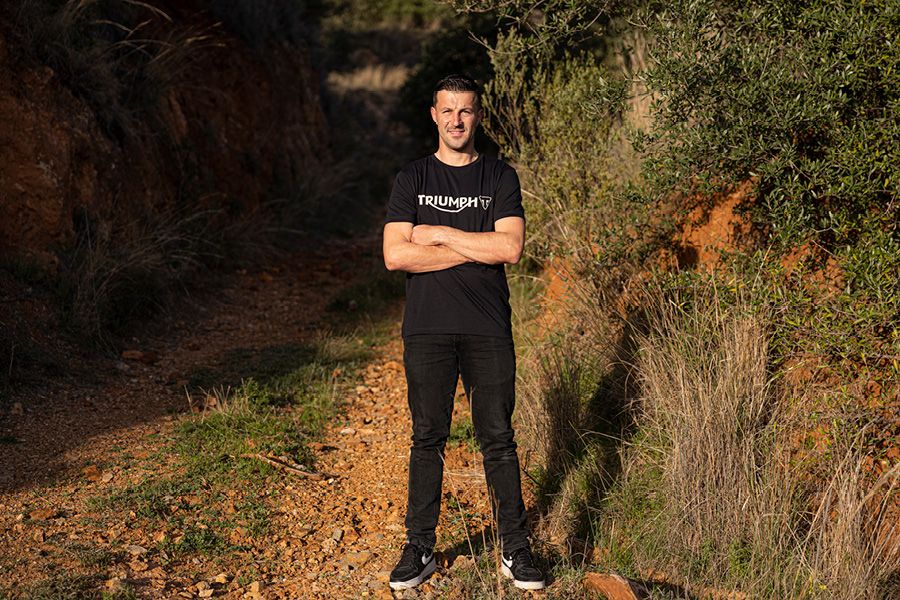 ---
Triumph's 250cc 4-Stroke Dirt Bike
Testing of the new Triumph motocross and enduro bikes is clearly making progress, as can be seen in the low quality video below, with the bike being put through it's paces by the Belgian rider:
Video Credit MXVice.com - The new Triumph Motocross bike in action, initially released by Fuori.
---
Will it offer something new?

Official information is yet to be released by the British bike manufacturer on the specifications, performance characteristics and components of each model, but based on the above video, the cynics are pointing out that the "all new" bike bears similarities to a 2018-2019 KTM 250.
Whilst it looks a genuine leaked video of Clément riding an MX bike - based on his #25 jersey - all we can really say for sure is that the bike is likely to be highly disguised by Triumph to maintain some mistique ahead of an official unveiling. You can't really make out much detail (judging by the quality, it was recorded using a late 90's mobile phone through a lens made of potato), other than some clunky black plastic fairings on an Aluminium frame that doesn't look, on the surface, to move things along materially.
However, it's worth remembering that when Triumph put their mind to it they can achieve great things, from winning TT races over decades back in the day, to more recent successes with the triple powered supersports bikes, winning on roads and short circuits. They're also the exclusive engine supplier to the FIM Moto2 World Championship (since 2019), providing all teams with race-tuned 765cc triples and breaking records, including the first ever +300km/h Moto2 top speed.
So, we're reserving judgement and wish Triumph much success - We can't wait to see one in the flesh and see Triumph bikes in Motocross and Enduro racing over the next few years!
Read our article from back in 2018: Riding Triumph's Moto2 765 development mule
---
BeMoto Dirt Bike Insurance
Clearly we're biased, but our unique range of insurance products offer unrivalled protection for motorcycle enthusiasts across all disciplines, whether that's on Road, Track and Dirt: And remember with BeMoto there are NO Amendment Fees to make changes either.
Road - From Dirt Bikes with Daytime MOT's to Multibike Insurance collections and modified bikes
Track - Whether you have a pedigree race bike in the garage or a converted track bike we can cover it
Dirt - Our Dirt Bike Theft Insurance offers piece of mind when locked in the garage plus optional "In Transit" cover (even if it is not road-registered with a V5)
Plus our Race Van Insurance can save you £££'s vs. a commercial van insurance policy!
Also coming soon - Motocross Travel Insurance (register your interest here).

---