About the BeMoto Team
BeMoto Bike Insurance was established in 2015. Based in Peterborough, with a growing team of motorcycle insurance specialists, our products cover the whole of the UK and Isle of Man.
---
The team has years of experience in financial services and insurance, working for big name brands. BeMoto was set up to focus on motorcycle insurance of all types in our own unique way - mixing business with pleasure!
As bikers, we believe in treating bikers fairly, offering an excellent service and a great product at a reasonable price. For example we don't charge an 'amendment fee' if you want to make a change to your policy mid term, such as changing your bike, adding a modification, changing jobs or moving home (we will pass on any change in insurer premium though).
We work with the leading UK underwriters and cater for a variety of insurance needs for any type of motorcycle, quad and trike - including modified, multi-bike, classics & scooters - we also offer fire & theft cover for SORN or non-road legal motorcycles in a garage, race van policies, personal accident products for biker injuries and travel repatriation for bike holidays and trackdays.
Founded by Ben, Mat and Nick, the latter two have multibike collections and enjoy trackdays. Unfortunately, both have previously each had track bikes stolen from their respective home garages, hence the focus on multibike insurance, track bike theft and trackday damage insurance, in addition to off-road bike insurance and traditional insurance for your road motorcycles (only with loads of extra benefits).
Click the appropriate link below for the appropriate quote application process, or browse the site for the variety of other products we offer:
Motorbike Insurance Quote for single bikes (you can key in your own details then call us for our best prices, or if you need something non-standard including modifications or a bike that is not listed)
---
Nick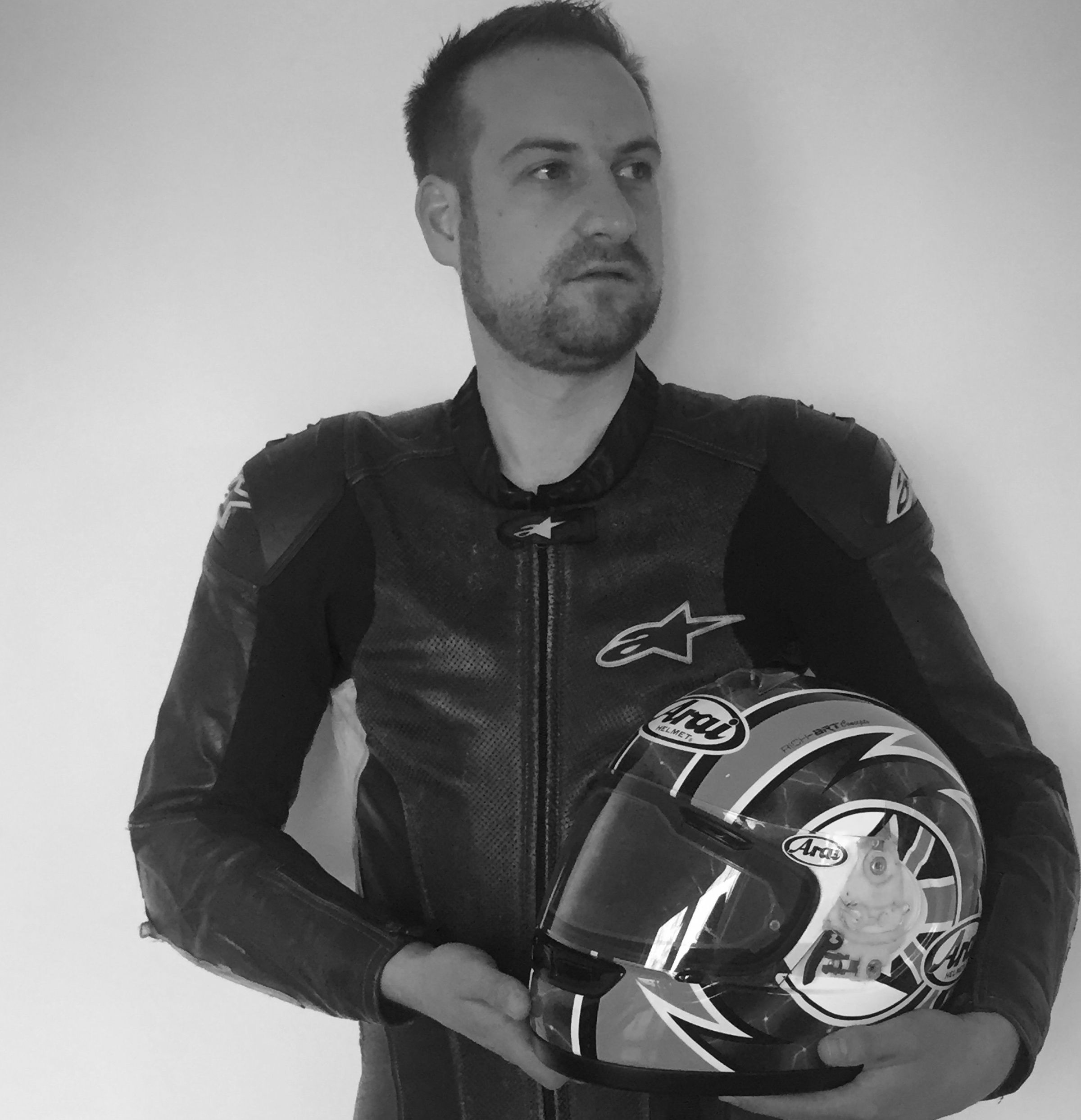 Nick is a bike fanatic and wheelie enthusiast (on closed roads); the type who thinks nothing of relegating the kitchen table in order to make room for his pride and joy.
Over his biking career, Nick has owned a wide range of bike types with Sportsbikes being the main bikes of interest. He has owned Sportsbikes of pretty much every capacity and engine configuration. He has a love for V-Twin Superbikes, having until very recently a Honda SP2, Aprilia RSV-R, Ducati 998 and Fireblade in his collection.

Nick is a keen follower of BSB, MotoGP and occasionally WSBK - particularly a fan of Rossi and anyone on a Ducati bike... His current bike is a Ducati Panigale V4 S (with Termis...) for road use and getting his knee down at the occasional trackday - plus his recent acquisition and modifications to a Honda MSX 125 "Grom" for a bit of fun.
---
Mat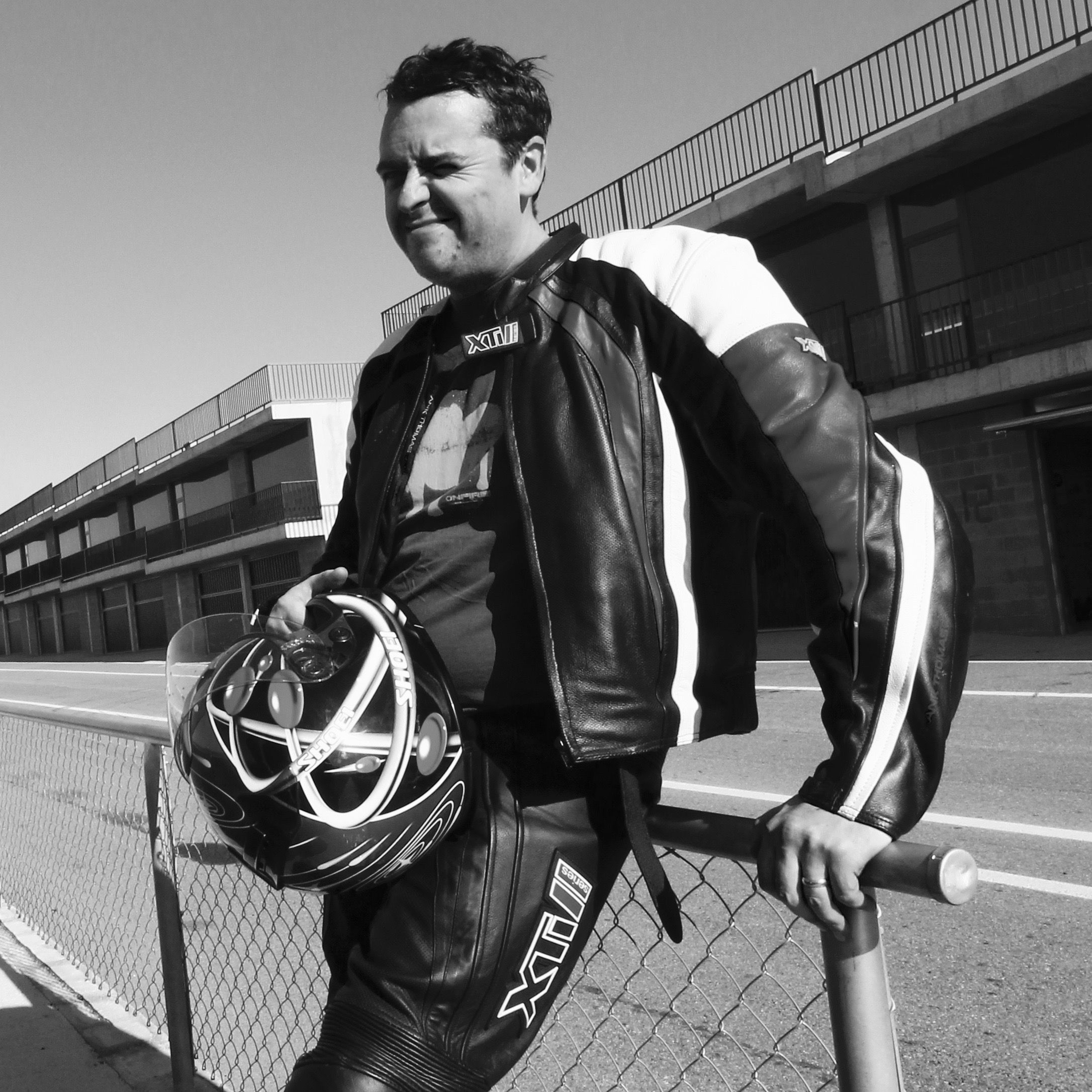 Mat also has a love for Sportbikes, owning a small collection of in-line four 1000cc machines including a long term GSX-R1000 (K1), a customised Carbon '95 RCV Fireblade Special with a 1000cc engine transplanted / 'daytime MOT' (built by Lamb Chop Rides) and an MT-10 for more practical reasons, such as commuting and touring trips.
Also in the garage is a Yamaha WR250F and a prized [iconic] YZF-R7 (OW-02).

Mat occasionally enjoys the odd trackday, even once venturing to Circuit d'Alcarras in Spain for 3-days on track with PaceDayz, as well as the odd training day like Ron Haslam Race School (RIP) and California Superbike School. Mat is also a keen follower of BSB and MotoGP, as well as watching grass roots racing from time to time, e.g. Thundersport (in its day), Bemsee (BMCRC) & No Limits Racing.

Mat is also living vicariously through his children with [Silent!] Oset and Kuberg electric MX bikes... Plus a DT50 barn find to renovate for his teenage son at some point.
---
Ben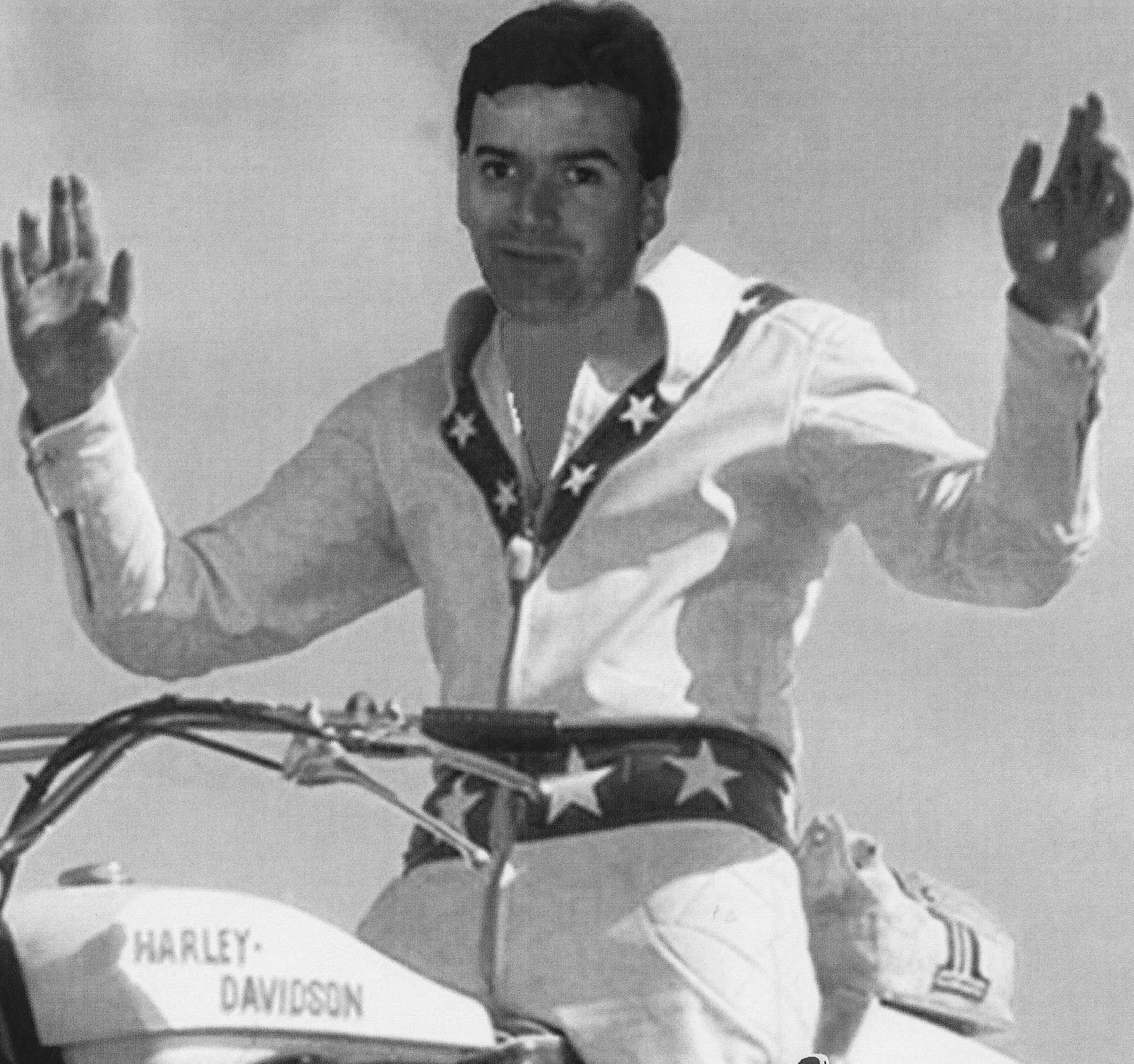 Evil 'Ben' Knievel is an accountant by day and novice stunt motorcyclist in his spare time (he gained his nickname after an interesting CBT). He has now actually completed his CBT, so can competently wobble around a car park!
Ben is aiming to get his full motorcycle licence soon, so watch out...

---
We want to support the biker community
There are some core themes that we've endeavoured to bring into our business:
Make it easy to insure bikes
Recognise that bikers and bikes are all unique
Help new bikers to start off
Never put a healthy bike down
This may sounds idealistic, but as a privately owned company, we are determined to build a business that we can be proud of. We want our customers and our partners to share our passion.
We are a young business, trying to do it right. We would love to hear where you think we have got it right, and also where we could do better.
We value your support.

---
To find out more about some of the talented contributors to our news, articles, feature stories and blogs click for journalist biographies.

FAQs About BeMoto Bike Insurance
BeMoto is privately owned and run by a small team of bikers from our Peterborough office. We all have experience working in bigger brokers, but as bikers we wanted to do things our own way, providing high quality service and products for bike enthusiasts at fair prices.

Based on our industry knowledge and passion for motorcycles we have developed a range of unique products and our own policy wordings that are underwritten by a panel of large insurers.

We work hard to get you the best outcome and treat you as an individual, we don't just rely on a computer to make decisions and often help people who struggle when our competitors say no.

What is different about BeMoto Bike Insurance?

For starters we are privately owned by a team of bike enthusiasts, not some big corporate business. As bikers we believe in treating other bikers fairly, that's why there is NO amendment fee to make changes to your policy mid-term, we also include FREE Legal Expenses cover and invite all our renewals manually (no computer automated price increases as standard).

Also you will find we love modifications (and know what they are), encourage multi-bike collections and insure all track and dirt bikes whether they are DVLA registered or not (as well as SORN bikes).

Lastly, as a private business, we care about what people think of us. Our reviews on Feefo, Trust Pilot, Google and Facebook speak for themselves, but should things not go to plan we will do our best to make you happy.

What types of motorcycle can I insure with BeMoto?

BeMoto is owned by bikers with an experienced team and a very wide range of products that cover all types of motorcycles (any type, age or value) - on or off road.

We particularly love modified bikes and multi-bike collections, as well as off-road bikes for track and dirt. Check out our range including:

To name a few...

Why choose BeMoto for your Multi-Bike Insurance policy?

BeMoto is a multi-bike insurance specialist with flexible packages designed around you and your collection. There is no limit to the number or types of bikes we can cover, we will create a package around your needs. Our policies all include Legal Expenses Insurance as standard, plus there are NO fees to make policy changes and our Titanium Cover provides breakdown for all your bikes on a single policy saving you time, hassle and money.