BeLotto Prize Draw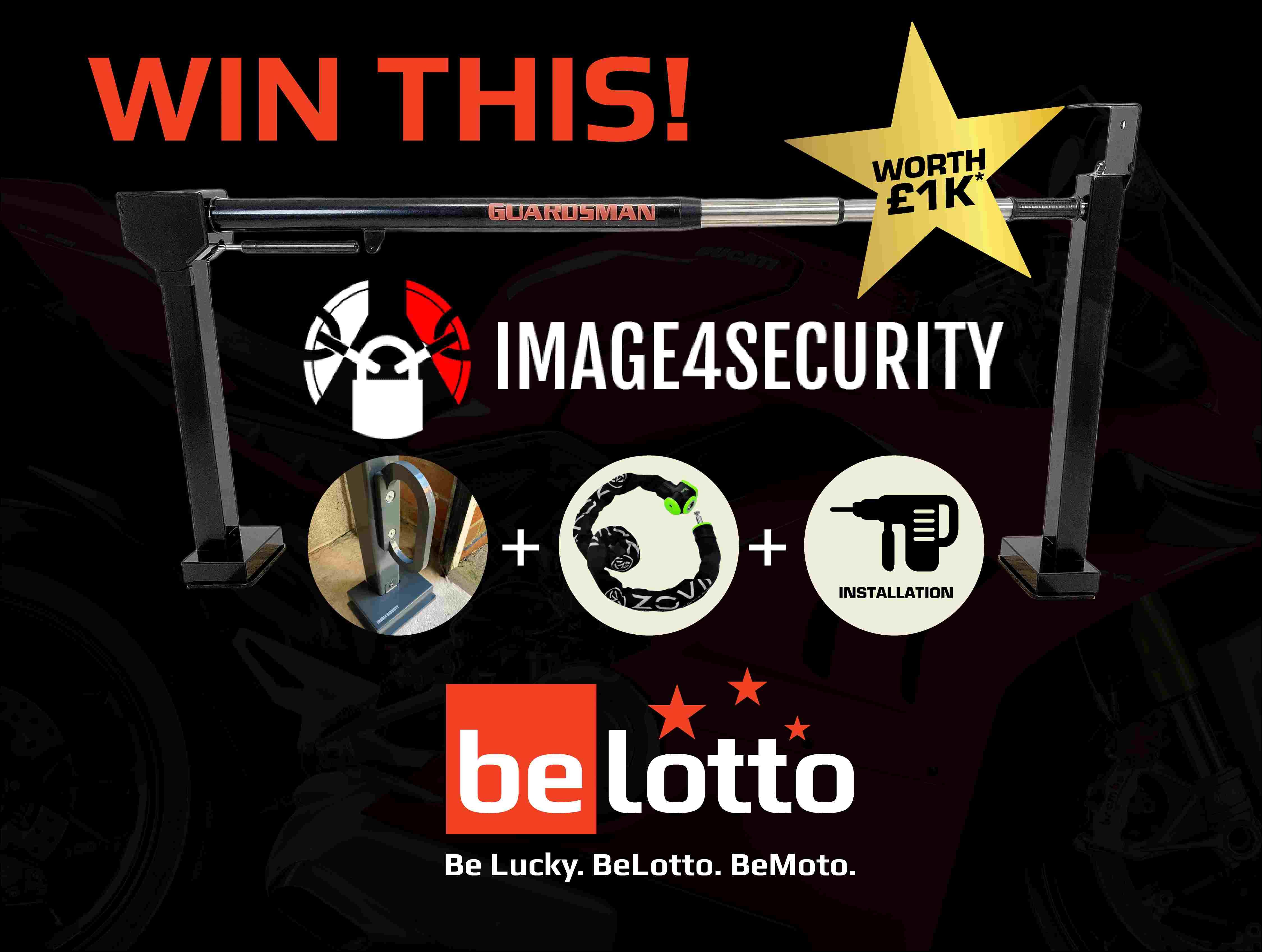 Another exciting FREE prize draw from BeLotto by BeMoto. So far we've given away £45,000 in prize value!!
Attention all bikers! Are you looking to take your security to the next level? Do you want to win the ultimate security bundle worth £1,000? Then look no further than BeMoto's BeLotto competition!
BeMoto, have teamed up with Image4 Security to give you the chance to win an incredible prize bundle that includes:
The revolutionary Guardsman Security Barrier - RRP £599.99
Optional Ground Anchor Point - RRP £50.00
Optional Custom Colour to match your bike or garage decor - RRP £75.00
Zovii ZCL10-120 Alarmed Chain & Lock - RRP £149.99
Professional Delivery & Installation - Minimum £150.00 + £0.50 per mile.
The Guardsman Security Barrier is the ultimate solution, providing an ultimate deterrent that is "tested to destruction" making it a pain for thieves to try and circumvent. With this incredible device, you can rest easy knowing your bike is secure.
But that's not all – the Guardsman comes fitted with an optional anchor point to chain your bike to, and it will be customised in your colour of choice to match your bike or garage decor. You will also receive the latest alarmed lock and chain from Zovii. With this comprehensive package, you can be confident that your bike is protected and even if a tea-leaf breaks into your garage, they will be presented with a significant "sod-off" multi-layered deterrent.
So, what are you waiting for? Enter BeMoto's BeLotto competition now and give yourself the chance to win the ultimate security bundle. With £1,000 worth of security measures on offer, you won't find a better opportunity to protect your bike and give yourself peace of mind. Don't miss out – enter today and be in with a chance of winning this incredible prize!
---
Enter using the form below. See further information and Terms & Conditions below the form.
---
---
The Guardsman Security Barrier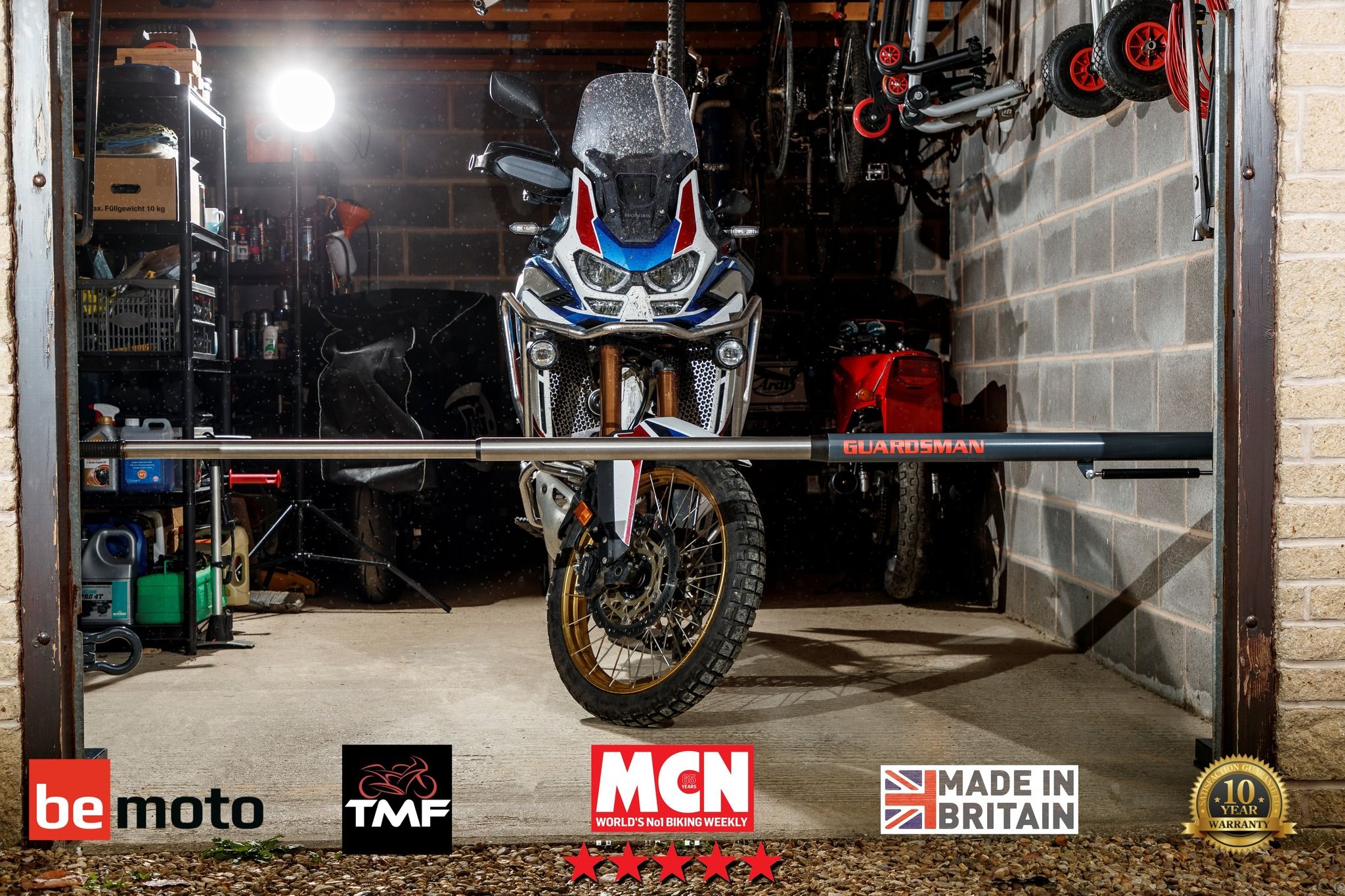 The Guardsman Garage Security Barrier is an innovative security tool designed to keep your garage as secure as possible. It's a visual deterrent that uses insanely strong ground fixings, an anti-attack lock and housing, and innovative design features to create a robust and sturdy garage security tool. With its long telescopic arm, the Guardsman can be slid into place, creating a physical barrier that prohibits anyone from wheeling your vehicles out. It's also equipped with an anchor point to lock your machine directly to the Guardsman, providing an extra layer of security. The Guardsman is independently tested and insurance approved, and comes with a 10-year personal guarantee.
The Guardsman will be customised to the colour of the winner's choosing (subject to availability). The Guardsman will also be professionally installed to ensure each pillar benefits from it's extremely strong fixing points (2 Ton of force required to remove each one, giving an 8 Ton total gravity score per pillar).

---
Zovii ZCL10-120 Alarmed Lock & Security Chain
The ZOVII ZCL10-120 is a self-locking security chain with a built-in 120dB anti-theft alarm. The chain shackles are made of carbide reinforced steel with a 10mm diameter and the locking pin diameter is 20.5mm. The lock is made of anti-rust materials and the internal electronics are fully waterproofed. The alarm goes off when the chain is disturbed or tampered with, and can be heard up to 500 metres away. The product comes with a handy carry bag and 3 keys + 1 coded tag for replacement. The length of the chain is 1200mm and it weighs 3200g. The battery is a CR2 Lithium battery with a typical life span of 8 months meaning you only have to change batteries once a year!
When connecting your bike to the anchor of the Guardsman Barrier, any would be thief is in for a hotel stay at Casa De Policia if they attempt to have a go.
---
Guardsman £1,000 Prize Bundle - Terms and Conditions
1. The promoter of the Promotion is BeMoto, which is a trading name of Moto Broking Limited (Company Number 09676058), whose registered office is at Ruthlyn House, 90 Lincoln Road, Peterborough, Cambridgeshire, England, PE1 2SP (the "Promoter", "BeMoto", "BeLotto", "We", "Us" or "Our").
2. The Promotion is only open to UK residents (excluding Our employees, third parties involved in the Promotion and their families) aged 18 and over. We will discount entries from non-UK residents initially based on IP address, email and telephone country codes. We reserve the right to request proof of UK residency and age for successful entries from Non BeMoto Customers.
3. The Promotion will run from 00:01 on Wednesday 10th May 2023 until 25:59 on Sunday 18th June 2023 ("the Closing Date"). Entries received after the Closing Date will not be accepted.
4. This FREE to enter prize draw is only for those who filled out the Guardsman £1k Prize Draw Form (above) prior to the Closing Date. Entries submitted after the Closing Date will not be entered into the prize draw. Only one entry per person will be counted. Multiple entries using different email addresses for the same person will all be invalidated.
5. By entering the Promotion, BeMoto will attempt to contact you in advance of your bike insurance renewal date (where relevant), by email and/or phone, to offer a quote for bike insurance. We cannot guarantee to offer an insurance quote, as these are subject to individual circumstances and underwriting acceptance criteria. There is one prize available, a unique winner (the "Winner") will be drawn for:
a. A pre-selected bundle of Image4 Security Products worth at least £995.50 (rounded to £1,000 RRP) - Guardsman Security Barrier (RRP £599.99), Custom Colour (RRP £75.00), Anchor Point (RRP £50.00), Zovii ZCL10-120 Alarmed Chain & Lock (RRP £149.99) and professional Installation (Min £120.00 Charge + £0.50 per mile). (the "Prize").
6. Only one prize is available. A single Winner of the Prize will be selected at random from the pool of entrants that follow the entry criteria before the Closing Date.
7. The Winner shall be notified by 18:00 on Wednesday 21st June 2023 by phone and/or email. The Winner shall have until 18:00 on Friday 23rd June 2023 to claim their Prize by confirming their details, which must precisely match those on the competition entry form. Invalid email addresses and/or phone numbers will not be counted as a valid entry (required to contact the winner).
8. The Prize will take the form of a product bundle that will be delivered to the Winner at their home address by Image4Security once we have confirmed any specific information required to complete the order, e.g. colour choice etc (the list of the specific products in the bundle is not flexible other than substituting the Garage Barrier for a Shed Barrier).
9. In the event that any Prize is not claimed by this deadline or the Winner is unable to collect the Prize, the Winner shall forfeit the Prize and We may select an alternative Winner for the Prize.
10. The Prize is not transferable, does not have a cash-in value and will not be exchanged for an alternative.
11. Our decision is final and We shall not enter into correspondence with respect to Our decision. We reserve the right, in Our sole discretion, to disqualify or exclude any individual for inappropriate behaviour including but not limited to:
a. tampering with the entry process, (including exceeding the numbers of entries allowed), or any other process which, in Our opinion, in any way affects the fairness of the Promotion;
b. tampering with the operation of the Promotion or Our website Promoter or violating the terms of service, conditions of use and/or general rules or guidelines on Our website;
c. acting in an unsportsmanlike or disruptive manner, or with intent to annoy, abuse, threaten or harass any other person;
d. submitting entries on behalf of another individual; or
e. any conduct which would put other entrants at an unfair disadvantage.
12. The Winner's name may be obtained by emailing helpme@bemoto.uk within six weeks of the Closing Date.
13. The Winners may be required to take part in reasonable publicity in connection with the Promotion, including the publication of their names, geographic location and photographs/video.
14. We accept no responsibility for any damage, loss, liabilities or disappointment incurred or suffered by you as a result of entering the Promotion or accepting the Prize.
15. We shall not be liable for any failure to comply with Our obligations where the failure is caused by something beyond Our reasonable control, or that of a third party providing the Prize.
16. We shall not be liable for any additional expenses incurred by the Winners in connection with the Prizes, including but not limited to travel to and from collection of the Prize and expenses associated with any activity not listed as part of the Prize.
17. By entering the Promotion using the online form above, you are agreeing to marketing from BeMoto and Image4 Security. BeMoto and Image4 Security may use your personal data submitted as entry to the Promotion to send you newsletters and contact you about each of their products and services that may be of interest to you, or for market research. BeMoto and Image4 Security will never sell or pass your personal information to third parties for marketing purposes without your explicit consent. If you prefer not to be added to our marketing databases, you can enter the competition by writing to BeMoto, PO Box 1338, Peterborough, PE1 1LZ instead.
18. No purchase is necessary.
---
Image4 Security Privacy Policy
---
Our previous competitions... Yes people do actually win!
We offered the chance to win £1,000 to spend at a motorcycle outlet of choice just by getting a motorcycle insurance quote with BeMoto during September and October 2022. Alex, was the lucky winner. But what did he spend it on? Watch the video and find out…
---
And don't think 'it won't be me' as you know we are good for giving away mega prizes. You might remember that BeMoto gave away a Ducati Panigale in 2021 along with a £10k prize pot of various goodies!!

---
...and we also gave away two bikes from the Budget Bike Battle series with 44teeth back in 2020 (see below).
You can see the BeLotto Winners Hall of Fame here for continually updated winner notifications.
---
*By entering BeLotto you agree to our Privacy Policy and Terms of Business.