---
2018 Ducati Panigale V4 Review
By Alan Dowds
Pros
Engine
Chassis jewellery
Electronic suite
Cons
Price
Nickability
Styling isn't as game-changing as the performance
We've all been there. You're trying to design an all-new megabike, which will be the new exotica king of the track and street. Your old bike is great, but used a V-twin motor, which was getting to the end of the road in terms of development (and you're struggling to keep a straight face every time you announce the capacity for next year). Meanwhile all your chums at the industry meetings are thumbing their noses as they arrive on their snazzy four-cylinder litre superbikes. Not for them the hassle of making pistons the size of Mini Metro hubcaps whizz up and down at a bajillion RPM to make 210bhp. The slags.
So, you probably need to make a four-cylinder lump. Boooh. How can you keep the massive torque and grunt of the old twins, which everyone loved? Hmmm.
Well, the answer for Ducati is to make a V-four, with a torquey twin-pulse firing order, and then to slip a sneaky capacity hike in there, so your bike is an 1100 not a 1000. Clever, huh? And like the old Kawasaki ZX-636R of yore, make a legit capacity homologation version for the race monkeys, while you make out like gangsters with your beefy road bike.
---
And we're here in Valencia to try it out...
Now, I'm a bit cautious here – Valencia is a pretty tight, technical track, and maybe not the first thing you think of when you imagine an 1103cc, 214bhp rocketship. Had Ducati made an arse of things? Or were they here to prove a point – that with this new bike, they'd built something with stunning power, and also the handling and electronics to access it all, even on a nadgery track?
We've got a day to find out. Luckily the weather is storming, 23 degrees and not a cloud in the sky, while Blighty freezes in snow, ice, wind and hail. Nice. My first few laps are, of course, all about finding my way round and refreshing my memory of the place. I had the first and last thirds pretty clear in my head from previous trips, but the infield section needed revisiting. Lots of second gear corners, with third/fourth gear sprints in between, before the wild final corner onto the big main straight – check.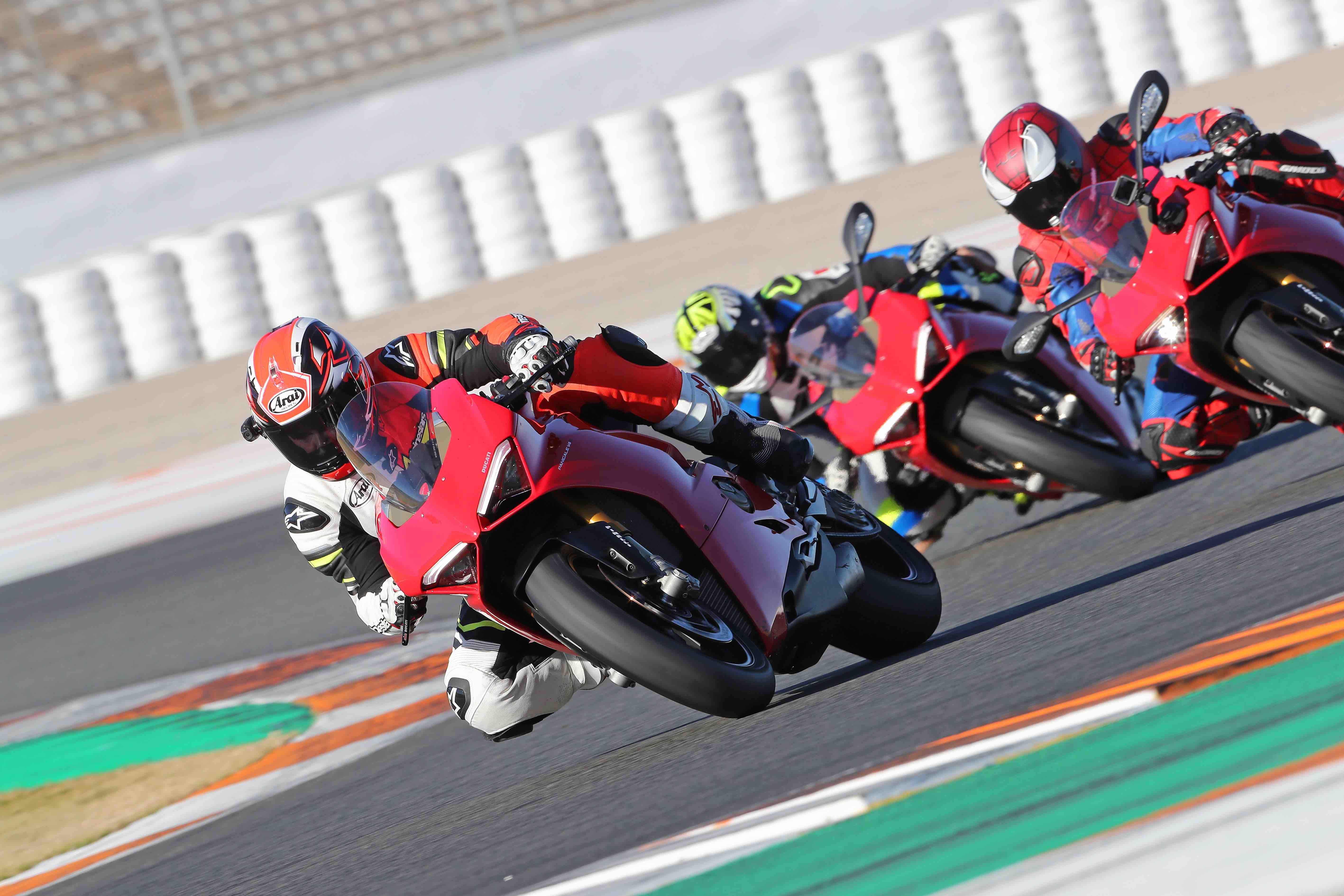 And the Panigale V4 is making it all very easy it has to be said. We've got the Bosch traction control and leaning ABS on fairly conservative settings to start with, so there's a big old safety net. But the bike doesn't feel like it needs it too much. The new Pirelli Super Corsa SP rubber is working really well for a road tyre on track, and the Öhlins electronic suspension is compliant, plush, comfy even on these early sessions.

That engine though. Ducati's done exactly what they said they wanted to do – make a big four that feels like a twin low-down, yet also batters you to hell with its screaming top end rush. If you've ridden a crossplane Yamaha R1 you'll know about its low-down power, and how that often feels like it's robbed you of the top end urge of something like a Kawasaki ZX-10R. Here though, it's gravy all round, the ten per cent extra capacity giving (obviously) ten per cent more torque, and a power delivery more akin to a turbo bike than anything normally aspirated…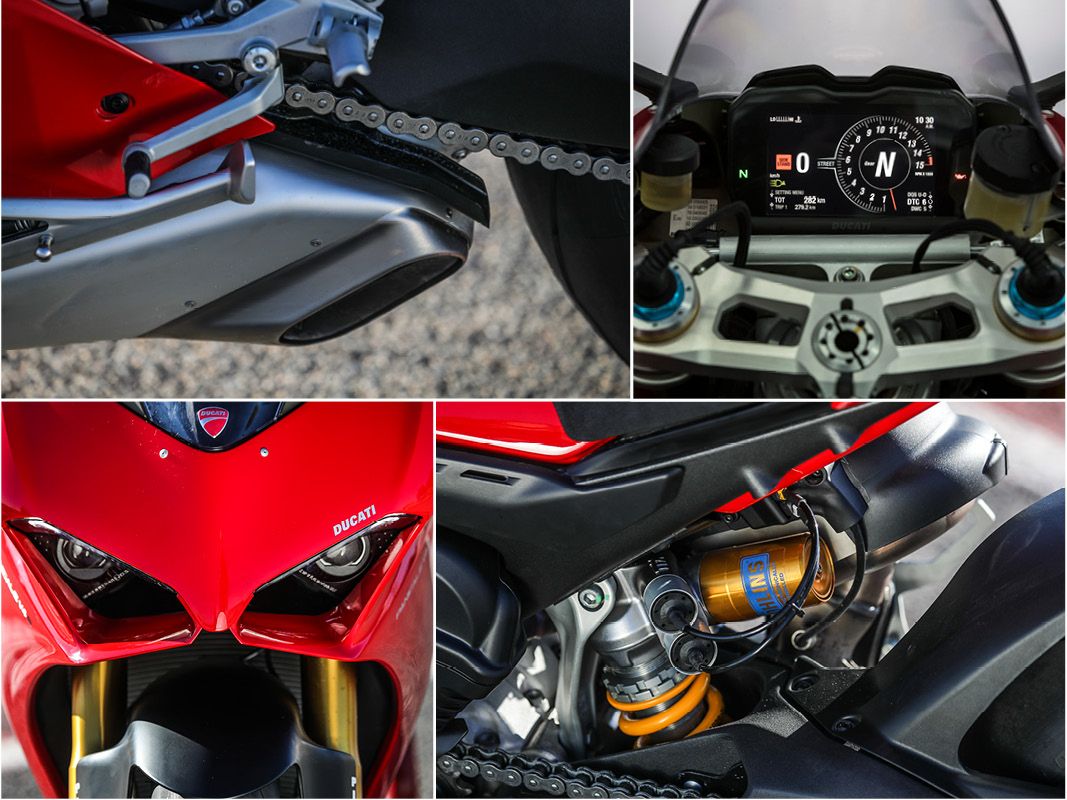 As the day goes on, I pick up some speed, and the V4 continues to amaze. That engine is a classic – sweet fuelling, progressive power delivery, and stacks of go everywhere you need it. The gearbox is nicety-nice, although the quickshifter is a bit tricksy sometimes – missing gears from 2nd to 3rd coming onto the main straight more than once. That was a bit of a trial in other ways too – the front end gets a bit flappy if you come off the kerbing at pitlane entrance, and once I had to back off the gas a bit when the lively feel from the bars felt a bit much. I reckon it's the sort of thing that a bit of setup on the electronic suspension would sort for you – sadly with just one day on track, and so many options, you can't try as many fiddles as you'd like.

Those two minor niggles apart, I'm struggling to find fault on the V4. The new Brembo Stylema stoppers are immense, the huge colour dash is the clearest and easiest to use from Ducati so far – even the mirrors look like they'll do a job on the A45 on a Monday morning commute (ha!).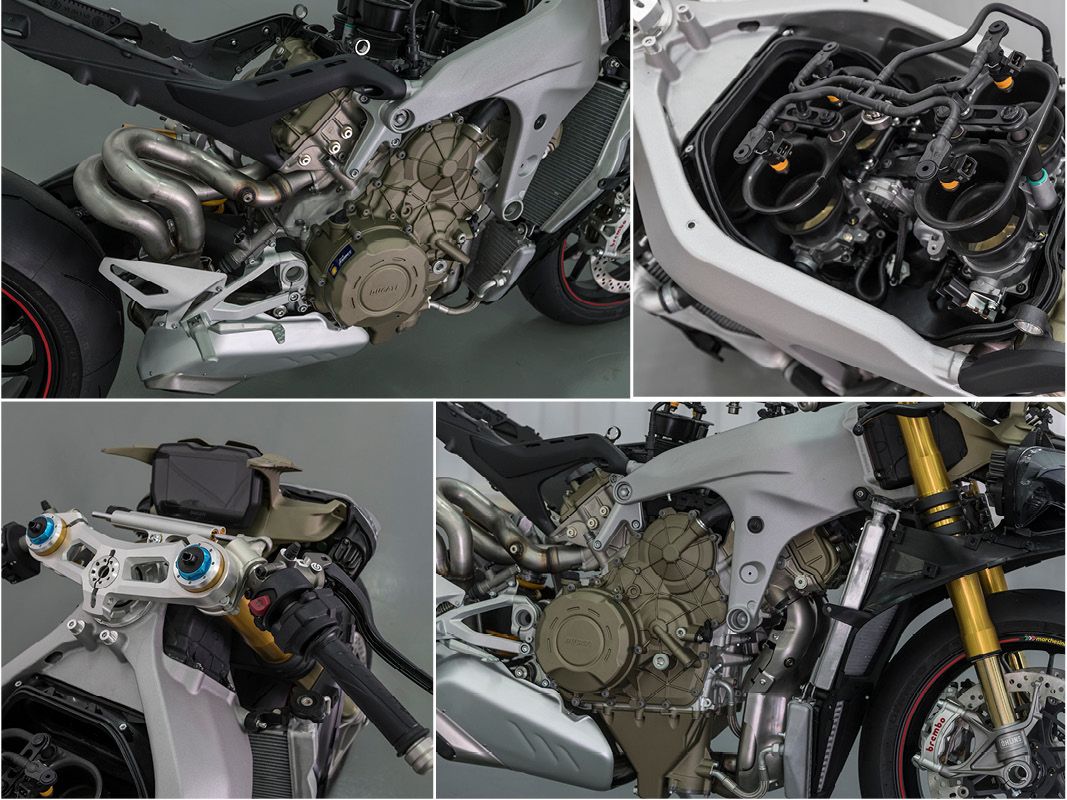 But Ducati has one more treat in store. They've brought along some accessorised bikes, with the official accessory titanium Akrapovic race pipe, complete with mapping for engine, TC and everything else. It adds 12bhp, and saves 7kg, and looks worth every penny of the £3500+VAT it costs… Not content with that nonsense, they techs have spooned some Pirelli Superbike SC1 slicks onto the forged Marchesini wheels. Erk!
I get one session on this brute, and I need to recalibrate again. The motor is immenseness squared now, with even more torque, yet still loads of control and friendliness. It's like your gigantic mate, who can break everyone in the pub in two, but also loves kittens and would do anything for his pals. The slicks do the usual job of proper full race tyres, of making you feel both inadequate and uncrashable at the same time. The grip is stupendous, and the feel through the front end is of another level from even the excellent Super Corsas.
All too soon, and we're done for the day. I'm done too – the sheer effort of riding this bike has drained my unfit middle-aged frame. That's a little surprising actually – the V4 is so easy to ride that I haven't felt like I've been fighting it at all. This is certainly not like going ten rounds with a nasty big V-twin or old-school four on track, where it's wheelying and flapping about all over. Rather, the unflustered V4 simple goes along with what you're doing, its limits miles away, until you're working as hard as you can.
It's impressive stuff – like everything about this bike. Ducati's played a blinder here, and if you're in the market for something a bit special, and don't mind the hefty price tag (£19,390 for the base bike, £24,035 for the V4S), it could be just what you need. I can't wait to see how it goes up against the current class leaders – Kawasaki's ZX-10R, Suzuki's GSX-R1000 and the BMW S1000RR…
Value 4/5 (it is amazing, but expensive)
Practicality 3/5 (It's comfy enough, mirrors work and there's loads of kit. Pillion seat and pegs too! You'll want a proper secure parking spot for the commute though)
Performance 5/5 (Basically incredible)
Sex appeal 4/5 (styling isn't quite Ducati 916-levels of awesome)

---
Onboard with Al Fagan (44Teeth) at Valencia
---
SPECIFICATIONS
Engine: 16v desmodromic 90° V-four, DOHC, liquid cooled, 1,103cc
Bore x stroke: 81x53.5
Compression ratio: 14:1
Max power (claimed) 214bhp@13,000rpm
Max Torque (claimed) 91.5ft lb@10,000rpm
Transmission: six speed, slipper clutch, chain drive
Frame: cast aluminium front subframe, engine as stressed member
Front suspension: 43mm NIX30 Ohlins forks, electronically controlled
Rear suspension: TTX36 Ohlins monoshock, electronically controlled
Brakes: Dual 330mm discs, four-piston Brembo Stylema calipers (front), 245mm disc, twin-piston caliper (rear), Bosch cornering ABS
Wheels/tyres: Forged aluminium/Pirelli Super Corsa SP, 120/70 17 front, 200/60 17 rear
Rake/trail: 24.5°/100mm
Wheelbase: 1,469mm
Kerb weight (claimed, kerb weight): 195kg, (174kg dry)
Fuel capacity: 16 litres
Rider Aids: Cornering ABS, traction control, wheelie control, electronic suspension (on S), engine brake control, up/down quickshifter.
---