---
2018 Triumph Tiger 1200 Review
By Alan Dowds
Pros
Unparalleled equipment list
Build quality
Cons
Size of fuel tank / range
Triumph's giant traillie is a high-tech adventure behemoth...
Every company has its flagship product. Whether it's Audi with its R8 supercar, Johnnie Walker with its Green Label whisky, Apple with its iPhone X or Canon with its EOS 1DX camera, almost every firm has a top-end item which showcases everything it does well. That gets the latest and best technology the firm can produce. And that will also act as a 'halo' item, with its reflected glory helping to sell the more mundane items – the A3 diesel, the Black Label, the iPhone 8, the EOS 200D.
Bike firms are, of course, not exempt here. But the types of machines which count as flagships has changed radically over the years. In the 1970s, a firm like Honda probably considered its Gold Wing as the top dog – or maybe the CBX1000 six. But from the late 1970s right up until quite recently, it was sportsbikes which ticked the flagship box. FireBlades, GSX-R1100s, GPZ900Rs, then R1s, ZX-10Rs, Fireblades, Panigales – these high-octane, super-light race reps got all the best toys, and sat at the top of the model ranges.
In the past decade though, that's started to change again. Indeed, many firms have stopped making certain classes of sportsbikes. And when it comes to British firm Triumph, they've dumped their sportsbikes altogether. Its T595/955 superbike of the late 1990s has been gone for a while of course, and the 675R Daytona also shuffled off last year, leaving a big flagship-shaped hole in its range.
And here, arguably, is what fills that gap. The new Tiger 1200 is the priciest, most powerful, and most high-tech bike Triumph now sells, and for 2018, it's had a radical makeover. Less weight, more power, and loads more toys is the recipe, in order to take on the king of the adventure bike hill – BMW's R1200 GS, of course. And I've got one for a couple of weeks to see how they've done.
---
Triumph is having a small UK launch event

I start my fortnight of Tiger action up in Scotland, near my hometown of Greenock, with a day's ride round Loch Lomond, and I'm riding the bike home to London afterwards. Miraculously, I'm up north for the only decent week in three months, though the roads are still wet, and in dreadful shape after recent ice and snow.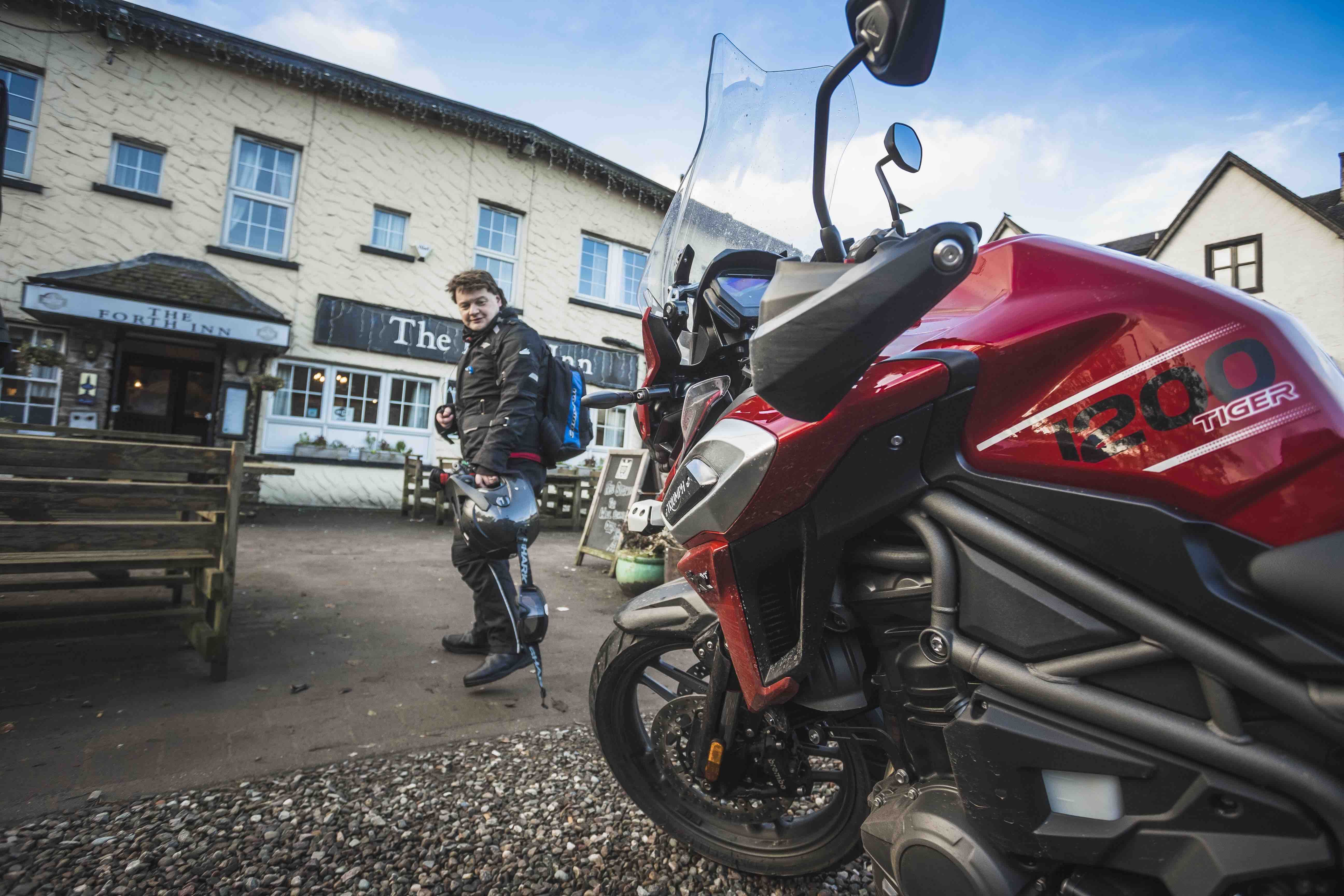 Perfect conditions for the big Tigger then? Well, yes, in theory, but it does feel like a handful at first. Partly that's down to me – the last bike I rode before today was the Ducati Panigale V4S at Valencia. So a 300kg luggaged-up trailbike on a beat-up Scottish A-road was a bit of a shock after a 200kg Superbike on a MotoGP track…
We soon adapt though, and the 1200 is a great place to be on the move. The new dash is splendidly plush, colourful and easy to navigate. This top-of-the-range version has hot grips and even a heated seat for pillion and rider, so I'm soon toasty all over. And the electric screen lets you find the precise amount of wind protection needed at any point – and my 5'8" frame was able to tuck in totally behind it when needed. The seat is tall, of course, but not horrendously so, and my stumpy 29" legs could get a foot down at every red light (but not both at once).
The riding experience is dominated by the engine though. A big, beefy, slightly lazy torque-monster, it has one of those totally flat torque curves, which is both satisfying and intriguing. Satisfying because you're always in the right gear for instant go – intriguing because I wonder what it would be like tuned for flat-out top-end go… As it is though, you can't complain at all for a bike in this class. Like the BMW R1200 GS, it never feels fuck-off fast, but is always very brisk indeed, and the ride-by-wire throttle and fuelling never gives a hiccup either. On the back roads round Loch Lomond, you're on and off the gas non-stop, over jumps, and out of slower bends, and with the damp, crumbly road surface, precise power control is a must.
Having said that, there's plenty of safety nets in place too. This is 2018 daddio, so you get a full-beans traction control and ABS package, backed up by an IMU unit that factors in lean and pitch to the wheel-locking or spinning algorithms. There's also electronic suspension adjustment, cruise control, riding power modes, and on the off-road models, an 'off-road pro' mode where you can lock and spin up the wheels more easily for off-road shenanigans. Even before you get to all that though, the basic chassis package is very impressive.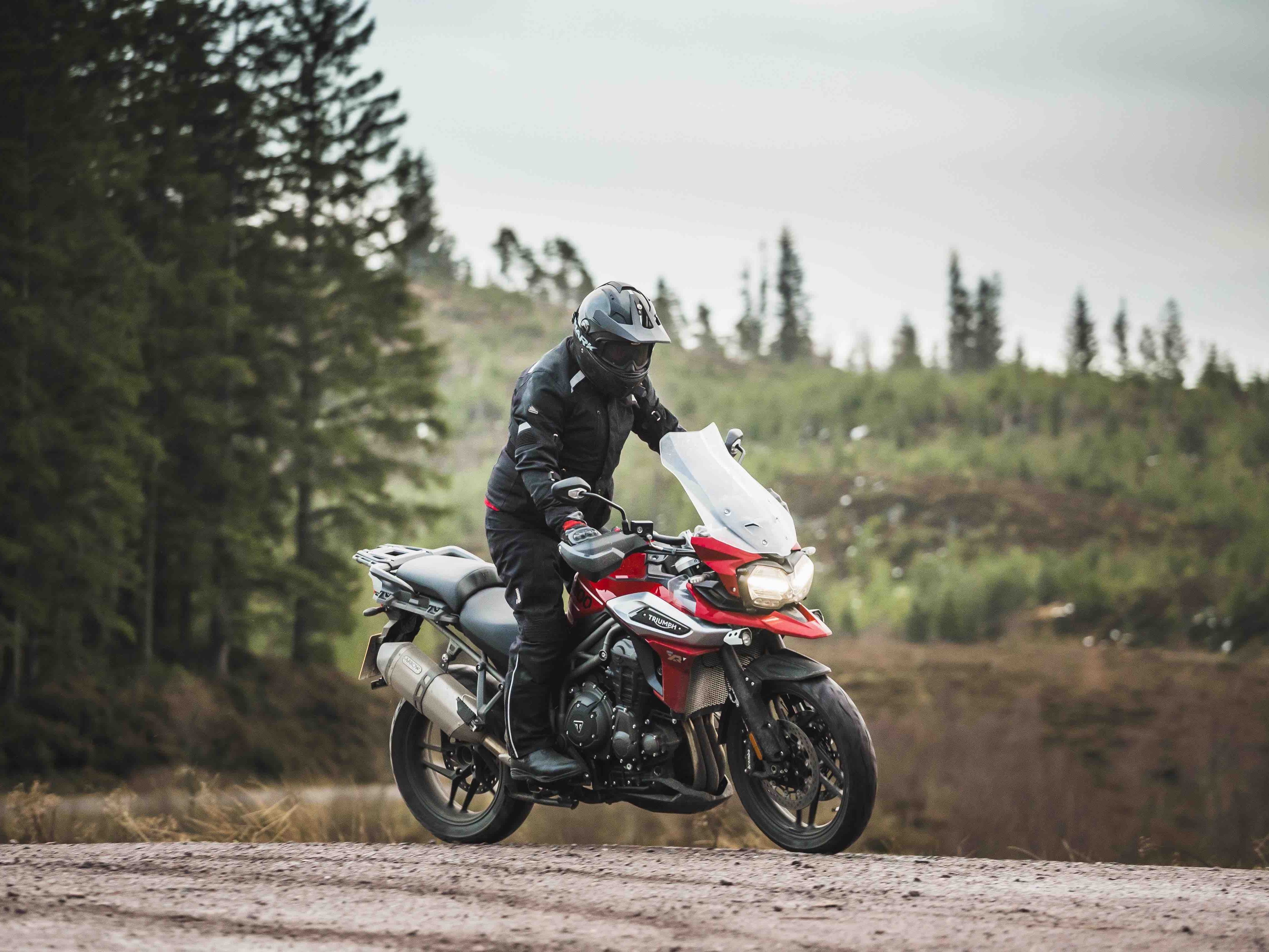 The weight disappears on the move, the Brembo brakes are strong and feel-laden, while the stock Metzeler Tourance Next rubber is nothing short of incredible. I was on a proper charge on the A82 at the north-western Loch Lomond section, in driving rain, and got a dose of the red mist on a very familiar road. The hammer was down, and next thing I know, I've overcooked it a little, and am heading for a cliff wall at 50mph, with both ends on the verge of locking up. Just before the ABS pulled the panic switch though, the Metzelers somehow locked onto the asphalt again, the Tiger swung into line, and I'm round and off, breathing a sigh of relief.
We calm down a lot after that though – and I start to mentally prepare for the ride home to London. I spend the night visiting family, then set off next morning for the big jaunt. It's nothing terrifying of course – just 450 miles-ish from Glasgow to SW London, and I've done nearly twice that in a day before. It's still big miles though, and I'm glad I'm on such a capable beastie. Electric kit plugged in, screen washed and adjusted up, fuel tank brimmed, let's go!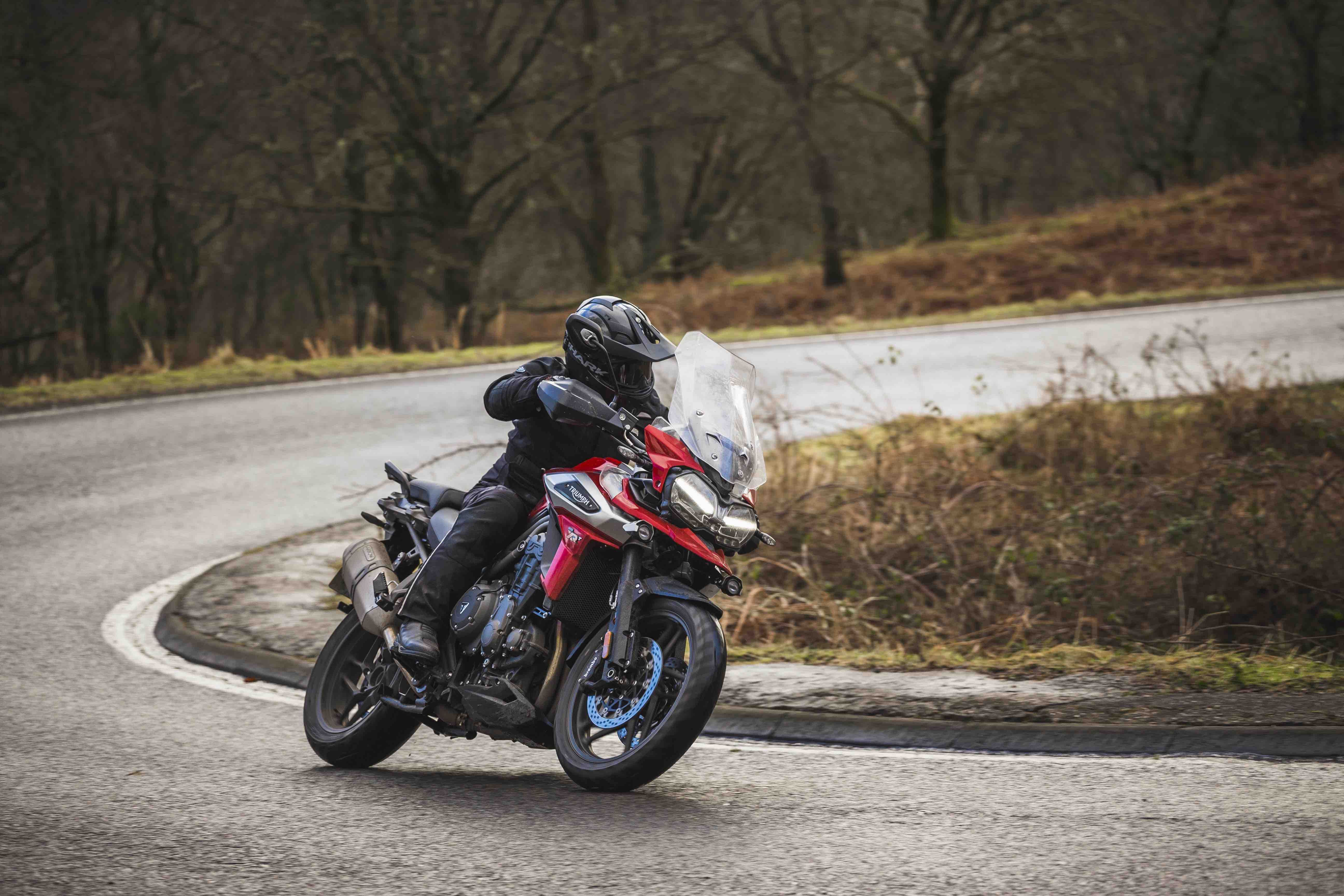 I'm well used to the M8/M74/M6/M2/M40/M25/A3 palaver, and the weather gods are still shining on me, so all I have to do is enjoy the Tiger. And it's still good – very good indeed. With the suspension on comfort, performance on max, cruise control engaged, and a selection of John Peel Festive Fifty highlights playing through my Ultimate earphones, I feel I could ride forever. There is a teeny fly in the ointment though – the Tiger isn't great on gas, and the tank range lets it down. Now, like all of us, I proper hate filling up. So something like the R1200GS Adventure with its 30-odd litre tank is to die for. Here, though, we've only got 20 litres – and the big Tiger doesn't just sip at it either. Even going pretty steady on the motorway, I'm struggling to get to 40mpg. Now, that's not bad at all when you consider the size of the thing, and all the gizmos it's powering. But when the result is a tank range of well under 200 miles, Al makes a sad face.
That's about it on the criticism front though. Okay, the big Tiger is a pricey beast, but I think the value is not at all bad. The equipment list is unparalleled, with everything you could want in there – up and down quick shifter, traction, ABS, cruise, colour dash, leccy screen, leccy suspension, keyless ignition, hot grips and seat etc etc etc. And Triumph's worked hard on the quality too – all the alloy parts are now nicely designed, rather than looking like they've been quickly knocked up in a small industrial unit in the West Midlands. Paint and plastic also look top-notch, and the aluminium luggage cases are also top-drawer. Brembo superbike brakes and an Akrapovic can are almost – almost – gilding the lily, but we'll happily take them…
So there you go. If Triumph was indeed planning this bike to be a suitably-lush halo product for its entire range, then they've done very well indeed. It's a fine motorcycle, and will no doubt sell in its thousands, while helping to shift loads of Street Scramblers and Tiger 800s too. Will it be enough to swat BMW's current emperor of the market – the R1200 GS and Adventure – off the top step? That remains to be seen – but I wouldn't be betting against it.
---
SPECIFICATIONS
Engine: 12v inline-triple, DOHC, liquid cooled, 1,215cc
Bore x stroke: 85x71.4mm
Compression ratio: 11:1
Max power (claimed) 141bhp@9,350rpm
Max Torque (claimed) 90ft lb@7,600rpm
Transmission: six speed, shaft drive
Frame: steel tube trellis
Front suspension: 48mm WP USD forks, electronically controlled
Rear suspension: WP monoshock, electronically controlled
Brakes: Dual 305mm discs, four-piston Brembo calipers (front), 282mm disc, twin-piston Nissin caliper (rear), Continental cornering ABS, integrated brake system
Wheels/tyres: Aluminium/Metzeler Tourance Next E, 120/70 19 front, 170/60 17 rear
Rake/trail: 23.2°/99.9mm
Wheelbase: 1,520mm
Kerb weight (claimed, dry weight): 248kg
Fuel capacity: 20 litres
---