---
2019 Aprilia RSV4 1100 Factory Review
By Alan Dowds
Pros
Massive engine
Outstanding track chassis
Looks incredible
Cons
Your licence won't survive long if you ride it much on the road.
Only available in black.
Don't let this stop you reading on, but... There's an even newer version in our 2020 Aprilia RSV4 1100 Factory review.

---
Power is, as they say, nothing without control
And that's never been more true than nowadays in the litre-class superbike sector. Making more than 200bhp with a standard road-legal superbike, which any Joe Bloggs can ride away on a PCP deal, would have seemed like borderline negligence just a few years ago. But now, it's par for the course.
And the firms are pushing even harder now, bolting 1100cc engines with ten per cent more power and grunt into their top-end machines. Ducati was first last year, with the stunning Panigale V4S and its monstrous 1,103cc, 214bhp motor. And for 2019, Aprilia's joined the band with a new RSV4 1100 Factory. A full-beans big-bore version of its sublime RSV4 superbike – and we're here in Mugello on a sunny April morning to have a bit of a blast on it.
Now, unlike Ducati, Aprilia had a bit of an easier job with the RSV4 expansion, thanks to the Tuono 1100 it launched a few years ago. So with a bigger version of its 65° V-four engine already in production, with the wrinkles all ironed out, it was arguably a much simpler task than building an all-new machine (though, to be fair, Ducati had its Desmosedici MotoGP motor to copy…) Bolt a Tuono engine into the old RSV4 (which was a corking machine as it happens), order up some new graphics, book Mugello, and then pop off into Noale town centre for an early lunch and a glass of Chianti then?
Well, no – the engineers put a bit more work in that that. The Tuono motor is overhauled for peak power, with an extra injector per cylinder, higher compression, altered valve timing and the like, to give more revs and increase power from the naked bike's 175bhp up to a heady 217bhp. The frame gets some geometry tweaks, the Brembo brakes are upgraded with the latest Stylema calipers, and most obviously, there are now a set of 'MotoGP-style' aerodynamic wings on the main fairing panels.
Those are there to enhance stability, apparently, and we'll be needing them this morning. Mugello has, famously, a huge main straight, and those 217 horsepowers will be catapulting us down it at a massive rate of knots. We get a brief tech, er, briefing, I clamber into my Alpinestars airbag leathers, plonk my Arai on my bonce, and get ready to rock the new RSV. We're first out, woo, so while there's a chance of some cold early morning asphalt, at least we don't have to hang about till lunchtime.
And that's not the only hanging about we won't be doing – because this bike is a total rocketship. I've been to Mugello a couple of times before (though not in a long time) so I sort of know where it's going, and give it a bit of an 'andful early doors. And bugger me, it's strong. Of course, more than 215bhp in a sub-200kg chassis is never going to be a slouch, but it's still a bit of a shock when you give the quick-action twistgrip a tweak. Out of the slower bends, there's a hammer-blow of low-down grunt, and on the faster sweeping sections, you can (carefully!) dial in as much as you dare.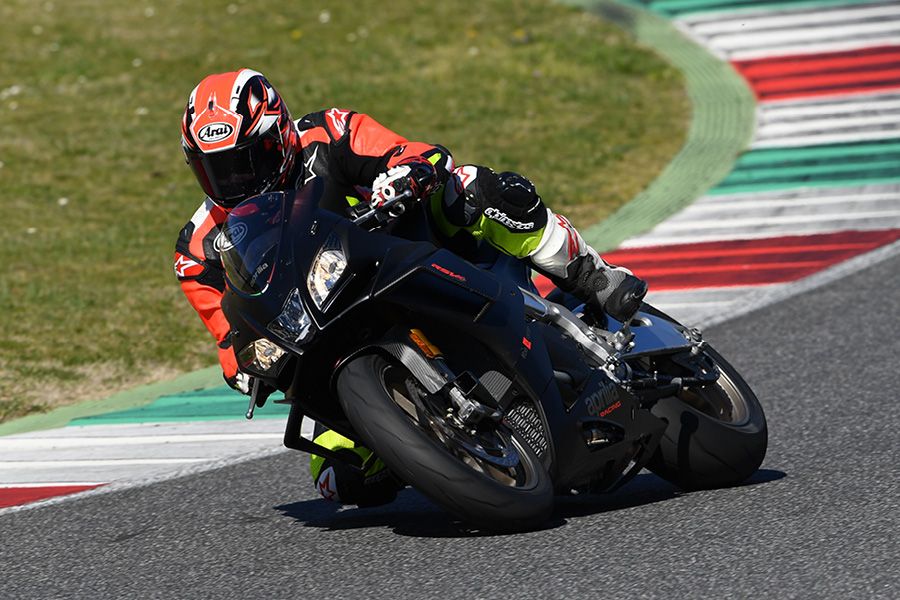 It's on the main straight that the point of it all becomes clear though – massive, gigantic acceleration, all the way through the six gears and up towards 300kph on the clocks. It's breathtaking stuff – it really is like having something like a Kawasaki ZZR1400 engine bolted into a small 600 supersports bike – and just physically hanging onto the thing is a real effort. After a few laps, I'm knackered, shoulders and arms starting to ache, heart rate going through the roof.
Luckily for me though, there are a few things which keep this stunning performance in line. First up is the extensive electronics package – traction and wheelie control, with IMU assistance and cornering ABS. Aprilia's been at the forefront of this tech over the past decade or so, and it's a comforting safety net today, letting you explore the power in (relative) safety. Secondly, those new carbon fibre wings on the main fairing panels, which Aprilia techs reckon are producing 8kg of downforce onto the front of the bike down the end of the Mugello straight. That gives some welcome extra straight-line stability just when you need it…
But the best assistance with the massive power is simply coming from the excellent chassis setup. Those steering geometry tweaks made to the 999cc RSV4 have done a top job, giving this utter horsepower weapon a degree of finesse and control you might not expect. The impression of hyperbike power in a supersport package continues here – the steering is light and easy, and you never feel like things are going to get away from you, or that you're not in control.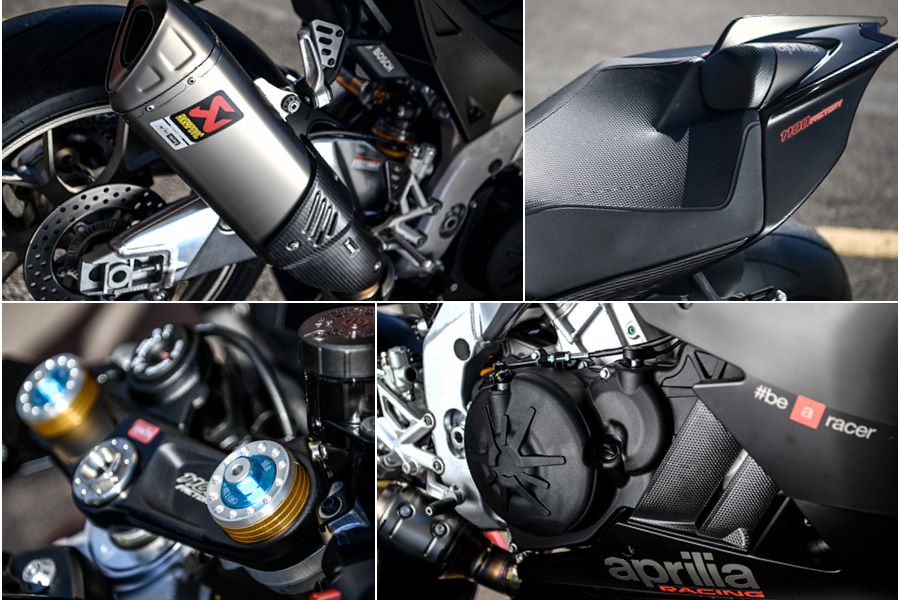 There's nothing really exotic in the chassis though – the suspension is Öhlins of course, but it's the firm's NIX forks and TTX shock, rather than the gas-charged forks or electronic kit found elsewhere. Together with the revised frame and super-stiff swingarm, it makes light work of Mugello's fast, involving complexes, especially the section between turns six (Casanova) and nine (Arrabbiata 2). Each lap, I try harder through here, holding the gas up the hill into the slightly blind rise, trusting in the RSV4 1100 to get me through. Mugello is hard on the brakes of course – and Aprilia's done a top job here as well. Brembo's new Stylema calipers grace the front end, and they've got the brick-wall power needed at the end of a 1.1km straight – as well as the fine control you want when you hammer them on at 290kph…
Our day is done, and it's been one of the most intense days on a bike I've ever had. The sheer kinetic impact of the RSV4 1100 Factory has to be experienced to be believed. The fact that is has the control – both electronically and in terms of chassis skillz – to deal with its immense power is just as impressive. If you're serious about track riding, and demand the ultimate, you simply must try one out.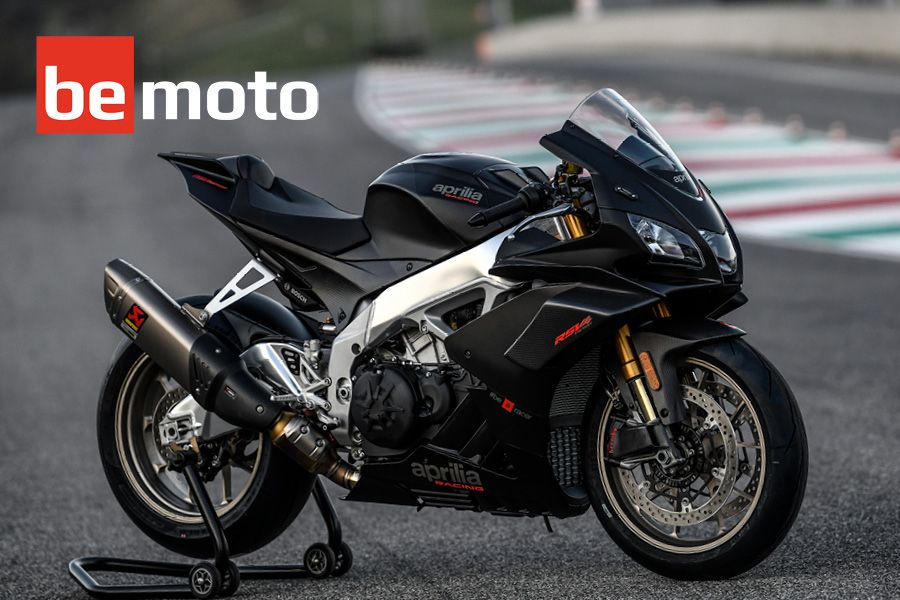 ---
Engine
The RSV4 uses a unique 65° 16v DOHC V-four layout and this one is very similar to the 1078cc engine in the firm's Tuono 1100. It has the same 81mm bore and 52.3mm stroke, but has two injectors per cylinder, and a higher compression ratio, up to 13.6:1. So there are more revs – peak power is made 2,200rpm higher than the Tuono at 13,200rpm – and more power, up from 175hp to 217hp.
Frame
The only fully-adjustable frame on the market – the steering head geometry, engine mount position and swingarm pivot point can all be fettled. It's unchanged from the 999cc RSV4, but there's new geometry: 4mm shorter wheelbase, 2mm less fork offset and less rake. That apparently puts more weight onto the front tyre, adding stability while staying nimble.
Suspension
Öhlins NIX forks and a TX rear shock aren't as flash as Ducati's electronic kit, but arguably more suited to track use. You'll no doubt be throwing them in the bike for FGR forks and an ex-Espargaro shock anyway, if you're in any way serious about this.
Swingarm
Unchanged from the 999 RSV4 but still gorgeous – saucily braced and tremendously stiff.
Brakes
First seen on the Panigale V4S, these are Brembo's premier road-going calipers. They're very light, and boast stacks of ventilation, delivering ample cooling air to the pad surfaces. Aprilia's also added carbon-fibre cooling ducts which were on all the test bikes at Mugello. They're a £300 option, but like the carbon fibre wings, they are achingly cool and probably count as a must-have.
Electronics
Aprilia's APRC rider aids package was amongst the first fully-integrated setups on a superbike and is still doing great work – though it's largely unchanged for 2019. Traction control, ABS, engine braking, power delivery and wheelie control can all be tweaked by a neat mini-joystick on the switchgear, and there are three power modes – road, track and race.
Aero management
The RSV4 now comes with aerodynamic aids – a pair of carbon wings attached to the main fairing. They add 8kg extra downforce at 300kph, aiding stability at speed and pushing the front end down just when you need it.
Why not get an Aprilia RSV4 Insurance quote from BeMoto, call 01733 907000 to speak to one of our specialists.
---
SPECIFICATIONS
Price: £21,499
Engine: DOHC 16v, 65° V-four, l/c, 1,078cc
Bore x stroke: 81x52.3mm
Compression ratio: 13.6:1
Carburation: four 48mm Marelli throttle bodies, eight injectors, ride-by-wire
Max power (claimed) 217hp@13,200rpm
Max torque (claimed) 89ft lb@11,000rpm
Transmission: six speed cassette gearbox, wet slipper clutch, chain drive
Frame: composite aluminium twin-beam. Swingarm pivot point, steering head/rake and engine mounts all adjustable
Front suspension: 43mm USD Öhlins NIX fork, fully adjustable
Rear suspension: aluminium braced swingarm, fully adjustable Öhlins TTX monoshock
Brakes: twin 330mm discs, four-piston Brembo Stylema radial calipers (front), 220mm disc, twin-piston caliper (rear), cornering ABS.
Wheels/tyres: machined forged aluminium)/Pirelli Supercorsa SC1, 120/70 17 front, 200/55 17 rear
Rake/trail: 24.5°/103.8mm
Wheelbase: 1,439mm
Kerb weight : 199kg
Fuel capacity: 18.5 litres
Equipment: APRC (Aprilia Performance Ride Control) IMU-based traction control and cornering ABS, with wheelie control, launch control etc, all individually adjustable, and three pre-set riding modes. Cruise control, TFT colour dash, up/down quickshifter, pitlane speed limiter.
---