---
2019 First Ride – BMW R1250 GS Adventure
By Alan Dowds
Pros
Great engine
Lots of options
It's a GS
Cons
It's not cheap
It's a GS!
Adventure bikes don't come much more serious than this…
UNLESS YOU'VE had some sort of spectacular Rip van Winkle-type experience, you'll know just how successful BMW's big GS Boxer range has been over the past 20-odd years. From the R1100 GS of the mid 1990s, through the R1150 GS in 1999 and the R1200 GS from 2004, it's gone from quirky niche machine to chart-topping mainstream success. Somehow, the weird combo of an enormous shaft-drive, (mostly) air-cooled flat twin in a giant off-road-friendly chassis hit the mark, helped to some degree by Ewan McGregor and Charley Boorman's various made-for-television adventures.
And now, I'm in Almeria, Spain, to check out the very latest iteration of the beastie – the 2019 R1250 GS Adventure for BeMoto (BMW motorbike insurance specialists). The Adventure variant has mirrored the success of the basic GS since it appeared as an 1150 at the end of 2001 – its various incarnations have featured a bigger fuel tank (30 litres on the current fella), longer-travel suspension and other mods aimed at boosting its hardcore credentials.
The big story for 2019's Boxer range is the engine. BMW has overhauled the old 1,170cc 1200 motor, bumping the capacity up to 1,254cc and adding ShiftCam variable valve timing on the inlet cam, giving a heap more torque all round, as well as 11bhp more peak power. The old motor was by no means short of go – but competition from mega-powered lumps like Ducati's Multistrada 1260 and KTM's 1290 Adventure meant the Munich massive had to respond.
And they've done so in quite an interesting way. The ShiftCam system uses two-part inlet camshafts, with a hollow outer sliding shaft that carries two cam profiles for each valve. Inside this is another shaft, splined to the outer, which is driven by the camchain/gear drive from the crankshaft. So as the inner shaft turns, it also turns the outer shaft with the cams on.
At the other end is a cunning mechanism, similar to the shift drum in bike gearboxes, which slides the outer shaft from side to side. As it does so, it moves the cam profiles in and out of play over their respective valves. One set of profiles is designed for excellent low-down torque, the other for peak power production, and the ECU moves from one cam to the other at the appropriate point in the rev range. The result? The bottom-end torque of a low-revving 'tractor' type engine, added to the screaming top-end of a rev-happy race-tuned motor. Add to the 84cc capacity increase, and we should have a really strong new engine – in theory at least…
Now to check out the practice. We've got a full day on the GS Adventure and the luxo-touring R1250 RT, based on the roads in the hills behind Almeria. I grab a GSA outside the hotel, and follow our lead rider out for the first stint. Conditions are spot-on: not a cloud in the sky, dry roads, and a forecast high of 24 degrees for later.
And the GSA experience is looking pretty good too. If you've spent any time on the 1200 version, then there's not a lot new from the pillion seat. The main difference is the colour LCD 'infomatics' dashboard, which is now standard fitment, rather than the £595 option is was previously. I enjoyed a couple of days on a 1200 GSA in Wales back in September, so the rest of the cockpit is pretty familiar: the switchgear, manually-adjustable windscreen, wide bars and beefy bodywork all falling into place. We've also got the keyless ignition tech, which is spreading across bikes now, whether we like it or not (I'm not a fan TBH).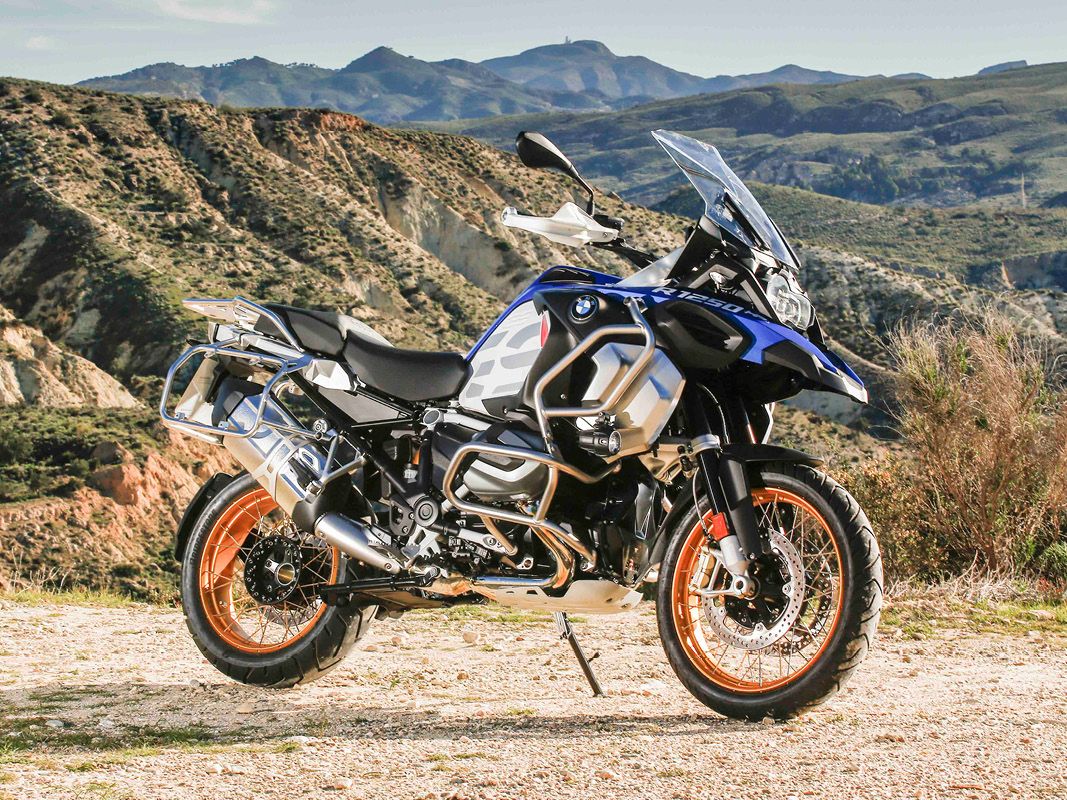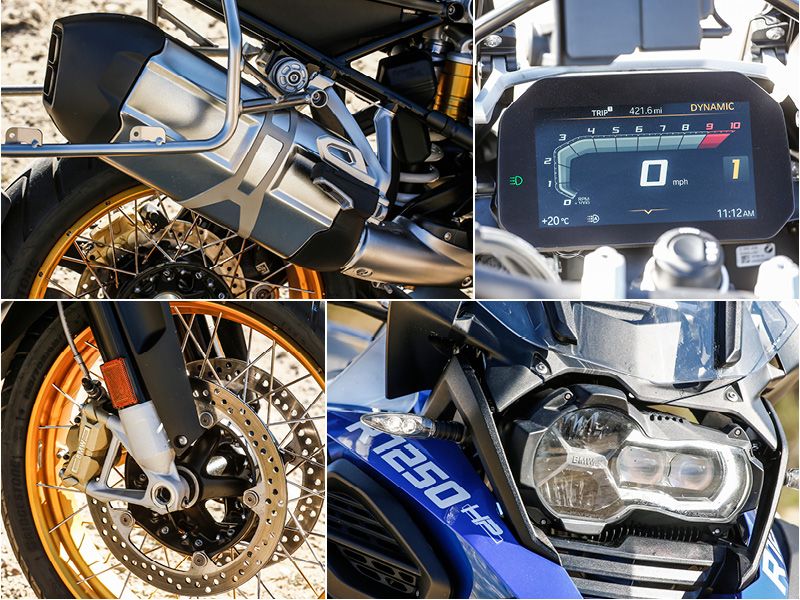 I'd removed the seat and selected the 'low' position before setting off, so my stumpy frame is a bit more at home when stopping. And while I was there, I plugged in the 'master key' electronic coding plug which lets you access the 'Pro' rider modes on this higher-spec GSA. Those riding modes, plus the ESA electronic suspension adjustment system means it's easy to find your ideal riding setup for any condition. Looking to keep up with your sportsbike-riding mate on a fast road blast? Engage Dynamic Pro for sharper throttle response and firmer suspension. Commuting on a slippery, damp winter morning? Rain mode will be your friend, with softer power delivery and suspension settings. Riding along the Road of Bones in East Russia? Click into Enduro Pro mode and sit back to enjoy the view…
I'm enjoying a lot more than the views here though. This new ShiftCam engine is a real treat – there's simply masses of urge everywhere, particularly down low and into the midrange. It's not got the aggressive monstrous feel that the Ducati Multistrada or KTM has, but is a more manageable, friendly delivery. Crack the throttle hard in first and second, and the front end lifts off the deck on a wave of torque. Do it over a rise in third and it happens again. A 268kg adventure tourer that feels like a cheeky Supermotard? Yes please…
A scientific test reveals that the indicated top end is around 140mph on the long straights outside our lunch stop at Almeria circuit, and then we're in for a quick break. Not for long though – the organisers have swapped two bikes onto Metzeler Karoo 3 off-road rubber, and we're getting a short offroad ride. Nothing crazy – just a 45-minute loop round the local farm tracks and gravel roads. The GSA is more than up to this sort of stuff, and while I'll always prefer a more modest bike to match my more modest dirt-riding skills, I'm more than happy to take the big Beemer round. One section is fairly tricky, when I take a wrong turn and end up on some large, loose rocks, but with the GSA's smooth low-down running, advanced ABS setup and the Karoo rubber, I'm soon back on the (relatively) straight and narrow.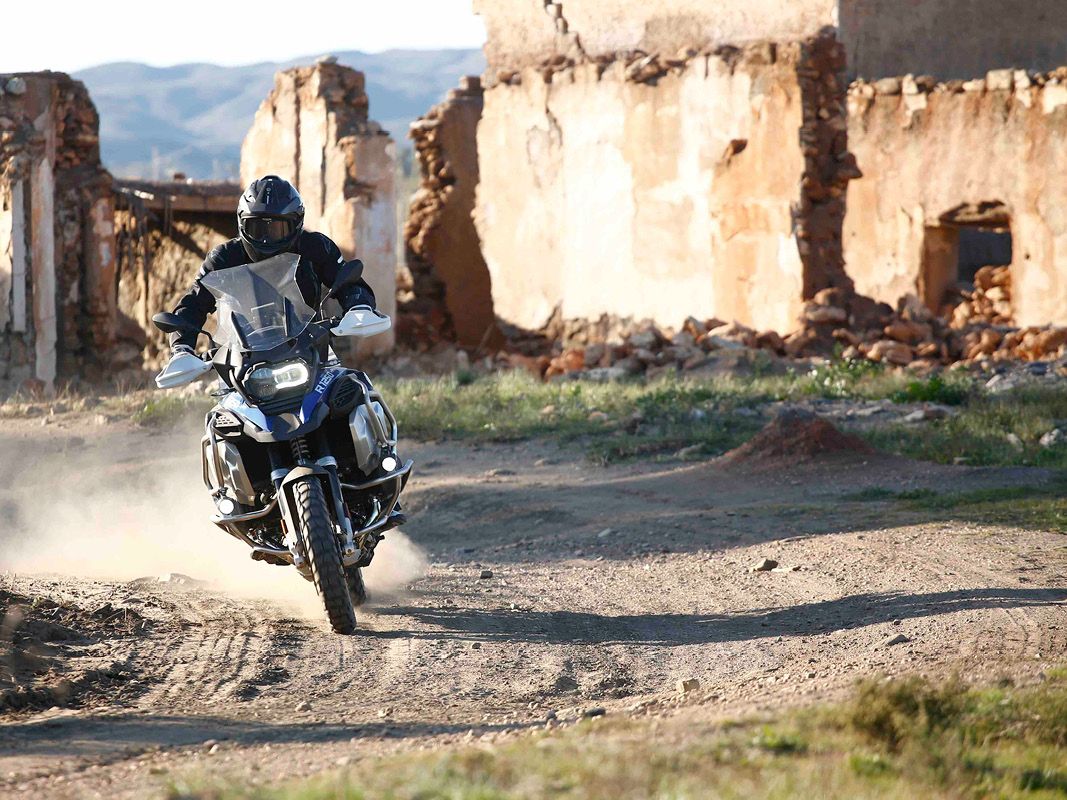 Back on the Tarmac then, and we're heading back to our hotel. One of the main mods apart from the engine is the brakes – BMW's swapped out the Brembo front calipers for new parts from American firm Hayes, better known for its bicycle stoppers. The new four-piston radial calipers work just as well as last year's though, with good power and feel. The electronic suspension setup on the bikes we're riding (Rallye TE models) gives a plush, comfy feel when cruising, yet feels really taut and precise when you push on a bit. There's no saggy wallowing anywhere, even at big speeds, yet stuff like speed humps through villages, and bumping up onto kerbs has the feel of a softly-sprung traillie. The Bridgestone A41 road-biased tyres are great too – although the warm, dry asphalt today hasn't asked too many tough questions of them.
So – a great new engine, full of super-strong torque, plus a very capable chassis on the roads. The off-road abilities easily exceed mine (on suitable tyres), and the equipment and rider aids package is the best in the business. Everything from the mundane – a manual windscreen – to the luxurious – cruise control, Bluetooth colour dash, and an 'SOS' button for emergencies – is here, and with an ex-works options list the length of its Telelever forks, the GSA really is an awesome proposition. Will it still be on top if you went into a 20-year coma right now? I wouldn't bet my house against it…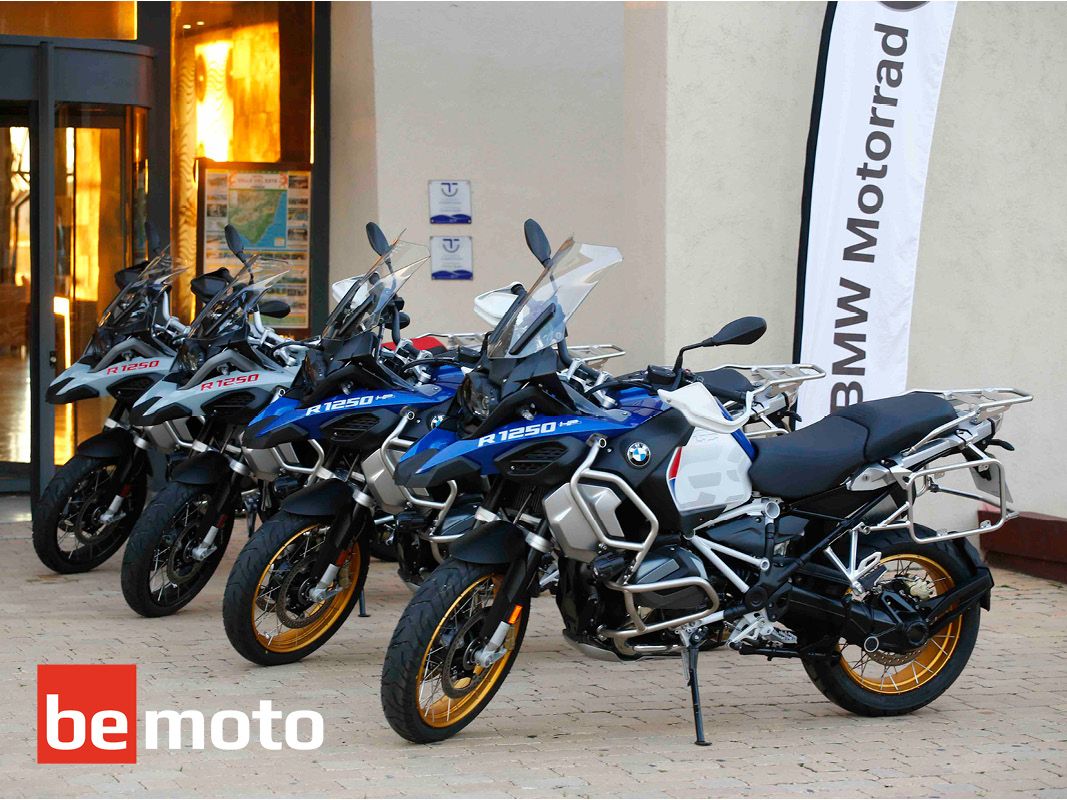 ---
SPECS
Engine: 8v boxer flat twin, DOHC, variable valves, liquid cooled, 1,254cc
Bore x stroke: 102.5x76mm
Compression ratio: 12.5:1
Max power (measured at tyre) 136bhp@7,750rpm
Max Torque (measured at tyre) 106ft lb@6,250rpm
Transmission: six speed gearbox, wet slipper clutch, shaft drive
Frame: two-part subframes, engine as stressed-member
Front suspension: BMW Telelever monoshock, 37mm stanchions, electronic suspension adjust option
Rear suspension: Paralever single-sided swingarm, monoshock, fully adjustable, electronic adjust options
Brakes: Dual 305mm discs, four-piston Hayes calipers (front), 276mm disc, twin-piston Brembo caliper (rear), Motorrad ABS, optional ABS Pro
Wheels/tyres: Tubeless wire-spoked/Bridgestone A41, 120/70 19 front, 170/60 17 rear
Rake/trail: 24.9°/95.4mm
Wheelbase: 1,504mm
Kerb weight (fully fuelled): 268kg
Fuel capacity: 30 litres (11.8 gallons)
Rider Aids: BMW ABS, traction control, rider power modes, hill start assist. Optional electronic suspension, ABS Pro, Pro riding modes, quickshifter pro.
---