---
2019 Kawasaki Versys 1000 – first ride
By Alan Dowds
Pros
Useful options on SE
Comfy smooth power
Handles well
Cons
Quickshifter isn't great
Low on peak power for class
Do you like camping?
I've never really been a fan, which I mostly put down to being scarred as a youngster by the misery of life under canvas in the 1970s and 80s. Back in the day, civilisation was hard to find in a British holiday camp, and even when I progressed to the odd caravan break, the horror of waking up freezing then having a chilly shower in a WW2-spec toilet block put me off for life.
Nowadays, of course, things are very different. Posh camping – glamping, if we must – rivals four-star hotel living, with comfy accommodation plus all the bells and whistles you could need.
The modern adventure bike is getting the same way. When I was a lad, even something like Honda's now-legendary 750 Africa Twin or a BMW R100 GS had little in the way of home comforts. Now though? The big firms' adventure bikes have become flagship models, laden with more tech than a child of the 1970s could have dreamed of back in those early days of 'big traillies'. The BMW in particular has gone through a space-age transformation, with more computing power than the whole of Germany had when the original R100 GS appeared in 1987. They are very serious machines indeed.
---
And for 2019, Kawasaki's pulled out all the stops for its top-spec adventure tourer too.
Now, it's important to set a few things straight at the start here – the Versys 1000 is perhaps the least dirt-capable of all the big adventure tourers. Kawasaki doesn't pretend otherwise, underlining the Tarmac bias of the bike's 17" front wheel, more limited ground clearance, road tyres and extensive plastic bodywork. The PR blurb speaks of taking on 'any road', which is fair enough. But unlike, say, the Africa Twin, or the R1250 GS Adventure, the Versys isn't really intended for serious off road use.
That said, we've got a proper mini-adventure to find out how it goes on the roads though. Kawasaki's flown us to Lanzarote in the Canary Islands, for a morning riding here, before we get a ferry to neighbouring Fuerteventura, continue the ride around that island before staying the night there, and coming back the next day. The weather's perfect, the low-season Canary roads are quiet and in great condition – everything's set fair for a great ride.
We're riding the SE versions, in GT trim – which means a full set of hard luggage on top of the extensive tech spec of the SE. Getting set to leave outside our hotel, I'm impressed from the off: the SE has the same kind of full-colour LCD dash as the H2SX SE, and it's clear, easy to read, and packed with info. The seat isn't too tall (I'm average height but have slightly short legs, so am no fan of three-feet-high seats), and once I've packed away all my crap (cameras, laptop, clean pants, clear visor, Kawasaki-supplied packed lunch and first-aid kit…), I'm raring to go. Phone mounted on the bars, Bluetooth linked to the bike via the new Kawasaki Rideology app, and we're off.
It's a comfy beast. You sit inside a high-tech cocoon, with that low seat, peg location and wide bars giving a very relaxed riding position. The engine is burbling away through the Akrapovic can, and the power delivery is super-smooth and progressive. One disappointment is the quickshifter though – it's a bit hit and miss from the off, the downshifts in particular a bit mushy.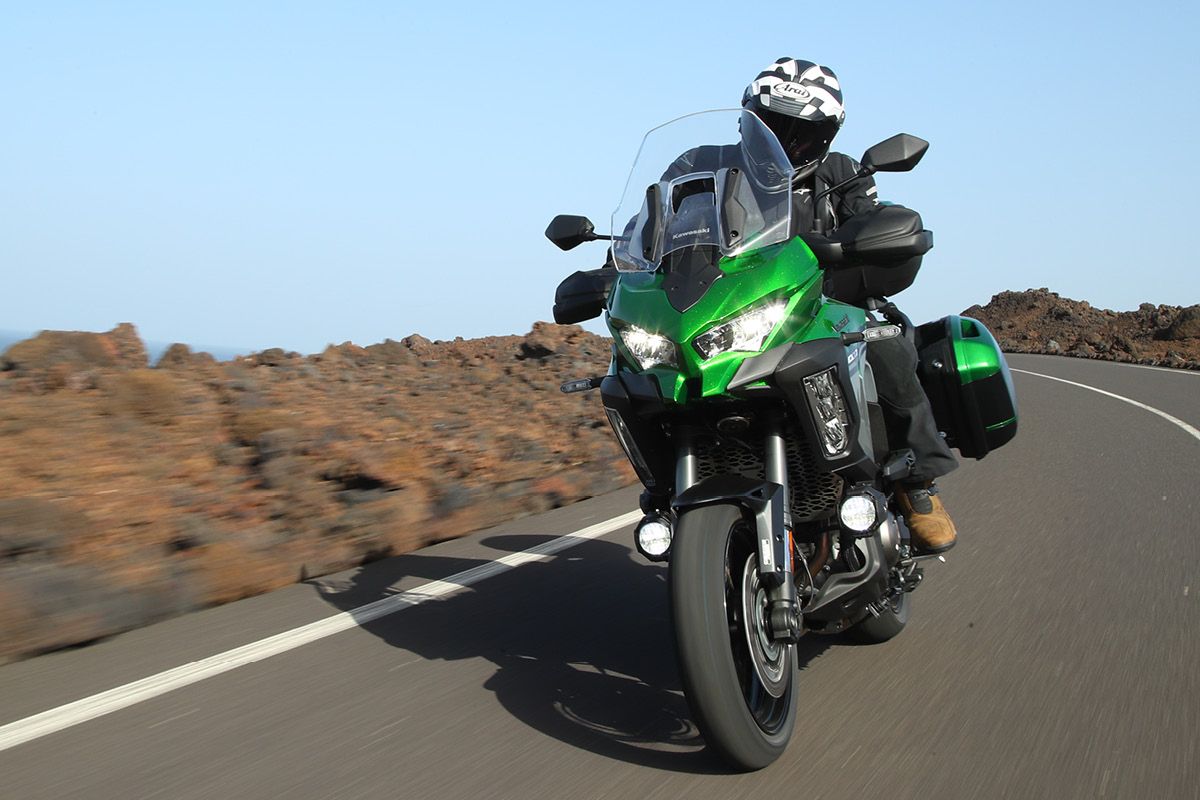 The new electronic suspension makes itself known early on. Riding out of our resort town, there are loads of speed humps on the roads, and the big Kawa simply glides over even the more ferocious ones. This is where 'leccy damping can make a massive difference of course – at low speeds, the damping softens off, absorbing big bumps with ease, but once you get out of town and open up a bit, the adjusters twiddle up to give a firmer setup, preventing the wallowing you'd get with softer damping.
At the photo location, I soon discover today's real fun treat though – the lean angle display on the colour dash. Now, the Versys might not seem like a big cornering machine, but it does surprisingly well on the twisty coast road we're working on. The Showa suspension, Bridgestone T31 tyres and easy handling soon has my angle-o-meter reading into the high 40°s – with only the very lightest of peg scuffs to show for it. Impressive stuff, especially with the hard luggage fitted and packed full of my personal shanty-town possessions…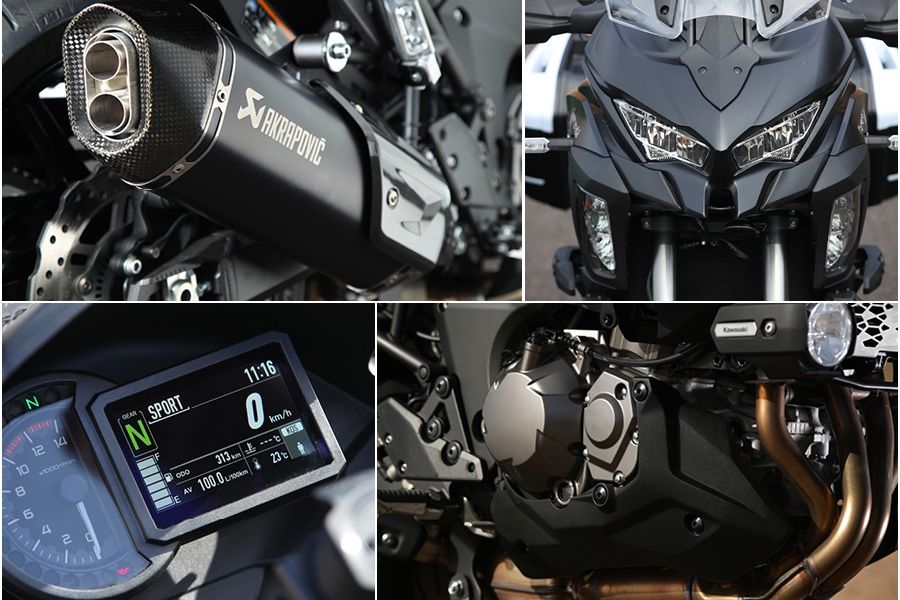 Photos done, we're onto the ferry and over to Fuerteventura in no time. We're all equipped with TomTom satnavs (which are very good), so it's a solo wacky race to our evening bunk – and I have a proper, proper ball. The mountain roads are super-clear, immaculately surfaced, grippy and warm, and the Versys is in its element. We worked out a long time ago that many modern adventure bikes are simply old-school sporty tourers on stilts, and that applies here: the big Kawa is comfy, quick and capable, and ticks all the boxes which used to be ticked by the likes of a Honda VFR, or a Triumph Sprint ST.
I have my quibbles though. The Versys comes with a big 1,043cc inline-four engine, which should spell a scary excess of available bhp. That's the whole point of a four-cylinder engine after all – more pistons, more valve area, higher revs, all giving the potential for huge power outputs. If you don't want that, use two or three cylinders instead – that's what KTM, BMW, Triumph, Suzuki, Yamaha – almost everyone really – has done in this class. Save weight and bulk, and get a decent 130—odd bhp with loads of grunt, bosh.
But the Versys is ploughing its own furrow, and puts out just 120bhp, which is actually less than the 134bhp BMW R1250GS, and much less than the 158bhp Ducati Multistrada, both twins. Granted, the Versys 1000 has a very pleasing, smooth power delivery and clean fuelling – but BMW's S1000 XR puts out 45bhp more, and that's what I want from a litre four these days.
On the few faster, more open roads on the Canaries, the Versys is just a teeny bit wheezy then. For a bike like this, which might well be loaded up with pillion, and panniers jammed with kit, then pointed at the German Autobahns, I'd definitely want more of a margin in terms of peak power.
I'm very aware that not everyone will feel the same though. And 120bhp is still more than enough to smash just about any speed limit, twice over. My other gripes are fairly minor – the quickshifter isn't the best, but some careful lever adjustment and practice will help, and the manual-adjustable windscreen is a bit of a faff to change on the move.
On the other hand, the tech levels are brilliant – cruise control, cornering lights, electronic suspension and the Rideology app will all be a real boon on big trips. Add in the day-long comfort, high equipment levels on the GT version, and you really do have a very capable bike indeed. Just the tool for a nice bit of glamping this year? Very much so…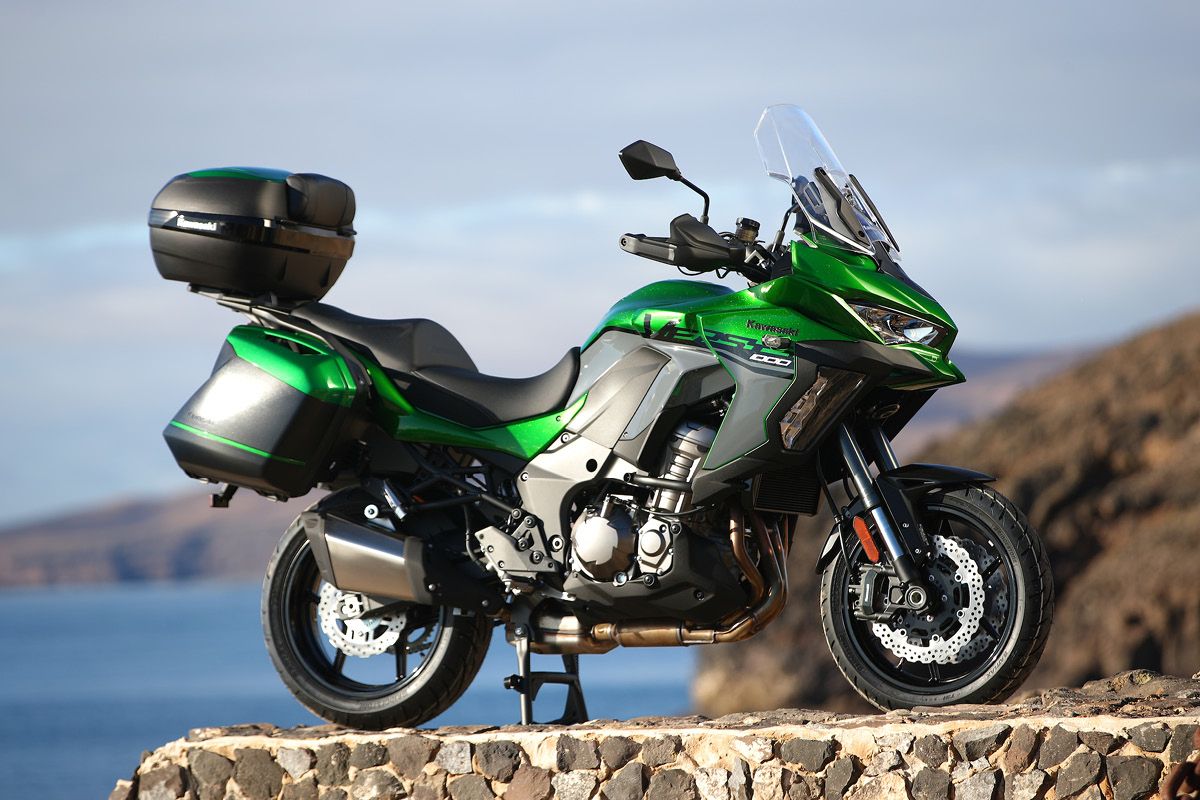 ENGINE
A trademark Kawasaki motor: 1,043cc of inline-four motor and almost identical to the old bike's lump, apart from ride-by-wire throttle valves (for cruise control). But peak power of just 120bhp is a bit on the low side for a 2019 bike. Having said that, it's got a pretty smooth, grunty delivery.
FRAME
A cast aluminium twin beam design, which passes over the engine to reduce overall width
SUSPENSION
Two options – the base bike has some pretty vanilla preload/rebound adjustable forks and shock, albeit with a remote hydraulic preload adjuster on the rear. Shell out for the SE version though, and you get the fancy new KECS (Kawasaki Electronic Control Suspension) electronic semi-active setup, which uses Showa components, adjusted via the dash and incorporated into the riding modes.
BRAKES
Pretty posh radial-mounted four-piston calipers up front – shared with the latest Z1000 – and the whole system comes with IMU-assisted cornering ABS.
RIDEOLOGY APP
The SE version can connect to Kawasaki's new 'Rideology' app, which also works with the latest H2 SX and ZX-10R SE models (and more new models as Kawasaki brings them out). It's packed with potential – you can adjust suspension and riding mode settings, GPS track your rides, data log performance and much more. Not all the features seemed to be working on the Versys, but it's clearly only going to go one way.
SE VARIANT
According to the good guys at Kawasaki in the UK, they'll sell 65 per cent SE and 35 per cent standard models this year. The SE is a hefty upgrade: you get LED cornering lights, colour dash, electronic suspension, and 'self-healing' anti-scratch paint, none of which can be fitted to the stocker. The SE also comes with a load of bits which are optional on the base bike: quickshifter, tall screen, hot grips and handguards.
---
SPECIFICATIONS
[SE model in square brackets]
Price: £11,342 (base model), £16,042 (SE GT otr)
Engine: DOHC 16v, inline-four, l/c, 1,043cc
Bore x stroke: 77x56mm
Compression ratio: 10.3:1
Max power (claimed) 120bhp@9,000rpm
Max torque (claimed) 75ft lb@7,500rpm
Transmission: six speed gearbox, wet slipper assist clutch, chain drive
Frame: aluminium twin-tube diamond type
Front suspension: 43mm USD fork, rebound and preload adjustable [KECS electronic Showa semi-active fork]
Rear suspension: aluminium swingarm, monoshock, rebound damping and remote preload-adjuster [KECS electronic semi-active Showa shock]
Brakes: twin 310mm discs, four-piston radial calipers (front), 250mm disc, single-piston caliper (rear), cornering ABS.
Wheels/tyres: cast aluminium/Bridgestone T31, 120/70 17 front, 180/55 17 rear
Rake/trail: 27°/106mm
Wheelbase: 1,520mm
Kerb weight : 253kg [257kg]
Fuel capacity: 21 litres
---