---
2020 Aprilia RSV4 1100 Factory First Ride
By Alan Dowds
Pros
Amazing engine
Superb chassis
Top-end electronics
Mind-bending performance
Cons
Bit small for larger riders
Very focused design
Price tag - £22,399
Aprilia gives its top-level superbike a jolt, the RS4 1100 now comes with electronic Öhlins suspension!

Sometimes, being a moto journalist really does live up to its billing as a 'dream job'. And in the lockdown lull of late summer this year, a job came in which looked like it was going to be a cracker. Aprilia was organising a small event in Italy, where a couple of Brit journos could go and check out the new 2020 RSV4 1100 Factory and 1100 Tuono Factory, on track, at the Vallelunga circuit near Rome. Did I fancy it?
After the depressing bin fire that is 2020, I didn't need asking twice, nearly taking the nice PR man's metaphorical arm off at the elbow. A foreign track launch? At a WSB track in Italy? On the latest version of one of the very best superbikes money can buy? Fuck yes, if you'll excuse the language.
---
Pre-flight checks
A couple of weeks later, and I'm at a ghost-town Heathrow airport for a very quiet BA flight to Rome. Before I know it, I'm stood in a pit garage at the Vallelunga track, and everything is going swimmingly... Swimmingly, as in, the pit lane is about two inches deep in flowing water, and relentless rain is chucking it down from the sky. I'm from the West of Scotland, so am au fait with dreadful rain – but this is a proper washout. The locals are throwing their hands up, packing their vans and heading home (the forecast is for 12 hours of rain) and I'm beginning to wonder if there's any chance of an afternoon flight back to Heathrow…
Luckily, the Aprilia PR folks are made of sterner stuff, and are on the phone, tracking down some race wets. By 11am, one of the RSV4 1100 Factory superbikes has some Dunlop rain rubber spooned onto its rims, and the tyre warmers are set to gas mark nine to get some heat into the buggers. I get kitted up in my Alpinestars suit, feverishly scanning the sky for any signs of a break in the cloud, and running over the new bike's spec in my head.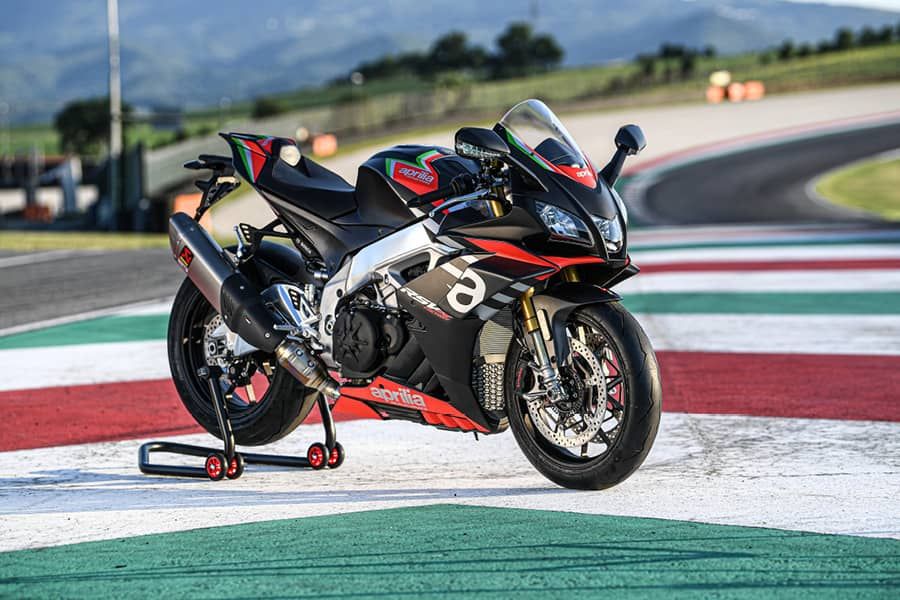 ---
Many changes on the RSV then?
There's not been a massive overhaul of the RSV4 for 2020 – but that's no bad thing. The 2019 version was a corker, and I rode it at the launch at Mugello. Then, it was the heat that was killing me – 37°C with baking sunshine – and the 217bhp V-four powered Aprilia was simply incredible. The motor is amazing, with hilarious performance levels similar to the Ducati Panigale V4S, in a compact, manageable, track-focused chassis, and it has all the bells and whistle – nearly.
I say nearly, because there was one thing missing off the 2019 bike's spec sheet: the electronic semi-active suspension sported by Yamaha's R1M, the Panigale V4S and Honda's Fireblade SP. Aprilia reckoned that kit didn't make any difference to lap times over the excellent conventional Öhlins suspension, so didn't bother fitting it. Now, though, the firm's test riders and engineers reckon they've got a setup that works better on the RSV4 1100, and the 2020 bike gets the same Smart EC 2.0 Öhlins kit as seen on the other top-end superbike contenders.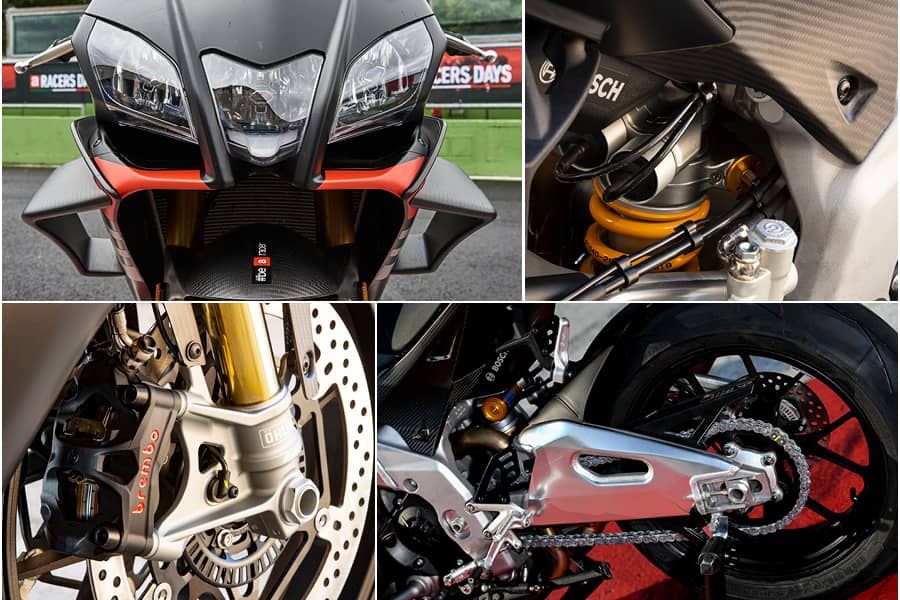 ---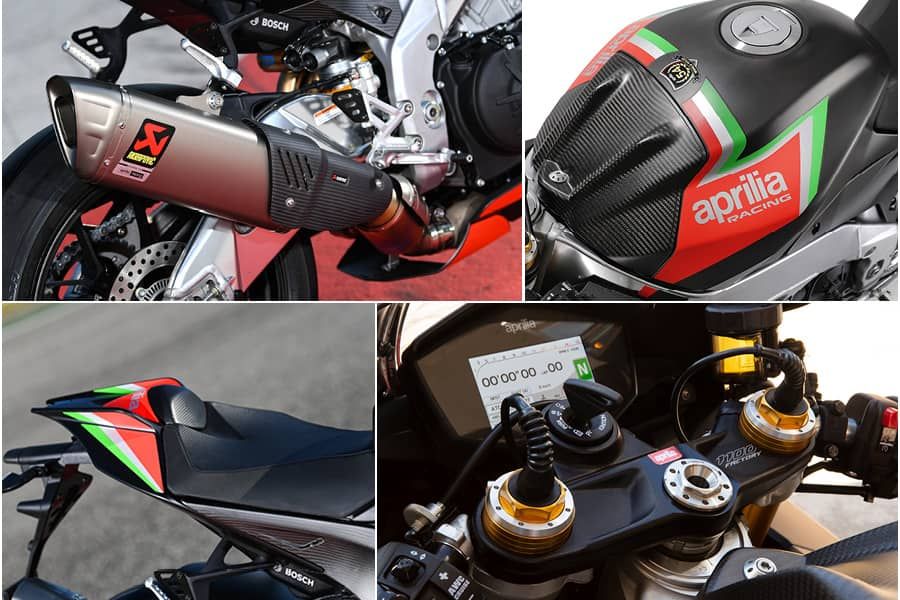 ---
Warming up that V4
Will it make a difference here though? I finally get a chance to try and find out, as the rain eases off just before lunch and I get out for a few super-steady sighting laps to get myself in the groove. Vallelunga is a new track to me – and it's a bit of a bugger to get your head around. The first half goes well – a decent, quick, main straight, down into some fast sweeping bends, and into a proper, banked horseshoe turn. Then another fast straight, and down to second gear for a tighter 180° turn, then you find yourself wading through a frankly insane infield. Now, the corners are super-slow and nadgery, more suited to a supermoto or a pit bike than a full-bore superbike, then things get back to normal on a long right-hander back onto the main straight. Hmmm.
I've just about worked out where things go before the chequered flag and lunch. By 1pm, the rain has eased off (though it hasn't stopped) and I get another full session on the RSV4 and am thoroughly settled into Vallelunga and its curious ways.
---
The grunt...
The day is drawing to a close now though, and I'm back out again for a final session, this time concentrating more on the RSV4 than the track. We're a long way off using all the performance of course, with standing water still lying across the track in places, but the Dunlop wets give good grip, and I can give it a bit of a handful on the bigger parts of the track. The excellent package of rider aids is a useful safety net of course, but the 65° V-four engine is remarkably easy to access in these crappy conditions. The power is smooth and progressive, with predictable throttle response, and I'm pretty confident easing the gas on out of a bend. Ditto the brakes – the Brembo Stylema calipers are designed to cope with white-hot hard-braking, down from the huge speeds this bike can manage – but they're performing well here too, in the chilled, soaked conditions.
The electronic suspension feels good too. The engineers have dialled in suitable settings to the traction control, ABS and suspension ECU, all aimed at getting the best out of the race wet tyres in these conditions. And while we're only pottering round in the rain, the front end is compliant and communicative, while the back end feels super stable.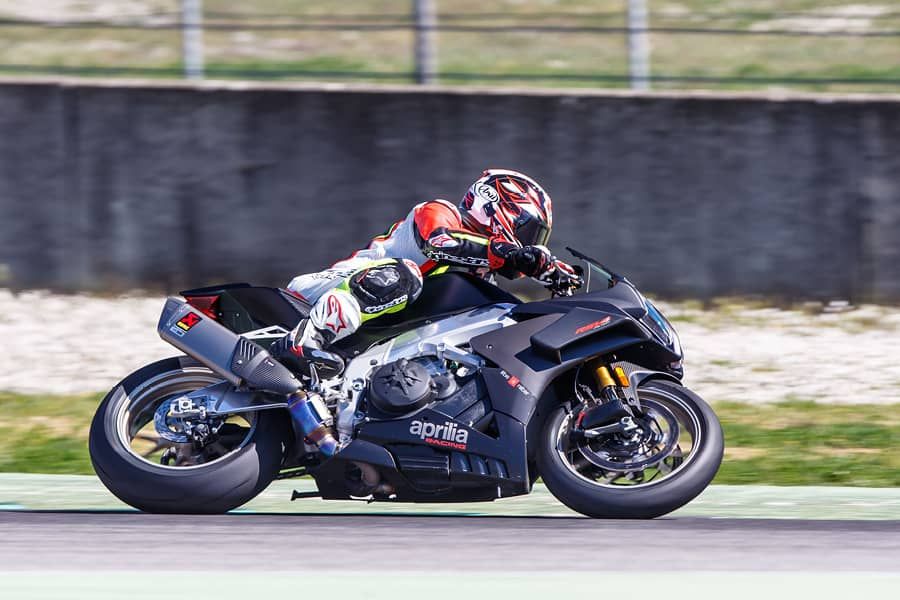 ---
It all comes together
My last session starts to really come together. The rain has almost completely stopped, with only a very light mist drifting across the pit lane, and the wind has started to dry out a line on the asphalt. I've nailed the track in my head (though it's still fairly horrid to ride), and give the RSV4 a proper go out of pit lane. The dry line eggs me on, and soon I'm giving it full beans down the big straight, braking hard enough to get the back end moving around from side to side, and leaning more and more through the proper bends. I tip-toe through the infield as usual, desperate to get back onto the 'real' sections again, and the RSV4 feels brilliant. It does that great trick of allowing you easy access to the performance, even in these rotten conditions, yet still has class-topping abilities. I've ridden a few litre superbikes in the past which would be a nasty fever dream here, but the RSV4 is as friendly and accommodating at this pace as a sorted 600 supersports bike would be.
But then, it all goes a bit wrong. I've pushed that little bit too far on the long right hand turn seven, leaned over an extra degree or so, and the back end slips away in a graceful, gentle lowside. Gah. The poor RSV4 slides into the gravel trap, flips over to smack both sides, and I pick myself up, suitably chastened. It's a silly crash – my airbag suit hasn't even gone off and I'm totally unhurt, but that's the risk of pushing a bit harder in changing conditions. Seeing a dry-ish line encourages you to push on, and you only need to drift off it a tiny bit to lose grip. Gah. I take the recovery-trailer ride of shame back to pit lane and make my apologies…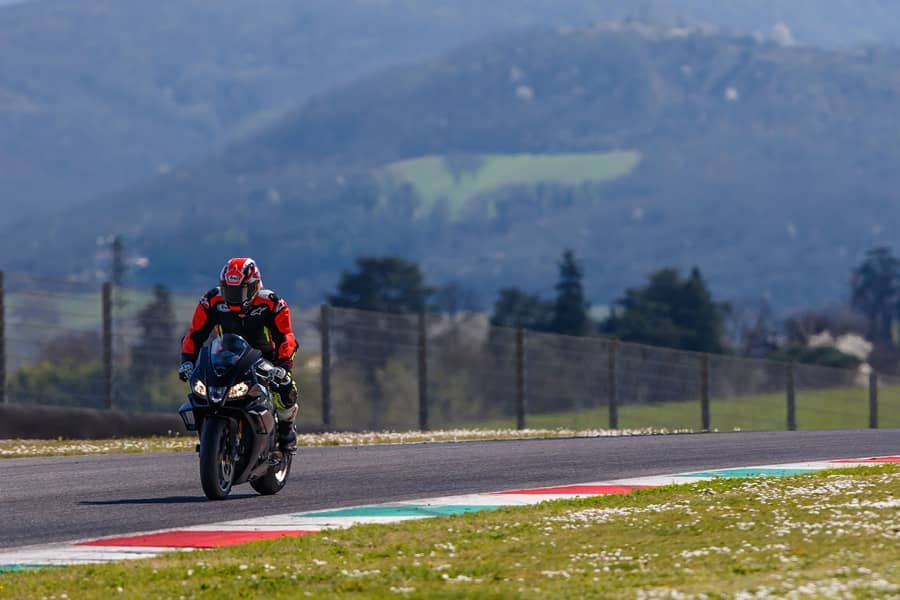 So – not such a dream job after all? Not at all. In the last couple of sessions, I was reminded of how well the RSV4 went around Mugello last year – it's an other-worldly piece of moto design, and that extra ten per cent engine capacity and performance definitely lifts it above the 999cc machines. With the semi-active Öhlins suspension, even the pickiest of spec-sheet warriors can't mark it down now, and you really do owe it to yourself to get a ride on one of these…
Why not get an Aprilia RSV4 Insurance quote from BeMoto, call 01733 907000 to speak to one of our specialists.

---
RSV4 1100 Devil in the detail:

Price: £22,399

Engine: DOHC 16v, 65° V-four, l/c, 1,078cc
Bore x stroke: 81x52.3mm
Compression ratio: 13.6:1
Carburation: four 48mm Marelli throttle bodies, eight injectors, ride-by-wire
Max power (claimed) 217hp@13,200rpm
Max torque (claimed) 89ft lb@11,000rpm
Transmission: six-speed cassette gearbox, wet slipper clutch, chain drive
Frame: composite aluminium twin-beam. Swingarm pivot point, steering head/rake and engine mounts all adjustable
Front suspension: 43mm USD Öhlins fork, Smart EC2.0 semi-active control
Rear suspension: aluminium braced swingarm, Öhlins monoshock with Smart EC2.0 semi-active control
Brakes: twin 330mm discs, four-piston Brembo Stylema radial calipers (front), 220mm disc, twin-piston caliper (rear), cornering ABS.
Wheels/tyres: machined forged aluminium/Pirelli Supercorsa SC1, 120/70 17 front, 200/55 17 rear
Rake/trail: 24.5°/103.8mm
Wheelbase: 1,439mm
Kerb weight : 199kg
Fuel capacity: 18.5 litres
Equipment:
APRC (Aprilia Performance Ride Control) IMU-based traction control and cornering ABS, with wheelie control, launch control etc, all individually adjustable, and three pre-set riding modes. Cruise control, TFT colour dash, up/down quickshifter, pitlane speed limiter.
---