---
2021 Kawasaki Z H2 Review
By Alan Dowds
Pros
Mad Engine
Supercharger
Coolness
Cons
Heavy
Rear Shock
Lacks Finesse
Kawasaki Z H2 2021 What is it?
When Kawasaki made it known it was going to produce a new range of supercharged engines in 2013, we were expecting amazing things. First came the H2R track-only superbike in autumn 2015, with a 998cc supercharged engine, then the 'standard' H2 version a couple of months later, still super-expensive but at least available in road-legal form. Surely the next few years would bring all manner of super-exotic, high-spec supercharged bikes? We wanted blowers on everything: 175bhp 600cc sportsbikes, 50bhp 250cc roadsters – hell, why not a 300bhp supercharged 1400?

In fact, seven years on, the only other charged bikes we've had are the H2 SX supertourer – a great bike, but few obvious benefits over the ZZR1400 it replaced – and now, the Z H2 supernaked, with a 197bhp variant of the supercharged motor and a radical insectoid styling package. Launched at the start of 2020, COVID-19 complications meant it took till late summer to get a spin on one – and here I am, at a near-deserted, locked-down Kawasaki Motors UK head office, to pick it up.
I got my first impressions of the Z H2 in the flesh at the Milan show in November 2019, so am prepared for the wild top fairing that comes way out in front of the steering head. Kawasaki's had to pack a lot of stuff into this 'naked' bike, and that nosecone section is rammed with stuff. Everywhere you look, there's a lot going on: from the colour LCD dash, extensive switchgear, big lump of an engine with the 'SUPER CHARGED' embossed logo, and a hefty Akrapovic sports exhaust on this Performance variant.
See what other cool kit is coming in 2021 bike launches from a variety of manufacturers.
---
Kawasaki Z H2 2021: Beyond the first impression...
Pulling away from KMUK, the 'user interface' is reassuringly familiar – the menus, switchgear and dashboard display are all pretty much identical to those on the firm's latest premium offerings, including the H2 SX SE and Versys 1000 SE. Also familiar is the unique H2 family 'chirruping' sound from the blow-off valve. It needs that because the mechanically-driven supercharger is compressing air the whole time, and when you close the throttle the system has to release that pressure to the atmosphere, with a very cool noise.
Onto the M40 heading east, and a big handful of throttle in second gear produces some mind-warping acceleration up the slip road. I don't care who you are, 175bhp at the tyre (which is what we got on the Big CC dyno - as you'll see below) is more than enough to rattle your cage, especially on an upright, naked machine. The traction and wheelie control all pop up to help keep things pointing in the right direction, lights flash, you click up another gear through the sweet quickshifter, and the madness happens again, only this time even faster faster. Soon, the proverbial angel on your shoulder gives you a nudge, and you throttle down to a less gaol-worthy velocity. Click in the useful cruise control, and you can saunter down the motorway, all nonchalant, just over the limit – until the devil on your other shoulder clears his throat and we're off again. Any straight section on the motorway turns into a Cold War runway, and the Z H2's supercharged afterburners catapult you forward with extreme prejudice.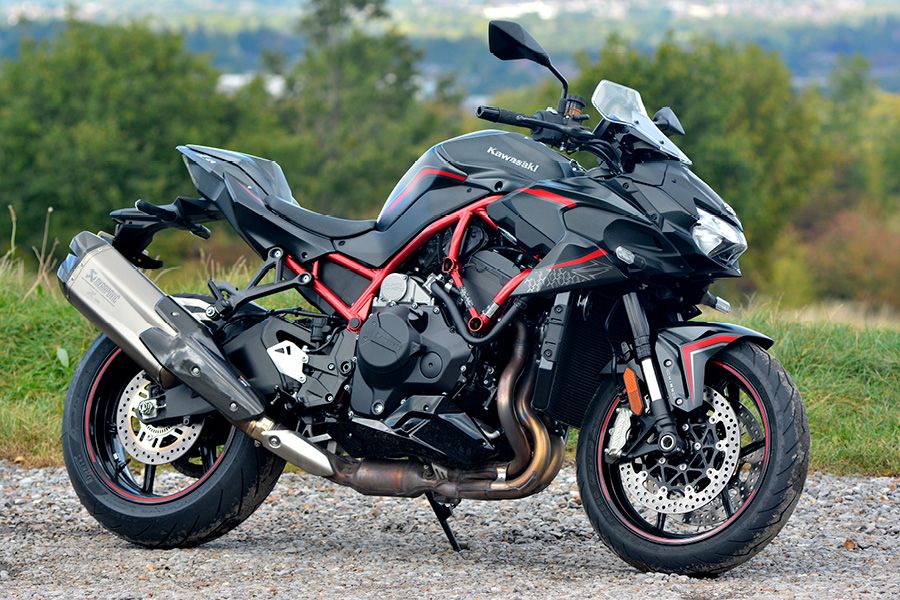 ---
Kawasaki Z H2 2021: Living with it
As ever with a full-bore litre-plus bike, you always end up arriving sooner than you expected on the Z H2. Long term, it does not bode well for your licence, but for a couple of late summer weeks, I'm well chuffed with the blown Zed. It's fine around town, the blow-off valve chirrup adds greatly to the gaiety of the nation, and it's hard to avoid a bit of a tosser's swagger when you pull up at the lights next to any sort of performance vehicle – especially an expensive supercar. You really are king of the road here, and while you're not necessarily going to be any faster than a 'standard' sportsbike or supernaked, the presence of that 'SUPER CHARGED' logo on the motor is a massive psychological boost even before the lights turn amber…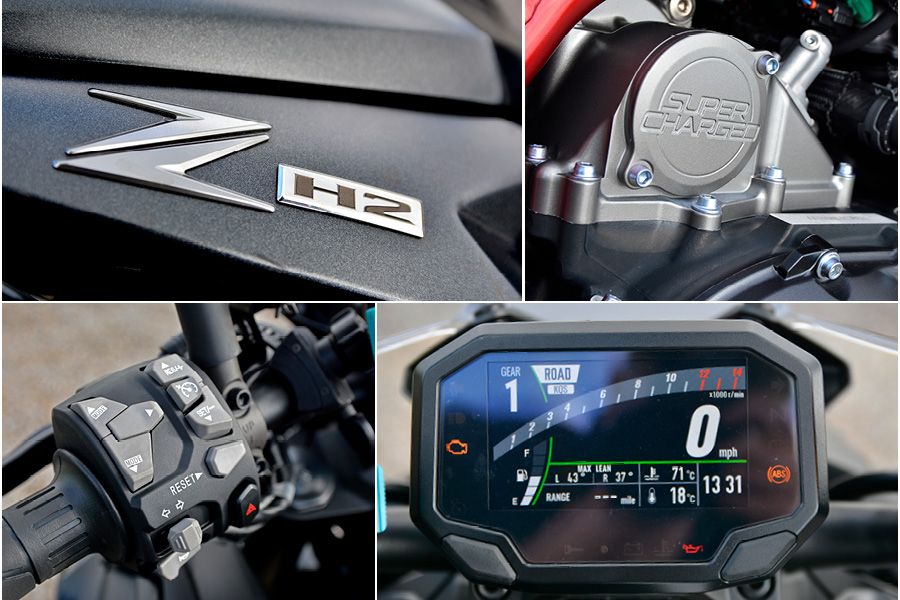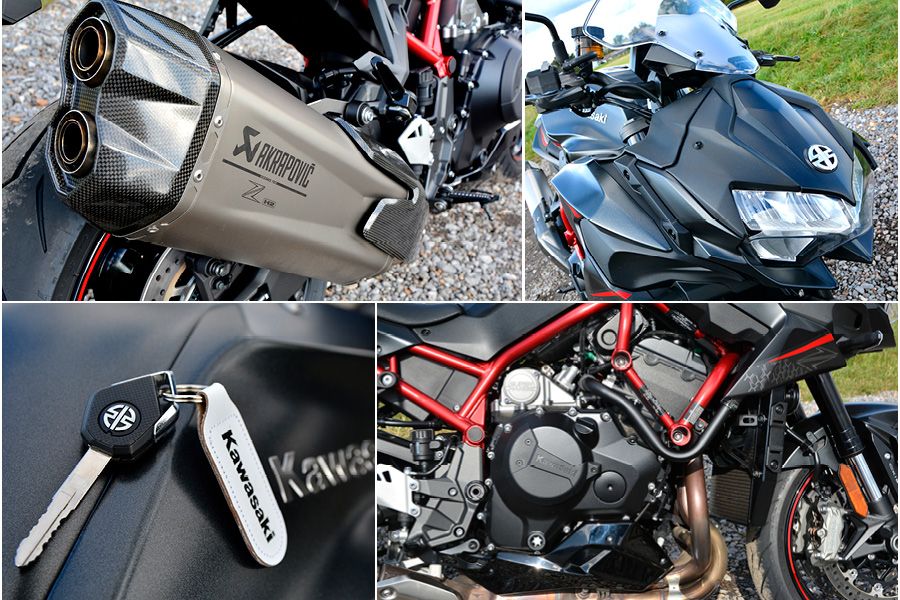 ---
Kawasaki Z H2 2021: Weight
Is the Z H2 perfect? No, it is not. It's too heavy – a curse that has afflicted all the supercharged machines so far. Whether a conservative Kawasaki has over-engineered the engines, or a blower means needs many more kilos of metal isn't clear. But the fact is that the super-Zed is a bit of a porker, weighing in at 239kg ready to ride. That's 38kg more than a Ducati V4S Streetfighter – which also has more power – and that sort of shows that the pure performance promise of supercharging doesn't quite dominate at the moment.
Weight is just a number of course, and the solid stance of the Zed does help it feel stable and planted. It does mean that the suspension has to be on point though, and the Z H2's middle-of-the-road shock and fork could do better. It's fine till you try and press on through twistier bends, but then a bit of vagueness creeps into the rear end. This isn't a track-focused superbike of course, but it's definitely an area I'd be thinking about tweaking if I had one of these beasties.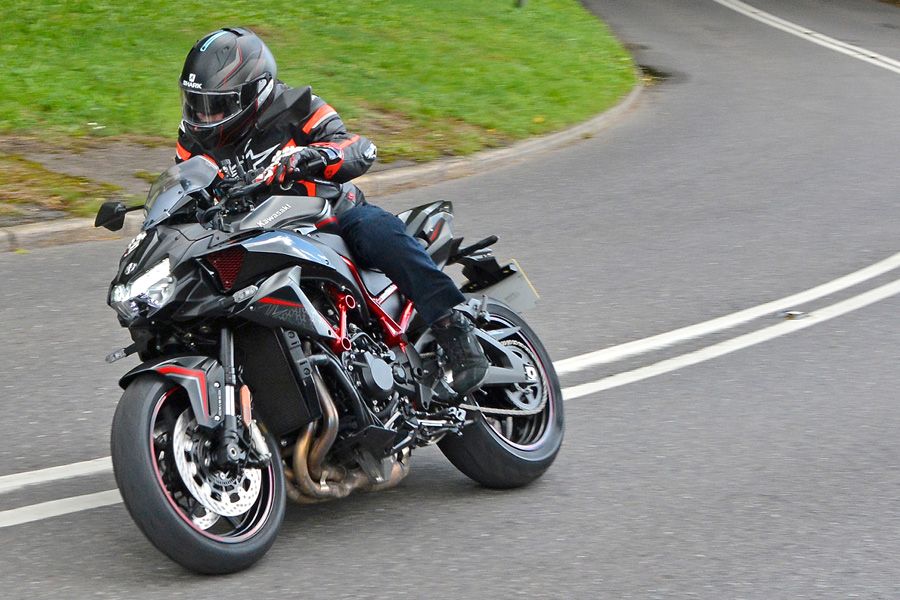 Call BeMoto on 01733 907000 to talk about your Kawasaki motorbike insurance with a specialist.

---
Kawasaki Z H2 2021 TECHNICAL HIGHLIGHTS
Engine
Another variant of Kawasaki's 'Balanced Supercharger' engine which focuses more on low-down and midrange than outright power – even more than the H2 SX super tourer. It is, essentially, a standard inline-four 16-valve DOHC layout, with some tweaks to suit the integrated supercharger. Compression is a little lower than normal for a performance motor at 11.2:1, and it has loads of extra oil cooling jets for the pistons, transmission and supercharger drive, plus more coolant flowing round the cylinder head. It makes around 175bhp at the back tyre on Big CC Racing's dyno, similar to what you might see from a good stock Suzuki Hayabusa.
Checkout the dyno test below...
---
Frame/swingarm

Like the rest of the H2 range, the Z H2 gets a steel tube trellis frame, which allows more cooling air in around the engine and supercharger area compared with a deep twin-beam alloy frame.
For the rear swingarm, Kawasaki plumped for a conventional double-sided unit, borrowed from the ZX-10R. It's a cheaper option, and should be lighter than the single-sider used on the other H2 models, but Kawasaki says it's there to give the Z H2 the same style as the rest of its naked roadster range; the Z1000, Z900, Z650.
Suspension
Nothing earth-shattering on the suspension front: you get Showa's Separate Function Big Piston Fork up front and a fairly standard rear monoshock, fully adjustable for preload and damping.
Brakes
Excellent Brembo M4.32 four-piston radial mount calipers and a Nissin master cylinder, with Bosch cornering ABS.
Electronics
High-spec IMU-equipped rider aids package, with cornering ABS and traction control, plus wheelie control and launch control and a neat up/down quickshifter. All accessed with a neat colour LCD dashboard and easy-to-use switchgear.
Price: from £15,149 (December 2020), Performance edition as tested from £16,149
---
Kawasaki Z H2 2021 Technical Specification
Engine: DOHC 16v, inline-four, l/c, 998cc, supercharged
Bore x stroke: 76x55mm
Compression ratio: 11.2:1
Carburation: EFI, 40mm throttle bodies
Max power (claimed) 197hp@11,000rpm
Max torque (claimed) 101ft lb@8,500rpm
Transmission: six speed gearbox, wet slipper clutch, chain drive
Frame: steel tube trellis
Front suspension: 43mm USD SFF BP Showa fork, fully adjustable
Rear suspension: aluminium braced swingarm, Showa monoshock with full adjustability
Brakes: twin 320mm discs, four-piston Brembo M4.32 monobloc radial calipers (front), 260mm disc, dual-piston caliper (rear), cornering ABS.
Wheels/tyres: cast aluminium/Pirelli Diablo Rosso III, 120/70 17 front, 190/55 17 rear
Rake/trail: 24.9°/104mm
Wheelbase: 1,455mm
Kerb weight: 239kg
Fuel capacity: 19 litres
Equipment: LED lighting, cruise control, up/down quickshifter, IMU-assisted cornering ABS and traction control, colour LCD dash, Bluetooth phone connection, rider power modes
---
Kawasaki Z H2 2021 Review Summary...
As a package, though, the Z H2 is still an amazing piece of moto engineering. It's a decent price for what you get, starting around £15k, which is a lot less than a V4 Streetfighter or Aprilia Tuono 1100 Factory. Swap in an uprated shock, treat yourself to a 20bhp stage-one tuning boost, and enjoy the special buzz of supercharged life...
Thinking of getting a H2? Got one already? Call BeMoto on 01733 907000 to talk about your Kawasaki motorbike insurance with a specialist.
---