---
2021 Suzuki GSX1300R Hayabusa Review
By Alan Dowds
Pros
Brilliant engine
Excellent brakes
Premium revamp
Decent price
Cons
Would have been good to see electronic semi-active suspension as an option
No radical changes to mass or power
Pics: Jason Critchell
---
Third time's a charm... Suzuki's 3rd generation GSX1300R Hayabusa adds new tech to a familiar recipe. Our man Al checks it out on the press riding launch.
Life moves pretty fast these days - even for very powerful motorbikes. Back in 1999, the Suzuki Hayabusa was launched into a world of high-speed behemoths like the Honda Super Blackbird and the Kawasaki ZZ-R1100. Sports bikes ruled, big trailies were a weird Euro-fetish, and 173bhp seemed like more power than any human could handle.
A lot's gone on in the 22 years since. The big traillies are now 'adventure tourers', and the best of them make almost as much power as the original Busa. Sportsbikes aren't dead, though they sometimes smell that way, and 173bhp won't even get you in the door of the 1,000cc engine club, never mind the exclusive 1,300cc association. Suzuki hasn't even sold the GSX1300R Hayabusa in Europe since 2016, when it was cancelled by Euro4 emissions rules.
She's been missed though. Every year, around Milan Show time, we heard rumours of a new 'Busa. It would have six cylinders. No, a turbo. Supercharged. All three? Plus hub-centre steering. Maybe. It all garnered clicks in a slightly cynical fashion, but those stories underlined the widely-held desire for a new version of a genuinely legendary machine. Folk loved the Hayabusa – or at least the idea of the Hayabusa – and Suzuki seemed like it was being a little slack in not fulfilling that desire.
That's all forgotten though, as I stand outside an aircraft hangar at Sywell Aerodrome in Northants, looking at a line of new 2021 Hayabusas. The Hamamatsu firm unveiled the full spec last month, so I knew the deal, on paper at least. We don't get six cylinders, we don't get forced induction, hybrid motors, nuclear fusion headlights or any of the other shizzle punted out by the clickbaiters. No – we get the same basic engine and chassis layout, with a little bit *less* power, but more torque, a smidgeon taken off the dry mass, and a massive technology dump wired into the venerable motor. There's ride-by-wire fuel injection, wheelie, traction and launch control, a standard up/down quickshifter, cornering ABS and an IMU brain which would have seemed like witchcraft back in 2008. That's when the second generation GSX13 was launched – at the Salzburgring GP circuit in Austria as it happens. I got the golden ticket that day, and have vivid memories of muscling the big beast round the scary, super-fast, armco-lined bends back then. Eek!
Covid has obviously kyboshed any foreign high-jinks this year, but Suzuki's UK arm has put on a very decent day out for us here in Blighty. First, we get most of the day on the excellent roads of the East Midlands and East Anglia, then a couple of hours blasting up and down the concrete runway here at Sywell. Smart.
It's just before Easter, and though the sun was out yesterday, I'm reminded that you're statistically more likely to get a white Easter than a white Christmas in the UK. The Hayabusa's new dash is showing 8°C air temperature, and I'm glad I brought my winter Alpinestar gloves. Kit on, and we get a quick run through the new electronic rider aids package – which is similar to the V-Strom 1050XT launched last year in terms of menus and controls. It's certainly all much simpler than some setups these days…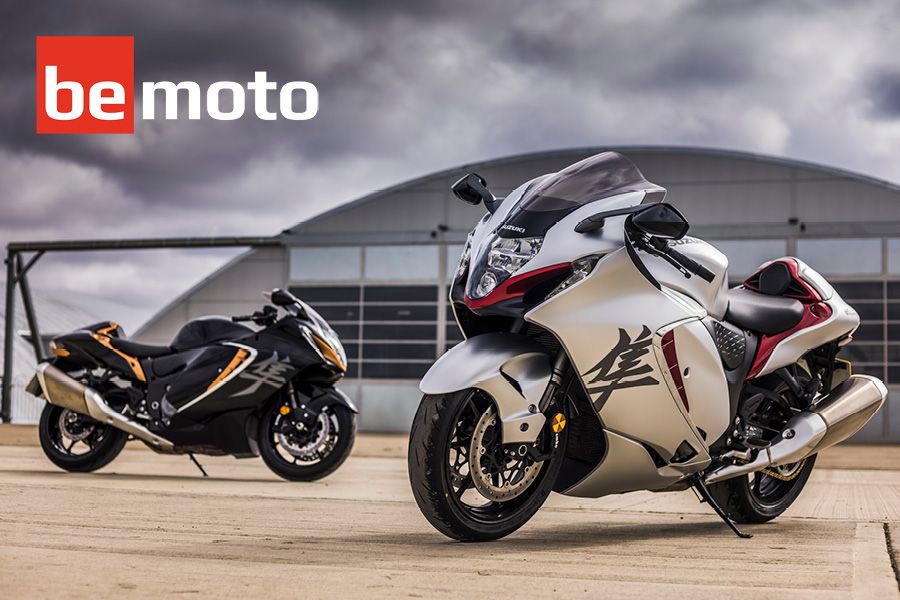 ---
The first few miles are weirder than I expected...
I've not done a lot of riding bikes, full-stop, in the past six months, what with winter and lockdown, and it's been even longer since I had a spin on something as big, long and low as this. I'm not getting any younger either, like us all, and I'm wondering if my creaking joints are still up to a sporty riding position – the footpegs feel pretty high and there's a big stretch out to the bars. Too many adventure and naked machines have made me fat, soft and comfortable it seems.
I need to pick up my ideas mind. My old mate James from Suzuki UK is the lead rider, and he is not hanging about this morning. He's been here all week, the bugger, and is completely dialled into the roads and the bike, throwing the big Bus into every roundabout entry and slip road like a Moto3 racer driving the team truck. Gah!
Luckily the awesome new GSX1300R motor is here to help. I'm trying the old slow-in and fast-out now, relying on the safety net of advanced traction control and new Bridgestone S22 rubber to keep me right. Just as well they're there really – because this new engine is insane. The drive from just off idle is properly crackers, almost like you get on a low-blow turbocharged engine. Thumping great waves of velocity seem to just pick the scenery up and throw it behind me with extreme violence. I can hear myself giggling nervously inside my Arai as the speedo needle whizzes around and the motor rumbles away below me like Satan's own curry-fuelled dyspepsia. In third gear, particularly, the acceleration is breathtaking – genuinely nuts. It's unlike anything else: the long and low chassis helps of course, and while a superbike has more power and less mass, the wheelie control electronics would be going mad dipping the power to keep the front wheel down. Here, physics is your wheelie assistant, and while the new Suzuki electronics are doing their bit, the fundamental chassis/engine combo helps it put down more force at the back tyre, and the ECU isn't cutting power anywhere near as much as it would have to on a lighter, shorter bike.
After about twenty miles of this, I've settled in nicely and start to check out some of the other new kit. I'm riding in power mode '1' with all the horses available, and the sharpest throttle response. It's a bit twitchy though – especially when you come across traffic and have to modulate your way round a roundabout or the like. I click down into power mode '2' which just takes the edge off the razor-sharp throttle response, and am much happier. The quickshifter works brilliantly, the fuelling is spot-on now, and I'm getting that 'Gentleman's Express' feeling that bikes like this do so well.
The roads are getting a teeny bit nadgery now though, and with bits of lunchtime traffic appearing, I have a few late braking moments. The new Brembo Stylema stoppers are immense though, hauling me up with savage power when needed. The Busa generates an awful lot of kinetic energy when you get up to ramming speed, and the engineers (plus the accountants!) have done great work putting these high-end billet monobloc calipers on there.
The rest of the chassis is getting on with the job without anything really standing out. Bridgestone's new S22 sporty tyres are working well, though the cold asphalt and light drizzle that appears mid-morning means I'm taking it fairly steady. I would say that Suzuki maybe missed a trick by not offering a set of electronic semi-active suspension units, even as an option for more cash. Dealing with all this mass and power is a big job, and while the vanilla forks and shock give no real complaints, you feel the firm could have moved things on a bit here, sharpening things up and giving a more sophisticated package. Electronic suspension is appearing on more 'everyday' bikes like the BMW F900XR and Kawasaki Versys 1000 now, and the tech should be getting cheaper and more widespread you'd imagine.
While I'm having a minor grumble, the classic analogue speedo is hard work for my aged mince pies – there are what seems like millions of small numbers all around the edge of the dial, and I'd probably prefer a big clear digital LCD readout. But I also realise that's a big part of the immutable Hayabusa style, together with huge endcans and a fat arse, and I'll probably just need to get a new contact lens prescription…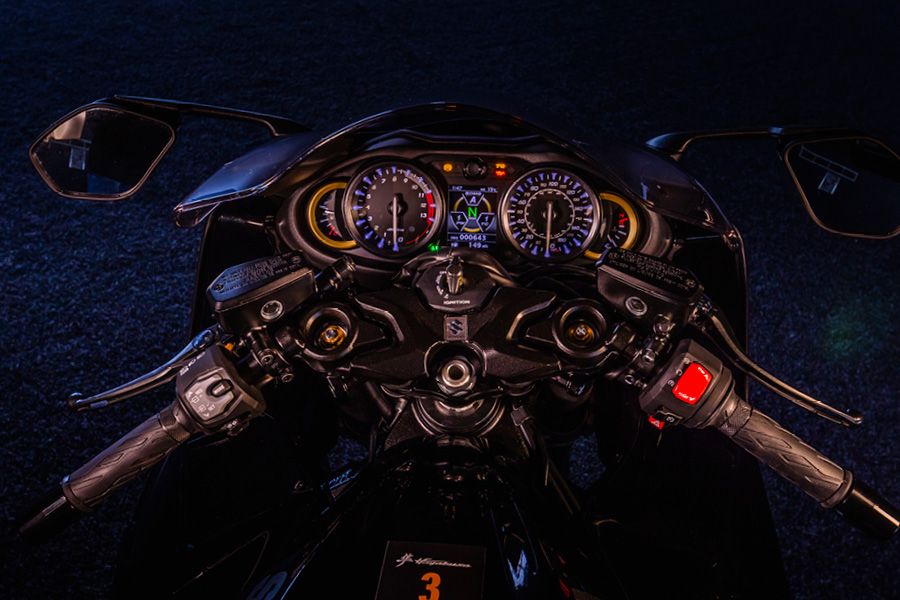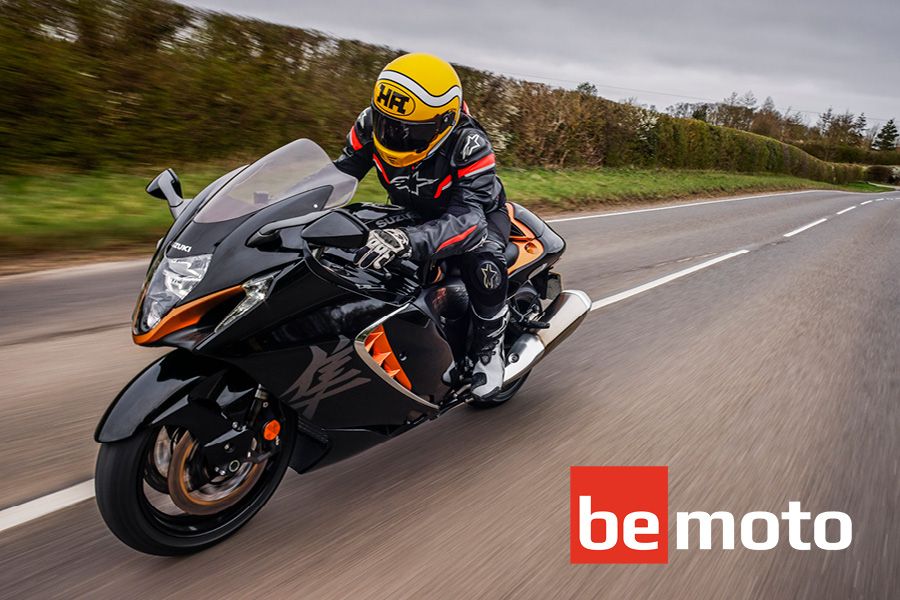 ---
The road ride is over, and we get a chance to hoon up the Sywell runway for a bit now.
There's about 1.2km of smooth concrete on offer, which seems like a lot until you start accelerating a Hayabusa hard down it… I have a play with the new launch control system, which is good fun – once activated via the starter button, you hold the throttle open fully and the ECU blips the gas with the revs at one of three chosen levels, 4,000, 6,000 or 8,000rpm. All you have to concentrate on is letting the clutch out – and your chosen wheelie and traction control settings also kick in, so if you leave them on you're pretty safe. The 4k and 6k settings are pretty soft – but the 8,000rpm setting livens your day up a treat. Get it right, with wheelie control on minimum and you get a proper catapult effect, with the front wheel hovering just off the deck. Computer-aided hilarity of the best kind.

The latest variant is definitely a very worthy successor to the Busa name then. It looks good, and Suzuki has given it a real premium feel: paint, design, metalwork and fit/finish are all noticeably posher than you might expect. The new engine is immensely strong where it counts, the chassis works well, with great brakes, and the electronics are more than respectable in today's market. The riding position was putting pressure on my back and shoulders at the end of a tank of fuel, but I am out of sporty machine practice, and getting very old. Deffo worth a test ride to see how your bones cope with it though.
So there you have it – it's 2021 and life continues to move pretty damn quickly. And it will do it even faster if you're on the excellent new Suzuki Hayabusa…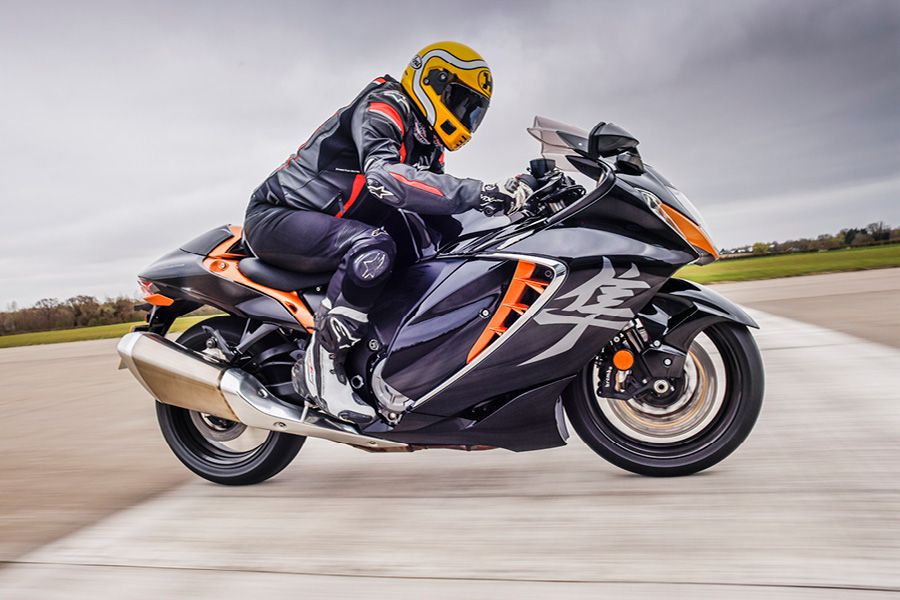 ---
Tech Highlights
Engine
A Euro5 update of the same basic 1,340cc inline-four as before, with a load of new parts inside. Pistons, rods, head, valves, cams, bottom end – they've all been optimised, lightened, strengthened and cleaned up. Power is down 7bhp at the peak, from 194 to 187bhp, but the area under the torque curve is bigger, and there's much more urge in the low- and mid-range. New ride-by-wire engine management allows cruise control and advanced traction/wheelie/launch control, plus up/down quickshifter. And a total redesign of the exhaust system saves a stack of mass while keeping emissions low.
Brakes
Excellent Brembo Stylema billet monobloc calipers, which you'll have seen on the likes of the Ducati Panigale V4S, Aprilia RSV4 1100 and the new Honda Fireblade, plus big old 320mm discs. The brakes are semi-linked, the front lever also operates the back brake, the food lever only works the rear. There's also an automatic hill-hold function which keeps the back brake on when you stop on a slope.
Chassis
Like the engine, the basic frame is essentially 'as you were' – a big, stiff twin-spar aluminium construction, with the same swingarm out back, but a new, lighter, subframe that saves 700 grammes. Forks and shock are similar to the previous model, but with revised damping and internals.
Electronics
The biggest change here really: the last version of the Busa had a basic ABS setup and some power modes, but little else. Now, we get a neat central colour LCD dashboard, that lets you access a full-spec IMU-assisted rider aids package. There are three preset modes and three user-customisable modes, which set the parameters for the wheelie/traction control, quickshifter, engine braking and power curve. There are three power curves, full power with abrupt throttle response, full power with softer response, and reduced power with softer response.
You can adjust traction and power on the fly, though they reset when you switch off, the other functions are adjusted through a menu when stopped. So the trick is to have your own custom modes for wheelies, track, rain etc, but you still have easy access to traction and power settings while riding.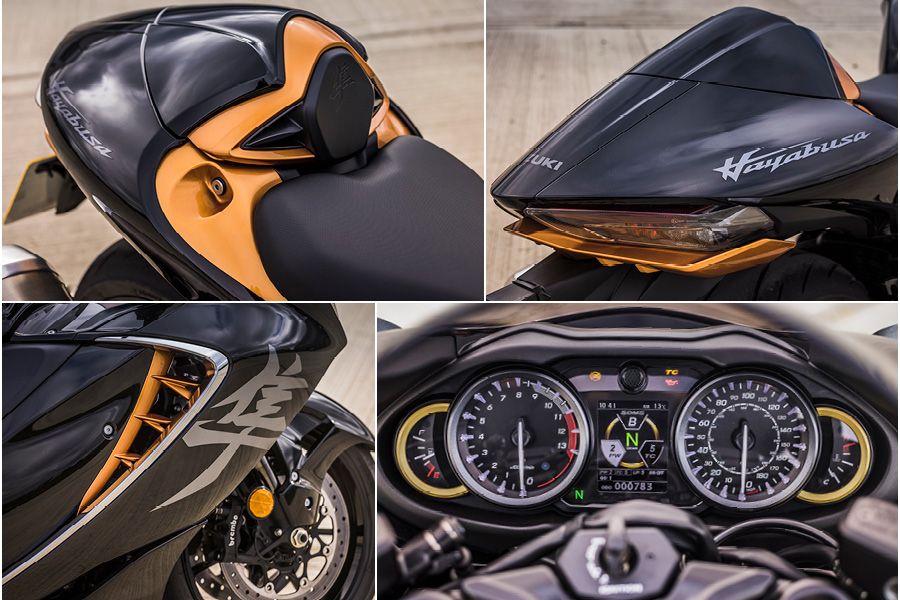 Speak to Suzuki Bike Insurance specialists at BeMoto about insuring your GSX1300R Hayabusa on 01733 907000 - Ask us about multibike insurance if you have a collection of bikes, old and new, on or off-road, we insurer them all.
---
SPECIFICATIONS

Price: £16,499 (April 2021)
Engine: DOHC 16v, inline-four, l/c, 1,340cc
Bore x stroke: 81x65mm
Compression ratio: 12.5:1
Carburation: EFI, 43mm ride-by-wire throttle bodies
Max power (claimed) 187hp@9,700rpm
Max torque (claimed) 111ft lb@7,000rpm
Transmission: six speed gearbox, wet slipper clutch, chain drive
Frame: aluminium twin spar
Front suspension: 43mm KYB USD fork, fully adjustable
Rear suspension: aluminium braced swingarm, KYB monoshock with full adjustability
Brakes: twin 320mm discs, four-piston Brembo Stylema monobloc radial calipers (front), single disc, single-piston caliper (rear), cornering ABS.
Wheels/tyres: cast aluminium/Bridgestone S22, 120/70 17 front, 190/50 17 rear
Rake/trail: 23°/90mm
Wheelbase: 1,480mm
Kerb weight : 264kg
Fuel capacity: 20 litres
Colours: black/orange, silver/red
Equipment: LED lighting, cruise control, up/down quickshifter, IMU-assisted cornering ABS and traction control, colour LCD dash, rider power modes
---
If you love a Busa, then you'll really love this...
The supercharged Hayabusa: TTS Super Busa Blog

---