---
2024 KTM Enduro Launch: EXC & EXC-F Ridden
By BeMoto

The all-new KTM EXC and EXC-F models have finally broken cover, and for 2024 the Austrians say that these Enduro bikes are 95% new.
Understandably, with that being the case, there was a heck of a lot of hype leading into the global launch event which took place along the stunning Roof of Africa trial in the beautiful enclave nation of Lesotho.
As KTM Insurance specialists, we sent BeMoto friend and customer Sean Smith, who happens to be the current ACU Over 50 British MX Champion, on the long journey down to Southern Africa to test the new off-road fleet.
You can see a video of Sean riding in Africa at the end of this article.
---
2024 Updates
KTM claims that the 2024 Enduro machines are 95% new and that they have received the most development of any of their Enduro bikes since 2012 at the very least. Both the two-strokes and the four-strokes share a lot of the same upgrades, so we'll go through the majority of these here and then go into the more specific updates when we talk about the two smokers and the four bangers individually.
First up we have the brand-new hydro-formed, laser-cut, robot-welded frame which has a two-piece subframe bolted on. KTM were very pleased to show off this new frame and the technology behind it and they say that it should provide better rider feedback and increased straight line stability, which is obviously a very desirable quality for enduro and off-road riding.
In the suspension department all the bikes are fitted with a WP PDS shock, providing that much needed ground clearance. And up front we have a brand-new WP closed cartridge fork, which is something KTM, the media and riders the world over were all very excited about.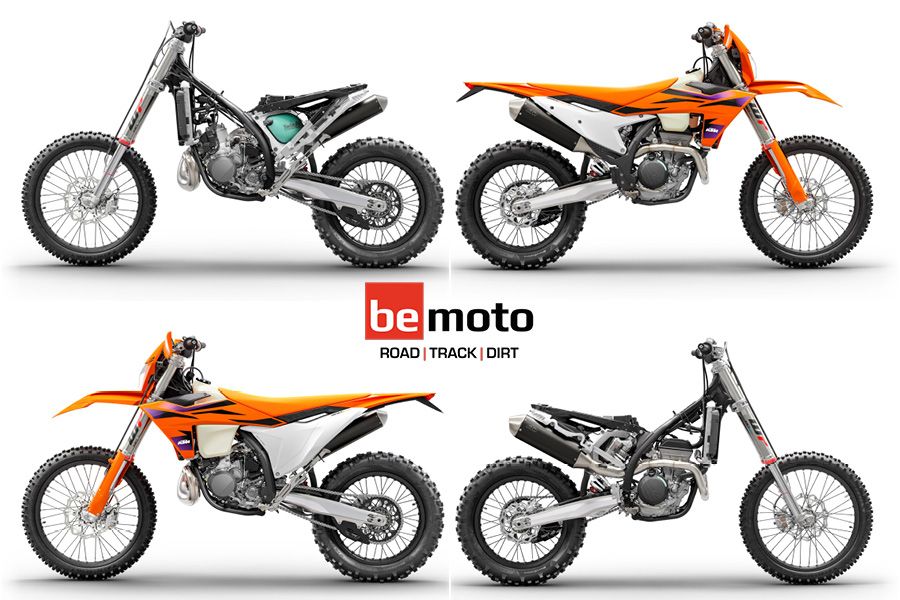 Continuing the suspension talk, all the bikes feature tool-free suspension adjustment, which enables riders to make changes and tweaks out in the field during a ride or race, easily being able to adjust to the terrain they encounter.
The new LED headlight is said to be 300% brighter for better and safer night time riding, the electronics have been completely overhauled to include no fuses whatsoever, and a roll-over sensor is in place to cut the engine off in case of a big crash.
Aesthetically there's a new orange seat with some very useful grab handles. We also have frame protectors and a redesigned fuel tank to ensure that the connector hose is less vulnerable than in years past. Finally let's just quickly mention the fins on the front mudguard, these are here to deflect mud and to stop dirt and debris from clogging the airways to the radiators, which should in theory help keep temperatures down.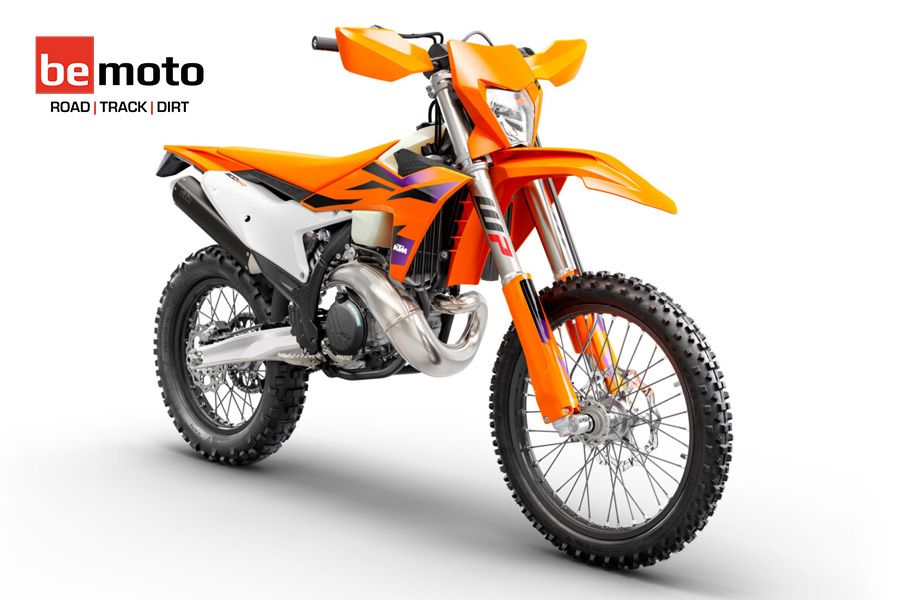 ---
Two-Strokes
The 2024 two-stroke line up boasts three models, the 150, 250 and 300 EXC. Our man Sean was able to ride all three bikes across some of Africa's most stunning and dramatic landscapes. Before we hear his thoughts on the bikes let's just take a look at the two-stroke specific upgrades.
The main update that KTM were keen to talk about was the industry defining (that's their words) throttle body injection system, with separate auto lube oil injection. As has been the case for the past few years these are fuel-injected two-strokes, KTM were actually the first (in our world) to develop FI two strokes, but for 2024 they have swapped out the old TPI (Transfer Port Injection) system for a new TBI (Throttle Body Injection) system.
This change up is supposed to have a few clever benefits in terms of performance, but in the main the new system is simply supposed to make life easier for the typical off-road rider when refuelling. With the separate oil injection you get the benefits of the modern TBI system whilst not having to mess about with premix. You can just roll up to a fuelling station mid-ride, fill her up and crack on.
It appears as though KTM have really put a lot of thought into making these machines as user friendly as possible, which makes the decision to remove kickstarts completely a little contentious.
Some people will decry the loss of the kickstart (it's not even an optional extra) and others will say so long, hasta la vista baby, to the kicker. No matter where you stand on this debate KTM have quite obviously deemed the kickstart obsolete and have complete faith and trust in their electric starters to get you going out in the wilderness.
---
Talking of which, let's hear how Sean got on out in the wilds of Africa…
'To be honest, with the terrain today the bike I felt most comfortable on was the 250 EXC' admits Sean, 'I thought it was absolutely outstanding. It did everything you wanted it to. You could pop the front wheel up very easily when you needed to get over stuff, it was just great!'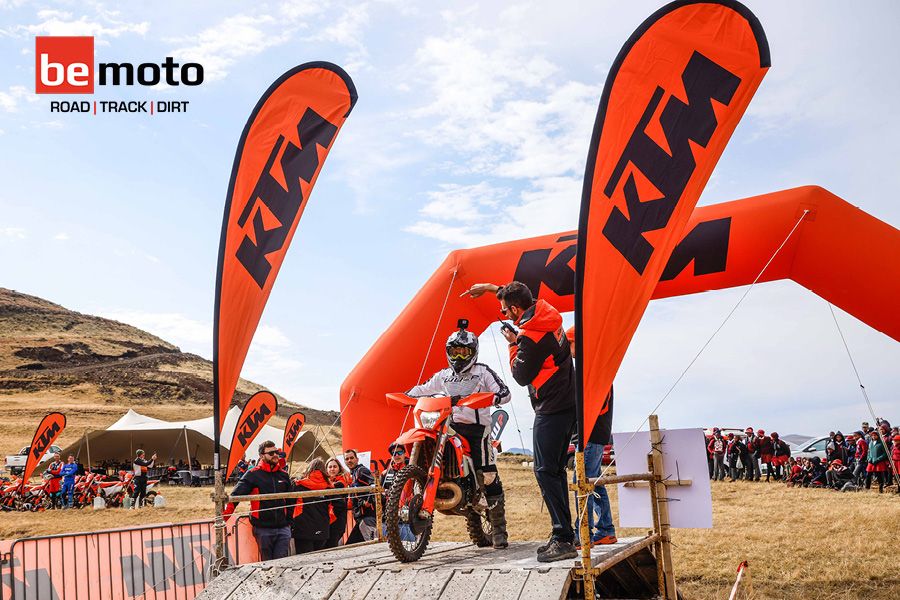 It was very much the goldilocks scenario when riding the two-strokes, 'The 150cc just lacked a little bit of bottom end for me, and the 300 wasn't my cup of tea let's say. Although I can appreciate that it is a good bike, I just didn't feel as comfortable on it compared to the 250.'
For Sean the 150 EXC felt underpowered, but that feeling might be explained by the extreme altitude of Lesotho (the lowest point in the country is still 4,500ft above sea level!). This was something Sean discussed with KTM's engine maestro, 'KTM's engine guy said that the elevation would be making a big difference, I didn't realise quite how high we were. This might explain why I felt that the 150 struggled with the terrain we were on, you needed instant power off the bottom to get over the rocks or up an incline. I was using first gear a lot, and it did struggle, says Sean, 'The 150 was the bike I thought I'd be most impressed with, but unfortunately that wasn't the case.'
On the other end of the two-stroke spectrum is the 300 EXC, 'The 300 obviously only has an extra 50cc over the 250 but I found that it did feel heavier, and surprisingly it did feel a bit flat in regard to the power. Again, that could just be down to the altitude, but the power delivery did seem unexpectedly flat to me compared to the 250. I felt I could pop the front wheel up easier on the 250, whereas the 300 needed a bit more work to get into a wheelie.'
So, the 300 was a little big, the 150 was a little small and the 250 was just right in terms of power delivery, but what did Sean think about some of the other key upgrades on the EXC fleet?
'I was very impressed with the suspension upgrades' tells our top tester, 'What they've done with the PDS shock, and the closed cartridge fork was very impressive, and they've also developed an 'anti-bottoming system'. When you see the inside of the fork it's just a simple idea to stop that metallic clang when you drop off something high or hit something hard, but I thought it was mega impressive.'
Modern motorcycles very rarely have any major flaws to write home about, and the same can be said for the 2024 KTM's, 'There isn't anything bad to say about the two-strokes at all really, other than personal preferences. Perhaps that the map switch is an optional extra, it's not standard out the factory is my only negative. Other than that, they all performed very well.'
So, if it wasn't plainly obvious already the 250 EXC was Sean's favourite of the two-stroke bikes, but would he recommend it to everyone?
'For someone like me, a motocross racer coming over to Enduro as a relative newbie, I would say that the 250 EXC is certainly the bike to choose. It was light, it was flickable, it had plenty of power but not too much power and it put a smile on your face. It was the best bike for me and did everything I wanted it to.'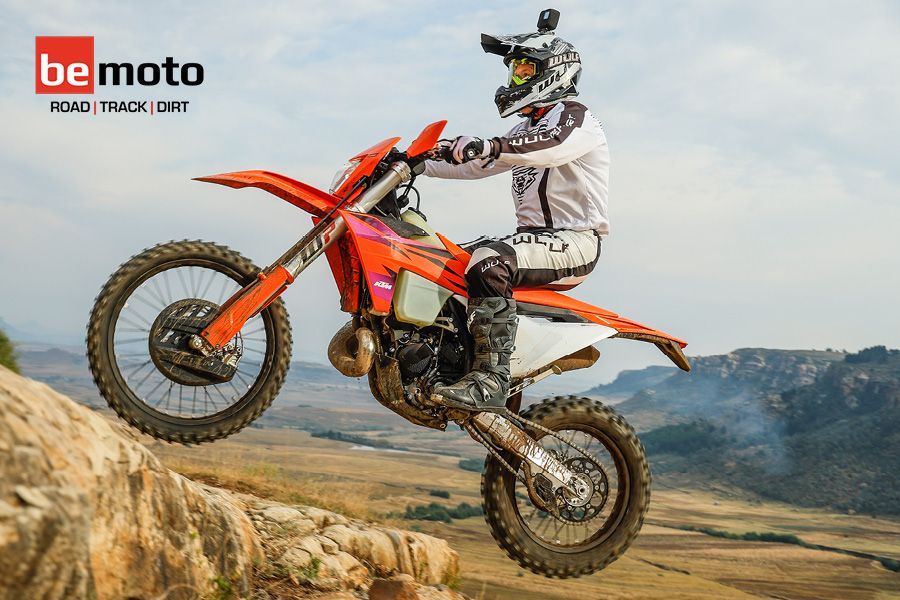 ---
Four-strokes
The 2024 KTM EXC-F four-stroke range includes the 250, 350, 450 and 500 EXC-F. As well as the multitude of changes that we discussed earlier the four-strokes also feature a new quick shifter (only useable from second gear to sixth gear), which is something that has never been seen before on an enduro bike. To provide a more favourable centre of gravity the four-stroke motors have been tilted slightly and the front sprocket has also been lowered. The four four-stroke bikes also boast an optional traction control feature, which could come in very handy as you tackle such varied terrain during an off-road outing.
Varied terrain is certainly something Sean encountered in Lesotho, 'A lot of the trials that we hit today were quite slow and technical, so you weren't really using or noticing the benefit of the quick shifter on the four-strokes. I actually turned it off in the end, but I can imagine back in England at sprint Enduros or Hare and Hound events where the speed is a bit higher, you'd be making use of that quick shifter all day long!'
Unfortunately, with such a busy test Sean only got to try out the 250 and 350 four stroke machines, 'I didn't feel any real need to try out the 500 EXC-F on the terrain we were riding. As a relative newcomer to Enduro I think I would've found it quite difficult to handle.'
'With the four strokes - from the 250 to the 450 - KTM have utilised the same frame, and the same running gear, everything is the same other than the motor. Again, I found them all to be very impressive but for me the 350 came out on top. It just did everything I wanted it to. I ended up turning off traction control and riding most of the day in map two and it was just awesome, much like the 250 two-stroke you were able to pop the front wheel up on command.'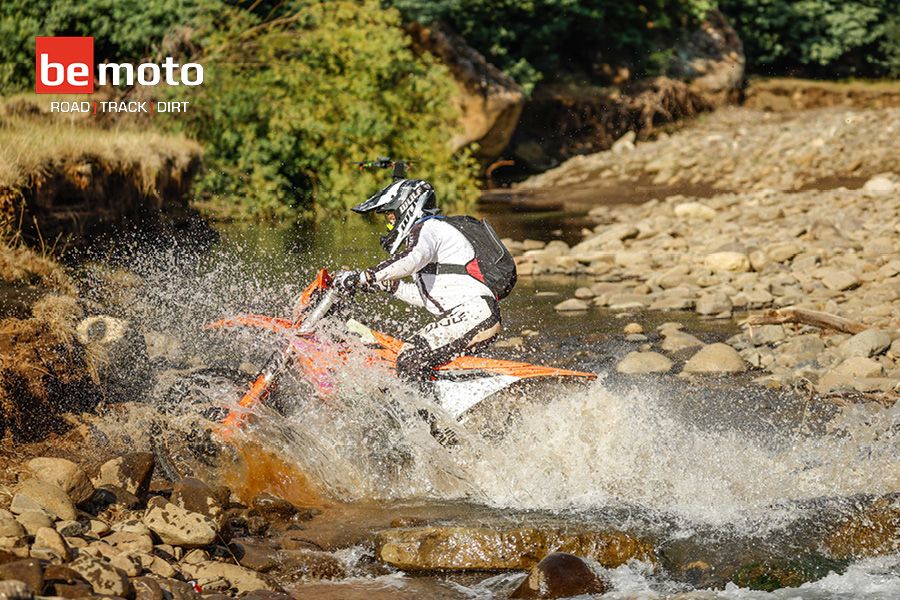 ---
So did the littlest four-stroke lack power in the same way as the 150 EXC?
'I thought the 250 EXC-F was a super bike. It didn't lack power and I was really impressed with it, but in the end the 350 won me over because it just felt like the four-stroke equivalent of the 250 EXC. It had that bottom end pop, but it would also lug up a long hill nicely as well. It was a pleasure to ride and I really did enjoy my time on the 350. Overall, all of the changes they've made were really, really positive…'
So there we have it, the 2024 KTM EXC range ridden and rated. Our man picked the 250 EXC and the 350 EXC-F as his favourite bikes in the fleet. But which one would you guys rather have in the garage?
KTM continues to push the boundaries of both four-stroke and two-stroke technology in our mad little off-road world and for that we can only salute them. Time will tell how these upgrades and developments actually perform in the real world, but we couldn't have asked for a better proving ground than the Roof of Africa trial, and as you've just read all of the bikes performed more than admirably.
---
You can check out Sean's two-stroke vs four-stroke video comparison on the 999lazer YouTube channel here.
Random Footnote: Click here if you've ever wondered what does KTM stand for?
---
How can BeMoto help protect you and your dirt bike?
At BeMoto we are bike insurance specialists in road, track and dirt, with products designed by bikers for bikers of all disciplines, including enduro, motocross, trials and many other off-road sports.
Our dirt bike insurance products include:
Fire and Theft Insurance (even if your bike doesn't have a V5) with optional "In Transit" cover for when you carry it to tracks
Race Van Insurance that can save you £££s vs. commercial van insurance policies (designed for social use vans mainly used to carry bikes and sleep in)
Dirt Bike Travel Insurance for those overseas trips, to help cover emergency medical and repatriation costs if something goes wrong
Daytime MOT Insurance for road legal dirt bikes with a valid MOT (advisories meaning daylight use only)
Speak to an off road insurance specialist on 01733 907000 today.
---