---
40th Anniversary Kawasaki Ninja ZX-10RR 2024
By BeMoto

40 Years of the Ninja!
Can you believe it's the 40th anniversary of the 'Ninja' moniker used by Kawasaki for their green machines?!
To mark this incredible milestone, Kawasaki UK have teamed up with the talented graphic designer Kar Lee of Kardesign - a friend of BeMoto and regular Blog contributor on our website - to produce a variety of retro colour schemes from the last four decades.
Kawasaki's social media followers then voted for their favourite, with UK specialist SprayBay then turning the three most popular designs into reality, which have now been revealed on the Kawasaki stand at Motorcycle Live 2023.
---
We chatted to the designer, Kar Lee...
Kawasaki UK asked me to visualise what a 40th anniversary limited run of ZX-10RRs could look like using a classic scheme from the last four decades of Ninjas – and that's a lot of bikes! I racked my head for as many Ninja schemes as possible and in the end submitted over 20 designs that would work on the ZX-10RR. They only wanted a handful of ideas but when there's such a huge back catalogue of reference you can understand how I got carried away…
A shortlist of six was posted to their Facebook page and followers were asked for their favourite – three of the designs were clear winners and these are the ones that Kawasaki have decided to run with. Revealed at Motorcycle Live at the NEC, the bikes drew SO much attention, especially from riders of a certain vintage (oldies like me!). In all, together with the other official Kawasaki retro schemes for 2024 and these Ninja 40th Anniversary specials I think it's fair to say there's a demand for the classic colour ways and Kawasaki are all too happy to oblige!
The RR version of the bike is specially brewed for racing so as well as the stuff you CAN see like Marchesini wheels, braided brake lines and a single seat cover, it's got different pistons, camshaft, valve springs, and titanium conrods, all to allow it to rev around 400rpm higher. With a race kit it massively bumps up the mid and top end too. On top of all that Kawasaki are throwing in a carbon Akrapovic too and a special numbered plaque on the top yoke with the special edition paint.

Check out more of Kar's designs at Kardesign Facebook page.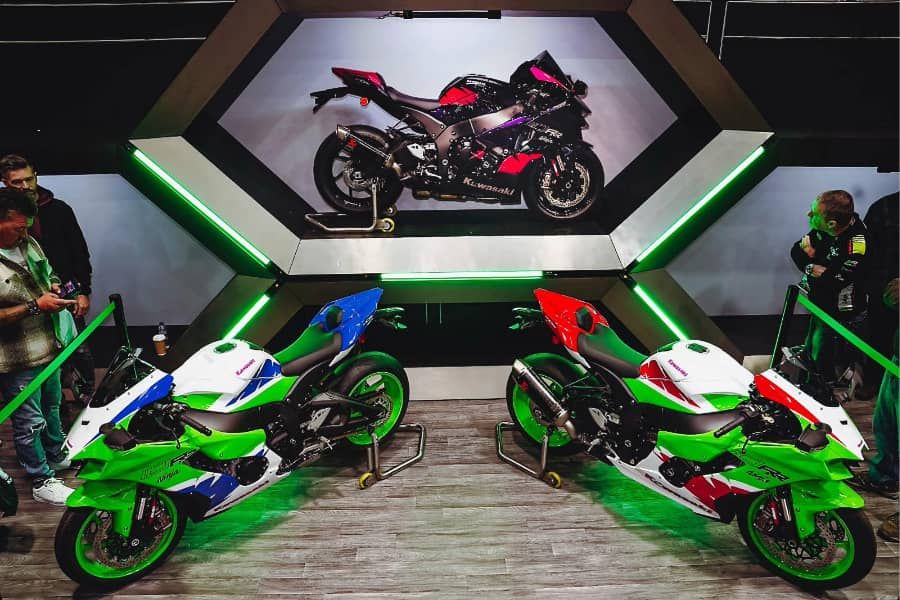 Photo Credit: Kawasaki UK Facebook
These stunning retro special bikes are available to order from dealers now, however, there are just 40 of these special Ninja ZX-10RRs available. Lucky buyers can choose their favourite of the 3 designs and each bike has the anniversary logo plus a limited edition plate on the top yoke showing it's 1 of only 40 produced.
---
Performance Edition
And if that's not enough to get you running to your local dealer with your platinum card in hand to spunk £27k on a new Kwaka, each Ninja has an Akrapovic end can, pillion seat cowl, dark screen and the all important tank pad (who doesn't love a tank pad), as well as some branded goodies like a paddock stand, bike cover, and a Ninja 40th anniversary keyring.
Visit Kawasaki UK for more info.
So which one would you pick???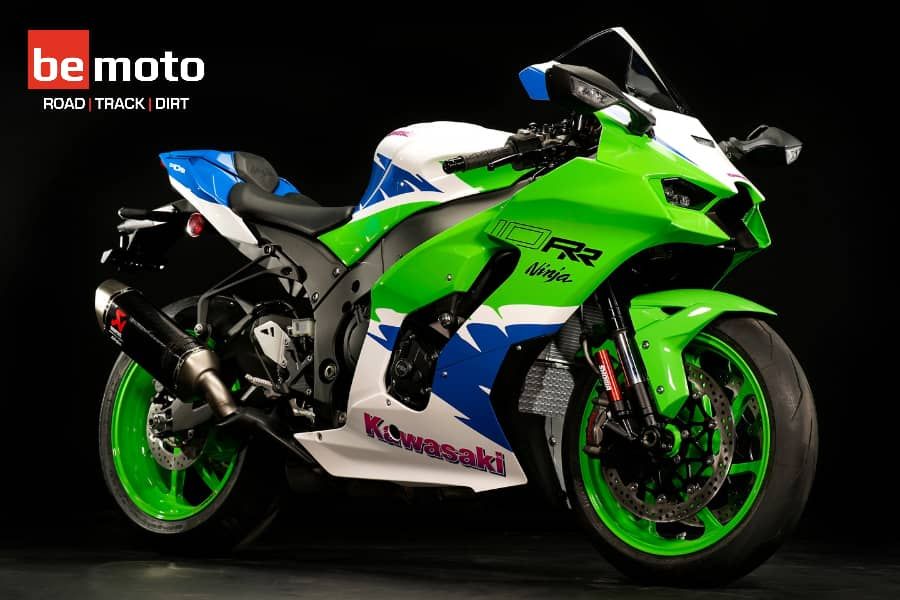 ---