---
BMW S1000RR 2019 Review
By Alan Dowds
Pros
Tech that works
Great engine
Looks much better
Sweet handling
Cons
No 1100 option
Unbranded brake calipers
IT'S hard to believe now. But BMW used to have a terrible reputation for performance. Back at the turn of the century, its machinery was slow, heavy and sluggish. Stuff like the K1200RS were supposedly 'sports bikes', and while its tourers were decent, and the GS adventure machine was starting to attain legend status, if you wanted to go fast, a Beemer wasn't really an option. It was a bit weird, especially when you considered the firm's four-wheeled range. Supercar-level performance from M3s and M5s, 1500bhp turbocharged Formula One engines – they had the heritage from all that, but tried to sell you the R1100S as a Superbike. Gah.

It all changed around 2004 though – a new boss came into the Motorrad division, and stuff got real very quickly. The K1200S/R range knocked our socks off – a genuine Suzuki Hayabusa contender plus a 160bhp naked bike? Rly? But it wasn't till 2009 that the firm came out with a proper sports bike – the S1000RR. They might have essentially just copied the Suzuki GSX-R1000 K5, they might not – but they had built a corking Superbike, and sold it at a decent price. Road riders, trackday fans and club racers all love 'em, and while major race success has been a little elusive, the S-Thou has been a massive success ever since.
---
BMW's superbike gets massive upgrade...

So we're here in Portugal, at the Estoril circuit, to try the very latest version for BeMoto. It's got an all-new engine, with Shiftcam variable valve timing and more power (207bhp) plus a totally revised chassis with electronic suspension options, new brakes, revamped geometry and less weight (down to 193.5kg ready to ride on the M Package version). It's got a new fresh look as well, with symmetrical headlights, a sleek top fairing and smart styling all round.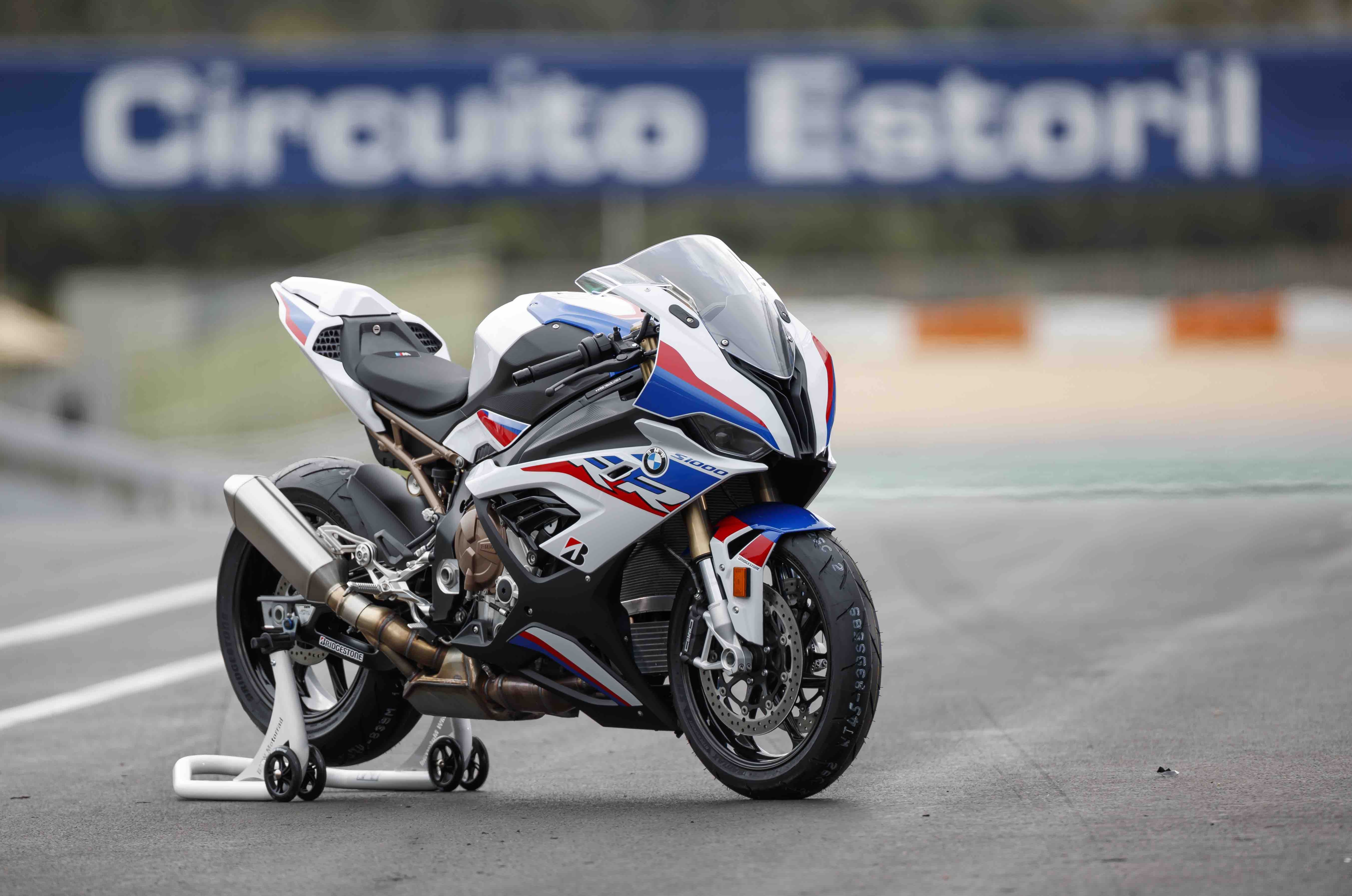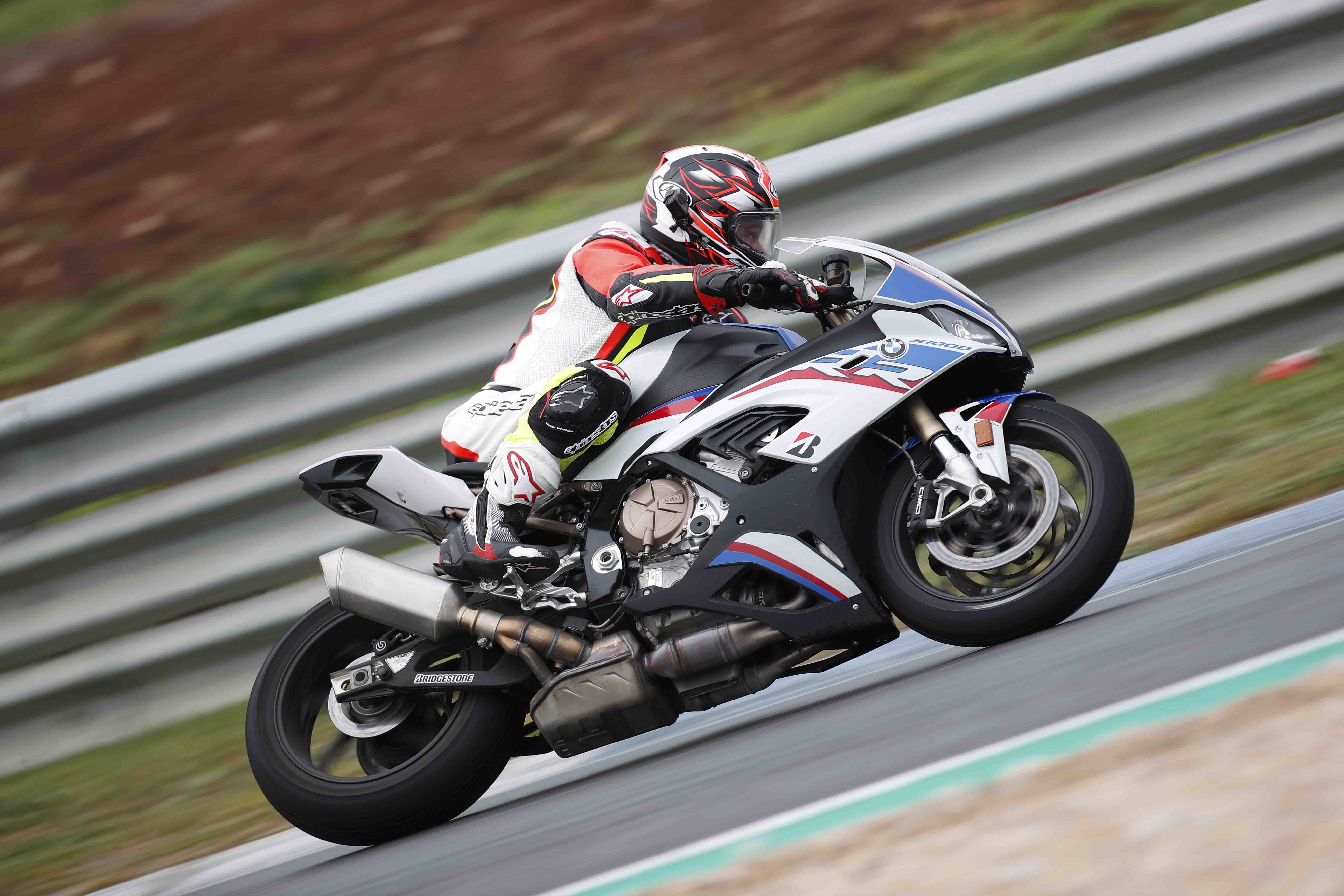 We're riding the M Package version of the new bike today, which has additional rider aids, carbon wheels and a frame with adjustable swing-arm pivot and ride height – nice. I'm beguiled by its tech and looks while we hang about in the pit lane at Estoril – because we're not doing much else yet. Yep, the weather is shocking: we've woken up to fog, mist, drizzle, rain, puddles, small rivers – all of the precipitation-based stuff is in full effect thanks to an Atlantic storm heading in. Gah!
After some coffee and chat, we finally get out for some steady sighting laps in the light rain. Led round by a BMW racer, Lucy Glöckner, I re-acquaint myself with Estoril's bends and straights (I've been here before, but not for a while). It's a proper big track, for a proper big bike, and I'm desperate for the rain to bugger off.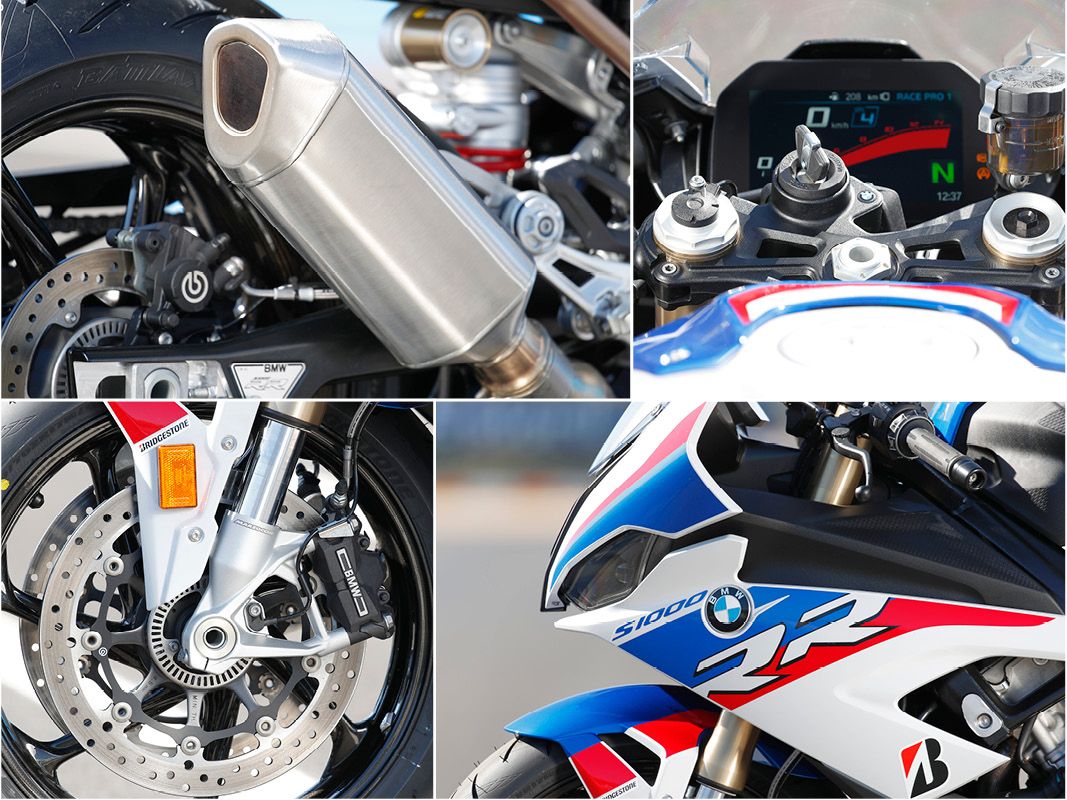 And after lunch, it finally does. We head out, on Bridgestone W01 rain tyres luckily, and get some laps in. The new bike is dripping with fresh electronics, and I'm relying on these digital safety nets quite a bit still. The new Shiftcam engine is super-strong in the midrange, and also has more than enough top-end to destroy the long Estoril straights. Yet it's also very smooth on the power, and there's a great connection between your right wrist and the rear tyre. Does it have the sheer nuclear power-plant grunt of Ducati's 1100cc V4S? I don't think it does – but it's getting there, and will certainly be near the top of the class for the 999cc Superbike engines.

The traction control is doing its work of course – the little light is constantly flickering, until fifth gear – and BMW's resident racers have programmed in some neat traction settings to match the wet tyres and conditions. We've also got softer damping dialled into the DDC semi-active electronic suspension, so there's a bit of movement from the chassis on the faster bends, but it's not worrying in the least.
BMW's switched to a new brake supplier for this year, dumping Brembo calipers and discs for Hayes parts. Hayes is an American firm, better known for its mountain bike brakes, but they've done a decent job here. The four-piston radial calipers have plenty of power – more than enough for a soaked Estoril – and enough feel to pick your way through the puddles too. The ABS gives huge peace of mind, especially at the end of the main straight, when you grab the lever and hope for the best.
The rest of the chassis feels great too. The riding position is comfy, which is an important foundation of course, and you feel right in control. The carbon wheels which come on the M-Package bikes give a real light feeling to the steering, but it's super-stable too. There's a non-electronic steering damper tucked under the steering head, but that seems more like an insurance package than anything else. BMW's extended the wheelbase slightly, and lengthened the swing-arm as well, and that's given the stability you want on a 207bhp 193.5kg machine…
Our last session is the best, and also the trickiest. Best, because I've got Estoril nailed down in my head, and am getting stuck into my favourite parts: the flat-out kink in the back straight, and the super-long final corner. These are simply made for fine-handling 1000cc+ Superbikes, and I'm having a ball through them both every lap. What's not so good is the crappy chicane: it's uphill, off-camber, and even if there wasn't a small reservoir at the bottom, it would be a pain. As it is, I feel like I could fall off every time I trundle round here…
Falling off is quickly brought to mind by a big old slide from the rear tyre. There's been a dry line for the past session and a half, and the wet Bridgestones are starting to fall apart – which is the tricky bit... Without constant water-cooling, these specialist hoops overheat, and the soft rubber gets shredded – the tyre techs did their best with lower pressures, but there's no time to swap them for slicks or treads, so we're sent out, with caution. After that slide though, I've lost a bit of confidence. The electronics are still there, and I'm sure the S1000RR would do fine – but if you drift off line there are still some very wet patches, and it's just too much of a lottery to push harder. The chequered flag is out now though, and the day is done.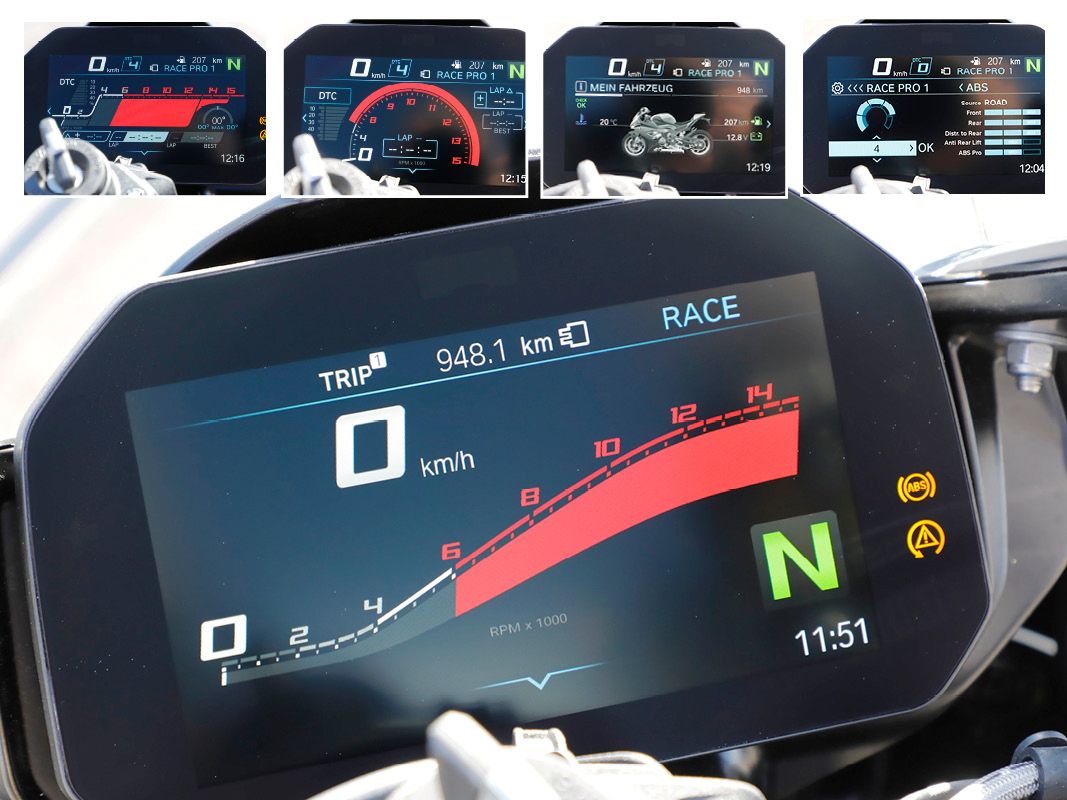 BMW's done another top job though I reckon – the new bike has all the performance you could want (unless you're determined to get a 'cheating' 1100…), yet the new electronics have made it all very usable. It's no exaggeration to say that ten years ago, I'd have seriously considered not going out at all in these conditions. No new litre Superbike back then would have dealt with the cold, soaked track with such aplomb.
So – has BMW moved its sporty two-wheeled reputation on again? I reckon it has – albeit we'll need another go on proper dry asphalt to be certain. The new S1000RR looks great, is laden with useful tech that works, and has a fantastic foundation of strong engine and slick chassis. And for the price, it's almost a bargain: the stock bike starts at £15k, with the carbon-wheeled M-Package a very tempting £19k. The best litre bike for the cash in the 2019 class?
I could well believe it…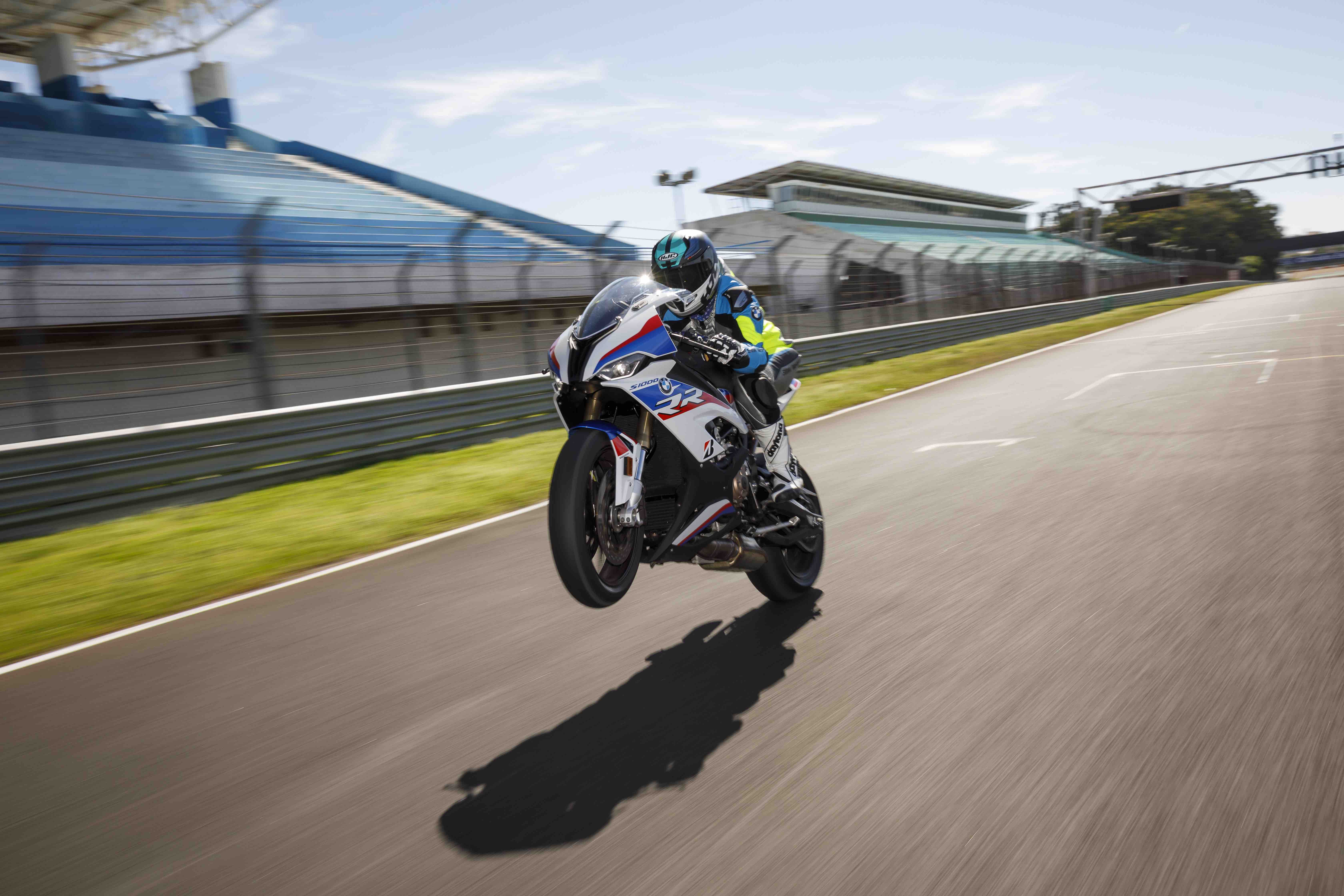 ---
BMW Motorbike Insurance
Why not check out BeMoto for your BMW motorbike insurance; specialists in multi-bike and modified bikes, as well as track bike and trackday insurance for your S1000RR.
Check out our incredible value Titanium Cover and remember at BeMoto there's NO broker fees to make changes to your policy mid term, including changing your bike.
Call us on 01733 907000* to see how we can save you money on your BMW bike insurance.

---
SPECIFICATIONS
Price: £15,290 (base model), £16,700 (Sport variant) £19,315 (with M-Package)
Engine: 16v variable lift and timing, DOHC, inline-four, w/c, 999cc
Bore and stroke: 80x49.7mm
Compression: 13.3:1
Max power: 207bhp@13,500rpm
Max torque: 96ft lb@10,500rpm
Transmission: six speed gearbox, wet slipper assist clutch, chain drive
Frame: cast aluminium twin-beam (adjustable swingarm pivot on M-Package)
Front suspension: 45mm USD fork, fully adjustable (optional DDC electronic suspension system)
Rear suspension: aluminium underslung swingarm, fully adjustable vertical free-floating monoshock (optional DDC electronic suspension system)
Brakes: twin 320mm discs, four-piston Hayes radial calipers (front), 220mm disc, single-piston caliper (rear), cornering ABS.
Wheels/tyres: cast aluminium (carbon fibre on M-Package)/Bridgestone S21, 120/70 17 front, 190/55 17 rear
Rake/trail: 23.1°/93.9mm
Wheelbase: 1,441mm
Kerb weight: 197kg (standard) 193.5kg (M Package)
Fuel capacity: 16.5 litres
Equipment: IMU-based traction control and cornering ABS, cruise control, four rider modes (seven on M-Package/Race Package options), 6.5" TFT colour dash, optional electronic semi-active DDC suspension, integrated rider modes with suspension, up/down quickshifter, heated grips.
---