---
Bucket List Motorcycle Tours: New Zealand
By BeMoto
As bikers, we all have at least one bucket list tour that we never find the time or money to do, right?
It's been a dream of mine since I passed my Cat A test in 2001 to go on a motorcycle tour of New Zealand, prompted by adverts in bike magazines for tours on a Honda VFR 800 loaded with panniers. It's fair to say that a shortage of money, time and likeminded mates meant this was only a pipe-dream… Fast forward 21 years and 3 children later (not to mention a few extra lbs and grey hairs) my dream finally became a reality thanks to RealRoads Motorcycle Tours.
---
Real Roads Motorcycle Tours
Andy from Real Roads has mentioned New Zealand numerous times to me (he goes most years), but it was never the right time. I did join the April 2022 trip to Dinant in Belgium, with my brother, to blow off some Covid-cobwebs on my MT-10. It was the first time in over a decade I'd been on a bike tour and I thoroughly enjoyed it.
Later in summer 2022 my brother and I also went on a tour with a different group to the Punta Bagna Custom Bike Show in the French Alps, which compounded my enthusiasm for touring. So I finally bit the bullet and said "Yes'' when Andy mentioned New Zealand for the 5th year in a row…
Setting the Budget
It was estimated that the whole NZ trip would need around £5,000 each, plus spending money. As it turned out, Andy's estimate was pretty accurate:
£2,000 bike hire
£2,000 flights
£1,000 share of accommodation (mix of hotels & AirBnB)
For convenience I used Apple Pay on my phone, with total spending money eventually reaching £1,700 and £300 of additional costs UK side:
£500 cash ($1,000)
£1,000 general food, drink, trams, gondola and boat rides, etc
£200 fuel in NZ
£200 airport travel (UK side), e.g. petrol, taxis and train tickets
£100 other incidentals, e.g. Travel Visa (NZeTa), fees for using Credit Card, BeMoto Touring Travel Insurance
Total Cost of New Zealand Tour: Around £7,000 per person (liberal eating out)
Note: I should have sought a credit card with no exchange fees for overseas transactions. My Halifax Mastercard "Non-Sterling Transaction Fees" totted up to £37.79 for nearly £1,200 spent on the card (about 3%). The other mistake I made was to purchase my NZ Dollars using this Mastercard, which incurred £25 "Cash Fees" plus nearly £10 interest (should have used my Debit Card for the Forex).
Preparation
I'd already met (and liked) the two other people going on the trip with Andy and myself, a neat foursome, which felt like a good number to get the best out of the holiday and minimise group separation on rides. Andy set up a WhatsApp group so we could all communicate in advance.
We couldn't spare enough time to do proper justice to both the North and South Islands. We had just under 3 weeks in total, but this included the best part of 4 days travelling to and from, plus a couple of days in Christchurch to acclimatise and pick up the bikes. So we decided to concentrate on the South Island. This turned out to be a good decision, as the North Island suffered some unusually severe Cyclones that would have made a tour more difficult (and wet).
I have to confess the long flights didn't fill me with enthusiasm. I put the whole thing to the back of my mind and let Andy do all the organising (he's very thorough and knows the place very well), so much so that I didn't really pay any attention to his fastidious itinerary and simply decided to 'go with the flow'.
The main preparation I needed to do myself was to:
Download an App and complete my Travel Visa application (NZeTA) costing $17;
Check my passport met the typical travel requirements, i.e. does not expire within 6-months of flying home;
Order some Dollars (roughly about $2 to £1) and check available funds on my chosen credit card (plus a spare card);
Ensure my UK Driving Licence was in my wallet (a major potential rookie error);
Ensure my Travel Insurance covered me for riding motorcycles (more about this below);
Select the right amount of clothing* for on-and-off the bike (including wet gear and base-layers) that fits in the BMW luggage, plus whatever I will be wearing; and
Download entertainment, e.g. audio books and TV shows to watch on my phone (in case the in-flight entertainment was pants).
Information on New Zealand entry requirements.
* All of us wore denim biker jeans (rather than leather trousers) with armoured leather or AirFlow jackets, including back-protectors and summer gloves. The majority of the time we wore semi-protective bike 'shoes', i.e. waterproof ankle boots with rigid soles (rather than full bike boots). On the occasional cold day we wore base layers like EDZ and Under Armour, with lightweight waterproof jackets and trousers in reserve (some of us also carried spare winter gloves & full length bike boots).
---
A word About 'Touring Travel Insurance'
Whether you buy a single trip insurance policy or you have an annual policy through your packaged bank account or credit card, it's critical that you check the small print pre-tour. Most travel insurance is designed for a typical family holiday. Whilst the majority will have some cover for riding bikes, this can be limited to small capacity scooters only - for anything larger you may have to have held a full bike licence for a minimum period of time, e.g. 1-3 years (if they cover bigger bikes at all).
Call your Travel Insurance provider and ask. Maybe there's a small extra premium to add cover for proper motorcycle riding, as medical bills in some foreign hospitals can get pretty expensive very quickly!
Alternatively, save yourself the hassle and buy BeMoto Touring Travel Insurance online instead....
---
Trip Duration and Travel Time
The entire trip was 20 days including travel: 14 days with the bikes (12 riding days).
February is late summer in New Zealand, which means mostly dry sunny days of around 20-25 degrees, with occasional rain (much like British summers, but the opposite 6-months).
The flights were in three chunks each way, going via Dubai (7-hours), Melbourne (13-hours) and Christchurch (3-hours) on the way out, broken up nicely with 2-3 hour coffee stops at each airport, whilst on the way back it was a longer haul with a short 1 hour hop to Auckland before two longer flights of 11 and 14-hours via Hong Kong. We departed from Gatwick but landed back into Heathrow - requiring a little train/taxi action as we couldn't just leave a car at the airport - this was the most cost effective combination of routes.
The longer haul sections with Emirates (out) and Cathay Pacific (return leg) weren't as bad as I anticipated. Despite being 6' 2" and carrying some timber, the seats were comfortable with adequate leg room - Only the short hops between Melbourne/Christchurch/Auckland were less comfortable as internal flights, where they pack you in like cattle (budget airline style).
The Alps, South Island NZ
---
The Route & Roads
The itinerary intended to balance touring miles with tourism and relaxation, after all it's a holiday first and foremost. A major appeal to touring New Zealand South Island is that it's sparsely populated, with dramatic scenery and they don't have many dual carriageways, so it's 3,000 km of twisty flowing A-roads over 2-weeks with the bikes (12 riding days averaging 250 km per day), taking in some of the best biking roads anywhere in the world, including:
Arthur's Pass
Haast Pass
Takaka Hill
Other than a proper hotel in Christchurch either side of flying, we used AirBnB for houses / apartments with parking for the bikes - sharing the costs - with a different stop most nights. Whilst this means you could save money eating-in, we actually only cooked one meal, eating out for breakfast, lunch and dinner (or tea if you're from the Norf) - it's not cheap to eat in NZ.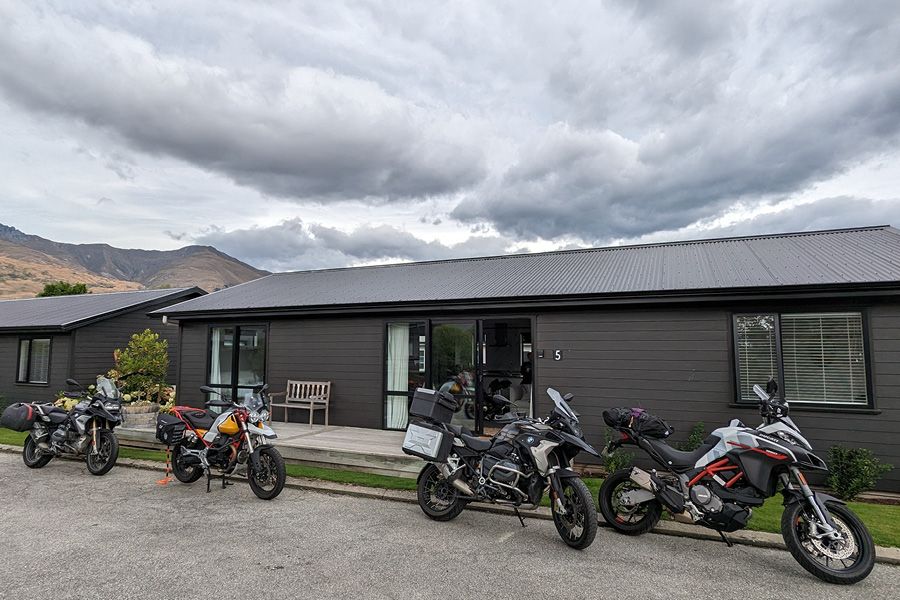 Note (to save repetition): All AirBnB locations were accessed without any hassle, they were all of great quality and plenty of room for 4 blokes and our motorbikes. All had comfortable clean beds and excellent showers, plus importantly for us Brits, they all had tea/coffee supplies. All were a short walk into town, where we easily got a quality meal at the local pub or restaurant, usually washed down with a pint of NZ Speight's Gold Medal Ale (highly recommended) or a glass of NZ red and some good company.
Our tour was actually planned around the Sound of Thunder race meeting at the Ruapuna Motorsport Park, which is near Christchurch towards the end of our tour. The route is more like a figure of eight, taking in coastal roads, mountain passes, forrests, twisty turny alp roads and some great routes following the lines of the many lakes and rivers.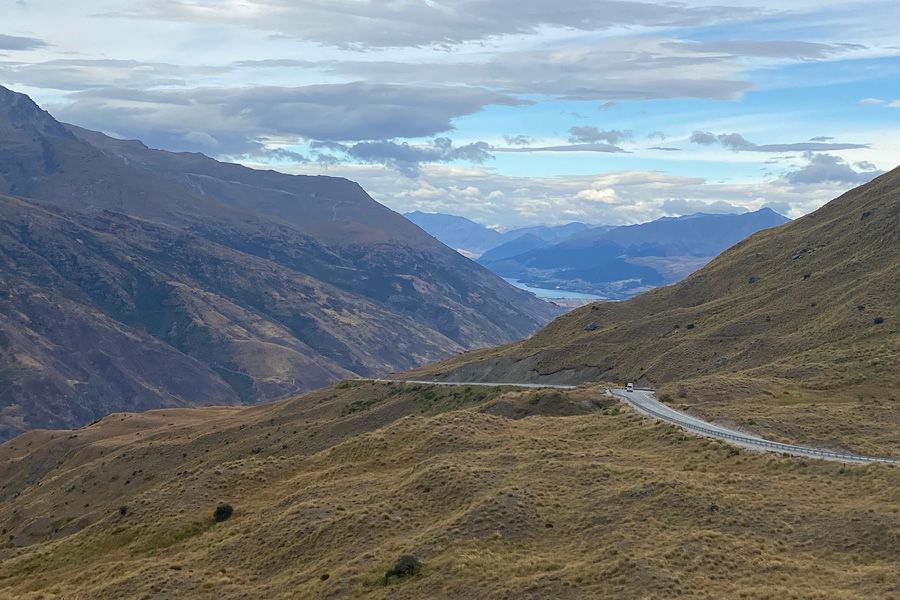 ---
Recovery and Recuperation in Christchurch
After a long and tiring journey, it's a good idea to build a day-or-two into your schedule to catch up on sleep, stretch your legs and recover from jet-lag. After landing mid-afternoon, we stayed for a couple of nights at the Carnmore Hotel, with only a short walk into the city and a quick taxi ride to pick up the bikes. We stayed here on the final nights too.
We did standard touristy stuff on our rest day; walking around to get our bearings, a guided tram tour, the Christchurch earthquake exhibition (the city was destroyed by a 6.3 quake in Feb 2011 and is still being rebuilt), a beer in the vibrant Oxford Terrace and a walk around the botanical gardens… followed by some more beer and food. On our return leg we managed to stay out till nearly 4am in Christchurch as it was a busier Saturday night.
Note: The South Island only has around 1.5m people, and around two-thirds are in Christchurch, everywhere else (other than Queenstown) feels like small villages, and even Christchurch by comparison to UK cities is small, clean, easy to walk around and friendly. The majority of the NZ population is in the North Island, which sadly we didn't visit this time.
---
Day 1 (on the bikes): First Stop, Picton via Kaikoura (336 km)
Route: Christchurch to Picton via Kaikoura
Collecting the Hire Bikes
A quick taxi ride over to Te Waipounamu Motorcycle Tours ('Te Wai') to collect our BMW R1200 GS and R1250 GS Adventure bikes, complete with full luggage system, heated grips and adjustable front screens, seat height and suspension to suit each rider. Te Wai have a selection of 85 expertly-prepared bikes including Honda, Triumph and Suzuki (check out their website).
After paying the outstanding balance (we paid a deposit from the UK) and of course a returnable damage excess of $3,750 - assuming you don't cause damage - they talked us through the bikes controls, documented the condition, ensured the bike was set up for our height and provided a full tank of fuel to get us going. All of us managed to squeeze our luggage into the panniers comfortably and left our main suitcases at the hire shop until our return.
The first day's riding is actually in drizzly conditions as the tail end of a serious cyclone in the North Island, which we avoided other than the peripheral rain, so we put on our lightweight wet gear over the top of our riding jeans and jackets and set off for Picton via Kaikoura.
Once we are out of the city, which feels like the USA with city blocks and wide roads, the scenery starts to feel quite familiar… Rolling green hills that remind me of the Lake District or North York Moors eventually give way to structured orchards and vineyards as we get closer to Picton, passing through the famous Marlborough Region (wine country).
Today is a chance to get to know the BMW and it doesn't disappoint. Plenty of tech, an upright seating position and bags of grunt makes for a fun, confident and comfortable ride, with no question over its agility despite a big fat arse with those panniers and the huge sticky-outy boxer engine surrounded by crash bars - Initially it feels like it's about to scrape, but it isn't (it's incredibly well planted in the corners, even in the wet).
We stop from time-to-time to take pictures of stunning rivers, hill tops with dramatic vistas and a beach cove crowded with seals and their pups at the marine reserve near Kaikora - the damp weather didn't ruin the day (we had periods of beautiful sunshine) - it just added to the dramatic scenery with some moody skies for our photos.
Picton is a pleasant coastal town with waterfront bars and restaurants. In the short walk from the BnB to the pub we actually observed the subtle effects of tremors from an earthquake in Wellington on the North Island (approx. 80 km across the water). Thankfully for the NZ population, and us, it did not cause any problems and apparently they have hundreds of these every year… It's extremely rare that they cause mayhem like the Christchurch one in 2011.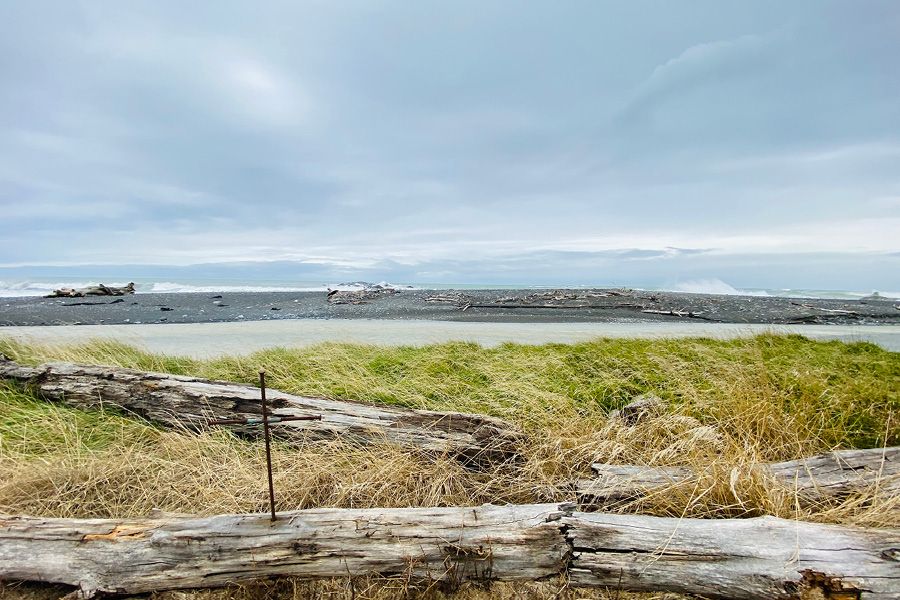 A cold drink at The Store in Kekerengu, halfway between Blenheim and Kaikoura, gave us incredible views over sandy banks and crashing waves (felt like the world's end).
Day 2: Picton to Nelson, with a ride out to Takaka Hill (334 km)
Route: Picton to Nelson then onto Takaka Hill and back
The morning ride to Nelson is only 139 km, with some more picturesque photo opportunities, before we arrived in Nelson for a tasty 'market fish' lunch (whatever one of those is) at the beautifully located Boat Shed Cafe (worth visiting), where we ate outside and took in the sea view.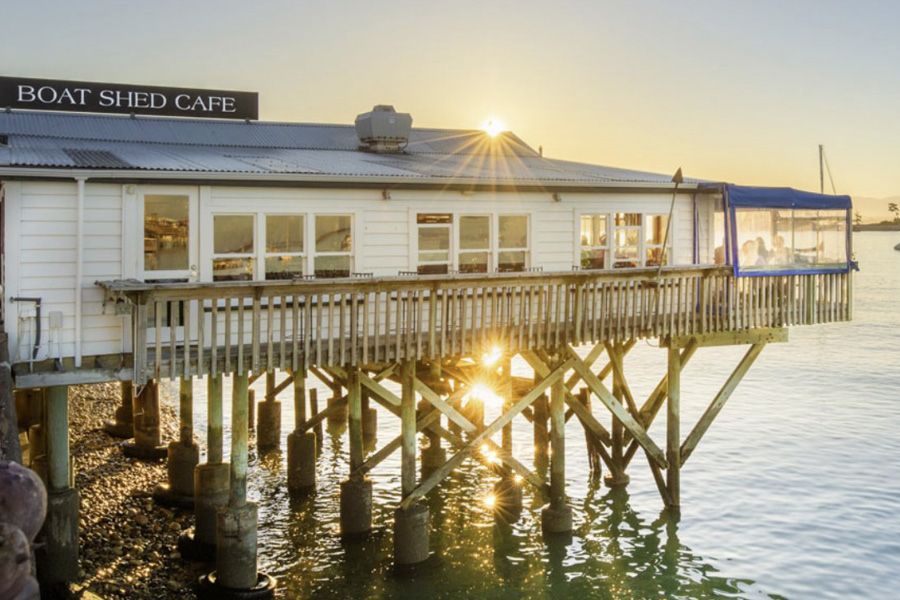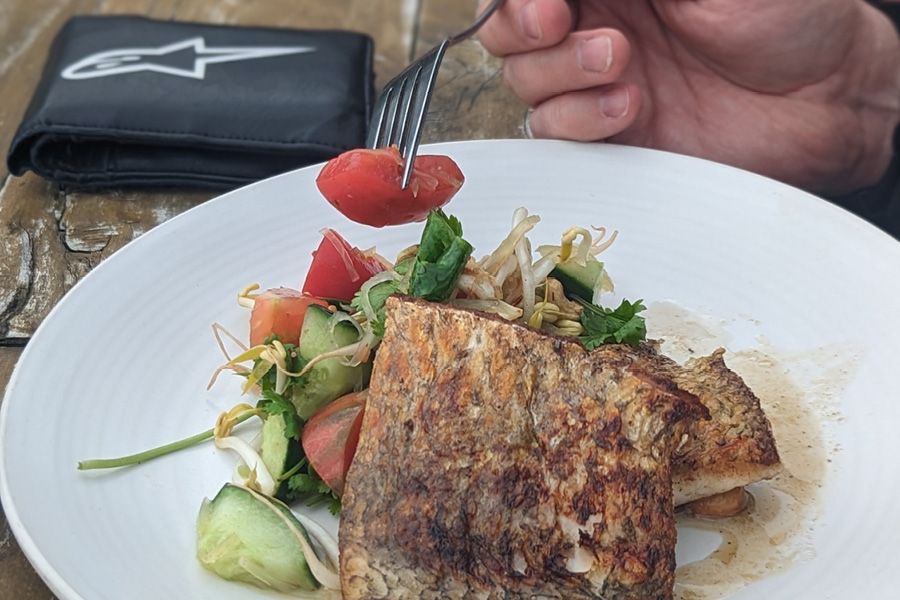 We still had plenty of daylight riding time, so we hit the road again, intending to ride to Collingwood via Takaka Hill, taking in its renowned zig-zagging twisties, with steep gradients and exciting hairpins (some of which are like 300 degrees and can catch you out) - not to mention the spectacular views over Tasman Bay to Nelson and beyond. Takaka Hill and the Golden Bay area were some of the filming locations in the 'The Lord of the Rings' films, which may give you an idea of how dramatic they are and why it should be on your roads-to-do list.
The only downsides were the occasional temporary traffic lights for re-sealing the roads, however the roads were impeccably maintained and very grippy throughout our entire tour, which made the wacky races starting grid even more fun when the lights went green with a clear twisty road ahead of us (after skipping the traffic queues of course).
Back in Nelson and well satisfied with the day's ride, we headed for a posh Pizza in the town square to discuss how much we all love New Zealand's South Island already.
Day 3: West Coast to Hokitika via Pancake Rocks (342 km)
Route: Nelson to Hokitika via Punakaiki
Our 3rd days riding took us along the Buller River, which we followed for a good part of the journey, with some fast flowing twisty roads heading towards West Port, before heading down the coast to the blow-holes and surge-pools of Punakaiki (also known as Pancake Rocks).
By this time the sun was truly shining and we were all sweating in our base layers, which prompted a quick change in the car park, before lunch and a walk around the tourist trail. The curious limestone formations that [sort of] look like layers of pancakes and the impressive surge-pools form part of the Paparoa National Park and the whole coastline is picturesque.
The afternoon's riding past Greymouth to Hokitika was in glorious sunshine on more fantastic roads, made more fun when we tagged on to the back of a group of Ozzie riders on a variety of well used and dirty adventure / trail bikes. As much as we'd have loved to try the GS on some of the gravel & dirt trails, sadly our bike hire agreement didn't allow this (potentially waving goodbye to our deposits).
Day 4: West Coast to Wanaka and Haast Pass (457 km)
Route: Hokitika to Wanaka via Jackson Bay
Our next few days in the saddle, down the West Coast to Wanaka and Queenstown, were being led by a Kiwi mate of Andy's on a Ducati Multistrada. A great rider, club racer and likeable guy called Glen (or Glin as I heard it) with good knowledge of the island roads. He recommended adding a short 20 km diversion (40 km round trip) to today's itinerary, to visit Jackson Bay for lunch, before riding the legendary Haast Pass up and over the alps, along the Haast River.
The first half of the day, from Hokitika to Haast, takes you past natural wonders like the Franz Josef and Fox Glaciers (I assume named after the mint ;-) before we divert along the coast to Jackson Bay for lunch with a sea view. The food was as good as the location, with local fresh crayfish salad and a bottle of ginger beer. Unfortunately, the sand flies dined on us, whilst we enjoyed our lunch and left small itchy red bite marks on our hands for the next few days (thankfully we had riding gear on, so it was only our hands on offer).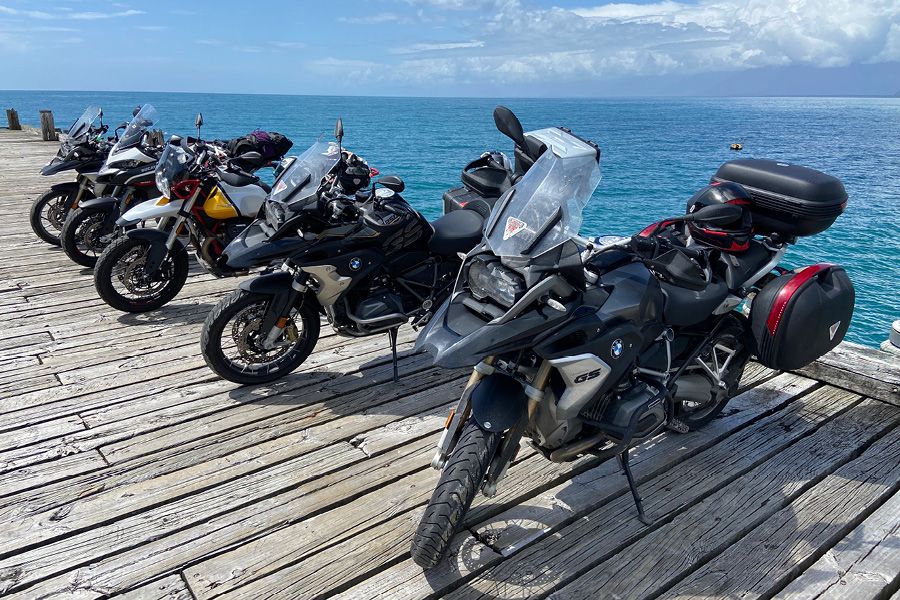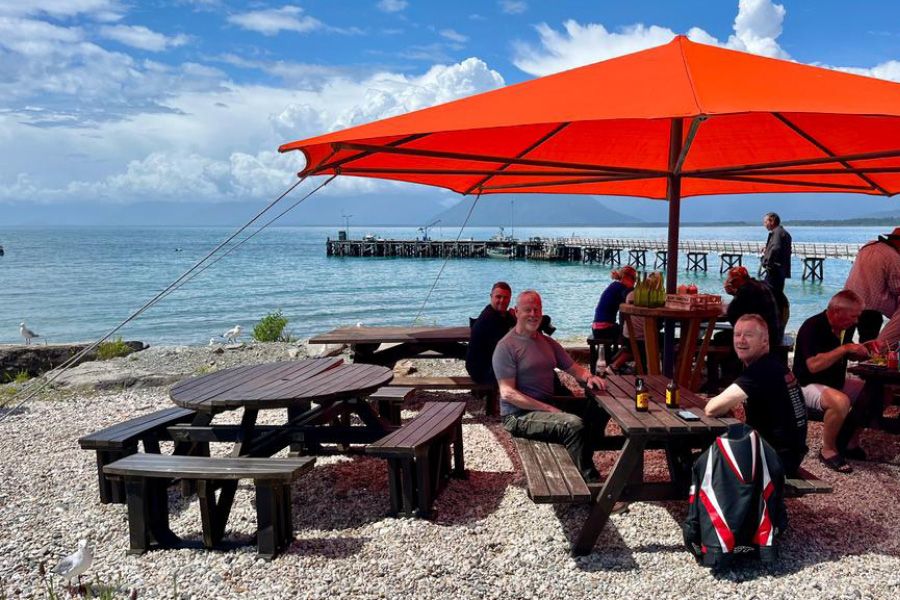 After lunch, we went back the way we came for 20 km, turning inland on the Haast Pass. Of all the great roads in New Zealand, and there are many, this must be the very best (and one of the best roads anywhere in the world I would say), which was made even better by following Glen, with his fast smooth lines and knowledge of the roads. The Alps have a climate of their own, with short bursts of rain as you pass through, before drying almost immediately as you arrive on the sunny Eastern side.
As if the Haast Pass wasn't enough, the fast flowing roads around the edge of the twisty hills surrounding Lake Hawea reminded me what biking is all about, that feeling you get when everything clicks; perfect roads, scenery and weather with great riding companions all riding in sync [at a good pace], to complete a dream day's riding. This was one of my best days in 21 years of riding.
As we arrived in Wanaka it also answered one of our big questions… Where were all the young people? Our assumption was that they had all left NZ in search of employment, much like the exodus of Irish young folk. However, Wanaka is a vibrant town with a young energetic vibe, where the Kiwi's go to play (they apparently avoid Queenstown where the tourists like us go). It's a stunning place, with serene views across the calm lake. I could live here (if it wasn't so damn far away from everyone I know).
Day 5: Queenstown (75 km) and a Ride Out to Glenorchy (92 km)
Route: Wanaka to Queenstown past Arrowtown
Route: Queenstown to Glenorchy (ride out in the afternoon)
The route from Wanaka to Queenstown took us past Arrowtown (an old mining town), which we planned to visit in the coming days, and a couple of stops at some places of minor interest; namely The Cardrona Bra Fence (raising money for breast cancer) and the oldest hotel in NZ, The Cardrona Hotel (established 1863 in the Gold Rush) - although I have owned houses that are older and we have Inns dating back to the 6th century - I guess it's all relative.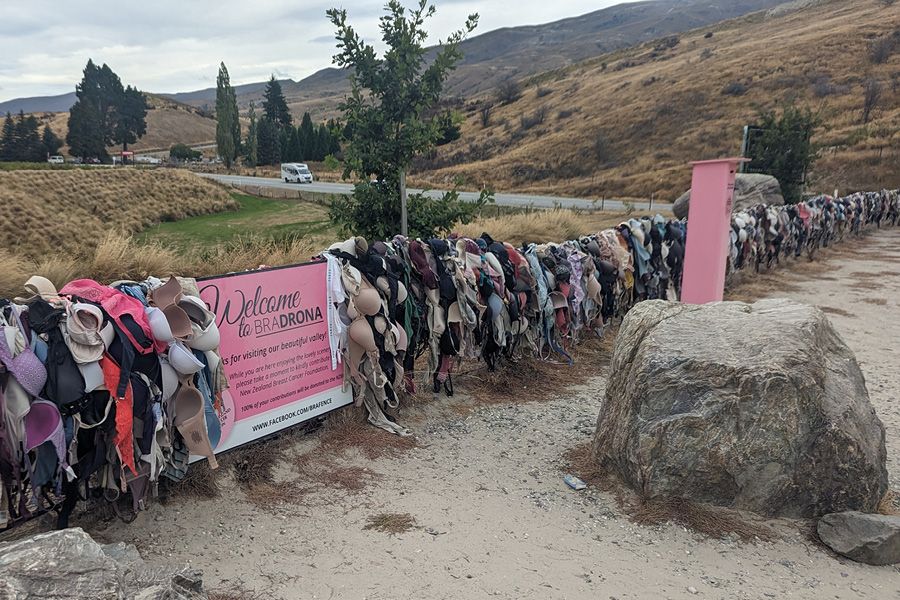 As much as I loved Wanaka and could have stayed longer, it turns out I loved Queenstown even more (yes I'm one of those tourists the Kiwi's try to avoid there). Thankfully we booked 3 nights here to explore the tourist attractions, but not before an afternoon ride-out towards Glenorchy with Glen at the helm, making the most of the great biking roads along the edge of Lake Wakatipu with no particular destination other than the ride itself.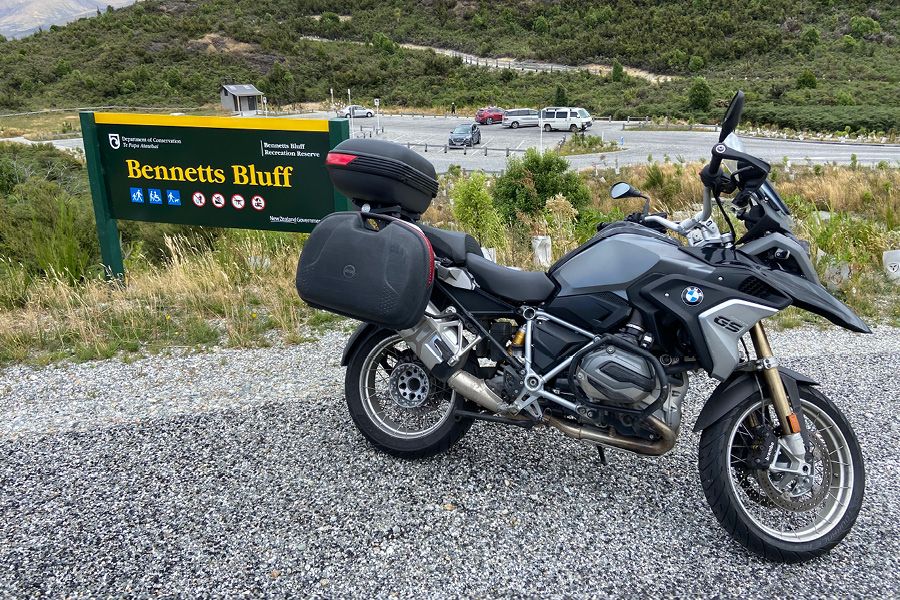 …but we don't (see what we did there)?
Days 6-7: Tourist Attractions Around Queenstown
We stayed at a spacious AirBnB, just the other side of the Queenstown beach and park, with a direct view from the house across to Bob's Peak, 480 metres above Queenstown and Lake Wakatipu. A Gondola can carry you up to the visitor centre for a spectacular 220-degree panorama, with a restaurant and various activities like Paragliding and Skyline Luge rides. Unfortunately, the wind at the top was too strong for us to do Paragliding on both days (not that you'd know it at ground level), which we only discovered after all paying for a Gondola ride to the top in order to throw ourselves off… Next time (and there will be a next time)!
During a leisurely boat trip on the TSS Earnslaw paddle steamer on Lake Wakatipu, we brought the average age down by at least 10 years, despite us being no spring-chickens. However, we enjoyed a relaxing beer and some sun on deck nonetheless. More exhilarating though was a ride on the Shotover Jet (a flat bottomed 'jet boat' powered by two V8 engines) through the narrow gorges and shallow rocky waters around Arthur's Point. Owned by Ngāi Tahu, the Māori people, they have exclusive access to this stretch of water through the Canyons and it's the best way to see this part of Queenstown.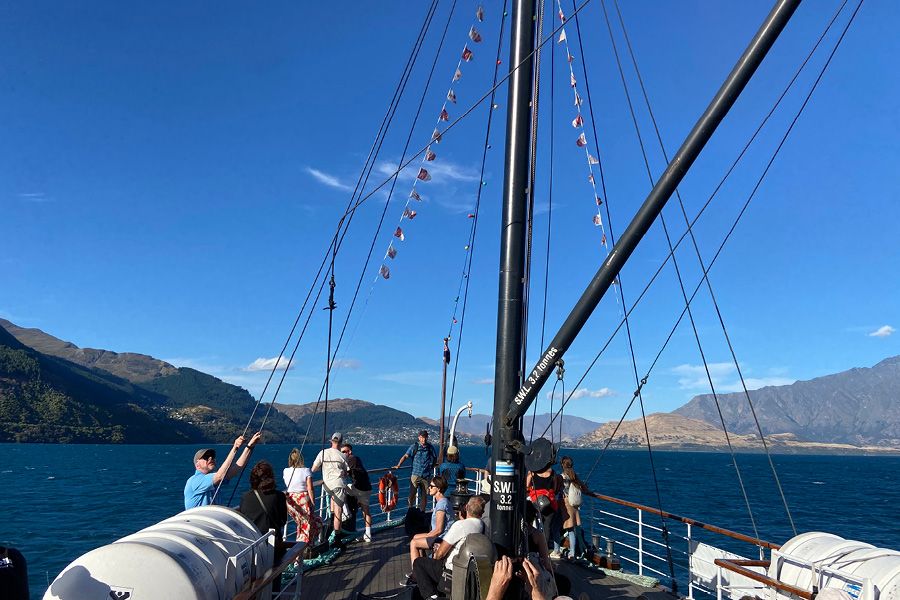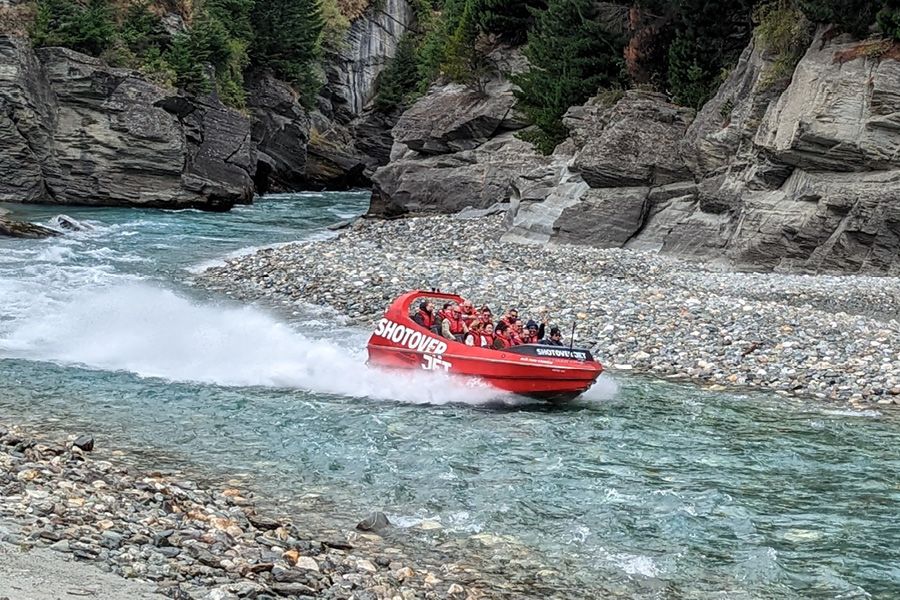 On route to Arrowtown, we stopped and observed one of the original and best bungee jump bridges from a safe distance, but none of us felt the urge, curiously… Arrowtown is an old mining town alongside the Arrow River, with the main street in the style of an old Gold Rush film set. A nice place to stop for lunch and maybe buy a souvenir, but otherwise the real gems are the surrounding peaks and trails.
Queenstown doesn't lack places to eat, drink and listen to music, from live bands to funky house music & 80s bars, Irish bars and boat bars, with all types of restaurants for whatever food takes your fancy. It's a great place to go out for the evening and we never saw any trouble, just people having fun with a studenty vibe. There's loads to do here, but we only had a couple of days.
Day 8: Queenstown to Lake Tekapo (447 km)
Route: Queenstown to Lake Tekapo via Lindis Pass
We parted company with Kiwi Glen after Queenstown, as he had to return to work after a few days gallivanting with us Whinging Poms. Unfortunately, we also had to say goodbye to Queenstown, but at least we had some scenic roads along the Lindis Pass to contend with, stopping for an obligatory photo at Roaring Meg waterfall and, on any other day, we'd have seen Mount Cook - not today though, due to low clouds - apparently it's quite something to see the mountain reflected in the glacial waters of Lake Pukaki (we can only imagine).
Our accommodation at Lake Tekapo was the best of the trip and for the first time I didn't feel like eating out that night, instead opting to watch a Netflix film with some takeaway fish and chips. I didn't see much of the town, other than a quick walk down to the lake chip shop, but we were just passing through on our way to Akaroa the next day and it hasn't left any lasting memories.
Days 9-10: Lake Tekapo to Akaroa (277 km)
Route: Lake Tekapo to Akaroa via Canterbury Plains
Our journey to Akaroa was scenic and enjoyable in parts, travelling via Burkes Pass and stopping for a hot pie and some English Breakfast Tea at Fairlie Bakery (a well known stop), during which "Pop Up" Paul gained the new nickname "Two Pie" Paul. However, I then experienced something surprising when we crossed the Canterbury Plains - boredom on the GS - a straight long highway with strictly policed (and slow) speed limits - the worst combination - It turns out that NZ has both the most exciting and the most boring road in the world!
Around Selwyn River we let Andy carry on to Christchurch to get organised for his race weekend at Sound of Thunder (bike to prep, practice, qualifying etc). Our plan was for the 3 of us to spend a couple of nights in Akaroa and then head back to Christchurch for race day to watch Andy and Glen go at it. With nobody else having an intercom system, my Cardo Freecom finally came into its own now, as Andy was the only one with a bar mounted Sat Nav. The helmet mic and speakers meant I could use Siri to ask directions, whilst riding with the phone in my pocket, and get clear audio directions in my helmet from Google Maps for the next few days.
The final stretch of road into Akaroa was a great way to finish the ride, despite being damp, the extreme twists and turns, ascending and descending steep hills before dropping down to sea level - the Banks Peninsula area is a huge collapsed volcanic crater, with one side below sea level and Akaroa on the water's edge in the middle.
The following day we chilled out with a long lunch in the harbour and a 2-hour trip on the Akaroa Dolphins catamaran - Dolphin, Seal and Penguin spotting. We were lucky enough to see all three (the Penguin sighting was dubious - it was in the water and looked like a duck from a distance). The Hector's Dolphin found in this area is the world's smallest oceanic dolphin and is quite distinctive. Adding entertainment value are the 'Dolphin Dogs' in lifejackets, trained to listen out for dolphins and point the captain in the right direction… Brilliant.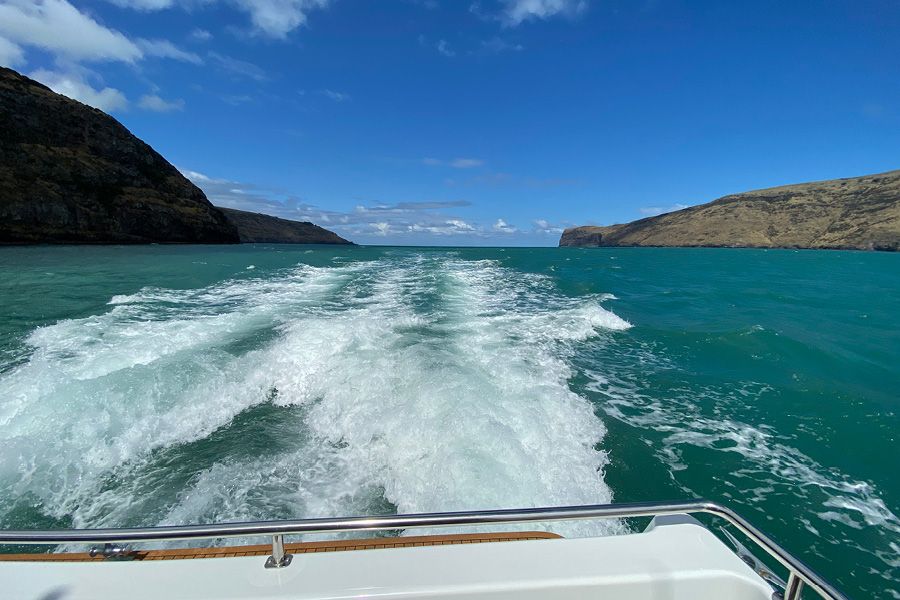 Days 11-12: Akaroa to Christchurch (81 km) & The Sound of Thunder

Route: Akaroa to Christchurch
The Sound of Thunder race meeting is organised by the British European American Motorcycle Racing (BEARS) takes place at the Ruapuna Motorsport Park, a short 17 km ride from Christchurch. Andy has raced here a number of times, aided by his Kiwi friends Glen & Murray (Muzza). The pit lane is an eclectic mix of everything from early 20th century Indians to the latest Panigale V4 race bikes. Basically everything except Japanese bikes, which I guess says something about both the unbeatable pace of those bikes at that time, and the popularity of the manufacturers in NZ?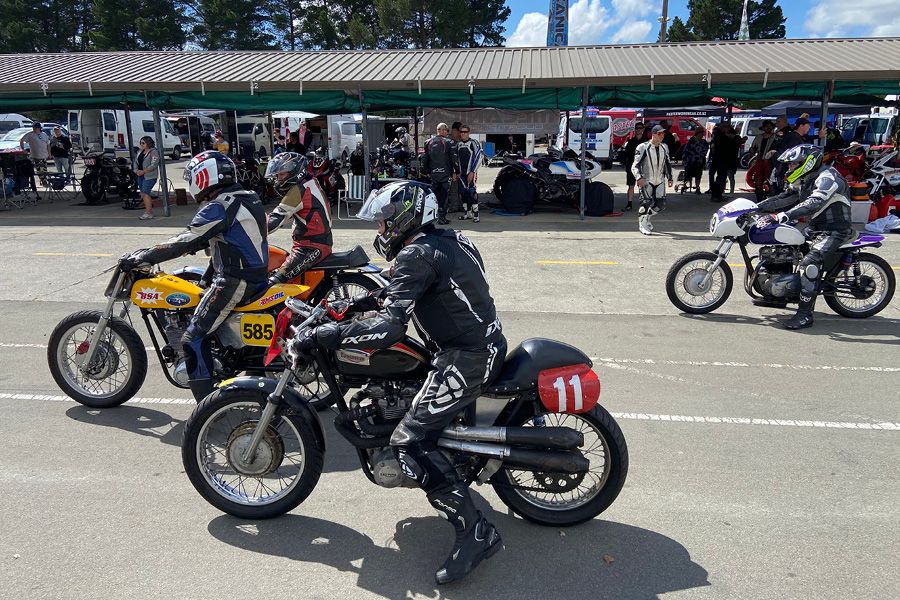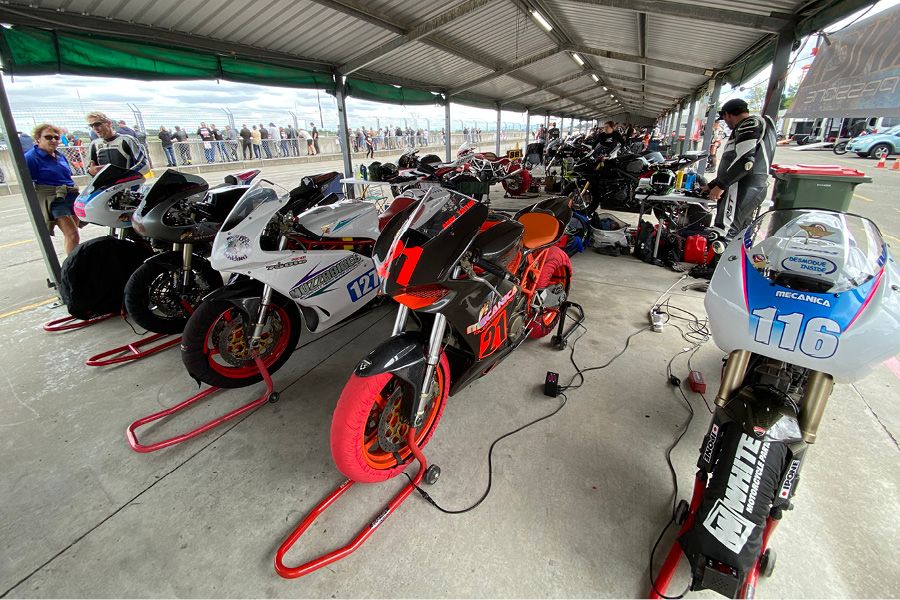 However, New Zealand is the home of John Britten (the Britten Motorcycles 'frameless' bikes broke 4 world speed records) - so it was a treat to see/hear one going round the track at its home circuit. Also of note was a Triumph 765 Moto2 carbon race bike, with possibly the best exhaust notes I've heard since the Norton SG5 down Bray Hill at the TT a few years back.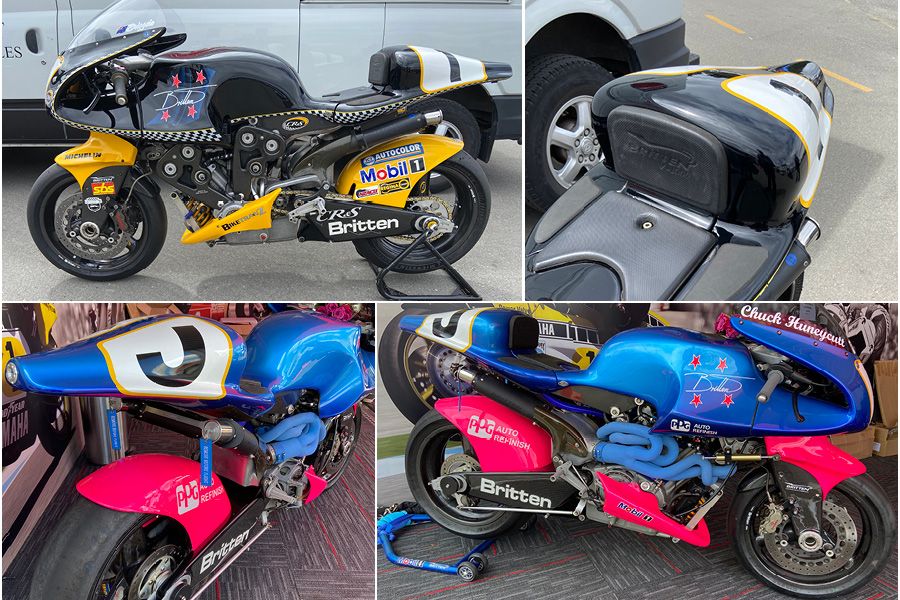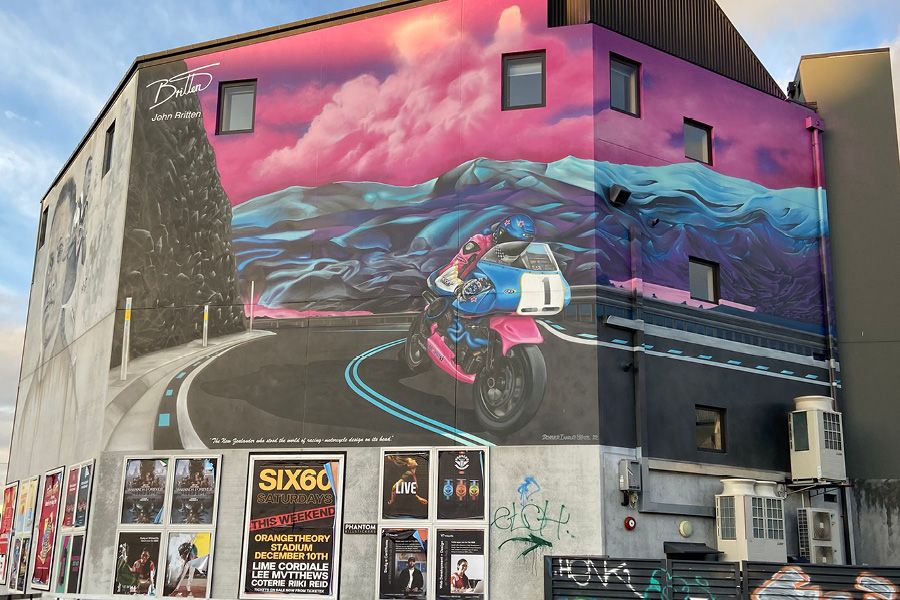 BEARS has a relaxed and friendly paddock, everyone is helping each other and having fun in the sun, that is until Glen bins it and breaks his shoulder blade in the process (ouch)! Slightly awkwardly he was the host of that evening's BBQ, which his wife Tina gamely continued to host in his absence, whilst Glen dreamed of sausages in A&E. It was an enjoyable evening and a great chance to meet a number of easy going and likeable Kiwis in Glen & Tina's lovely home.
Note: If you go a little earlier in Feb you can catch the Burt Munro Challenge, the legendary New Zealander, famous for his land speed records at the Bonneville Salt Flats in Utah - immortalised in the classic film 'The World's Fastest Indian'.
Day 13: Arthurs Pass to Hanmer Springs (484 km)
We met at Glen's house the next morning for a cuppa and to say our goodbyes. We saved one of the best riding routes for our penultimate day on the bikes, Christchurch to Hanmer Springs via Arthur's Pass & Moana. We were to be led by Kelly, from Glen's Ducati Owners Club, on her Monster 937 - his shoulder injury ruled him out of the ride. Kelly is a great rider, and it turns out also races, which guaranteed another great day's riding following a native Kiwi biker.
There's a direct route from Christchurch to Hanmer Springs, but that would be boring. The long way round takes in Arthur's Pass and Moana (where we nearly ran out of fuel), Blackball and Reefton, through Victoria Forest Park to Springs Junction and then the Lewis Pass to Hanmer Springs. There's a bit of everything, e.g. river beds, steep climbs and twisties that never seem to end - Easily up there with Haast Pass (shorter and more foresty) as the best roads I've ever ridden.
When we say goodbye to Kelly, it finally feels like the holiday is coming to an end. We spent our last night before returning to Christchurch at Hanmer Springs, although the idea of sulphuric egg-smelling water didn't compel us to take a dip in the natural springs, so we settled for a beer and burger at a local pub and didn't rush to leave in the morning.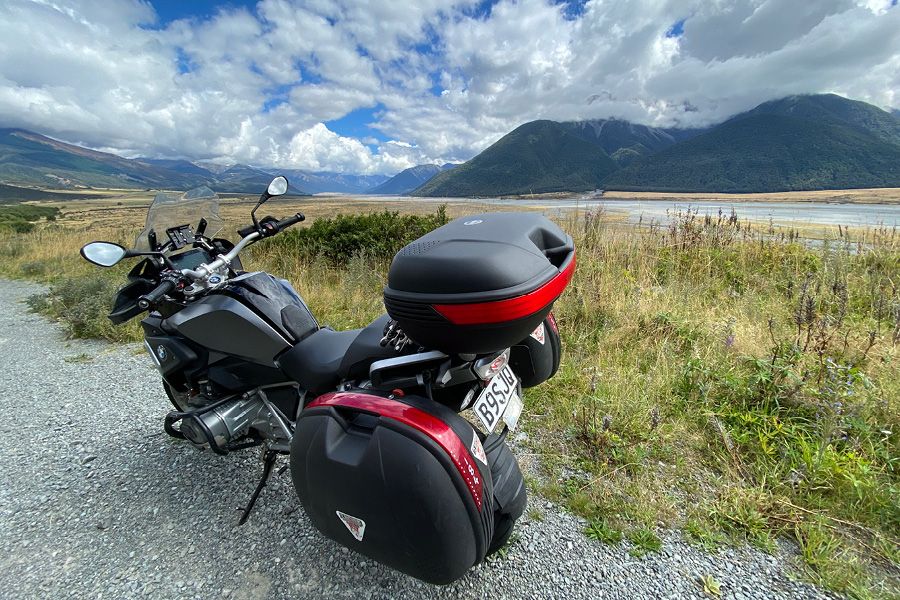 Day 14: Return to Drop Bikes off at Christchurch (133 km)
Route: Hanmer Springs to Christchurch
The handover process with the team at Te Wai bike hire was painless. We ensured they were fueled up and got our excess deposits credited back to our cards whilst we unpacked the panniers for the last time. I was actually quite sad to say goodbye to the trusty BMW. It was the perfect tool for the job and I would hire one again in a heartbeat. Chris Eades of 44Teeth said to me before we left that I'd fall in love with the GS (he has a posh Triple Black) - he was right - the only thing is, I'm sure you need a beard and a cardigan to own one!
---
About RealRoads Motorcycle Tours?
RealRoads is a motorcycle touring and training company with DVSA qualified CBT and DAS instructors, who have a wealth of riding experience and knowledge to share, in addition to a passion for touring in Europe and beyond. Andy in particular visits NZ most years to take part in the Sound of Thunder races (he is a Silverstone Track Day coach as well), so has intimate knowledge of the best roads and places to visit, with a contagious enthusiasm for all things bike and plenty of sage advice along the way.
Summary
All four of us had an amazing time, including Andy who seemed to love it like it was his first trip. We all agreed it would be great to come back again in the future and cover some of the bits we didn't have time for (including the North Island). The itinerary was well planned and executed, everything went smoothly and thankfully the four of us got on well - at least nobody told me otherwise - a larger group for such a long time together would have changed the dynamic.
I highly recommend touring New Zealand's South Island. It's as though all the best bits of the UK, USA and Australia have been condensed into one small island, with hardly any inhabitants to get in your way - and you don't have to shout to pretend you can speak the language (just change the litter 'e' for an 'i' and you're sortid [sic]) - the roads are incredibly well maintained and not very busy with hardly any straight bits… transporting you through some of the most incredible scenery anywhere in the world. What's not to like?
Visit: Real Roads Motorcycle Tours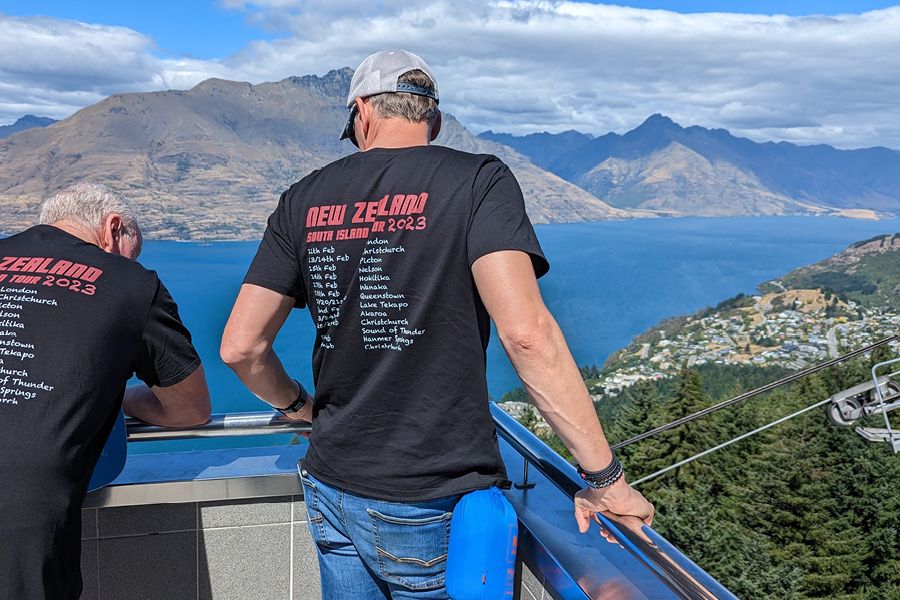 ---