---
Bucket List Motorcycle Tours: Vietnam
By BeMoto

Embarking on an unforgettable adventure across the stunning landscapes of Vietnam on the back of a motorcycle is a dream for many thrill-seekers and wanderers alike. From the winding mountain passes of the north to the captivating coastal roads of the south, Vietnam offers a myriad of exhilarating routes that will leave you breathless at every turn.
Here we delve into the fascinating world of planning a motorcycle tour in Vietnam, providing you with invaluable insights, practical tips, and hidden gems along the way.
---
Motorcycle Touring in Vietnam
Join us as we explore the vibrant cities, immerse ourselves in rich culture, feast on tantalising cuisine, and uncover the enchanting beauty that makes Vietnam a rider's paradise. Whether you're a seasoned biker or a first-time adventurer, this blog will cover everything from route planning and essential gear to local customs and must-visit destinations. Right it's time to embark on a journey of a lifetime through the captivating wonderland of Vietnam.

Back in February our consultant wiseman Stewie dropped everything and at a moment's notice he upped, packed and skedaddled faster than anybody could say Ho Chi Minh. This feature demonstrates the art of the possible because flights were booked last minute, bike hire was arranged when on the ground in Vietnam and accommodation all booked on the day of the intended stay! So don't let anybody tell you it's too difficult because it can be done and Stewie is here to tell you how!
I'd always wanted to ride Vietnam, and without spoiling too much of what I'm about to tell you, I definitely want to go back. I'll probably repeat this throughout but… 1- The food is AMAZING. 2-The People are AMAZING. 3-The accommodation is AMAZING. Putting all of the culture and stunning scenery to one side for a minute, these three things absolutely made the trip!
---
Planning:
Prior to departure, we found reasonably good value flight availability, ample accommodation options and…. 3 bike hire companies that offered availability for the dates we were travelling, so that was nice and easy. Our chosen itinerary in the simplest sense was a 3-week trip, 2 weeks on the bikes and a week of downtime. The bike companies mostly offer 3 week hire packages as that's the suggested hire time to really explore but we decided to cut out some of the sights in favour of pool and beer time. More on that later!

Kit:
The next part of planning a bike trip, which is always a bit of a challenge, is deciding what kit to take. In February the weather is 32 degrees in the south, 20 degrees and sunny in the north, but with monsoon level rain in the mountains in-between. Without the right gear in the mountains, you will get wet and feel a bit of a chill, so thermals are advisable! Basically, you need kit for all riding conditions aside from snow. When you're not in a monsoon, the riding conditions are great!
We opted to take our own riding equipment (including helmets) to be safe rather than sorry. The chosen outfits were riding trainers, Kevlar jeans, summer (mesh) jackets and…A decent set of waterproofs. The chosen approach to luggage for the trip was to take waterproof roll bags for the tail of the bikes that doubled as backpacks, and me as chief navigator… a tank bag. The waterproof holdalls required a little careful packing to harness the helmets safely for the duration of the flight, but other than that, they were good as gold.
I don't want to encourage waste or frivolity, but if you find yourself in the situation where you arrive and conclude you made a mistake with your luggage choice, you can buy waterproof luggage all over in the cities, and it's cheap, so don't worry too much. We also decided to travel light knowing that we'd be in riding gear each day and that any shortage of clothing could be rectified cheaply (and rather stylishly) in Vietnam. So with all that said and done, we were set to go pretty much.
---
Touring Travel Insurance:
It's pretty common for travel insurance to exclude cover for riding motorbikes overseas, or if not exclude it entirely they often have restrictions, e.g. only bikes up to 125cc or only if you have held a full Cat A licence for more than 3 years, etc. Even then you probably need to call them and add this as a top up cover, because it's probably not covered as standard. Thankfully BeMoto's Motorcycle Touring Travel Insurance is designed for just that, touring... It includes cover for riding motorcycles on and off-road as standard. If you're feeling particularly brave, for an extra premium you can even add cover for overseas track days, racing and motocross!
One thing to ensure you do though, is buy your travel insurance early. As soon as you've booked your flights make it the next job. Why? Because it includes some cover for cancellations, e.g. if something happens that means you can't make your trip, you could be covered for some or all of your travel costs if it's for one of the reasons listed (subject to an excess).
Getting to Vietnam:

We booked ourselves on Bamboo Airways and bagged a £700 return ticket each from Heathrow to Ho Chi Minh (Saigon). Had we booked more in advance we've been told it would have been cheaper. The airline itself was great, good drinks, good food and the seats in economy were fine space wise. If you are able bodied then you may be selected to sit in the emergency row like we were (free legroom, result). Failing that you can book extra legroom for a small fee, and you'll probably be more than fine. The flight is 13 hours and with a bit of food, route planning, talking waffle and a movie or a sleep, it'll be over.
The Mission:
With the flight over and us on the ground, the reality of our 2500 mile trip along the Ho Chi Minh trail started to creep in as we saw kamikaze cage pilots within minutes of leaving the airport for the city. Roads aren't bad, but driving and riding standards in Vietnam are nothing like the UK. We would have held a ceremonial burning of the highway code if we had a copy with us. It is literally every road user for themselves. Anyway…2 weeks to travel from Ho Chi Minh to Hanoi was our intended plan. Plenty of history to be absorbed along the way and some beautiful towns to visit. That was the plan…
Bike hire:
We chose to hire our bikes from Style Motorbikes although there were other options, this one had the best feel about it and definitely had bikes available for us. Our non-expert approach to finding them was to type "Motorcycle Hire Vietnam" into Google. We weren't disappointed one bit on arrival and so proceeded to hire 2x Honda XR 150s, both were about 2 years old and cost us $280 each for two weeks. If you look up any rates they're likely to give a 3 week price. Whilst there he basically gave us a discount on a $350 3-week deal and a top tip is to haggle the price. It's customary to haggle so be prepared!
There is a deposit required and you can choose either your passport or $800 which gets paid back in local currency at the end of the trip. We were taking the bikes from Ho Chi Minh and returning them to Hanoi, so leaving passports wasn't an option. If we do the trip again and return the bikes to the same place, I'd probably choose to leave a passport rather than taking a fistful of currency away at the end of the hire.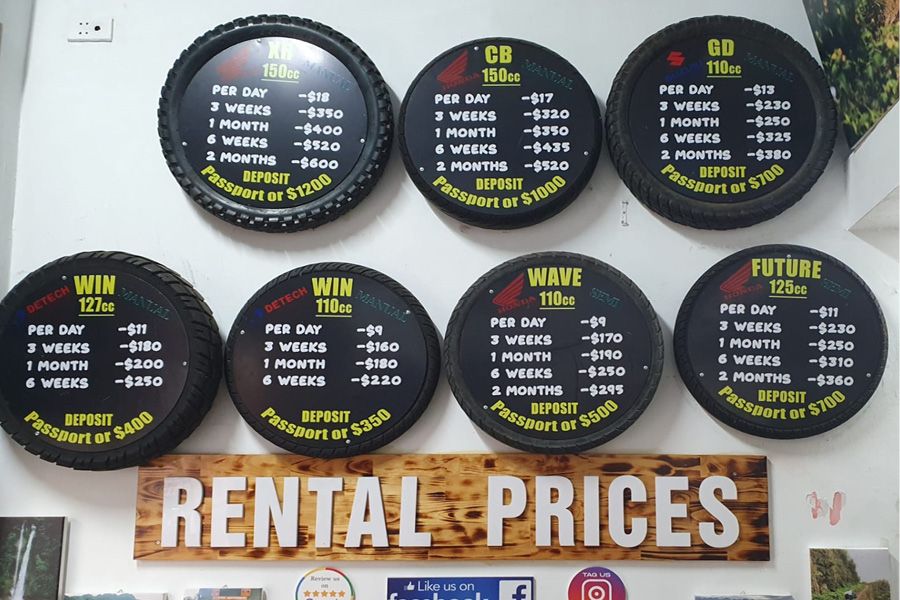 Style Motorbikes have garages and hire centres along the Ho Chi Minh Trail which means that if you encounter any problems, you won't be far away from help. They do look after their bikes which is reassuring, and you must have an oil change every 1000 miles. You must pay for this but it's only $8. Very good service, decent people, bikes were of a good standard. The main garages they have are Saigon and Hanoi but their smaller places along the route are more than sufficient to look after any issues with the bikes.
Accommodation:
Our chosen personal travel agent for this trip was Booking.com and to be fair, we would do exactly the same next time. You can easily scout through accommodation day to day and decide on how far you want to get. This was really handy as it meant we could amend our schedule to suit ourselves. Some days were harder going than the others as they involved using the main jam packed motorway or the monsoon mountains. Keeping it flexible meant we could call it a day whenever we liked.
---
Execution:
Day 1:
Day one on the bikes and we set off from Saigon with our intended destination being Dalat.
Leaving Saigon is an experience, traffic is like nothing you've ever seen you wonder "are we going to make it?" lol. The culture shock with the number of bikes and road users grabs you by the face. No indicating, just everybody beeping horns. My golden piece of advice is - No sudden movements! People will come either side of you, weave around you, stop and start suddenly… it's just carnage. You must wobble your way to whatever exits you want / need - forget all UK driving standards otherwise you will get NOWHERE!
The journey took us from the bustling urban centre of southern Vietnam to serene highlands, offering a blend of picturesque landscapes and cultural encounters along the way. Starting in Saigon, we navigated (wrestled) through the city's vibrant streets before venturing into the countryside, where for the first time we actually felt like we were on a tour. With far less stunt riders and kamikaze cages we could wind down a bit and enjoy some miles.
Leaving the city behind, we headed northeast on National Highway 1A, passing through lush green rice paddies and small towns. We then intended on keeping away from the highways after leaving the city to explore the rural roads in the best way we could. After approximately 200 kilometres, we reached Bao Loc, a lovely town famous for its tea and coffee plantations. Here we took a little break and enjoyed lunch in a bit of a tranquil atmosphere. The food at the little roadside eatery we chose was outstanding.
From Bao Loc, our road ascended into the highlands, leading to the picturesque hill station of Da Lat. As we wound your way up, we experienced breath-taking vistas of mist-covered mountains, dense forests, and cascading waterfalls. The route is known for its exhilarating twists and turns, making it a paradise for motorcycle enthusiasts seeking an adrenaline rush.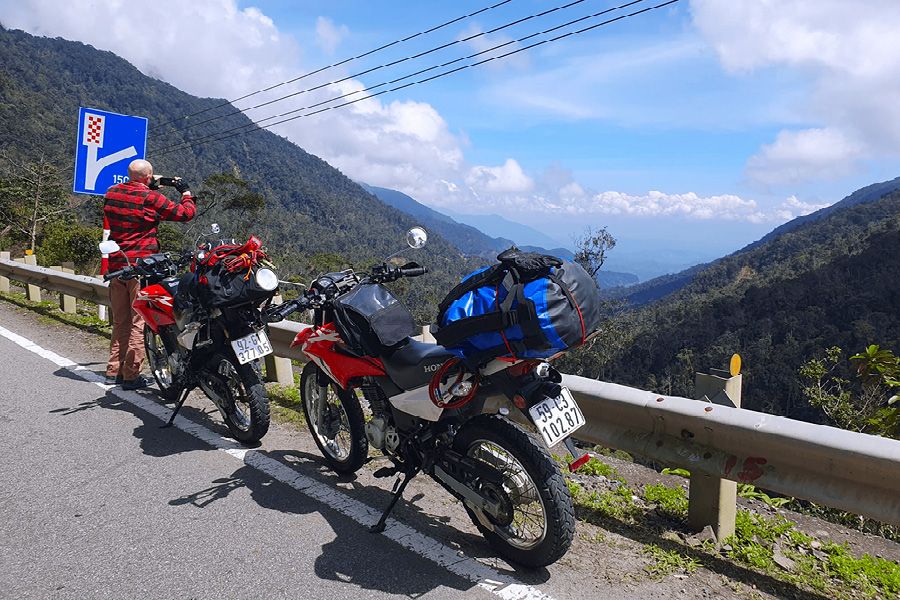 Upon reaching Da Lat, we discovered a city nestled amidst pine forests and dotted with French colonial architecture. Known as the "City of Eternal Spring," Da Lat offered a refreshing escape from the lowland heat, with its cooler climate and stunning natural beauty. There were beauty spots such as Xuan Huong Lake, the colourful Flower Park, and the enchanting Valley of Love.
Our hotel for the night was a £12 3 star special. Their 3 stars were really like 4 stars to us. Modern, clean, and staffed by lovely attentive people who couldn't do enough for you. Also unlike the UK, you can rest easy leaving bikes outside. We were glad for the rest by this point as the ride was 6 hours with fuel stops and not a lot else.
Day 2:
Nha Trang was our destination for the day's travels. It's possible to do the ride in about three hours with no deviation, but we flexed the journey out a bit so we had a good scenic ride but not as heavy as day 1. Leaving Da Lat, the road winds its way down the mountains, offering sweeping views of tea and coffee plantations that dot the hillsides.
One of the highlights along the route is the stunning Khanh Le Pass. This mountain pass, also known as the Hon Giao Pass, presented us with hairpin turns and panoramic views of the surrounding mountains and valleys. Make sure to take your time and soak in the vistas that stretch as far as the eye can see. The picturesque countryside of Khanh Vinh District was up next, with its serene rice fields and tranquil villages was a lovely part of the route. The road weaves through rural communities, attracting the odd wave and smiles along the way.
As you approach Nha Trang, the landscape transforms once again, revealing the coastline. The road takes you along the pristine shores of the South China Sea, offering glimpses of white sandy beaches, turquoise waters, and scattered fishing villages. Upon reaching Nha Trang, you'll be greeted by a vibrant coastal city renowned for its stunning beaches and vibrant nightlife. Indulge in water activities, visit historical sites like the Po Nagar Cham Towers, or simply relax and soak up the sun on the sandy shores.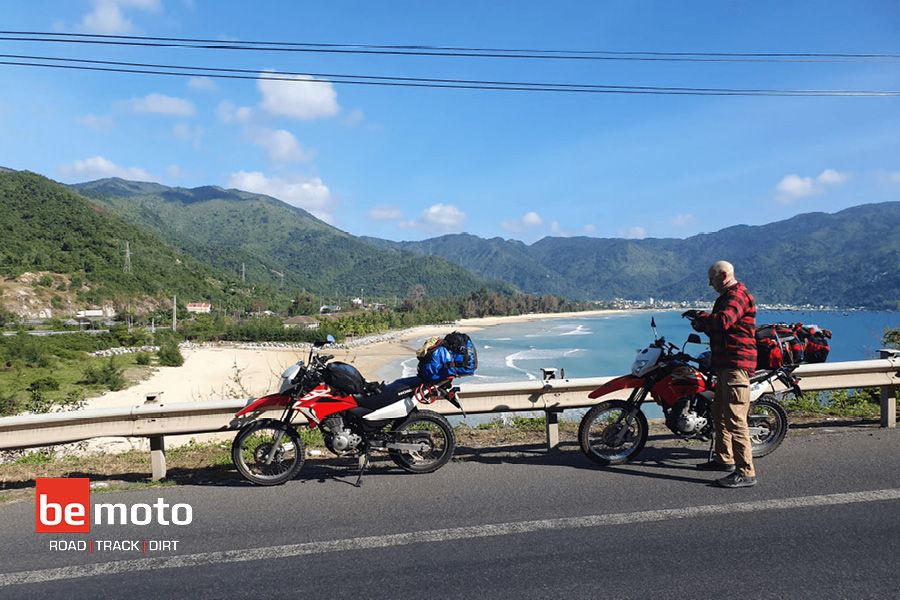 We were looking forward to seeing Nha Trang which is a very Russian and Chinese influenced area. It was interesting to see that there were signs and menus printed in Russian and Chinese. We stopped in another 3 star special for around £13. This was for a lovely modern hotel by the beach. Price was for an inland room though, Seaview would cost £22ish.
Day 3:
A longer day in the saddle as we headed inland to Pleiku. For the history buffs, this was the central logistics command for the Vietnamese during the war. Beyond that it is a traditional Vietnamese town with no noticeable western influence (English not widely spoken).
This route spans approximately 270 kilometres along quieter suburban and country roads, charming towns, and depending on how much time you have – a couple of historical attractions along the route. The highlight of the route was the short coastal ride in the cooler weather first thing in the morning.
The route takes 6 hours if whistling along the most direct route, but I'd suggest an early start allowing 9/10 hours if you can allow time to take in a couple of tourist spots along the way. There's some suggestions below and they're in order along the route, but it may not be possible to squeeze them all in without pulling a 13 hour day.
Starting from the coastal city of Nha Trang, you'll head westward, leaving behind the sandy beaches and tropical vibes, and begin ascending into the picturesque Central Highlands once again.
1. Yang Bay Waterfall: About 45 kilometres into the journey, Nestled amidst lush forests, this hidden gem features several cascades and pools where you can take a refreshing dip.
2. Lak Lake: a serene freshwater lake fringed by traditional longhouses and stunning landscapes. Consider taking a boat ride on the lake or exploring the surrounding ethnic villages to experience the unique culture of the local people.
3. Dray Nur and Dray Sap Waterfalls: A short detour from Buon Ma Thuot will lead you to the awe-inspiring Dray Nur and Dray Sap Waterfalls. These twin waterfalls are among the most spectacular in Vietnam. It's a fantastic spot for photography and a bit of a leg stretch.
4. Buon Ma Thuot: Continuing westward, you'll pass through Buon Ma Thuot, the coffee capital of Vietnam. This bustling city is surrounded by vast coffee plantations, and you can visit local coffee farms and learn about the coffee-making process.
After a day of fantastic weather and reasonably easy miles, we ended up in Pleiku. Our intention was to enjoy the city known for its historical importance during the Vietnam War. We visited the Plei Can Basecamp and the War Monument to pay tribute to the fallen soldiers.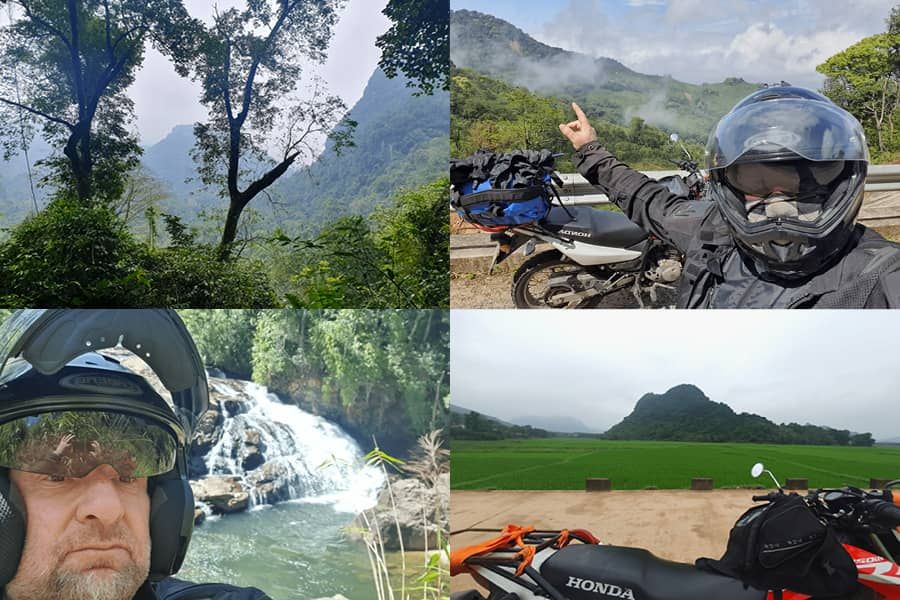 Day 4:
We headed back to the coast to Hoi An. We had to go that way because that was the oil change stop required as part of the bike hire! So perhaps not as glamorous, but our destination nonetheless was Style Motorbikes third biggest dealership. Before we get to the excitement of the oil change, the route…
Departing the Central Highlands we had about 270-kilometres ahead of us. A contrast from yesterday's coastal scenery was the mountainous landscapes and lush greenery, we were looking forward to the charming ancient town of Hoi An, a UNESCO World Heritage Site.
First thing we were rolling out of Chu Se District: Departing from Pleiku, heading east towards the Chu Se District. The roads wind through picturesque countryside, with stretches of green rice fields and quaint villages dotting the landscape.
After passing through the Chu Se District, consider taking a detour to Mang Den, a serene mountainous area often referred to as "Da Lat of the Central Highlands." Mang Den is known for its stunning pine forests, cool climate, and beautiful lakes, making it a delightful place to relax and enjoy nature.
North of Pleiku is Kon Tum which is worth a detour. This is a city with a rich history and significant cultural heritage. The Kon Tum Wooden Church for instance, which is a beautiful French colonial-era structure As you leave Kon Tum, you'll traverse the awe-inspiring Kontum Pass. This mountain pass offers panoramic views of the surrounding landscapes, and the winding road makes for a fun ride.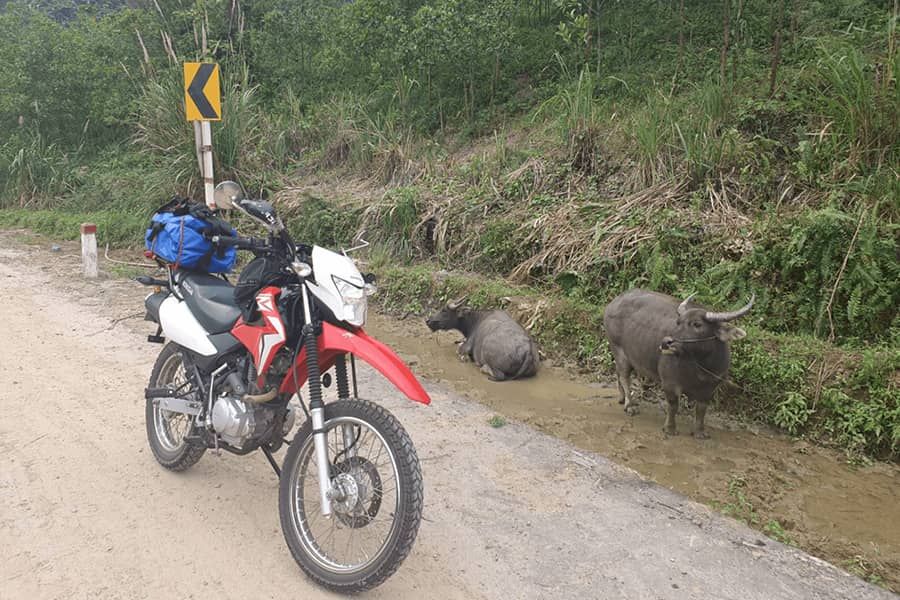 After descending from the Kontum Pass, you've got a more scenic road to enjoy that stretches through Vietnam's heartland. you'll head in the general direction of A Luoi. The A Luoi Valley is particularly renowned for its stunning landscapes and traditional villages, offering a unique glimpse into the unspoilt way of life. There are 3 opportunities to head towards the coast , each about an hour apart, but we'd stick out the inland road as long as possible, until Tai Dinh Cu, then sling a right to Hoi An.
It's worth mentioning that Da Nang, is worth a visit that is just a short ride north from Hoi An. This ancient town's well-preserved architecture, lantern-lit streets, and rich cultural heritage make it a must-visit destination. If we had more time (and it wasn't pouring down by this point) we would have had a wander through the charming Old Town, visit historical sites like the Japanese Covered Bridge and ancient assembly halls, and maybe have enjoyed the town's vibrant atmosphere.
Anyway back to our actual plan, we had to be fairly brisk on the pace getting to Hoi An to make sure we made the bike shop for an oil change. And we did, so that was good. The oil change was only 20 minutes but this was not your English service experience. Upon arrival we were greeted with an ice cold beer from the fridge! All included in a service that cost us about eight quid! We then found our accommodation for the night which was outstanding! Which is saying something as everywhere was excellent. (Tomorrow Boutique Villa with swimming pool) £15 each per night! Hoi An has some western inspiration and is known for its tailors. English is widely spoken and we had a great night here, super relaxed and friendly atmosphere.
Day 5:
Hoi An to Hue. Time to leave the fun behind and get some graft in. Once we left Left Hoi An – it didn't stop raining (for two days) . It went from summer into winter in a matter of 2 hours. The temperature dropped from 32 degrees to 15 in what felt like the blink of an eye. We rode to the Hai Van Pass of Top Gear Fame.
This was a PROPER endurance ride, we couldn't see a thing due to how heavy the rain was, it was legitimate monsoon territory. One of the group had an off on the Hai Van Pass, which is hairpin to hairpin. He lost traction on the bike due to knobbly tyres. Speaking of dramas, it's worth mentioning that Chinese built Hondas don't like water on the spark plugs. Spray from other vehicles and rivers on the road aren't good for them.
Every 20 km or so, we had to institute wet weather procedures which I shall describe as follows. The process was to find shelter and try to dry out the spark plugs. We would take shelter in roadside food joints (which were impeccable by the way). We didn't have to take the plugs out - just had to stop, let them dry and bump start the bike. It happened roughly every 20 km in the weather.
We were struggling to complete the 150k. Progress was slow going with lots of stops with the bikes playing up. This was A LONG day with very few k's chewed. We were pleased to arrive in Hue where we spent the night drying out our kit.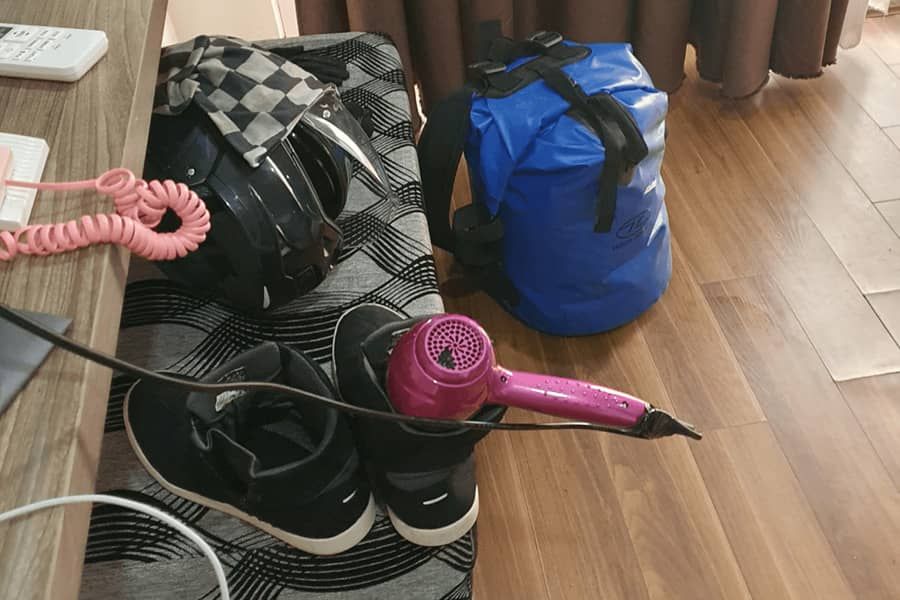 Day 6:
Hue to Khe Sanh. A day of military history, we headed close to the Cambodian border - Khe Sanh . Particularly the big abandoned American combat base, but not before passing through the ancient capital of Vietnam – Quang Trj. The area sustained daily attacks for 81 days from around 220 planes that dropped a total of 328,000 tonnes of bombs. It is incredible to think of what this place has endured. The Citadel gained National Historic Relic status post war. It is well worth a visit. The sheer size and epic nature of the abandoned American base which was our next stop at Khe Sanh is not to be missed either. After a day of sheer amazement we enjoyed an evening in Khe Sanh. The city is not very westernised so expect locals to want selfies with you!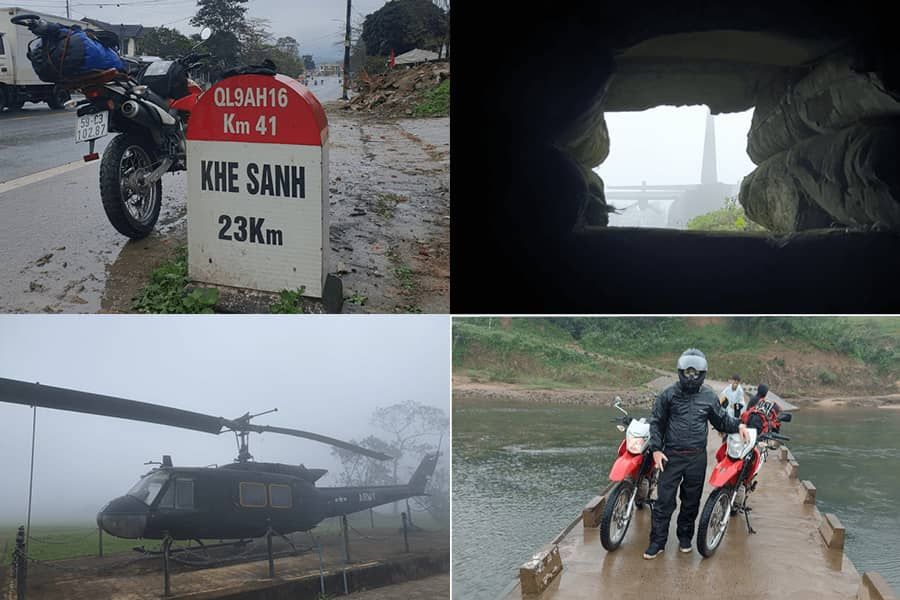 Day 7 & 8:
On to Phong Nha via massive empty roads. There was very little traffic on the roads, beautiful mountains, with small villages dotted around. The buildings in these villages were primitive, not brick built, very native. To be expected perhaps was the loss of phone signal in this area, and sods law paying us a visit.
Now if you were to get a problem, where would you least want it to be? Correct… HERE! The only place in Vietnam with no phone signal, that's where we suffered a puncture. One of the group became a self proclaimed hero and departed on his bike to a nearby village… By nearby, I mean an hour and a half round trip. He managed to find someone who didn't speak English, but did a great job of communicating the issue through hand signals, and managed to persuade the local good Samaritan to attend the jungle scene, assess the puncture, and return with a puncture repair kit.
By the time the repair was completed, the bike had been stranded in the jungle for around 5 hours and the repair cost £70!! Now obviously the good Samaritan was quite the entrepreneur, and as our saviour we didn't have an issue with the astronomical repair cost as we knew the money would go to supporting locals, and this was literally the true definition of stranded! It was a pretty bottom twitching experience for the first two hours!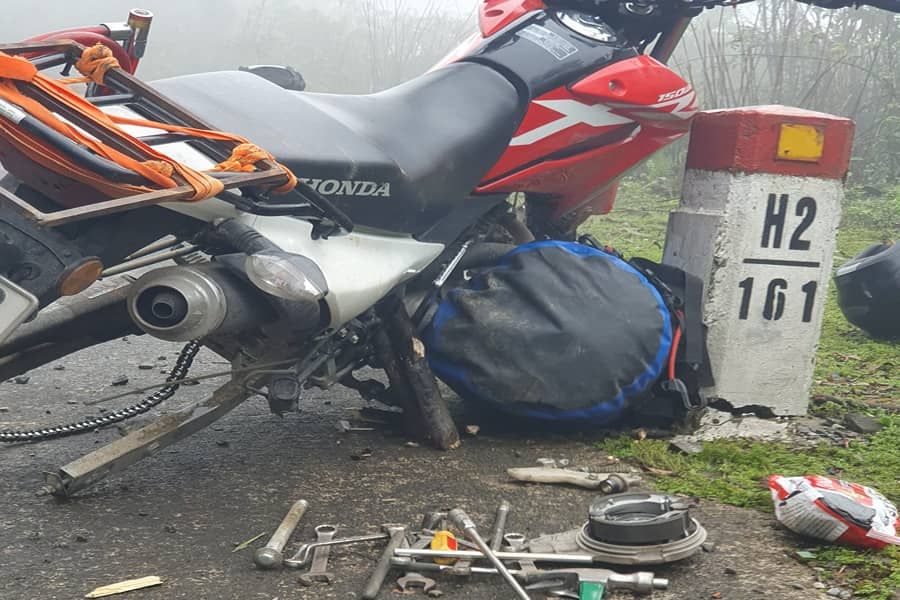 Our little 5 hour roadside soiree had the knock on effect of us being forced to ride through the mountain passes in the dark with a Chinese candle lamp on the front of the motorcycle. The Chinese made bikes lacking in the electric department once again. Although this was the most isolated part of the route it was also the best. I'd thoroughly recommend looking up the different routes you can enjoy if you're not stuck at the roadside for 5 hours.
Eventually we arrived in Phong Nha, there was the slight comfort that we were staying here for two nights. The reason for the 2 nights stay was the cave system in Phong Nha-Ke Bang National Park.
There's a system of caves and grottos that stretches 7km and a 13km underground river. Tourists can explore 1.5k of the cave system on foot. It is well worth a day out, a good justification for spending the extra night, and left us feeling grateful that if we were going to have a puncture, we were glad it was before the 2 night stop, otherwise we'd have been worse for wear!
Day 9:
Feeling refreshed and ready to take on the next stage, we were heading from Phong Nha through the mountains to Cau Lo. We made the dreadful decision to cut out some fun to make up miles as we were growing a little tired of the saddle by now. That extra day off made us thirsty for relaxation. We decided going along hell's highway - Highway number 1 would help us hit the relaxation quicker, but we were wrong… It was completely awful. Lorries and buses everywhere tearing up alongside you forcing you into the hard shoulder. Dodging vehicles one side and road barriers the other, it wasn't pleasant at all, stay off it and stay further inland!
Not much worthy of note on the ride other than we should have gone via Phuc Dong. 5 hours later we arrived in the Vietnamese Skegness – Cau Lo. It was out of season, nobody there, everything closed. It was like going to Skegness in February. The hotel was $8 a night which was about the only bonus of the whole day. Ah well, onwards and upwards!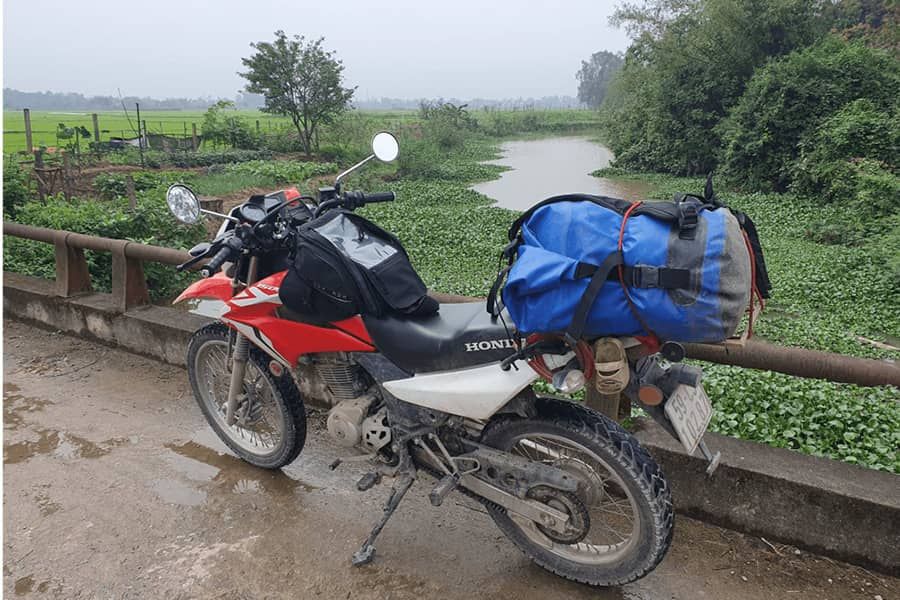 Day 10:
Because we were clearly hungry for more punishment, we returned to Hells Highway some more to get to Ninh Binh in a reasonably paced but extremely dull 5 hours. Not much about the ride really ib this day, it was more about the destination. We arrived in Ninh Binh which was very westernised, with lots of tourists and backpackers, accommodation was $15 for the night and as superb as we have become accustomed to.
Day 11:
We headed on to the islands from Ha Long Bay, The weather was great so we decided it was about time we spent some time at the beach. Weather was drastically different from the highlands. The last few days, if we headed inland we expected mediocre weather at best and wet weather was reasonably frequent. Coastal towns tended to be sunny or dry at least.
We took a ferry to Cat Ba Island which was a $3 crossing with a bike taking 45 minutes. We booked ourselves a very nice hotel overlooking the beach. Cat Ba island had good roads, there was no traffic and the scenery was beautiful. We decided it was too good not to spend two nights on the island. Great food, the seafood was particularly amazing. Freshly caught fish cooked immediately. The island was popular with lots of western backpackers and it was easy to sea why, a really stunning part of the world.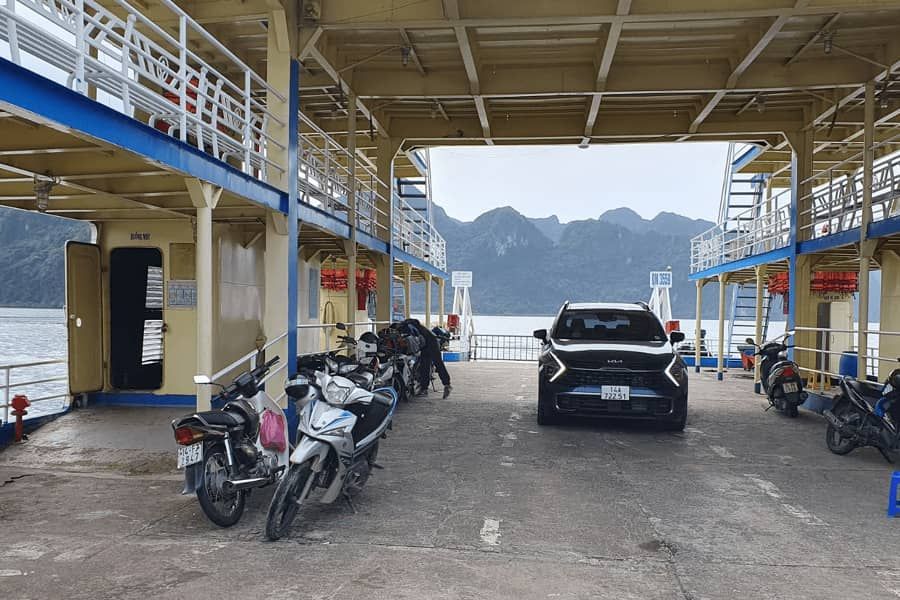 Day 12:
Lifestyles of the rich and the famous. That was our intention for this day, we chartered a private boat and Captain to take us around Nu Lua archipelago islands and floating fishing villages. Our boat and Captain cost us the princely sum of $30 but the experience was worth a lot more than that. Amazing day. We headed back to Cat Ba Island for a second night at our lodgings.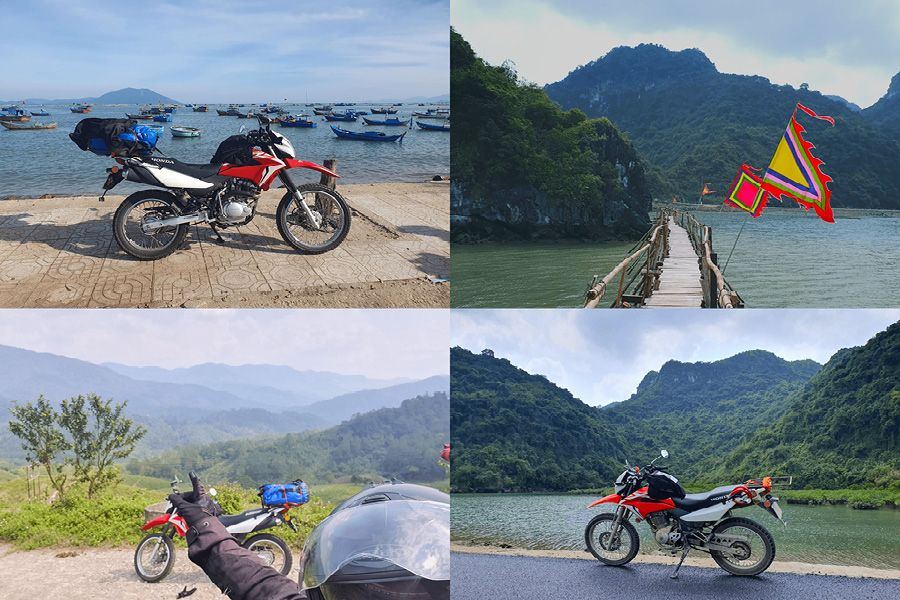 Day 13:
Our penultimate day on the bikes, we had only a short trip to Ha Long City planned. A 45 minute ferry crossing and a 20k ride to the city, lovely! It's worth pointing out that the ferry services are fantastic. They were comparable to the private boat hire, which at a cost of $3 is incredible.
Day 14:
Ha Long City to Hanoi – The final leg of the trip by bike, 150k of mostly unpleasant kamikaze riding, much like when we were leaving Saigon- not on the same scale, but still pretty bad. It was unavoidable so we had to plough through, and plough through we did. We were more seasoned by this point however so we knew what to expect (maybe that's why it didn't seem so bad). I'm pretty certain a couple of manoeuvres would have impressed the locals on occasion.
Anyway, not much to say about the ride again sadly, but we returned the bikes at Style Motorbikes Hanoi. A quick bike inspection and our deposits were returned in full. It's worth knowing that the deposits are all paid back in local currency. There was no funny business, all was correct and the bike shop even helpfully directed us to a jewellery store to exchange to sterling with a decent exchange rate. Otherwise we could have taken a little hit if they weren't so helpful but they did look after us. We didn't change all of the currency back as we wanted a few quid to buy some bargain "designer gear" from the many and ample local outlets.
After the bikes were returned, we spent 2 nights unwinding in Hanoi. We visited Train Street in Hanoi and blew off some steam. You'll recognise the place if you Google it from many travel and bank TV adverts back in the day. It was really cool and impressive to see the street virtually fold up to allow the passing trains through.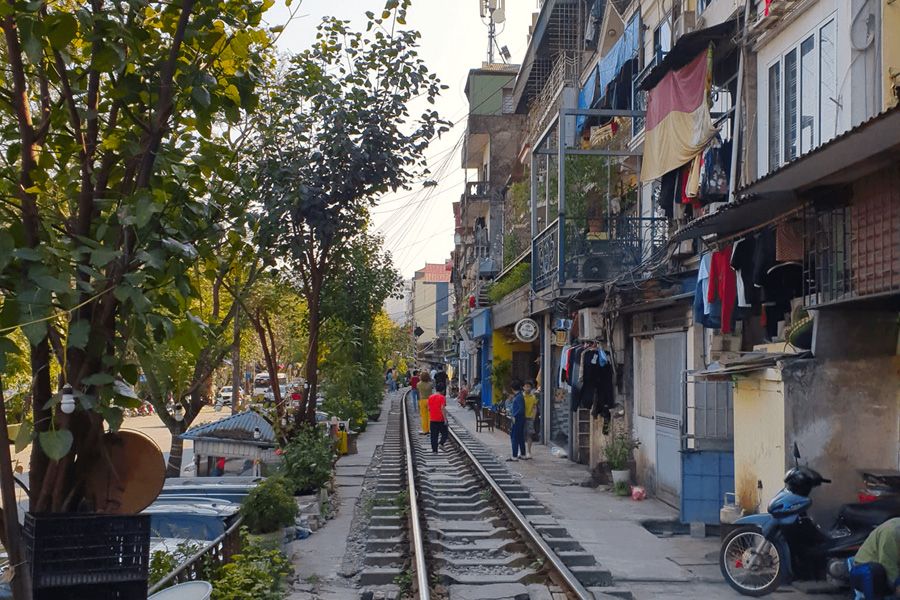 The second day of sightseeing saw us visit the Vietnam Military History Museum, we then explored the history of the city in general taking in some of the French colonial influence. We indulged in the national institution that is Bia Hoi – street bars that were born out of a historic tradition. In the early 1900's beer was a luxury that only the elite could afford in Vietnam. As time changed locals began brewing their own Bia Hoi (translation: fresh beer) using local ingredients at an affordable price. Due to a shortage of materials in the Indochinese war in 1945 it became customary for the beer to be stored in reusable kegs rather than on mass in bottles or cans.
Since then the beer has been brewed fresh, without preservatives and is served directly into plastic cups or glasses on the street. The beer is 3 or 4% so decent for a session and the keg turnover is inspiring. As there's no preservatives it doesn't live in the keg long, but it doesn't have to in fairness, all the locals get involved as a daily tradition. Around tea time you'll see the streets fill with people enjoying Bia Hoi.
And before you know it, it's home time again. Direct flight back to Gatwick the next day.
---
Considerations:
People take 3 weeks to do the trip and we did it reasonably well in two. The reality is, even in 3 weeks you still won't see everything in Vietnam, but I don't really feel we missed anything. There is an awful lot of history but there's only so many museums and war history locations that you can consume in two weeks. A lot of the enjoyment was from enjoying the traditions of the land, the roadside eateries, the traditional villages and of course, Bia Hoi. We want to return to see more of the south, so we'll get that planned to take place over the next couple of years.
Some top tips for you in closing:
Navigation is everything, after much deliberation and research (and heartache) I recommend maps.me. You download a map that you can use offline and navigate with relatively few hiccups. Google maps doesn't work reliably so that's out, and I wouldn't recommend anything that might require power from the bike! You can purchase a sim card with unlimited data for $8 and once you get over how much we have our eyes taken out in the UK, it was great! Just make sure your phone is unlocked to any network. Your network provider or local phone shop can help you with that if you're not sure what it means.
All in all, a trip you have to make once in your biking life. It will be worth going on the pot noodle diet for 3 months if that's what you have to do to make it happen. The important thing is that you do make it happen and explore one of the lesser spoilt places on earth before it's too late!
---
If you enjoyed this touring blog...
Why not check out our other overseas adventures and motorcycle touring blogs:
Bucket List Tour: New Zealand South Island
Bucket List Tour: USA Route 66
France tour including Punta Bagna bike rally in Courchevel (Alps)
Bucket List Jumps: Cehegin bomb hole in the hills of Murcia
---