---
California Superbike School
By BeMoto
BeMoto visits the world famous California Superbike School
If you are a BeMoto customer, or, have read any of our articles, you will probably know that we reckon everybody on a bike should have a crack at a track day, get some off-road experience, or both (we even offer discounts on our road policies for non-road experience)!
Aside from encouraging people to get new experiences, going on track or off road isn't as daunting as it may seem and when all is said and done, you are a better rider for having experienced it.
Today we are looking at tuition in the art of riding. A couple of places to look to would be the California Superbike School and Ron Haslam Race School. You might think that people who ride their bike fast on track are deemed a higher "risk" by insurers. Actually, we take the entirely opposite position and actually see it as a massive positive and that is why we offer a discount to any rider that has track (or off-road) experience - assuming you also have the right road experience and No Claims Discount etc..
There are some fantastic training courses out there for all level of experiences but in this case we are taking an in-depth look at the BeMoto sponsored California Superbike School. The School has a long and distinguished history and has developed a fantastic training offering to improve riders abilities, and whilst it is held on track (a controlled environment) it is aimed at all riders of all skill levels.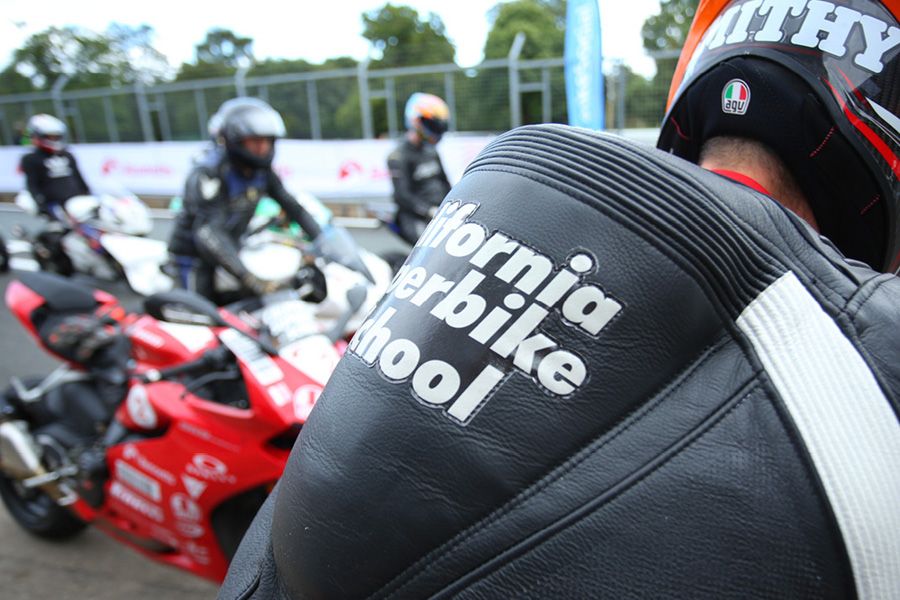 ---
About California Superbike School (CSS)
The California Superbike School is arguably the best known provider of on-track training in the world. It was started in 1980 by Keith Code who has been referenced as the best known and most successful on-track motorcycle instructor in the world. With over 135,000 students worldwide, 54 champions moulded by the school and over 25,000 students in the U.K alone, it's not hard to see why we are focussing on their offering in this article!!
In the early days Keith Code developed the "CSS riding technology" and ran some racer seminars to demonstrate his ideas. The racers he trained became much faster as a result of Keith's system. Keith trained both Eddie Lawson and Wayne Rainey, both of whom won the AMA Superbike championships for Kawasaki, and for a short time Eddie was even a CSS coach. Keith continued to train riders and the school grew at an impressive rate.
In 1997 the school came to the U.K. for the first time. Fast forward to today and the UK branch runs schools throughout Europe, the Middle East, and Africa. The UK team has even run events in India! The UK School are partnered by and ride Ducatis. Events take place at Bedford, Brands Hatch and Cadwell Park.
The school puts on numerous events each year from single day events to weekend bootcamps. Each event delivers 4 tiers of training meaning that riders are split according to their previous school attendance. Each level builds on the previous one and has proven time and again to deliver more capable and safer riders. Despite the racing heritage of the school only a small percentage of students are thoroughbred racers!
To ensure consistency, skill consolidation and most importantly safety, EVERY rider must go through the curriculum starting with Level 1. Aside from this being a proven approach for 40 years, their solid system of training delivery is the main factor behind their tiny "incident rate". The school work tirelessly on improving the appeal to riders who may not have previously fancied a track training experience or indeed any training at all.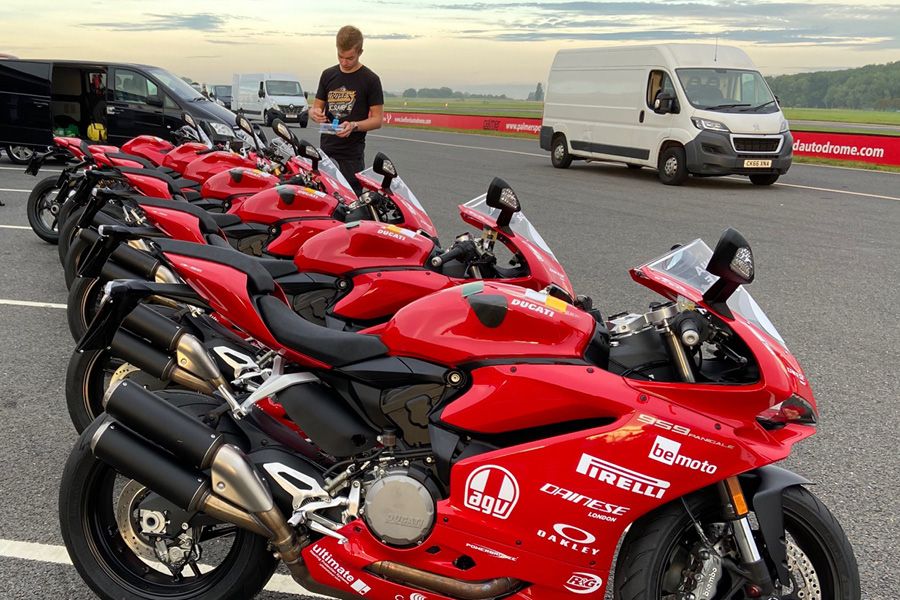 ---
Welcome and Briefing
When you arrive on the day (nice and early) you are greeted by the warm and friendly team who will look after you for the day. Everybody is welcomed together before the all-important safety briefing. You are then split into your dedicated training group for the day and receive your agenda for the day according to your level of experience. If you are new to track riding, or an expert, it matters not, your training is focussed on encouragement and reassurance that you are capable of becoming a better rider.
The first classroom session as a new trainee is Level 1, and the school importance on skill development and not speed. The focus is on gaining new skills, trying new things that you've not experienced, becoming more competent and increasing confidence. The sentiment behind the earlier briefing was that we are all "in it together" and that we are all here to develop by harnessing an encouraging and safe training environment. This is echoed in the training and dispels any feelings of inadequacy or hesitation that may have been in your mind previously.
From the moment you walk through the door, you know you are in the right hands, whether it's the staff interaction or the evidence of the brands, such as Ducati, AGV, Dainese and Pirelli that partner with California Superbike School. The atmosphere is quite relaxed, there's a mixed feeling of excitement and anticipation and before you know it, you are on the machines and being guided through your tuition.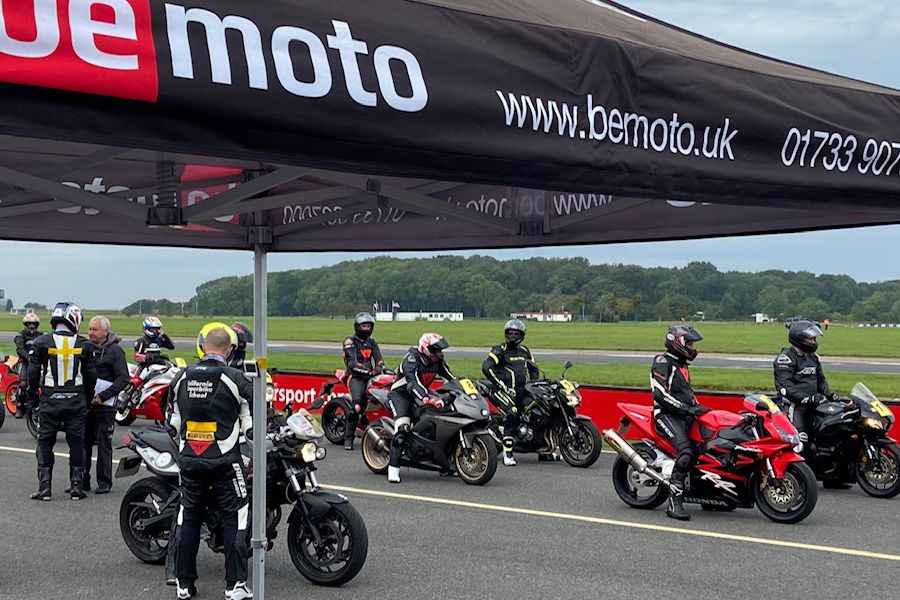 ---
More about the training and the tiers
All riders, irrespective of skill or ability, start on level 1. There are five technical briefings and five track sessions during each of the first three Levels:
LEVEL 1 is about addressing common fears and errors, establishing bike stability and control by sorting those common errors - each supported with a briefing and drill practice. There's plenty of focus on turning the bike, i.e. how to a approach a turn, how to steer the bike, rider input and how the rider affects the bike either in a positive way or detrimental way. You should leave the day feeling a confident and much more precise rider.
LEVEL 2 is all about visual skills and creating space and time for the rider. You learn about target fixation and how to avoid it, what to look at, when to look at it, when to look away from it and what to look at next so the rider can plot their way through the turns with accuracy and consistency. All incredibly useful skills on both road and track.
LEVEL 3 is about rider stability and cornering. How to move your body weight across the bike without causing instability, perfecting those transitions when setting yourself up for the corner and what you should do on the exit of the turn. All rounded off with a drill they call "Pick up Drill".
LEVEL 4 is a tailored session for riders who have completed the 15 drills on the previous 3 courses. Don't think this is simply a recap, this is a stand alone level in which the rider can iron out those small errors in their riding including videos and analysis of your riding.
There is no formal classroom for level 4, but there are many more drills or exercises that can be applied to the level 4 student to help their improvements. CSS have riders who are serial level 4 offenders and go back time and again for the improvements and benefits the school brings to their riding. Just one small change can make a big difference to a rider's technique and lead to a major breakthrough in their skills.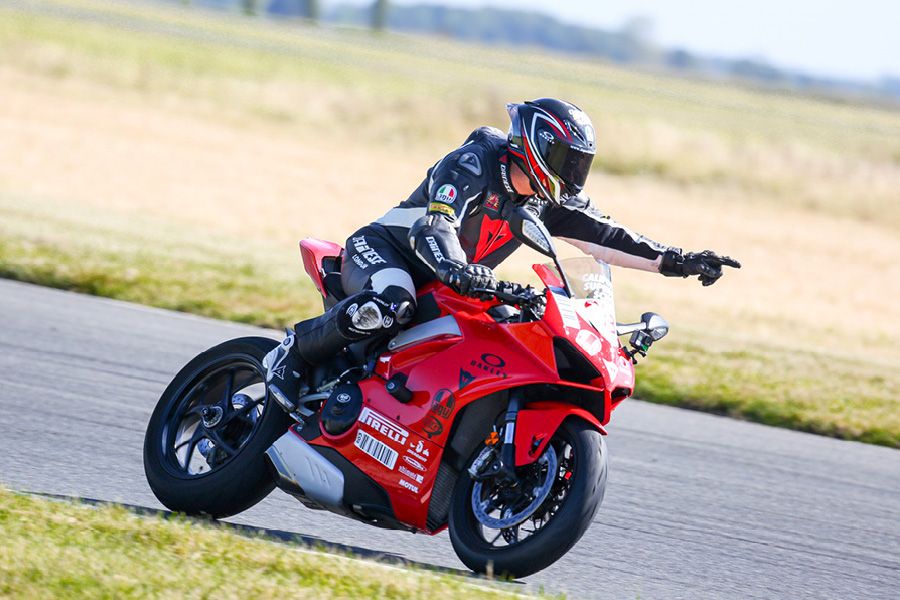 ---
Who are the people helping you on the day?
All coaches are former students and come from a wide range of backgrounds. Each coach is recruited as a result of having demonstrated consistency of applying the riding technology and because of their understanding of the training levels. They must have excellent communication skills and personality is important too as the school prides itself on being down to earth. Post recruitment the coaches are put through intensive training, a process not for the faint hearted as it lasts approximately 12 months!
The rigorous and in-depth trainer program must be completed to the highest standard before being allowed to work with students. The coaches have to complete continuous ongoing development during their tenure with the school. The bar to becoming a coach is set high, the success rate from those who apply to become coaches to those who make the grade and get to wear CSS leathers is only 4 in every 100 on average.

To give you an idea of how high this bar is, the average pass rate for emergency service riders taking their advanced test is 1 in 3, so a 33% pass rate compared to the 4% pass rate of school trainers!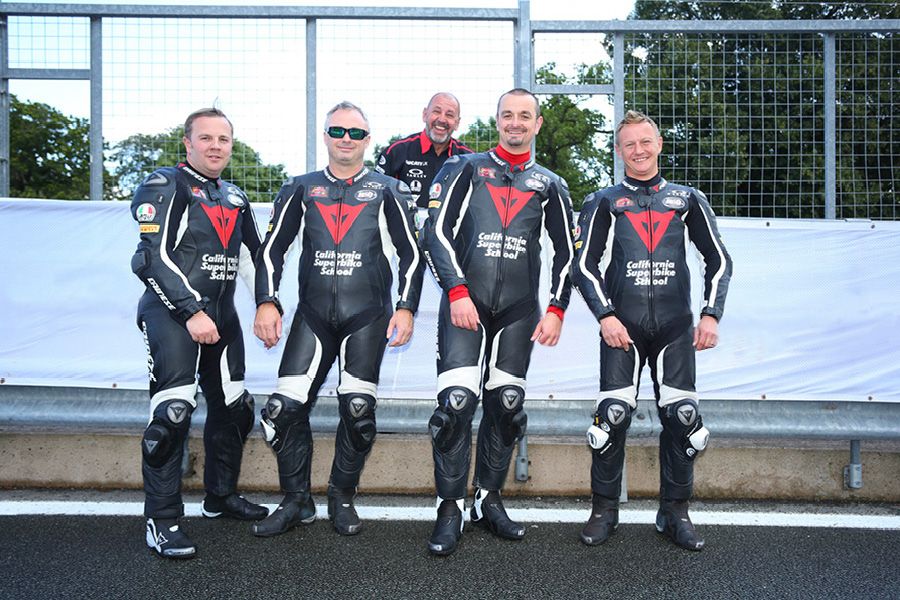 ---
Going through the coaching
Each exercise began with clear concise instruction. Level 1 focusses on basic control of the bike, which you might think that you already have nailed, but you can't help but stiffen up a bit when you go into "training mode" in your head. The whole group were given the same piece of reassurance that relaxing is ok and that being rigid is counterproductive!
Counter-steering became less of a word used and more of a fine art during the tuition. With practicing this skill in the corners you can't actually help but progress and develop to a point where you enter the corners with more confidence, speed and control. Not something we expected to progress so quickly at, but the whole group were in chorus and were progressing at a similar pace.
By the time you are three quarters of the way through the day you can feel the tiredness from the concentration, but you are also aware that you are executing the finer points of your new skills with less concentration. By the time the day comes to an end, you can't believe how quick the day has passed, and how comfortable you feel on the bike after that many hours of intense training.
The ride home is interesting as you feel like your eyes are wider than ever, the bike is in complete synergy with your body, and your mind, although knackered, is clearly more capable than before you went to the school!!
---
Dispelling the myths
Despite the name, you don't need to ride a superbike to go along to the school. You can train on any bike you care to bring along. The school have a metaphorical wall of fame when it comes to bikes that have graced the school for training. They have had Goldwings, Harleys and even a pair of 1930s Rudge motorcycles attend the schools. A bike is a bike and a turn is a turn.
These skills set you up for all machines, except perhaps trikes and quads, at least it's not the same cornering anyway! ;-)
---
In Summary...
Our experience was that you can turn up on whatever (two-wheeled) motorbike you like and you are guaranteed to leave with more skill and confidence than you had before. The whole experience is outstanding and when you come to leave at the end of the day, you can't help but feel a little impatient at wanting to get back on the track and training again!
We loved the Ducati Panigale V2 Hire bike as an added bonus to the day, plus it turned out to be far more fun than we initially expected (maybe it's the word 'School') - the Level 1 day progressed at a good pace throughout the day, with 4 individual drills executed on track to practice the specific skill being taught, culminating in the final sessions where all the skills you pick up are put into practice at the same time to round off a great day.
The experience is an absolute must for the sheer enjoyment alone but the added competence leads to a safer time in the saddle, whether that's on road or track.
Edit: We invited John Bennett along from Lamb Chop Rides YouTube channel to join us for a Level 1 day at Bedford Autodrome, see the video below, where we got to ride the latest Ducati Panigale V2 (which we loved 'long time') and the Ducati Supersport as well. And yes we insured them... just in case!
---
BeMoto Insurance Discounts for CSS
Out of recognition for the sheer expertise of California Superbike School and the massive value their training courses bring to your riding.... When you have completed one of their training courses, we will offer you a CSS Discount on your Road Insurance for single Motorbike Insurance and Multi Bike Insurance policies.
We do this because in our opinion a rider who has gained experience of riding on track, has actually experienced their bike in a completely different way to people who "just" ride on the road. People who have track experience have learned to test the limits of their bike and their own skill, and maybe the durability of their underpants... In addition to that the increase in confidence in using the bike means that they have a higher skill for calculating manoeuvres, speed, and stability of rider and machine seamlessly moving as one.

We also offer a CSS Discount on our Trackday Damage Insurance to cover your bike when attending a California Superbike School training event and enable you to relax and focus on getting your knee down.

For discounts on ROAD INSURANCE or to buy TRACKDAY DAMAGE INSURANCE for your training session call BeMoto on 01733 907000 and quote "CSS"
---