---
Classic Bike Trackdays
By BeMoto

Ever wondered where you can take your precious classic motorcycle on track in a safe environment with other like-minded classic bike enthusiasts... As fans of classic bikes and two-stroke Sportsbikes from the 80s-90s, BeMoto spoke to Darin and Rob who own and run both Classic Bike Trackdays and Endurance Legends to find out.

---
Getting your classic motorcycle on track with CBT...
Both Darin and Rob have spent many a weekend over the last decade or two at various meetings taking their bikes out for an airing on track or to shows, but more recently felt that the trackdays didn't cater for classic bikes (or their riders!) and that the social element was also missing - you know, where we all stand around talking bikes and stretching the truth as to how fast you were on track... and so Classic Bike Trackdays was born!
Over the past 6 years, "CBT" have organised trackdays at Donington Park, Cadwell Park, Anglesey, Mallory and Snetterton, and taken groups of devoted classic bike fans to Spa Francorchamps for Bikers Classics.
Their events have grown to usually being full weekend events - although riders are welcome to book one day if they wish - and although everyone is there to ride on track, the social side carries on long after the circuit has closed, usually around the BBQ or in the bar whilst listening to the live band which is a regular on CBT Saturday evenings now.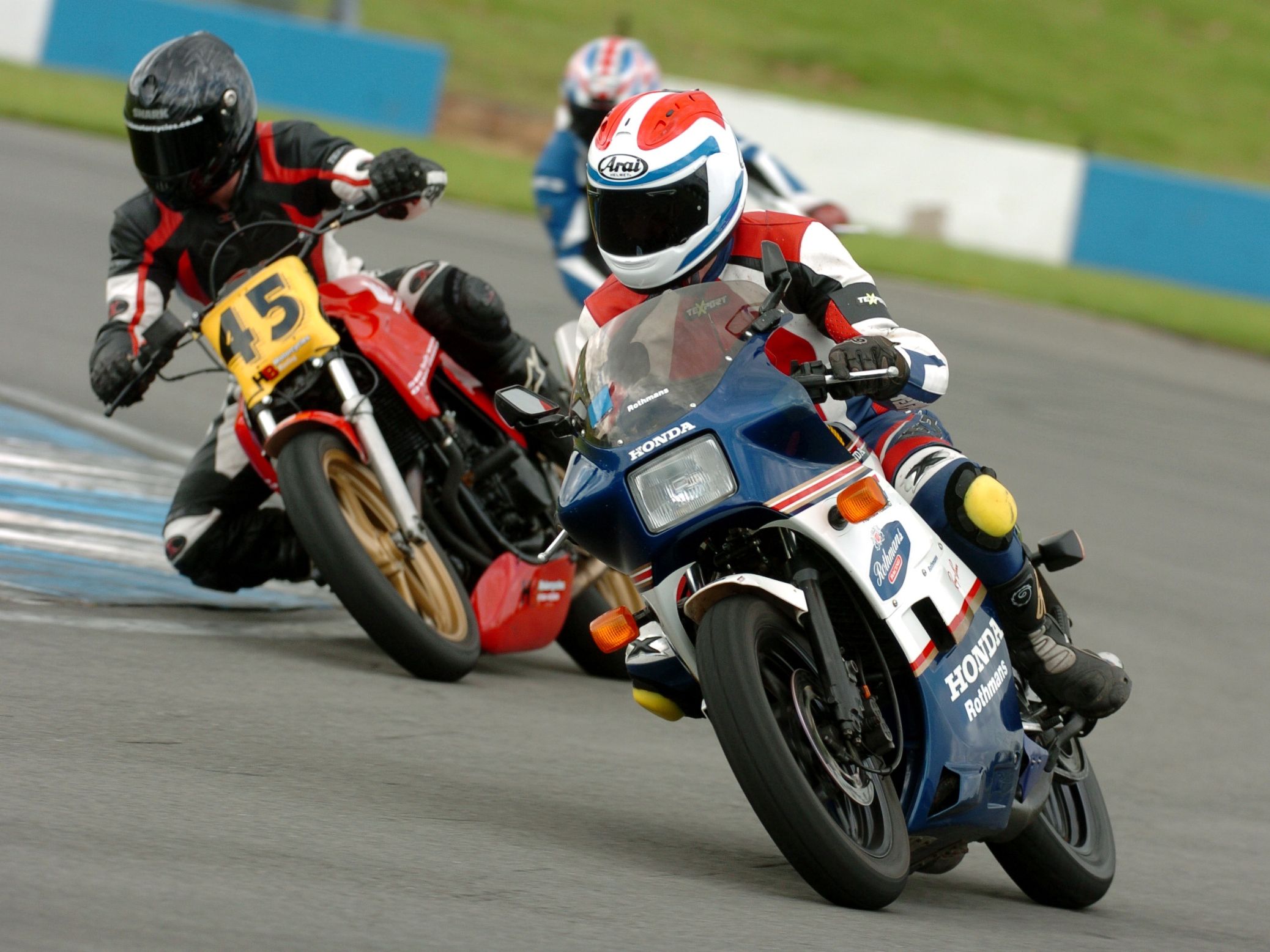 CBT's number one priority is that only classic bikes take part and so they have a general cut off of 1995, but allow later bikes 'in the spirit' of their events, and having worked with a few of the classic motorcycle magazines the guys have built up a very loyal following where riders are grouped by the bike they ride (although all Novices ride together) and everyone out on track treats other riders with a great deal of respect, whether they're riding an RD200 or an OW01.
There's usually 6 sessions each day which gives everyone lots of time on track but some breathing space for a cuppa and bike fettle, and with free professional tuition and on site mechanic to help keep your classic lapping the tarmac, CBT have everything covered to make sure you always have a smile on your face.
And talking of 'cover' they wanted to give their riders the opportunity to insure their pride & joys when on the circuit, so they've joined forces with BeMoto to offer their riders not only great insurance cover for their classics both on the track and off, but also exceptional cover for themselves too.
Ask them if it's hard work and they reply with "Yes but we love it - and once out of the office and trackside it's now a weekend away with a great bunch of friends - AWESOME!"
Full details of this year's trackdays and everything you need to know to take part in a Classic Bike Trackdays event can be found on their website: www.classicbiketrackdays.com Or you can call or email them; 01982 529932 / info@classicbiketrackdays.com
---
Why not speak to us about insuring your vintage or classic motorcycle, we also specialise in modern and future classic bikes such as the iconic RD500 or R7 as well as the early modern litre Sportsbikes including the K1 Gixxer, Red Seat R1 and the legendary Fireblade.
Classic bike insurance for road bikes (including multi-bike collections)
Classic bike trackday damage insurance, at UK or EU circuits (sensible excesses)
SORN and Laid Up insurance for your trackbike, no V5 required if a custom or track bike only ("In Transit" cover available when being transported in your van or trailer).
Trackday Travel and Repatriation Insurance, cover for you and your gear on an overseas trackday
Race Van Insurance for your social use van, save £££s compared to commercial vehicle insurance...
See BeMoto Motorcycle Track Insurance Products here.
Call us on 01733 907000* to speak to a specialist about your classic bike insurance needs
---