---
Project 700: Making the Megalodon
By Max Hind (999lazer YouTube channel)
I remember reading the rumours on MXTRAX and I can recall hearing the speculation around the pits. The year was 2010 and word on the street was that Maico – the former German powerhouse of the 70's and 80's – were to make a comeback to the MX mainstream. But what made those MXTRAX threads so interesting to me – and to so many others – was that supposedly the mighty Maico weren't just making any old comeback, they were going to return armed with a goddamn 700cc two-stroke!
This was the first time I had ever been introduced to the outlandish (and quite frankly ridiculous) concept of a fire breathing 700cc dirt bike. My imagination was running rampant, and my pre-mix fuelled heart was in love with the idea of this monster two-stroke.
Alas, the return of Maico didn't quite happen like those message boards predicted, and we never saw an army of Maico 700's manufactured at scale. But Maico – or the German company that now owns the rights to the name – did in fact (and still do) produce a limited number of these big bore baddies.
Ever since my days lurking on those message boards I've dreamed of seeing one of these behemoths in the flesh, and as content creation in the dirt bike world became my occupation those dreams slowly morphed into something else. I not only wanted to see one in the flesh, but I needed to make a video featuring one of these bad boys.
Over the next few years, I searched far and wide for someone that had a Maico 700 (otherwise known as ATK Intimidator's in the States – same machine, different branding) hiding in their shed. We had a couple of promising leads, but these mythical monsters proved to be as elusive as any other legendary creature of folk lore. Much like the people that search for the Loch Ness Monster or Big Foot, we simply couldn't find one.
As I mentioned, they actually still do build these bikes to order over in Germany. So instead of simply trying to borrow someone's bike for a day of filming I decided to investigate whether it was a viable option to just go ahead and buy a brand new one for myself…. it wasn't.
When you add on the cost of shipping, import duties and VAT the price of purchasing a brand-new machine from the Germans just became astronomical. We were looking at north of £16,000 to get one of these things in the country. Sadly, that wasn't in the budget.
In order to keep my big bore dreams alive there was only one more avenue that we could pursue, but it would be a long and daunting task. We could attempt to build our own bike, our own 700cc giant. We might be crazy to try, but if our calculations were correct, we reckoned we could do it way cheaper than the cost of importing a new machine.
This is the story of how we built the Megalodon…. Project 700!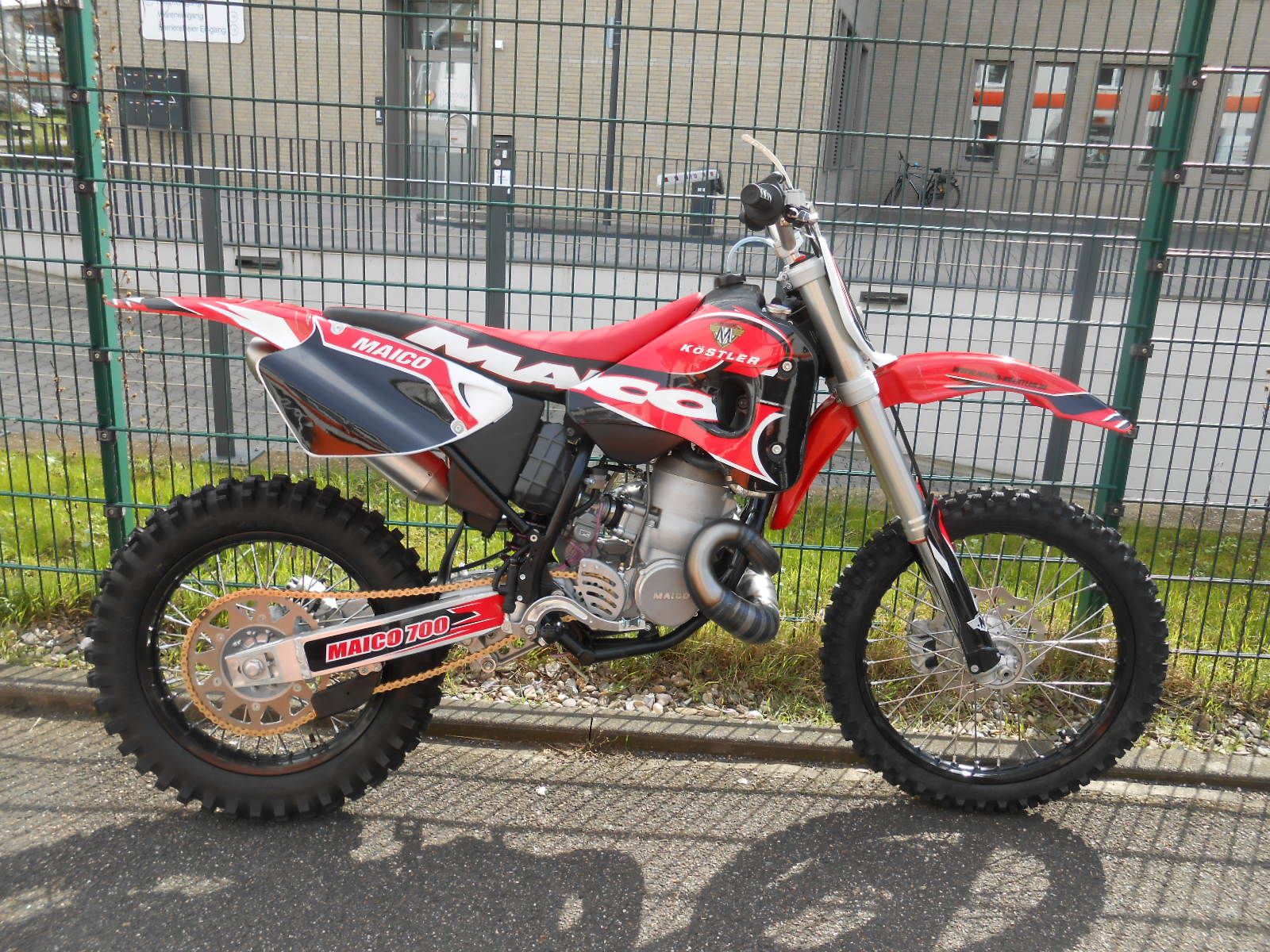 The awesome Maico 700 Cross`23: Available from maico-bikeworld.de for $15,995 - but then you need to ship it to the UK and pay import duties sadly.

---
Megalodon Assemble
The first stage in our bonkers project was to locate and purchase a working motor. Custom 700's have been built in shed's before - there's one guy in Belgium that we were taking particular inspiration from – and these machines often use the 700cc Zabel engines that are widely used in the Sidecar scene. However, the first motor we came across on good ol' Facebook marketplace was something a little more exotic. We found a freshly rebuilt-by-the-factory, practically unused engine called the Mega Engine by Rubig.
Mega is an Austrian company that builds motors for use in the karting and sidecar worlds, and although not as well-known as the Zabel units these things are supposed to be the most powerful 700cc motors in the world – with some crazy reported dyno figures. We snapped up that motor quicker than Neil Prince out of the gates at Farleigh. Project 700 was officially no longer a dream; it was now a reality.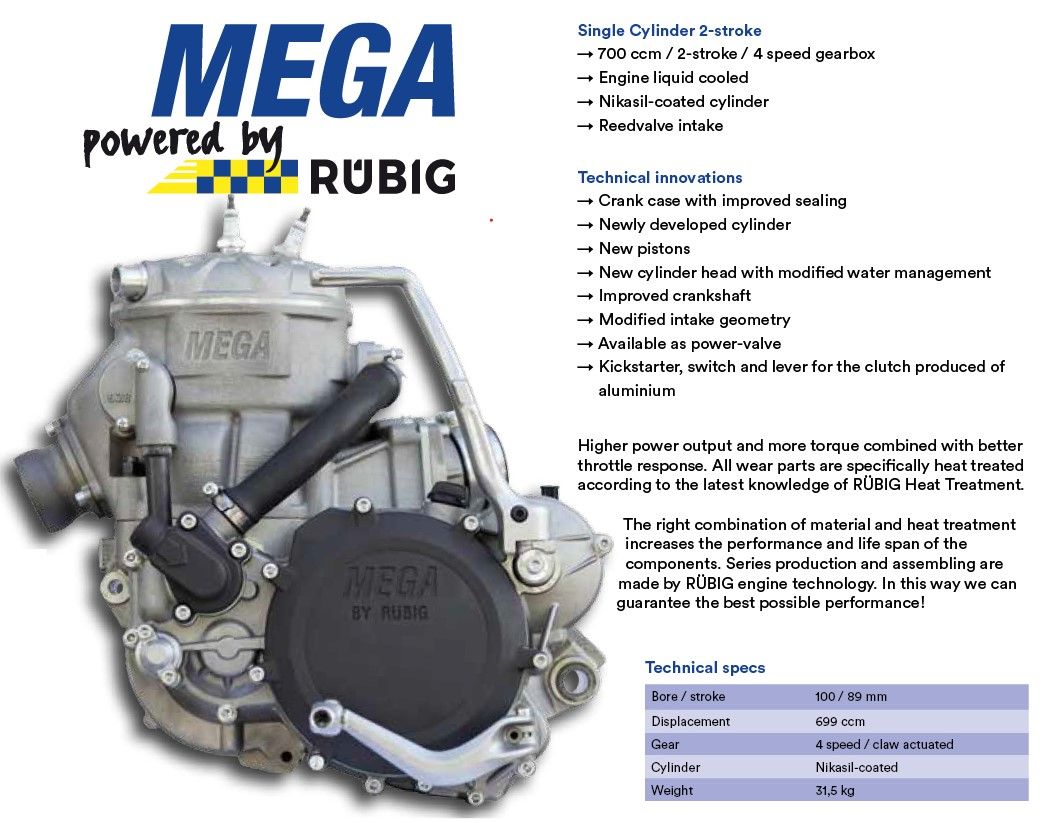 Next, we needed a chassis that had the space to accommodate our motor and the strength to deal with 700cc's of pure chaos. As we were looking for that much needed strength and integrity, we knew that we had to search for a steel frame rather than a more modern ally chassis. Once again, we were inspired by previous builds, and after looking at other examples we concluded that an old Husaberg 650 would provide the perfect skeleton for our beast. Dave Clarke Racing is the go-to place for all things Husaberg in the UK, so we journeyed to Preston to pick up our rolling chassis from him – it was a 2001 Husaberg 650 Enduro model. We hoped our 700cc motor would squeeze in here quite nicely… it didn't, it was time to get chopping!
Luckily, we knew just the man for the job. Chris Thorpe is the brain behind Raven Motorcycles, and he builds bonkers contraptions such as the Suzuki RMZ-1000 (an RMZ-450 outfitted with a Suzuki GSX-R1000 motor) - and in his words he can 'squeeze anything into anything'. I had just met Chris a few months before whilst working on another video project and I knew he was the guy that would help turn my 700cc dream into a bone shaking, ass clenching reality. We dropped off the motor and the chassis at his workshop and let the mad professor work his magic…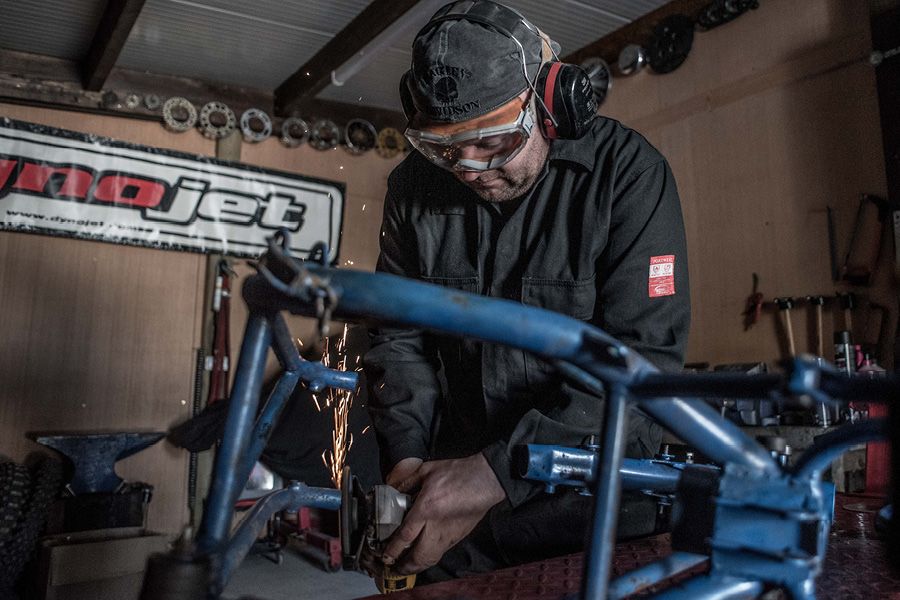 ---
The Custom Build
Chris' first task was to work out how much of the frame we needed to chop and chip away in order to squeeze in our beefy power unit. This was a painstaking process of back-and-forth trial and error. We'd chop with the power tools, then lift the engine back over to the workbench to check how far out we were. Chop and check, chop and check, chop and check. We continued this process over and over until finally, the motor slotted into place perfectly. But we now had a gaping hole at the front of the chassis to plug. This was all in the plan though, Chris got to work on the fabrication to rebuild and reinforce the frame. It was going swimmingly, but as we know, in all good shark tales danger lurks in the deep. We had plenty of obstacles yet to come…
Whilst the fabrication work was underway, I ventured out into the world to pick up parts and products that would not only get the beast running but transform her into a real beauty. As you know we were working to a budget here, trying to build this thing for less moolah than it would take to buy a new one. That quest was aided immensely by the generosity of so many of our friends in the industry who provided expertise, support and product for Project 700. I headed back to the workshop with a bunch of goodies from the likes of WP Suspension, Raptor titanium, ESP Graphics, SM Pro Wheels, Apico, Venhill, and Moto-Master.
From its very conception this bike was always being built for the internet and for the creation of video content. It needed to look cool, and sound even cooler. I knew that we needed to build hype around this thing, we needed a brand for the beast ala Travis Pastrana's 'RMZilla'. We brainstormed many ideas for names and monikers; at one point we leant on the Swedish heritage of the Husaberg and thought 'The Viking' could be a cool name, but it wasn't quite right for our Mega powered demon.
Then it hit me. We were building a prehistoric beast, an apex predator, a monster unrivalled. We were building 'The Megalodon.' The most terrifying beast to have ever lived.
---
Challenges
The beast now had a bad-ass nickname to match her mighty fine looks, but the project was a long way from complete. We had eagerly fitted most of our trick bits, but there were some glaring obstacles that still needed to be overcome. Obstacles that would challenge our engineering prowess and our creative ingenuity.
Firstly, the pipe. We had bought a HGS pipe that was designed for the Maico 700, hoping that it would magically fit the Megalodon. By this point though I believe I had already used my three wishes for the project. The pipe was miles out. I left the task of making this pipe fit in Chris' capable hands whilst we turned our attention to the airbox problem.
The size of the motor and the positioning of the carb meant that we just had zero space for a conventional airbox, so we had to get creative. As predicted Chris made the pipe work – he can fit anything into anything you know – and we were finally ready to get the beast started and begin testing the intake systems. However, that was easier said than done. Kickstarting a 700cc motor would be difficult enough, but in our infinite wisdom we decided to purchase an engine with a left sided kicker. Brilliant.
Luckily, we do have the benefit of a decompression lever, but nevertheless it still takes some effort (that's an understatement) to get the big girl going, especially when she's cold!
I can hardly describe the emotions we felt when we eventually did get her started for the very first time. It was such a buzz, another reminder that my dreams were becoming real, very real.
Now equipped with a living, breathing Megalodon we headed straight to Hardcore Racing to borrow his dyno. I was desperate to see the horsepower numbers, but we still had many things to test and several hurdles to manoeuvre before those figures truly reflected what the motor was capable of. Our first dyno tests left us somewhat dejected. The bike was running dangerously hot, the intake system wasn't efficient at all, and our modified pipe wasn't providing the output we were looking for. The end was in sight, but we still had many more miles to travel yet - quite literally!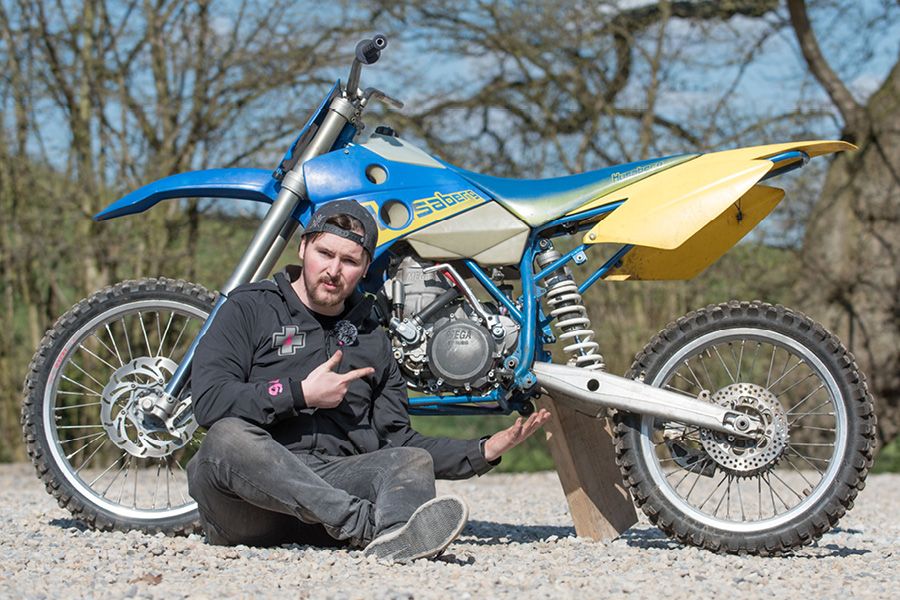 ---
Solutions
To counter the overheating issues we had a much larger, way more efficient radiator manufactured by a fabricator local to us. This new rad worked a charm, meaning that we could dyno test without the fear of doing damage to the motor. We also began development on various intake solutions. We tried foam filters direct off the carb, we tried K&N filters connected to a PVC 'chimney' of sorts, and we even tried running the bike with no filter at all. By doing this we worked out the optimum version of our solution; which was to have a short 'connector' from the carb to our K&N filter, this would let enough air through to allow our beast to breathe. Once we proved this concept with a rough prototype, we had the custom part specially manufactured for us out of composite material by a professional pattern maker. It was costly, but it gets the job done and looks pretty trick to boot.
Now the final problem holding back our bike was the pipe. The modified Maico system from HGS simply wasn't configured to give us the best performance, it was a real conundrum. But Roland Shaw came to the rescue.
Roland is the UK importer for HGS pipes, and he organised for us to take a trip to the HGS HQ in The Netherlands in order to get a custom pipe made from scratch specifically for the Megalodon. We arrived in Holland and to our amazement the big boss of HGS (Henri Gorthuis) himself took the Megalodon and crafted by hand a full system for our monster. It was a privilege to watch and I feel very lucky that our bike now boasts a completely unique, one of a kind, factory exhaust system built by the master himself. We jumped on the HGS dyno before we left and the results were impressive (or terrifying depending on what side of the camera you're on) to say the least. The Megalodon boasted over 70 hp, that's a lot of ponies.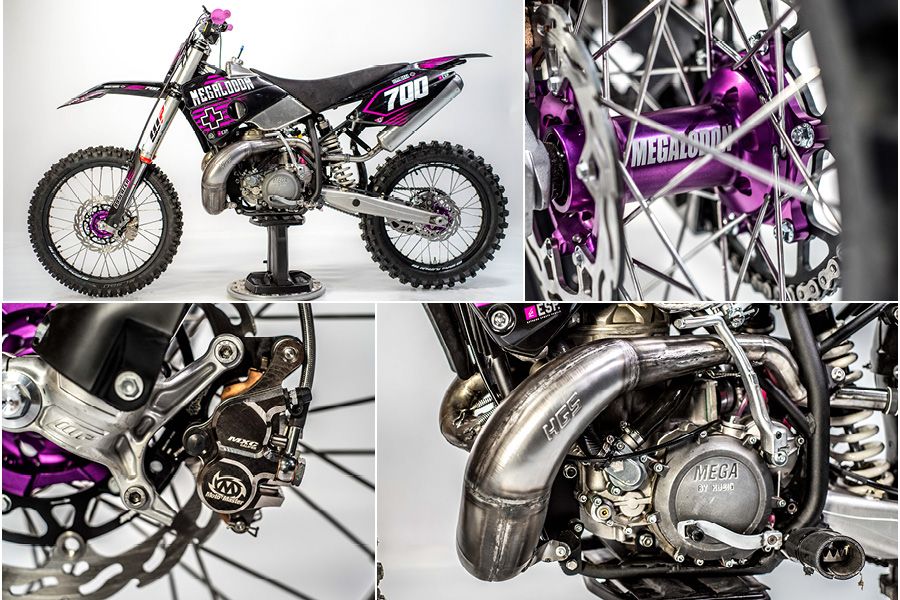 ---
The Ride
If hearing the bike start for the first time was an indescribable feeling, then actually seeing her on track was a wave of delight and fear and joy and terror that kept me smiling for days on end afterwards. We'd been working on this project for eight long months prior to this moment. The night before we rocked up at DMP motoparc for the first ride was sleepless and full of anxiety. Was the bike going to start? How would she perform? Would the Megalodon even survive the day? She was built in a shed after all…
I recruited the services of Ed Bradley from Doncaster Motor Parc to help me test our 700 on track for the very first time. As well as being the owner of the awesome DMP Ed is also an experienced test rider and former 500cc GP racer, so it's safe to say that he was well qualified for the task at hand.
On track the bike was fast. Like real fast. Ed was barely tickling the powerband and the Megalodon was eating up the metres at an alarming rate. The disconnection between how fast it sounded like you were going and how fast you were actually going was disconcerting. You had to try and separate your senses, using your eyes to feel the speed and blocking out those deep barks of the motor barely working up a sweat. Ed said that the engine reminded him of those old big bore bikes – such as the Maico 490 - but he said the chassis was surprisingly nimble and light, unlike those old thumpers of yesteryear. I think it's safe to say that we had created something completely unique in terms of it's character on track.
The Megalodon truly was an arm stretcher – we both complained of sore shoulders at the end of the day! I mean 70hp plus truly is irresponsible, unneeded, and barely useable on a motocross track. But my god was it fun. After all was said and done, Ed and I were grinning like Cheshire cats. We had danced with the devil, we had been swimming with the sharks, we had attempted to tame the Megalodon, and we had lived to tell the tale. Now that's something to smile about…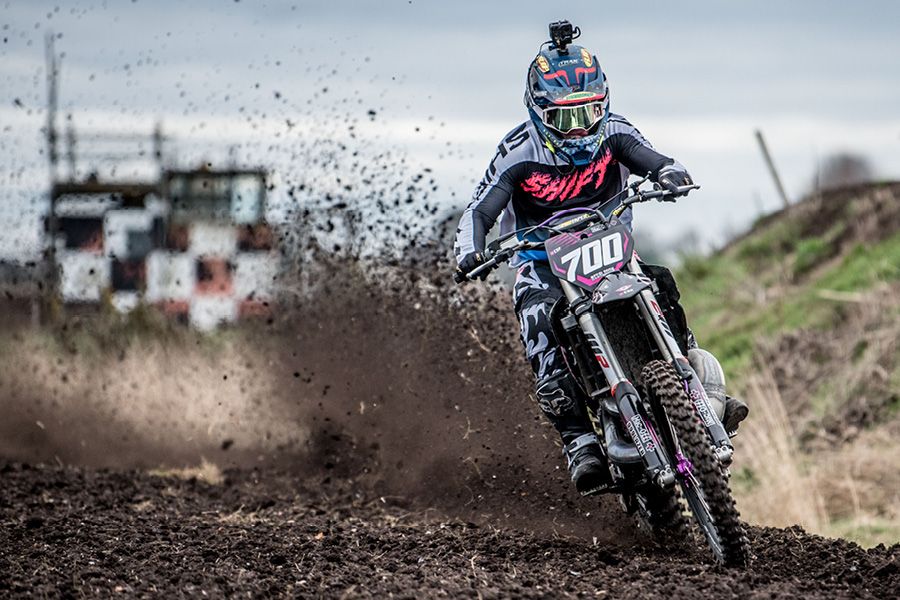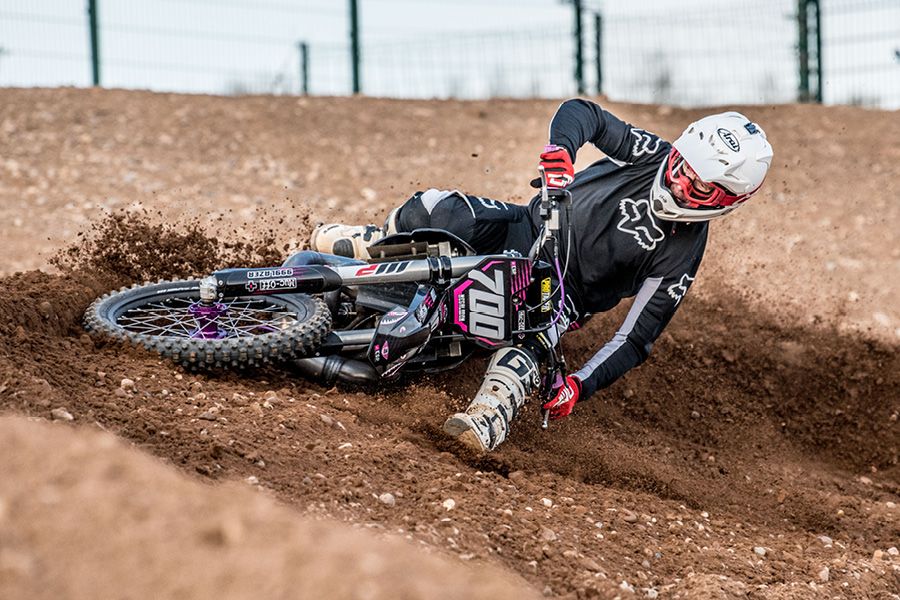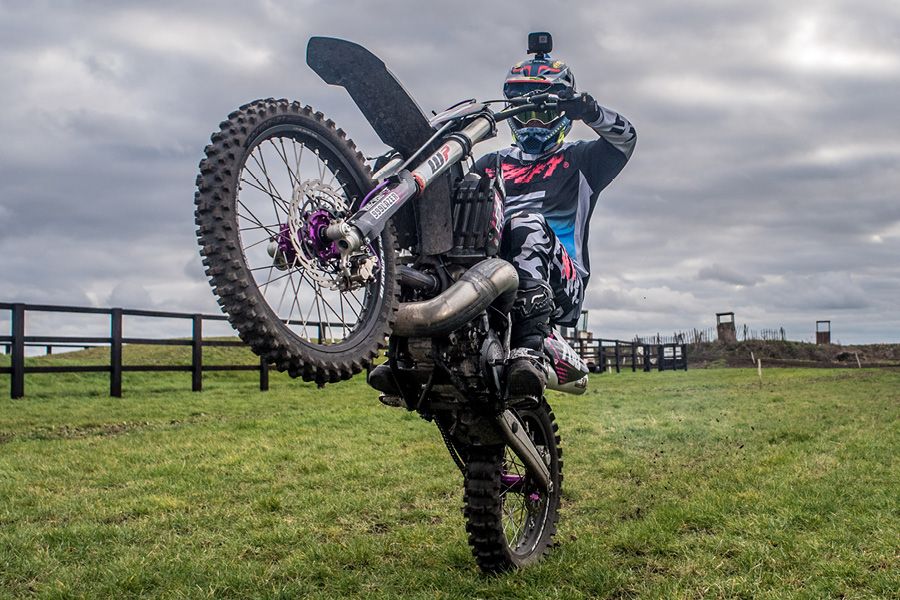 ---
Conclusion
In the end, did we did manage to build a 700cc two-stroke dirt bike in the most cost-effective way possible? Hell no! But did we create a kick-ass dirt bike and produce hours upon hours of wicked content along the way? Hell yeah we did!
In terms of the budget, with all the extra and unexpected costs along the way added on to our original estimates the build came in at just a little under what it would actually cost to buy a new machine. But our expenses would have soared a lot higher if it wasn't for the support and help of some great people and companies in the industry. So, I can safely say that in my opinion - if you want to do things correctly and safely - it probably isn't cheaper to build your own monster two-stroke. Nevertheless, I'm so happy with what we were able to achieve and I'm so excited for the future of this bike. We've got some cool plans in store; you'll definitely be seeing the Megalodon on track again in 2023…
You can watch a playlist of the Project 700 Build series (Project 700).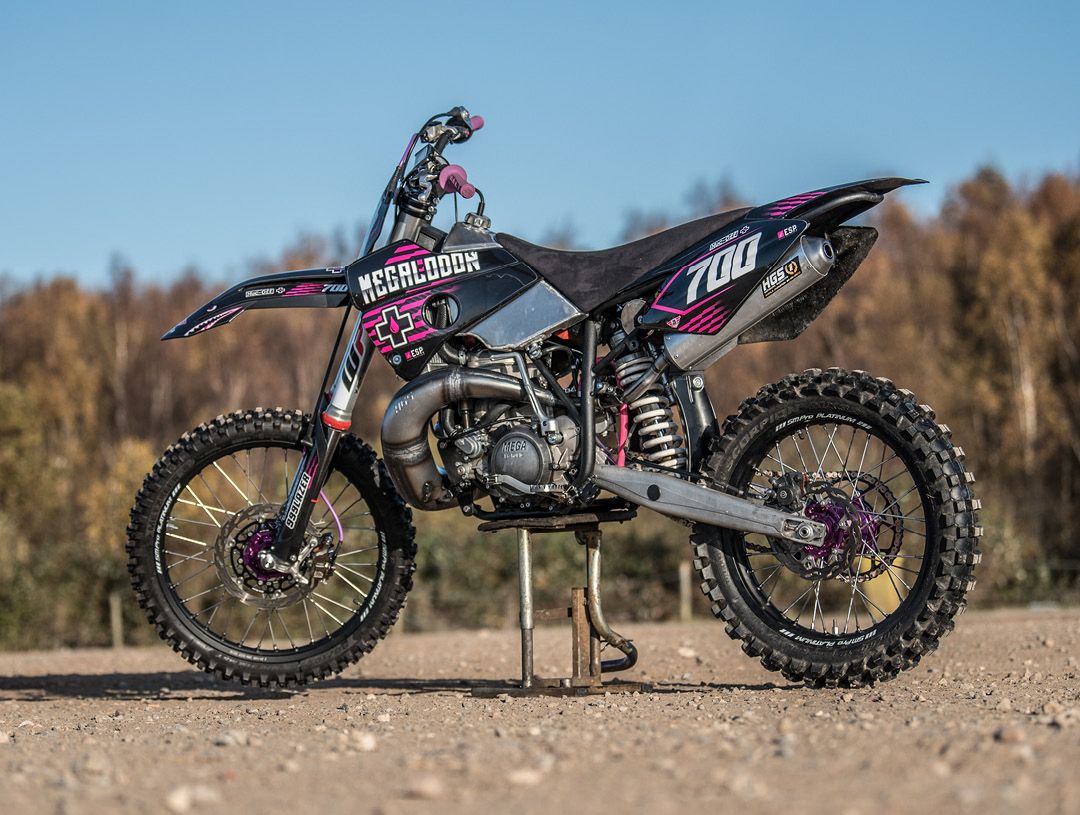 Looking awesome, the final Muc-Off branded Megalodon 700cc 2-stroke MX bike.
---