---
Custom Kawasaki Turbo Z900 RS Cafe
By Alan Dowds
Turbo Zed turns heads
Kawasaki's Z900 RS Cafe is a good-looking retro roadster. But the crazy guys at Big CC Racing have given their Zed an extra 100bhp – doubling its output with a neat turbocharger install.
What's more important to you? How a bike goes? Or how it looks? It's a mix for most people of course, and most of us will overlook a pretty ugly machine if it goes like hell. Just look at how successful the Suzuki Hayabusa has been over the past couple of decades. Conversely, a really handsome machine doesn't have to provide mind-melting performance – Ducati's old 900SS range would be smashed by a well-ridden 600 four, but its slick lines made up for the leisurely pace. The best bikes do both, obviously: Ducati's Panigale V4S looks stunning, and has the motor and chassis to match.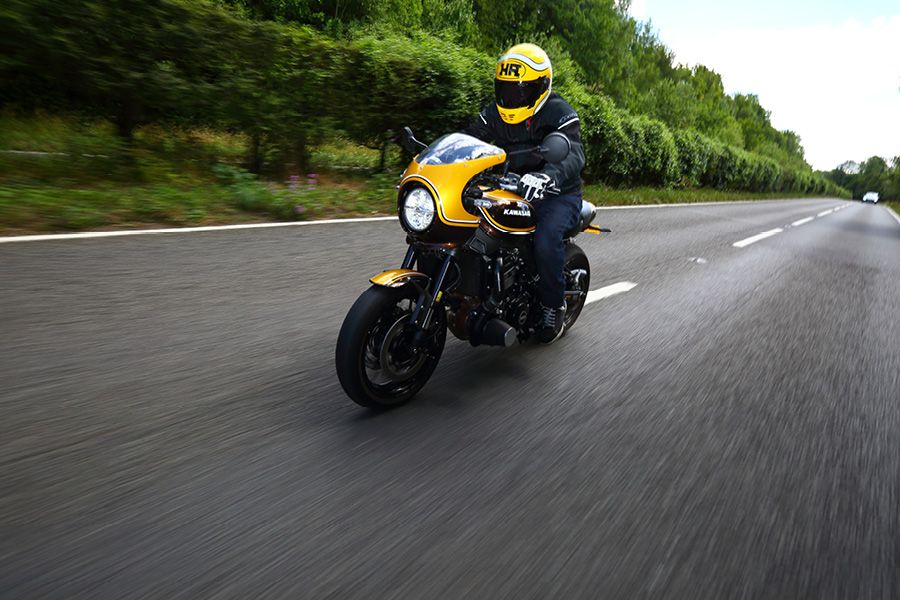 ---
The looks…
Kawasaki's Z900RS Café (and the naked RS version) definitely got the looks spot-on. It's a handsome retro, which harks back to Kawasaki's excellent hairy-chested Z1, Z900 and Z1000 machinery from the 1970s and 80s. The bodywork is a swoopy re-interpretation of the old-school tank and side-panels, the motor (borrowed from the ultra-modern Z900 naked machine) is carefully installed into a subtle steel tube frame, and even the cast alloy wheels are designed to look like wire-spoked rims at first glance.
The grunt…
The RS does okay in performance terms. The chassis has decent road-spec suspension and brake components, with sensible adjustability and good performance. And the 948cc inline-four engine gets a re-tune to give smooth, grunty power delivery. A lower compression ratio and other internal mods drop the power output from the Z900 supernaked's 125bhp down to 115bhp, with a low 10k rpm redline.
For Sean Mills at tuning firm Big CC Racing though, that didn't seem like quite enough in terms of power. Sean's day job is building 500bhp+ turbocharged engines for drag racers and land speed record attempts – including a 1000bhp Hayabusa engine build he's produced for several clients now.
The belly of the beast…
Those engine builds are very serious propositions: thousands of pounds are spent on strengthened engine internals like H-beam conrods, forged pistons, billet crankshafts, bigger valves, massive throttle bodies and firehose-spec fuel injectors. Sean had a different plan for his nice Z900RS Café though – a simple, low-pressure turbocharger install, that costs less than £5k fitted, while using the standard Z900RS engine internals. And gives a power boost that's just this side of insanity – making a whisker over 200bhp at 9,750rpm.
---
Kerb appeal
And here it is – parked up in front of me outside the Big CC shop in Wokingham. At first glance, it looks remarkably standard, the aftermarket Z1-style paint-job aside. Sat on its side-stand, there's little to betray the sneaky power-boosting from the right hand side. Walk round her though and it's a different story: you cannae miss the big Ram-Air cone filter clamped onto the turbo intake, with a slick fabricated turbo manifold, black-anodised air feed pipe snaking up under the fuel tank, and a fat stainless link pipe taking the exhaust gasses back to the shorty stainless silencer.
Sean gives me the key, and I zip up my jacket, plonk my Arai on my head and jump on board. The standard Zed feel continues – handlebars, dashboard, controls are all bang stock – except for the unmistakable white dial of a fluid-damped turbo boost gauge. Twist the key, press 'Start' and an angry rumble erupts from below, the ECU dialling in a fast 2k idle for the cold motor.
Living with Turbo Zed
I've got the turbo RS for a few days, so we can take things nice and steady at first. Trickling through Wokingham's traffic jams, the Kawasaki feels big, soft and comfy. The seat is capacious, the riding position relaxed, and gruff exhaust tone aside, it all feels pretty retro-roadster standard.
Until we get out of town and hit the local bypass that is. I pull off the roundabout onto the empty slip road, and give the throttle a big handful in second gear. Bang! I get a full litre-superbike-sized dollop of power straight in the feels, the front end rears up in a heartbeat, and I feverishly kick up into third gear, speedo digits flashing before my eyes. A momentary pause as the cogs slide over, and then the same thing happens again, only now I'm going much, much faster. Into fourth, and the front wheel still seems to be allergic to the asphalt, as I frantically pull onto the fast, wide dual carriageway. Erk. This is a very, very serious piece of work…
Things calm down as I try to blend into the traffic heading north-east towards London, and this Jekyll/Hyde machine is back to playing nice. Sat around motorway speeds, on a whiff of throttle, the little nosecone lifting the wind over my shoulders, everything is at peace. Even the fuel consumption readout on the dash is being extremely sensible, showing the usual 50-60mpg you get while gently cruising a modern inline-four machine these days.
But the madness is only a heartbeat away. I get a bit of clear motorway, slow down a little, and try full gas again. Even in fifth and sixth, the drive is relentless, instant, brutal. If you've ridden Hayabusas, ZX-10Rs and the like, and think you know what 200bhp feels like, this will proper freak you out, because it all happens in 2/3rds of the revs. A ZX-10R has to be doing 13,500rpm to make 200bhp+ peak power (without ram-air). But this turbo Z900 RS makes that power around 9,000rpm. So you get that massively torquey, 200bhp punch in the face far quicker. It feels like nothing else – something like the bottom end explosion of a Ducati big twin, the midrange of a gigantic triple like the Triumph Rocket III, and the revving surge of a sporty four (crazily enough, Sean's already looking into extending the rev limiter up a little, to give us a few more thousand of those lovely top-end revs…)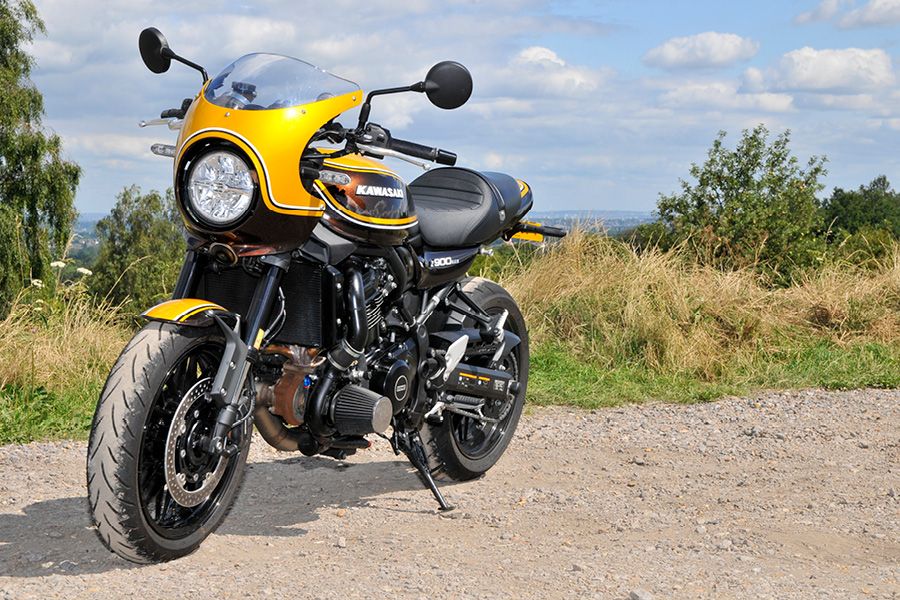 ---
Does the novelty wear off?
No! I spend the next week on the turbo Zed, and the fun just doesn't stop. Sean has fitted a cheap-yet-effective manual boost control onto the turbo setup, so you can actually reach down and dial in more or less power as you ride along, like an analogue rider power mode/wheelie control… Engine apart, the Z900 is totally stock, so the rest of the riding experience is exactly as you'd get as standard – losing the stock exhaust and catalysts cancels out the weight of the turbo system, so even the mass is about the same as stock. What I would like is some better rubber – the standard OE Dunlop GPR300 tyres worked well enough on the warm dry roads we tested on, but they weren't built with 200bhp superbike performance in mind…
In the end…
So – the Z900 RS Café turbo edition is a proper barrel of laughs, looks great, and has that indefinable madness that comes with an aftermarket turbo install. Plus, it's a proper street sleeper, and will catch out plenty of sportsbike riders at the lights.
Best of all though is that price – just £5k fitted, including VAT. Add on £7,000 for a lightly-used donor Z900 RS/Café (they're only £10k brand new) and you can have an H2-matching blown super-roadster for just £12k, with sweet retro looks, and total ease-of-use when you're not going crazy. Tempted? Give Sean at Big CC Racing a shout: www.bigccracing.com
---