---
Custom Repsol Honda C90 Cub
By BeMoto
IS THIS THE MOST AWESOME HONDA C90 EVER ?........We think so
We first came across Pete McCrave's Honda Cub via Social Media and boy did it catch our attention. This is, in our opinion, one of the best (not to mention one of the most unique) examples of a custom cub that we have come across.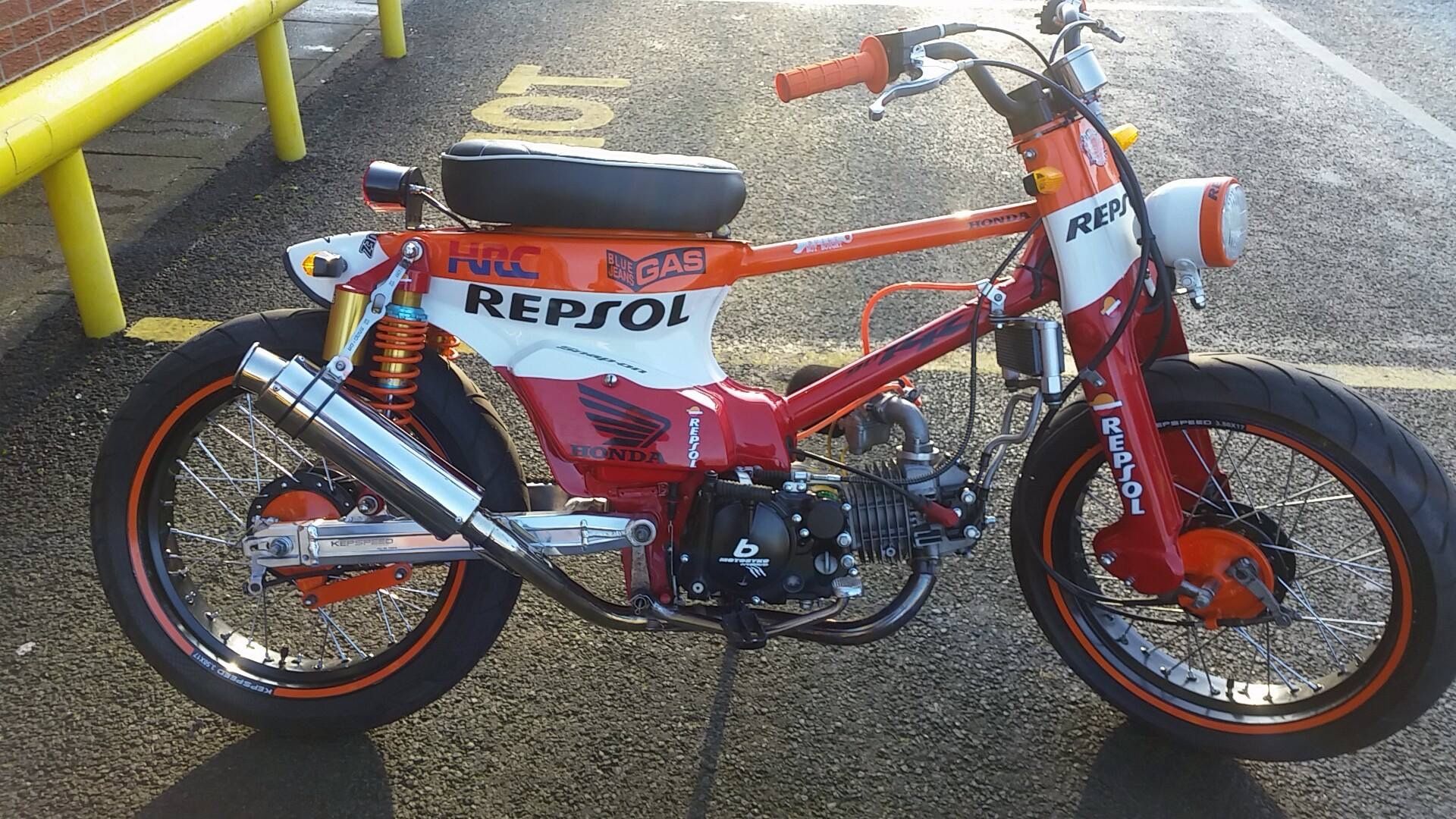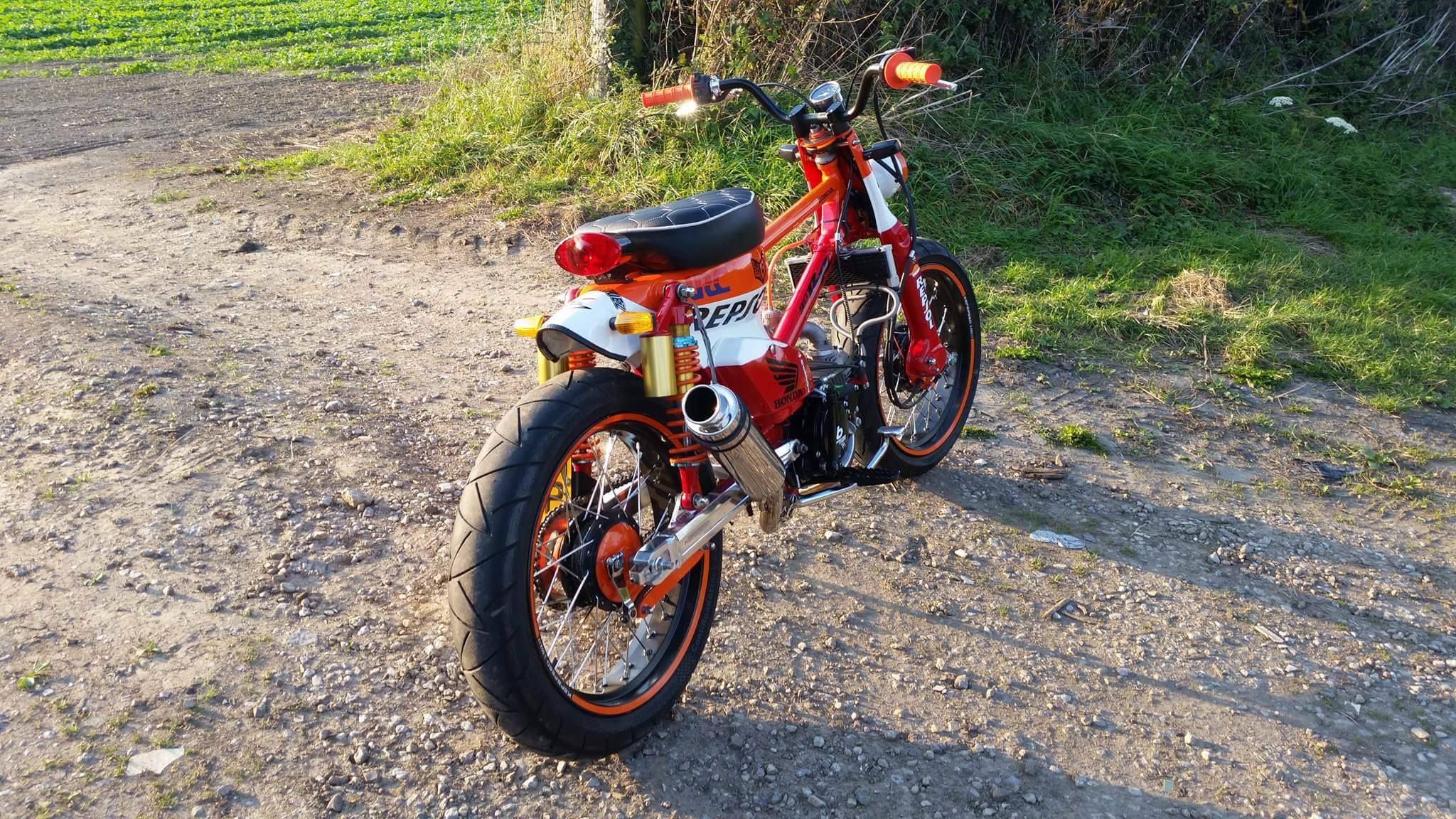 ---
The Honda Cub is the best selling vehicle of all time…...
Yes, that's best selling 'vehicle' not just 'motorcycle'. It has been in production since 1958 in many different guises and engine sizes with over 60 million unit sold! What made the Cub so popular? It was simple, affordable (to both buy and run) and incredibly reliable.
Affordable and reliable are not words that are usually associated with 'exciting', 'unique' or 'special' but the bike that Pete owns certainly is a bike that can be associated with such words.

Read a brief history of Honda motorcycles here.

---
Pete's C90 (nicknamed Polly) started life in 1997...
Pete has a keen eye on the Custom scene and so after a number of years of ownership he set about customising Polly with help from Phil Jones and all the guys (inc James Gibson) at Camphill Chop Shop.
The bike was stripped down to it's core components and the frame was sanded back to bare metal. Pete's, a keen follower of racing, and a fan of a certain brand and colour scheme - that was the paint job sorted!!….and boy does this work - a colour scheme synonymous with racing and sports bikes is an unusual choice of colour scheme for a custom cub but it's this unusualness that grabs people's attention.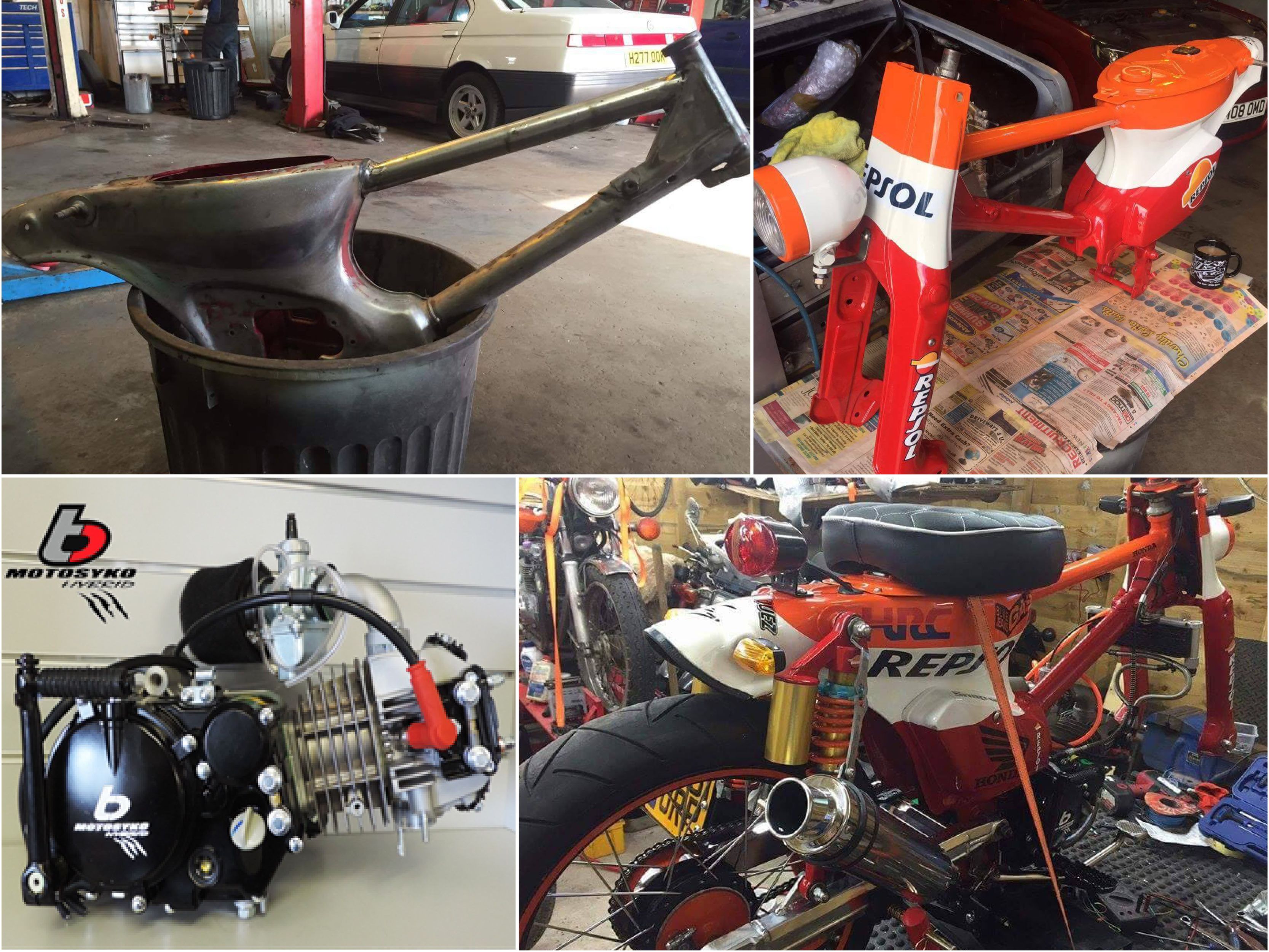 A large number of the parts were sourced from Darren Barrett at Mini Bike Craze. According to Pete, if you want to modify your Cub then these are the guys to go to get the parts. Polly was treated to a Kepspeed extended swing arm, uprated aftermarket rear shocks, custom exhaust, custom seat, Renthal bars (which give a great riding position) and more modern 12v led lights and indicators.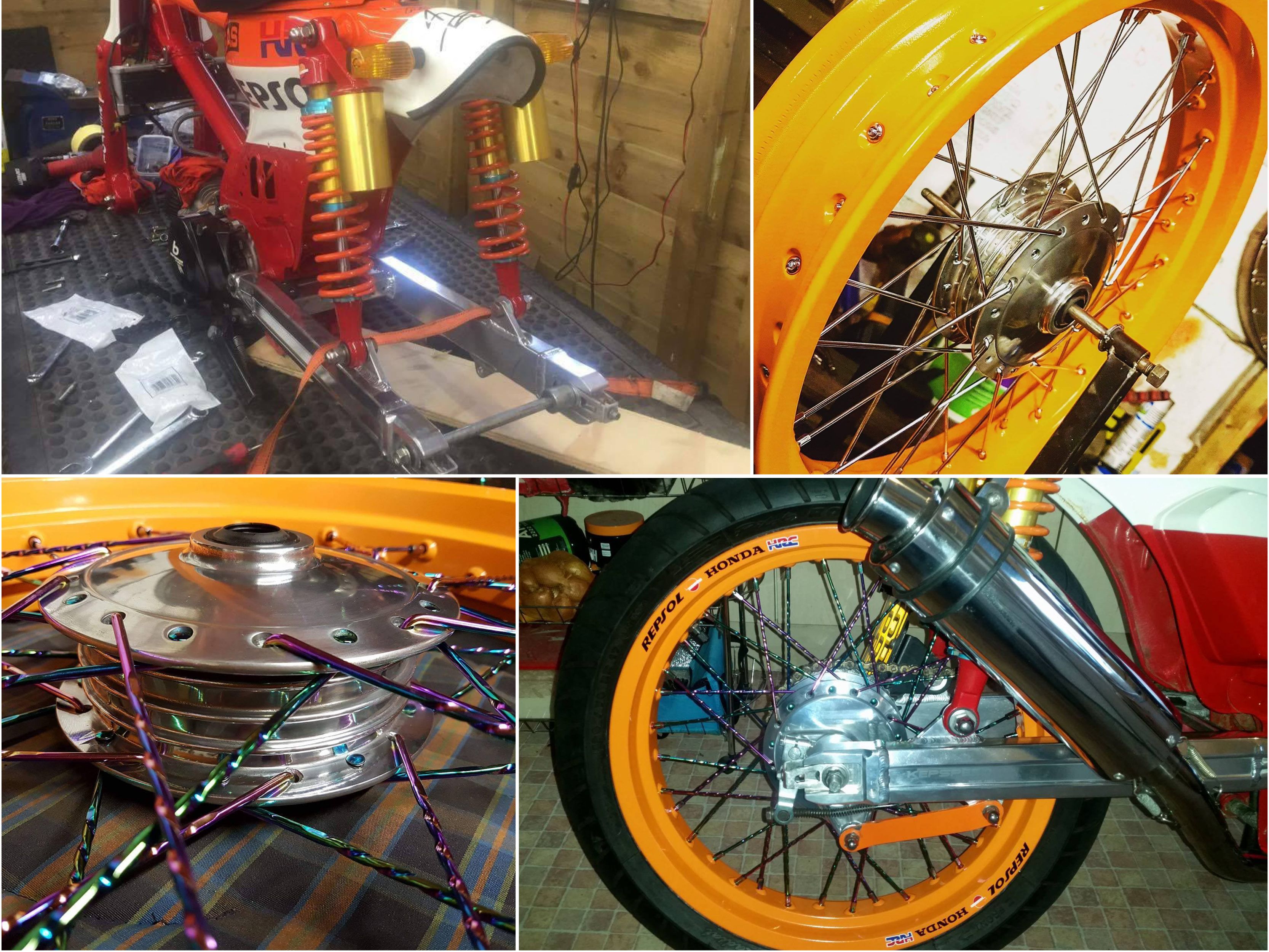 To provide a little more power, Polly was treated to a Motosyko Hybrid 150cc race engine with a 4-speed manual clutch. The icing on the cake was the addition of the gorgeous Kepspeed 17 inch rims wrapped with much larger and modern 120/70/17 tyres front and rear.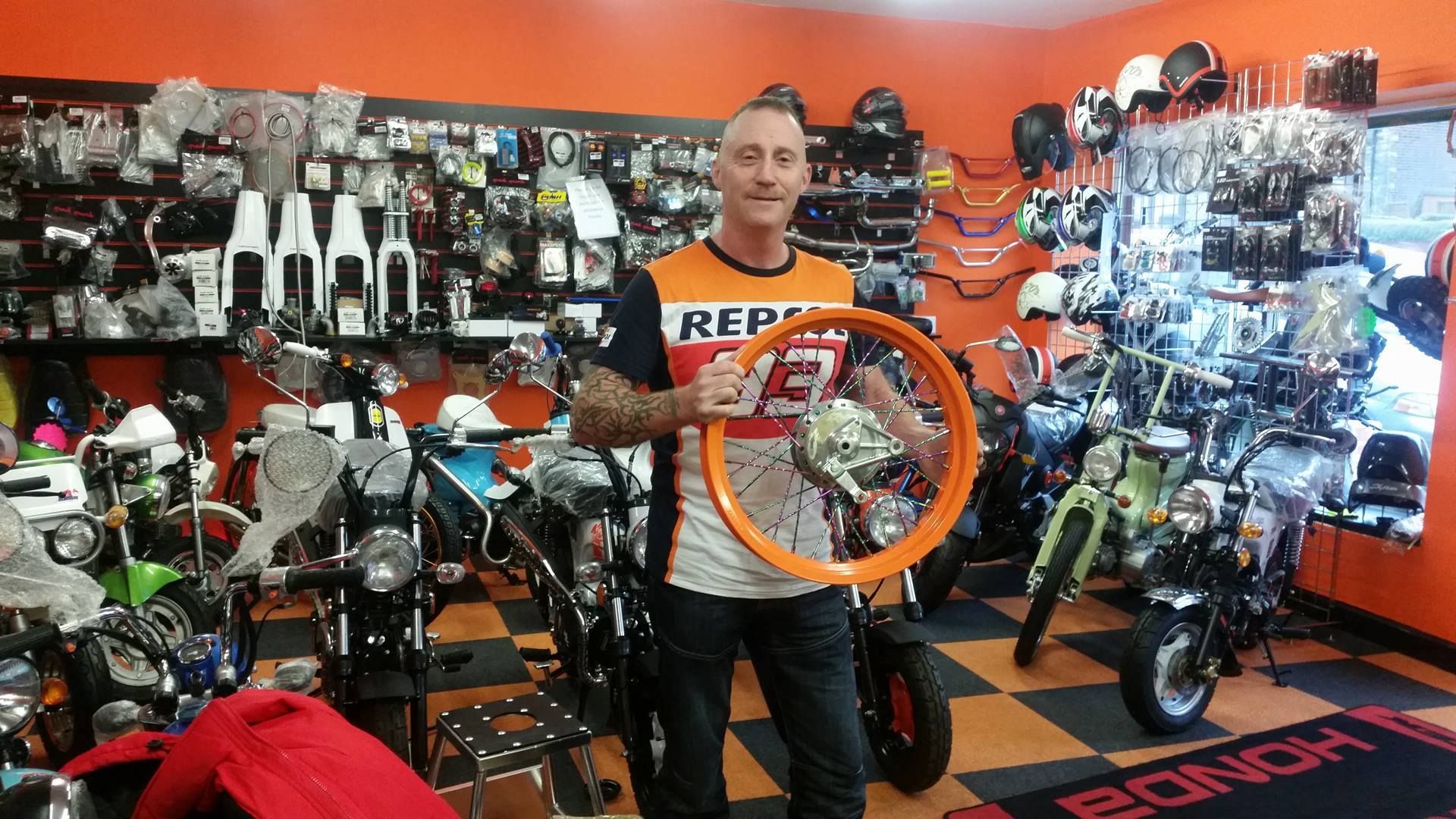 Although the bike is technically complete, it is never finished. Pete has changed the wheels again, laced up by Paul Guy of Guys Customs…...but they are works of art! Quite simply what Pete has is a very unique, tailor made bike that is more likely to get the attention of a crowd when parked then pretty much any other.
A beautiful, one-off bike Pete - you should be very proud!
---
Matching helmet designed by Paul Dalloway at Graf-x Custom Paint Work.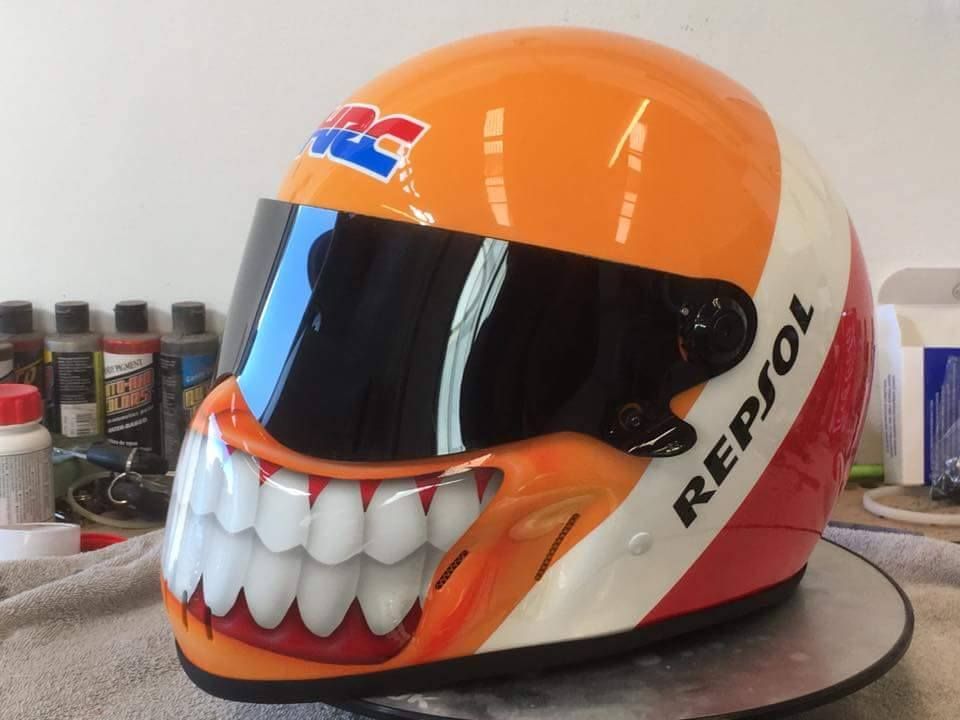 ---
Give BeMoto a call to insure your Honda Cub?

Bike insurance specialists for all bike types, age and value including modified and multi-bikes. Custom Honda C90? No problem.
Honda Bike Insurance for all road bikes and collections
Honda Off-Road Insurance (Fire and Theft cover - from your garage or 'In Transit')
Honda Trackday Insurance (insure your CBR for crash damage at any UK and EU track)
Call us on 01733 907000 to get an insurance quote for your Honda motorcycle.
---