---
Distinguished Gentlemans Ride London 2017
By Nyan Amer
Images Courtesy of Hedon Helmets / Shot by Caylee Hankins
---
A Good Day to be Distinguished
On Sunday September 24th 2017, tens of thousands of men and women in hundreds of cities worldwide took to the streets to raise awareness and funds for men's health, specifically prostate cancer and men's mental health.
The event is called the Distinguished Gentlemans Ride 2017, the concept is simple dress to impress in your best dapper attire, oil your beard, curl your moustache and ride your retro, custom or classic styled motorcycles. Inspired and started by Mark Hawwa in 2012 it brought together over 2,500 riders across 64 cities. Skip forward to 2016 and the event swelled to over 56,000 participants in 505 cities in 90 countries and raised over $3.6M US Dollars.
Sunday's ride was set to raise the bar and the awareness, with 92,681 riders and an amazing $4,518,234 US Dollars donated*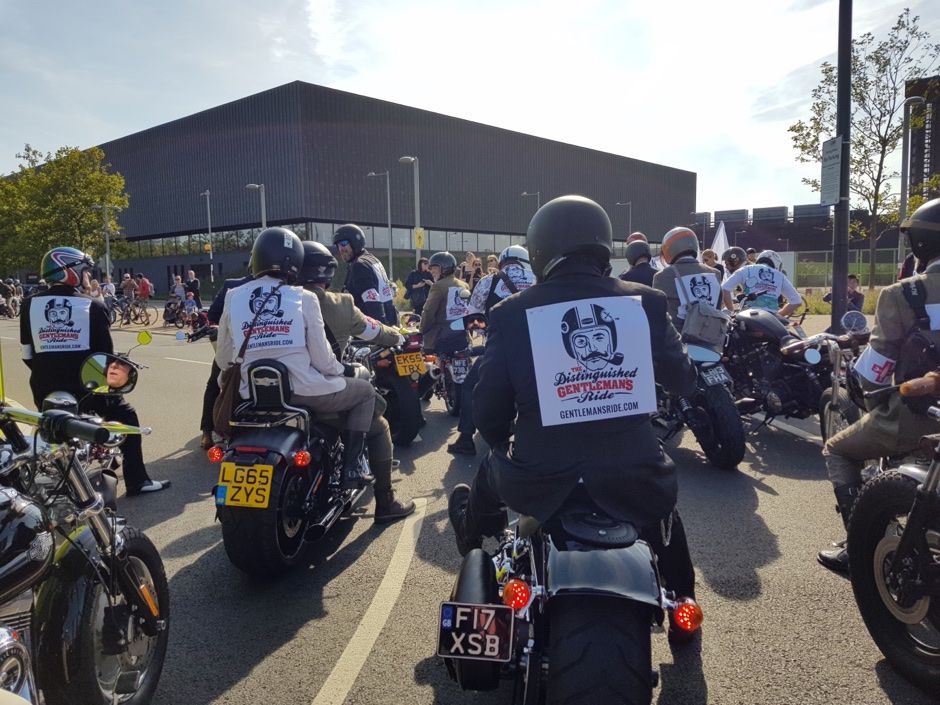 I was fortunate to take part in the London ride, where over a 1,000 (closer to 1,200) bikers gathered in their dapper best. It was a spectacle to be seen and appreciated but no small feat by the organisers at the Movember Foundation & The Bike Shed.
As mentioned the idea is to gather donations and sponsorship and ride a retro, custom or classic bike. Last year, I gathered some huge support for friends and family more than generous donations, I borrowed a good friend's Yamaha XS650 Custom Chopper, and her temperamental nature saw me last 2 miles into the ride before she gave up the ghost.
This year I was determined to return with an appropriate bike, dapper attire and charitable donations in hand and pledged (if I went the distance).
Despite a few options from superbikes, to a custom street tracker, I had nothing I felt appropriate to ride for the DGR. I took this as an opportunity, to embark on another shed build to be restricted by time and budget. I would like to add, behind every shed build is a patient and understanding girlfriend and partner ;-)
---
So what did I build I hear you say?
I have always romanticised about the most successfully sold bike in history, the Honda Cub 90. Needless to say there are many, many Cub 90's to choose from and I will share that in a separate Shed Build Blog.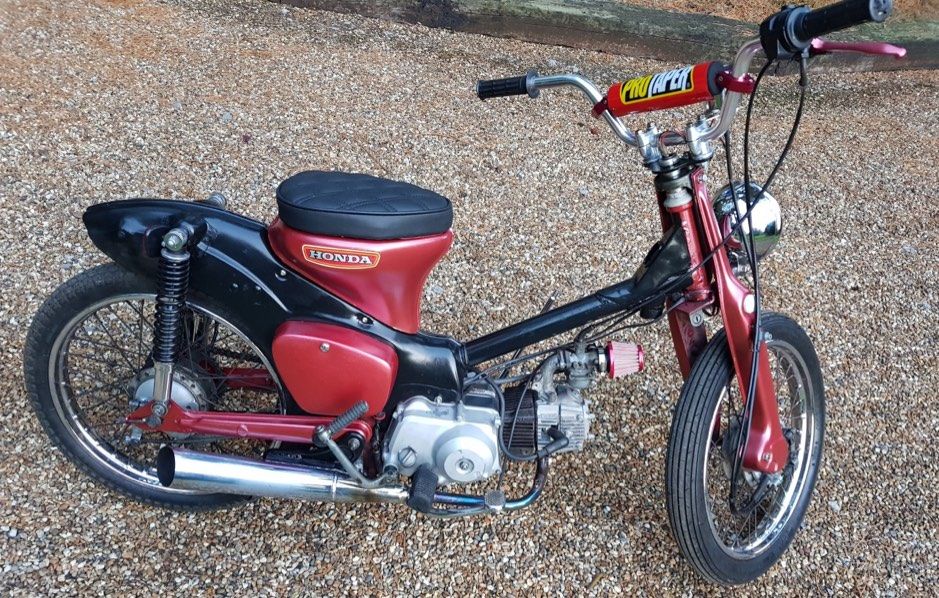 Fortunately I was able to finish my build with literally hours to spare, she was MOT'd, taxed and most importantly insured thanks to the custom policies from BeMoto. With no idea of how she would fare, on the open road, I set of on Sunday morning at day break on the 20 mile journey towards the Olympic Park. For anyone up that early it must have been a spectacle to behold, at 6'2 & circa 100kgs, I could have been mistaken for Donkey Kong in tweed.
Along the route I met some fellow dapper chaps, from the London Café & Custom (LCC) Bike Club, where they offered me support and assurance I could make it. There is a reason Honda has sold over 60 million Cub 90's, it was perfect and didn't miss a beat.
On arrival in Stratford it was clear that there were some amazing bikes but a lot more than expected, it was going to be a challenge for us all to ride 20 miles across London to Westminster and back. Feeling confident in the Cubby's abilities I offered my services as a corner marker and I have to say it was a great experience. They say the sun shines on the righteous and we were obviously blessed by the weather which was perfect for an Autumn morning.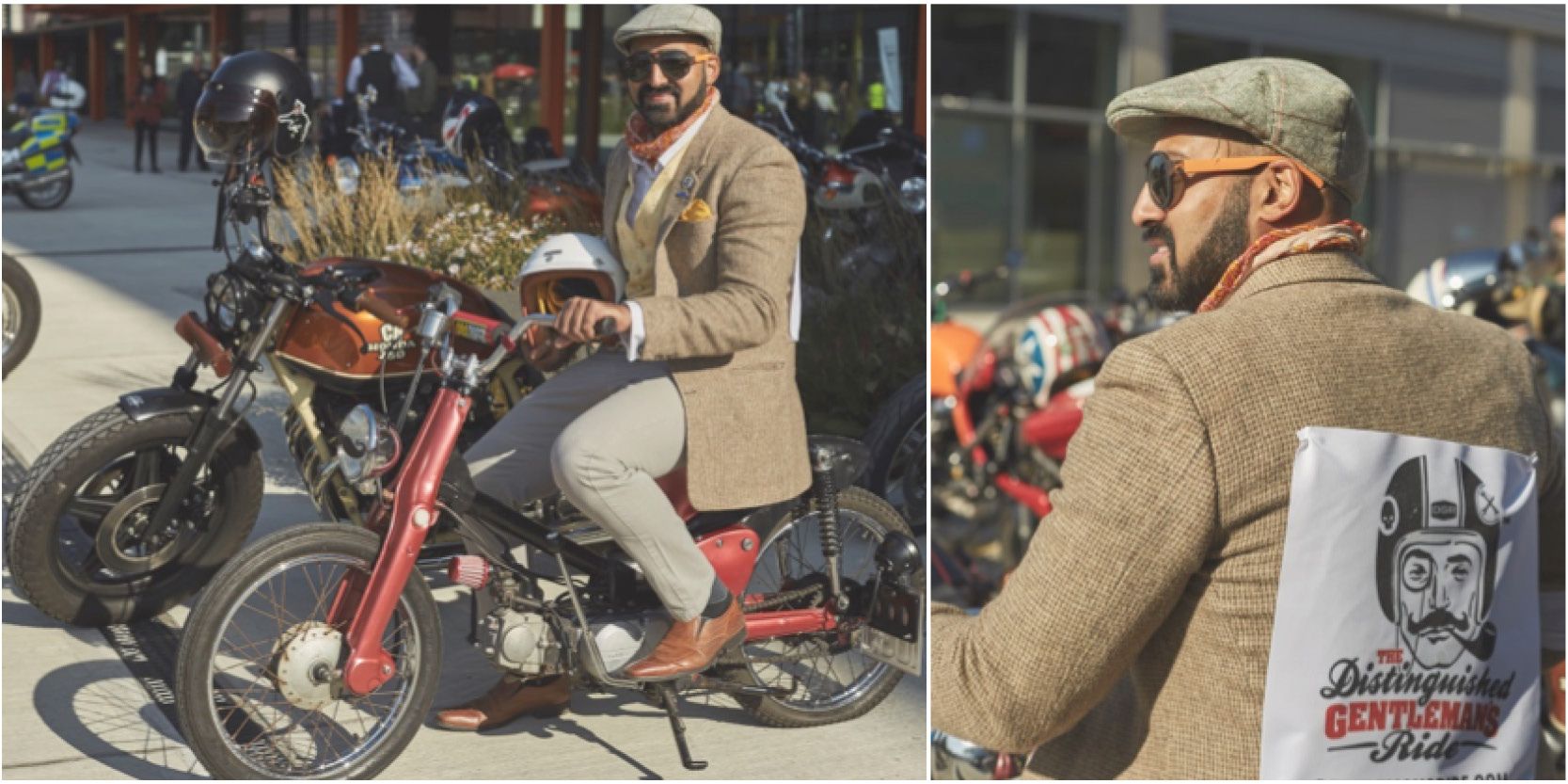 As it turned out I was the 1st marker on the ride, and I got to see everyone go by and it was impressive, not only did it showcase the solidarity for the cause but also the detail in the custom bikes and the dapper attire. Once I had seen the thousand plus riders past the A12 junction, I jumped back on my trusty Cubby, and made some progress through the pack. As a daily commuter I was more than happy with the London traffic, the joy of the C90 was it made light work in making progress through the traffic but also the DGR riders.
I made pitstop for some air, and then onwards to the Brick Layers Arms roundabout, where I relieved a fellow corner marker to move on, and saw the pack through again and then repeated the process again at Waterloo roundabout to guide on the tail end of the ride.
All in all with over 1,000 dapper bikers on the London streets, and over four and a half million dollars raised for men's health, the Distinguished Gentleman's Ride was an amazing event and I thoroughly recommend it to anyone.
*(at the time of writing)


---