---
Dream Rides - Triumph Bonneville T120R (1966)
By BeMoto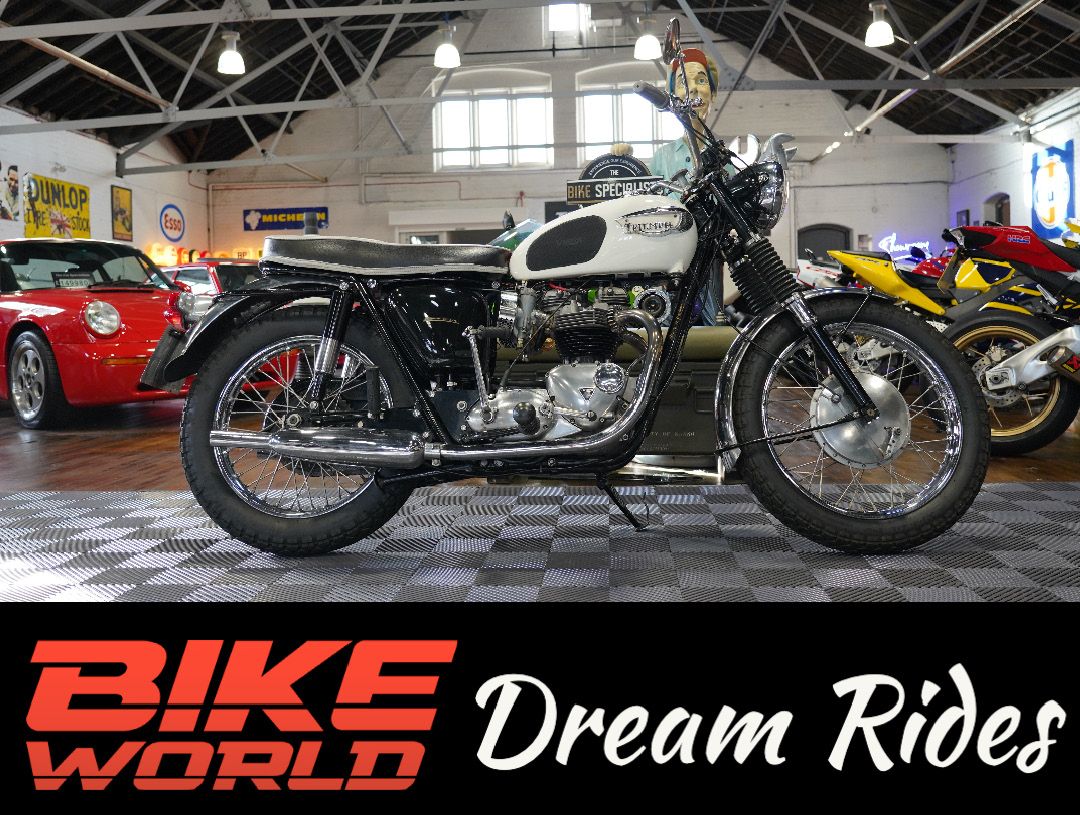 ---
Classic. British. Iconic. Fast (at the time and quick enough now). Owned and ridden by legends. The Bonneville T120R is from a time when Great Britain was the global powerhouse for motorcycling. These were the epitome of cool when they were released and still are now. Steve McQueen, Marlon Brando, Clint Eastwood were all owners of these bikes.
New/old - or Classic-styled bikes - are hugely popular now, but if you've never ridden a proper sixties Triumph, you won't be surprised that the brakes and chassis won't match the engine performance - unzip your jacket to help slow you down and take a deep breath heading into a fast corner…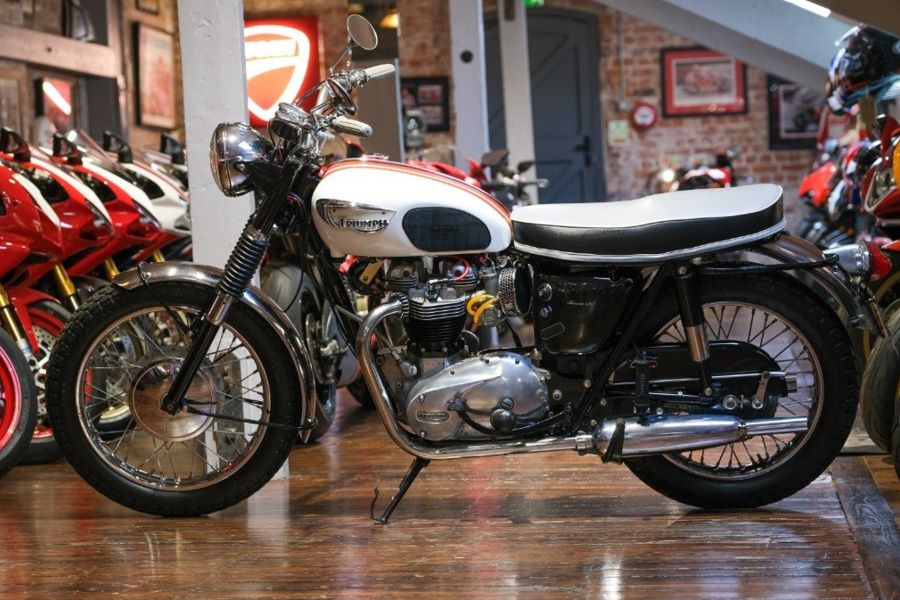 ---
At BeMoto, we still like the ratio of time spent riding bikes more than working on them, but if you're into owning a real classic that still rewards, then this happens to be one of the best.
1966 may best be remembered as the first (and currently only…) time England won the football World Cup, but it was the same year this Bonneville left the production line. Those lucky fellas at Bike World managed to throw a leg over a US-model (slightly different spec differences to a UK bike, see below) as part of the BeMoto-sponsored Dream Rides series and thanks to The Bike Specialists for letting them have a go. They have some seriously nice bikes there…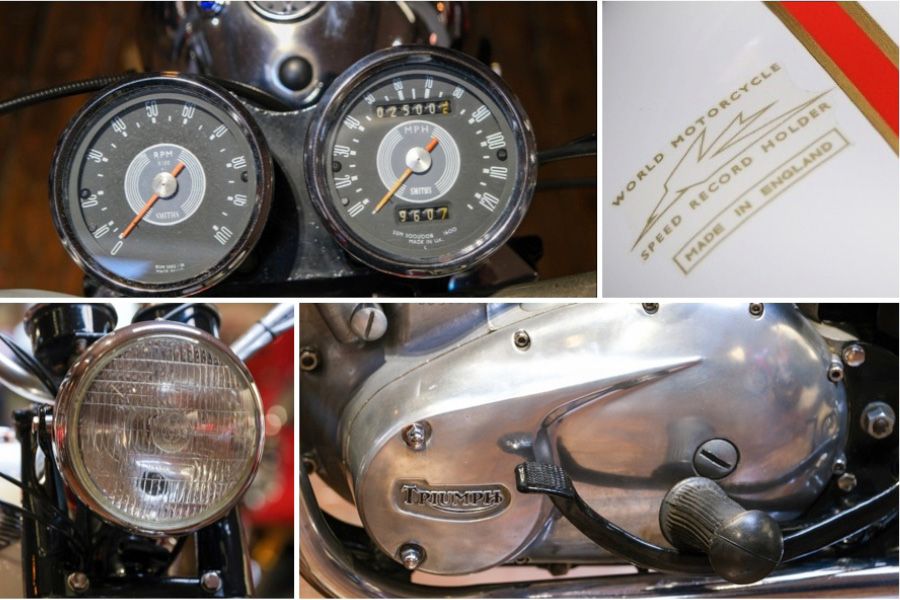 ---
1966 Triumph Bonneville T120R model information
Model designations for the 1966 Bonneville range were as previous years: T120R was the 'Road' version, T120C was the Off-Road/Street Scrambler/ Enduro, and the TT Special was a Racing version, basically a stripped down T120C with model-specific exhausts (TT pipes) and race tuning. During '66 it did get its own model designation as the T120TT.
For the US and UK markets, the paint scheme differed with UK bikes in Grenadier Red with Alaskan White accent while the States had models in Alaskan White with Grenadier Red stripes.
For 1966, the bike got more power and torque with an engine tune fed by bigger carbs, the frame geometry was changed for better stability and altered to allow for wider tyres.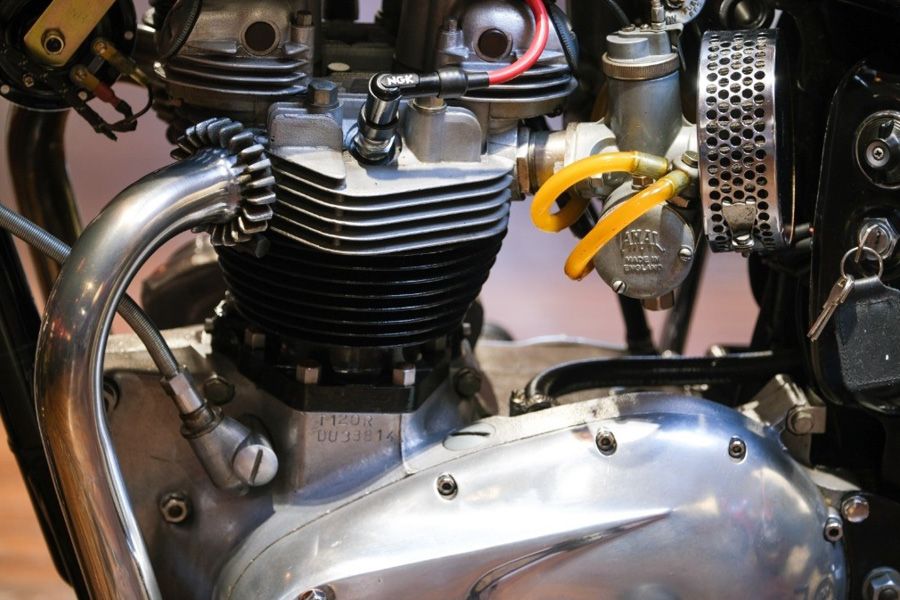 ---
Where does the name Bonneville come from?
The Bonneville T120 gets its name from the famous Bonneville Salt Flats, Utah, USA where Triumph and others attempted to break the motorcycle speed records. The Bonneville Salt Flats are a dry lake bed that is ideal for high-speed racing. In 1955, Johnny Allen set a new world record at Bonneville on a Triumph Bonneville, achieving a two-way average speed of 193.3 mph (311 km/h). This achievement helped to popularise the Bonneville name and make it synonymous with speed and performance.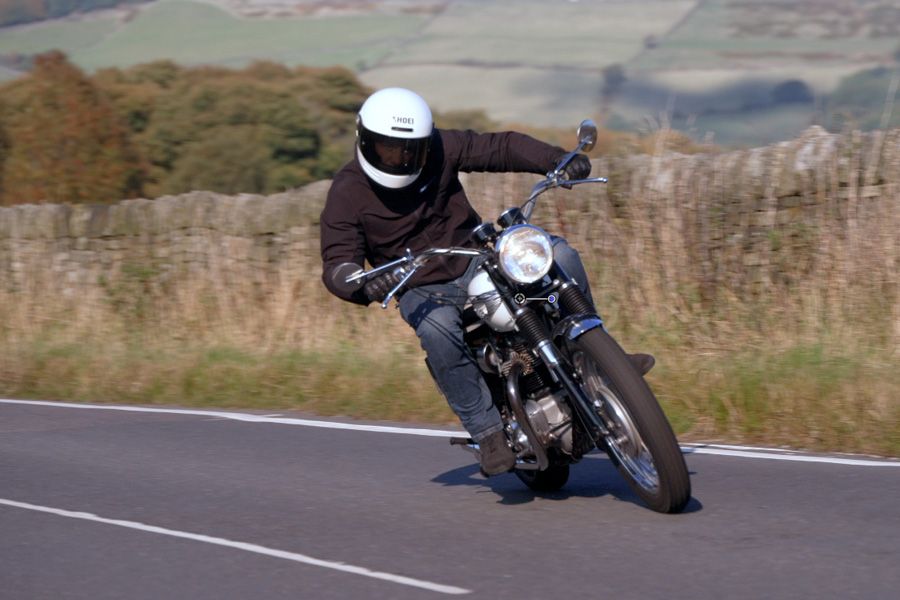 ---
Riding a 1966 Triumph Bonneville T120R today
As you can see from the video (below), riding a 50-year old bike today needs a lot of concentration as the gear shift is on the right and the brake is on the left. So that will take some brain power. Well, A LOT. Then there's the awful front brakes…
But this is a bike that you have to use your 'feel' and respect the engine speed. It's about cruising and not trying too hard. And if you are buying this bike to thrash, then you really are a special kind of something!
---
1966 Triumph Bonneville T120R specifications
| | |
| --- | --- |
| Engine type | Air-cooled OHV vertical twin |
| Displacement | 649cc |
| Bore & Stroke | 71mm X 82mm |
| Compression | 8.5:1 |
| Carburetors | 2- Amal Monobloc 1-1/16″ |
| Ignition | Battery & coil |
| Engine output | 47 bhp @ 6500 rpm |
| Primary drive | Chain |
| Clutch | Multi-plate, wet |
| Gearbox | 4-speed constant-mesh, right-foot shift |
| Frame type | Brazed lug, full-cradle, single downtube |
| Suspension, front | Telescopic fork, hydraulic damping |
| Suspension, rear | Twin shocks |
| Brake, front | 8″ SLS drum, full width |
| Brake, rear | 7″ SLS drum |
| Tyre, front | 3.25″ X 19″ |
| Tyre, rear | 4.00″ X 18″ |
| Fuel Capacity | 9.5 litres (US) / 19 litres (UK & export) |
| Wheelbase | 140.3cm |
| Seat height | 77.5cm |
| Ground clearance | 12.7cm |
| Weight (dry) | 165 kg |
---
Do you have a bonnie Bonneville that you need cover for? Whether it's modern, classic or modified, we'd love to look after it for you. Give our friendly team a call on 01799 907 000.

---