---
Ducati Desmosedici D16
By BeMoto
HOW TO AFFORD A DESMOSEDICI…….Get divorced and find the right woman!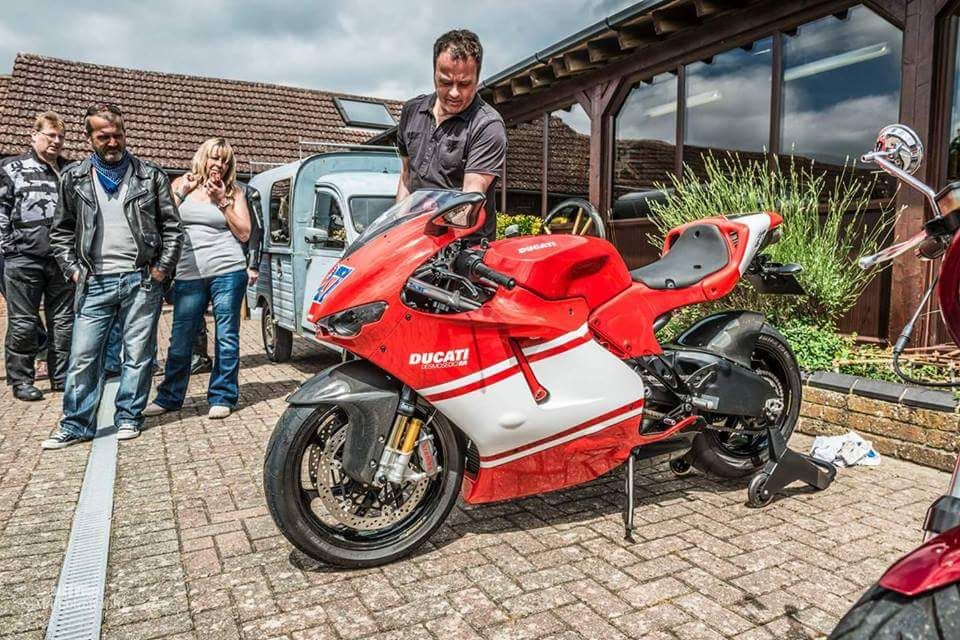 ---
It's not everyday that you come across a Ducati Desmosedici, let alone one with the extremely rare and expensive GP7 kit. Vince, a keen follower of the BeMoto Facebook Page, got in touch with us asking if we could provide a quote to insure his - how could we refuse!
The Ducati Desmosedici D16 is an ultra rare (only 1,500 examples produced for public purchase) road legal version of the Desmosedici MotoGP bike. At a list price of just over £40k (and pretty much only available to those with a Ducati 999R) it was out of the reach of all but the select few. Like the more recent and even more expensive (£138,000 expensive!) Honda RC213V-S it is very much a MotoGP bike with lights, mirrors, a horn and a number plate.
---
The Desmosedici was instantly an icon...
An Italian thoroughbred showcasing Ducati's engineering capabilities. A dream bike - that many of us continue to dream about owning. The story was much the same for Vince:
"I'd followed the press reports about Ducati building a road legal Desmosedici, but I didn't believe it would ever happen. Then Ducati themselves said it was true! I couldn't wait to see one and bought all the mags with articles and write ups on the Desmo. I didn't have the money to buy one let alone the prerequisite of owning a 999R First. It was only ever a dream bike that I had no chance of ever owning."
But……. Vince did manage to acquire one…....... it wasn't without sacrifice - It did however include the purchase and then the sale of a Ferrari along the way!!
"Some time had passed since the launch of the bike…. and in that time I had gone through a divorce. After the settlement came through with me losing the house…... I thought fuck it and spent £23k on a Ferrari!....... and moved back in with my parents!! I thought I wouldn't lose that much money when I came to sell it- anyway it ended up staying in storage for a few years as I was trying to sort my life out."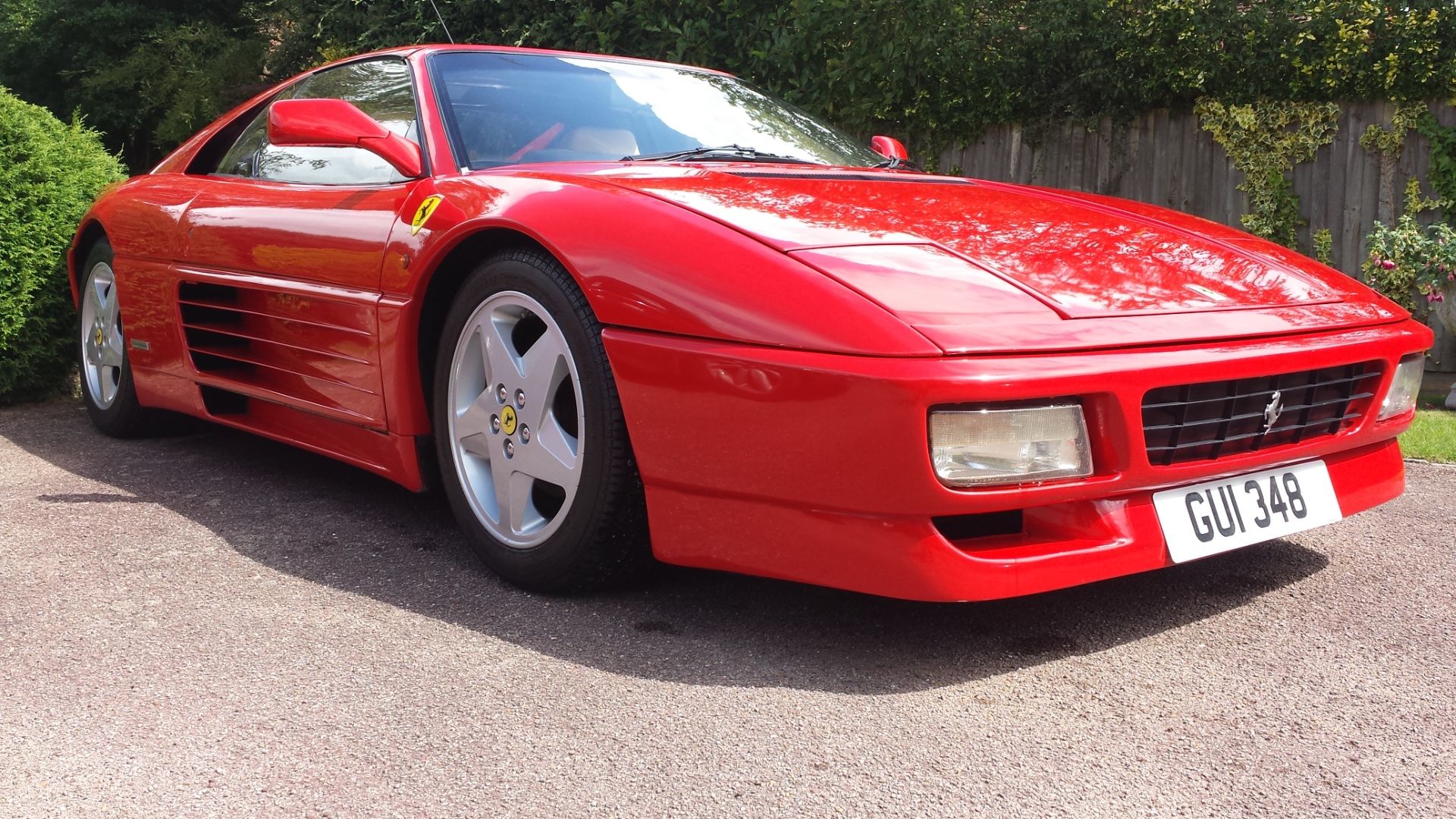 Vince took a risk purchasing the Ferrari, at a time when the classic car market and especially the modern classic market was at a bit of a low. He purchased the car to cheer him up realising that he would not lose much money - but actually the Ferrari turned out to be quite a buy, it appreciated in money during his ownership. Things were certainly on the up!
"A few years went by, my life was sorted with a beautiful new wife, a home of our own and everything looking peachy……...and so my Desmo obsession started again! The prices for secondhand ones had come right down from the initial hyped secondhand prices. It wasn't too long until I found a Desmo for sale that, in my opinion, had everything right about it…..and so I decided to get in touch with the dealer about it."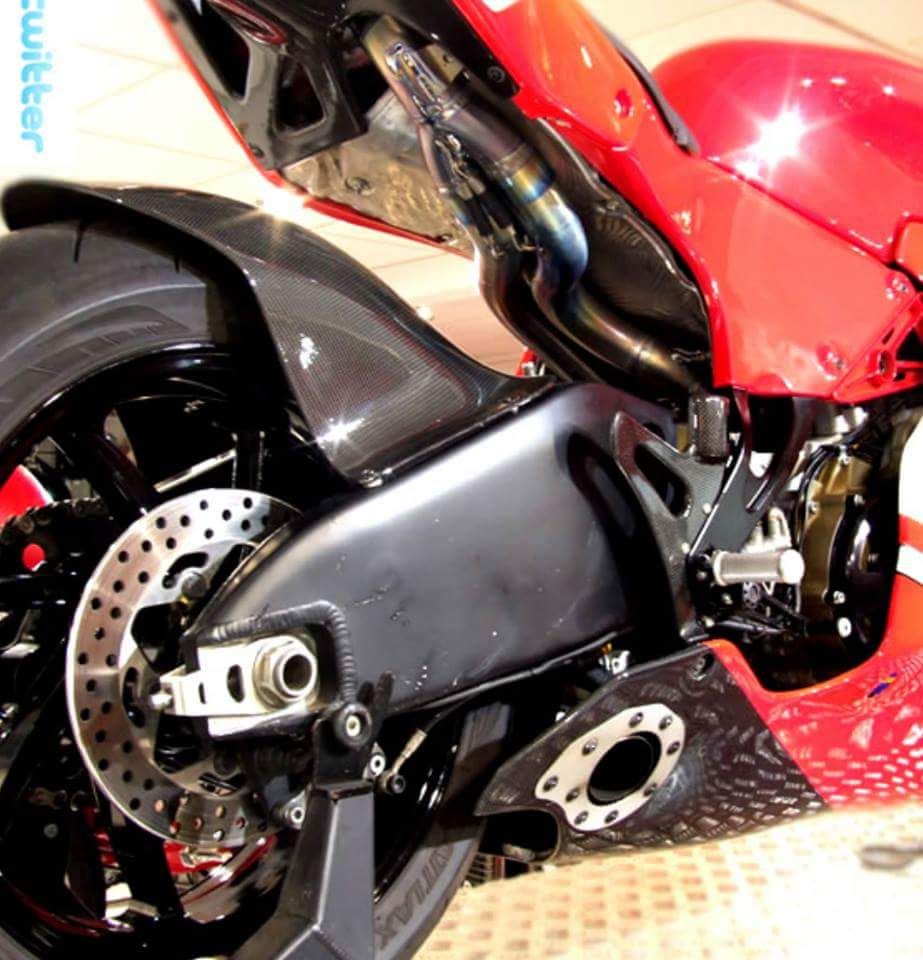 The bike that Vince found was quite an example, it included the amazingly rare and expensive GP7 upgrade:
"The bike, registered in 2010 (quite late in the build ) had the held back individual number 21. It also had the GP7 upgrade - with two separate exhausts, one out the tail and the other by the right foot peg…..as well as slightly different bodywork including reshaped lower fairing and different tail unit. As an added bonus, the bike came with the original bodywork and another two exhaust systems - standard and race.
The bike really was the perfect example……. but I still only had a couple of grand saved!….but I was desperate to get the bike. I asked if they would do a deal on my Ferrari - we did a deal! I handed over the Ferrari and about 10 grand….and the Desmo was then mine!!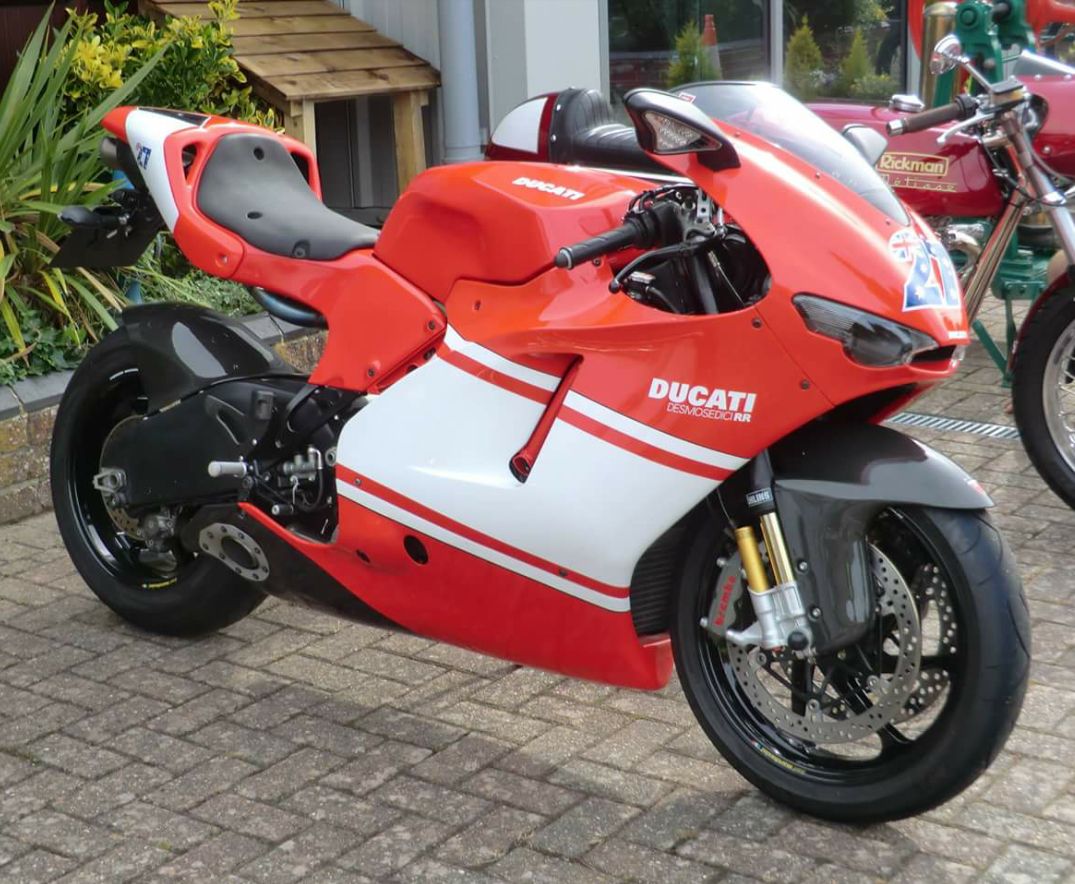 Vince couldn't have been happier with his purchase, but like many things in life - not all people share the same thoughts:
Everyone said I was mad and I'm still paying the personal loan now. However, my wife was fully behind me all the way saying you only live once, it's your dream, go for it."
Vince…..what a wife you have….. her words and advice are so very true!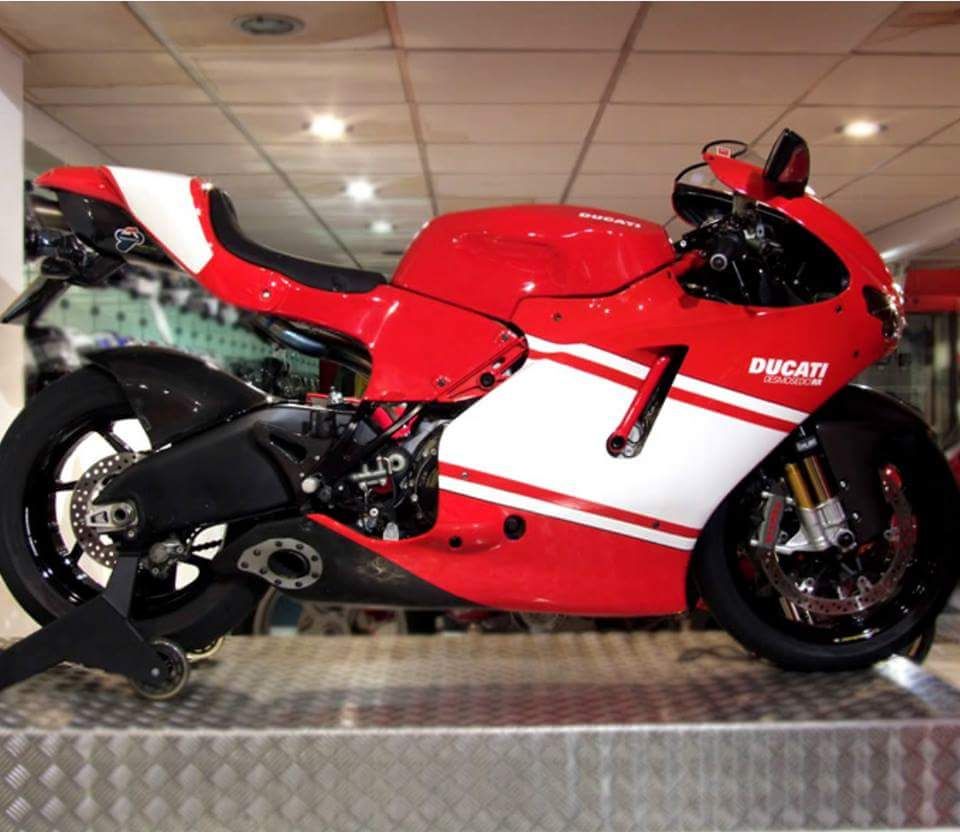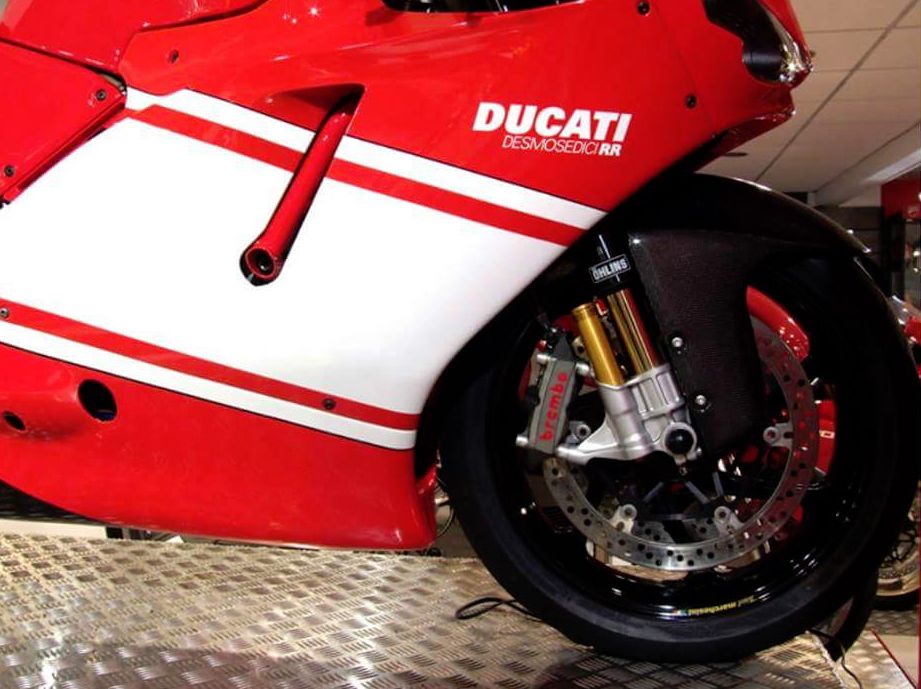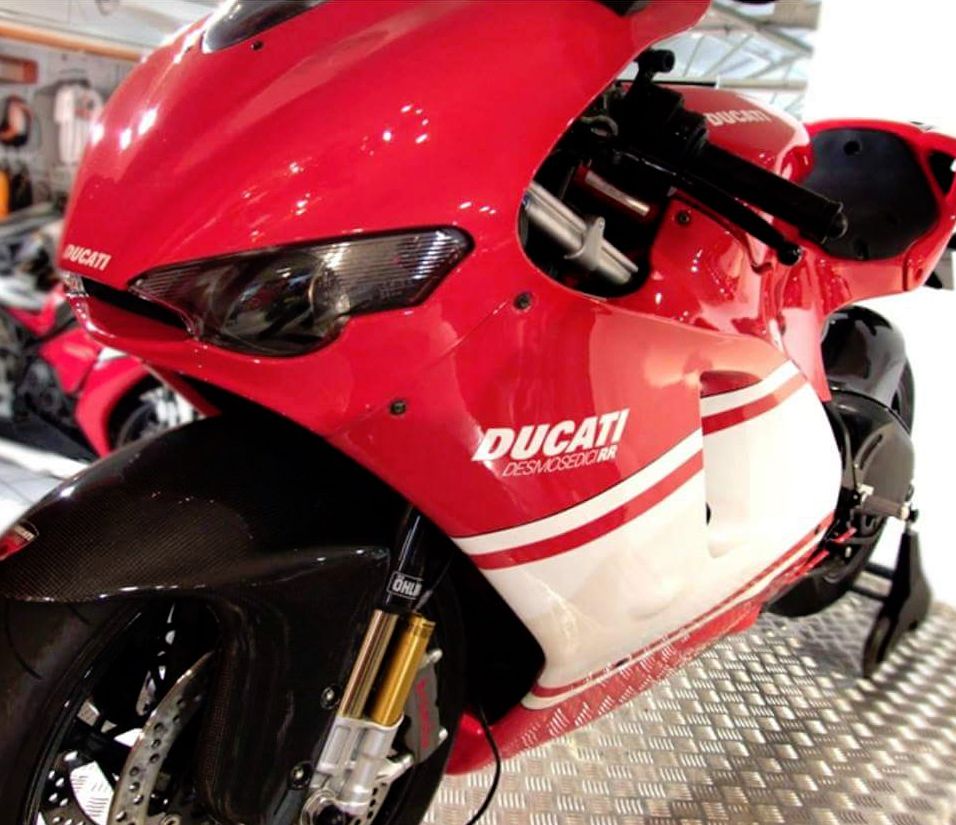 ---
Looking for other Ducati related posts?
Why not read about the history of Ducati Motor Holdings, the recent Ducati Trackstar events or our feature story about what it's like to go on a new bike press launch...
---
We asked Vince what it's like to ride such an iconic bike
"It's seriously noisey, pretty much the same as a GP bike! It has no ABS, anti-wheelie or traction control. It just uses a long swing arm to keep it planted and can spin up the back wheel at almost any speed. It doesn't like going slow at all, it's bumpy, noisy and gets very hot……….. but when on song on flat roads it's amazing. Its got 198 SAE bhp at the wheel and is very light. I think you need to be a GP rider to get the best out of it."
Vince, what an incredible bike you own ….and boy are we jealous. But we are honoured to insure your bike and feature it on our site for many others to enjoy. The Ducati Desmocedici RR with the GP7 upgrade…...do bikes get any better?.....
We think not!
---
Call BeMoto to insure your Ducati Motorcycle
Not only do we have high quality insurance for road bikes, we also offer a unique range of off-road insurance as well, whether your Ducati motorbike is SORN and laid-up in the garage or race-prepped 1299 Panigale for trackdays...
Call BeMoto on 01733 907000 to speak to a real biker who gets what your Ducati means to you.
---