---
Ducati Multistrada RS: A Touring Beast with Street Fighter DNA
By BeMoto

When it comes to motorcycle innovation, Ducati just raised the bar with the Multistrada V4 RS.
Meet the Multistrada V4 RS, a bike that's as comfortable on the racetrack as it is cruising along the mediocre surfaces of British roads. "Choose it all" Ducati say. But is there really such a thing as a bike that does everything? Chad from Bike World TV had a genuine world exclusive opportunity to let us know all about this beauty… before anybody else and you won't want to miss it!
---
The Genius Behind Multistrada RS
First off, let's discuss the elephant in the room: the engine. Ducati didn't play it safe by simply revamping their existing Multistrada line. Instead, they took the audacious step of swapping the usual engine with the Desmo engine from their Street Fighter series. What does that mean in numbers? A staggering 180 horsepower that can be pushed to 192 with a full exhaust.
From a marketing perspective, this is Ducati daring to be different. The Multistrada RS targets riders who want it all - a comfortable touring machine that's got the DNA of a race bike. By adding the Desmo engine into the mix, Ducati not only appeals to their existing customer base but opens the door for performance-hungry riders who would have otherwise overlooked a touring bike. By diversifying the engine line-up, they're making eyes turn, wallets open and probably causing a few happy homes to adopt the budget supernoodle diet.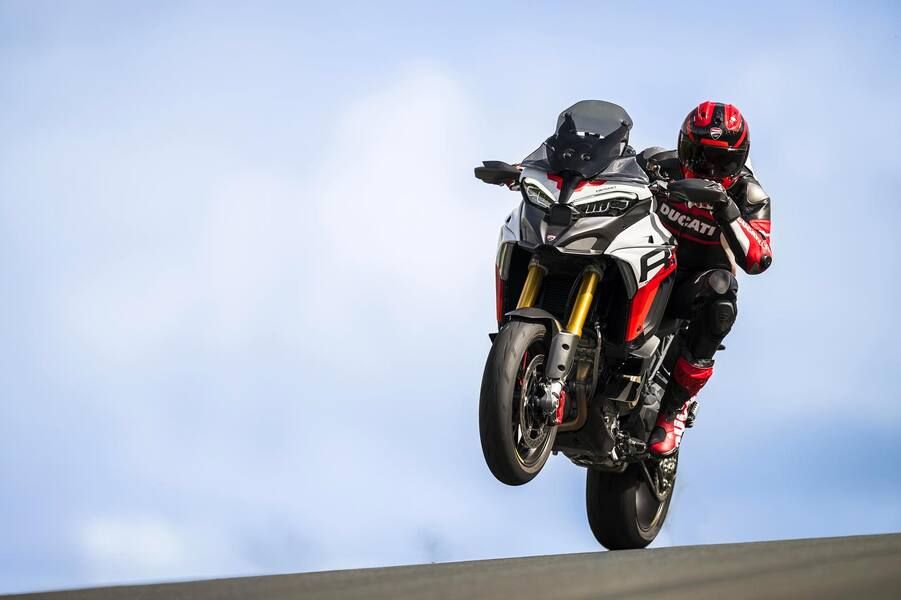 ---
Technical Specs Unveiled
Engine: 1103cc Desmosedici Stradale
Power: 180 HP, upgradeable to 192 with Akrapovic exhaust
Max RPM: 13,500
Frame: Monocoque aluminium frame with a titanium subframe
Suspension: Öhlins Smart EC 2.0
Brakes: Brembo Stylema monobloc callipers
Wheels: 17" forged aluminium Marchesini wheels
Tires: Pirelli Diablo Rosso IV Corsa
Price: £31,995
---
Feature-Packed and Ready to Roll
As if the bike isn't appealing enough…Tech-wise, this bike is a treasure trove. With advanced safety features like Adaptive Cruise Control (ACC) and Blind Spot Detection (BSD), it packs a strong USP punch, making that initially tear-inspiring price tag more palatable.
From a commercial standpoint, it's an ironclad case of value-for-money. When you compare apples to apples in the hyper-touring sector, the Multistrada V4 RS emerges as a compelling proposition.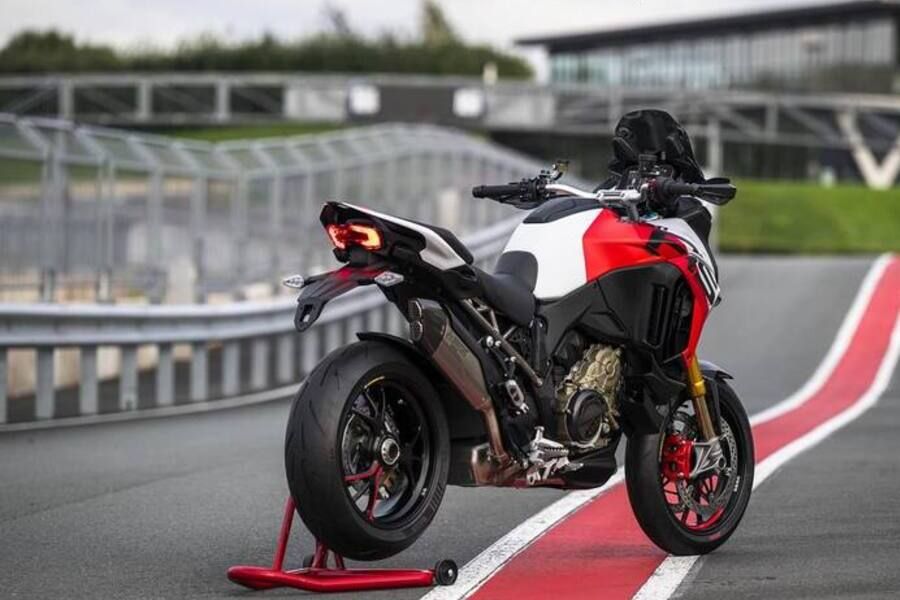 ---
Where Performance and Comfort Coexist
The motorcycle achieves a weight-saving of 8.2kg over the standard variant, thanks to its innovative frame and subframe. Coupled with an Öhlins suspension that auto-adjusts to your riding style, this machine is a track-ready road bike. You know how we love a bit of track action at BeMoto Motorbike Insurance. We love to hone skills and enjoy the true capability of a machine in a safe environment, and we can't wait to get our hands on this beauty. We better get queuing…
Ducati's Brand Declaration
The Multistrada RS is not just a motorcycle; it's a Ducati manifesto on wheels. It cements their reputation for ground-breaking innovation, risk-taking, and market diversification. If this bike were a billboard, it would scream 'Innovation and Fearless Engineering' in neon lights. Red neon lights of course. The Multistrada, a name that resonates globally and has become a brand within the iconic Ducati brand itself. Multistrada, meaning 'Multi-road,' has always been a fitting name for a bike that became a pivotal game-changer in Ducati's storied history. Pronounced the same, whether you're in the heart of Italy or the expanses of Australia, the name is as international as the bike's appeal. The new RS is no exception to its previous acclaim.
This journey of diversification and innovation began in 2003, laying the cornerstone for what would become an entirely new segment in motorcycling. Ducati was already a darling in the sports bike world with icons like the 916 and the Monster, but the brand sensed a shifting tide. A future that required bikes to be more versatile, ready for touring, but still pulsating with that quintessential Ducati spirit. Enter the Multistrada 1000—the first generation that sported a unique 17" front wheel, in contrast to the 18-inch wheels found on other crossovers at the time. It promised the agility of a supermotard on corner entries and the exhilarating performance of a sports bike.
The Multistrada defied categorisation. With its single-sided swingarm, trellis frame, and a 1100 cc air-cooled Desmodue engine, it was unmistakably a Ducati. However, it also offered something unseen. Its tank, a single piece stretching under the rider's seat, was a feature then emerging in Superbikes and GP bikes but never seen in this segment. The bike was not just a crossover; it was earth-shatteringly unique, weighing in at a mere 195 kg and offering a front-heavy setup that seemed to lean into corners almost intuitively.
Over the next two decades, the Multistrada would see more than 100,000 units sold and each new model became a milestone, not just for Ducati, but for motorcycling. The Multistrada has not only explored new terrains but also carved out entirely new paths, and in doing so, has perpetually kept itself ahead of the curve.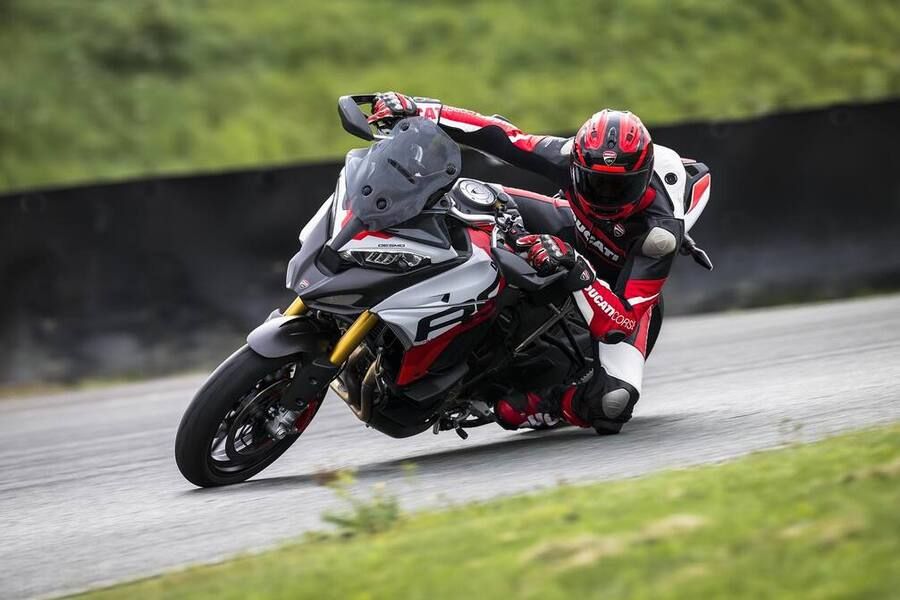 ---
Final Thoughts
The Ducati Multistrada V4 RS is new, modern and a credit to Ducati. This true revelation in the biking world is the kind of thing that has come to be expected of a Multistrada launch, but even then, expectations somehow manage to remain lower than the reality they marvellously deliver! Its feature list and performance figures speak for themselves. But don't just rely on our plain words—get a first-hand look from Chad's exclusive video below!

---