---
Ducati Panigale Trackstar Event
By Kar Lee
Photography: Kar Lee (Kardesign) / Picman
---
It's not very often you get an invite to ride a selection of brand new Ducatis on the road, followed by a couple of sessions on a Panigale 1299S at one of the UK's best circuits, but that's exactly what Ducati UK have just done in a promotion called "Panigale Trackstar."

---
No Journalists, just 90 lucky riders...
In an effort to give something back, raise awareness of the brand and reach out to potential new customers, Ducati have chosen just 90 lucky riders via a sophisticated online marketing process to enjoy a day's virtually free riding at their expense. There are no motorcycle journalists here, and the only reason I've been invited is (probably) due to my name being on the California Superbike School's database as they're providing instructors and other staff to help run the day. CSS also run their own fleet of Panigales, having switched from Yamaha three years ago, so they're perfectly placed to offer advice.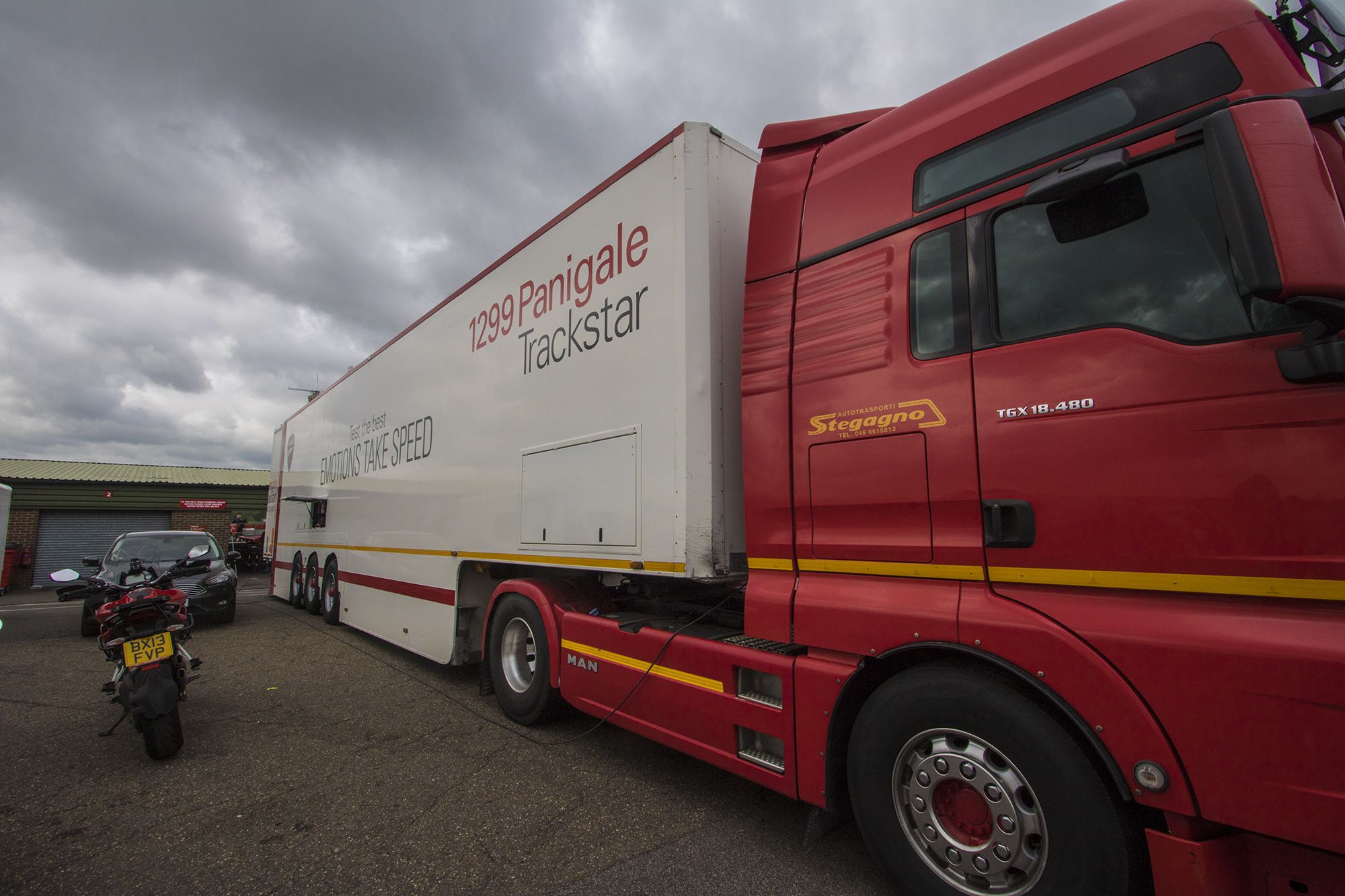 With a modest fee of £50 paid, I get access to most of Ducati's fleet to take out on road test, and three 15-minute sessions (one on my own bike, two on a Panigale 1299S shipped over from Italy), not to mention breakfast, lunch and a £100 voucher to spend at my nearest dealer. Here's how my day unfolded…
A 7am signing-on session at Snetterton means a bleary-eyed 5am wake-up call. Fuelled by sweet tea and bananas I arrive at the circuit which is already buzzing with activity. A parade of various Ducatis ranging from the 400 Scrambler to a Multistrada Enduro stand proudly outside the Ducati events truck where Lynne the CSS lady welcomes the participants with a cheery smile. I glance down the list on her clipboard at the bikes and slots available for test rides and not wanting to be greedy choose a single session on the XDiavel S though in reality I could opt for more. Heading over to the Snetterton café I grab my hospitality sausage bap and sign the MSV/Ducati waiver. That's for the bike riding, not the sausage bap, which is delicious. By the 8am briefing, we're told there are no spaces left for road rides, the bookings are full. Hearts sink.
Wandering around the pit lane I'm greeted by 30-plus road-legal Panigale 1299S bikes, freshly transported from the Bologna factory and all neatly arranged in formation for our viewing – and riding – pleasure. That's over £600,000 worth of Italian exotica. Backed up by a cluster of CSS's own 959 track bikes, it is a spectacular, beautiful sight.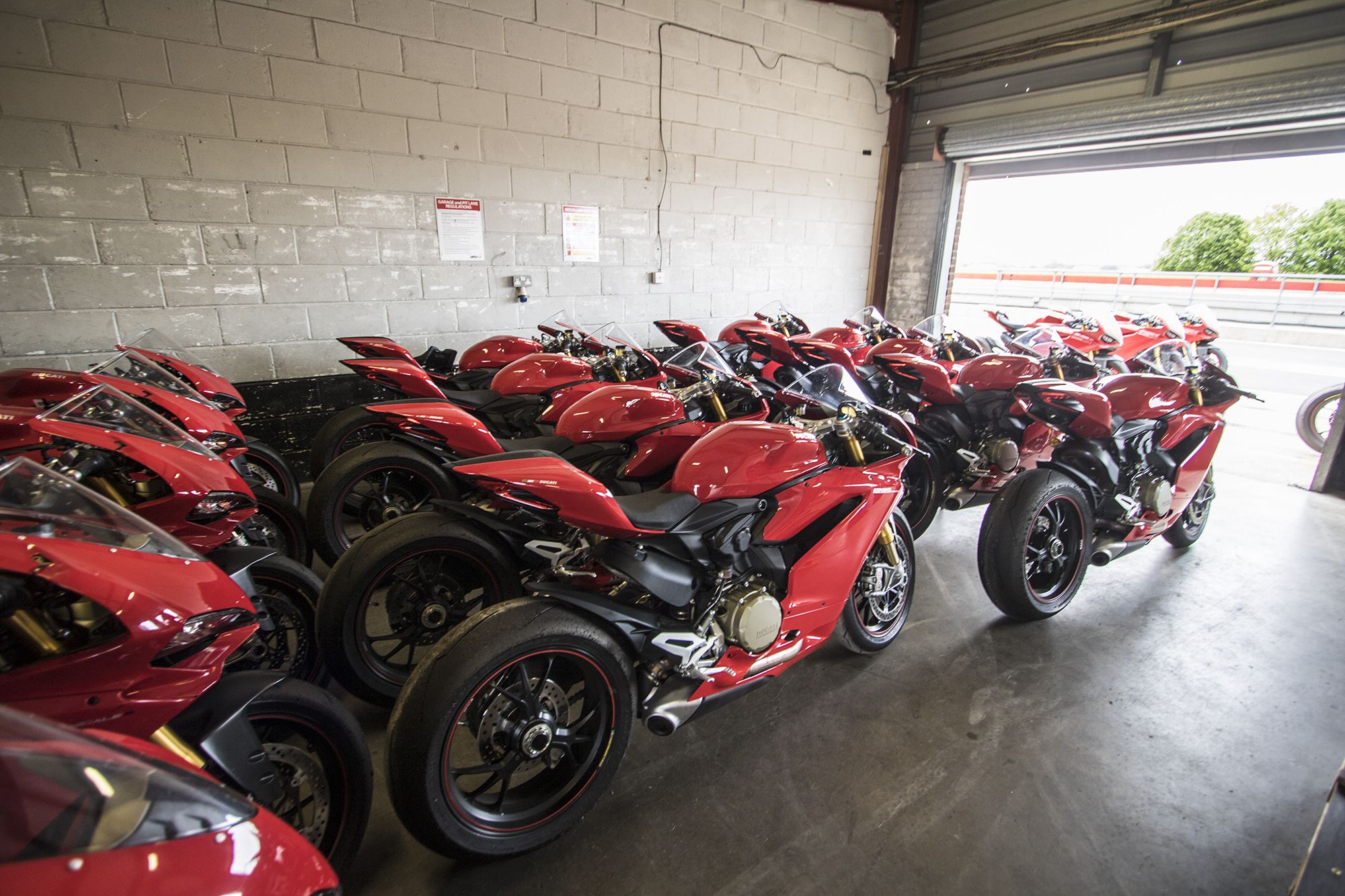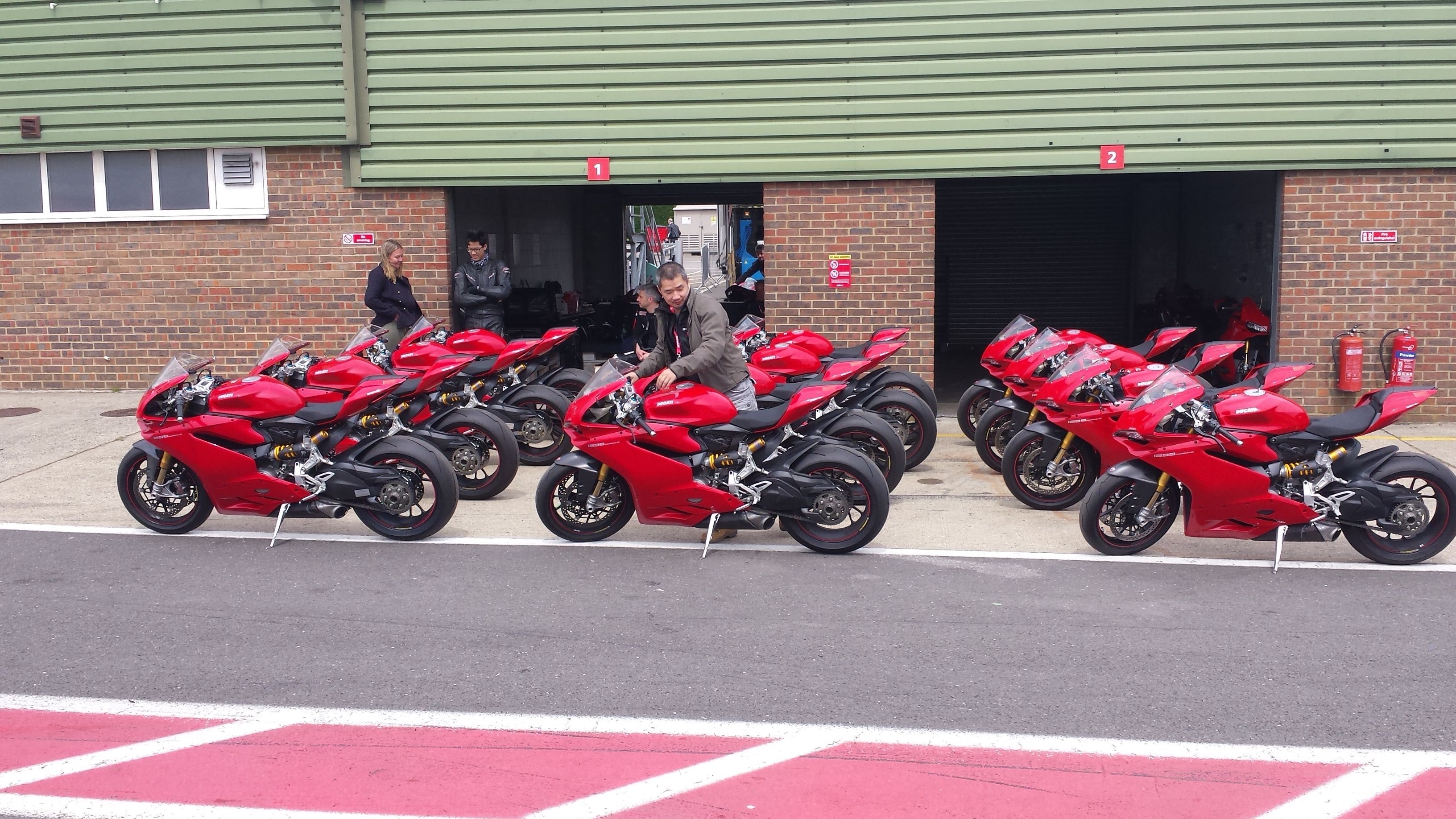 By mid-morning I'm swinging a leg over the XDiavel S: An £18k beast of a machine and Ducati's flagship new cruiser, a variant of the cooking XDiavel with gloss black paint, higher spec forks and brakes, different wheels and a host of shinier parts. A gaggle of us on various Ducatis head out of the circuit onto the surrounding Norfolk roads for our accompanied ride and the route is varied, the pace is thankfully comfortably not-hanging-about thanks to the CSS instructors being the chaperones and the XDiavel S is a blast. Pin the throttle and it surges forward whatever the gear thanks to savage torque but it remains completely under control due to the fancy electronics. It's no slouch through the twistier, nadgery sections either, the wide 'bars offering stacks of leverage and fast direction changes through unfamiliar bends. For such a big, heavy bike it is a lightweight to throw around and leagues ahead of something like the pricier V-Max, which it is clearly aimed at. In my head I've just added an XDiavel S with the adjustable footpegs set back alongside a Triumph Rocket III in my dream garage.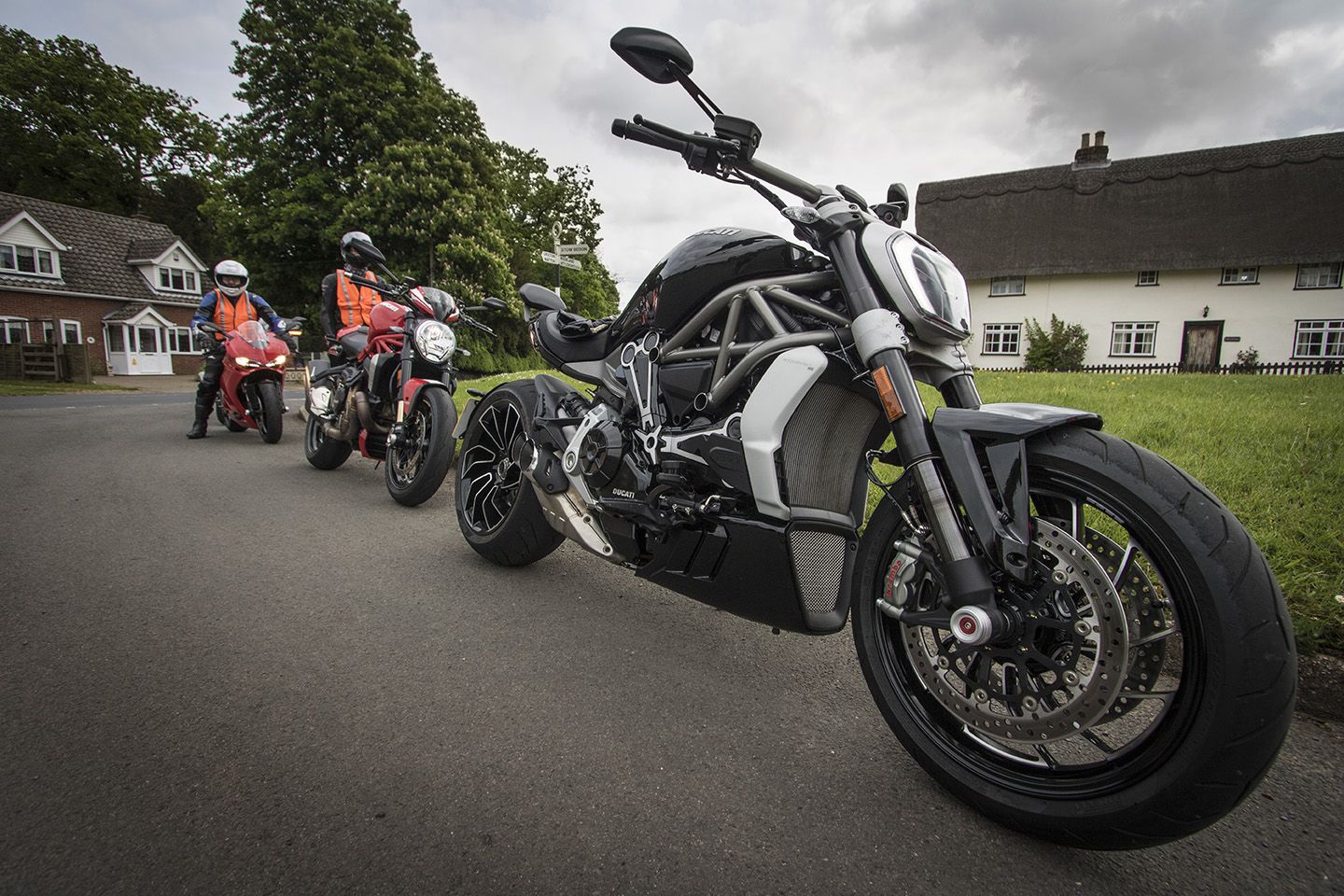 Back at the circuit Ducati have laid on lunch in the form of freshly stone-baked pizzas and an ice cream van supplies the dessert. It's this attention that will hopefully get people talking according to Debbie Wiggins, Ducati's marketing manager. "Our aim today is to spread the word of Ducati and of the Panigale, which is an amazing superbike. There are many superbikes out there but no other manufacturer is giving you the chance to ride it on track, to experience it with coaches and staff available to give you information and advice." She continues: "Ultimately, we would like to sell some bikes but also make it a nice experience for people."
After getting my own bike (a GSX-R) noise tested, we're out for a sighting session to familiarise ourselves with the circuit. Again, it's an accompanied ride with an instructor at the lead showing the lines around the Snetterton 300 layout. As a trackday nut I've done several hundred laps of the track in the past so this is really aimed at newcomers. My next sessions are both on the 1299S, a full-on top-spec sportsbike with all the trimmings. Monocoque chassis, semi-electronic suspension, traction control, quickshifter with auto blipper for downchanges, genuine rear-wheel 180bhp, ABS, killer brakes… the list goes on. All this is wrapped up in the most eyeball-caressing bodywork to come out of the Ducati factory for years.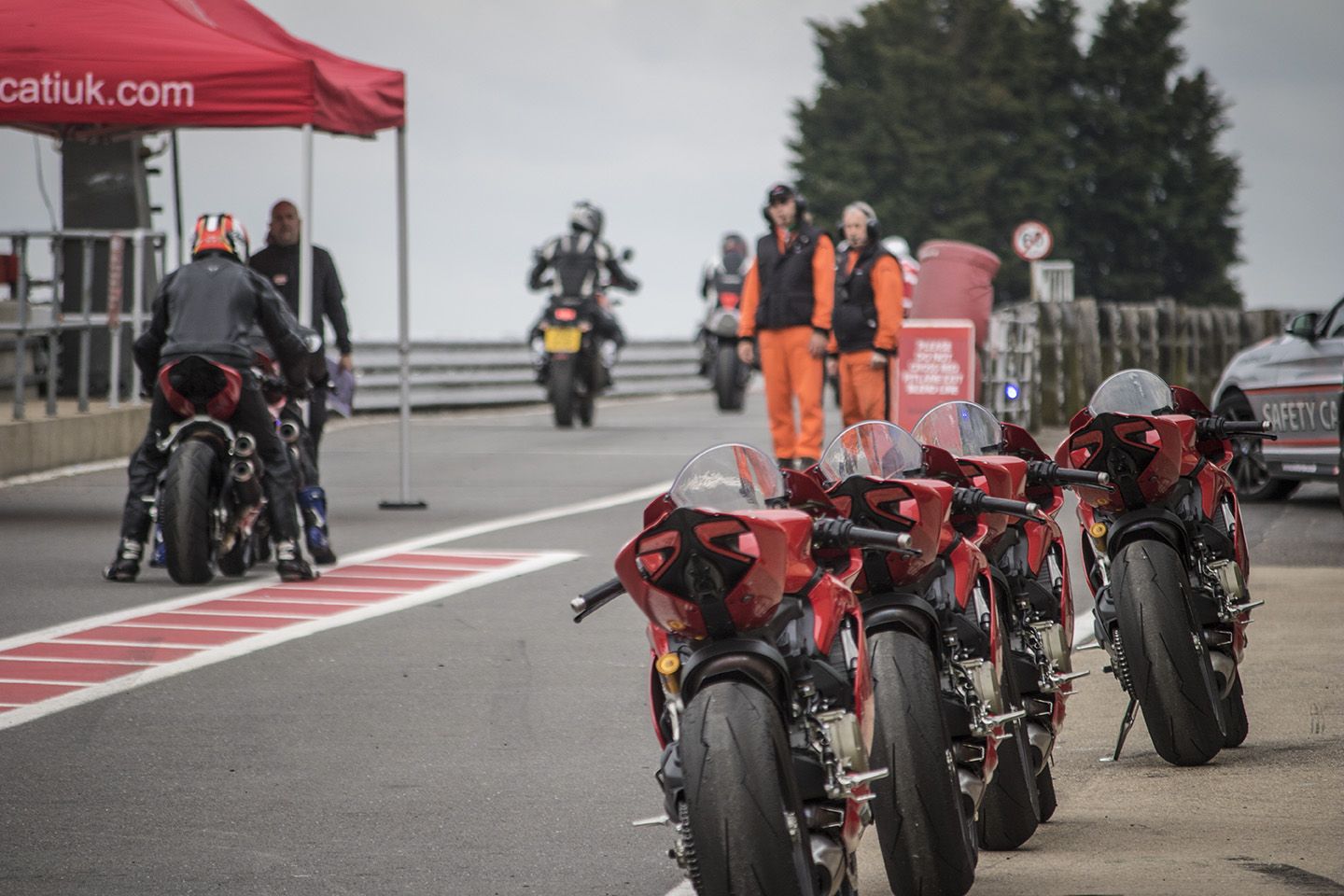 The asphalt is dry, the pace is varied due to a couple of steadier riders in my group but it's all enjoyable nonetheless – this is meant to be more of an 'experience' rather than a typical trackday after all. I've ridden the predecessor 1199S on both road and track but this bike is clearly next level: the brakes are stronger and more precise, the suspension is faultless and the engine has a dollop more midrange and top end on tap. The usual Ducati trick of mid-corner stability is present and correct and there's enough track space to exploit that thanks to very limited rider numbers.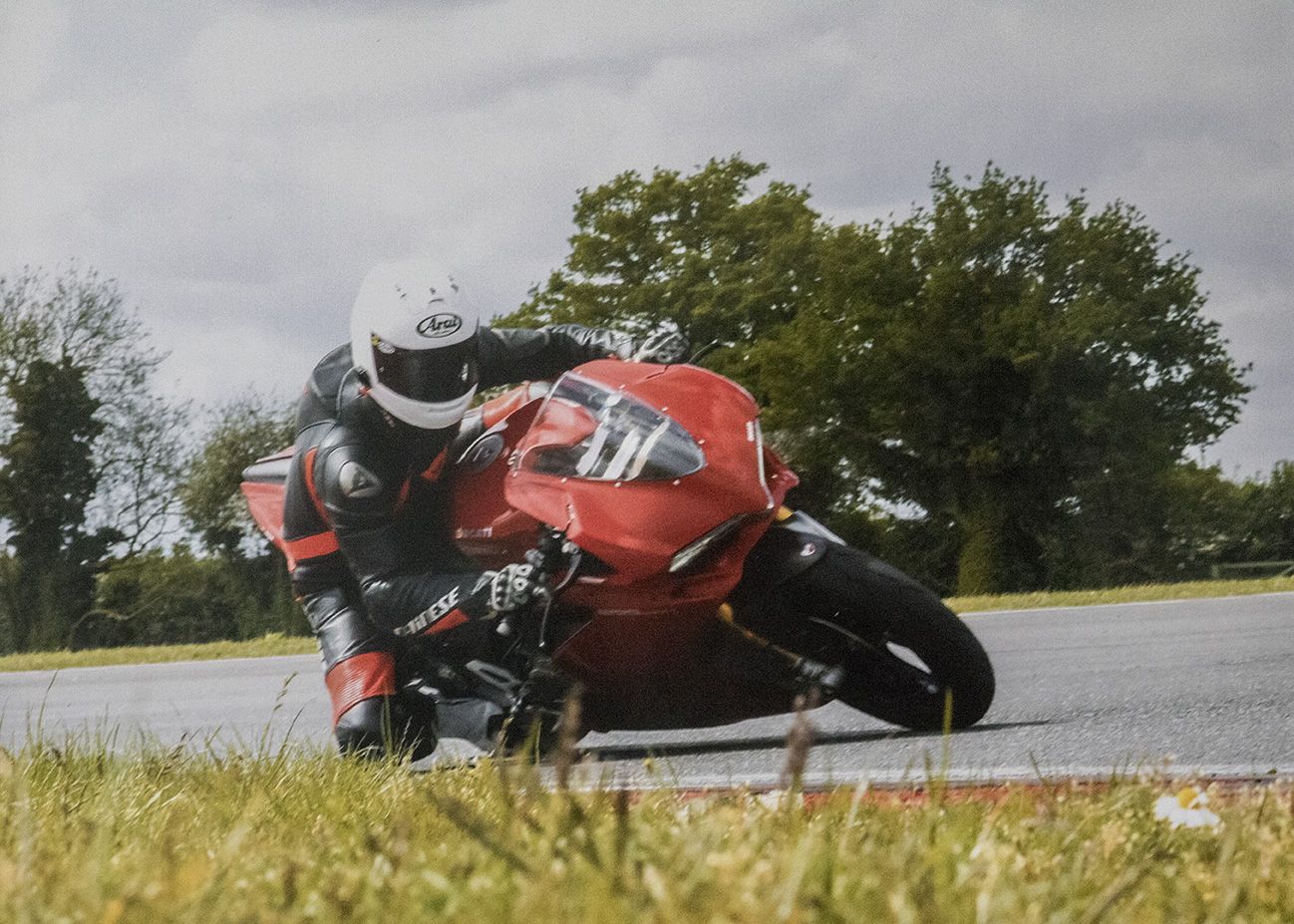 I end the day by filling out a feedback form and on submission I'm gifted a £100 voucher to spend in-store at my local Ducati dealership on anything Ducati-branded. This covers my initial £50 entry fuel to get to Snetterton and I've experienced two bikes I normally wouldn't have done. Ducati have also given each rider a £750 contribution to a new 959, a full £1000 off a Panigale and a framed action photo of their track adventures. I'm off for a rummage around the sofa.
Unsurprisingly, everyone I spoke to had only positive things to say about their day and not a single bike was crashed, though I suspect the £2000 excess might have played a part. One guy has apparently cancelled his order for another marque and placed an order for a 1299S as a result of his experience and other orders were also taken on the day.
At the time of writing, Ducati UK have another event at Silverstone this month and after that the fleet of Panigales will be on a truck making their way to Germany for a similar bash. So if you fancy a tasty pizza for lunch, a road ride on anything from the 2016 Ducati line-up and a blat around the track on a £21,000 superbike with a discount thrown in off your next Panigale, now's the time to contact your local dealer and register your interest for them to bring the truck and its contents back to the UK for an encore.
---