---
Ducati Street Fighter V4 S Dark Stealth Edition
By BeMoto
From November 2020 you can get your hands on the stunning new matt black "Dark Stealth" paint scheme on the already lustworthy Ducati Streetfighter V4 S, alongside updates to make it Euro 5 compliant for 2021 (in case you were worried about it)...
---
For 2021 Ducati presents the Streetfighter V4 S in a new Dark Stealth colour scheme (matt black colour). Plus, all models in the Ducati Streetfighter V4 range become Euro 5 compliant to meet anti-pollution legislation - but don't worry it still looks shit-hot and maximum power and torque values are unchanged, albeit repositioned at different engine speeds.
The Streetfighter V4 Euro 5 puts out 208 hp (153 kW) at 13,000 rpm (250 rpm higher than the EURO 4 version) and a torque of 12.5 Kgm (123 Nm) at 9,500 rpm (2,000 rpm lower than the EURO 4 version); obtained thanks to engine re-calibration and a new Desmosedici Stradale exhaust line that doesn't seem to ruin the aesthetics.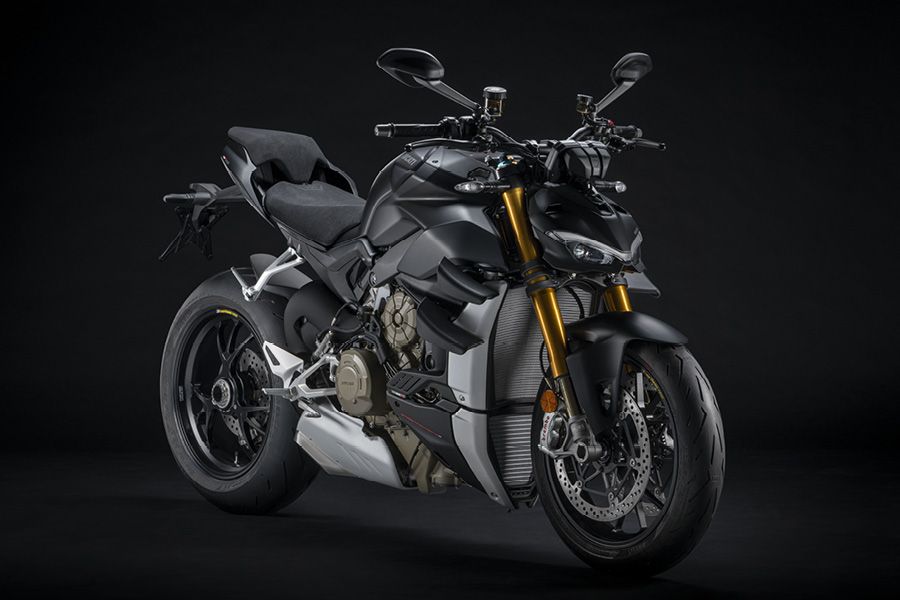 ---
Ducati call it the "Fight Formula"
An ultra-naked Panigale V4 with all it's electronic wizardry, stripped of the fairings, higher and wider handlebars, driven by the awesome 1100cc Desmosedici Stradale delivering 208 bhp. Oh and don't forget, love-em or hate-em, it has 'biplane' wings...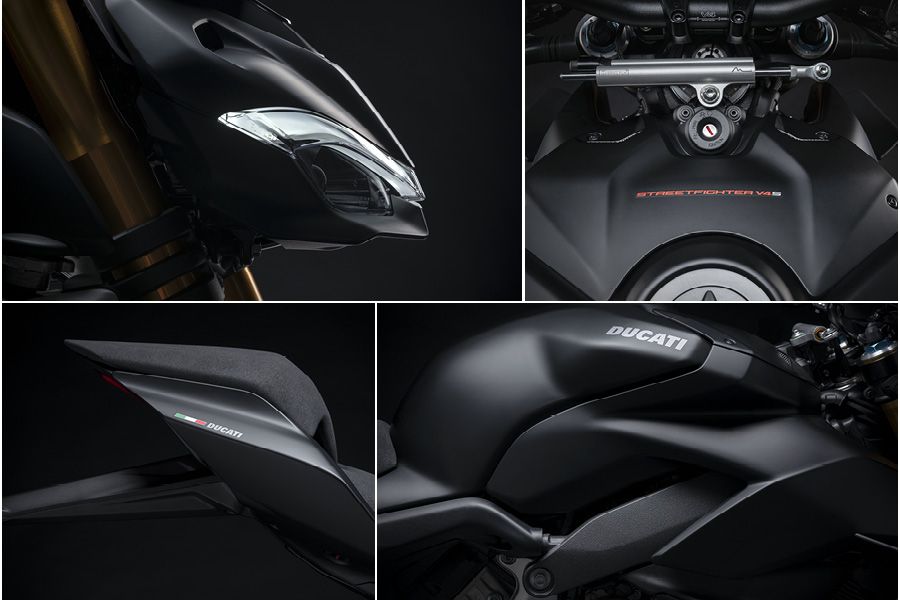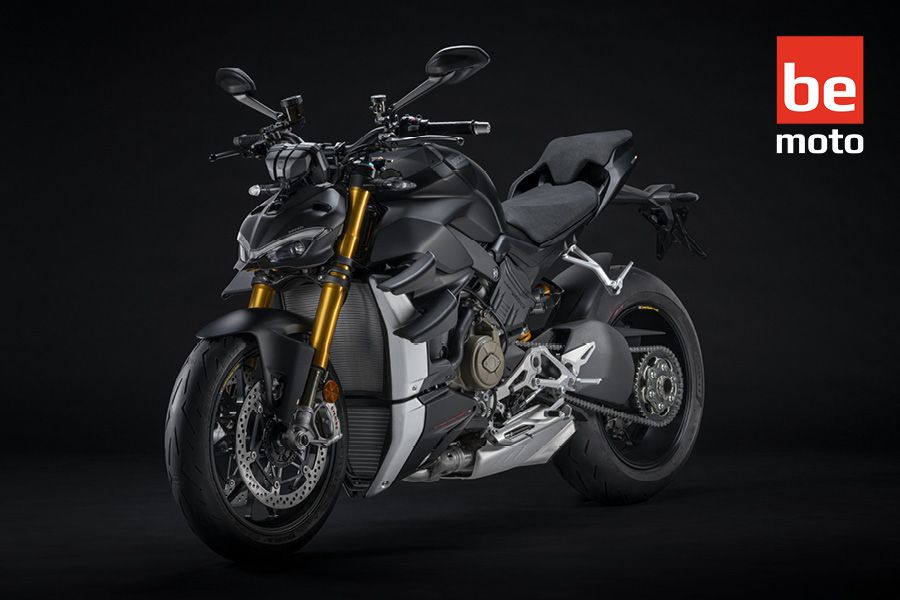 ---
Updates to 2021 Streetfighter V4 models
The 2021 range is fitted with new front brake and clutch pumps, both self-bleeding and based on those used on the Superleggera V4. The body of the new pumps has been designed to allow a 'natural' bleeding, in other words you don't need to do anything in the event of air present in the circuit.

The silencer looks pretty much the same, but uses larger catalysts (+10 mm longer) with new technology / metals to convert even more polluting gases. In Ducati's words "The lengths and dimensions of the exhaust primaries of the rear bank have been optimized to minimize the ignition time of the catalytic converter, while maintaining engine performance."

Compared to Euro 4 models, the manifolds are 100mm shorter and 4mm less in diameter to 38 mm, allowing a more compact rear heat shield. The introduction of 4 lambda probes, one for each cylinder, also enable a more refined control of the fuel injected, with the aim of limiting emissions.

The Streetfighter V4 range for 2021, including the Dark Stealth V4 S, can now be ordered in Ducati dealers - available from November 2020.
Find out more at Ducati.com
For a Ducati Bike Insurance Quote call BeMoto on 01733 907000* and speak to one of our Ducati Insurance specialists.

---