---
Ducati's Gentleman Thug: Hypermotard 950 SP
By Alan Dowds
Ducati's got a reputation as the Ferrari of the two wheeled world. But they make hooligan machines too you know…
---
I STILL remember seeing my first Supermoto...
It was a Kawasaki KX500, with 17" rims, tazzing round Knockhill on slicks, wheelying up the big hill out of the hairpin, and it looked utterly amazing. Fast forward 25 years, and here I am, in Gran Canaria, about to ride something which is a world away from that mad old KX – but also very similar in many ways. Yes, it's the latest version of Ducati's Hypermotard – Bologna's take on the concept, which has been wheelying its way round the moto-world for more than a decade now. A desmo V-twin engine, in a steel trellis frame, with long travel suspension, superbike brakes, 17" rims with sticky rubber and a dirtbike-light riding position.
For 2019, Ducati's given the old (939) model a bit of a tweak: there's 4bhp more from the motor (which is the same 937cc lump as in the Supersport and Multistrada 950 models), and the weight is down by 4kg. There's fresh suspension, and a much more advanced package of rider aids. The new Hypermotard is dubbed the 950, and there's a posh SP version too, with Öhlins front and rear, plus forged wheels and Supercorsa rubber.
And it's the SP which we're riding first today – round the Maspalomas kart track in Gran Canaria. The sun's up, the asphalt's warming up nicely, and the 950 SPs look amazing just parked up in the pits. Let's go…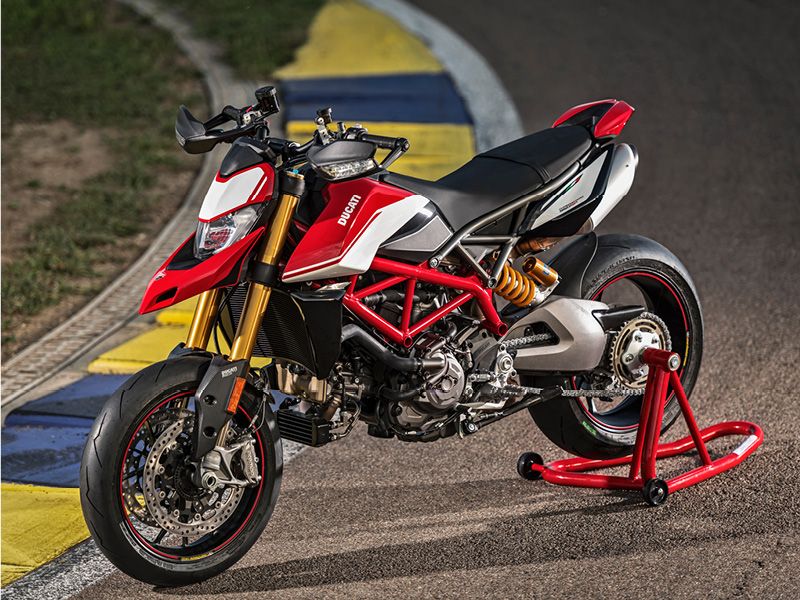 The track is easy enough to learn: Ducati's cancelled out its boring straights (it's built next to an aerodrome so is a bit stretched out) with barriers, so there are non-stop bends to wriggle round. So after a couple of sighting laps behind an Audi TT RS, we're set loose one at a time out of pit lane.
Bang – the 950 is super-strong off the bottom end, and I'm launched up towards turn one like I've got a pair of JATO bottles bolted onto the subframe. Hard on the awesome superbike-spec Brembo brakes, throw the thing onto its ear, and I'm round, and heading down the next mini straight. It's a pure adrenaline rush right from the off, as the skinny Ducati hammers its way out of each tight bend on the kart track, demolishes the micro-straights in between, then does it again. The Pirelli Supercorsa tyres have a death-grip on the Tarmac, and the Hypermotard feels totally settled through the bends. The Öhlins suspension is track-firm, and works beautifully round here, dealing with the massive weight transfer back and forward with aplomb. Because there is massive weight transfer of course, in the form of shonky wheelies…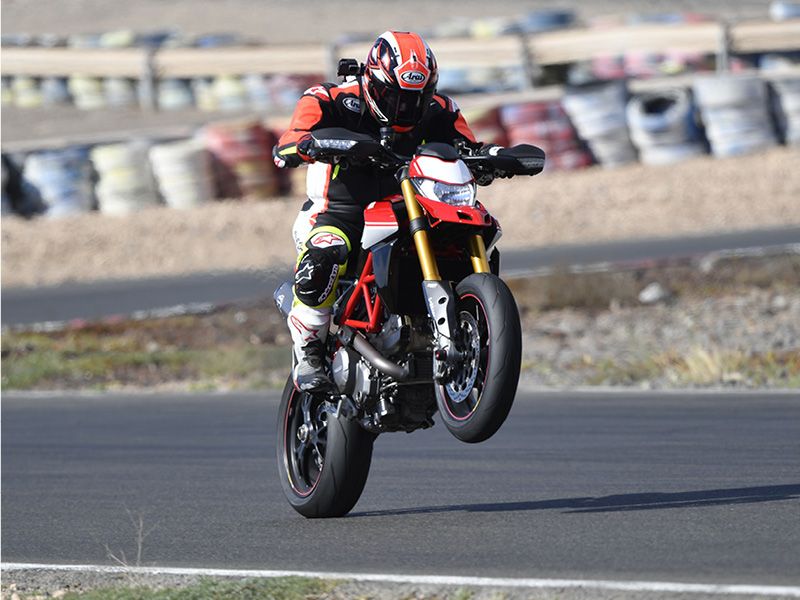 I spend the first session trying to go as quick as I can, like you would on a normal sportsbike track launch. And it's good fun: the chassis is more than up to whatever I throw at it (though the ground clearance soon gets used up), and I get that daft satisfaction of having pegs, kneeslider and toeslider all dragging at the same time round the longer 180° bends. It's hard work mind: constantly throwing the tall 950 from side to side, slamming on the anchors, and getting hard on the gas again. There's a proper up/down blipping quickshifter which is a hoot slamming down the gears into a bend, and the new engine is smooth and grunty everywhere. Nice.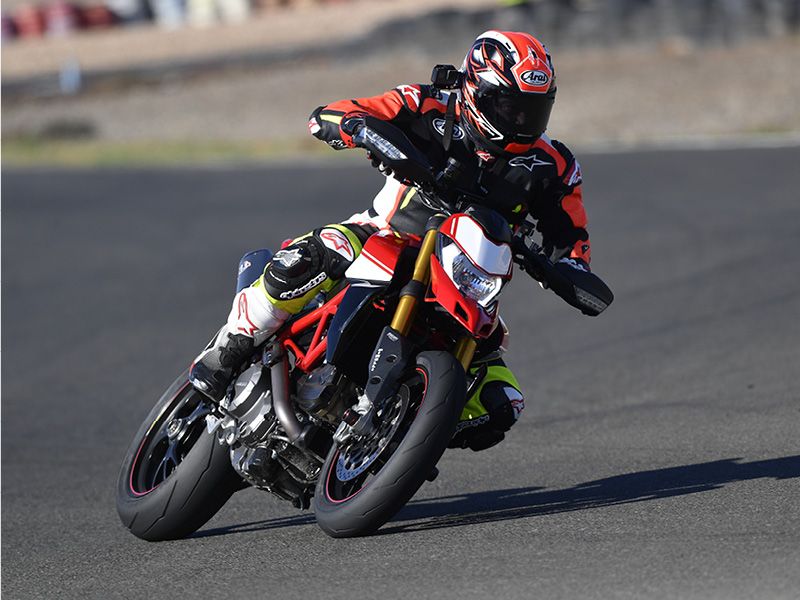 Next session, though, I find myself just having a laugh, dicking about. I've turned the wheelie control down to '1', and am hoiking the front up everywhere now, chuckling away inside my Arai. The electronics are a big part of the update on this bike of course – both the SP and base models have a full six-axis IMU-assisted 'Evo' suite of rider aids. So you've got cornering ABS, smart traction control and separate wheelie control, all worked via cunning switchgear and a sweet 4.3" colour TFT LCD dash. There are three customisable riding modes, so you can tweak the throttle response, power, and traction settings to suit yourself.
I'm feeling brave on the last session though, and turn the wheelie control off altogether. Hello. I almost regret this instantly, as I nearly flip the bugger out of pitlane. Suitable chastened, I take a bit more care in my final laps, still having a ball, but with even more terrifying antics. Fair play to Ducati – they've given you total control, and safety; the wheelie control works a treat, and if you turn it off, the outlandish performance will bite you hard. A little part of me wants a '0.5' setting though: 'off' is a bit too mad, but '1' interferes a little more than I'd like. Never fucking happy, are you Dowds?
After a morning on track, we ride the base bikes for a much calmer road ride. The PR folks warn that the cops are watching out for badness, so we have to keep the wheelies and that under wraps. The standard 950 Hypermotard is a fair bit cheaper, but still a pretty slick setup. The Marzocchi forks in particular are very sweet: they use aluminium inner tubes instead of steel, saving weight, and have a DLC black low-friction coating. You get the same power and torque, identical electronic setup, same brakes, but we now have cast wheels and Pirelli Diablo Rosso III tyres. It's still a great setup for the road, and the suspension also gives a slightly lower seat height compared with the SP.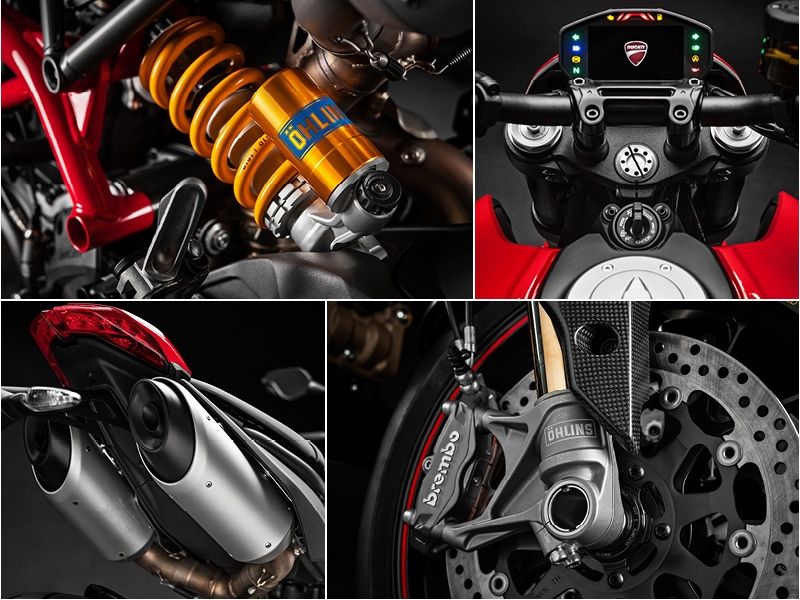 Round the twisty back roads of Gran Canaria, the HM 950 is as good as you might imagine: instant low-down drive, strong brakes, grippy road rubber. The riding position and wide bars put you right in command, and here, or round town, it's in its element.
What it's not good at though is sensible stuff. We spend about five miles on a big dual carriageway, and it's a faff. There's zero protection from the windblast, the sweet colour dash is missing a fuel gauge or range remaining readout, and the seat is a bit of a plank. If you have a 40-mile motorway commute, do yourself a favour and get a Multistrada instead.
So – no real surprises there then. Just like that KX500 I was watching at Knockhill all those years ago, Ducati's Gentleman Thug is a hoot on track, great for childish road riding, but a bit compromised when you have to do the sensible stuff…
---
SPECIFICATIONS
Price: £10,995/£14,295 [SP]
Engine: Desmodromic 90° V-twin, 8V, DOHC, 937cc, liquid cooled
Bore x stroke: 94x67.5mm
Compression ratio: 13.3:1
Max power (claimed) 114bhp@9,000rpm
Max torque (claimed) 71ft lb@7,250rpm
Transmission: six-speed gearbox, wet slipper/assist clutch, chain drive
Frame: steel tube trellis-type
Front suspension: 45mm Marzocchi fully adjustable USD fork [SP: 48mm Öhlins fully-adjustable USD fork)
Rear suspension: single-sided swingarm, fully-adjustable Sachs monoshock [SP: fully-adjustable Öhlins monoshock)
Brakes: dual 320mm disc, four-piston radial Brembo calipers (front), 245mm disc, twin-piston caliper (rear), Bosch cornering ABS.
Wheels/tyres: Cast aluminium/Pirelli Diablo Rosso III [SP: forged Marchesini aluminium/Pirelli Super Corsa SP v3] 120/70 17 front, 180/55 17 rear
Rake/trail: 25°/104mm
Wheelbase: 1,493mm [SP: 1,498mm]
Dry weight: 178kg [SP: 176kg]
Fuel capacity: 14.5 litres
Rider Aids: Bosch six-axis IMU, Ducati wheelie control, traction control, cornering ABS, three rider modes (all customisable), underseat USB socket. SP has up/down blipping quickshifter as stock – £615 option on the base 950.
---