---
The Punta Bagna International Bike Rally
By BeMoto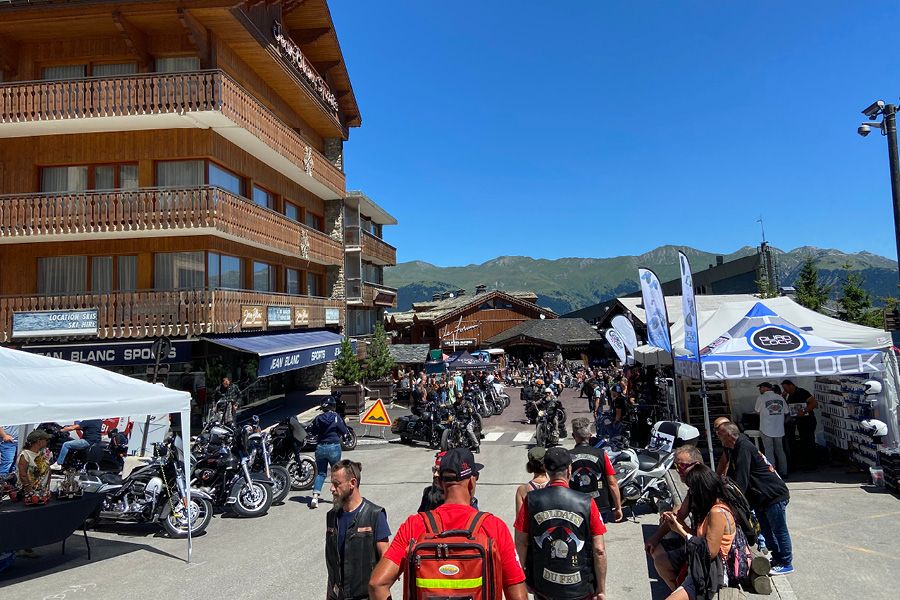 Why not check out BeMoto Touring Insurance
If you're planning a motorbike tour overseas then one of the first things you should do (once you know your travel plans) is to buy touring travel insurance as early as possible because it includes some support for things like cancellation cover - if you had to call off your trip for a range of specific reasons - losing money in the process. Be warned that many 'normal' travel insurance policies don't actually cover you for riding a motorcycle greater than 125cc, which could potentially leave you seriously out of pocket if you get injured in a touring accident on your bike and incur emergency medical costs. Whilst your EHIC/GHIC card might cover some of this in some countries, the benefits of proper touring travel insurance means you'll also have up to £100k towards emergency repatriation costs if you cannot get home safely.
Also check out BeMoto Titanium Cover which includes up to 90-day per trip cover extension (many limit this to 90-days per year), but it also includes European breakdown cover for all your bikes insurance with BeMoto, provided by the RAC.
---
Pack your Bagnas...
Every year when that motorcycle insurance renewal comes through, as bikers we vow to get more out of our bike. We promise to get on the road more, do more with friends, and visit more places.
So being the decent folk that we are at BeMoto, we thought we would help by sharing an entire trip guide for one of our favourite events.
The Punta Bagna International Bike Rally, now approaching its 14th year, is relatively "new" when you consider that some rallies in Europe are hitting 40 years plus. Its legacy is certainly not a reflection of the sheer brilliance of the event though. Held in the French Alps, usually on the last weekend of June / first weekend of July, Punta Bagna offers all of the highs of a bike rally, without the lows of needing a whisky pillow to sleep in a tent if that's not your thing!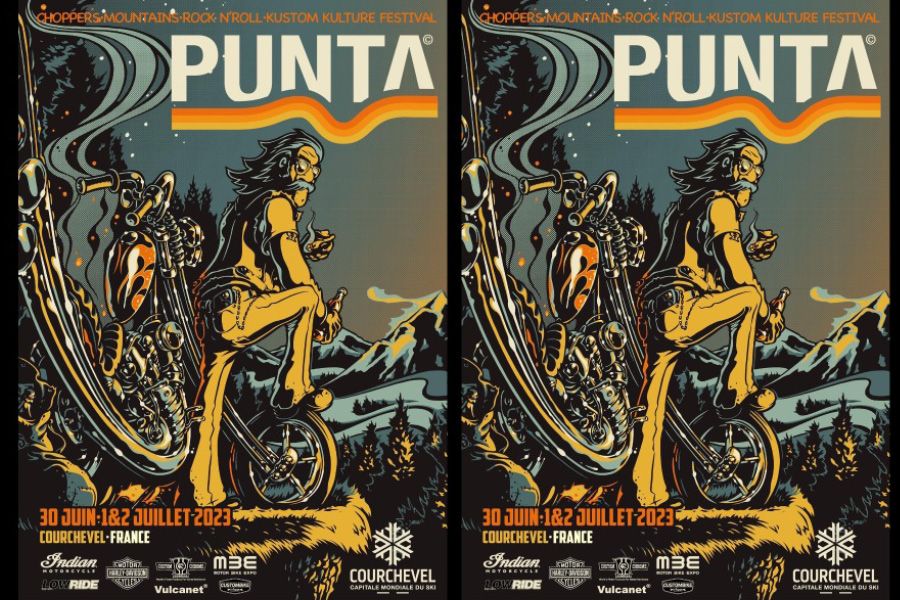 What is the Punta Bagna Motorcycle Event and where is it held?
Punta Bagna is an annual motorcycle event now held in the "Ski Capital Of The World" that is Courchevel, France. The event takes over the entire township of Courchevel 1850 and most of the surrounding towns' accommodations to be fair.
Choppers, Mountains & Rock'n'Roll is the tagline and they're not wrong to highlight these three attractions. The show was previously held in Valloire a mere one and a half hour wiggly ride away but it outgrew the town. In the summer, Courchevel is a stunning town filled with traditional Alpine buildings, luscious greenery across the ski slopes and gorgeous weather.
When is Punta Bagna in 2023?
Friday 30th June to Sunday 2nd July 2023 has been confirmed as the event dates for Punta Bagna International.
What happens at Punta Bagna?
The event is held over three days, and includes a wide range of activities for motorcyclists of all ages. The show runs from Friday to Sunday with a fair share of people arriving on Thursday night to watch the masses roll into town.
From the first thing Friday morning you can expect the constant rumble of bikes rolling into town as tens of thousands of bikers from all of Europe descend. Everyone's vibe is on point so expect literally hundreds of nods waves or inverted V's (those who know) even if on foot! The show is presented throughout with the host broadcasting updates and tunes across the entire town via a public address system.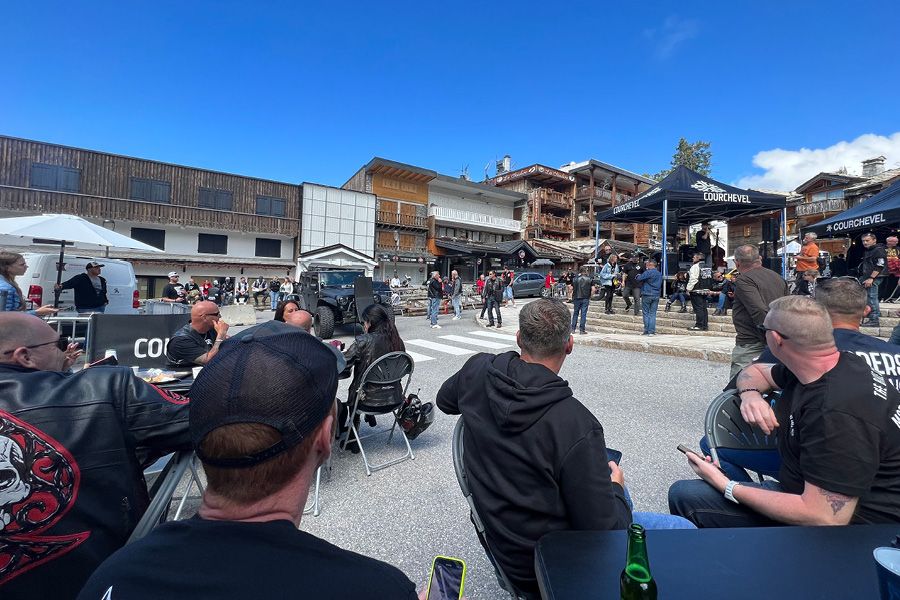 The show is split up into several different parts. There is a custom chopper show, main stage for music entertainment, and a 'club-style' arena and a trade area that literally takes over several streets in the centre of town. Across the town there are main brand stands from Indian, Harley-Davidson, BMW and also mini stages for entertainment and DJ set-ups. Oh and several bars...
Perhaps as important is that there are several organised rides departing from the show to cool places throughout the weekend. One is a short ride further up the mountain as far as the roads go, to the airport where bikes are encouraged to take over the runway, and some presentations are made, too. Perhaps one of the best features of the event is that bikes end up being parked all over town, so every street is basically a bike show in itself. Thousands of bikes are dotted everywhere, usually in rows of 50!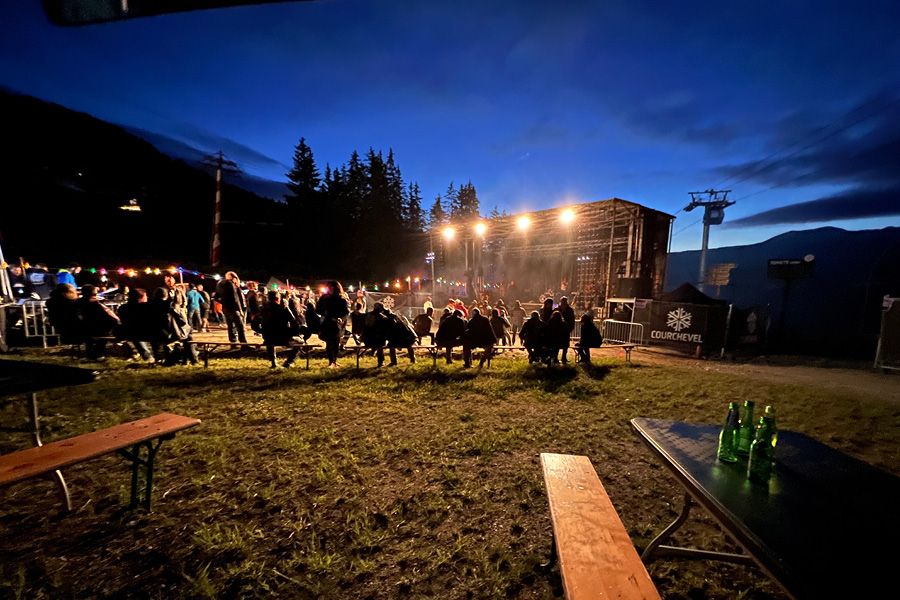 Is that all that happens at Punta Bagna?
No, you can ride the cable car to the top of the mountains and see Mont Blanc. You can head to the aqua sports venue in Courchevel 1650 and do some bodyboarding, go hang gliding, paddle in lakes: there's pretty much tons of stuff going on in the summer in The Alps and a lot of that is on the show's doorstep.
What bikes are ridden to Punta Bagna
Although this is billed as a custom / chopper / club style show, there are huge groups of riders from tons of different countries, and all sorts of bikes pitch up. Adventure bike groups, groups of mixed bikes, classics and even the odd streetfighter.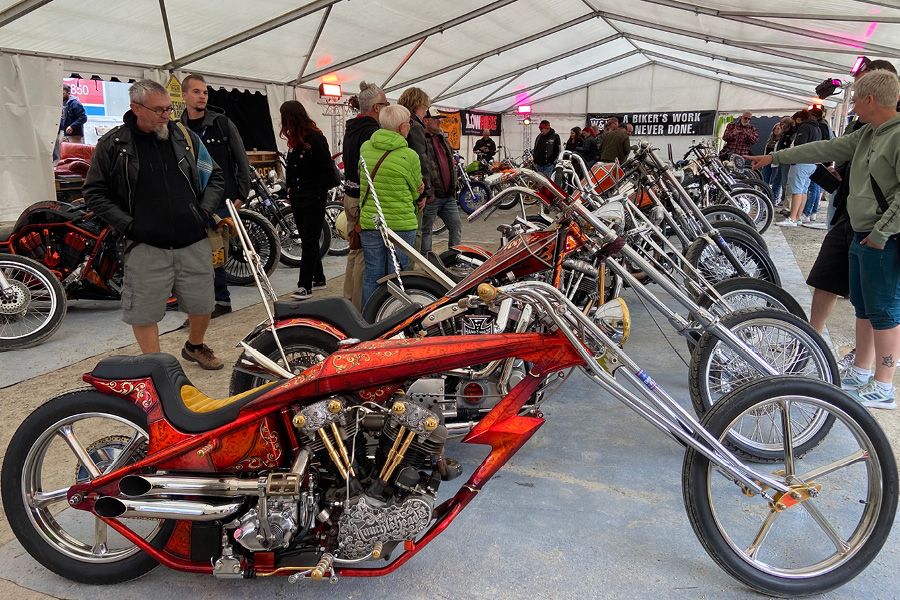 How much does it cost to go to Punta Bagna?
This event is open to anyone to anybody who wants to go and there is no charge to enter the event at all.
We'll cover accommodation and some route suggestions later but for now it's worth a mention that you can camp or park a motorhome for free at the event. Beer from the event bars is around £4 a pint and, if you stay in a chalet, the supermarket in town is reasonably priced too. If eating out, there is a range of food options from food venders offering a 'proper' burger and fries for about £9. Being hosted at a premium ski venue, fine dining is available never too far away.
Is Punta Bagna "safe"?
Now we're not sure why, but when some people hear the words "bike rally" they automatically picture a hefty tattooed figure draped in leather, tattoos, wearing Castrol for cologne, smoking a cigar and polishing a knuckle duster on someone's face. Incidentally my ex-wife actually doesn't go to this show, so you shouldn't see that...
All joking aside, to set the perfect picture, the vibe of the event is unreal: everybody, no matter which country they travelled from, is there to enjoy themselves. You will meet complete strangers and - if you're open to a chat - can easily make a buddy. You will do this several times and over the course of the weekend, bump into the people you meet several times and no doubt enjoy a cold frothy one together at some point.
The BeMoto ensemble tend to go in a large group but we have met with riders who have travelled alone but are no longer alone when they're there. Even when our group splits to go off and do their own thing, you're surrounded by like minded people and have brothers and sisters all around you.
The Police enjoy the show as much as the people attending, they've been known to have a beer and even allow the stunt riders to ride across the top of the traffic barriers against oncoming traffic. However, they did make sure the rider was wearing a helmet.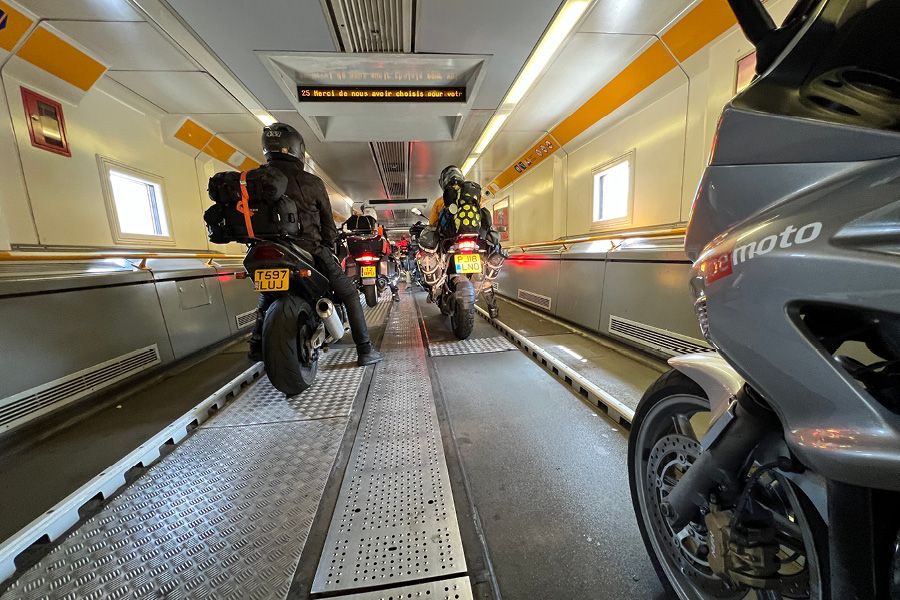 What is the best way to travel to Punta Bagna from the UK?
Now, this depends on where you are coming from in the UK. If you are lucky enough to live near Plymouth, Portsmouth or Newhaven, or indeed anywhere on the left hand side of the UK, then you may well decide it's best to hop on a ferry to Caen, Cherbourg or Dieppe. If you are departing from anywhere on the right hand side of the UK, we suggest Eurotunnel unless you particularly like a slow amble on a ferry, or have a discount voucher.
No matter where you land ferry wise, you will be surrounded by beauty in no time at all. You would really struggle to not pick a good route invented on the spot, unless you choose to travel by Paege. You will find that you will encounter at least one national park, and you'll love the roads. Our simple advice is:
Open Google maps.
Pick your end destination, Punta Bagna at Courchevel 1850, or your stopover if you are having some fun on a detour before heading up to the show.
Stick the details in the destination box.
Select options - "Avoid Toll Roads" and "Avoid Motorways".
Check the route and add any stops you wish to add more adventure.
If you are travelling by Eurotunnel, you have a 9 hours and 45 minutes of toll road motorways at the very least to get you to Courchevel… Fancy it?
Our preference is to have either 1 or 2 nights stopover on the way to the event. Mainly because it's fun, but also because you have the opportunity to fully reacquaint yourself with your machine before hitting the mountainous bends. If we're having a one night stopover then we tend to come out of the Eurotunnel and punch some miles on the toll roads to get us inland as much as we can. We tend to aim for Troyes in this case and spend the night there in some cheap and cheerful dwelling with secure bike parking and booked ahead.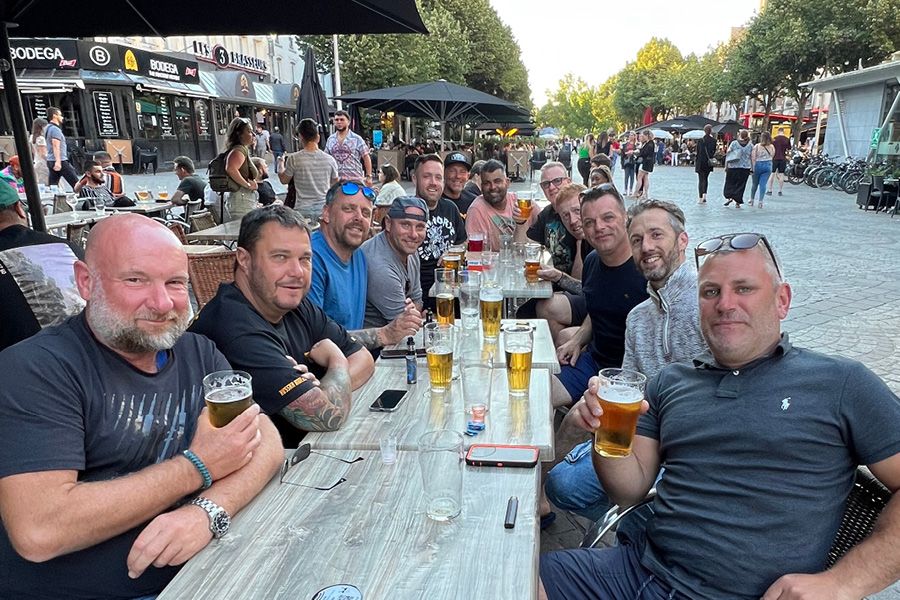 Troyes Route
Troyes is 7 hours from the Eurotunnel terminal, taking account for fuel stops and a reasonable lunch stop. If you get an early crossing, the route is manageable even if you're not used to spending a day in the saddle. We've favoured this route as the perfect middle ground because departing Troyes by 9am the following day, sees you in the mountains around 6pm. This is inclusive of 20 minute fuel stops and an hour and a half for lunch.
Departing Troyes via Saint-Parres-aux-Tertres on the morning of Day Two using our friend Google maps, we select "Camping Le Lac d'Orient" and again, using the avoid tolls and avoid motorways settings, we head off on a 20 minute detour on the doorstep for a worthwhile photo stop.
After accosting a very obliging French OAP called Jenni, we employed her as camera technician for our smouldering photo. After a quick skinny dip for one of the group, we were on the road again within 15 minutes. We headed south along the D671, then D971, D970 and finally 'sling a right' on to the D996 for a short while. The lunch destination is the town of Simard. It's a charming little town with L'Eden Brasserie in the middle of town. It's a glorious authentic place to enjoy a well earned lunch. The ride there takes around 4 hours and hits the spot for a number of reasons. It's the perfect halfway point, there's plenty of off-road parking for bikes over the road and…the daily special set menu which includes starter, main, desert, a glass of wine or soft drink and a coffee at the end… all for about £12!!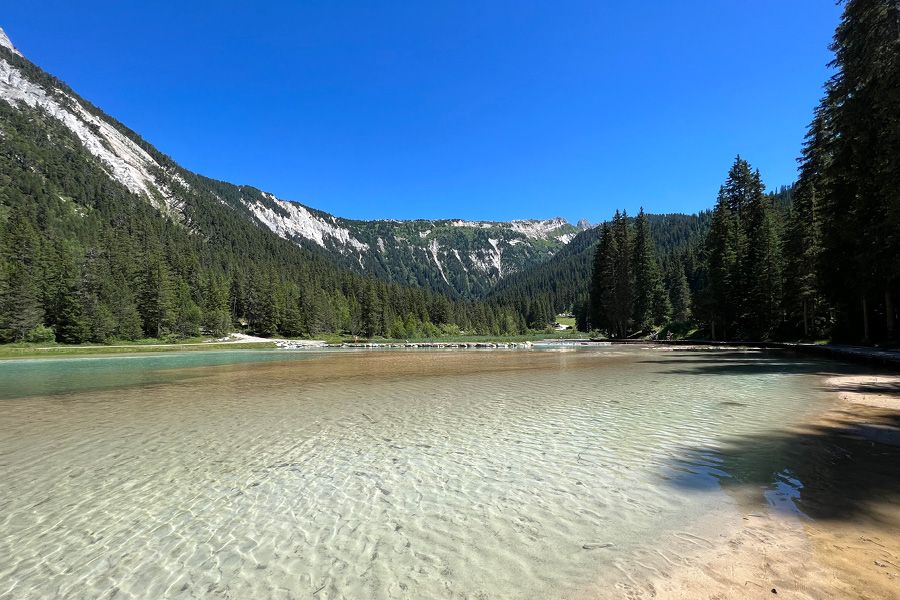 Heading out of Simard after a leisurely lunch, the time is around 2pm. This is where the route is tailored by your preference. You can either hop on the toll roads for an hour and 15 to Amberieu-en-Bugey and chew some miles, let lunch go down before working the bike again. From Amberieu-en-Bugey you can stay off the tolls and motorways all the way to Courchevel and land around 18:30 with a couple of splash and dash fuel stops. This is usually our preference because we spend more time in the mountain scenery without pushing check in time too late.
The other option is you can dodge tolls and motorways completely and land in the mountains around 19:45. We (usually) have some beer hounds on our trip, so 8-hour riding days and beer in hand by 19:00 latest is the favoured approach.
Dijon Route
This is a little more of a hardcore route for your day one because you have five and a half hours of toll roads excluding fuel stops from Eurotunnel. This means with a 10am crossing (arriving 11 am French time) the earliest reasonable time you will arrive at your digs in Dijon, is 19:30 without flogging it.
The benefit to this route is that you have an 8 hour day of avoiding toll roads nailed on for Day 2. You can also enjoy a circa 2pm lunch overlooking lake Annecy at L'Oasis-Servier or La Bodega next door. Both great venues, and again, plenty of parking opposite.
After the most stunning lunch stop, you have 3 hours of scenery to chew before arriving at Courchevel. This puts us in town for our 6pm beer cut off, but.. It's not all about us, so if you wanted to hit a few more miles and do some more exploring, take a detour via Chambery and add another hour or so to the fun.
Truth be told, there is no wrong or right way to hit this, it's all up to personal preference. If you don't take the Dijon route, Annecy is a fantastic ride out for the day, pack your swimming trunks as you can chill by the lake and go for a swim.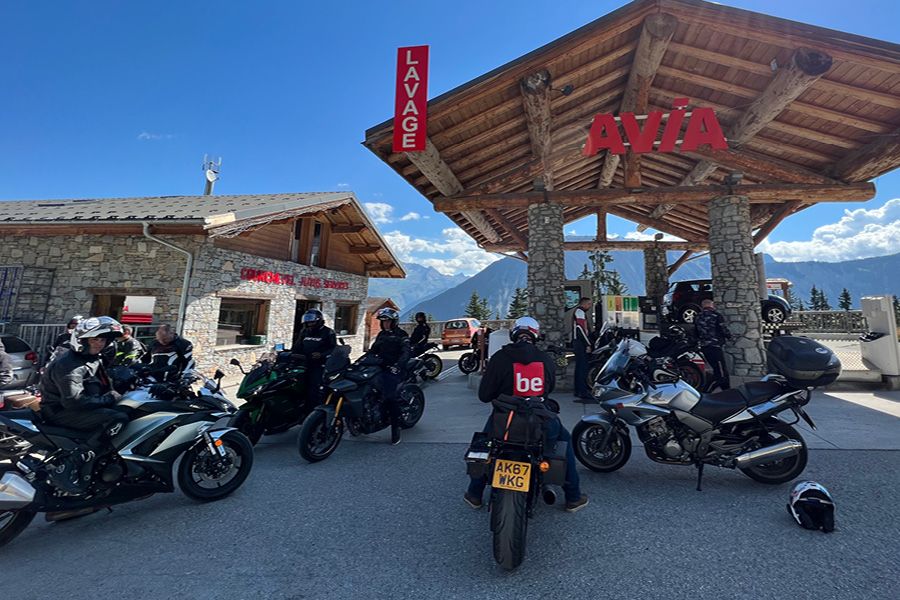 What are some of the challenges around riding for 8 hours on a motorcycle
Just in case you've never spent a day in the saddle, or haven't recently, here's a bit of a feel for what you can expect and a couple of survival tips.
Anyone who has ever attempted a long-distance motorcycle ride knows that there are certain challenges that come with the territory. For starters, there's the issue of staying hydrated and nourished for the duration of the journey. This is a challenge if you are crossing a desert, but France isn't beyond civilisation so you won't struggle for places to eat and drink. We won't go too far into touring hacks but suffice to say, having an insulated bottle of cold water is like nectar from the gods on a warm day.
We do this trip every year and in 2019 we happened to be riding on the hottest days on record. It was so warm that tarmac was melting on the roads - seriously. If you don't have an insulated bottle, expect to drop an extra 2 euros at every fuel stop for a bottle of water,
Hopefully you won't need to do this journey at the crack of sparrows or after dark, but fatigue is something to be considered. Depending on where you take your riding advice from, you "should" stop for a leg stretch every 45-60 minutes. As a group of seasoned riders we stop for a leg stretch every 100 miles and fuel up. If any of our group need to stop before they ride to the front and point off to the side to let the point person know to come off at the next services.
It's a great idea to have some sweets, snack bars or other quick bites to nibble on, you might not think it but in warm gear or warm weather, pulling the bike about for 8 hours does burn some calories, if you want to stay alert you need regular breaks and regular fuel (not just for the bike but your body too).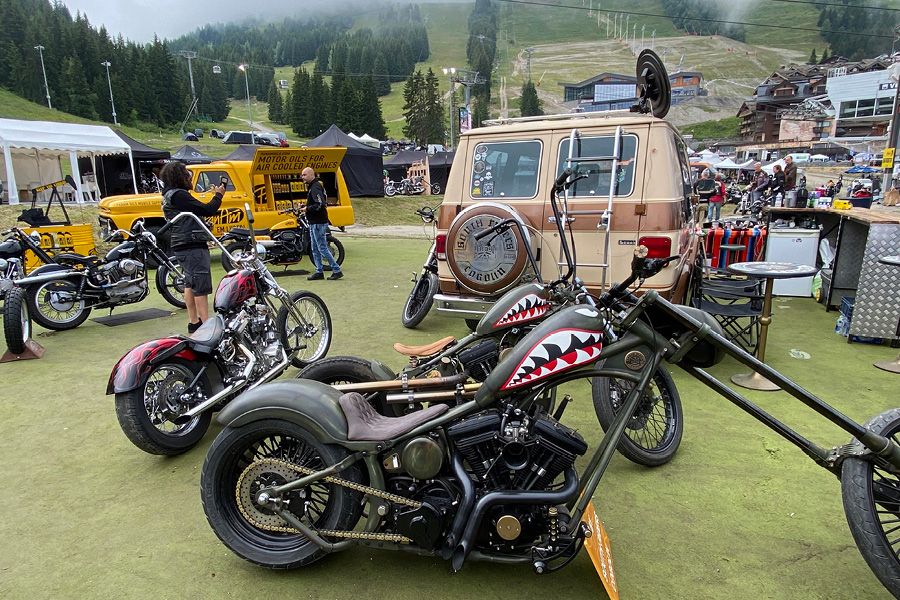 Worst things about Punta Bagna
Depending on your stance, location could be on this list. It's lovely when you get there BUT… it's a blooming long way to go, and also once you are there, the stunning twisty roads aren't on the doorstep.
If you arrive early, say on Wednesday or Thursday, there isn't much to occupy you as most of the businesses are closed outside of ski season until this show starts. We had a great time both nights before the show, but we were a larger group with plenty of characters.
Courchevel is the ski capital of the world, which immediately means pound signs… if you eat in the restaurants. There is an abundance of food stalls and cheaper places to eat, but if you want a proper sit down, it will cost a few quid.
Accommodation can be confusing. If you book through the official website and use the recommended providers, you can bag a fantastic deal on chalets or hotels. It can cost as little as 50 Euros per person per night. You should make sure that the accommodation is as close to the event as possible unless you particularly want to stay away from it. Punta Bagna has accommodation split across the three towns, Courchevel 1550, 1650 and 1850. The main event is held at 1850 (feet) and therefore has the pricier accommodation. 2650 & 2550 are a 5 minute ride down the mountain, or a twenty minute stumble if you wobble down the hills that turn into ski slopes come winter.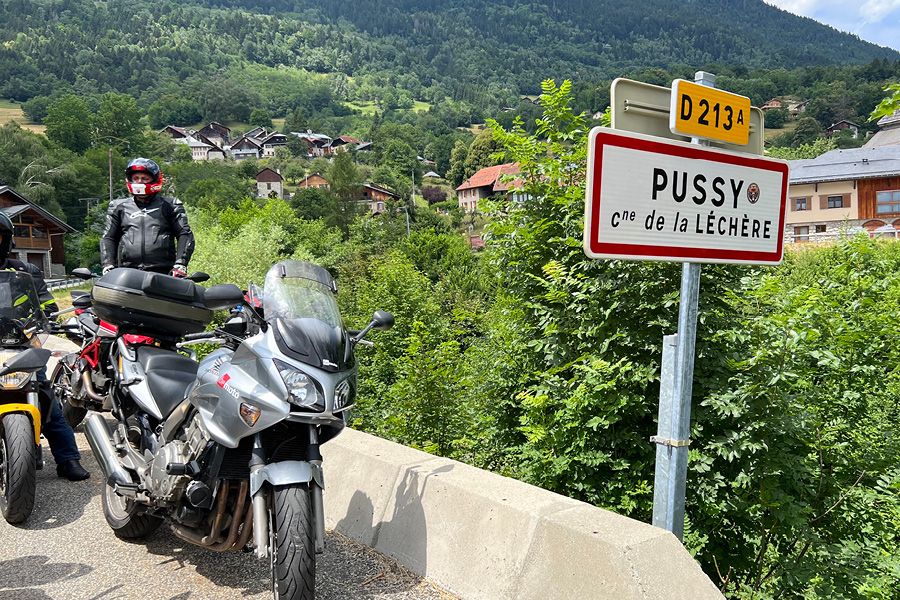 Best things about Punta Bagna
The vibe! Everything south of Troyes / Dijon starts to feel more and more awesome as you roll deeper south towards the mountains. When you start to climb the mountains the scenery is glorious. It sets the tone for arriving into town and seeing a massive bike party. Everyone has the same vibe, and everyone is there to have a great time. It may sound a bit funny, but the experience is literally the best reason to go.
The exhibitors / traders at the event, it's not like the MCN Festival or Motorcycle Live. One moment you're looking at cool apparel and the next, tasting a mountain liquor or trying some cured fillet steak.
Speaking of apparel, the event merch is unreal. The tees are so cool, and as the event is pretty much a hidden gem, no danger (yet) of seeing someone in the same gear. Unless you accidentally coordinate with a mate on a night out back home. He he.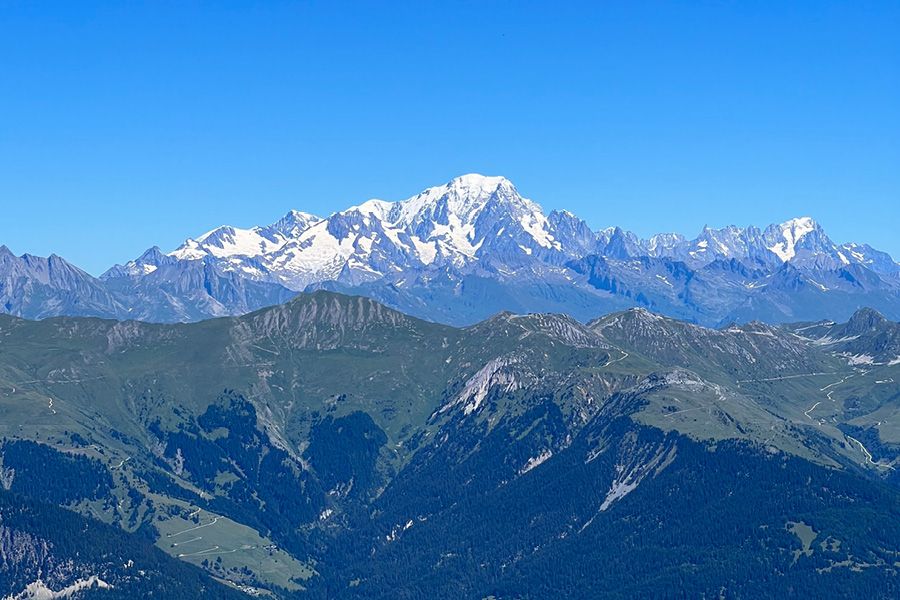 Useful contacts for Punta Bagna
As this is a free rally, there isn't really any reason to contact the show unless you want to sponsor the event. If you do need to contact the show, you can reach them via Facebook, you should also follow the page for the latest updates.
Courchevel Tourism has the booking infrastructure for the event when the time comes. Accommodation is usually available to book from February but as popularity grows this may change. When the time comes, this is the website you need. It will be heavily published on the facebook page.
---