---
First ride: 2019 Yamaha YZF-R125
By Alan Dowds
WE GET some sweet trips in this job – but it's probably fair to say that a new 125cc bike launch might not sound like the most exciting thing. Now, don't get us wrong – we love riding (almost!) all bikes, (almost!) all the time. But an artificially-strangled small-bore engine is always going to put a bit of a dampener on proceedings.
Would that be the case on this jaunt, to test the new 2019 Yamaha YZF-R125? On the face of it, no, for several very good reasons. For a start, it's the first week back to work after xmas, and we're going to Valencia in Spain, hopefully for some sunshine and a vitamin D boost. Secondly, we're riding the new learner Yam on road and track – visiting the newly-built Circuit de la Ribera outside the city, which is a massive go-kart track, and very impressive looking. Riding small bikes on a twisty track is always a hoot…
Finally, the new R125 looks to be a very intriguing design indeed. It's got a variable valve actuation system in the cylinder head – a high tech solution on big bikes, and unheard of until now on a 125. Okay, some 125 two-strokes in the past used variable power valves in their designs – but these were usually dumped on the limited 12bhp bikes sold in the UK. Using such a setup on a four-stroke learner bike promises to give the limited-by-law 15bhp power output another dimension, with the variable valve system giving a broader range of torque. And with another tool at their disposal, could the engine designers make a more 'natural' feeling motor?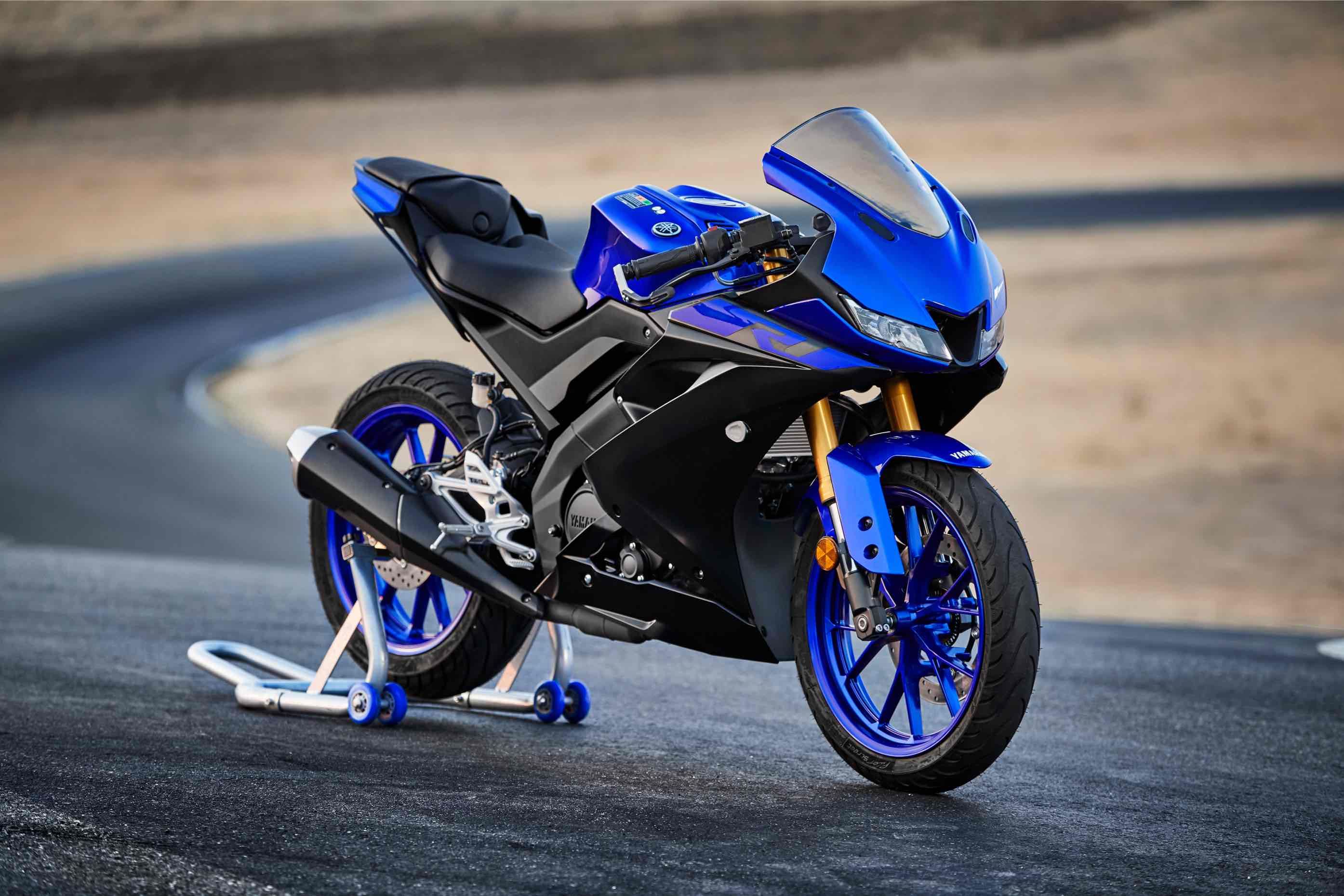 ---
We'll soon find out...
Although, due to the way the launch was organised (we were riding the new R3 on the same jaunt), my first encounter with the R125 was on track – so there was little chance to explore the bottom end much. I'd got my eye in on the R3 already, and was trying my best to keep up with a load of Euro-journos on the bigger bikes, so there was much frenzied thrashing of the little 125. I was tapping on the gear lever like Fred Astaire on speed, keeping the bar tacho between about 8k and the 11k redline, slipping the clutch if I bogged down on the way out of a bend, and generally having a ball. The chassis was under the cosh too – braking points were pushed back as far as possible, until I was barely stroking the lever at all, holding my breath as I tipped into a bend. The tyres – Michelin Pilot Street commuter hoops – are doing really well here, far beyond their design parameters, while the new firmed-up suspension and stiffer swingarm/frame package are also working well. It really does feel like a 'big bike' in terms of the stability of the chassis, yet has the supreme agility of a bike that weighs just 142kg soaking wet.
After a few track sessions, we say bye to the R125s until next morning, when we have our road ride. It's freezing here in Valencia – there's not a cloud in the sky, but it's -1°C, and blowing a gale from the north, so is much colder than the grey-but-mild conditions we left in London. I'm not as bothered as the guys in one-piece vented race leathers; I packed a warm textile jacket, so am much cosier as we pull away from the hotel for an hour or so riding round the city.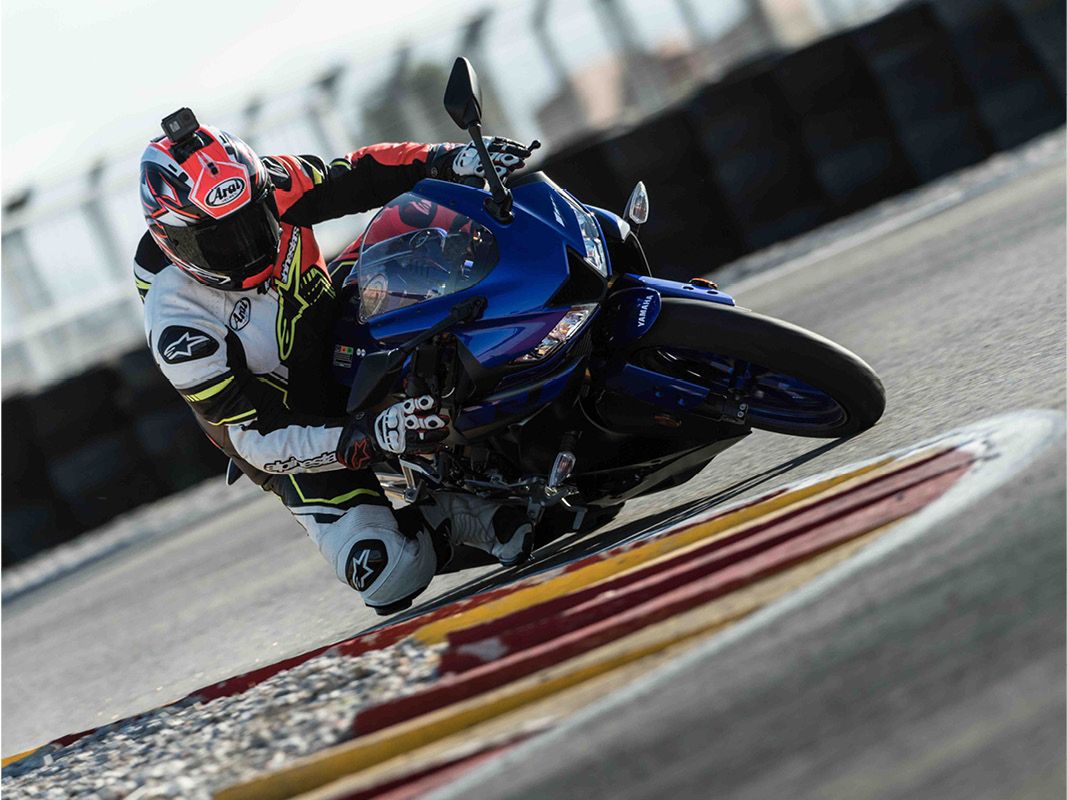 ---
This is much more the natural environment for a 125, and the YZF works well.
Now, we can sample the engine properly, and quickly appreciate the low-down and mid-range grunt it offers. Nothing like a big bike of course, but a big step up from most of the 125s I've ridden in recent years. A full 15bhp top end, plus the variable valves, makes for an engine that feels 'right – there's discernible grunt low down, and a proper torque curve. Okay, you're still on 100 per cent throttle most of the time, but as the revs climb, the throttle response is nice and clean. You can easily keep ahead of all but the fastest in-town traffic, and the super-skinny R125 can squeeze through the grimmest of traffic jams. The low seat, teeny weight and wide bars put you right in charge, and while it's not got the commanding riding position of a trailie or a naked, you feel completely at ease. The roads give us the chance to try the brakes a bit more, and the front four-piston caliper works well, quickly hauling the little sportsbike down from speed.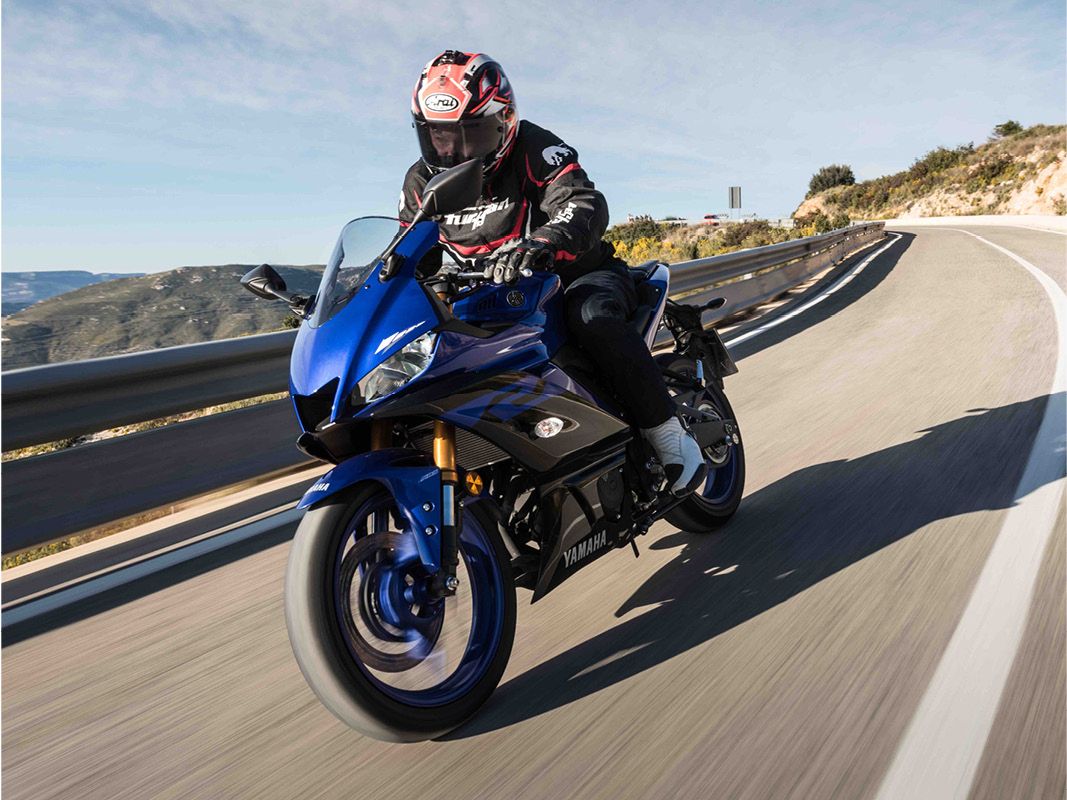 We stop for some pics and filming, then we're off out of town, for a spin along the coast. Now normally this would be an amazing ride, but the wide, open, fast dual carriageways and freezing, breezy conditions don't favour the R125. Nevertheless, we get stuck in, all slipstreaming in a line, tucked in like fat Moto3 racers, trying to get every last kph out of the 125s. About 130kph – 81mph – is the top end, which is fairly impressive on a learner machine. But on one downhill section, with a tail wind, 144kph appeared on my dash, which is 90mph in old money. Wow.
After a quick coffee stop, we head back to the hotel, and I'm as impressed by the R125 as I'd hoped. The new engine really is a big step up compared with most of the competition, and the chassis and tech package is up to the job too. It's not cheap at £4.5k, but you're getting a proper bike for that cash, and will reap the benefits every time you get on it…
---
ENGINE
The big story on the 2019 R125 is the motor. We get a slick 125cc basic design – single cylinder, four-valve SOHC head, and there are larger valves, throttle body, inlet port and redesigned combustion chamber for this year.
But the main attraction is the VVA variable valve actuation system. This uses two separate high- and low-speed cam profiles, with a solenoid-operated pin that locks the respective profiles' rockers together for high-speed operation.
Fuel consumption is down, by a claimed five per cent, and there's a new slipper/assist clutch unit.
FRAME
The main frame uses a steel Deltabox beam design, with much wider swingarm pivot points, aiding stiffness.
SWINGARM
Redesigned unit has optimised rigidity and is longer, giving improved weight distribution.
SUSPENSION
New 41mm USD Kayaba front fork
BRAKES & WHEELS
The rear tyre uses a wider 140 section, and there are detail changes to brake hoses, pads and ABS unit
COCKPIT
The R125 has a new LCD dashboard with a bar tacho, a VVA variable valve actiation indicartor light and a greeting message when switched on, which you can change to whatever you want. There's also a gear indicator and shift light.
DESIGN
Yamaha's given the R125 a fairly high spec - LED headlights, stacked aero tail unit, and all-new bodywork, plus a MotoGP-style top yoke and track-ready front brake lever guard.
---
SPECS
Price: £4,499
Engine: 4v single, SOHC, liquid cooled, 125cc, variable valve timing
Bore x stroke: 52x58.7mm
Compression ratio: 11.2:1
Max power (claimed) 15bhp@10,000rpm
Max Torque (claimed) 11.5Nm@8,000rpm
Transmission: six speed gearbox, wet slipper assist clutch, chain drive
Frame: steel Deltabox beam type
Front suspension: 41mm USD fork
Rear suspension: Aluminium swingarm, monoshock
Brakes: 292mm disc, four-piston radial mount caliper (front), 220mm disc, single-piston caliper (rear), ABS.
Wheels/tyres: Cast aluminium/Michelin Pilot Street, 100/80 17 front, 140/70 17 rear
Rake/trail: 26°/95mm
Wheelbase: 1,325mm
Kerb weight (fully fueled): 142kg
Fuel capacity: 11 litres
Rider Aids: ABS.
---