---
Frame Spotting: 25 years of the Yamaha YZF-R6
By Alan Dowds (Dowdsy)

A Frame Spotter's Guide to the Yamaha R6
The 600 class has been on the ropes for years now – though there's been a bit of a comeback this year, with Kawasaki updating its ZX-6R for 2024. However, anyone who rode bikes between 1990 and 2010 will know just how fundamental they were. Kicked off by bikes like the Kawasaki GPZ600R, and cemented by the legendary Honda CBR600F, a Japanese-made inline-four 16-valve water-cooled 599cc engine, in a sporty yet usable chassis became the benchmark for much of UK biking.
Back then, the litre bikes were still a bit of a worry: with no electronic rider aids, less-sophisticated suspension design, and pretty ropey tyres, it was much easier to push harder on a 600. The 750 class offered a bit more power and torque, but by and large, folk preferred the 'Goldilocks' recipe of the 600s.
Through the 1990s, the middleweight supersport class was progressing nicely. The CBR600 was joined by the Kawasaki ZX-6R and Yamaha Thundercat, all solid road bikes. But then Suzuki dropped a 600cc version of its GSX-R750 in 1996, and everything else looked a bit dull and staid. The steel-framed centre-stand-equipped CBR, and comfily-sprung Thundercat were great bikes and (whisper it) just as capable on track as the nutter GSX-R600.
The class was headed in one direction though. And when Yamaha launched its revolutionary YZF-R1 in 1998, the plan was clear. A new track-focused supersport YZF-R6 appeared a year later, and transformed what a 600 meant. Within a few years, all the Japanese 600s would have a laser-focus on track use. But for the moment, the R6 cleaned up.
Over the next decade or so, Yamaha essentially imported and sold R6s by the container shipload. The total 600cc supersport market in Europe was 50,000 units in 2006 alone, and the R6 was more than a quarter of that. But by the beginning of the 2010s, things were changing. Bikers were getting older and less crazy, and were moving onto bigger, less-frantic bikes.
If you really wanted a sportsbike you may as well have a 1,000cc superbike – which handled as well as a 600 for most folk by then, and had more tech, as well as an extra 50bhp. Many left sportsbikes behind in favour of adventure machinery and naked roadsters. And by 2016, Euro emissions rules had finally put an end to the ever-increasing power outputs and ever-decreasing mass of 600cc fours. The last major R6 upgrade in 2017 saw a drop in power, and now, since 2021, the R6 is a race-only product, no longer homologated as road-legal after the Euro V emissions rules of 2020.
It's mad to think that Yamaha's nutter 600 is knocking on for 25 years old. And to celebrate, we're taking you through every major upgrade it's had, from the original in 1999 through to today.
If you're a closet 'Frame Spotter' and know the difference between all the models of R6, kudos to you!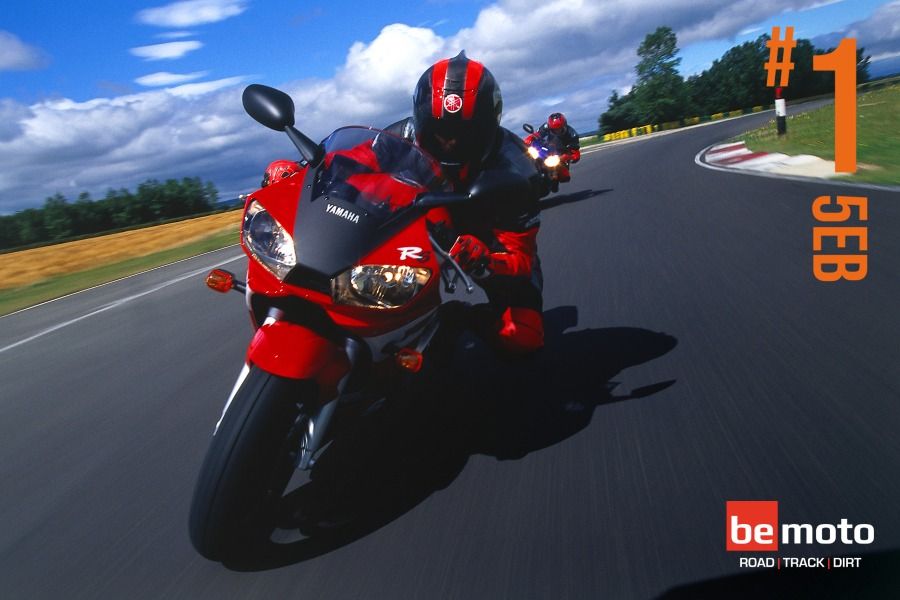 Get BeMoto cover for your R6 with Yamaha Motorbike Insurance or check out our Motorbike Track Insurance products.
---
THE DIFFERENT YAMAHA R6 MODEL VARIANTS
According to Yamaha, there are eight different UK YZF-R6 model codes. Here's the big differences between the models, and how to spot each one.
#1: Yamaha R6 5EB (1999-2000)
The original R6, and it still looks awesome today. Yamaha was buzzing from its all-conquering R1 launched the year before, and a 600 version was rumoured almost as soon as the litre bike arrived. The family resemblance was clear: the R6 came in the same blue or red/white colourways, and its profile aped the lines of the R1.
Under the slick full race fairing was an all-new machine, with nothing left from the YZF600R Thundercat it was usurping (though Yamaha would keep selling the Thundercat as a road-biased supersports for another five years). The inline-four 16v DOHC engine was all-new with a bigger bore and shorter stroke, higher rev limit and more power: up to 120bhp from 100bhp claimed.
It stuck with carburettors, and didn't have any advanced super-posh technology, just a sorted, mature design. It was installed in a proper aluminium twin-spar frame rather than a cheaper steel unit, with fully adjustable RWU front forks and rear monoshock. One area where the new R6 stuck with the Thundercat was in the brakes: the so-called 'blue spot' Sumitomo callipers had debuted on the Thunderace and Thundercat, and instantly went to the top of the class.
Even now, the one-piece callipers, with their blue blanking plugs, are very good standard brakes. The blue plugs are needed because of the one-piece design of the main calliper body: the holes for the pistons are machined through from the blanking side, into both sides of the calliper, then the blue anodised plugs are screwed in. It's a quick and cheap way of making 'one-piece' cast callipers without the complexity of machining piston pockets from the inside faces.
HOW TO SPOT ONE
Look for the right-way-up (RWU) forks, the slightly angular bodywork, R1-style tail unit, square-section swingarm bracing, silver engine casings, Deltabox II frame in plain aluminium finish.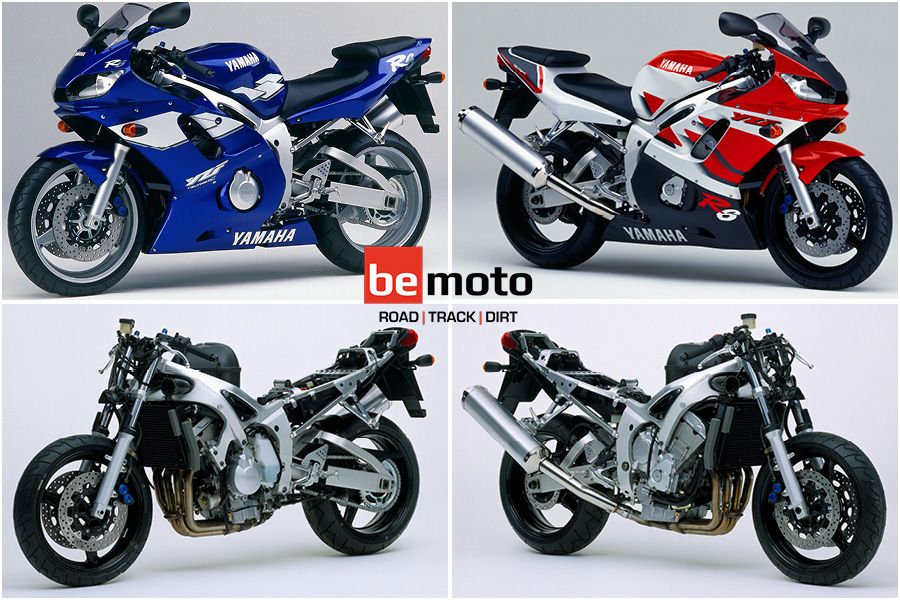 ---
#2: Yamaha R6 5MT (2001-2002)
A new model code – but the first facelift for the little Yamaha isn't a big one. Bodywork tweaks and new graphics give a sharper look, but the actual mods are minor: LED tail light, new lighter fork, uprated engine internals and improved electronics.
HOW TO SPOT ONE
Still got the silver square-braced swingarm, still got carburettors
LED tail light shows it's not an original
---
#3: Yamaha R6 5SL (2003-2005)
Yamaha drags the R6 into the 21st century, with fuel-injection for the engine, as well as a new liner-less cylinder block. The fuel injection is the same suction-piston type as on the R1, with CV carburettor style slides controlling airflow in an analogue fashion. It aimed to replicate the dual-valve throttle setup pioneered by Suzuki but turned out to be a bit of a dead end design that didn't last long. Maximum claimed power goes up to 123bhp, and the fuel injection meant we got a new exhaust with a catalytic converter inside, and a titanium silencer to cancel out the weight gain from that.
The chassis featured a new cast-type 'Deltabox III' frame design, plus a new cast swingarm. 2003-04 bikes stick with right-way-up forks and conventional axially-mounted front brake callipers.
For 2005 the R6 stayed a '5SL' but had a fairly big upgrade in the form of an upside-down front fork, and radial-mount Sumitomo callipers with new 'gold spot' design, the blanking plugs now gold instead of blue. The front discs are also bigger, up to 310mm from 298mm.
HOW TO SPOT ONE
Look for the new cast frame, finished in black, and the cast swingarm, which is much curvier than the old square-tube fabricated design.
2003-04 bikes have black RWU forks and blue spot brakes
2005 model has gold USD forks and radial callipers with gold blanking plugs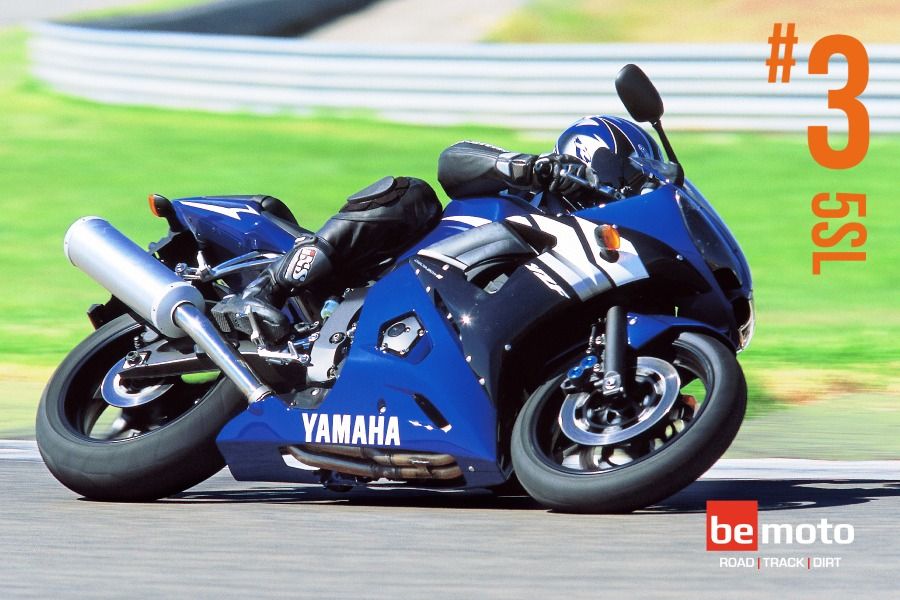 ---
#4: Yamaha R6 2CO (2006-2007)
This was the big 'un... And made a proper splash at the time.
A completely new engine, with a much bigger 67mm bore and shorter 42.5mm stroke (previously 65.5 x 44.5 mm). That meant a higher rev limit and more peak power, though the claimed 17,500rpm redline turned out to be a bit of an exaggeration (dyno operators with external tachometers soon noticed the engine didn't spin past 16,000rpm at all).
The engine also got a new ride-by-wire injection setup, which was a first on a 600, and proper witchcraft. Dubbed YCC-T or Yamaha Chip Controlled Throttle, it used a stepper motor to move the throttle butterflies to deliver the airflow that the ECU wanted to deliver the power demanded by the rider on the twistgrip. There's some debate about which bike was first to use ride-by-wire, the Aprilia SL750 Shiver also debuted around this time with a system derived from a Volkswagen car engine. However, the R6 was certainly the first widespread, successful implementation of this now-common tech.
The system also had twin injectors per cylinder, another first on a 600. The new engine also featured titanium valves, separate cylinder block, forged pistons and magnesium covers. It was the first 600 with an EXUP exhaust valve arrangement.
The rest of the bike was just as innovative, with a new frame and swingarm, uprated running gear, including high-and low-speed suspension damping adjustment, aerodynamic fairing, and smaller dimensions all round. It was much lighter: 162kg dry – and immediately became the sportiest 600 you could buy.
HOW TO SPOT ONE
Totally different second-generation bodywork, with underslung silencer and stubby end-can
Red/white or blue paint, gold-spot callipers
High and low-speed suspension adjustment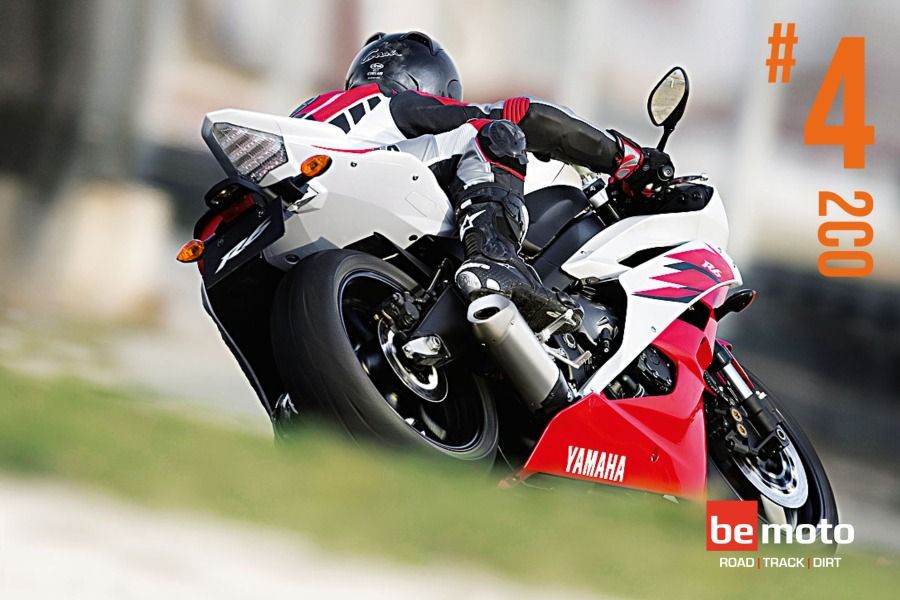 ---
#5: Yamaha R6 13S (2008-2011)
It looks much like the 2006 bike, but the exterior design uses more subtle paint schemes, and there are minor tweaks to the bodywork with different fairing vents and slimmer tail unit.
There are big changes inside though: the engine gets a higher compression ratio (up to 13.1:1 from 12.8:1) alongside other mods to improve mid-range. There's also a new variable inlet system – YCC-I (Yamaha Chip Controlled Intake) as seen on the R1 a year earlier. The system uses moveable intake trumpets to optimise the geometry for low and high-rpm operation.
There's more power: up to 129bhp from 125bhp, but the variable inlet, longer fork tubes and other changes add a bit of weight: 166kg dry from 162kg.
HOW TO SPOT ONE
Silver-spot callipers up front on the 2009 bike, magnesium sub-frame, the middle air cooling vent in the lower front fairing moves forward to the leading edge of the fairing.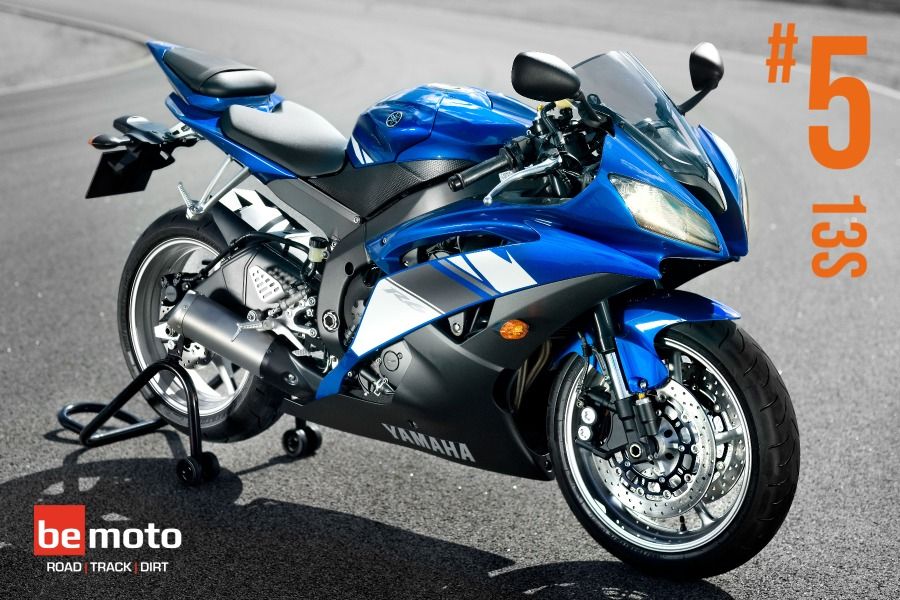 ---
#6: Yamaha R6 1JS (2012-2013)
There's a different model code for this year: 1JS from 13S, but there are no big external differences at all – just colour schemes.
HOW TO SPOT ONE
This is a colours and frame-number prefix ID job: the 2012-13 bikes look the same as the 2008-on machinery.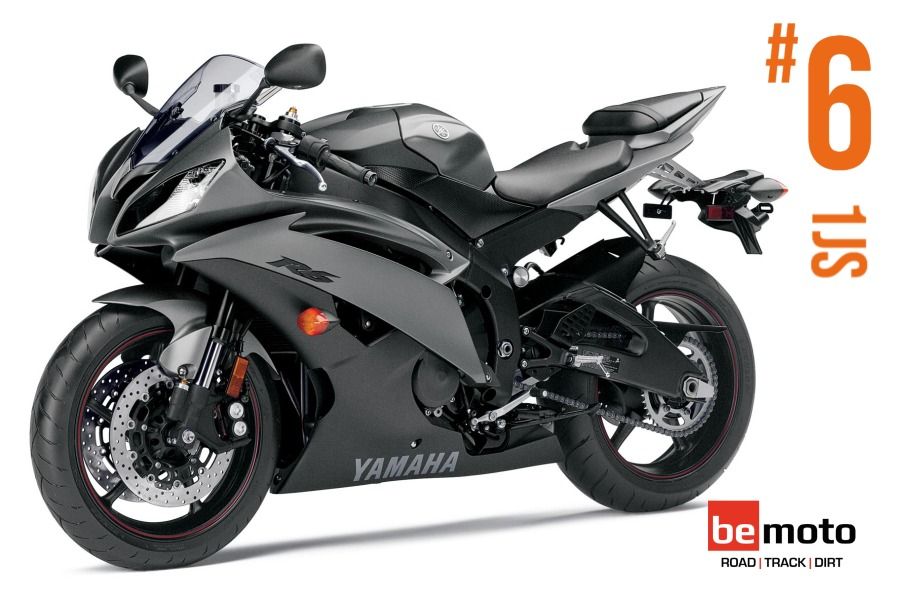 ---
#7: Yamaha R6 2CX (2014-2016)
Another new model code, but nothing in the way of major updates.
Indeed, the past few models have seen peak power tailing off in the face of new emissions standards. The Euro IV limits came into play in 2016, and the manufacturers were already working towards them. The 600 class had also hit a massive trough by now, with sales plummeting. As a result, firms like Yamaha were focused on adventure bikes and naked machinery which was doing much better. The MT-09 triple and MT-07 twin model ranges were here now, and they were pushing the R6 into the background a little.
HOW TO SPOT ONE
Colours and frame number prefixes.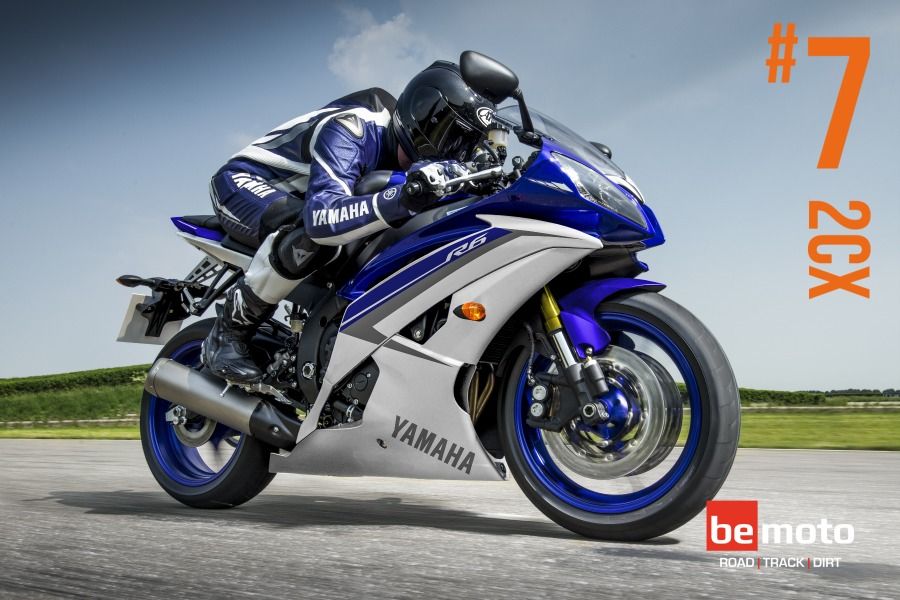 ---
#8: Yamaha R6 BN6 (2017)
The last major new YZF-R6 (so far), and a belter – once you had fettled it to overcome the Euro IV emissions gubbins. The problem was, to meet the ratcheting emissions regulations, and still make the same or more power than before, Yamaha would have needed to design an all-new engine. But the sales of 600s had dropped so much that there was no financial justification for the big investment. So, the bigger catalyst and cleaner fuelling all cut peak power and added mass, making the razor-sharp R6 a little blunter.
For use on track, a full race system (or at least a de-cat pipe) plus engine remapping gives back all the power though, and even on the road there are various tuning options open to you.
Engine aside, the 2017 Yamaha R6 bike saw a healthy upgrade. The bodywork is now R1-style, with LED projector lighting, and the big-forehead/massive air intake front fairing design. The forks go up 2mm in diameter to KYB 43mm USD parts, and 10mm larger 320mm discs. It sticks with the same four-piston Sumitomo brake callipers as before though. An aluminium fuel tank saves a bit of mass, as does a new magnesium rear subframe, and the engine gets a gear position sensor integrated into the crankcases. A rider-aids package arrived too, with six-level traction control, rider power modes and a quickshifter all as standard.
By 2020, Euro V emissions regs ruled the R6 out as a homologated road bike – so from 2021-on, it was sold as a race ready R6 only, like a YZF450 or MX bike.
HOW TO SPOT ONE
All new R1-style bodywork, projector headlamps, subtle graphics. 43mm front forks with no external damping adjuster.
The R6 Race from 2022 has no road gear: no ignition lock, lights, mirrors.
Yamaha's GYTR performance arm offers loads of track upgrades too, from ABS deletes to race chains, bodywork and much more.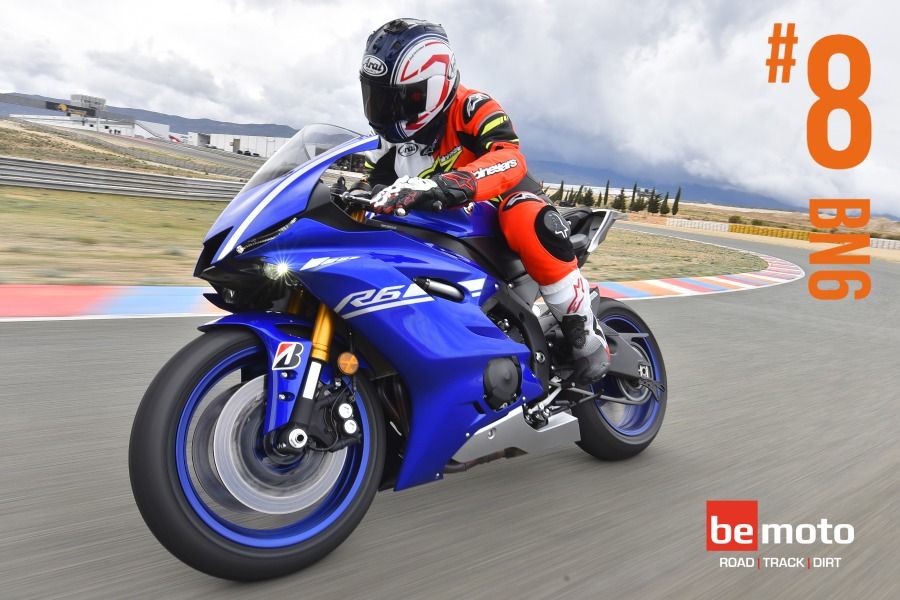 ---
Check out the latest Kawasaki ZX-6R 2024 supersport launch.

---