---
Future Classic Kawasaki ZX12R Ninja SportsbIke
By Alan Dowds
Pros
Stunning styling
Engine is still amazing
Lighter and better on track than you'd think
Simple to maintain.
Cons
Old-tech abounds: no ABS or traction to tame the 189bhp engine
Low comfort levels for touring
Motor is a bit revvy
Expensive to keep in rear tyres and other consumables
Kawasaki ZX-12R Ninja
We love a golden oldie here at Bemoto Classic Bike Insurance – but not the ropey old carbide-headlamp, kickstart and girder fork type. No, with a relaxed view on what makes a classic (we reckon anything before about 2005 counts), you can get hold of some excellent bikes – and ones which may well appreciate greatly if you buy carefully. Need convincing? Check out the prices of a Suzuki RG500 in 2005 and now…
So – in this semi-regular series, we'll pick out some of our favourite prospects for 'future classic' status. Bikes which may not have been around a long time, but made a big impact, and are certain to tickle the fancy of future buyers. And bikes that if you buy smart now, could make you a nice little earner in the medium term (while also being great fun to ride in the meantime).
We're kicking off with the Kawasaki ZX-12R; a crazy high-horsepower machine which looks rather quaint nowadays – but was a headbanger rocketship in its day, back in the early 2000s. Kawasaki was getting a bit of a kicking in the flagship classes: its ZX-7R superbike was bested by the Suzuki GSX-R750, the ZX-9R never really matched the Honda FireBlade or Yamaha R1, and Honda's Blackbird had kicked the ZZ-R1100 sports-tourer's head in towards the end of the 1990s.
---
Kawasaki new concept in frame technology
It would take a few years before bikes like the nutter ZX-10R, wild ZZR1400 and slick ZX-636R would appear and propel Team Green back towards the top of the Japanese performance pile. But in the meantime, we got this, an extremely serious Ninja-branded hyperbike, with an enormously powerful 1199cc engine, ZX-family styling and a completely new concept in frame technology. Rather than go for the typical twin-spar aluminium cast/extruded fabricated design, the firm came up with a backbone monocoque layout running over the top of the engine. The frame was a hollow aluminium fabrication, and held the battery and parts of the airbox and air filter, while promising new levels of stiffness and light weight.
Part of the reason for the backbone frame was a claimed reduction in width – all the better to cut drag, and all the better to go very, very fast indeed. The mirrors and even the fork lower castings are all shaped by aerodynamics too, and it's no secret that Kawasaki originally planned to hit 200mph with the ZX-12R. The Hayabusa of a year earlier had almost nudged that target with a following wind, and the slimmer, more powerful Ninja looked like it could pip the Suzuki to the top-speed crown.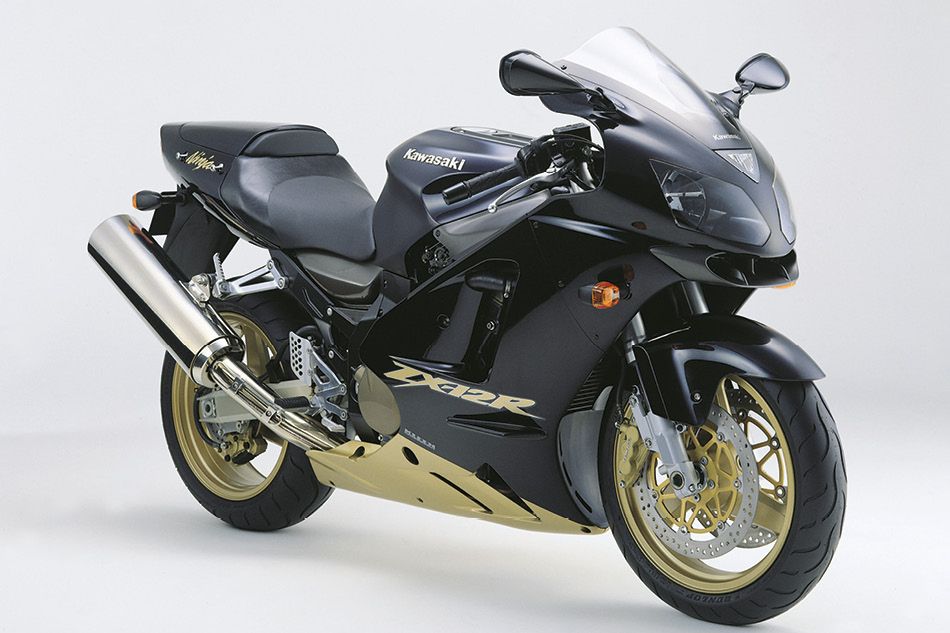 ---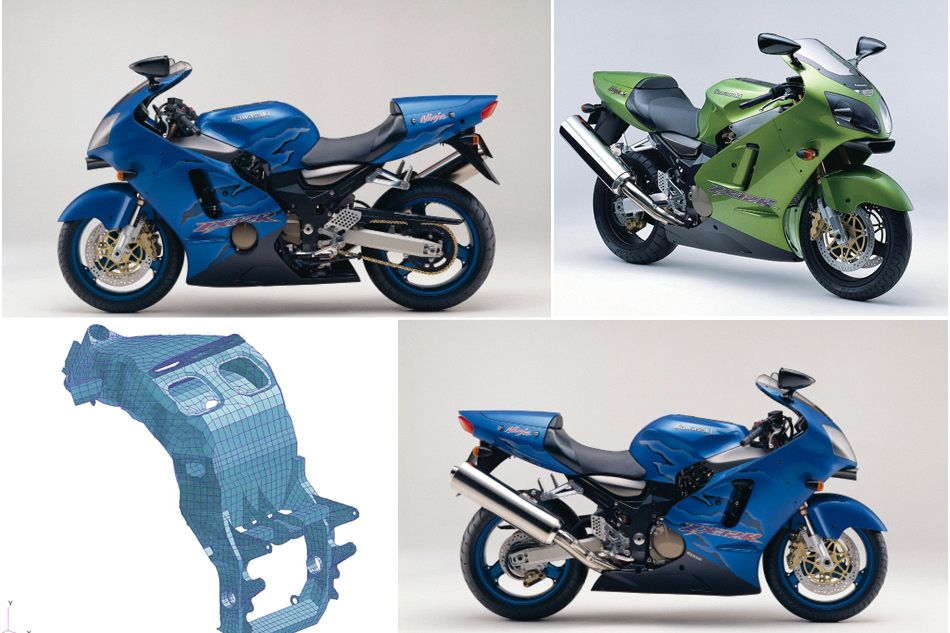 The original ZX-12R A Series Ninja and it's chassis design

---
The ZX-12R Ninja had its potential speed limited
Unfortunately, the powers-that-be had noticed the shenanigans going on in the hypersports class, and statutory limits loomed. For some reason, a bike that could do 186 mph (or 300kph) was acceptable, but once a production two-wheeler passed that line, governments and lawmakers got twitchy. A 'gentlemen's agreement' was settled by the big four Japanese firms (the only ones capable of making such a bike back then) to electronically limit speeds to 186mph/300kph, and the Ninja never got the chance to strut its 200mph stuff in standard form.
Away from the Autobahn and Bruntingthorpe test strip, the ZX-12R was a bit of a curate's egg – good in parts. The engine was amazing, but compared with the larger Hayabusa lump, it could feel a wee bit revvy (the usual consequence of making more power from fewer cubic centimetres). The riding position was very committed, putting a lot of the rider's weight over the front end, which improved track handling – but made it less usable for distance touring. The pillion seat was also laughable, giving the sofa-comfy Hayabusa a big advantage on the continental touring front.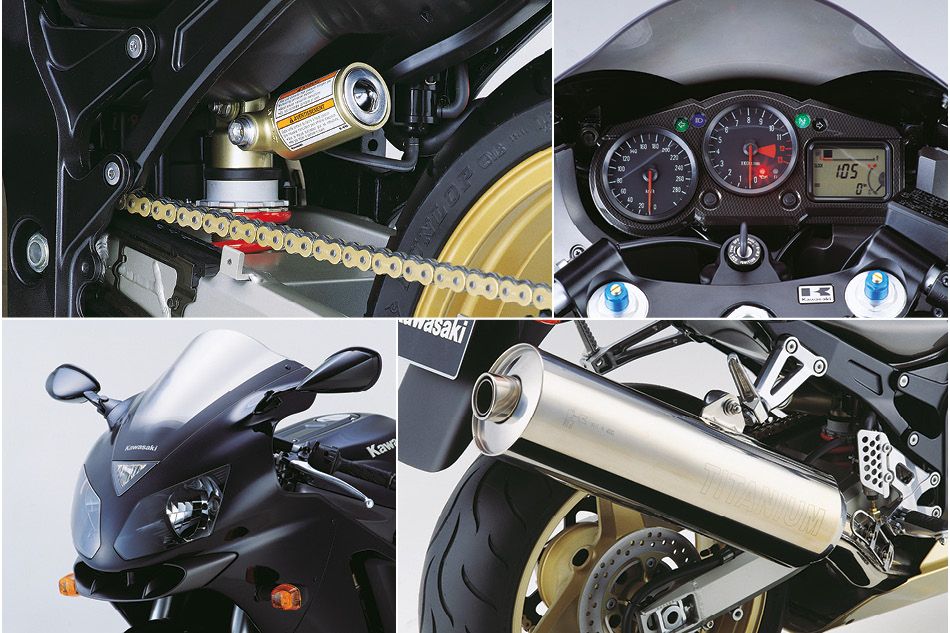 ---
How did the ZX-12R Ninja perform on track?
If you were brave enough to get the 12R onto a track, the benefits of lighter weight, more aggressive riding position and sharper chassis meant it easily topped the Hayabusa. But compared with state-of-the-art litre superbikes – the Yamaha R1 and the new Suzuki GSX-R1000, it was left flailing a bit. The weight (213kg dry on the 2002 variant), peaky power, first generation fuel injection (the first on a Kawasaki superbike since the 1980s GPz1100) and the super-wide 200-section rear tyre meant it was a handful on twisty circuits, and needed a lot of care at all times.
Nowadays, the 12R's performance is matched by all the superbikes, plus a few naked and even adventure machines – all of which have the electronics to make the most of their 170+bhp engines. But the big Ninja has an attitude, character and style that few can match – even twenty years on.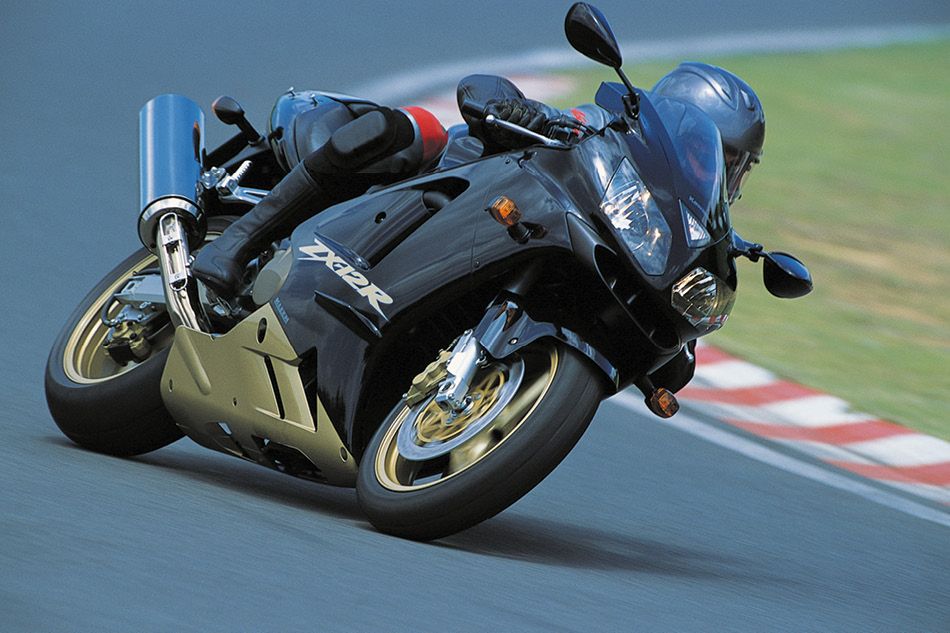 ---
The ZX-12R in summary...

SPECS:
Engine: inline-four 16v DOHC, 1,199cc, fuel injection
Chassis: monocoque aluminium frame, 43mm USD forks, six-piston front brake calipers. First production bike with 200-section rear tyre
BHP: 189bhp (claimed, with Ram-Air)
Weight: 213kg (dry)
Price new: £8,995 (2000) - £9,345 (2007)
Production run: 2000 – 2007
---
VARIANTS
A1-2 – original model with six-piston calipers and plain Ram-Air intake
B1-2 – updated version from 2002 – heavier crank, revamped bodywork, sculpted air intake
B3-6 – final version with radial four-piston calipers and other updates
---
WHICH ONE?
We'd go for an early model – the later bike had its crazy edges rubbed away, and could pass for a ZX-9R or early ZX-10R at a glance. The rubbish six-piston brakes and drainpipe Ram-Air intake are as subtle as a brick and we love them dearly.
---
What to watch out for?
The early six-piston brakes looked amazing in the late 1990s, but were actually fairly average in terms of slowing you down. They also suffer if not properly maintained, seizing up and corroding behind the seals. Consider an upgraded caliper swap, or if you must stick with them, treat them to proper annual maintenance and a total strip down every few years.
---
FUTURE CLASSIC RATING: HIGH
Kawasaki is a cult brand and the 12R was a unique design – trying to meld the power and speed of the Suzuki Hayabusa with a degree of track handling that the big Busa could never manage. The little details like the aerodynamic mirrors and fork lowers, plus that enormous Saturn V end can confirm its unique character. We'll not see its like again.
For a Kawasaki Bike Insurance Quote call BeMoto on 01733 907000* and speak to one of our specialists.

* Calls may be recorded for our joint protection

---