---
Future Classic Suzuki GSX-R1000 K1
By Alan Dowds
Pros
Still a brilliant real-world superbike, with zero artificial rider aids – at all…
Cons
The styling is maybe a little bit chunky now.
Time flies when you're having fun on 1,000cc sportsbikes
Even so, it's hard to believe the Suzuki GSX-R1000 is twenty years old this year. Yep, it's two decades since Suzuki finally gave its legendary GSX-R750 superbike the capacity boost it deserved, helping it take on the likes of Yamaha's R1 and the Honda FireBlade. Both those competitors had masses more grunt from their 918 and 998cc motors and while the 750 Gixxer could, in the right hands, take advantage with its sharper chassis, the gap was becoming harder to bridge each year.
BeMoto classic motorbike insurance takes a ride down memory lane (it was one of our owners first litre bike in 2002 and hopefully will be adding back to his collection soon :-)
Give us a call on 01733 907000 to insure your classic sportsbike or frankly any bike at all...
---
Enter the Suzuki GSX-R1000
A no-nonsense upgrade on the 750, using a frame, bodywork design and engine that were almost a carbon copy of the three-quarter litre machine, but with a cheeky 239cc capacity boost, up to 988cc. That slightly weird number was down to Suzuki sticking broadly to the 750cc motor's layout, only going up 1mm on the bore, to 73mm from 72mm and stretching out the stroke as much as possible, to 59mm from 46mm.
The Hamamatsu engineers would properly redesign the engine later on to get a full 999cc in the K5 variant, but in the meantime, this long-stroked, slightly big-bored 750 motor was more than up to the job in hand. Indeed, that long stroke gave it a strong, grunty power delivery, which marked it out from the slightly revvier FireBlade, while besting the R1 right through the rev range. And all fitting into a package no bigger than the 750.
Suzuki's dual-valve fuel injection system was the pick of the fuelling crop back then, with Yamaha still sticking to carbs and Honda tinkering with injection for the first time in 1999. Suzuki had learned its way round injection with the 750 SRAD, and the TL1000 models a few years earlier, and its setup was a cracker. The chassis attracted least attention – because it was aping a 750 that was already lauded as a fabulous handling superbike.
The 1000 felt slightly chunkier, though the dry mass was only 4kg more (170kg instead of 166kg), while the steering geometry, wheelbase, and overall dimensions were identical on both bikes. A wider 190-section rear slowed the steering a little if you wanted to be really picky, but by and large, the new kid on the litre-class block issued a severe kicking to the rest of the class.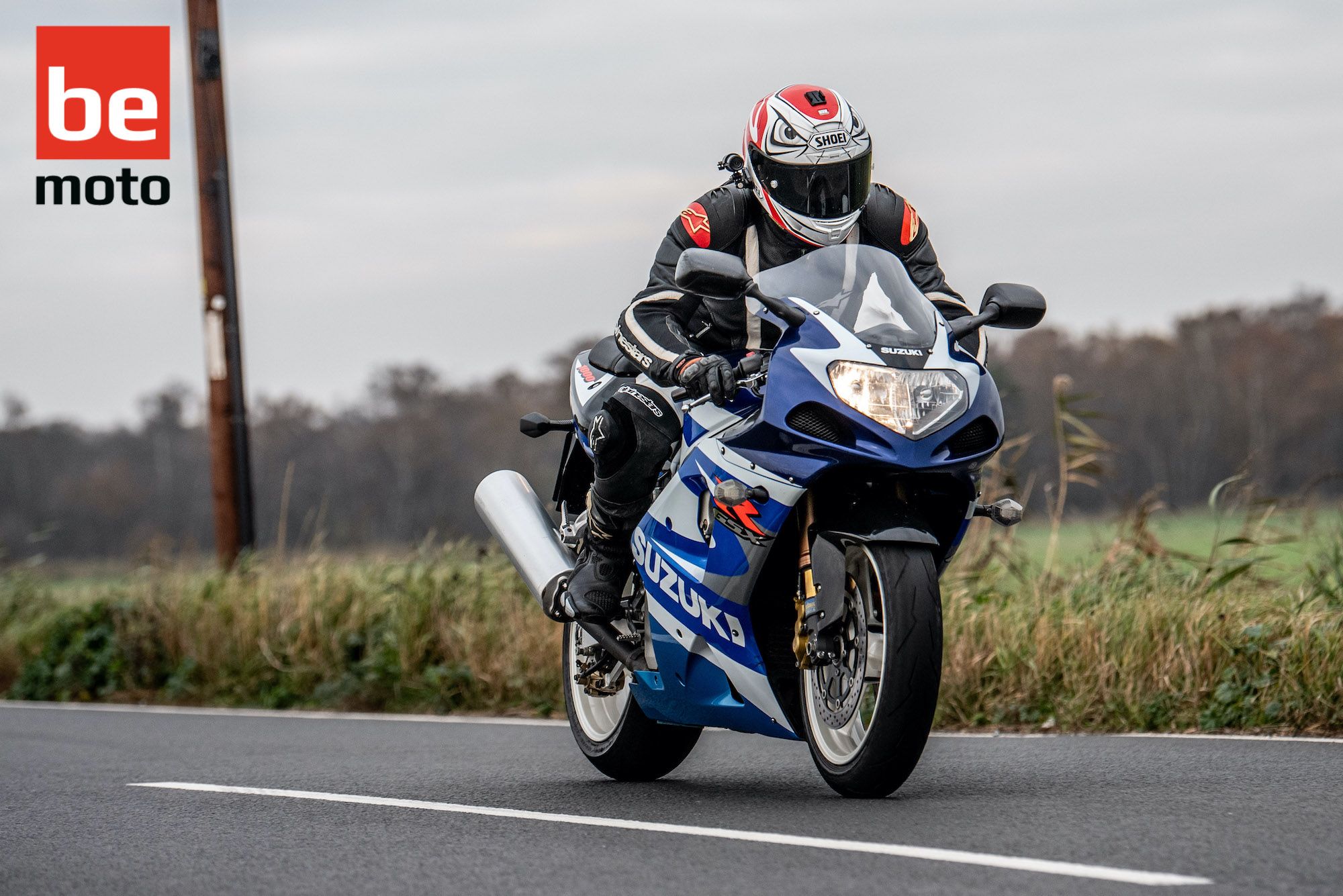 Kawasaki's ZX-9R was fat, frumpy and confused, the R1 had sat on its impressive laurels for a year or two, and Honda seemed unsure which direction to go with its formerly-class-defining FireBlade. Race-replica superbike? Super-fast road weapon? Which path to take?

The move to 1,000cc four-cylinder engines in superbike racing for 2003 would ensure that everyone knew what they had to do though – and by 2004, the Kawasaki ZX-10R, R1 and Fireblades were all banging heads with the GSX-R1000.
The 2005 K5 version would put Suzuki back on top, but the rest of the 21st century has been tougher for the big GSX-R as the competition pulled away. Today, Ducati and Aprilia rule the power roost with their 1100cc-class V-four motors, and the other Japanese firms have also left the latest GSX-R – (an excellent bike) behind, with more power and fabulous technology.
---
As a future classic then, the original K1 GSX-R1000 is a proper contender
It was the first proper, modern litre-class race-rep, and pointed out the direction superbikes would take in this century. It's a handsome beastie – yet also has timeless classic appeal. The chassis is up to modern standards in most ways – you can fit super-sticky rubber, the suspension can be upgraded with ease, and only the old six-piston calipers might feel off the pace these days.
As a machine from before the days of massive catalytic convertors, ABS pumps and the like, it's bloody light too, at just 195kg fuelled and ready to go. That's 7kg lighter than a 2020 Honda Fireblade – which does go a little way to cancelling out the 54bhp power deficit compared with the new Blade…
So – a 20-year-old legend that can still cut it today, and deserves future classic status? We definitely reckon so.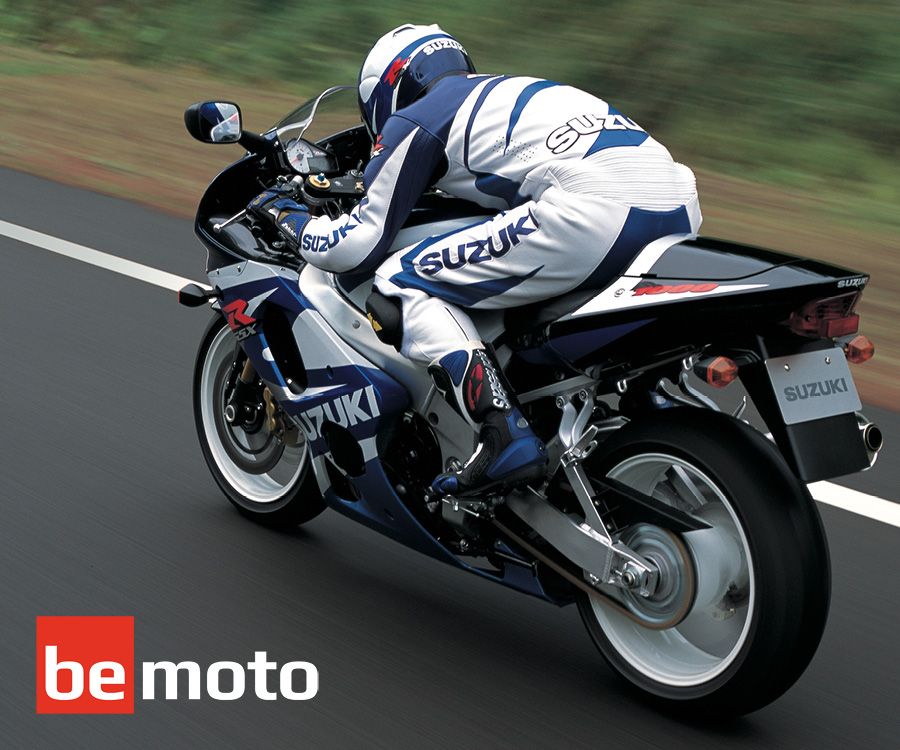 ---
SPECIFICATIONS
Engine: inline-four 16v DOHC, 988cc, dual valve fuel injection
Chassis: twin beam, aluminium frame, fully adjustable 43mm USD forks, six-piston front brake calipers, fully adjustable rear monoshock
BHP: 160bhp (claimed)
Weight: 170kg (dry)
Price new: £8,999 (2001) - £8,999 (2002)
Production run: 2001 – 2002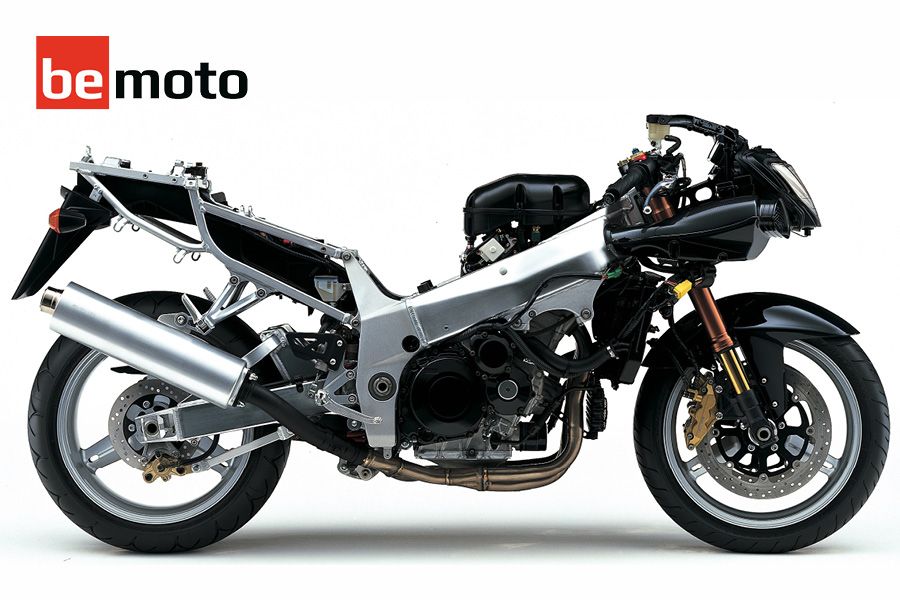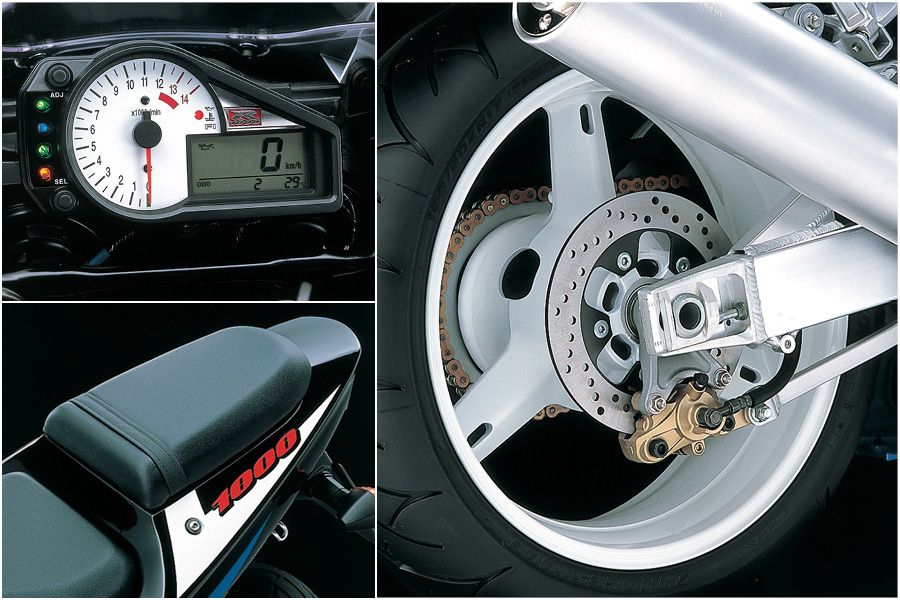 ---
VARIANTS

2002 K2 model has slightly different paintwork and a polished stainless steel link pipe rather than the K1's black painted pipe.
WHICH ONE?
For pure classic style, it has to be the blue and white GSX-R paintwork for starters we reckon – though the black/silver/yellow has a certain appeal. There's hardly any difference between the K1 and K2 models, while the later 2003 K3 is a more serious update, with four-piston calipers, new frame, engine updates and revised styling. The K3 is a better bike – but the K1 is the original. Find a corker, with all the standard parts plus maybe some tasteful Yoshimura bolt-ons and you'll have a brilliant rider's bike that also marks a little bit of history.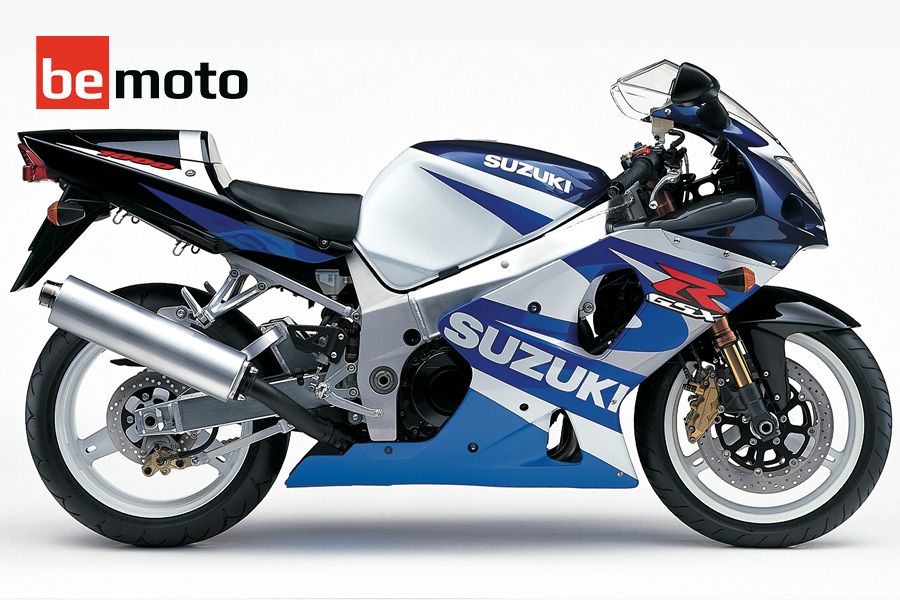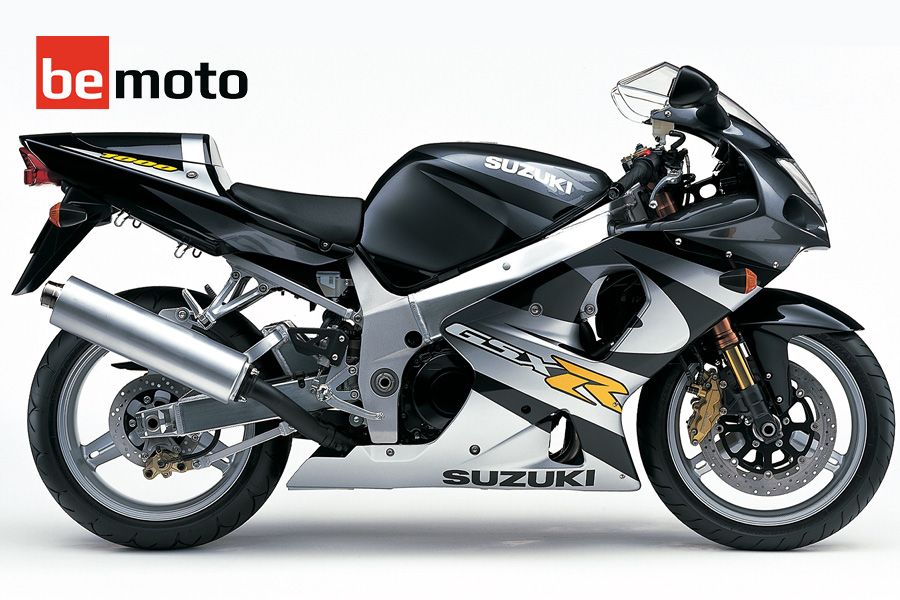 ---
Things to look out for if buying one
The gold titanium nitride coating on the fork inner tubes can wear away – it's more a cosmetic problem than anything but does spoil the looks and isn't a cheap fix. Look for the usual crash damage, tired suspension, worn rubber, chain and brake pads. The six-piston Tokico front brake calipers are better than earlier versions used on Kawasakis but can still seize up, reducing stopping power.
The engine is strong, and as ever with a litre-class bike, not many folk will be running them at full throttle for too long, so they won't get too hard a time on the road. Look for service history nonetheless, including any valve clearance checks.
---
Riding a GSX-R1000 K1 in 2021
What's it like to ride a GSX-R1000 K1 20 years down the road?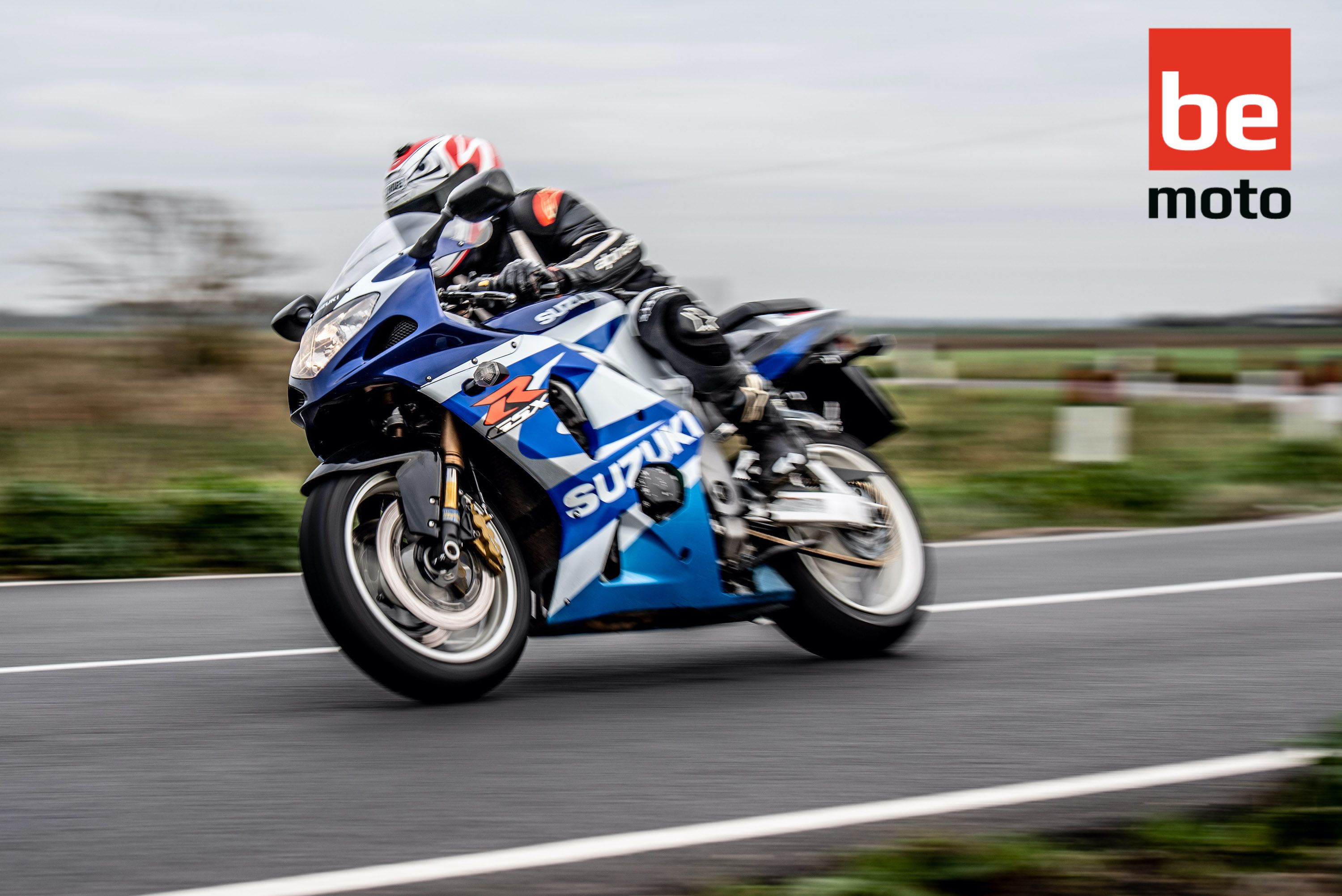 Luke Brackenbury, BeMoto Head of Brand & Marketing, grabbed the keys of one that belongs to the Managing Director who let us ride it as long as we promised not to wheelie it…
It's hard to believe it was 20 years ago when a new benchmark for the litre bike class was set. The R1 had come along in 1998 and showed everything up as being baggy sports tourers in comparison, but three years later the GSX-R1000 was more of a useable rocket ship. And that remains the case today.
I remember riding one of these when they first came out down on a 2-mile runway and I was blown away. I was 20 at the time, signature on my full licence barely dry and my brain melted with the acceleration, lesaving me unable to articulate the experience to my then colleagues at Bike magazine. Now aged 40, I still don't need this much power...
This particular bike is in very good condition and the engine drives from low RPM and then pulls like Jack Grealish on a dating app throughout the rest of the rev range. There are no electronic rider aids (including ABS) to think about, just pull the clutch in and hit the starter. Sure, the gearbox isn't super slick with a lack of quickshifter and the clutch is heavy. But if you haven't been used to modern tackle, it's not an issue!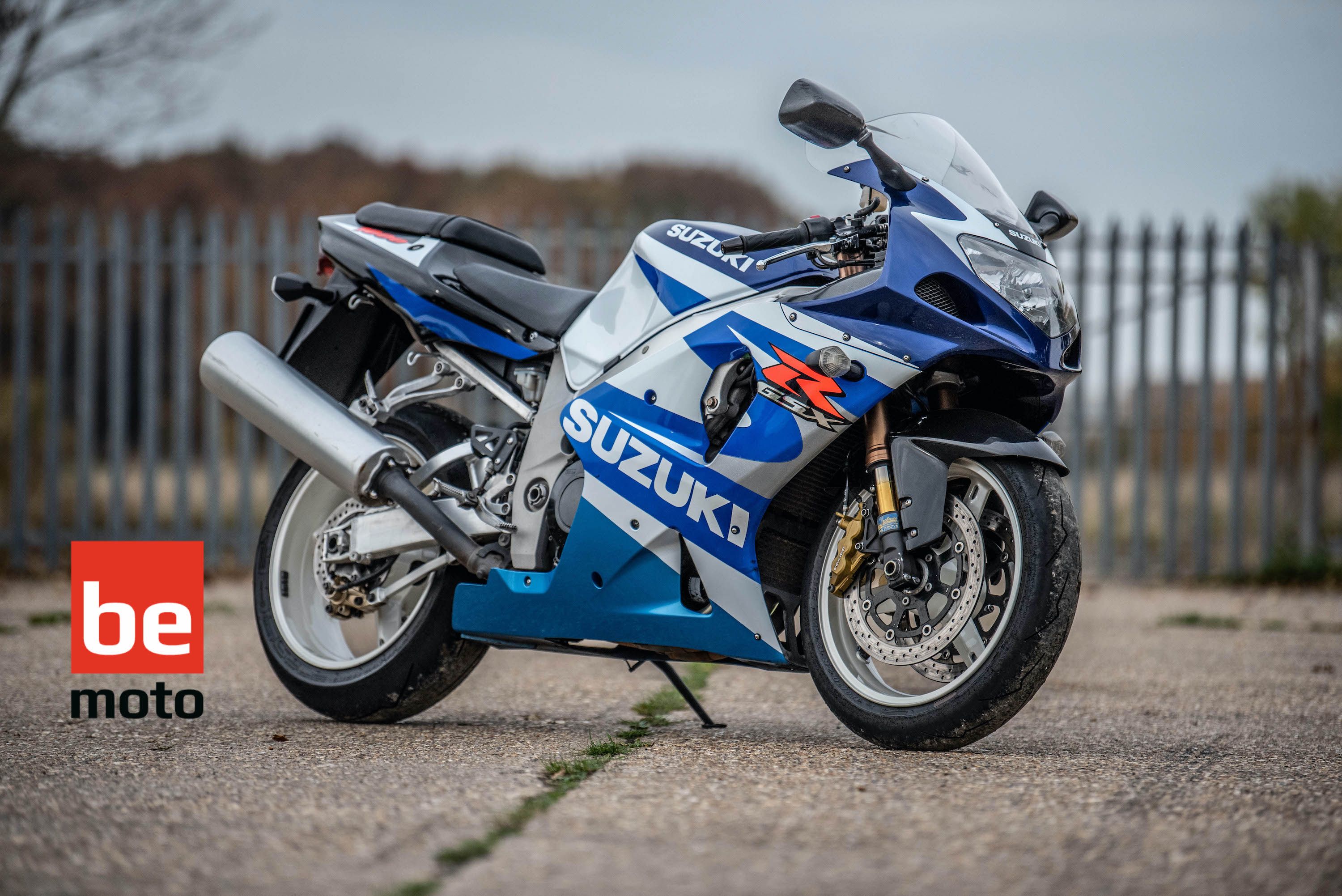 Performance aside, the generous ergonomics helped made the GSX-R popular with riders who weren't built like racing whippets. The K1 always felt like a big bike and I'd happily but the miles in on this for a big trip - not too much weight on the wrists and plenty of leg rooms for moving about. As a bonus, the giant tank and pillion seat will swallow up some serious baggage. Looks wise - always a subjective issue - the bike is unashamedly GSX-R; chunky, but the winds of change but have faired well over two decades. Has to be in blue and white, though.
The six-pots were always a Marmite topic with riders when these first came out, but I found these 20 year items provided plenty of power and feel - just goes to show what fresh fluid, new seals and decent brake pads can do. I was also surprised at the performance of the suspension. Hard to know what the history of these bouncy bits is, but they appear to be standard and usually riding older sports bikes the first thing you need to do is service or replace them. Suspension and tyres make all the difference on older bikes.
At the end of the ride and handing back the keys, I'd decided that I'd very much like to have one of these in my garage; a modern classic in my eyes. I think I'd simply forgotten just how good they were at launch and what a nice example is like to ride now. Prices are still relatively 'cheap' for a litre bike with an honest 150bhp that will make you smile after every ride. The hardest part will be finding a tidy one that isn't festooned with a myriad of tawdry tat. Just don't worry about the faded gold coating on the forks…
---
FUTURE CLASSIC RATING
You're probably not going to be retiring on the proceeds of a GSX-R1000 K1 purchase. It just hasn't quite garnered the cachet of an original FireBlade or the first Yamaha R1s – yet. As ever, it's hard to predict exactly how these things go, and we still remember how cheap a Suzuki RG500 was in the day. In fact, if you'd been trading in an RG500 to buy a new GSX-R1000 in 2001, you'd probably have been offered £1,500, on a good day. A nice RG is £20k plus now…
The K1 and K2 GSX-R1000s are nowhere near as rare as an RG500 though: DVLA figures suggest there's roughly 850 K2 models still around, with probably about the same numbers of K1s. So there's still a good chance of picking one up for a bargain price – there are a few on eBay at the moment for around £3k.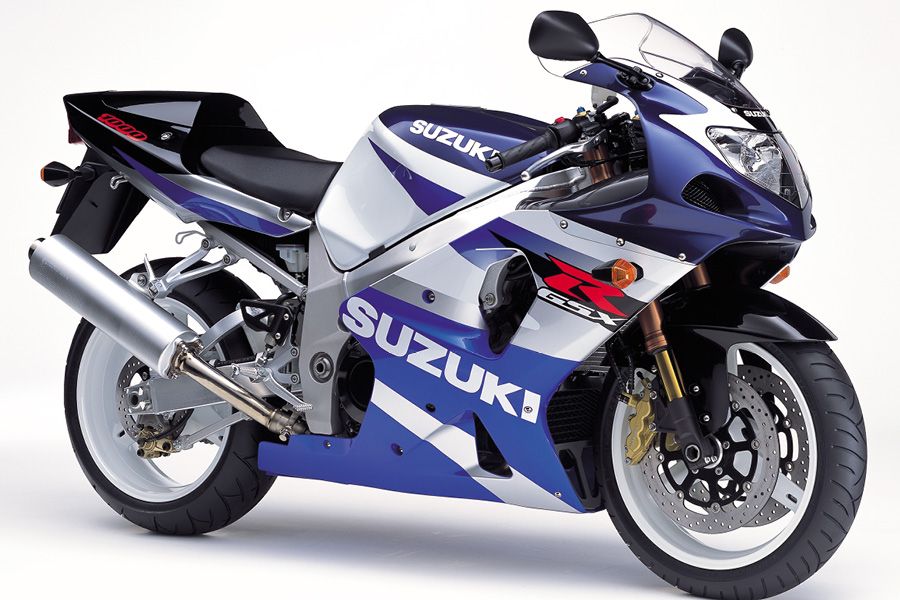 Check out our other modern and future classic motorbike features.
Call BeMoto on 01733 907000 to get motorbike insurance for your Suzuki GSX-R1000 of any age or specification. We love modifications, multi-bike insurance and even insure sports bikes for trackday damage if you want - talk to a specliast today.
---
FUTURE CLASSIC RATING

---