---
Future Classic: Yamaha TDM850 & TDM900
By BeMoto

Isn't it funny what time can do to perceptions. Yamaha's TDM850 first raised its bug-eyed head way back in 1991. The mixture of its supermoto-meets-adventure-bike looks, an FZR1000-a-like frame with a tall, town-friendly stance and punchy parallel-twin motor promised a machine perfect for the city and Britain's battered back-roads.

BeMoto classic motorcycle insurance looks at a bike that was mostly overlooked when new but is now worth more than a passing glance...
---
YAMAHA TDM - A HUGE SELLER (just not in the UK…)
To illustrate, did you know that the TDM850 was the second-biggest selling bike in the 750-1000cc category in Europe? Shame then that the bike wasn't such a hit in the UK.
On release the press praised it as a sportbike-beater, a GSX-R-eater, before calming down a bit after the launch and settling on calling it 'Tedium.' How unfair is that?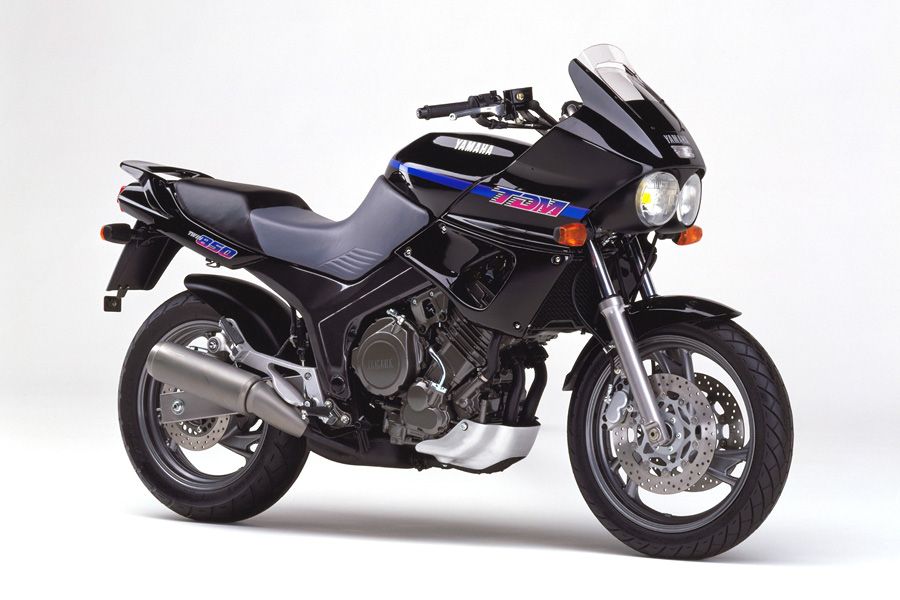 Sportsbike of the future
But you have to remember that - at the time - the UK was still madly in love with sportsbike and all the unpracticality they brought. The TDM represented sensible speed and most riders would probably be able to ride it faster down an unfamiliar road than a 750cc race rep at the time. The return of the KTM SM T this year (2023) with an 890 parallel twin engine just shows that Yamaha were ahead of their time with the concept.
Underrated. Never hated
The previously mentioned two extremes from the press of the day hides one single, unalterable fact: The TDM is a very underrated machine. The original 850 inherited a motor based heavily on the Super Tenere, which gave it plenty of punch and a 75bhp/130mph top-end. Things changed big-time in 1996 with a smart new look and a host of tweaks, including a 270-degree crank which made the motor more V-twin-esque.
---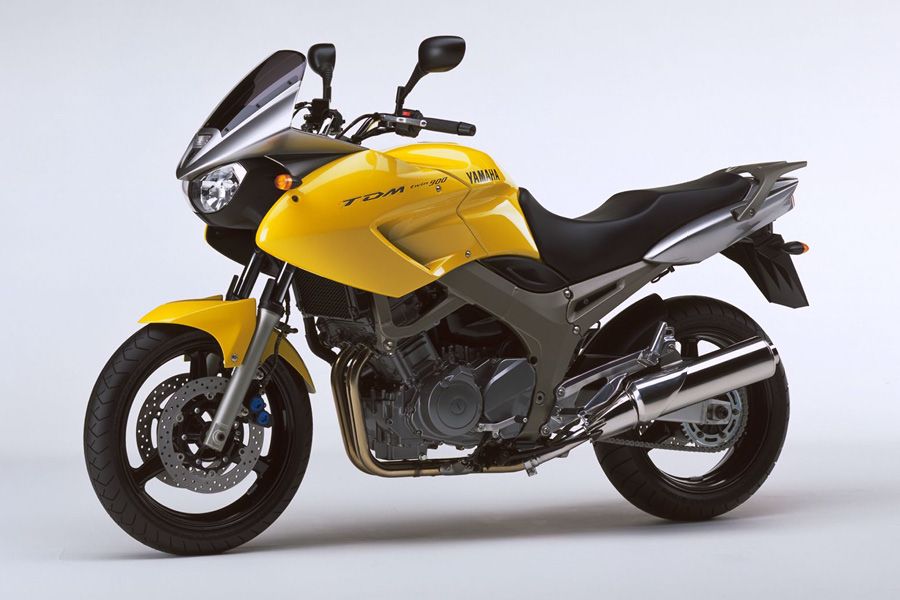 The importance of the TDM on the continent (as well as a hardy band of UK fanatics) led to an improved 900cc version seeing light of day at the start of 2002. Whatever version you have, a sorted, well-looked after one is a solid, versatile machine. But even a tatty old 850 is capable of riding from Lands End to John O'Groats in 20 hours (we witnessed this in 2022. Top work, Andy C!).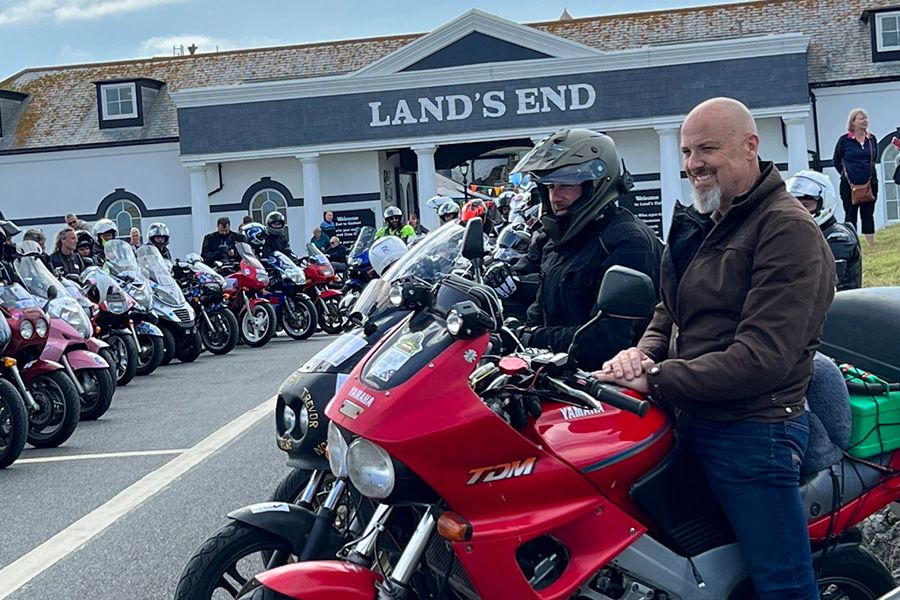 ---
Yamaha TDM Model History
Yamaha TDM850 (1991-1995)
Colours: black, red, blue/grey, dark green, violet
Price new: £5,279 (1991)
Price now: £1,200 - £2,000
Comments: The original TDM. The overall look was almost of a twin-pot urban motard, but the Super Tenere-derived motor provided respectable, if not uber-urgent thrust. Chassis was a sports-derived Deltabox-alike. The Frenchies loved it, whacking on EXUP 1000 wheels into the chassis and breathing on the motor by putting a 270 degree firing crank from a TRX850 made it sing.
Yamaha TDM850 (1996-2001)
Colours: silver/yellow, red/black, black, blue, red, yellow
Price new: £7299 (1998)
Price now: £1,200 - £4,200
Comments: First major update and the bug-eyes were replaced with Glynn Kerr styling and smoother all-round look. The TRX's 270-degree crank is used to make power V-twin-esque, while the forks bulge to 43mm, while the radiator is even slimmer. The exhaust system is also re-designed. The fuel tank is also up to 20-litres. The only updates before the 900 arrived was space on the wiring loom for an alarm at the end of '96 and hazards fitted as standard from 1998.
Yamaha TDM900 (2002-on)
Colours: yellow/silver, black/silver
Price new: £6,799 (2002)
Price now: £1,500 - £4,900
Comments: In comes fuel-injection and a bigger 897cc motor as well as a host of improvements. The gearbox also gets an extra cog. The aluminium twin-spar frame is also new, as is the new, swoopier bodywork. The instruments are now digital and all-new.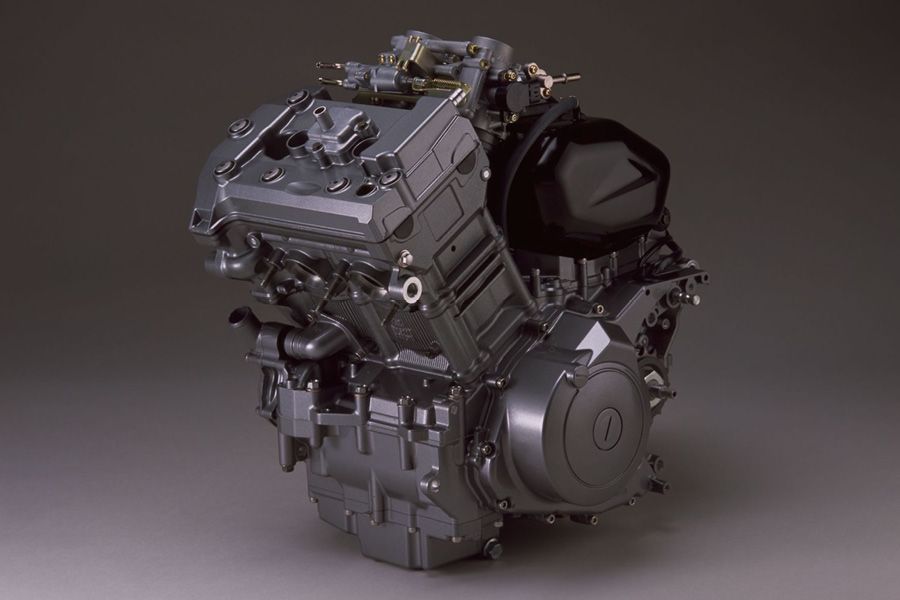 ---
Yamaha TDM Top Tips

If you're in the market for a TDM, here are a few nuggets of knowledge to have in your back pocket next to a wad of notes.
Servicing: Generally every 4000 miles.
Clocks: If you want to change between km/hr and MPH readings while abroad do the following: With the ignition switched on, press and hold down the SELECT button for more than 2 seconds and the MPH reading changes to KM/h, and the ODO and trips change to km. Do the same again to change it back. Simple.
Brakes: From the 900 model on, ex-R1 brakes were fitted. These are superb, but benefit from a clean-up every now and again.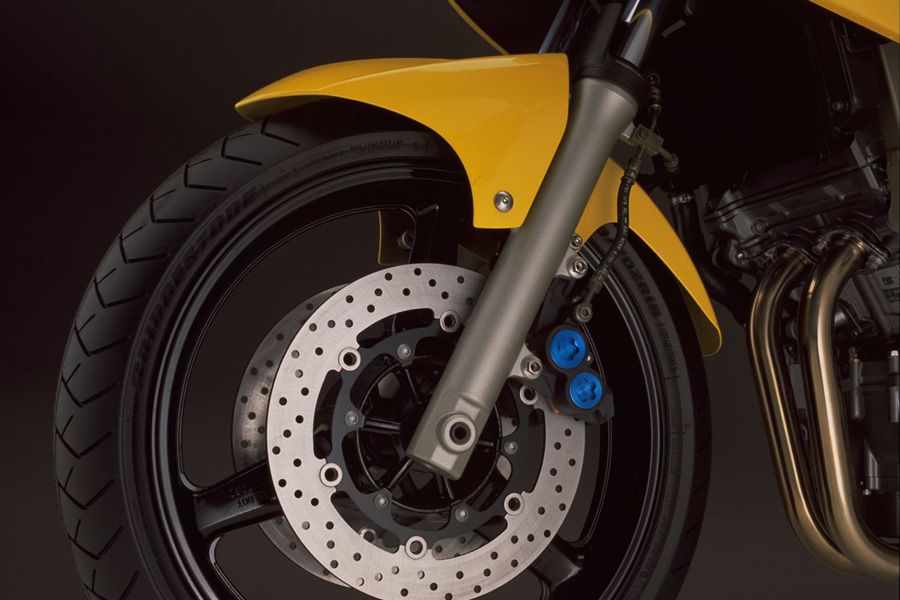 Forks: Whatever model of TDM you have, chances are these forks are way too soft. The TDM handles nicely and (on later models) has pretty good brakes and these show up the soft front forks. Owners report that the best thing to do is go for heavier 15wt oil in the forks, or go further and use linear fork springs (Race Tech from PDQ are a favourite for many owners.) Others have dropped the forks 10mm through the yokes to speed up steering a tad, but that can have ground clearance disadvantages.
Engine: The TDM850 motor traditionally gives a little whinny at four-thou' before dipping at five, and then galloping up to its peak at around 7500rpm. The 900 has a little more of everything, but all-importantly it's as snatch free as a boys' prep school and much better on fuel.
Engine oil: Normal semi-synth is spot on for all TDM models.
Misfires/poor starting/flatspots: Pre-injection (1991-2001) machines can suffer from this. Sometimes a small amount of fuel can leak into the inlet tract when the bike has been standing overnight causing the problem, while flat-spots can be caused by worn needle jets which many TDM owners have complained about. Best thing is to ride the bike, hear it running and ask if a Dyno-Jet kit or similar has been fitted.

Backfiring: Sometimes the exhaust can rot, leaving small holes in the system which cause backfiring. Check for this when buying.
TRX engines/cams: Mark1 TDM850s (pre-1996) had 180 degree firing cranks, whicg led to some owners swapping to a Yamaha TRX850 270-degree crank for a more 'V-twin' feel. The 1996 model-on had the 270-degree crank as standard. TRX motors fit fine in 1996-on TDMs.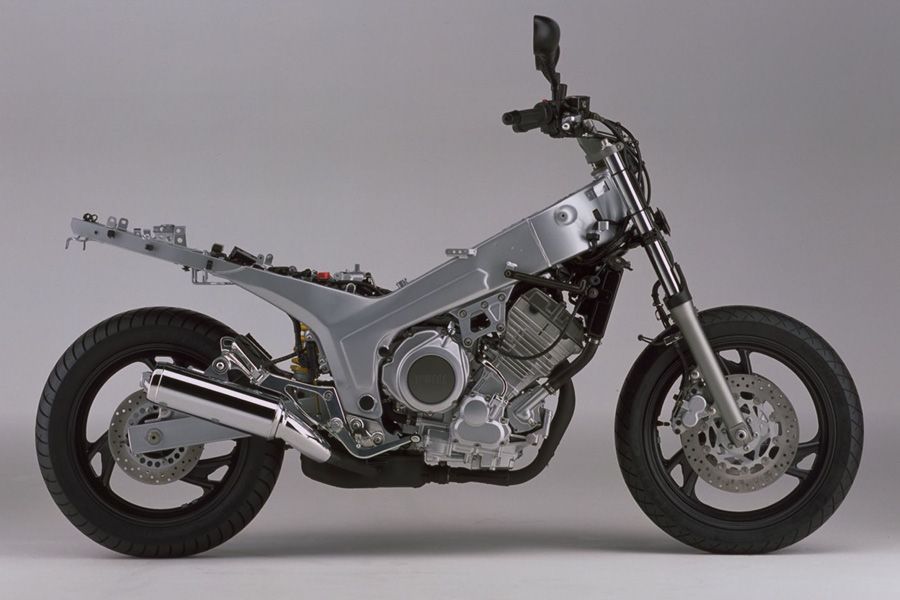 Radiator fans: Some owners have reported fans on 850cc model TDMs sticking on after problems with the thermostat or fan switch. Unplugging the connector at the top of the fan is a short-term solution, while others have installed a switch in the wiring loom to bypass the original switch.
Gearbox sprocket oil seal: This can leak with 850Mk2 TDM's but not all
suffer from it. You are warned!
Cam-chains: A couple of cases of seized cam chains have been reported by owners.
Paint/finish: Owners have reported problems on the quality of paint on their TDMs. These are fairly old bikes now, but it will depend on mileage and how well it has been looked after.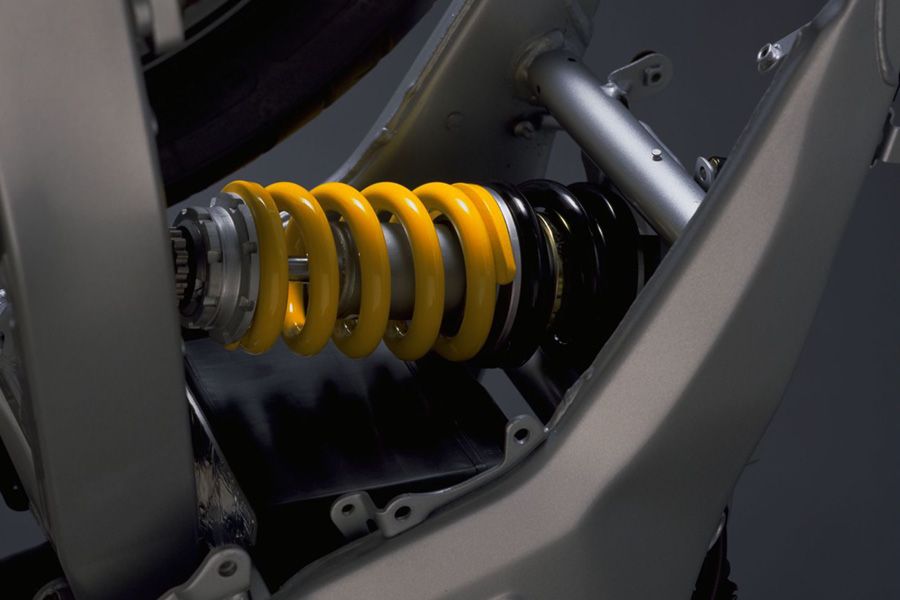 Rear shock: Like the forks, the rear shock does come in for a little criticism for being a little on the soft side and for being a little harsh over the bumps at times. Many owners eventually change the rear shock. There are plenty of options out there and most of the time the more you spend on suspension the better the result. If you're on the budget path, go with Hagon, but for something a bit fancy, Maxton is worth a try.
Comfort: Many people quote this as a major reason for buying a TDM. It's tall, roomy and yet not as large and seemingly cumbersome as big trailies such as the Varadero, GS-range or Triumph Tiger.
Used values: Tidy 850 models are thin on the ground as these were bikes built to be ridden. We'd recommend the injected 900 as, well, they're a bit newer and you'll find examples from £1,500 for a high mile (60-70k) hack up to £4,200 for a minter with full luggage and a raft of service receipts.
Aftermarket parts: The French may tart up their TDMs with loud pipes, wider rims and stickier tyres, but in the UK the machine is more of a functional item. High on the list seems to be bigger screens (Givi and Vario are faves), knuckle bars and heated grips to aid the bike's already excellent comfort rating. Crash bungs and Scottoilers are also popular, as are top boxes - many owners prefer these to panniers as the bike then keeps its narrow head-on aspect for filtering. Loud pipes are seen on some TDMs, as are Power Commanders on the post 2002 injected bikes.
Fuel economy: The TDM is pretty good on fuel, with figures in the 50mpg bracket if the bike is used lazily in the low-rev range. Even if you're in a go-for-it mood you can still see high 40s, which - coupled with a 20-litre tank (15 litre pre 1996) - will see a 200-mile tank range. Generally, the later injected 900s are the most miserly with the gas.
Recalls: Only the one that we can find with TDM900s. They were called back for changes/checks to the ECU on the fuel-injection system. Some 850s had clutch plates replaced at the dealer early on...

---