---
SMOKING SKILLS: HONDA CR500 SUPERMOTO
By BeMoto
Honda CR obsession to level 500%. BeMoto customer (let's call him 'James') gives us a spin on his Honda CR500-powered Supermoto special.
---
Honda CR500
Those last two letters and three numbers are usually enough to scare most riders who have dared to tackle the big-bore, single-cylinder two-dinger. Starting one is difficult enough, but holding one wide open is a whole other chapter of insanity.
We love modified bikes at BeMoto and insure a lot of them, so when the opportunity arose to cover this crazy machine we were naturally desperate to have a closer look and meet the owner.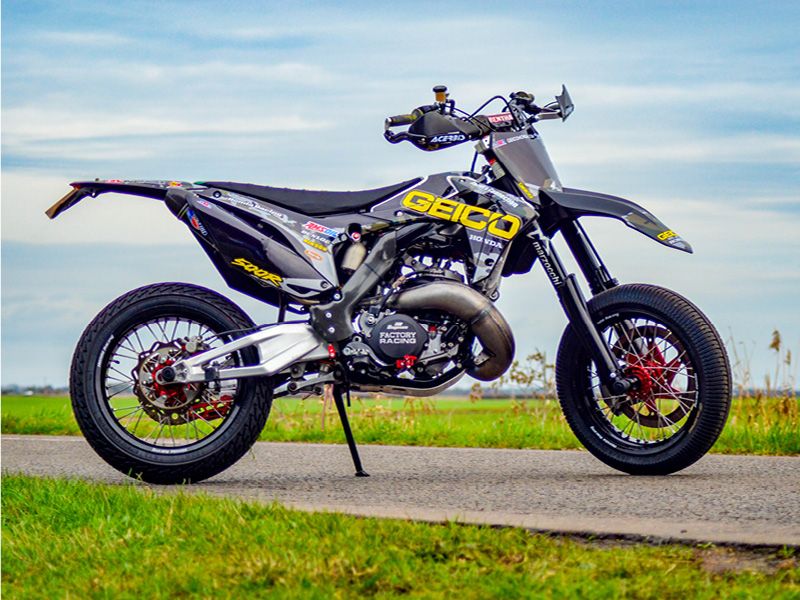 ---
SHORT HISTORY LESSON
Honda CRs can trace their roots back to the 1973 'Lake Elsinore' 250 model, which immediately proved popular and the series grew to offer a 450 two-stroke in 1981. That became a CR500 in 1984 and then water cooling was added a year later.
These bikes, up to and including the 1988 model, are notorious for their bottom end power. From 1989, Honda revised the engine for a more linear powerband and less compression to make it easy to kick start. From 1993 until 2001, pretty much only graphics changed and then Honda killed it off, mainly due to two-strokes becoming less popular and no real class to race them in.

---
CHAIN SMOKER
A youth spent riding motocross, James has owned five CR125s, four CR250s and three CR500s. And another CR500 engine. Restricted to just off-road rips on any of these machines, his addiction to the big bore Honda propelled him down the road (literally) of making a road-going CR500 so that he could get the ring-a-ding kick of the 'Ping King' whenever he wanted. But what you see in these pictures isn't James' first stab at a CR500 Supermoto.
"I had a 1996 model before," he explains. "Pretty much everything on it was standard apart from a pair of 17-inch wheels. It was kinda fun. It satisfied my addiction for the engine but wasn't in any way, shape or form easy to use or flattering. Just a little too raw. CR500s weren't that good at stopping and steering off-road, let alone on it. And it wanted to shake itself to pieces. So, I wanted to improve it, but then the inevitable happened and I blew it up!"
With the engine reduced to a pile of scrap, James sold the chassis parts off and set about doing his research into a more refined version. US company, Service Honda, had been wedging CR500 motors into twin spar alloy CR250 frames (called a CR500 AF) since 1997 and James had spent many hours scouring the internet to see what other frames that offered a road-going compromise. Step in a 2013 Honda CRF450. Well, rather a sorry one with a(nother) blown engine, but importantly a road-registered chassis.
---
IN THE FRAME
With a rolling chassis in his garage, James set upon finding an early motor as he much preferred the raw, bottom end power that came with the original CR500s. Finding a suitable donor heart wasn't too easy due to their scarcity and rapidly rising value, but when one did come available for the right money it required a complete rebuild straight away. But that was an opportunity for a larger piston and skimming the cylinder head to raise the power, along with other tidying up jobs.
With the engine returned, it was time to introduce it to its new home. And despite the CRF450 reputedly being a good body for a heart never intended for it, there was still a great deal of work in order to transplant the two. The internet is filled with CR500 projects in alloy frames that have suffered vibrations that have either killed the ride quality or cracked the frame. Or the engine has twisted the frame…
"The original engine mounts were quite close to meet the engine, but everything had to be a little wider for strength and lower to fit it in," explains James. "It was a case of doing the least amount of work with the most amount of gain. There was a fair bit of trial and error, but I got there in the end. But the next fitting the swingarm was also a bit tricky."
Ah, yes. The swingarm. From an Aprilia SXV550 Supermoto, but not just any – an ex-Factory racing item that was once fitted to the bike of former Supermoto World Champion, Thierry van den Bosch. The difference, an inch shorter and set to allow a wider rear tyre. And also rare as rocking horse…
---
BUMP AND GRIND
Suspension wise, James intended to have Swedish gold Öhlins all-round but after (somehow) blowing up a suitable shock and happening on a set of fully adjustable Marzocchis forks at a bargain price, he cut his cloth accordingly and had them fitted into some Gas Gas enduro yokes and had the original CRF shock modified to be lower and firmer.
Doing the stopping up front is a Brembo 4-piston radial caliper from a Suzuki GSX-R750, fed through HEL braided lines and pumped by an Adelin master cylinder that bites on a huge 330mm Berringer disc. At the back, a Nissin single piston caliper chews on a Braking Wave disc.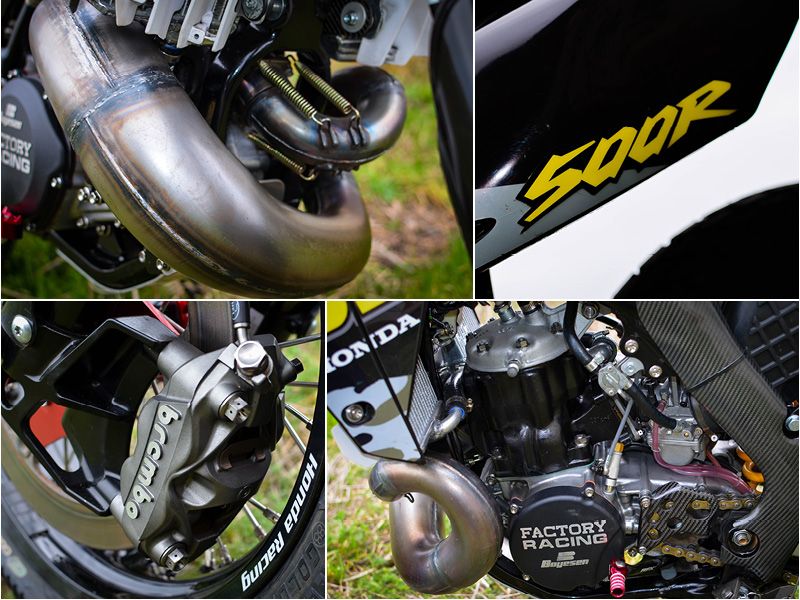 ---
DRESSED TO IMPRESS
James retained the standard CRF motocross bodywork, but dressed in custom camouflage graphics (we love the '500R' logo) with the same theme continued on the CFX-worked seat and Domino grips. The gesture of a stop light and numberplate being the only items that remind you this is still a road bike.
A big change is with the alloy fuel tank, beautifully crafted by GMX Fabrication. Its low profile is for allowing more weight over the front end and holds 5.5 litres of pre-mixed go juice.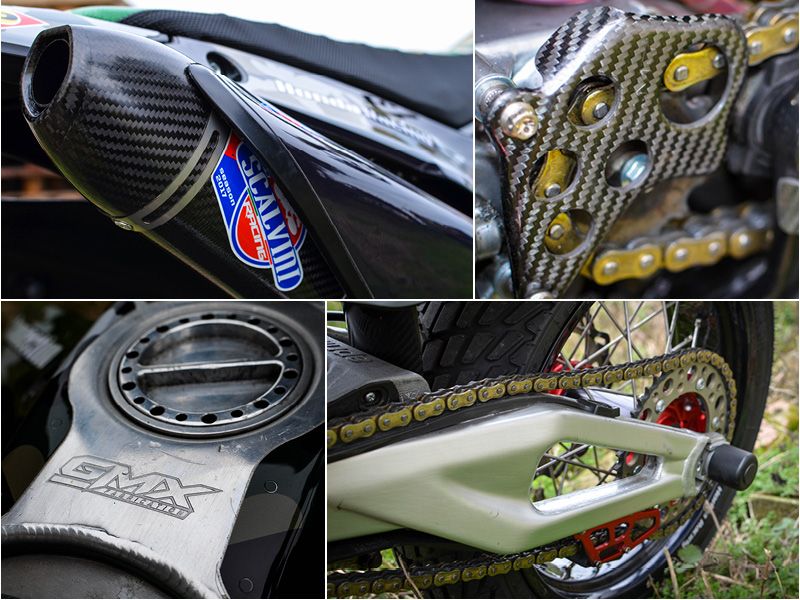 ---
BEMOTO RIDES THE CR500 SUPERMOTO SPECIAL
James was keen for our opinion on the bike and so gave us a quick rip on it. Well, once he started it for us. The last time I started a CR500 was in 1996. I then rode the bike for about 300 metres, crashed it and couldn't re-start it. Not sure if it was the engine or kicking it over that got my heart racing…
What surprised the most about James' bike was how smooth it was. Don't get me wrong – plenty of power but with a predictable and addictive delivery. And that noise; it just baits you into giddiness.
The riding position is motocross aggressive, but with the flat tank allowing much-needed weight over the front tyre that didn't really want to stay on the deck. When it was touching tarmac, the front end felt incredibly planted and the braking performance on such a light bike was like hitting a wall that had a tank parked behind it with an elephant in the driving seat.
It's a good job the tank only holds 5.5 litres – any more than that would result in a lot of trouble. A LOT. Shorts bursts of bonkers only.
"I built the bike so it could actually be used - a lot," James says with utter seriousness. "It wasn't about just having a list of trick components, but so they work together like they were intended to and with enough power to scare me but not try to kill me all the time."
We can agree that this is mission accomplished.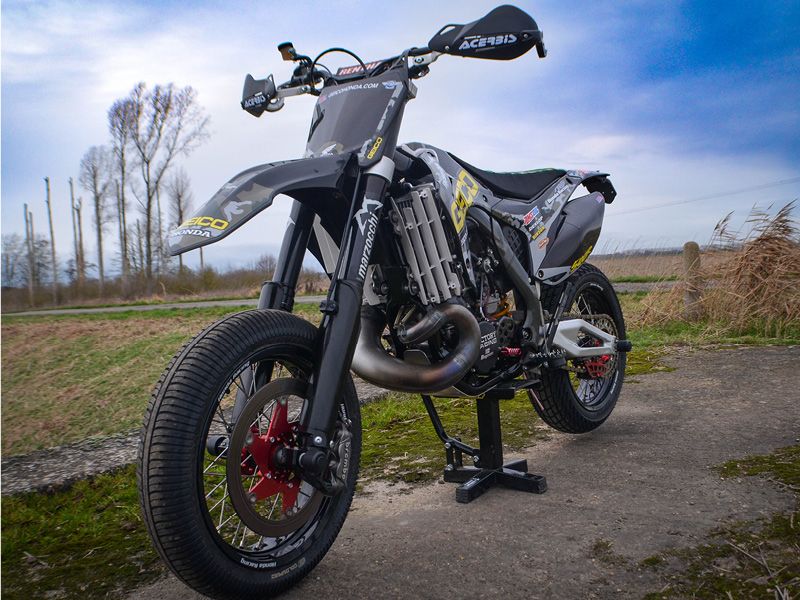 ---
WHAT'S NEXT?
When James first got the bike together and the engine run-in, it was shy of 75bhp. Now it puffs out 82.5bhp and weighs 97kg.
"My goal for it is 95kg and 101bhp! So new engine internals and some Dymag wheels should bring it closer to that. That's the plan," James says seriously. "Either that or a Honda ATC with a CR500 motor in. Now that would be fun!"
HOUSE PROUD
Before leaving, we asked James if he wants to share how much the build has cost?
"Erm, not really," he says sheepishly. "I don't want to think about how much I've spent. But put it this way - it should have been my deposit for a house. No regrets, though; it's much prettier than a house! But that's bikes, isn't it? Rational thinking goes out of the window."
And with that, James pulled on his MX lid, adjusted the kick start to top dead centre, brought it down with a hefty kick and then fired off in a cloud of two-stroke and wheelies. They were right – smoking is addictive.
---
BeMoto Supermoto Insurance
If you have a MotoX or modified bike, used on road or off-road, we have a range of insurance policies designed to cover you and your bike - even if it doesn't have a V5.
We also offer a range of policies aimed at off-road sports enthusiasts including Dirt Bike Fire & Theft Insurance, Race Van Insurance, Quad Insurance, Travel Insurance for riding overseas (emergency medical expenses and repatriation) and Personal Accident Insurance for fractures and other more serious injuries (including amateur racing).
Check out our Dirt Bike Insurance product range here.
Call today to discuss your Supermoto and Motocross Insurance needs on 01733 907000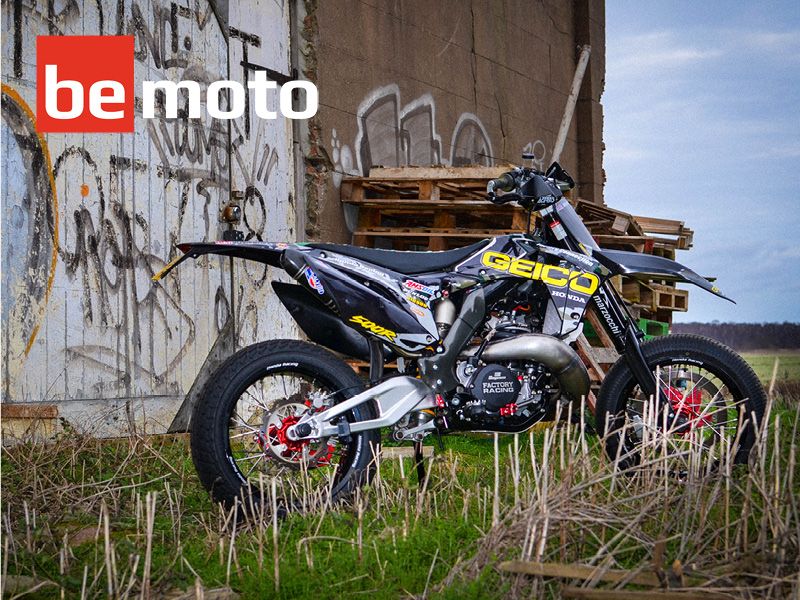 ---
SPECIFICATION:
ENGINE 1986 Honda CR500 with tunes
CHASSIS: 2013 Honda CRF450
FORKS/YOKES: Marzocchi 45mm upside down, Gas Gas yokes
SHOCK: Honda CRF450 shock, shortened and increased gas pressure
WHEELS: 17" Excel rims and Talon hubs
BRAKES front/rear: Front 4-piston Brembo radial (Suzuki GSX-R750), 330mm Berringer disc / rear Nissin single piston caliper, Braking Wave disc
SWINGARM: Factory Aprilia SXV550 ex Thierry van den Bosch
BODYWORK: Honda CRF 450
FUEL TANK: alloy GMX Fabrication tank. 5.5 litres
EXHAUST: SPES front pipe, Scalvini tail pipe
WEIGHT: 97kg.
TOP SPEED: 100mph+
---