---
Review: 2017 Honda Fireblade
By Alan Dowds
Pros
Good electronics package
Friendly for a litre superbike
Lovely engine character
It's a Honda...
Cons
Price
Still a little down on ultimate peak power for the class
It's a Honda...
Honda's hitting back in the litre Superbike class, with a brand-new Fireblade for 2017. Our man Alan Dowds was on the launch in Portugal last week – here's what he thinks to the new bike…
---
Honda... it's one of the true behemoths of global automotive industry

Cars, robots, even jet planes – it makes 'em all. But it's bikes that got the big H started, way back just after WW2. And it's bikes where the firm truly dominates. From MotoGP success, to building millions upon millions of scooters to power the developing world, the Honda wing has been a constant in biking for the past sixty years or so.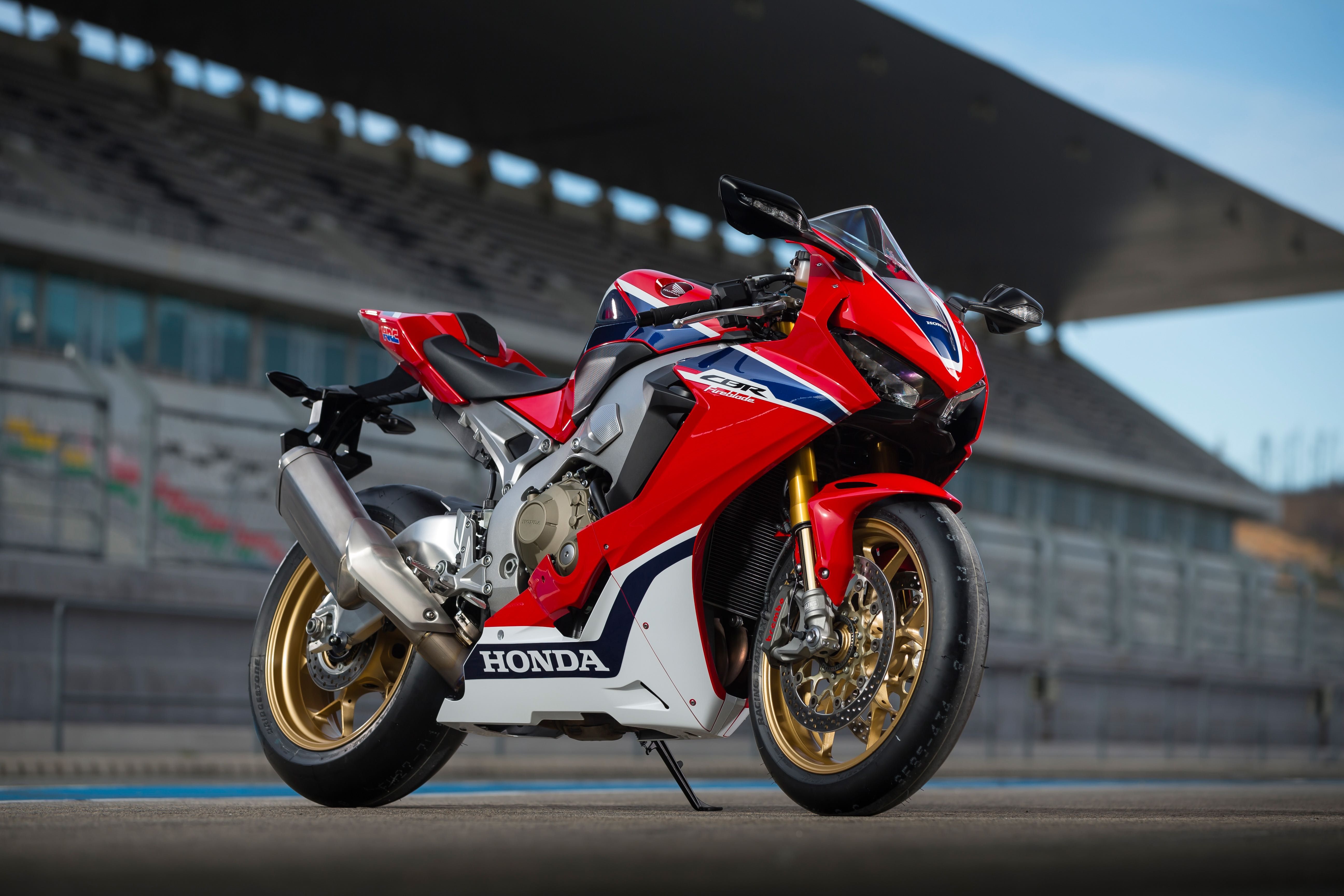 But it's been posted missing from the litre Superbike class of late. A class it invented 25 years ago, with the original CBR900RR FireBlade, has been taken over by a host of tough competitors. Yamaha's R1, Kawasaki's ZX-10R, BMW's S1000RR – they've all caught up and passed the Blade, which has been largely unchanged since 2008. More power, less weight, and oodles more tech has been the recipe they've used – and while the 2016 Fireblade was still an excellent bike on the road (and could even still win on track now and then), change was needed.
And here it is. For 2017, the new Blade has more power, less weight, and a bang-on-trend suite of electronics, including a Bosch IMU inertial measurement unit, and Öhlins semi-active electronic suspension, on the posh SP and SP2 versions.
---
Honda launched the bike at the Portimao circuit in Portugal – a fabulous, imposing circuit, built very much in three degrees.
It has almost as many ups and downs as it has lefts and rights, plus a heap of blind entries. It's also extremely wide, open and fast, and long, at over 4.5km per lap. Fun fact? It's my first time here...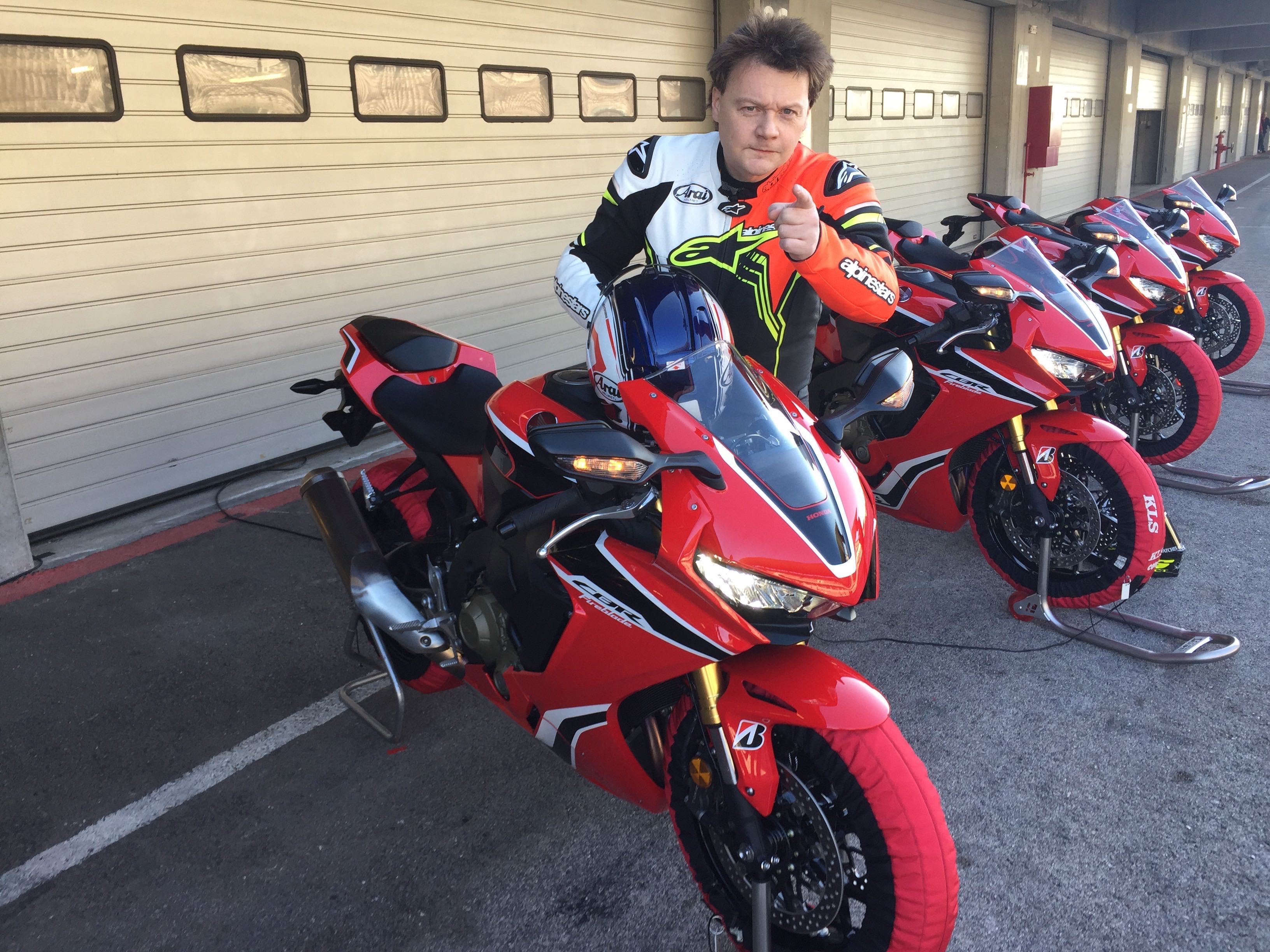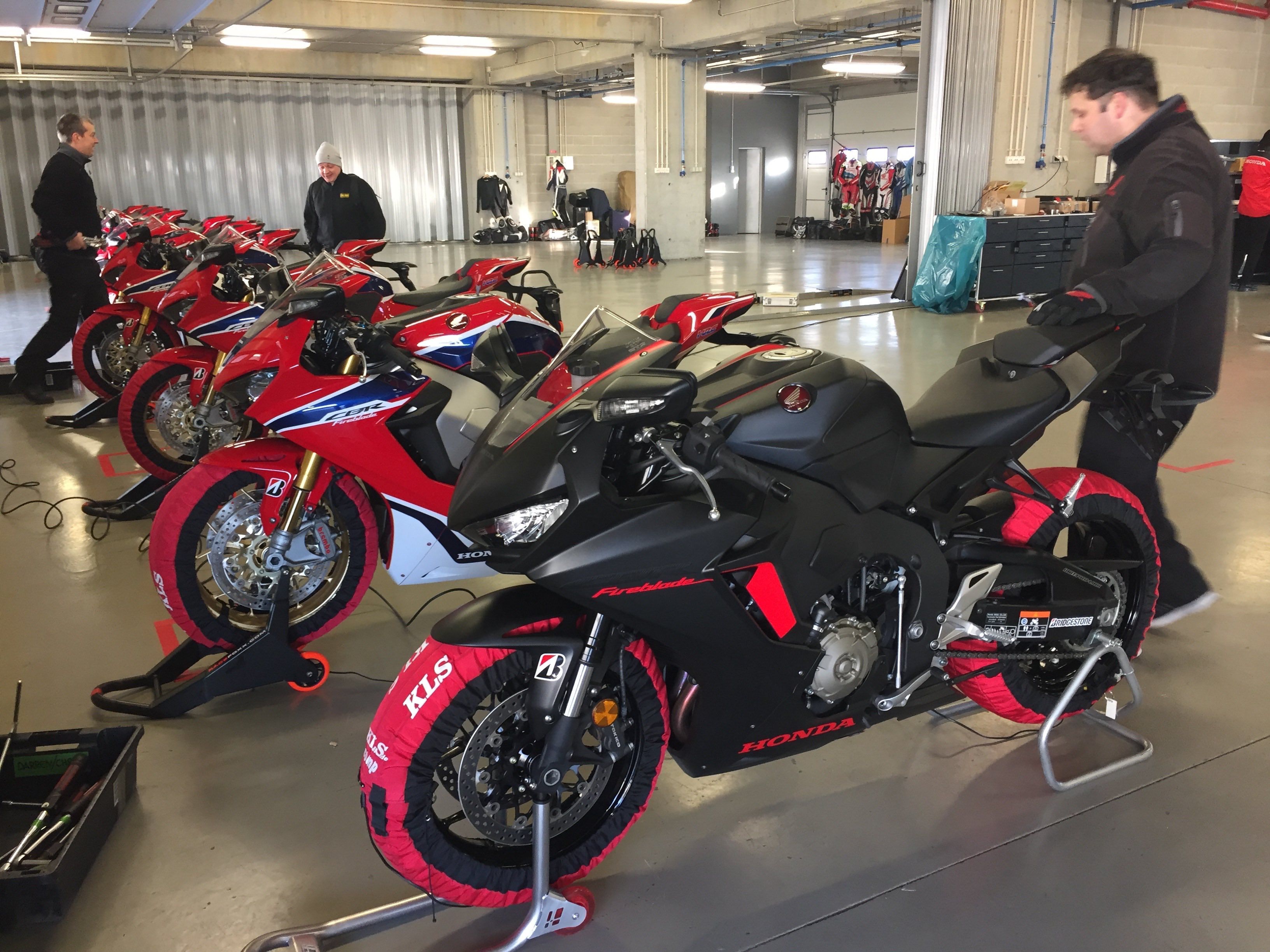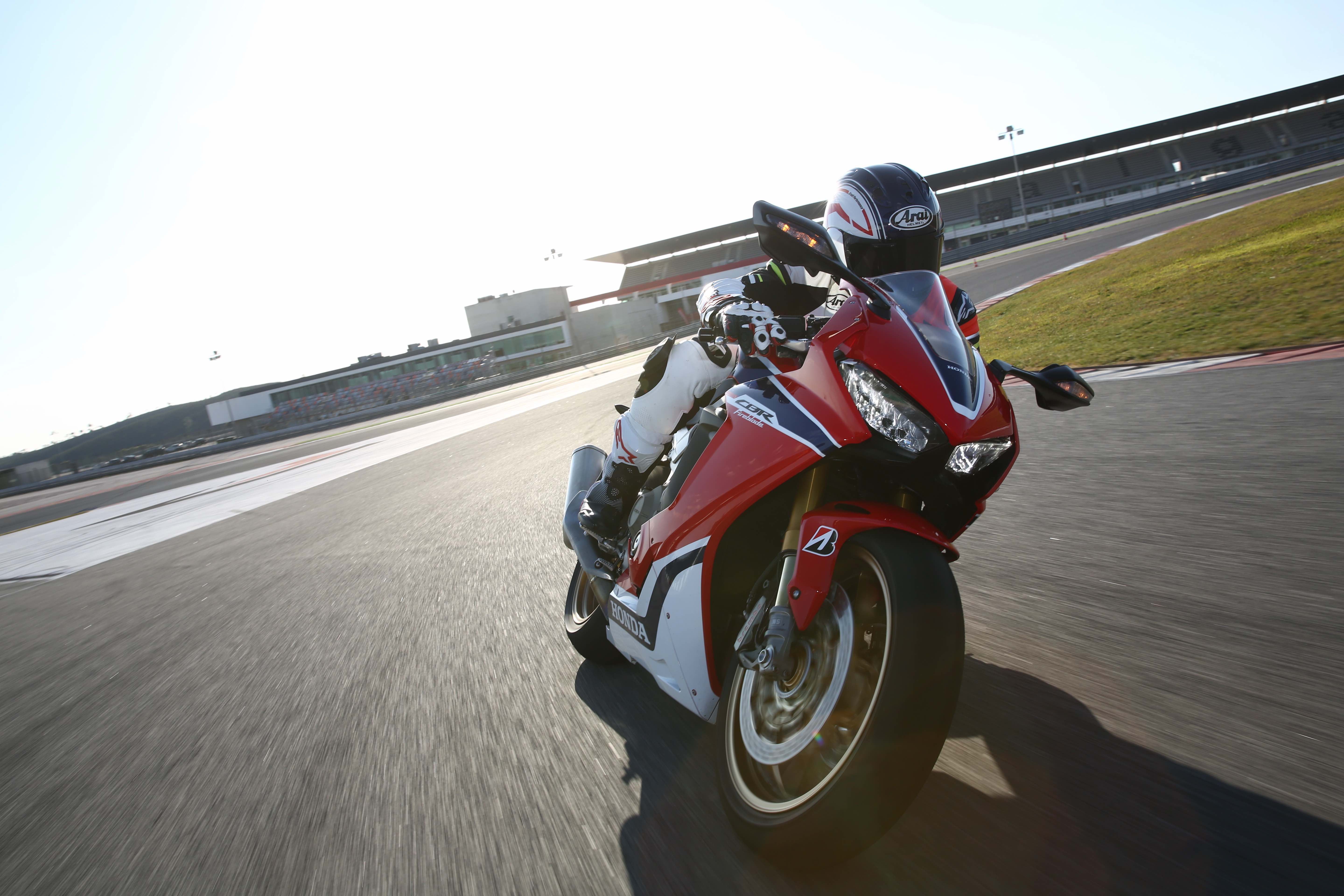 Luckily, the new Fireblade makes it simple to ease yourself in. I was out for the first session with genuine Honda legend Fast Freddie Spencer, who'd been here for a couple of days, and volunteered to show the newbies round. The weather was perfect after a cool start, and the Bridgestone S21 tyres (fresh out of tyre warmers) were grippy and communicative. We're on the stock RR to begin with, which meant Tokico brakes and Showa suspension rather than the Brembos and Öhlins of the SP. The chassis works beautifully though: the brakes are strong and progressive, the front end plush and slickly damped. We're going slow enough to admire the surroundings a little too – the new colour TFT LCD screen is clear and gorgeous, and the new switchgear also oozes class (although the horn and indicators are swapped round, so I issue a strangled beep when turning off into pit lane…
Freddie gives us the thumbs-up, and we're on our own for the next session. I'm just about clear on where the track goes, and can start to stretch the Honda's legs a bit more. The extra power is obvious – compared with the old bike, this one is gruntier all round, with a hefty top end buzz. It's not a monster though: unlike something like Kawasaki's ZX-10R or Aprilia RSV4, the manners are still very civilised, and there's no headbanger steps in power. Fuelling is smooth, and the Blade's ride-by-wire throttle – a first in a Honda inline-four – is predictable, progressive and intuitive.
That describes the quickshifter too. Optional on the RR, standard on the SP, it's a fantastically well-set-up unit, and both up- and down-shifts are perfection, the auto-blipper accurately matching revs no matter how hard you slam it down the box.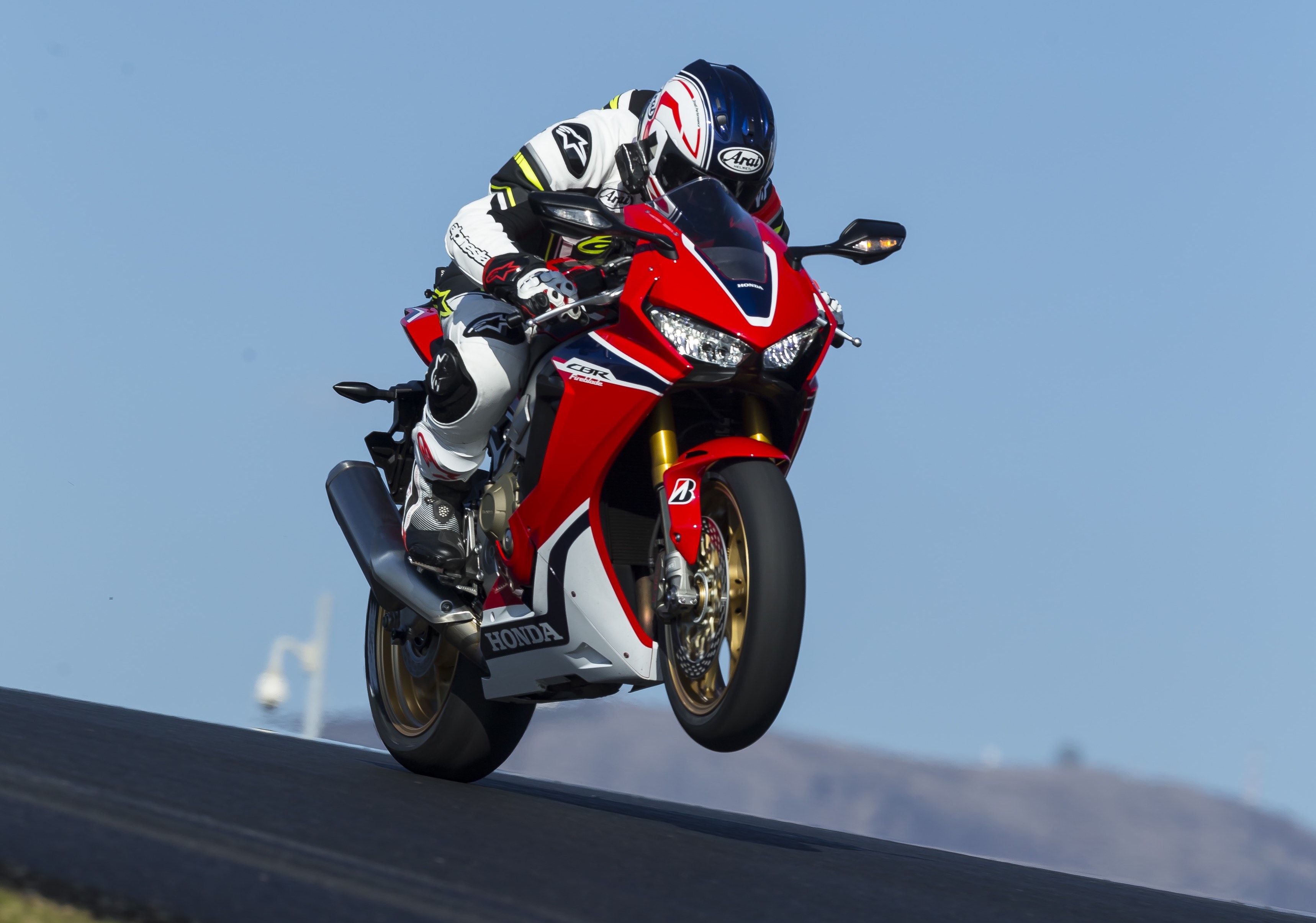 ---
Later on, we get a few sessions on the SP version – and the performance is noticeably cranked up.
Much of that is from a cunning tyre swap – Honda has fitted Bridgestone V02 slicks, and they are a revelation in grip and sharpness, with no noticeable decline in stability. The Brembo brakes are a sweet upgrade on the Tokicos, as is the Öhlins suspension. Normally the yellow springs and gold anodising means plusher motion and finer wheel control. But nowadays, it often means electronic adjustment and semi-active operation too. That's what Honda's added to the SP Blade – Öhlins ESC units front and rear are controlled by a smart suspension control unit.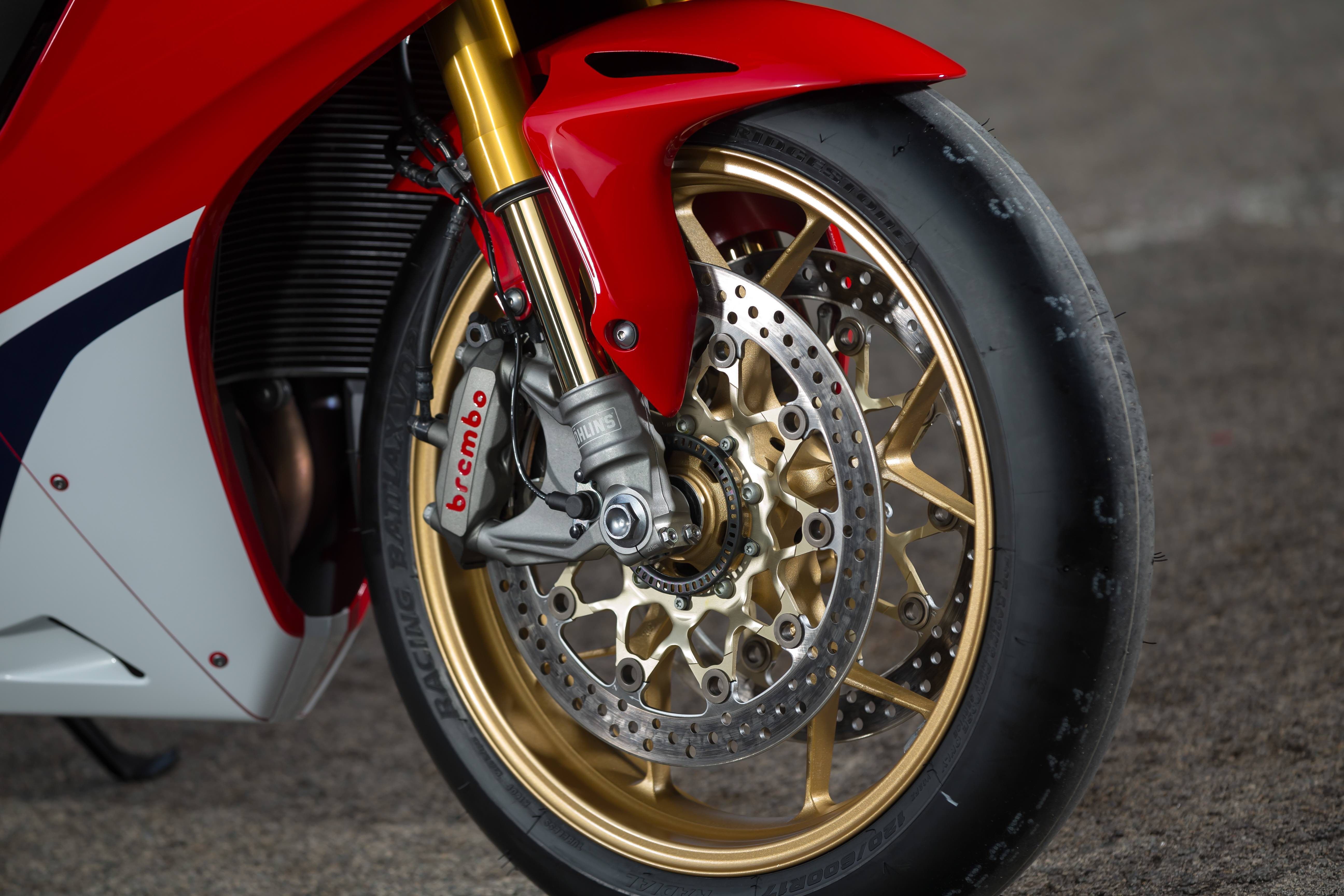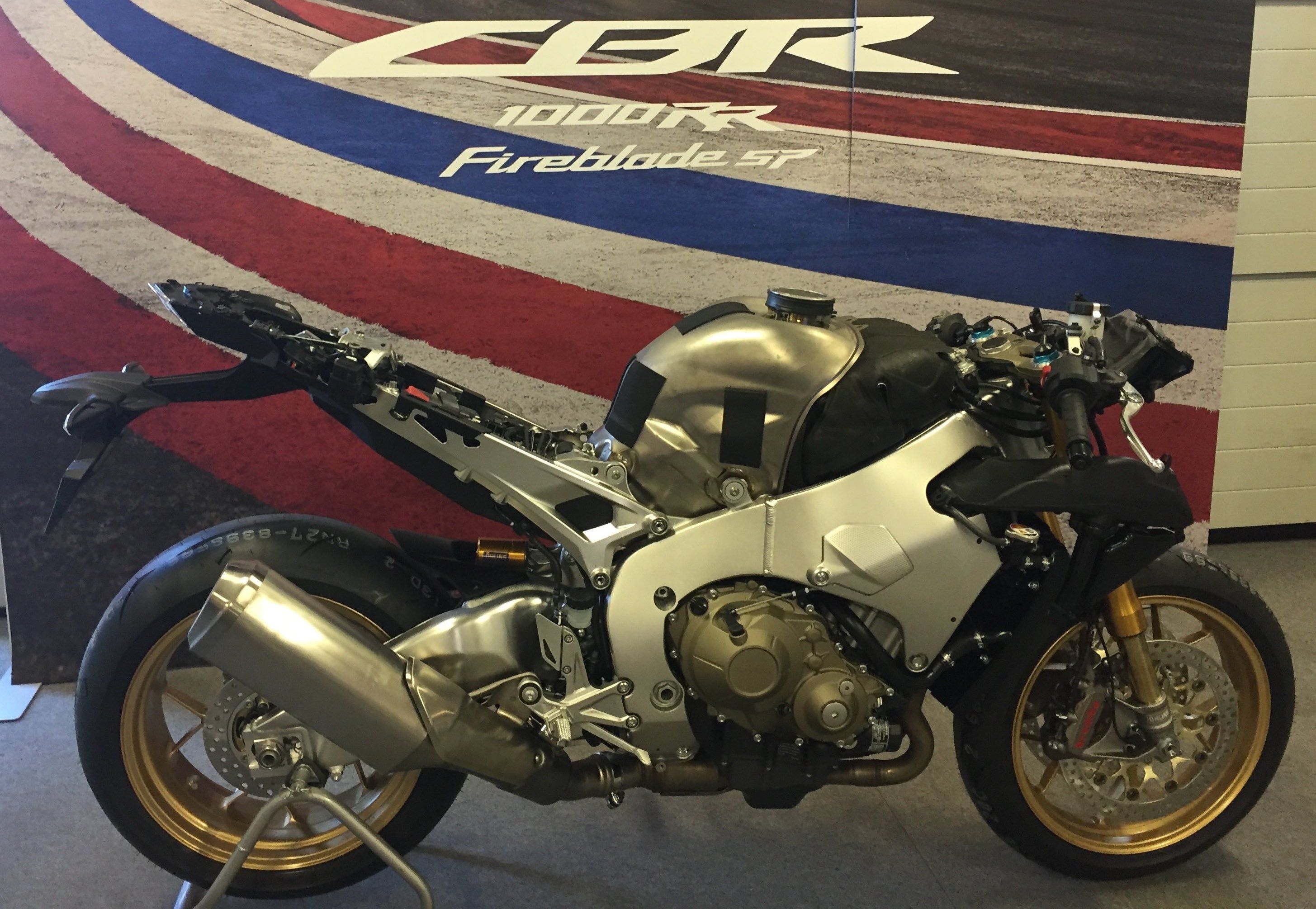 This system operates in two modes – a manual mode, where you basically replace your damping adjusting screwdrivers with pushbutton controls via the dashboard and switchgear. But there's also a smart 'Automatic' mode, where the SCU taps into all the information coming from the engine ECU and the Bosch IMU. So the Öhlins brain knows speed, throttle position, gear, and whether you're leaning, braking, accelerating. It then uses that info to constantly dial in optimal settings, dependent on what overall mode you've chosen.
Clever stuff – and it makes the Blade even more of a flier round Portimao. There are too many options for us to try out all in one day right enough – this is a system that I reckon owners will spend weeks, maybe months fettling to find out all its capabilities.
And then we're done. The bikes go back into the garage for the next group of journalists tomorrow, and we're heading back to the hotel. Sat on the bus, gathering my thoughts, It's very clear that this new Blade puts Honda right back in contention for litre bike honours. All the racers at the test were grinning from ear to ear at the improved performance. Could the big H be set to dominate the class again? I'm not sure I'd bet against it…
Biog: Alan Dowds (Dowdsy)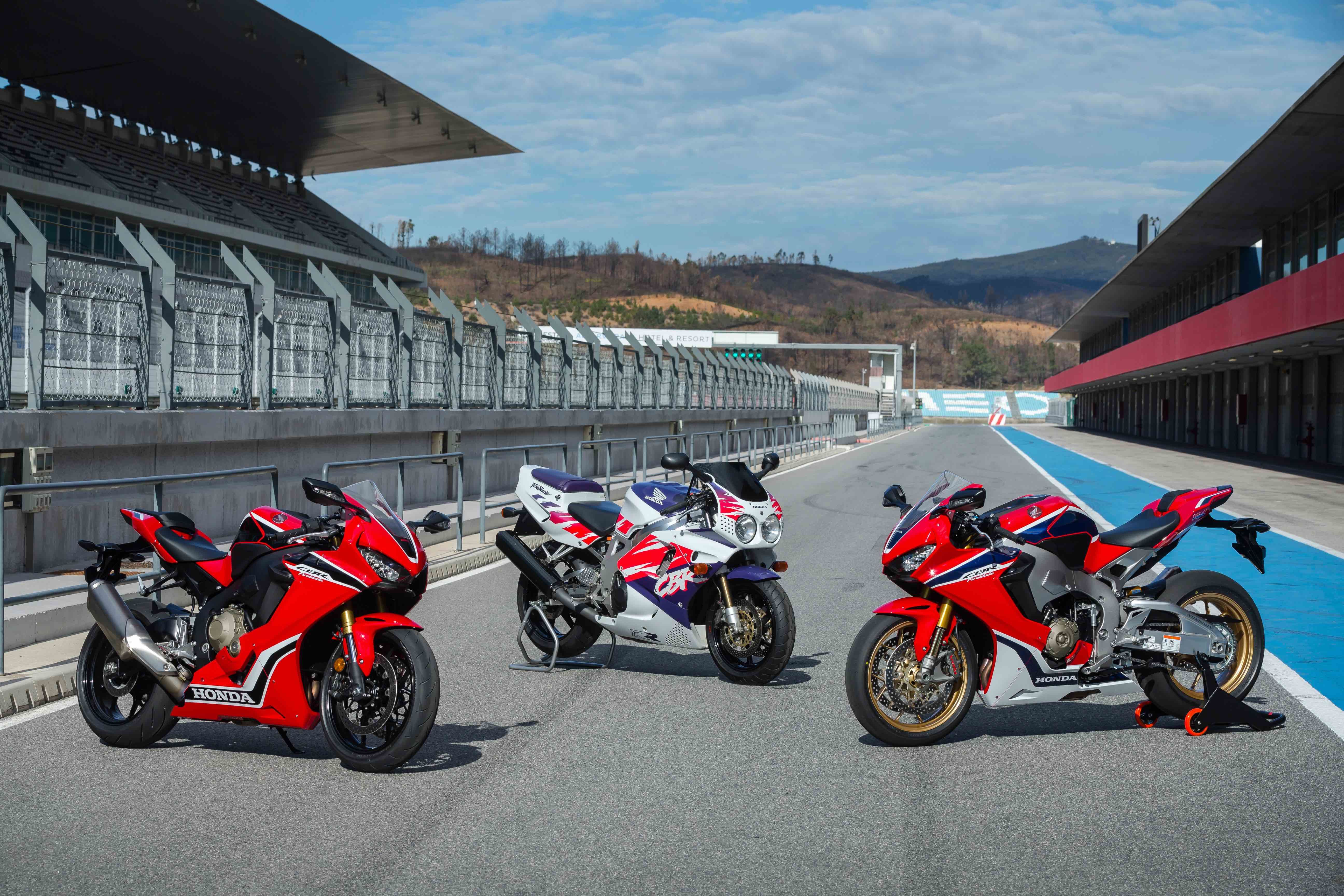 ---
SPECIFICATIONS
Price: £15,225 (RR), £19,125 (SP), both otr
Engine: 16v inline-four, DOHC, liquid cooled, 999cc
Bore x stroke: 76x55mm
Compression ratio: 13:1
Max power (claimed): 190bhp@13,000rpm
Max Torque (claimed): 86ftlb@11,000rpm
Transmission: six speed, slipper clutch, chain
Frame: cast aluminium diamond-type
Front suspension: 43mm fully-adjustable Showa Big Piston USD forks [Ohlins SEC electronic NIX30 fork]
Rear suspension: fully adjustable balance-free Showa shock [Ohlins SEC electronic TTX36 shock]
Brakes: Nissin four-piston calipers, 320mm discs (front), ? disc rear [Brembo M4 front calipers]
Wheels/tyres: five spoke cast alloy/Bridgestone S21, 120/70 17 front, 190/50 17 rear
Rake/trail: 23.3°/96mm
Wheelbase: 1405mm
Kerb weight: 195kg
Fuel capacity: 16 litres
Colours: red/black, black (RR), HRC red/white/blue (SP)

---
BeMoto Bike Insurance for your Honda..
As bike insurance specialists we offer all manner of insurance for standard and modified motorbikes, including off-road and SORN bikes, whether you have an old CB750 safely tucked away in your shed, a CRM250R 2-stroker for green-laning or a track-prepared CBR1000RR "Blade" for trackdays – even your kids QR50 or quad bike can be insured for fire & theft.
BeMoto Bike Insurance:
Honda insurance for your road bikes (Carbon or Titanium Cover) - modified and multibike schemes, classics, modern classics and commuter scooters
Honda off-road cover for SORN or non-road legal bikes (Fire & Theft cover in your garage or 'In Transit' to the track or events)
Honda trackday bike damage insurance (insure your Fireblade at UK and European circuits, even the Nurburgring)
Call BeMoto on 01733 907000* for an insurance quote on your Honda motorbikes

---