---
How to: Prepare your motorcycle for an MoT
By Luke Brackenbury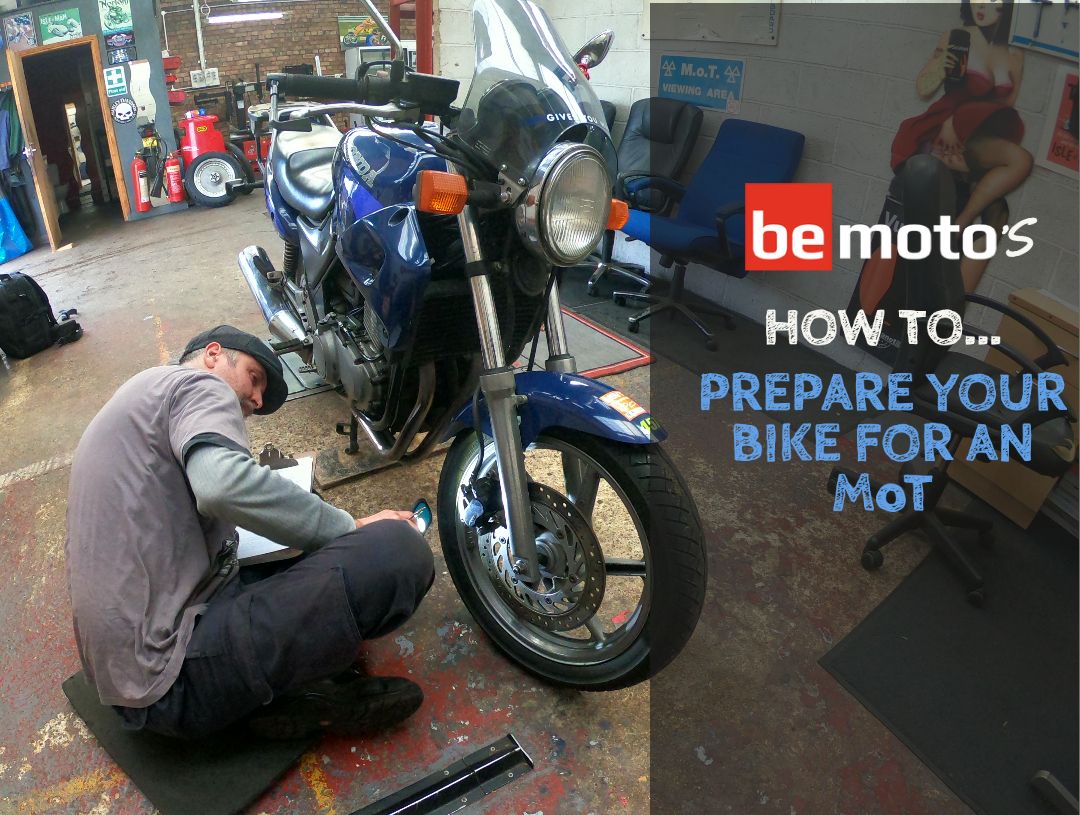 Tests. Life is full of them. As carefree youngsters with terrible hair and questionable dress sense, most of us left school thinking that's the last we'll see of tests. If only that was the case…

---
What is an MoT?
The Ministry of Transport (MoT) test is an annual requirement for every road registered vehicle three years after their first registration. This 'check' makes sure your bike complies with at least the minimum road safety and environmental standards. If you ride on the road, it is illegal for that bike to not have a valid MoT certificate (unless it was built or first registered more than 40 years ago) and without one you won't be able to gain road tax.
So, it sounds like the government only wants to make sure we're not riding around on hideously unsafe machines, putting us and other road users in danger. Not just another way to squeeze money out of us… And this can only be a good thing, shame it isn't free.
Ever wondered: What is a Daytime MOT? If so check out our useful guide.
---
How much does and MoT cost for motorcycles and trikes?
Speaking of money, the maximum cost of a motorcycle MoT is £29.65 and £37.80 for trikes and bikes fitted with a sidecar). The Majority of that money goes to the garage undertaking the MoT as it pays their labour cost of typically around 25 minutes. Should it fail, in some cases your vehicle can have a partial retest for free if it is something that can easily be sorted or failing that, coming back for a partial retest for a reduced MoT fee.
Like all tests, failing has its connotations. In the case of a failed MoT, it could mean time off riding and potential costs to fix any issues. That's unless you carry on riding your bike without one (not recommended).
Having spoken with many MoT testers, BeMoto has discovered that areas a bike could fall short on are either very silly, minor things or faults that would make it hideous to ride in the first place. Best way to approach this is to think if you would be happy letting the person you love the most ride your bike. If not, it probably isn't MoT ready!
---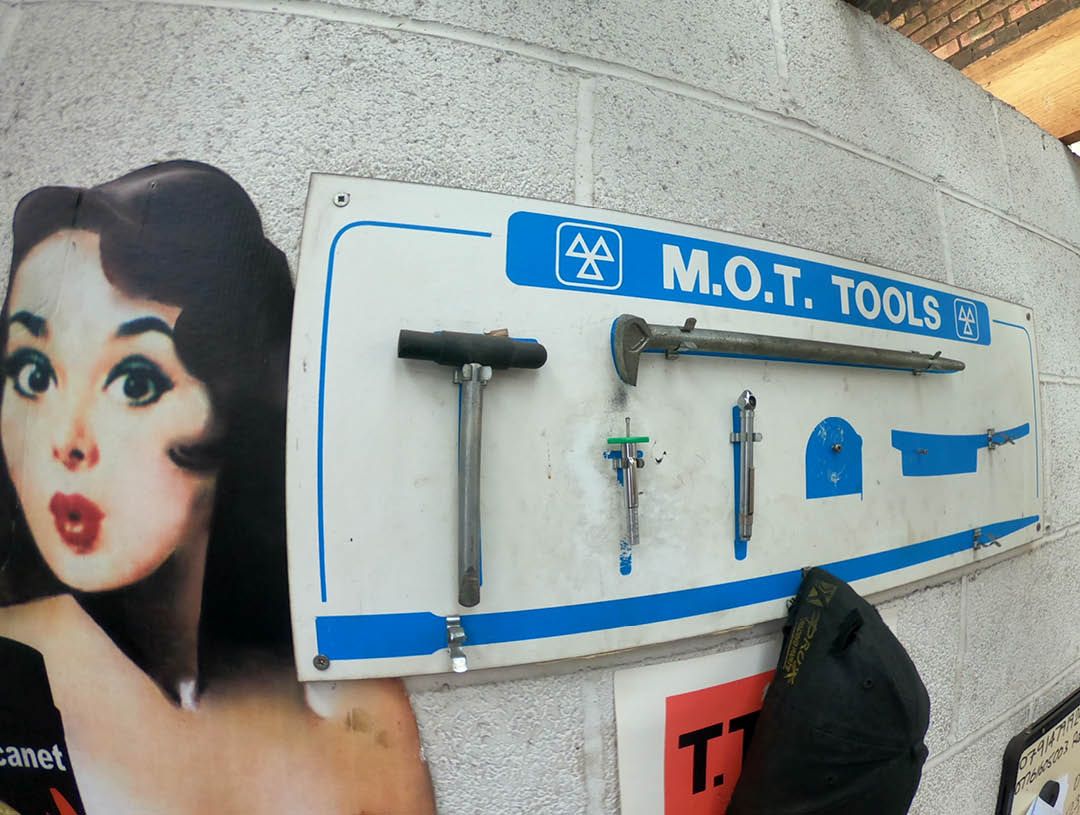 ---
As most of the test requires no special tools, the good people at BeMoto's local test centre, Bikes Trikes N Stuff in Peterborough, have helped us put together this basic pre-MoT study guide that can be done at home. When testing time comes, there should be no need to taste oil and dirt that comes with biting fingernails.
It also happened that our Project CB500 needed an MoT...
---
What you need for a motorcycle MoT?
A pre-booked MoT slot - rocking up and getting a test on spot isn't always possible
A clean bike with enough fuel and oil in it to run for a short period of time
Enough charge in the battery (where applicable) to start the bike and run the lights
Any keys needed to operate ignition and fuel cap
£29.65 (the maximum charge)
Something to do so you don't hang around watching the tester
---
Motorcycle MoT - what happens first
Tests average around 25 minutes, but take longer for more awkward and heavy bikes. The tester will carry out a pre-MoT test before logging the vehicle on to the network. Here they'll make sure the frame numbers match those in the log book and that there is nothing obvious hanging off or potentially hazardous.
If you haven't used your bike for a while, make sure it starts and there's plenty of charge in the battery, fuel in the tank and tyres have 'adequate' pressure as they will be checked. If you have different keys for the ignition and fuel cap, make sure you have both as the fuel cap will be checked for a rubber seal.
And make sure the bike is clean - the tester doesn't want to get filthy because of your bike. And if parts of the bike are so dirty it prevents sufficient inspection, it could lead to a fail.
---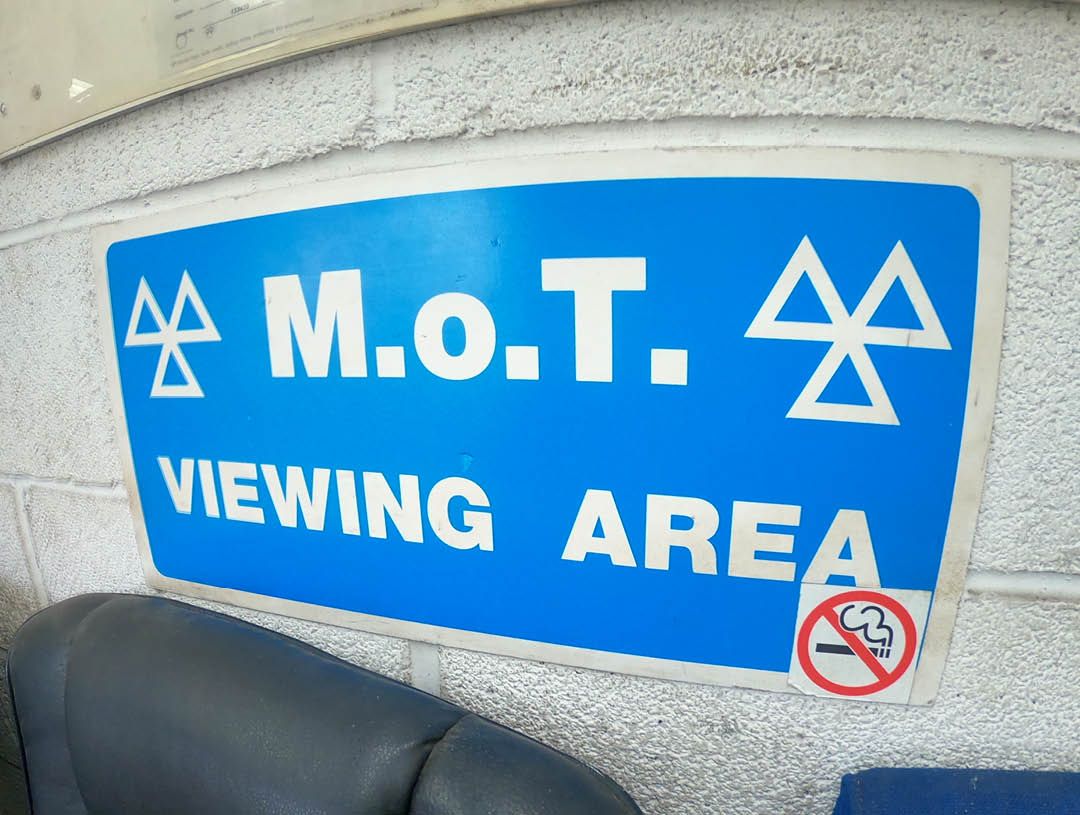 ---
Time at the bars
Ideally with the front wheel off the ground, turn the bars lock-to-lock to make sure nothing fouls the tank and that steering is free without tight spots or notches. Check the cables for any chafing or obstruction. The levers and throttle assembly should be secure and return correctly and make sure any bar end weights are tight.
---
Got the horn
All bikes need one. Test its efficiency with the lights and indicators on. One that play a tune won't pass.
---


In suspense
Bump the front forks to make sure there is enough damping quality for them to return. This will also show problems with the headstock bearings. Do the same for the rear shock and check the linkages for free play. A bike that fails here probably handles like a three-wheeled shopping trolley made of lead.
A light misting of fork oil might mean an advisory instead of a fail. Fitting fork gators to cover up a leak because testers can't inspect under them isn't a great idea. Just get them sorted: oil on discs and no damping isn't a great combination…
---
Chain reaction
Sounds simple, but make sure it is tight (no more than an inch of free play) and oiled. This should be a weekly check anyway – not annually! Make sure the sprocket features all its teeth and look for excessive wear.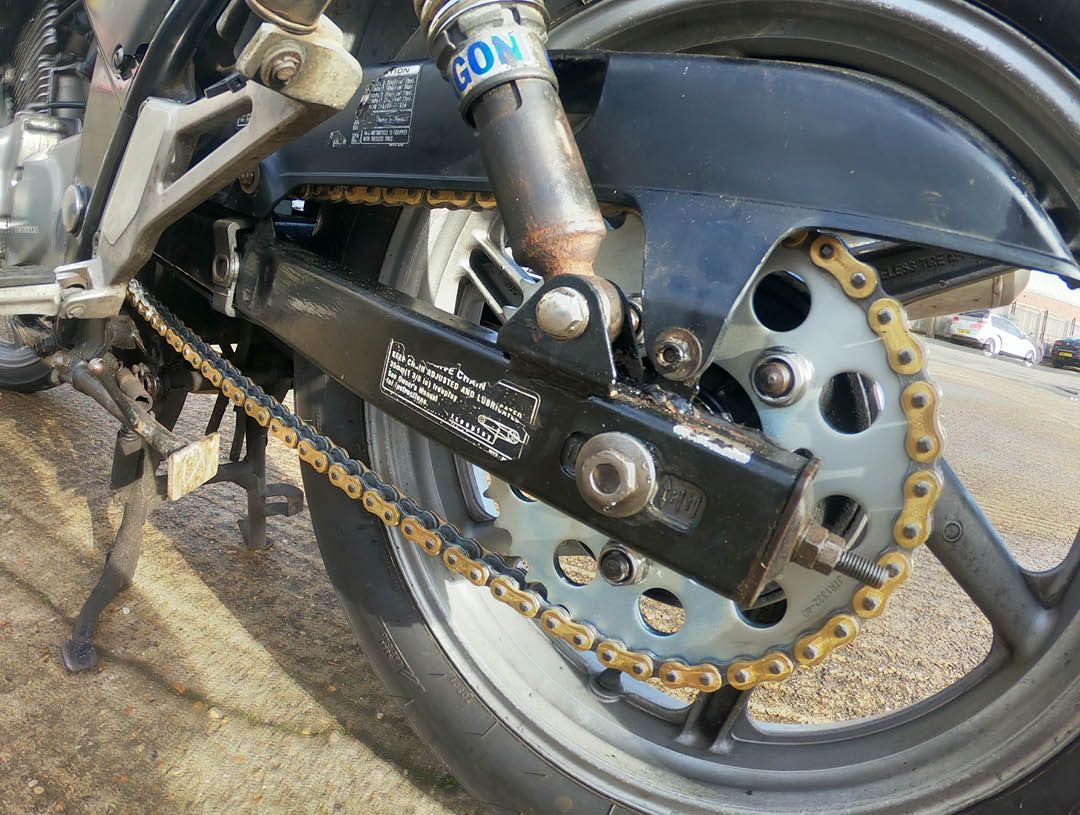 ---
Tyred out
Make sure the tyres are not perished or cracked, that they follow directional markings and look for any indication they aren't for road use. Tread depth should be no lower than 1mm through a continuous circumference band measuring at least ¾ of the breadth of tread.
---
Brake down
Check fluid levels and hoses for damage. Calipers need to be securely mounted and observe the discs for any damage. Drum brakes linkages need to return correctly and pads need to be no less than 1.5mm – the thickness of a 5p piece. A brake test on each wheel evaluates their efficiency, but these need to be pretty shocking to fail.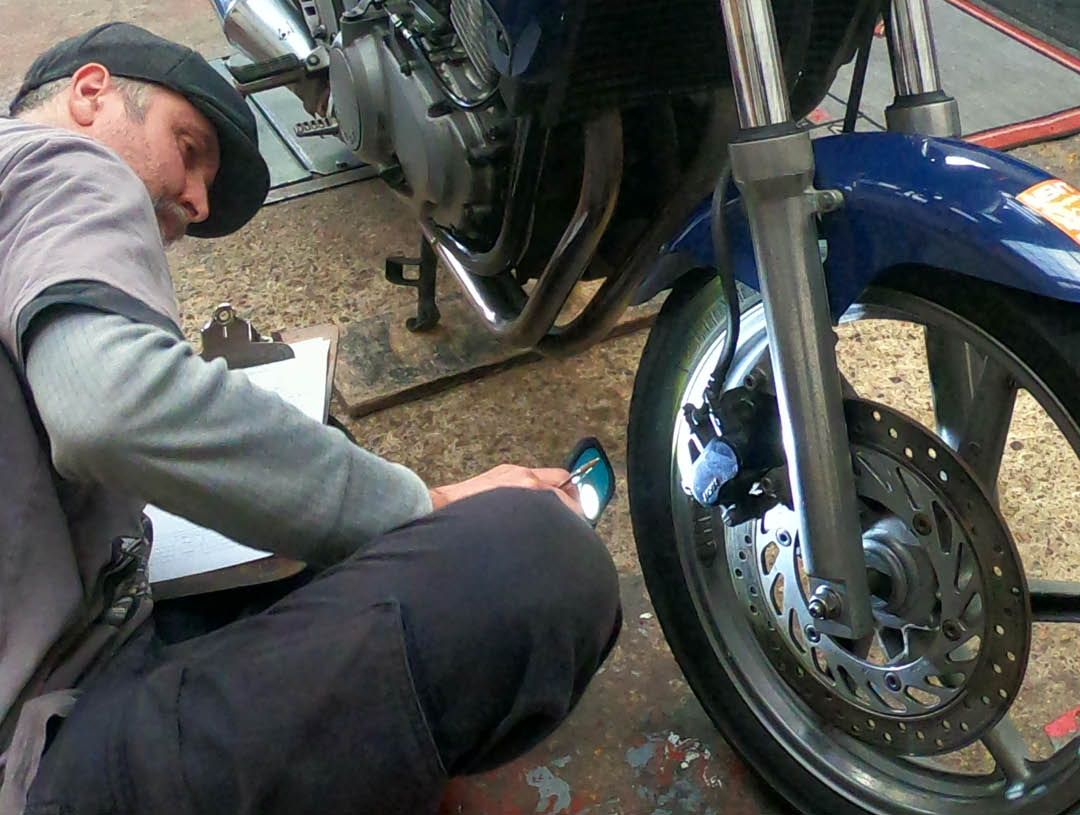 ---
Lights alive
Lights are responsible for half of test failures. The headlight needs to work on the main and dip beam with its white or yellow (only) light projecting at a certain level. All genuine UK bikes should dip to the left. Some imported bikes will need a section of tape on the lens to cancel that out. Hard to check accurately at home, a kind tester may adjust these for you. Check the rear and brake lights work, including the number plate light.
---
Flasher
Not a requirement, but if fitted, indicators need to flash at a steady rate - no less 60 times a minute or more than 100 times a minute. Aftermarket indicators are usually to blame for affecting this.
If you've fitted a tail tidy or similar, you need to check the indicator spacing.
Moped: front 240mm, rear 160mm
Motorcycle: front 240mm, rear 180
---
Reflect
No, don't think about amusing memories from the past, make sure your bike has a reflector on the back. Often missing when people have fitted a tail tidy. Most decent bike garages will stock adhesive reflectors to stick on your numberplate.
---
Exhausted
Holed or blowing badly, an exhaust will most likely fail emissions tests. If your fancy MotoGP silencer has been stamped 'Not for road use' it won't pass. If there are no markings on the can but the output is deemed to be excessively louder than the original item, it could also fail or the best case is an advisory. So, dig out that standard silencer or fit baffles if your exhaust is super loud.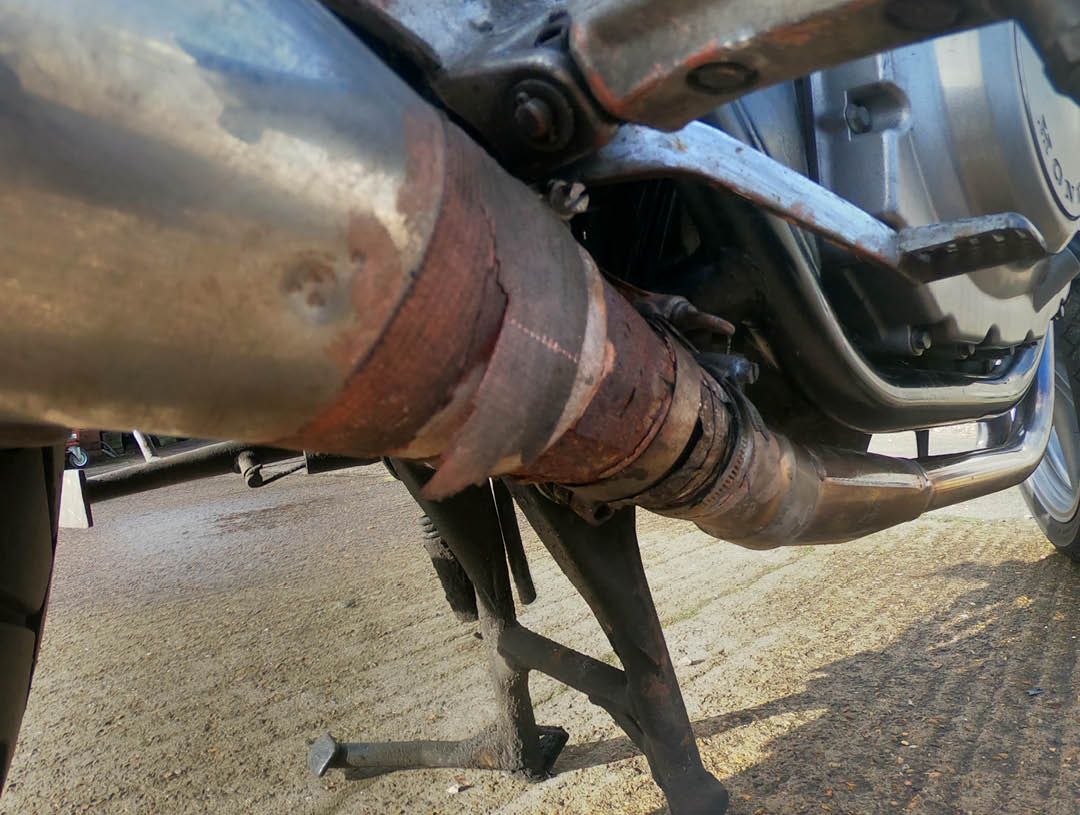 ---
Numbers up
If you changed your number plate for a more stylised or smaller one, refit the original. Since September 2001 the laws on plate sizing, spacing and arrangement have become more stringent.
---
Wheel good
Spin the wheels to check they spin freely and for any distortion. The parameters for lateral or eccentric deformities allowed is around 3mm. Check for any missing or loose spokes, cracks and free play in the bearings. Make sure the rear wheel is correctly aligned. Some stations will check the alignment and don't be surprised if your bike isn't - you'd be surprised how many bikes leave their factories not straight.
---
MoT Tester's discretion
The results of many tests on the bike are down to the tester's discretion. Though they're not supposed to correct any failings, most testers will as long as it's a simple fix. It would be wrong of us to imply that they could at times be impartial, but a few of the testers we spoke to said that it is often a good idea to present a clean bike and not hang around watching - even if there is a viewing bay provided!
MoT: What if it fails?
You have ten days to get any problems fixed in order for a free re-test. This is a safety test after all, so the bike should only be used to get to the test centre. Your insurance could be invalid otherwise.
Useful sites:
---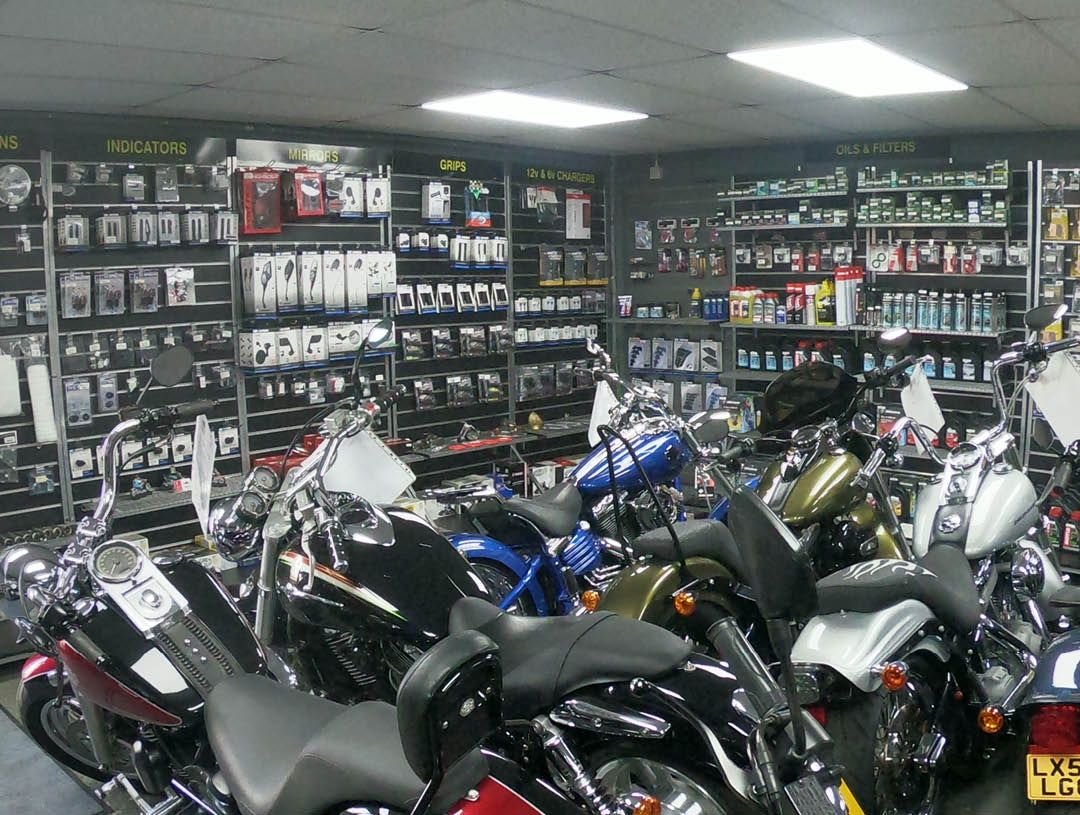 ---