---
How To Start Motorcycle Racing
By Tom Coyles-Gould
BeMoto Track Insurance finds out what it's like getting into the world of motorcycle racing. Deciding to take your road bike on track, or even buying a track bike is a jump up from road riding, but to start racing is a huge leap.
During the course of 2022, Tom from 'I Like Motorbikes' (see channel link at bottom) decided to give it a go. Over the winter of 2021 into 2022 he spent countless hours modifying his CB500 road bike into a race ready version - the underrated hero of the British club racing paddock.
---
Who is Tom from 'I Like Motorbikes'?
Tom passed his road bike licence in 2013 and dabbled in track day riding the same year and every year since. The first time out resulted in a highside, a broken scaphoid and a big bill from the track bike hire company. Oops! Tom describes himself as an average rider that like most of us, thinks he is better than he is in reality and currently owns just a humble Honda CG125 after having to thin his herd, but he has owned nearly 40 bikes in just under 10 years ranging from enduro bikes, adventure bikes, sports bikes and trials bikes. There is not a lot he has left untouched. Tom obtained his ACU licence in March of 2022 as part of this project, which was just 2 weeks before the first race weekend!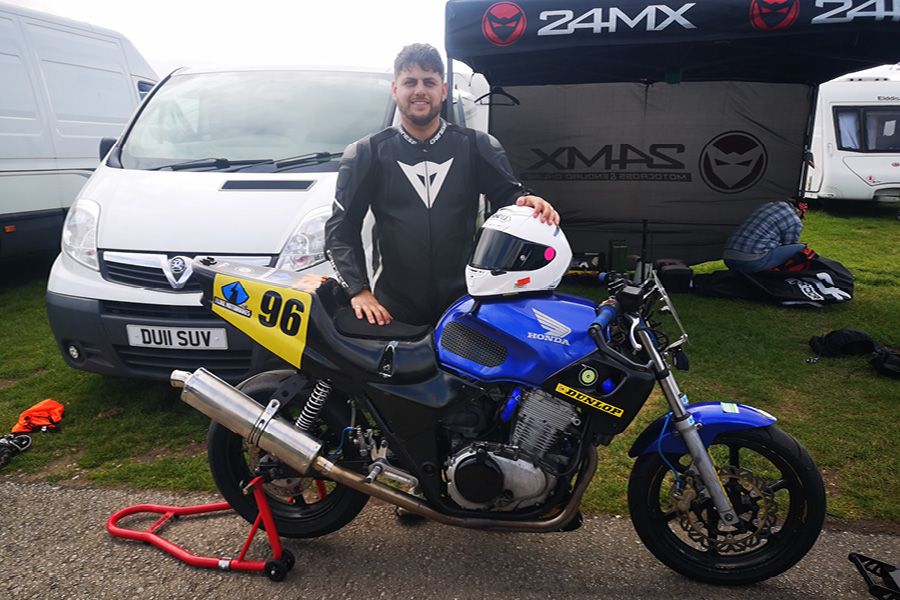 ---
Motorcycle Racing: Why you should do it
Motorcycle racing is something that always excited me, even before I started the process of learning to ride I loved watching Moto GP, speedway and BSB. Seeing bikes being ridden at full chat was adrenaline inducing enough but once I'd swung my own legs either side of a bike seat, it was only natural I wanted to see what riding on track was like.
Track days are such a different ball game to the road as it is so much safer, although like all motorcycling activities, it isn't devoid of danger. With ambulances on standby, everyone going the same way round the track, groups split into abilities of riders and less hard objects to hit it is a great way to test what you and your own bike is capable of in a relatively controlled environment, however, it isn't a competition and as such there is very much an etiquette of riding on track days.
Everyone has turned up to have a good time and wants to go home in one piece. And whilst that may still be true for racing, the descent of the "red mist" when the flag drops means that close passes, touching people mid corner or closing the door on someone's line shouldn't be unexpected. It is scary but I also don't think I have ever had such a high as I did when finishing my first race at Brands Hatch. My heart was pounding out of my chest rolling up to the start line but once the lights went out and we were away, it was almost serene… apart from my huffing and puffing from not being bike fit enough!
---
Motorcycle Racing: What licence do you need?
There are tons of licences you can get to go racing, first you need to know the discipline you want to go for, this could be road racing, supermoto, drag, sprint & hillclimb, scooter road race or pocket bike for example.

For road racing, which is actually the name given to the events held on short circuits, the licensing body is the ACU and if you have never held a licence before you start at either novice, or intermediate novice. Novice is for everyone where as intermediate novice is for those with a category A road licence. The only difference between them is the restriction of engine size of the bikes you can race. So the tiers are Novice/InterNovice > Clubman > National > International
You can gain higher classes of licence by gaining signatures.
What this actually means for going Novice to Clubman is you must finish the race, at at least 3 separate tracks and for a total of 10 race days. So for example one race weekend at Donnington Park would net you two signatures. Signatures can be gained from the current year and previous two years so it isn't hard to rack them up.
The same process is for Clubman to National with the additional caveat of having an average race speed greater that 92.5% of the class winner so it does get slightly harder the more you move up.
---
How do you get an ACU Motorcycle Racing Licence?
Getting an ACU licence is actually fairly easy. There is tons of media online, particularly at the ACU website on how to do so. Equally racing clubs and organisations such as No Limits Trackdays who run ACU courses are very approachable with how to go about it if you get stuck.
The basic principle is there is a classroom based "theory" section whereby you must memorise the different flags and processes for a safe race meeting. Then there is a compulsory on track assessment. This goes through riding on track as well as race starts. It is all very simple though and they are not looking for blistering pace, just controlled riding with a solid understanding of what the correct thing to do is. The theory takes just an hour or two and the on track assessment is usually half a days worth of effort albeit the actual on track time is a lot less
---
What does it cost to get an ACU Licence
The cost of the ACU licence is typically between £160-190 depending who you do it with. Although alongside this you need to join a racing club which can cost between £20-40, although there is no limit to the amount of clubs you can join so you could easily join lots of UK clubs and watch the costs rack up
---
How long does it take to get a Motorcycle Racing Licence?
I had a really painless process, from signing up on the ACU website, to receiving the physical licence was about 5 weeks. Though this will vary depending on when you sign up, and the available dates for courses.
---
Where can I race a motorbike in the UK?
I had been in multiple race paddocks before I raced with Thundersport GB in 2022, the stand out feeling from all club level racing is that it is very much a community spirit as everyone is there for the same reason. For the love of racing bikes and trying to improve! Sadly Thundersport have closed their doors but I have experienced good things with North Gloucester Road Racing (NGRRC) and BEMSEE as well as hearing good things about the Wirral 100, East Midlands Racing (EMRA) and No Limits Racing. It is hard to pick a bad place to go racing as far as I'm concerned.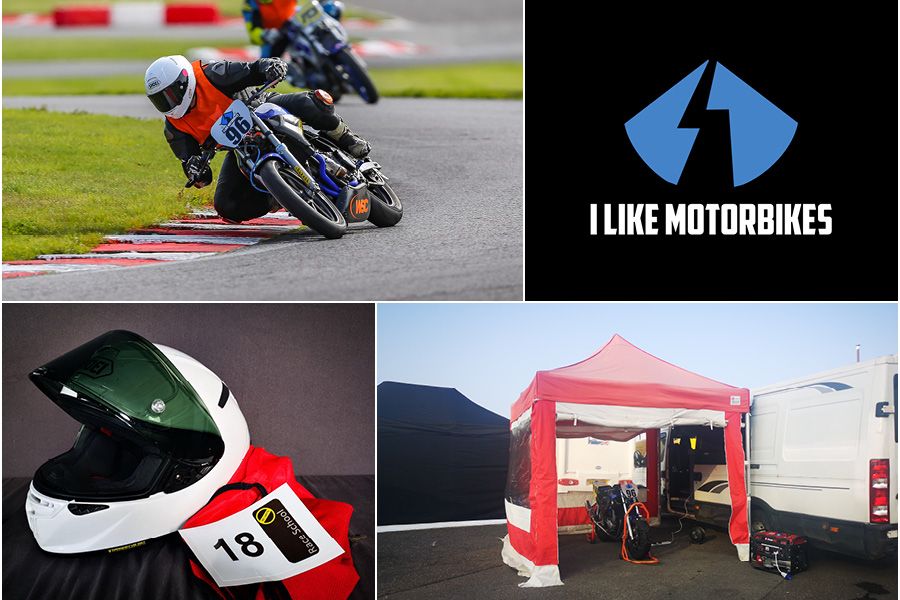 ---
What's the best motorcycle racing class to start with?
Guessing CB500s here because of the costs of the bike, deep fields, with lots of clubs etc.

The best? Well that's subjective – my opinion is start with a lower powered bike with big grids. CB500s, mintwins or Formula prostocks (bandit 600s) are a great starter class to cut your teeth in racing. They're fast enough to provide a thrill but are slow enough/low powered enough that you can be slightly ham fisted with the throttle and not get launched into oblivion. Not only that the tyres last longer, the brakes last longer and generally they are cheaper to buy, maintain and repair which is always a bonus.
For any youngsters reading or their parents reading then something like the junior supersport racing the Kawasaki 400s are a great place to start.
---
What kind of bike can you race with?
You can do a track day on practically any bike that passes the noise test and doesn't present a danger. Every type of bike you can imagine has been seen on a track day. Now, whilst you can "race" any bike, you can't race every bike, you might struggle on a GS for example. I chose to race on one of the go-to models for amateur racers, the Honda CB500. I documented the transformation of my standard road dwelling bike into the dreamiest racer she could be. You can see the series of videos I made on my Youtube channel
---
What do you need to go motorbike racing?
The bare minimum you need is your bike, your riding kit and fuel and a way to get there. I've seen people turn up in full race trucks liveried up as well as folk who arrive in a hatchback with a wooden trailer and the bike shoe horned in.
The most common way to do things is a van with the bike in the back and space to sleep. There is always a clubhouse on site for meals but the cost adds up quickly and they have limited opening hours so the ability to be self-sufficient is both cost effective and very handy.
Tyre warmers aren't essential for some classes and are in fact outlawed for some of the classic racing, however they extend the length of your tyres and give you the confidence the bike will hold when you tip into the first bend…sometimes 4 or 5 abreast!
Here's my list of essentials and nice to haves:

Essentials:
Riding kit that meets standards, including novice bib if applicable
Fuel for bike
Tyre Warmers
Paddock stands
Generator for powering warmers
Extension lead
Tyre pressure gauge
Basic tools for wheel changes/maintenance
Ear plugs (very underrated, both for bike riding and the inevitable paddock knobber who leaves their generator on past midnight while drinking and playing loud music)
Nice to haves:
Spares to fix the bike such as levers, footpegs, body work, bars/clip ons etc
Spare oil/fluids
Spare brake pads/consumables
More serious tools i.e. soldering iron, drill & drill bits
Spare wheels with wet tyres fitted
Race van with a proper insulated area to sleep, cook and chill out between races and a garage for the bike and kit
---
What about insurance?
This is a huge topic that is very personal, so my first piece of advice, is talk to a broker like BeMoto who don't just "sell" motorcycle track insurance products, but actually know the product they are selling. They're also a top insurer when it comes to insuring your race van. It's important to acknowledge the risk involved and ensure appropriate cover, not only for your bike, but for you as well! If you are looking for personal insurance, to pay medical bills, or insure your livelihood, then contact the guys at Properly Protected.
---
Are there discounts for ACU licence holders?
Many companies offer discounts or even freebies for being an ACU licence holder. The ACU website is the best place to check but a quick overview is below:
HEL Performance – free brake lines for the bike you race if you sticker your bike up
SMC bikes – 15% discount on lots of bike clothing i.e. boots/helmets/leathers/back protectors and more
Datatag – 20% discount – handy for keeping your race bike safe
TSR – 20% off superfinishing services – perfect for keeping engines and gearboxes tip top
Halfords – 10% off in store which is always handy!
---
How does a typical club race format work
A typical club race weekend will run from Friday to Sunday, similar to how many other motorsports run. Usually, the Friday is dedicated as a test day (practice) and then Saturday and Sunday are the race days although Saturday mornings usually have qualifying and Sunday mornings have a warm up.
Most clubs run the test day separately to the race day and you have to pay extra and choose to do it – I'd especially recommend it for new racers particularly if you have never been to the track before. Bum in seat time is invaluable.
Saturday and Sunday usually give you two races per day and these are typically somewhere between 7-12 laps depending on the race you are in and the length of the circuit – it may feel like a 15-20 minute race isn't very long but if you're as unfit as me, you'll be begging for the chequered flag somewhere around lap 5 or 6.
---
What does a race weekend cost
A race weekend in short costs a lot of money. Though it can easily get very expensive if you are at the sharp end of the grid and using a fresh pair of tyres most races or crashing often.
Approx costs are:
Test day - £130
Race entries - £300
Tyres - £40-400 (I ran scrubs for all my races and sold them on after use!)
Bike fuel - £40-90
Generator fuel - £20-30
Van fuel £80-300 (obviously depending on location and distance from the circuit!)
Food - £25-60
Beer - £????
The cheapest race weekend is likely to cost you in the region of £700. Race a more fuel thirsty bike, and keep throwing rear tyres at it and enjoy a lot of beers in the clubhouse? Don't expect much change from £1500. If you don't have the budget for "big bike" racing then the Freetech Endurance for 125cc bikes is a great place to look. Tyres last forever, fuel last forever and the entries are much more reasonable too.

---
Where can I learn more?

Perhaps a predictable answer, but Google! You should also check out Facebook Group Trackday Addicts for a whole host of information and conversation on the topic. You can learn a lot by just being present in the group. You can also identify the former sighting lap champion turned racer types ahead of encountering them on the track.
---
Any parting words of wisdom
If you ride bikes, you should probably try a trackday at least. Racing gives you a completely different perspective on what a machine is capable of and what its limits are. You really appreciate the additional skill you gain to apply in your everyday riding.
To see more from Tom check out his Youtube Channel I Like Motorbikes.
---