---
KTM 390 ADVENTURE 2023
By BeMoto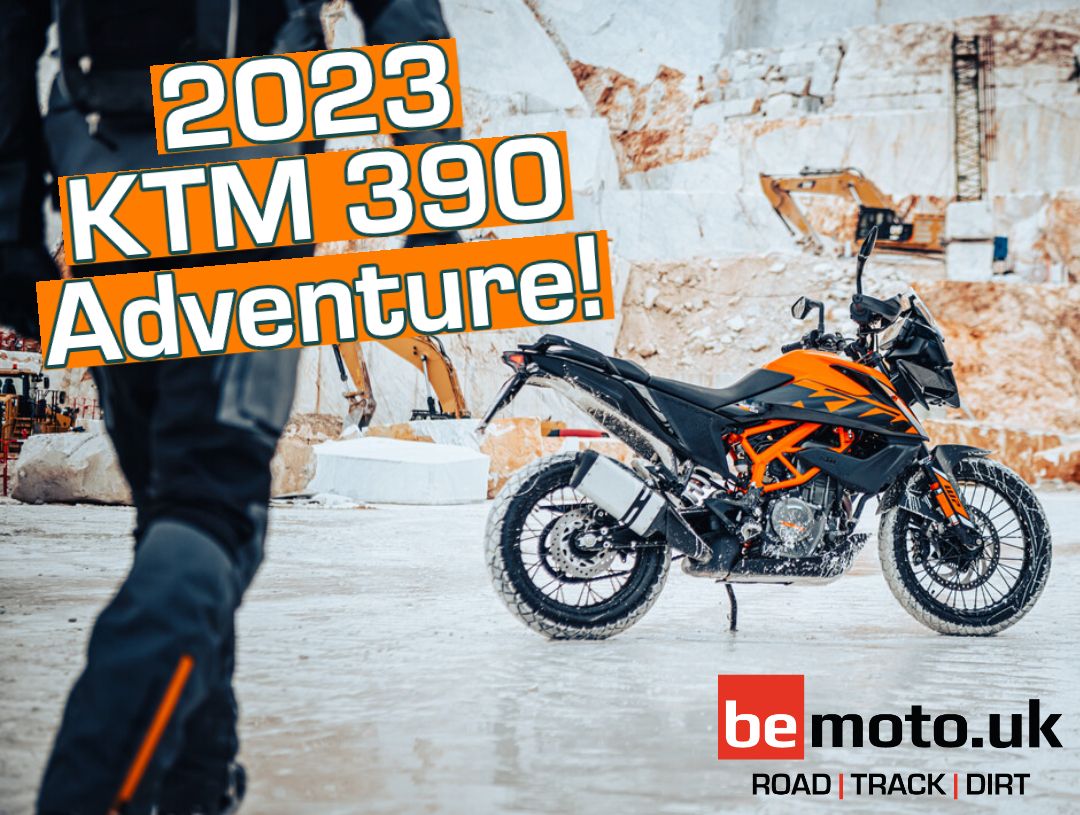 While it doesn't seem like 5 minutes ago since KTM finally made the genius decision to put the 390 DUKE & RC390's punchy single-cylinder engine into an adventure-styled platform, time doesn't stand still very long for motorcycles - even ones with 44hp.
While not an out-and-out Dakar wannabe, the 390 Adventure delivers true 'every day' performance: commuting, weekend blasts and light off-roading. And for less than £6k. But things change…
---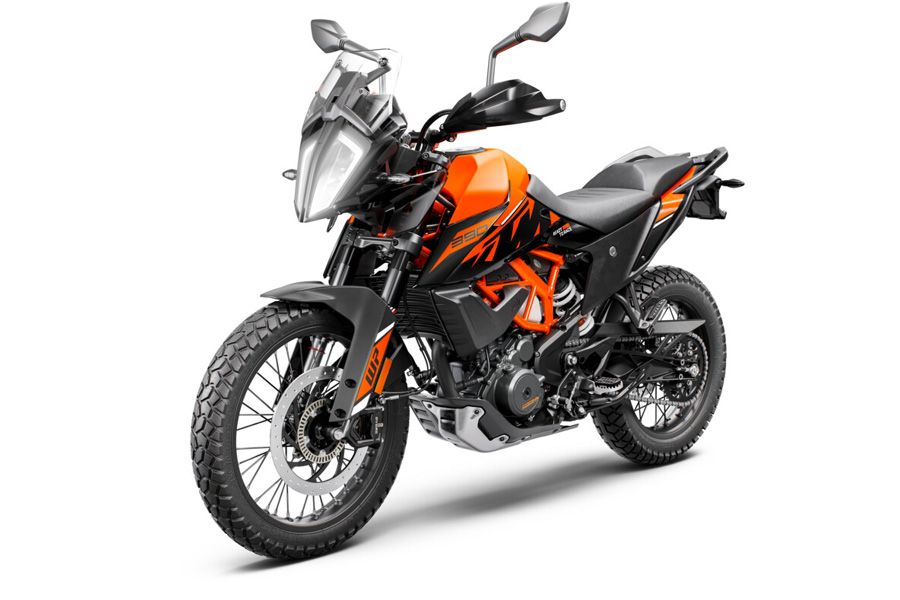 ---
For 2023, the versatile KTM 390 ADVENTURE has been treated to some updates. Most noticeably, the addition of a spoked rim - or SW - model. We all know that the difference between an adventure bike and an adventure motorcycle is a pair of spoked rims. And like the wheels, the price has also got a little tougher…
Let's take a deeper look at what is still arguably one of the best lower capacity routes into adventure biking.


---
2023 KTM 390 ADVENTURE Wheels
On the 'SW' model there are new tougher, black anodised aluminium spoked wheels (19" front and 17" rear) for robust extra offroad potential and all-round topline performance granted by the Continental TKC70 tyres


---
2023 KTM 390 ADVENTURE Bodywork
For 2023 KTM have not only splashed the KTM 390 ADVENTURE with a sharp, fresh look but the bodywork that has been angled to protect zones of the bike and thrust the rider into full-control stance. There's a two-tier seat (that can be easily removed to reveal storage space and even swapped out for other models in the KTM PowerParts collection), LED lights, a windshield with two positions and wide 'all-day' footpegs.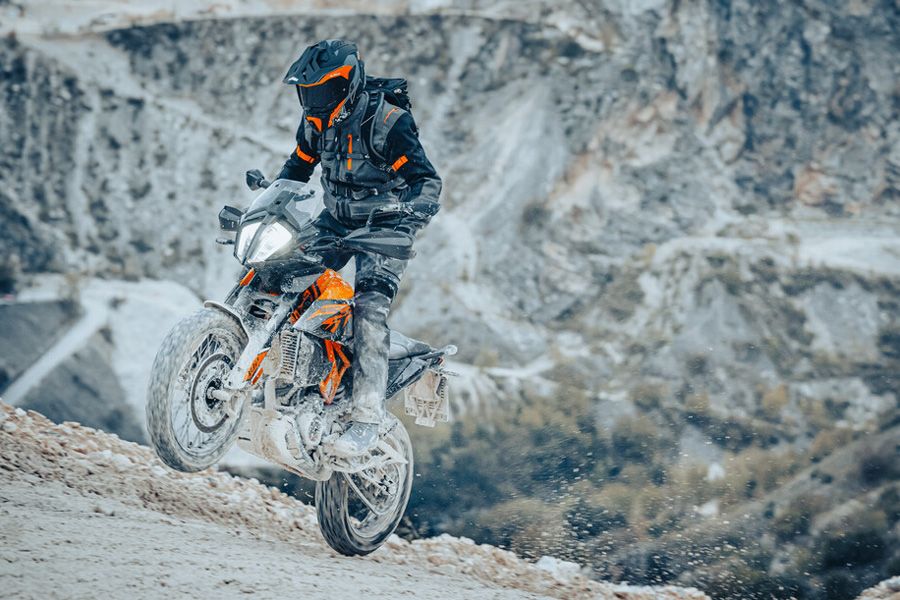 ---
2023 KTM 390 ADVENTURE Engine
Elsewhere the impressively compact 4-stroke 373 cc single cylinder engine uses twin overhead camshafts, four values, a balancer shaft and electronic FI for smooth and uninterrupted momentum to the beat of 44hp and 37Nm of torque at 7000 rpm. Two catalytic converters ensure the system breathes within Euro5 emission targets while the fuel tank (sized for a 14.5-liter fill) vapour design also boosts the eco-friendliness of this particular KTM ADVENTURE.
2023 KTM 390 ADVENTURE A2 compliant
Yes it is, opening up the world of adventure in a Ready to Race way for those with a restricted licence.


---
2023 KTM 390 ADVENTURE rider aids and technology
The 2023 KTM 390 ADVENTURE may have smaller dimensions and specs compared to some of its bigger oranger brothers but it does not lack features essential to adventuring. Ride-by-wire, Motorcycle Traction Control, Cornering ABS, OFFROAD mode (more rear wheel slip) and linked OFFROAD ABS (disengaged on the rear, reduced on the front) are feathered by the 46mm throttle body and the slipper clutch while being administered through the 5" colour TFT and intuitive handlebar switch.
2023 KTM 390 ADVENTURE chassis and suspension
Light weight and unbeatable agility is partly supplied by a chassis that takes its design cues from KTM's work at the sharp end of rally competition. The KTM 390 ADVENTURE's '23 colour also comes from this racing background. The steel trellis design and subframe construction achieves a satisfying blend of both feel, flex and long-term comfort; even the wind of the exhaust system is optimised for prime centralization. WP Suspension APEX hardware is adjustable for compression, rebound and preload and achieves that rare chemistry of tactile grip with the road and confidence-inspiring efficiency for the dirt.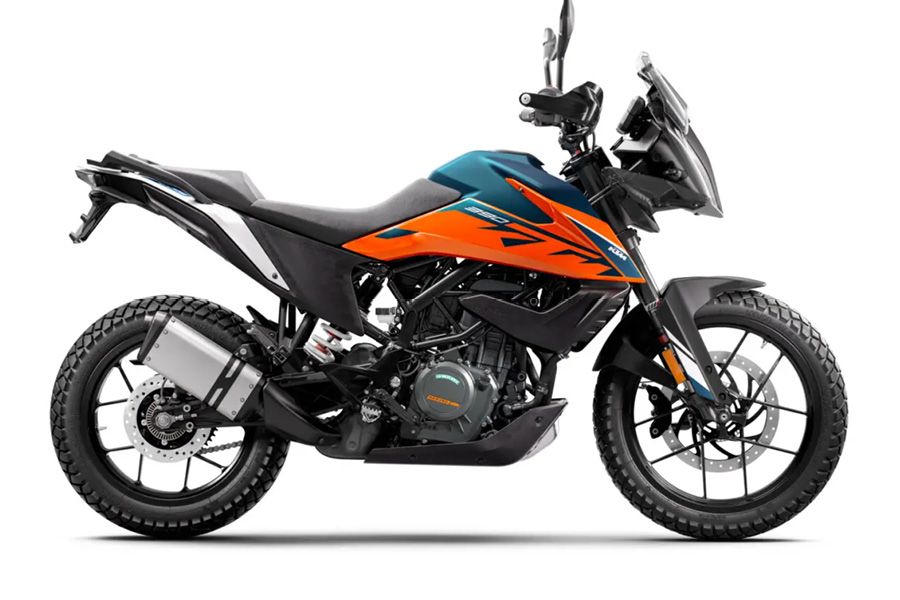 ---
2023 KTM 390 ADVENTURE Brakes
Brembo BYBRE brakes (320 front and 230 mm rear discs with four-piston calipers on the front) with the previously mentioned multiple ABS modes - on, off or OFFROAD (skids on the rear, innit).
2023 KTM 390 ADVENTURE colours
For 2023 the KTM 390 ADVENTURE comes in two different choices: the 'spoked wheeled' edition and then the version with cast wheels and black/orange or blue/orange colour scheme.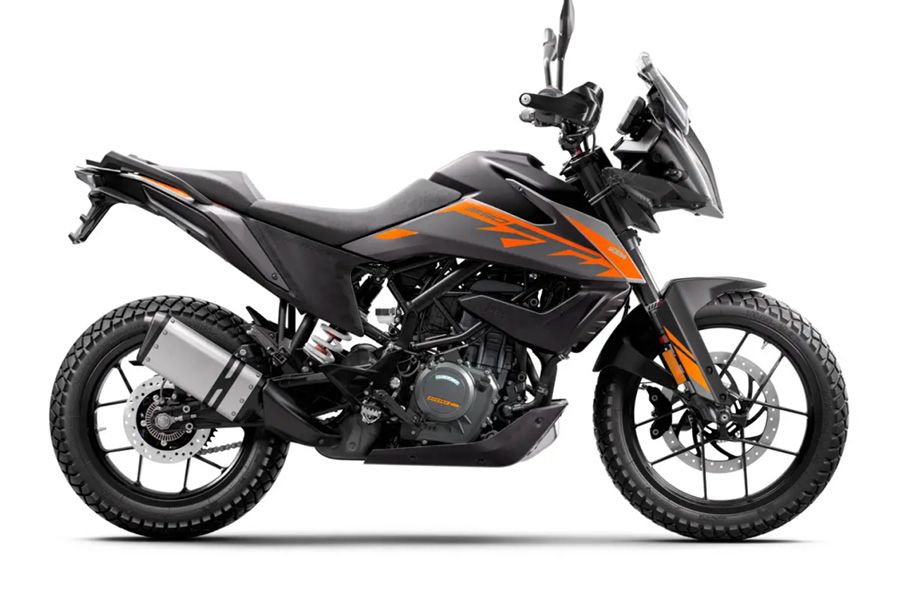 2023 KTM 390 ADVENTURE price and availability
Well, everything is getting more expensive these days and the KTM 390 Adventure isn't immune from that. With an upgraded spec comes and increased price.
The cast wheel option rises from £5,999 to £6,299 and the new SW (spokey-dokey) will set you back £6,699…
They're rolling into official KTM dealers now. Find your nearest one at https://www.ktm.com
2023 KTM 390 ADVENTURE highlights
New tougher aluminium spoked wheels for robust extra offroad potential and all-round topline performance granted by the Continental TKC70 tires
Brand new 2023 colour and graphics scheme for fresh vibrant and sporty look
373cc 4-stroke single engine pumping out 44 hp at 9000 rpm & 37 Nm of torque at 7000 rpm. Euro5 ready for the best emissions count
Lightweight and reassuring steel trellis chassis with adjustable WP APEX 43 mm forks and shock
Bosch electronics helping to inform the latest generation of Motorcycle Traction Control (MTC) and Cornering ABS systems
172 kg fully fueled, 14.5-liter tank and 830 mm lowest seat height
Wide selection of KTM PowerParts including accessories, aftermarket components, aesthetic touches, riding gear and more
---